An Interview with
'Rachel Zilla'
Lead Vocalist/Guitarist of Detroit Rock Trio
'Broadzilla'
A band who toured over here in August and then came back with Skid Row in November. On Thursday 23rd October at about 8.00pm, Rachel called me up for a good old natter about their 2nd album 'Lady Luck', the Detroit scene and other musically related stuff.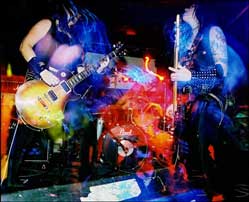 BROADZILLA @ The Night & Day Cafe, Manchester, 13th November 2003
SOLD OUT!! (Photography by Karen McBride)
Glenn: What made you decide to call the band 'Broadzilla'? - Is it because you are 3 girls in a band who have the power of Godzilla?
Rachel: Well we were throwing names around like Baby Zilla and we considered that 'Broadzilla' really fitted the band well.
Glenn: Would you say that you've been influenced by various artists in Detroit lie MC5 and Alice Cooper?
Rachel: Yeah, we've been influenced by the whole Detroit thing.
Glenn: I hear quite a bit of Motorhead and Girlschool in your music - would you say they are big influences to you?
Rachel: Yeah, I've always been a huge fan of Motorhead.
Glenn: I recently interviewed Motorhead at Rock City, Nottingham, UK and Lemmy told me that he met you in Detroit - how was it meeting Lemmy?
Rachel: Lemmy was awesome, I met him through a friend who was playing with Motorhead in the 'States. Lemmy was backstage playing a guitar and singing Beatles songs and he had a beautiful voice as oppsed to the whisky soaked one you associate him with.
Glenn: I know - you always associate him with that bawling voice but he's done an album with Slim Jim Phantom (of 'The Stray Cats') and Mikkey Dee of old Rock 'n' Roll featuring songs by Buddy Holly songs and stuff like that. He did some stuff with Doro Pesch that was really nice as well.
Rachel: Yeah, I've heard about that.
Glenn: What's it like touring in the United States?
Rachel: It's getting better all the time. First off we were virtually playing to nobody but the fan base is growing and both girls and guys love us. Then we managed to get a UK Tour.
Glenn: Yeah, you played here in August. I was reading your tour diary where you talked about the lady called 'Lydia' with all the frogs all over the place (pictures etc in the hotel). How did you manage to get the UK Tour with Skid Row (Nov. 2003)
Rachel: We were put on a bill with them in Michigan and we hit it off real well with them and did shows with them through Summer. They said they were gonna be touring the UK and we wanted to come back, so we decided to come over together.
Glenn: How is the new Skid Row with Johnny Solinger on vocals compared to Seb Bach?
Rachel: He sounds very similar - the only thing is, is that he does not have that same big stage presence that Seb has.
Glenn: Back to the 'Lady Luck' album, why did you decide to record the song, 'Love Child' by The Supremes?
Rachel: I'm a huge fan of Motown - especially that song. It got played on radio in the U.S. - the old Supremes song with rock guitars. People didn't know who it was - they thought it was like 'The Go-Go's.
Glenn: Yeah - when I first played it, I thought, 'I'm sure I've heard the song before but couldn't work out where I heard it' and then I realised it was an old Supremes song.
On the opening of the album 'Lady Luck', the song 'Ecstasy' features you telling your Grandma what you want to do when you grow up (be a singer). It sounds so real and I realised it actually was - how did that come about?
Rachel: I received a tape recorder for my 10th birthday from my Grandparents and I recorded it. I played it over and over. I used to play my favourite records and sing to 'em. I always wanted to sing and play guitar in a band - it fit so we put it on the album.
Glenn: Why has there been a delay in the album being released in the UK - is it because you've recently played the UK and it's now worth releasing over here?
Rachel: Yeah. It's been out in the States about two years. We are currently working on the next album but because 'Lady Luck' has just come out over here it won't be released (in the UK) 'til the back end of 2004.
Glenn: You had another album out before 'Lady Luck' called 'Broadzilla vs The Tramp O Leans' - can I still get hold of that?
Rachel: 'Broadzilla vs The Tramp O Leans' was a different line-up of the band (Kim and Angie aren't on it). It's completely sold out and now deleted. You can still find it on E-bay and fans burn copies up for each other. It's early stuff - some is really brash. It's a bit like when The Backyard Babies released that CD of their early demos - it's really raw.
Glenn: It could be good to released it again - due to your popularity in the UK.
Rachel: Yeah - maybe now.
Glenn: How would you describe a Broadzilla live show?
Rachel: Ball-Bustin' Ass-Kickin' Rock!!
Glenn: What would you say is the difference between the US and UK with regard to audiences?
Rachel: The UK fans are more open-minded and get into it. The US fans are quiet and watch - they want you to prove to them how good you are. It was slower in the US as well - it took over a year to take off with the record and build a following.
Glenn: What influenced the song, 'Y did U have 2B Psycho'?
Rachel: It's about people after gigs who you can't get away from. It's usually a guy with a mullet
The key line being "There's always one of you in every town we play"
Glenn: For Broadzilla, what is the usual 24/7?
Rachel: When not on tour, it's an early rise day doing our own promotion - the mailing and merchandise. On tour, it's usually us finding our way to the show in our campa van which we often stay in, instead of hotels. It's a bit like running a business and we have an allowance to stick to when we are on tour.
Glenn: Why did you include a remix of 'Liquor Snatch' at the end of the album?
Rachel: Well Techno is huge in Detroit and my friend is a DJ so I got him to do the remix. It's different and I personally let him do it his way. We've had mixed reviews on it. Some say, 'What's this crap?' and others have said, 'That's tasteful'. It shows diversity so we have put it out. It's not as a bonus track.
Glenn: Yeah, you can do all sorts of things with a song. Would you say that you find some songs easy to write?
Rachel: Some songs yeah. Some are really fast and usually start with a riff and then we add lyrics. We write in our basement.
Glenn: Is 'High Society' autobiographical?
Rachel: Some of it is. I was like the black sheep of the family. People have said that it was bad thing that I would end up on drugs because of how dirty this thing called Rock 'n' Roll is. Others couldn't accept how I looked when I was a teenager.
Glenn: Who is the 'Stargazer' - is it groupies and such like types in Detroit or wherever?
Rachel: It's about some of the pathetic people that are pretty much sniffing around you backstage because you are girls. We're like, "Have some respect for yourselves".
Glenn: And at the end of it you are artists regardless of your sex. What is the song 'Burn Baby Burn' influenced by?
Rachel: It's about people in your life that try to crush you. It's saying, 'Stand up to them and be strong'.
Glenn: Is the AC/DC song 'Big Balls' on the first album? And why did you decide to cover it?
Rachel: No it's not on an album. It was actually the b-side to a single. We recorded it because we loved the song. Of course it's got nothing to do with ballrooms at all. We wanted to see what kind of audience reaction we would get singing about big balls.
Glenn: Are there many other all-girl bands in Detroit?
Rachel: Yeah - but not in our genre.
Glenn: Why did you call the album 'Lady Luck' and where did the design of the cover come from?
Rachel: Well we didn't know what to call the album and when the song was written it seemed to stand for where we were coming from. The Lady Luck will shine a light on me. You often get pictures like that in the Hot Rod Culture at Drag Racing so we played off the art.
Glenn: What would you say have been the major highlights in your career so far?
Rachel: The first launch party for the 'Lady Luck' album and winning the award for being the best band in Detroit and the fact that we got to come back over to England.
Glenn: What was your favourite gig on the UK Tour?
Rachel: The Bulldog Bash which the Hell's Angels put on because we got to meet The Wildhearts who were playing - Heros of mine. Both London shows as well and checking out the history of London - Going to Abbey Road and getting photos taken. We got lost a bit in the Metro Underground. Me and Angie bought a £6 day ticket and checked it all out.
Glenn: I understand you've been played on Virgin Radio in the UK?
Rachel: Yeah - it's hard to find out but our agent told us about it.
Hopefully we'll hear the band again and again on UK Radio. It was fantastic to talk to Rachel and no doubt they will be performing again in the UK soon. Until then check out their 'Lady Luck' album.
A big thank-you to Work Hard PR (in the UK), Rachel and their PR Team (in the USA).