An Interview with
John 'Rhino' Edwards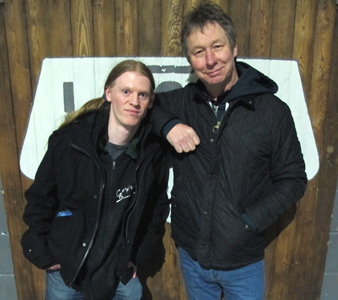 Bassist of Status Quo & Frontman/Bassist of Rhino's Revenge that took place at The Local Authority, Sheffield on Saturday, March, 21st, 2015.
Interviewed by Glenn Milligan.
Glenn: So how did you get 'Rhino's Revenge' together originally?
Rhino: Well it's my kids. When I did my first album I had Matthew (Letley) who was 'Quo's drummer at the time and I got a couple of session players in. They were very good. That was my first record. I had not made a mistake but I was playing predominantly to Status Quo audiences. To be fair to them, I don't think it's fair to any audience and play your first album they've never heard in its virtual entirety which we did. So there were quite a lot of blank faces there.
(The band now play some Status Quo numbers too to familiarise the audience)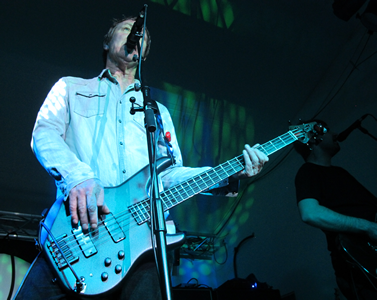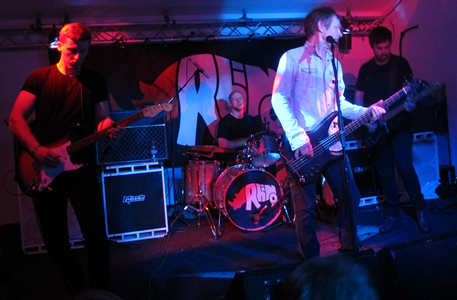 Glenn: So what have been the highlights of recording your own material?
Rhino: Every one is a highlight. In chronological order, actually having all the songs ready. It's taken me a long time to write 12 songs. I had a knockabout band with my Son, Max who plays the drums and my Son, Freddie who is the Guitar player. It was always great fun but basically we just played at a few pubs for a laugh. Someone knew two choruses of a song and we'd just do the song… whatever. We started playing some of the songs and I thought, 'This sounds really good'. It sounded exactly as I wanted it to. They've been kind enough to give me a lot of their precious time.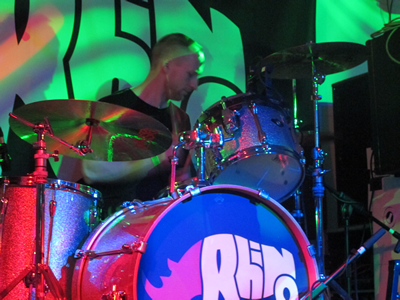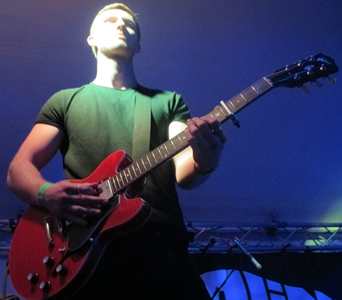 Max is at University in Berlin. He's given me some time in order to come and do this. First of all, he gave me the first two weeks of the year to do the album and he's given me a month of his time. He's flown over from Berlin to do this. He goes off to his new University in America the day after this finishes. Freddie's playing with Status Quo on the acoustic stuff and we've got three days off after our tour. Then we start again rehearsing then for a tour. There's also Matthew Starrett who's playing. He is an amazing bass player but he's there. He's a big friend of Max and Freddie's from school and I've watched him play bass but he's playing rhythm guitar, harmonica and singing. So he's fattening it up nicely.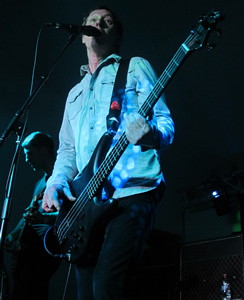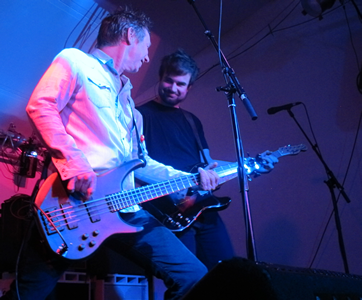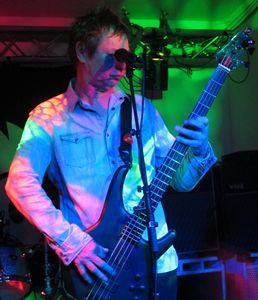 Apart from anything else I'm really grateful to them for giving up their time. It's amazing. I'm playing little places, some with more people than others and we're travelling in a van and staying in grotty hotels. So its old school and I have to say I forgot how tiring it was. Luckily, the guy that's managing me has decided that I don't carry any of the gear. So I get to watch them loading in and out. In fact, we're at The Local Authority in Sheffield tonight and that's up some serious steps. I'm very happy not to be doing that.
Glenn: So how is the tour going so far?
Rhino: Great. This is our 7th show. We've got two more over here. We've got tonight as I say, Sheffield. We've done London and Glasgow the night after which was very good routing. We've done Wakefield, Kendall, Bolton and Stockton. They've all been great. The people that have come to see us overall appear to be walking away very happy. That's all you can want and we're having some great shows. Some real storming shows. It's getting better as it's going along.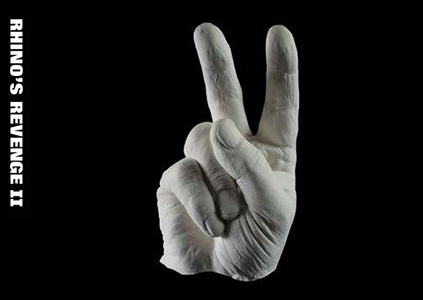 Glenn: I have been listening to the Rhino's Revenge songs that are on the Soundcloud Page and the song 'Famous', it won't go out of my head. It's a sure-fine hit. It's amazing that.
Rhino: Well it won't get out of my head either which is a real f*ck*ng drag at 4 O'clock in the morning when you're trying to sleep and thinking, 'Go away, go away'. I don't like people that are famous for being famous like Kim Kardashian. I mean, come on you know? But people follow it. People really, really think she's some kind of amazing entity. I think she's probably not stupid. "But I know, if I put implants in my arse I'll get really famous – Oh, I'll do that!"
Glenn: It's crazy.
Rhino: Yeah. My song's not about her. It's about sad people who think that that's all there really is to life and they get famous for 15 minutes. Then it all goes t*ts up and then they don't know what to do. I mean, I really do feel sorry for them. I don't watch any of these talent shows. I don't watch 'The Voice' because I just don't want to know. It's like the way they used to cast the Christians to the lions in the way that I think people are built up, then slapped in the face and knocked down. Where does it leave them? Nowhere. That's what I think. It's a sad song really.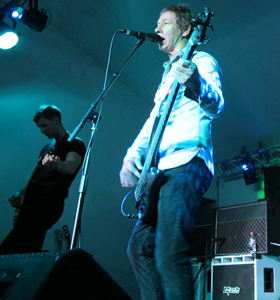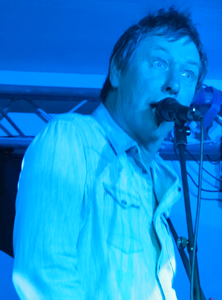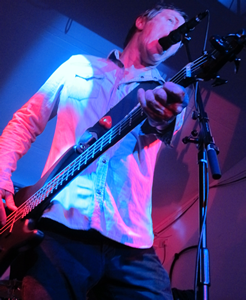 Glenn: It's got a great riff and like I say, you can't get it out of your head.
Rhino: Yeah.
Glenn: It's good. It works.
Rhino: I think we well may get that onto radio but this has only got a limited life if you will. There's always that other band – the name escapes me at the minute. (We laugh) But we start again soon. Maybe later in the year we'll do some more. We're going to do an official release of the album soon and it depends how it's received. It might be received and people might think it's really crap.
Glenn: What I thought was really cool is that Rhino's Revenge are playing a gig at a venue called 'Ma Kellys' in Holland.
Rhino: I'm going back there next week. I'm really looking forward to it.
Glenn: It's like, 'Wow that is like the 'Greasy Spoon' album title.
Rhino: It's a proper rock bar. It's really good. That's nice. I like it there. Good times. Forced to our opinion but any Quo fan must go to Ma Kellys. Any self-respecting Quo fan – absolutely. It's a brilliant place.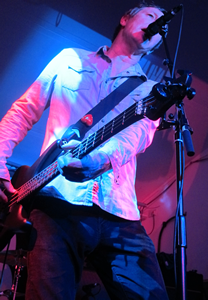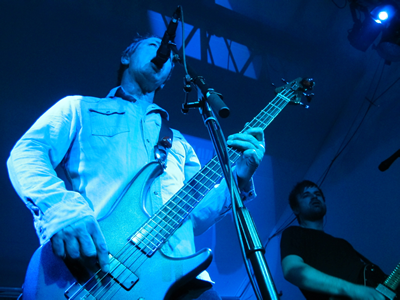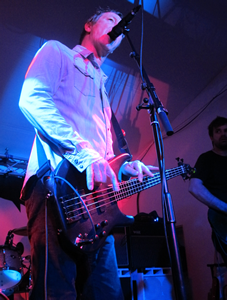 Glenn: Awesome. Right, talking of Quo, next year marks 30 years since you've been a member of Status Quo.
Rhino: Is it?
Glenn: I know, I remember you doing 'In The Army Now' and 'Dreamin' and thinking to myself, 'Is it really as long as that?'
Rhino: When we played in Bolton last night they had a TV in the venue they were re-running a Quo video from about 1989 and I looked like such a t*t. I can't tell you. When I looked at that one I thought, 'Oh my god was that me?'. I know – 30 years. It's how I always wanted it to be. I always wanted to be in a band that was very… I knew I would be in a famous band but I wanted to be in a band for a long time. That was the important thing for me.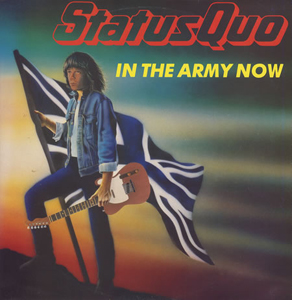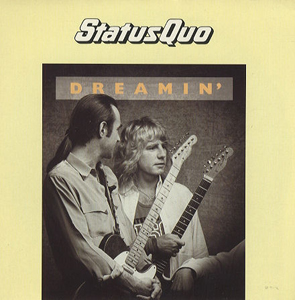 Glenn: Would you say that time's gone really quickly – 30 years, just like that because it doesn't seem like five minute ago?
Rhino: I know.
Glenn: So do you think you guys will do anything special for your 30th year in the band or anything like that?
Rhino: Not that I'm aware of. We've had anniversaries in the past. You can only have so many anniversaries. It's always the anniversary of something. I know there's something happening later on this year but I cannot tell you what. I expect we will do another 'Aquostic' album.
Glenn: That's so good that. It's been received either amazing or thought as the worst album but I really like it.
Rhino: That just shows that the songs are good. You might not like it but they're still good songs.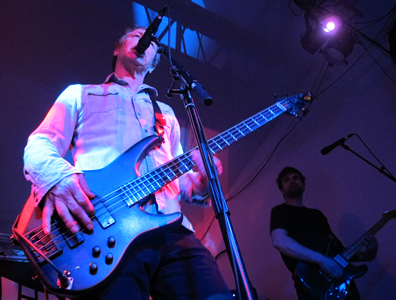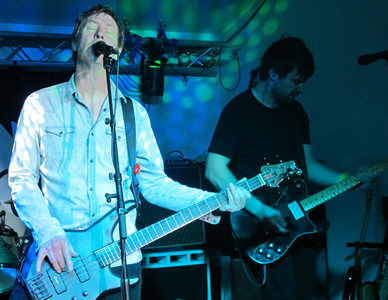 Glenn: With regard to Status Quo songs, if you could put a set list together of Quo songs, what songs would you have in it and why?
Rhino: Well I don't dislike what we do now. I would probably put in two songs I've written, one of which we did which is 'Two Way Traffic'.
Glenn: I love that song.
Rhino: I'd put in a song called 'Dust To Gold' because I think that's just a great song. I think it would sound amazing in an arena. I'd have 'Paper Plane' and 'Hold You Back'. I love 'In My Chair'. I would change it up a bit more and I'd try things like 'Are You Growing Tired Of My Love'. Stuff from all over the bands career. I like 'Antique Angelique'. I'd put in 'The Power Of Rock And Roll' – I'd have that in again. The list could go on. 'Keep 'Em Coming' I really, really like. Andrew (Bown) wrote that.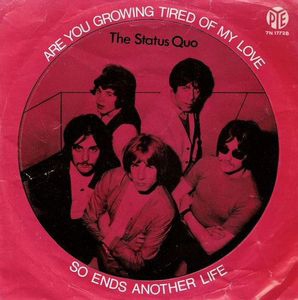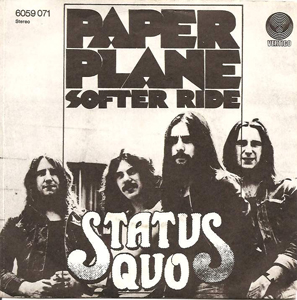 Glenn: I wish they'd put 'Accident Prone' in but I heard that Rossi hates it.
Rhino: I think it was because it was their 1st flop single. That's probably why. It got to Number 40 something and I think he was really fed up about that.
Glenn: When you get TV and Radio coverage, it's always Francis and Rick.
Rhino: Well they're the face of it aren't they? They have been for a long time now. It doesn't bother me. They've got their shtick. They're very good as a double act. They can walk into a room and turn it on like that or turn it off! It's a gift. They aren't going to lose any sleep about anything like that whereas I probably would. (I laugh) I think you get to learn how to not put your foot in it and I haven't learnt that yet. (I laugh)
Glenn: Yeah I have my moments. What would you say are the stand-outs in the studio with Quo have been over the years?
Rhino: Well I think for me, still making 'In The Army Now' and playing bass on a big, big record. I played with a lot of other big bands but that was a step up from there. I was very happy to have done that. Going to Nassau was grand to record. Some albums have been more fun than others. It's not many things that stick in my mind. They've mostly been comedy moments when people have done something really funny. But when you do an album, you just get completely immersed in the project. I could talk about specific tracks I suppose.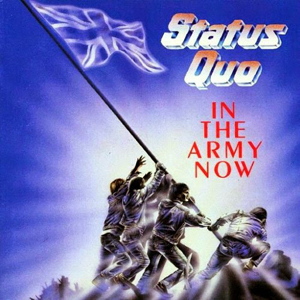 Glenn: But you'd be here forever. (I laugh)
Rhino: Yeah. Exactly.
Glenn: This time next century or something.
Rhino: Well funnily enough one of the things I do remember was 'Fiji Time' which was on our 'Bula Quo' album which most people hate. But I wrote this song. It's a ska song and I never thought we'd do it. I just put it up to the Director for love because I love it to just put it on the album. So we did a backing track and I thought, 'This'll never get on the album' and I came back one day and Frame said, "I've done that song" and he sang amazingly on my demo which was really thrilling. It's nice to know that your band mates will put everything in for you. If they've got thought for what you're doing and they like it and they've committed to doing it then they really work at it. He did and it was brilliant the result. I thought that should have been a single but there you go.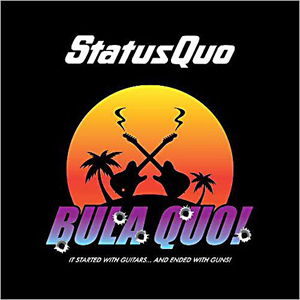 Glenn: How were the 'Aquostic' shows for you?
Rhino: They were quite nerve-wracking for us really. It was enjoyable. They've been very enjoyable. A lot of work, a lot of rehearsals. I got to meet some really nice people like the string players – they're lovely, Martin (Ditcham) the percussionist and the backing singers. One of the backing singers lives in Sheffield – Amy (Smith).
Glenn: What are you looking forward to about the 'Aquostic Tour' that's coming up?
Rhino: Well its good fun. It's kind of still unfinished business. We haven't finished with that yet so that's got to the next thing – the most important thing. Just getting it all done and dealt.
Glenn: Can you see yourself putting some of the songs from the 'Aquostic' set into the usual live set and turning them electric again like they used to be?
Rhino: Yeah. I don't think there's anything (we can't). The reason we did them acoustically was to just give them a different colour. If you do them live you know exactly how they are. A lot of people suggested the half and half show but that would be a difficult thing to do – half acoustic and half electric. It sounds a bit too much like hard work to me mate.
Glenn: Yeah. I really like tracks like 'And It's Better Now' as I haven't heard it for years.
Rhino: Oh brilliant. It's like a new song. It's just great. The Producer has got to take a lot of credit for that – Mike Paxman. It was the first song we ever recorded and it was great. As soon as we recorded that song we kind of grasped the idea of doing songs in a slightly different way that you might expect them to be done. It was like, "Great, we've done that one, why don't we do like that in songs like….". 'Don't Drive My Car' ended up completely b*st*rdized to what it was on the original.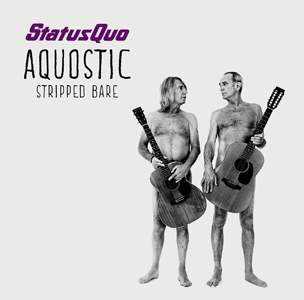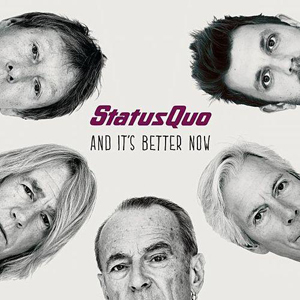 Glenn: It's totally different but it still works for it.
Rhino: I think it does. I think it's really good.
Glenn: How would you say the business has changed over the years?
Rhino: There isn't one. Well there are a few labels. It's good in a way. Anyone can make a record now. It's no big deal. It's become very specific and I don't like the fact that it's become so specific. It's so easy to listen to one type of music exclusively but you don't expose yourself to other kinds of music and I think that's sh*t.
Glenn: You've played so many shows over the years. What have been the craziest shows you have played?
Rhino: I remember we had confetti cannon when we played at Reading in 1987 which was going to go off at the beginning of 'Rocking All Over The World'. It didn't go off and we all forgot about it. It suddenly went off halfway through above us and there was this massive bang. I tell you, we thought a bomb had gone off. I've had a petrol can thrown at me that was quite a bizarre one in Belgium because I didn't know if that was full or not.
Glenn: Sh*t!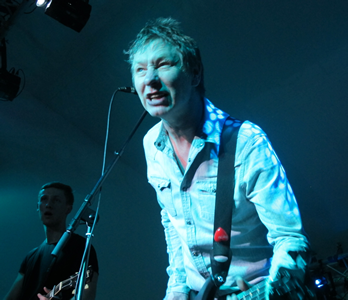 Rhino: It hurt as well. Trying to get a one legged person to stand up to clap. (I laugh) Which if you look on you-tube you can see that and Francis just p*sis*s himself laughing. P*sis*s himself! It was a Nottingham a few years ago. Watching Feargal Sharkey fall off the stage – that was one of the funniest things I've ever seen I've got to say.
Watching Mick Jones from Foreigner coming out and doing this big solo in front of this massive festival crowd. Sitting back with his black leather suit and his black leather Les Paul on and falling arse over t*t over the monitors and doing like a dead fly on the stage. All the other bands were watching. He was crimson. He was so embarrassed. It was f*ck*n' hilarious. I mean, he's a really nice bloke. It just made me laugh so much. Then I'm glad it didn't happen to me.
Oh and Rick did something once. It was in 2001 – we were in Norway. He wanted to do this big right wing run and he went and he went smack. He jumped up the (drum) riser and fell straight back off again. He was sort of like a wounded animal crawling across the stage to sing. At that time I was doing the backing vocals on 'Again & Again' and I couldn't sing – I was weeping with laughing. I could hardly play. I was just laughing and laughing. You know, it's always laughing at others. There's loads of it. I could go on.
Glenn: You'll have to write a book.
Rhino: Yeah! No I wouldn't. If I wrote a book I wouldn't have any friends. (I laugh)
Glenn: It's like that?
Rhino: Yeah.
Glenn: You'll wait for them all to die first.
Rhino: Well kind of, yeah.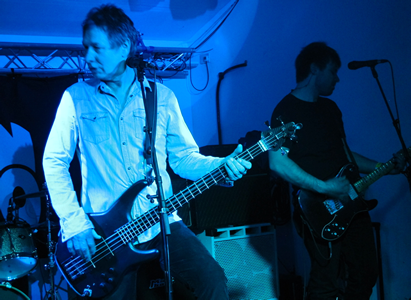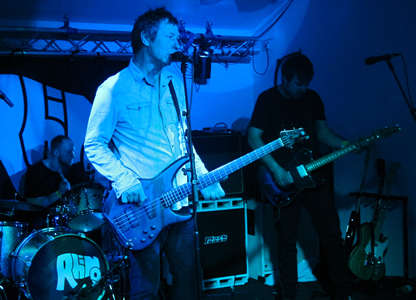 Glenn: How was Download Festival at Castle Donington for you last year?
Rhino: Fantastic. After two minutes. There were a lot of people that wanted us to die on our arse because we were one of the old bands to do it. F*ck 'em. We really nailed it.
Glenn: Yeah?
Rhino: Yeah we really nailed it. They loved it. I know they did because I look out from the stage. I know when people like it and I really didn't give a sh*t who was playing 'em.
Glenn: How would your bass playing has changed over the years? I know it's a similar style of bass but you must have learnt quite a bit in the band.
Rhino: I used to be able to play a mean shuffle and I can play a really, really, really mean shuffle now. I'm not technically as good a player as I was but then that's good because I'm better at areas that don't need technique. I project more now as a musician. I project more from the stage I like to think. I'm well aware of the fact that people have spent a lot of money sometimes to see us. So I want people to leave with a smile on their faces. That's all I care about. I don't care if it sounds sh*t. I don't care whether we are having a bad time or if there's not many people there. It's the way it is.
Glenn: What would you say you are most proud of?
Rhino: My sons & my daughter. They are doing the gig. My daughter got up at the 100 Club. She was going get up last night in Bolton but she has got too much work to do on her University Dissertation. But being in a band with my sons. I'm so fortunate. Unbelievably.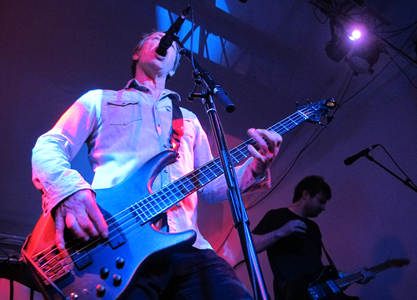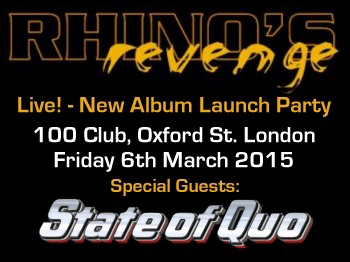 Glenn: That's a great way to finish the interview.
Rhino: There you go. Cool.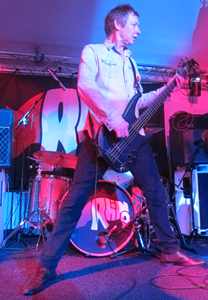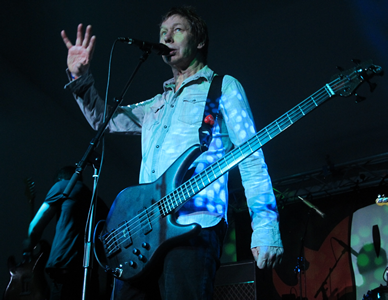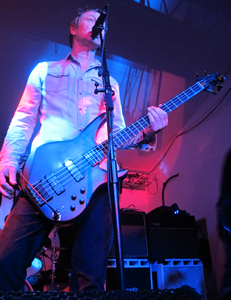 A big thank you to Mike Hrano (Tour Manager) for setting up the Interview, Lee (Venue Stagehand), Mark Hobson (Promoter/Owner of The Local Authority) and of course John 'Rhino' Edwards and all the members of Rhino's Revenge.