An Interview with Richie Onori,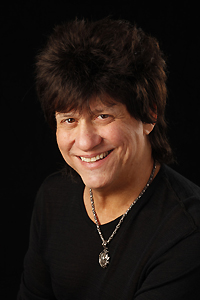 Drummer of The Sweet and also Solo artist that took place at The Rainbow Bar & Grille, West Hollywood, California on Wednesday 9th November 2011
Glenn: From an early age, what brought you into wanting to play?
Richie: That made me wanna play?
Glenn: Yeah.
Richie: Well I was into as far as stylistically.. my brother was a guitarist and he was into the whole surf music thing - Dick Dale and all that so I was influenced by but it was really by watching The Beatles and I came from a very musical family. So it was like The Beatles and The (Rolling) Stones - all that yeah - the English Invasion turned me on.
Glenn: So many American artists say the same thing as well. Rickey Medlocke said that as well.
Richie: Yeah.
Glenn: Incredible really.
Richie: Yeah.
Glenn: Just blame us. We're the fault for it all - we'll take the blame.
Richie: Yeah, yeah. You brought the Devil to us.
Glenn: Exactly. How were your first bands when you first got playing as a drummer?
Richie: Well the first bands that I played in I was with, probaby before I turned professional I must have been in 30 or 40 different bands and I was highly influenced by Jimi Hendrix - I was really into Mitch Mitchell - I loved Hendrix and so with Cream and Ginger Baker and all that and my first gig was a gig was with the guy ? (Question Mark) and the Mysterians which was '96 Tears' which was actually a big hit. I didn't play on the record but I played years later so that was my 1st thing.
Glenn: What was it that took you from playing in smaller bands to where you are today - how did you first make that big break to the big league so to speak?
Richie: Well I played with a pretty progressive band. It was kinda like a cross between Genesis and Led Zeppelin and Yes. I was a pretty young kid at the time and Chuck Wright who people know from Quiet Riot and then Pat Reagan who produces Ritchie Blackmore's records and well known keyboard producer - he was in the band and we were in a band called 'Satyr' and we had a huge following here in Los Angeles - it's just people were nuts and it broke chemistry within the group and our first break was (that) we opened shows for Alice Cooper on the 'Welcome To My Nightmare' Tour and so we went to Canada, we came back and we were in the Hollywood scene and we played some fantastic shows here too mainly and then Aerosmith came to The Starwood one night and opened for us and they were called 'Dr. Jones and the Inturns' and it's actually in Steve Tyler's book - it's in the Aerosmith book about the night they played The Starwood and so we were the band that was actually headlining. They came in as 'Dr. Jones and the Inturns'. So that gave me the confidence that between that and Alice Cooper and doing all that to make that jump that you're somebody.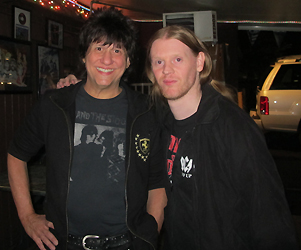 Glenn: Yeah and I guess after a while that everybody are very similar as people once you break down that barrier of megastardom and you get talking to them and they are no different to anybody else a lot of the time.
Richie: Yeah.
Glenn: It makes things a lot easier.
Richie: Yeah that's right.
Glenn: What made you want to play drums? What was it about the drums?
Richie: My Mom was a dancer, she danced with Mickey Roonie and Judy Garland so she got me into tap dancing and all this dance thing so I was rythmical and my Dad, I just started and my brother was a guitarist so he kinda already had that domain and so i started hitting pots and pans with sticks to keep the beat while my brother played and so forth and they saw I was really interested and they got me a toy drum set and the next thing you know they bought me a nice Slingerland kit and hooked me up with a teacher and then I started playing.
Glenn: What would you say your favourite kits have been over the years?
Richie: Well I think drumset wise I had a really nice Ludwig. I had a Gretsch. I am currently with DW - I've been endorsed by DW for probably close to 15/16 years and I like the DW. I really like the DW stuff.
Glenn: Is there anything that really stands out about the DW stuff against the other stuff that's around.
Richie: Well I'm getting ready to do a project. DW's got a sound and there's something about those old Ludwigs and the really big drums - something like what Roger Taylor from Queen would play. There's a depth on some of those big rock drums that you can't really capture with the DW - at least what I've got. So I like that stuff too. Sometimes I'll rent drums for certain sessions - you know, if I wanna capture something a little bit different.
Glenn: I understand you worked with Keith Emerson - how did that come about?
Richie: Well actually Stuart Smith - we worked together in 'Heaven & Earth'. Stuart and I pretty much formulated that band. It turned out this solo project and so we were working together... actually the 1st time I met Stuart was in '86 I think it was and Joe Lynn Turner.. there's a club called 'Captain's Cavern' which Mitch Perry and all the guys would hang out at a lot. You know, Tobar, the guys who would later on.. a ton of people - Paul Shortino All these guys would hang out at this valley club across the street. There was this rock club called 'Filthy McNastys' and the 'Cavern was across the street and everyone would get up and jam. I met Stuart and Stuart says, "Hey...". Jimmy Gurago (who was working with Bobby Kimball at the time was gonna do the gig to play out to Chicago and just do a gig with Joe Lynn Turner from Rainbow. Jimmy couldn't do it so he loved my drumming at Stuarts so we met that night and about three weeks later we went to Chicago and had Sean McNabb on bass and Scott Warren from Dio and we went and played some shows back east in Chicago with Joe Lynn so we learned all the big you know, 'I Surrender' - you know all the tunes and it was magic. We played 'The China Club' there and from thereon I formed a bond with Stuart and then years later we were at 'The House Of Blues' - we ran across Keith Emerson. He knew Keith Emerson from England and we got together and started playing and it was magical - we had a great chemistry and we decided to put a band together.
Glenn: It's amazing how bands form totally by accident as I saw the first get together of Paul Rodgers and Queen at the Fender Stratocaster concert back in 2003 at Earls Court, London.
Richie: Yeah - we did a show. I did a show with Paul Rodgers. We played together with Howard Leese on guitar and all these guys and it's kind of a small click of musicians that all kinda hang together and play together and they play these little things and they develop and they blow up.
Glenn: Yeah I guess you get to know people in the business that way and who to work with and who not to work with - like he's cool or he's an a**h*l* etc?
Richie: Yeah. You get to know and you build your reputation up and you know everybody knows you can play and hang and do anything really. You master your craft.
Glenn: You've also got to have that connection outside of music as well. You've gotta get on outside as well as on stage together so it will work.
Richie: Oh it's socialising yeah. You hang out with your rock buddies and you meet people.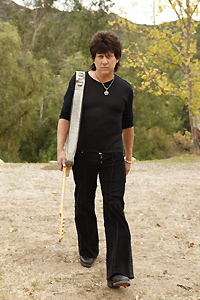 Glenn: What are these guys actually like? You hear these stories about Joe Lynn Turner and this and that and you think, he's probably a nice guy and people keep meeting him at the wrong times. What's he like as a person?
Richie: Oh Joe Lynn - oh he's wonderful. One night we were altogether with Joe Lynn and Dokken and just a... all these people and we were writing a song together and everybody's really contributing while we are writing a tune together, but you know, Joe is the sweetest guy you'd ever meet. He's just a character - he's a character - he's funny yeah.
Glenn: You must have got some amazing stories from like hanging with Joe and hanging with like Kelly Hansen and Keith Emerson - can you talk about any of these?
Richie: There's so many. You know you find yourself in all sorts of predicaments. You're at places sometimes where... I know Don Dokken, he came one night to my house and he was in my backyard and there was a party and Don took his clothes off in front of about 20 girls in a skinny dip and I heard a lot of funny comments from the girls - they were pretty shocked.
Glenn: It was no big deal to him - hahaha.
Richie: Yeah but you witness everything. I mean there'll be parties - I was working with Herman Rarebell, who produced this hit that the Scorpions had at that time and you know all the Scorpion guys always came to LA and Herman produced this thing that I was drumming on and this was back in the 80's and there'd be just crazy parties, crazy drugs and the guys from Ratt would be there and all the Scorpion guys would be there and it was just totally, totally wild and a lot of debauchery.
Glenn: Most of all you've lived to see through it all and you're still here today looking good.
Richie: Yeah thank you.
Glenn: What would you say you are proud of when you've worked with different people? What things stand out?
Richie: Well what I'm proud of is the diversity. I mean I grew up. When I was 16 I played with like I said, (?) Question Mark and then from there I went on and I played with a fantastic jazz guitarist named Rick Sudigar - he did Steve Wonder's 'Songs In The Key Of Life'. He's a very famous, incredible guitarist who worked with Freddie Hubbard and I played in a Jazz group with him and then years later I did the rock thing and then I ended up playing with Brothers Johnson - Louis Johnson and then I played with Nathan East and Larry Gram from Sly & The Family Stone and then I got to play with Rick Derringer on a couple of record projects and Steve Hunter from Alice Cooper's band - I did a couple of projects with him. So there's been a lot of guys. I'm proud of the fact that I've done the great band projects but I've had the ability. So instead of just being in 1 band, I've been in bands but I've been able to play in a lot of different situations which expand you as a player, you know, playing in all these different situations with all these great bass players. I've worked with Tony Franklin and he's kind of a hell of a player and it grows you as a musician and it's just a real great experience when you are a dedicated musician to be able to experience other people that can really, really play.
Glenn: And you don't get stereotyped and labelled as a certain type of player, therefore people know you are a good player and you can be approached by anyone and be your own but also adapt yourself into any kinds of situations.
Richie: Yeah that's right. I mean, versatility is a fantastic thing. Playing in 'Sweet' - I mean Steve Priest - he's an amazing bass player. I mean, I've worked with some of the best bass players on the planet. Louis Johnson - he wrote 'Billie Jean' for Michael Jackson, he wrote 'Beat It' with Eddie Van Halen and I worked with him for 8 years. But then you play with Steve Priest and that guy is amazing - I mean he can do it all. So you just realise that people play for as long as they play and you are dedicated for life as a player. You just reach a certain level and you really got the pocket and feel and all that and it's very cool how everybody's kinda under people level to some degree one way or another.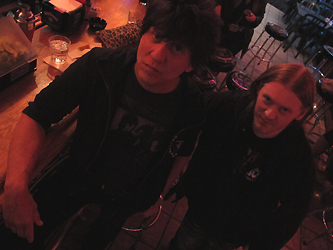 Glenn: How did you meet Steve Priest?
Richie: Steve played through Stuart again, Stuart has been my conduet to a lot of folks, not everybody but to a lot like to Joe Lynn and different things and Stuart knew Steve because Stuart played with Steve in Sweet. They were putting a band together in the 80's and they really didn't do that much together and then Stuart Smith was living at my place where Wine Cellar Studios is and that's where we cut most of everything. We got together in a pub one night and we played. We played 'Fox On The Run' and it was called 'The Fox and Hounds' right in the valley. It was an English pub and we played and it really went well and then you know, the years went kinda by. Then there was a Katrina Benefit at The Key Club which is the old Gazarris Club here on Sunset Strip and Steve joined in for that and Slash was there. I forget who was playing Bass.. there's Slash and Steve Lukather and we all jammed. We did a series of these concerts at the time - one at the 'House Of Blues' and that so Steve got up and played and again we hit it off and then one night, you know a few years later Steve said, 'Hey, let's put Sweet back together' and it was a no-brainer because it was a great rhythm section right off the bat. We'd already played.
Glenn: Where would you say the favourite places are that you've played as Sweet around the world? Do certain places stand out more than others and why?
Richie: Well there was a couple of dates. We did the Journey this year in South America with them. There was a couple of shows there that were outstanding but I think the most memorable ones - we did Moondance - there was Poison, us (The Sweet), Joan Jett - a lot of different groups played there and that was the Moondance - that was about 30,000 people and that was a great show and then we played London, Ontario up in Canada with Steve Winwood and a lot of other bands and Sammy Hagar did that show. Those are pretty memorable too.
Glenn: What are your favourite Sweet songs and why do you like playing those certain songs?
Richie: Well I like Sweet FA a lot because it's kind of a progressive - it really rocks and it's got kinda like an 'Immigrant' groove on it and it's high energy. I like 'Set Me Free' - that's real high energy. I like, you know, 'Ballroom Blitz' is an amazing song, 'Fox On The Run' is great, 'Love Is Like Oxygen' is such a great arranged tune that it's just very orchestrated and it's a nice groove in there - I really like that song too.
Glenn: I'm glad I asked you that question because it always blew my mind as to what Sweet would have sounded like if they'd have kept on after 'Love Is Like Oxygen' because they were getting to such a different theme - it was so different and so mesmerizing and I always wonder what they would have sounded like if they had've kept on and never fallen out.
Richie: Yeah you got me. I mean they were getting into a lot of funky stuff actually. I mean there was real funk stuff that they were doing and they were getting into some pretty really... I mean their harmonies were so lush. I mean basically Sweet really had the chemistry and I don't really know where they'd go but they were getting pretty progressive and they had that Deep purple edge too. Surprisingly enough, I mean it's so diverse and it's just a pleasure to be with such a legendary band and playing that stuff.
Glenn: And also you're a solo artist as well.
Richie: Yeah. I've been err.. about 15 years ago I wanted to express myself. I had certain political views, different stories to tell. Being an artist or a musician is not an easy life. There's always a woman that wants to.. you know you meet a woman and then they don't want you to do your art so you usually have to break up with them. At least for me that's kinda how it went and it's tough that while you're trying to gain that recognition and making a living, doing what you're doing it's been interesting so you have a lot of things to dip into, mostly living in Hollywood through the 70's and 80's and 90's. Some of the stories and the drug abuse and by your friends and situations that you can get yourself into. It is pretty intense and I've got myself into some pretty hairy situations. So you wanna relate that and I think when you go through pain and you wanna.. maybe you've experienced other things that a lot of people really haven't or maybe they have more mundane lives or more normal should I say but as an artist you kinda experience a lot and as an artist you have things to tell and experience and lessons. You see other people getting involved in thing and you wanna... so that.. it kinda drove me towards that ... yeah.. being an artist and creating my own music.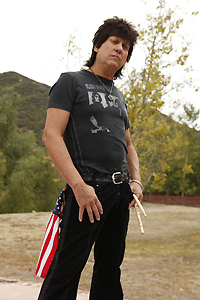 Glenn: What songs of yours are you most happy with?
Richie: That I've written? I've written... on the political thing I've written a song called 'Hey You' and that song is kind of a Hendrix kind of a vibe. It's me playing drums and guitar and singing - the whole lot and it's about pretty much all the corrupt politicians. I know a lot of people say it but it's a bit formal and that type of thing and that's a really good tune that I wrote. Another song that my label wants to release first is 'Raining In Hollywood' and it's another story of a great band that I put together with an incredibly talented singer and he ended up becoming homeless because he came here to Hollywood and going down the drain, thinking of the dream and didn't know how to hanfle it and got too involved in drugs. I basically found him in a... he called me up and I saw him on the corner and he'd borrowed somebody's cellphone and he was with a shopping cart with a bunch of stuff in it and he had stolen a guitar from somebody, (it was) from one of the other bums. He inspired me to write 'Raining In Hollywood' and that's gonna be one of the prior releases.
Glenn: Sounds interesting and that's real as well it makes you..
Richie: Yeah.
Glenn: It's strong - much stronger.
Richie: Yes.
Glenn: When can expect to see the album?
Richie: The album - we're looking for around... there might be 2 albums. I have 25 songs in the can. I've got one more song to cut so the label is interested in around February to March. It's a good time to actually release and I know one of the records is gonna be called 'Moment Of Truth' and that's gonna be the title - yeah.
Glenn: And I see you've got it on your own little label as well.
Richie: Yeah - Gerry Gallagher who was Ahmet Ertegun's right hand man for distribution. He was involved with Led Zeppelin, AC/DC. He's involved with War a lot. He's picked me up as a solo artist and he's very excited and I've just signed with Gerry Gallagher.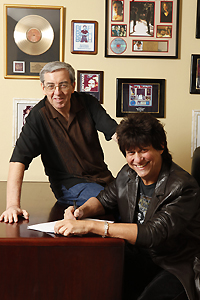 (Signing with Gerry Gallagher)
Glenn: How would you describe your styles as a solo artist as opposed to as like a band member?
Richie: Well my music, I have a blues soul and some of my songs touch upon the Indian way of life and I have a song that's called 'White Buffalo Prophecy' about the world and I have kind of an Indian kinda slant on some songs because it just emits outta me and it's very diverse. Some of the stuff goes into a lot of different modes but as a guitarist I'm self-taught so kinda got this bluesy kinda thing. I've learned the guitar myself unlike drums. Drums I took lessons from Jim Porcaro, Jeff Pocaro's Father and I'm more schooled in drummer but with guitar I wanted it to come totally pure in my songwriting and all about. You know, it's got that real blues kinda base but I have a lot of tricks up my sleeve that keeps it pretty diverse.
Glenn: I'm really looking forward to hearing it when it gets delivered to my address back home. I'm used to interviewing people about an album I have already listened to and this is the other way round.
Richie: Well Gerry Gallagher actually said that the way Ahmet used to do it is a lot of times they get people excited about the record before they heard it in the old days. That was his point of view on that. He was like, "Let's talk this up - let's do interviews before the record's released'. Ahmet Ertegun's the guy who found 'Zeppelin and all those guys and he kinda knew what he was doing.
Glenn: How long did it take to put the records together?
Richie: Well I've been working on the stuff since probably 2002. Some of the tracks - I did a song.. I did a record 'Three Wishes' and then I got so busy I didn't release it and I just put it on the backburner and so it's been since really.. that was supposed to have been released in 2003 - there was a little bit of press on it, but now I'm pulling everything back and I'm kinda changing everything around and then adding all these new songs that I've got in there.
Glenn: Yeah.
Richie: Yeah we still have to master some things.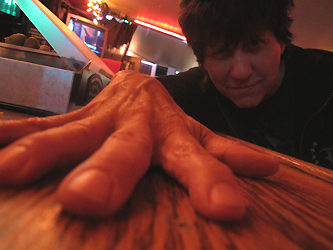 Glenn: So how did you meet Ronnie James Dio?
Richie: Oh Mr. Dio yeah - actually it was through Michael Diamond - he was in a band called 'Legs Diamond'. So it was Legs Diamond and it was a guy, Roger that was around at the time too - Roger Romeo. It was after my group Satyr broke up and one of the last things we did was.. Nigel Benjamin actually joined Satyr - he was in Mott The Hoople - he was actually in Mott - okay - he was our singer for Satyr - he was our last singer of Satyr and then Chuck Wright was in the band like I said and then Chuck departed and we were doing something and then the band completely broke up. Me and Nigel tried to put things together and it didn't work out. So I pretty much.. everything was.. I kinda had to start off as a session drummer so Pat Reagan who produces Ritchie now and all that, he hooked me up with Rick Derringer, so I worked with Rick Derringer on some session work and stuff and then I was just looking through the newspaper and they were looking for a drummer and it happened to be Michael Diamond. I got together with Michael and evidently there was this Penthouse Pet, I forget her name but she had pulled in Herman Rarebell and Ronnie James Dio to produce her. So our 1st session was with Herman and I think Herman stole my drum parts because it was similar groove. Genie Gene Block was on guitar who was Joe Cocker's guitarist - he was on this but it was the 'Hurricane' song. I remember Herman looking at me and goes "Oh I love what you're doing" then..
Glenn: 'Rock you like a Hurricane'.
Richie: Then I hear that frikkin' record and I go, "Herman - you owe me some money bro!", well I saw him but I let it go. Then I got a call from Michael and he says, "Hey, we got another session - Dio's producing this" and it was with his engineer - I forget the guy, so I show up at the session and so Dio's singing to a tune. So it's really that session how I hooked up with Dio and we cut some really good tracks. I mean, it it was fun working with Ronnie yeah.
Glenn: What songs did you do with Dio?
Richie: It was all origianl stuff. To tell you the truth I never kept a copy or anything but it was just great to meet him and just say it was a party in the studio - that's all I remember.
Glenn: So outside of playing music, what else are you involved with as well?
Richie: Well I got involved in fashion. I decided to do a fashion line of guitar straps and they've been very successful. We started.. we're in the UK with it - a distributor there, I mean there's been a big recession so things have changed internationally but we got into 22 countries and right now we're currently in 1500 music stores - we're in Guitar Centre, Sam Ash - it's the Onori Brand and people love the product. My factory's in China. I go over there as often as possible and it's very artistic. I've got some really great straps and we make 150 different designs and they've caught on well. That went well so I decided to open a distribution centre for a guitar amplifier company with the amp guru of all time which is Steve Grimrod from England. He's the one that started Marshall Amplification - actually the main designer - he had the plexis which he was notm responsible for but everything from '73 to the year 2000 he designed - all the Marshall stuff. Then he Vox with all the reissue stuff, so he has a new Amp line called Albion Amplification. So there's a guitarist named Ant Glynn, he opened up with AC/DC, I forget the name of his band and he was with Rick Wakeman and all these different guys and we met at the show through John from Asia - John Payne. He introduced me at a Namm show and we started talking right by my booth and I know all the stores and all the people, so we picked up Albion Amplification and now we got quite a few stores - SamAsh.com just came on board and 'Musicians Friends' signed up the next week. It's an amazing line, AlbionUS.com is our website - it's phenomenal - check it out.
Glenn: Sounds good.
Richie: Yeah.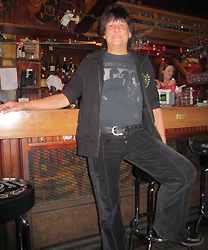 Glenn: Have you got any touring coming up when you release your two albums?

Richie: Yeah - the idea is that it's a mulitmedia show that we're developing because there is some theatrics. There's a political message to what is going on in the world - it's very timely. I'm gonna leave it to the record people what they decide to release and what side of the dimension of what they can really do. But inbetween Sweet Tours and the other project that I have going, there's another major record that we're cutting right now which I can't really mention but it's great players and it's phenomenal - it's gonna be rocket in your socks but with all the things that I say, I'm just gonna slip this in inbetween but it really is exciting because it's a lot - it's my music and being in Sweet and being in the reformed Sweet, I'm a part owner in Sweet in Blitz Touring that it's called. I'm really proud of that, I love doing it. I hope to do a new Sweet record coming up but you know, I like to express myself as a guitarist and I really look forward to going out with my thing so it's happening. There's already booking agents and public (appearences) and stuff going on. I'll definately be doing TV shows and many things. They've put me on the cover of.. Sebastian Bach was las month, I'm the cover of 'All Access' Magazine next month. It'll kick everything off and a bunch of other stuff is coming down the pipeline, so yeah.
Glenn: Oh I met Sebastian here on his birthday. He was in here in the Rainbow.
Richie: Oh we were playing up the road at the Key Club. Yeah we did quite a few shows with Sebastian this year. We've played with Skid Row over the years, we do a lot of shows with Dokken, we did a lot of shows with Skid Row last year and we've done shows with Sebastian Bach and they're nice guys on the road - they are all real nice.
Glenn: They've been there' they've done it.
Richie: Yeah.
Glenn: It's all Rock 'N' Roll. How would describe your style of drumming?
Richie: Well I'm kinda like a.. because of the R'n'B thing I've done with Larry Gram and Louis Johnson and stuff I can hang with those cats but what I prefer is I like playing.. you know, Sweet just did a Who tribute thing - I was influenced by Keith Moon, Mitch Mitchell, Buddy Rich and stuff so I like to play. Sometimes less is more and just laying it down but I like to use my chops so I like the English style of drumming - I like to flail.
Glenn: That's cool.
Richie: Yeah.
Glenn: It's a wrap bro - that's good man.
Richie: Yeah man.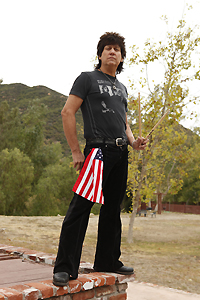 A big thank you for Doug Deutsch PR for setting up the Interview and providing some awesome official photographs, Christie Schultz at The Rainbow for taking some great pics and of course Richie Onori himself for being a really cool guy to chat to and hang out with.