An Interview with
'Richie Scarlet'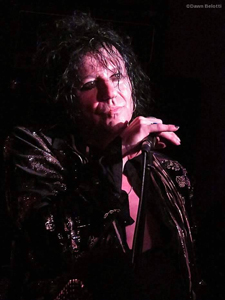 Guitarist of Ace Frehley and solo artist
that took place early August, 2016.
Interviewed by Dawn Belotti.
There are artists who eventually find their way to the stage and spotlight. Then, there are performers who were born to be on a stage. A perfect candidate is Richie Scarlet, also known as The Emperor of Rock and Roll. Scarlet has been a local treasure for many years. Accompanying such artists as: Leslie West, Dennis Dunaway and Ace Frehley; Scarlet still plays shows on his home turf in front of his assemblage of loyal fans.
My love of music started early thanks to my mother; who did a brief stint as a background vocalist. This had me asking for records as Christmas gifts and attending concerts since I was thirteen. I first came across Richie Scarlet while sneaking into local clubs during my teenage years. I heard people talking about this cat with a cool name who made a guitar sing and dance. This was Mr. Scarlet and the sources were correct. 2016 still finds me in attendance at the Emperor's performances.
Ever the grateful showman, Scarlet makes an effort to acknowledge his long time followers. The Emperor gives nothing less than an outstanding performance whether on a home stage or in front of thousands. Often entertaining the home crowd with songs that inspired his musical journey; he also successfully takes his audience on a path through their own memories. There is not a soul who is not dancing and singing along at a Richie Scarlet show.
Scarlet's work alongside Kiss legend Ace Frehley, has resulted in the rest of the world finding out what we already knew, the Emperor is a force to be reckoned with. Positioned as the second guitarist, he is the perfect accompaniment for Frehley. While their chemistry is uncanny; Scarlet as a solid musician certainly holds his own.
The Emperor was kind enough to take some time out from his busy schedule to answer a few questions.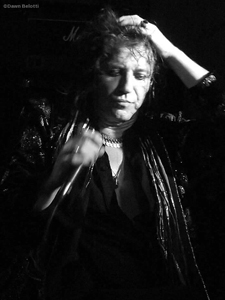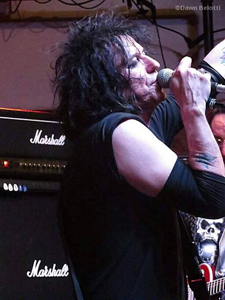 Dawn: What inspired you to initially pick up the guitar?
Richie: Hearing Jimi Hendrix. Also hearing the solos of the Yardbirds' singles. Though I did not know at the time (being a little kid) that it was Jeff Beck.
Dawn: How did you get the well deserved title of 'The Emperor of Rock and Roll'?
Richie: I believe Ace said it to me one night when we were talking about Elvis being the King. It is a title I do not take serious. It has spread like wild fire. If I am going to have a title, I would much rather be called the Emperor of Rock and Roll than something like the idiot of R'n'R (lol).
Dawn: You have a long history of playing with Kiss Legend, Ace Frehley, as well as being credited with co-writing several tracks on the successful Trouble Walkin' album. Out of the several, which song has the most meaning to you and why?
Richie: I guess out of the three tracks I wrote, actually it was four tracks, and the song called "Give It To Me Anyway" did not make the record. Out of those, my favorite would be 'Shock Full of Rock'. It was an intense in your face rock and roll song.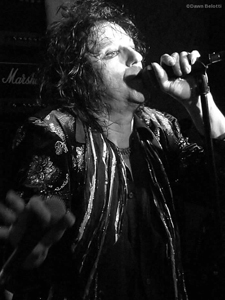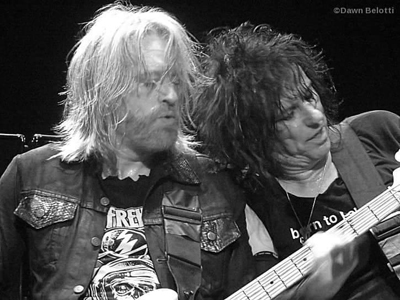 Dawn: We know you are a skilled guitarist and can also grace the piano keys, what other instruments can you play?
Richie: I try to play anything with strings on it. Also harmonica and drums.
Dawn: In the past you have either produced or played with artist such as: Peter Criss, Leslie West, and Dennis Dunaway. We know you are a much sought after musician but are there any artists or bands you have not played with but would like to?
Richie: To play or Jam with Jeff Beck. Unfortunately the people I would l have loved to have played with have passed on. This would include David Bowie, Mick Ronson and the Lizard King Jim Morrison. I still get a special kind of rush playing with Mr. Frehley that I have not experienced with any other guitar players.
Dawn: Are there any up and coming artists that you feel have the potential for success?
Richie: Yes. Joey Pettinato aka JJ Savage, Tommy O'Donnell, also an artist that I produced; Karais James.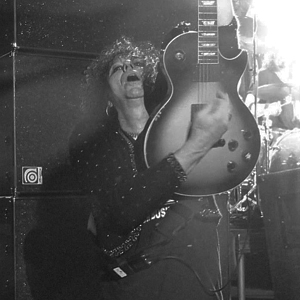 Experiencing Richie Scarlet live defines what a true rock and roll performance is. While still staying humble and grounded, Scarlet remains a favorite both on the road and in his home state of New York. If you have not had a chance to see Richie Scarlet perform, he will be heading on the road with Ace Frehley this month. Along with drummer/vocalist, Scot Coogan and multi-talented bassist Chris Wyse, this is a tour you do not want to miss.