An Interview with Ricky Warwick (Frontman of The Almighty, A Member of Circus Diabolo and also a Solo Artist). Interviewed by Glenn Milligan, early September, 2007
How was it living and growing up in Newtownards, County Down, Northern Ireland & how did it effect and prepare you as a future musician/frontman?
I grew up in Northern Ireland at the height of the troubles, but have nothing but good memories of my childhood there.
It was tough and by a lot of people's standards a very abnormal environment to grow up in.
Bands would not come and play there very often because of the conflict, so I discovered music through my sisters and parent's record collection, all kinds of stuff like Bowie through to Johnny Cash.
My father bought me my first guitar when I was 13. At age 14 the family moved to a town called Strathaven in Scotland. It was there that I met Stump and Floyd at school and the rest as they say is "history'.
What bands and artists in general influenced you there and in what way?
Stiff Little Fingers were by far the biggest influence on me back then. In fact they have been far the biggest influence on my career.
How would you say that Northern Ireland was similar and/or different to the UK with regard to live music and radio?
Well like I said, A lot of bands we're to scared to come and play there. But Punk changed all that, giving us our own bands from the province like Stiff Little Fingers, The Undertones. Pretty much everybody listened to BBC Radio 1 at that time, the John Peel show was amazing. I remember sneaking the radio under my covers in bed to listen to his show.
Were/Are many of your family musical and did that influence you to become a musician?
My Mother is musical, but it was my Father who bought me my first guitar and encouraged me to play it.
What made you to decide to become a performer?
It was that or be a chicken farmer. When I saw Stiff Little Fingers live for the first time, I knew that rock n roll was my salvation.
What sort of jobs were you doing to make ends meet before you made it in The Almighty?
Working on a chicken farm.
What were your thoughts of the music business when you first became part of it?
I really don't see myself as part of a business. I have always written, performed and done what I wanted to do right from the start. I have never crossed the line from musician/fan to someone who works behind a desk.
I manage my own career and I guess have learnt that the music business is what you make it, like anything in life once you give it up to someone else to control it's no longer yours.
I used to hate that when we finished an album we would hand it over to someone at our record label because at that point a large percentage of the destiny of that album is no longer yours.
With my solo albums I only do licensing deals , so as I can retain the rights to my albums.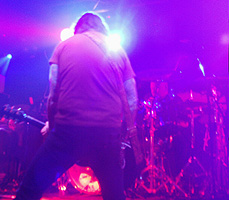 What are your thoughts of the music business now with regard to finance, family, fans and social life?
I have been lucky enough to make a living doing what I love for the last 20 years. When I was younger I blew a lot of money, but don't regret it. There was no one there to advise me back then but even if they had tried to I would have probably told them to f*ck off anyway. As I have got older I have learned to be a bit wiser with the cash and have a good understanding of how the industry works.
I am very happily married with 3 kids and another on the way. I live in Beverly Hills California, I have worked very hard to have the life I wanted and never take it for granted for a moment.
I am and always will be a fan. I go to lots of shows and buy lots of music. To make music that means something to other people and maintain a way of life to be able to continue to do that is a God send.
What are your favourite Almighty songs and why?
Wild & Wonderful. It's a big piece of arrogant, f*ck you, positive rock n roll !
I also love the heavy groove of Addiction !
Do you find that some songs you get sick of playing but have to, to keep the fans happy - which songs come to mind?
I can honestly say that there isn't. Sure I like playing some songs more than others.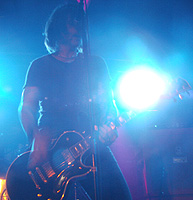 Did you enjoy the promo-video making process and what momentous things come to mind of these times in the Almighty?
Not really. I found them boring. I always felt a band like The Almighty should just stick to all out performance videos as that's what we do best.
The video for "Do You Understand" is interesting for the fact that me and Stumpy both dropped a Ecstacy pill at 8-30 in the morning before we started filming. That was a very strange day indeed.
In the initial Almighty days what would you say are your great memories,
hightlights with regard to the following:
Tours?
I have honestly enjoyed every tour we have done.
Support slots?
Ramones, Motorhead, Iron Maiden
Support Bands?
Warrior Soul, 3 Colours Red, The Wildhearts
Festival Gigs?
Donnington, Milton Keynes Bowl (Metallica)
What road stories do you have that are worth telling?
That folks is a book in itself !!
What memorable people would you say you had the chance to meet and what made them stand out as individuals?
Jake Burns of SLF, Andy Cairns of Therapy, Lemmy and Joe Elliott are true no b*llsh*t rock n rollers.
Honest, Polite people always stand out as individuals. I don't give a f*ck how famous you are.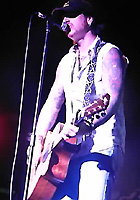 Since some people are sadly no longer with us, out of people you have met, who would you like to bring back if you had the chance and why?
I am one of these people that believe everything happens for a reason. And for that reason I look forwards.
What are your memories of playing Monsters of Rock - either at Donington and/or beyond and what are your thoughts of Donington these days since it has turned into a 3-day and now called 'Download'?
Donington was amazing, a dream come true, the fact that 4 years earlier I had been there as a paying customer in the crowd, wishing I could be up there on stage.
I played Download solo in 2004 and really enjoyed it. Seems like a pretty good festival to me.
Is there a particular Almighty album that you call your favourite and why is this the case?
Crank is probably my favourite Almighty album. I felt at that period of time the band was untouchable. The whole creative process from writing and rehearsing to recording to getting Jamie Reid to do the artwork, was a very satisfying time in my life. The energy and rawness we captured on that album is to me what The Almighty should have always sounded like.

We holed up in a rehearsal studio for 2 months just outside Brighton writing the album and learning the songs, by the time we came to record it, we knew the songs inside out. It's the one Almighty album that I still listen to on a regular basis.
When you went solo, what made you decide to go acoustic?
The whole point of doing the solo thing for me, was to push myself and do something entirely different to anything I had done before. To make album that sounded like The Almighty would have defeated the whole purpose of what I was trying to achieve.
I have always been a fan of Americana and bad boy Country music, like Johnny Cash, Steve Earle etc and found and still do writing those kind of songs very natural.
The hard part was going out on the road armed with just an acoustic guitar, something I had never done in my life before.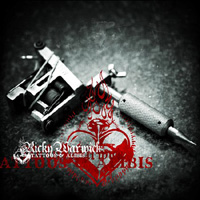 To be honest it was a revelation for me and I believe made me improve as a singer/guitar player and songwriter. I love it. It saved my life, at that point in time when I was writing the first solo record, I was on the verge of quitting music all together. It was a very black period in my life and the album Tattoos & Alibis helped get my, love, passion and confidence back for making music and I have never looked back since !
What is your pereference both on-stage and in the studio - acoustic or
electric or do you simply like both?
Well, they are both different. The buzz of plugging in my Les Paul and turning my amp up to 11 and kickin out the jams with The Almighty or Circus Diablo is amazing.
But going out on stage alone with just a guitar is for me the ultimate challenge and high.
I can't even compare playing live to being in the studio, it's a whole different vibe and mindset. But one that I enjoy very much, hearing a new song recorded for the first time is like letting your ideas out of prison.
How did your album come to be produced by Joe Elliott of Def Leppard?
Very simply. He is my best friend. He understands where I am coming from with my music. He is a great musician with a wealth of experience.
What was it like working with Joe Elliot and what would you say were the
most memorable points of the process?
Making Tattoos & Alibis was the most fun I have ever had recording an album. It was so laid back, stress free. Joe was an amazing producer and really put his heart and soul into getting the best out of my songs.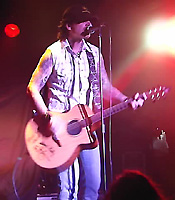 What songs are you most proud of on the solo album and why?
Its hard for me to single out certain songs. I am very proud of both my solo albums.
What made yourself and Toby Jepson decide to go out there and do a couple of tours together a few years ago - what were the highlights of the tour? Did you get the opportunity to duet on any songs - what were they, how did they go and in whose sets?
Toby actually gave me my first solo gig ever. He heard that I had just recorded a solo album and offered me the support on his tour. It was my first solo tour and I gained a lot of experience from it. I owe Toby a lot for doing that for me.
Funnily enough we never did jam on any of each others songs.
What made you decide to reform 'The Almighty' last year, release a
compilation album and do a Tour?
We enjoyed the 2 gigs that we did for Floyds Charity so much, that it relit the spark also there has never been a proper Almighty Compilation, so we wanted to rectify that.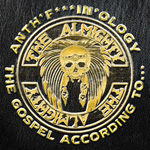 I still believe in the songs as much now as I ever did. We enjoy kickin out the Almighty jams and doing it on our own terms with no management, or record company to please!!!
What were the standout gigs and highlights for you?
It's hard to beat Glasgow.
How was it playing with guys again?
It's fantastic. It's like when any old friends get together. The line up of myself, Pete, Floyd and Stump has a certain chemistry that's hard to find.
We just picked up where e left off, after a couple of hours of rehearsals it felt like the ten year gap never existed.
Will you be doing it again sometime in the future or was it a one-off Tour
that a Promoter decided to put together with record company backing?
Like I said there is no record company. The decision was ours, we instigated it and saw it through.
Next year is the bands 20th anniversary. I think its fair to say we will be celebrating that fact in some style!!!
How was the recent UK Tour supporting 'Riders On The Storm' like for you? What were the highlights for you personally?
It was great. A real honour to meet and share a stage with rock n roll legends Robby Krieger and Ray Manzarek. Robby Krieger wrote " Light My Fire" for f*cks sake !!!!!
How did the support slot on the 'Riders On The Storm' UK Tour materialise? Would you say working with Brett Scallions (ex-Fuel vocalist and now also 'Circus Diabolo' member) make an impact?
We share the same agent and The Riders manager is also Circus Diablos manager.
It was fun being on the road with my buddy Brett. He is a hell of a singer.
How did the band 'Circus Diabolo' come to be?
Billy Duffy, Billy Morrison and myself started jamming and written some songs for fun. Matt Sorum heard them and offered us the use of his studio and drumming and what started out as innocent fun. Became a band and album.
How was your recent jaunt on Ozzfest in the USA with 'Circus Diabolo'? What were the hightlights?
Ozzfest was a lot of fun. The highlight for me was playing in Kansas in a huge rain storm and watching a rain soaked crowd going crazy to Diablo.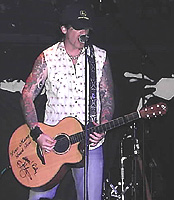 How was it for you support Def Leppard? How do you go over in the USA with the fans there? Do you find them much different to the UK fans and in what ways?
Supporting Def Leppard is an amazing experience, one that I could only have dreamed of. Those guys are like family to me. I get a great reaction to my solo stuff in the States. Obviously most people only know me in the States for my solo stuff, where as in the UK they all know me from The Almighty. I do not find much difference between fans. I am blessed that people appreciate what I do, it doesn't matter to me where they are from.
You have just had an Acoustic UK Tour confirmed with Keith Caputo (Life of Agony Frontman) - what made you both decide to do this as its gonna be one
hell of a series of events !! What are you most looking forward to?
Yes. Keith Caputo is a great musician and performer and I am big admirer of his work. I think the pairing of the 2 of us touring together is a very strong bill. I am really looking forward to touring in Europe as some of the countries we are visiting, it will be the first time I have played there solo.
Are you planning a new album soon? If so when and on what label or are you going to release it off your own back with a decent PR company and distributions company involved?
I have a new 5 track EP coming out called 'Love Owes' I plan to have a new full length album released next year. I may do it own my own label or look for a licensing deal, I haven't decided yet !
What do you enjoy doing when not involved in music?
Spend all my spare time with my wife and kids.
What would you say your favourite tipple is and why (Irish or otherwise)?
Guinness
What would you find on a Ricky Warwick Tour Rider (do you have a disliking to brown M&M's - just kidding dude!!) What would you say the most far out thing you have asked for and has the venue been able to deliver?
I always ask for 2 new pairs of black socks.
What have been your favourite venues and countries to play in - do you have a preference at all or are you happy anywhere as long as you have an appreciative crowd?
I am pretty happy to play anywhere, they crowd don't even have to be appreciative. I like a challenge!!!
It's hard to beat my hometown gigs of Belfast and Glasgow though !
What would say has been the wierdist gig you have ever played and why?
Supporting Metallica, then flying to the USA and opening for a Metallica tribute band the next day!
Have you ever been mistaken for anyone else and who were you mistaken for?
I have often been asked by people if I am Ricky Warwick, and when I say I am sometimes they don't believe me.
Where is the most out-there place or strangest place that you have been
recognised in?
A police station.
When you eventually go to the great gig in the sky, what do you most want to be remembered for?
Kickin' out the jams!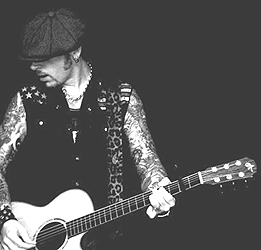 Nice One Ricky, see ya at a gig shortly