Tim 'Ripper' Owens (Lead Vocalist/writer of 'Beyond Fear' & Frontman for Iced Earth)
Interviewed by Glenn Milligan on the Tour Bus outside the Corporation Nightclub, Sheffield on Saturday 8th April, 2006.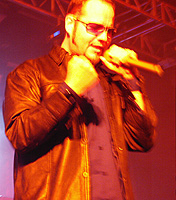 After getting on the Tour Bus, myself and Scott Allen greet Tim and I tell him I previosly met him at the House of Blues, Orlando in 2003 when fronting Iced Earth - a gig that Tim actually remembered which I have to say is pretty cool since I reviewed it for this website He mentioned they had some problems with the backing tapes for the epic Gettysburg(1863) that I recollect as well.
Anyways, its back to the present and Tim has got another band together as well called 'Beyond Fear' who have a self-titled album out on May 8th, 2006 via SPV and are the support act on the UK leg of the Anthrax World Tour.
Glenn: How did you get the band 'Beyond Fear' together?
Tim: Well it's something.. I started working on some stuff kinda all the way back to the '..Priest before I started getting together with John Capri and going over ideas I had for songs and it kind of advanced to him and I writing songs together. Then about a year and a half ago it was kind of a decision to make it a solo kind of a thing or a band and I decided to go make it a band because it made more sense. I think people would appreciate it more and want that more – the label and the fans. So instead of going and getting other musicians from out the area I knew I had people around my area to get - to make it a band. So that was really it about a year and a half ago was when we really started knuckling down. I think I originally got the guys to starting just practicing songs and going and doing some demo stuff so it wasn't even.. At first to get 'em to be the band – it was after probably a few weeks of jamming and I decided that these are the guys for the band. I've known Dennis for years – he played bass in Winter's Bane and the other guy John Capri knew those other guys we were jamming with. So it was pretty easy and it was nice to make it a band and get together because we practice a couple of times a week and it's something I haven't done in about 15 years.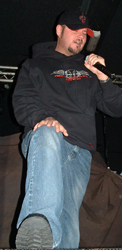 Glenn: Yeah, plus you get to write your own stuff as well.
Tim: I get to write my own stuff and that's definitely a nice thing because it finds me singing exactly how I wanna sing – which is still pretty much the same. I mean really, that's the funny thing – there's no difference in (Judas) Priest and Iced Earth and this in the terms of that. It's still the metal and still the same way of singing. It's just maybe the songs are structured a little bit different – more Sabbathy Priestish meets Pantera type you know? I mean, there's still a little Iced Earth in it and still a little (Judas) Priest in it.
Glenn: Yeah, I was listening to the downloadable track on your SPV page..
Tim: 'And…You will Die' ?
Glenn: Yeah. Excellent stuff.
Tim: Yeah, I mean that's one of the ones that John and I had written and more of a real chugging straight-forward song. I mean there's some more picking songs - so it's got a little bit of everything on it but it's more of an old-school beefed up to the year 2006.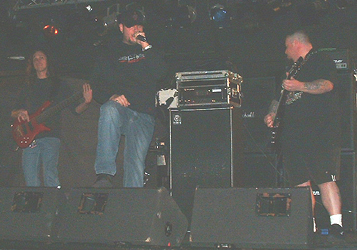 Glenn: Yeah. How did you get around to choosing the name – where did the name come from?
Tim: It just one out of all the names I picked. I had a lot of names written down and I had a lot of fans out there who e-mailed a lot of great names. One name I had was 'Beyond All Fear' and I put 'Beyond Fear' – I had both of them. 'Scream Machine' was actually on it which ended up being a song on the album – so, you know, a lot of people think there's meaning behind it and it does sound like there would be, being called 'Beyond Fear' – like there's 'no fear' or anything out there but of me doing this, but really it's just I liked it. I liked the way it sounded – it fits the music – it's Heavy Metal and looked good.
Glenn: Have you got any favourites on the album?
Tim: I seem to have a different favourite every day. I like 'And…You will die' al lot. You know there's different songs I like for different reasons. 'And… You will die' is probably my favourite all around song - I think defines the whole record as one song. But I like songs like 'Coming at you' where it's kinda got this groove and Dennis is going off on the bass and it's got this flowing vocal line – but that's probably my two favourite. It's hard, I know that 'And… You will die' is probably my favourite though.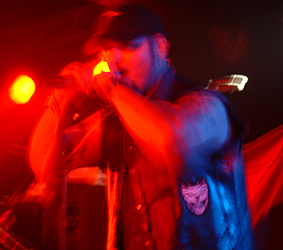 Glenn: Right. Yeah. How did you come up with the (album) cover – is it kind of a classic metally sort of a look that you are using?
Tim: Yeah, yeah – that's what I wanted. I wanted it to go with what we were – the album, what the name is, what the band is, the songs are. You know we're a just a basic guys and the music's basic Heavy Metal music and I wanted something that I liked out there as in covers. I like a lot of the looks that Black Label Society does – I like a lot of looks that Motorhead does. It's the kind of stuff you can take off and put on a shirt or I can just take the skull off of the thing and put it on a shirt.
Glenn: Got Ya.
Tim: You know we had the logo thing that kinda is this and it can go to everything. It really is and I wanted it to not be a big painting thing - it doesn't fit us – I wanted it to be able to be taken off and put on the back of a biker jacket.
Glenn: Are you still using the 'Ripper' bit?
Tim: Yeah.
Glenn: Cause I thought you'd dropped it?
Tim: Well the label (SPV) thought I did at one time and probably really won't use it like when I put my name on the 'Iced Earth' record – I don't think it will be Tim 'Ripper Owens but it might not always be like that on this 'Tim 'Ripper' Owens' but it'll always be a nickname to people. I mean, it's a nickname that was given to me in '96 so it's not something that… you know I don't feel there is a need to drop it because of not being in 'Priest. It was just something that if… you know what, if just the fans called me that or it was just a music thing I was gonna try and totally use it like call the band 'Ripper' or something it would be different, but you know, people at home call me that – friends call me that and that's why I decided to keep it – to still use it and still let people know that – you know, family and friends call me 'Ripper' - a lot of them call me 'Rip'.
Glenn: How long did the album take to come together?
Tim: Well it took a long time as we wrote songs throughout… John had written a long time because we didn't know exactly how it was gonna work. We didn't know when I was gonna have time, what we were gonna do with it. So we then, after, we probably had about six – I'd written about 4 or 5 songs I think and then after I had those that's when we started really. I mean, 2 of the songs came together after we were really done – we were just rehearsing and that was 'Scream Machine' and 'Words of Wisodom' and they're probably the most brutal songs on the album. I think 'Scream Machine' is actually everybody's favourite so.. It took a while but it won't be like that on the next record. Actually anybody can contribute. It'll definitely be John and I together writing a lot of it and I talked to Wayne and he's more than welcome to – you know anybosy's more than welcome to join in.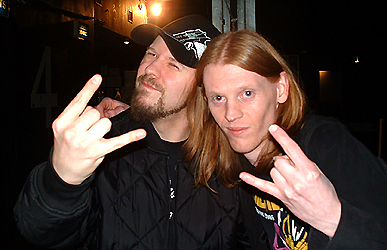 (with John of 'Beond Fear')
Glenn: The album is released on 'SPV' - did you decide to sign with SPV because 'Iced Earth' were on 'SPV' ?
Tim: You know what, it's definitely a help. I was on SPV with 'Priest as well. We were talking on the last promo trip, Owie and I that it was ten years that him and I had done our last promo trip together and that's a long time. It is and especially in Europe, I mean they do really well and they work quite hard and what happened also with this record – they definitely believed in it and they are pushing it really hard and they liked the outcome. I told them from the start that I had other people give offers and some of them might have been financially better but in the long run I don't think it was. I gave it to 'em and SPV liked it and everything but I kept saying, 'just listen 'til when it's done and you'll really… it's gonna blow you away.' And it was – I mean when they got the album they were really excited and they weren't sure what song to shoot as a video and which song as a single and that was a good thing – they had a list of songs that they might use. So I like 'em and they are good people and I had a feeling that they would work it well. Whether that's gonna be the same in the (United) States – SPV is obviously newer in the (United) States as label so we will see what happens there.
Glenn: Haw have the shows been going?
Tim: Well this is our second tonight so err … it was awesome last night – it was great and our first show. The first 3 or 4 shows a band like this has to get their nitch.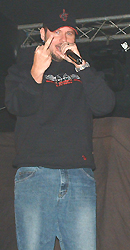 Glenn: Gell together and be used to it.
Tim: Yeah. I mean, we play a lot. The playing's not the problem, especially myself, I'm not actually talking about anybody else – I thing they were fine. I have to figure out what to do and get the comfortable feel on-stage but it was a good show and you gotta remember that nobody knows the songs.
Glenn: Mmm, cos the album's not out until the 8th of May is it?
Tim: And to get people into it is nice, you know?

Glenn: Yeah.
Tim: And if it's half the crowd or if it's a quarter of the crowd, it's pretty cool to get 'em into it.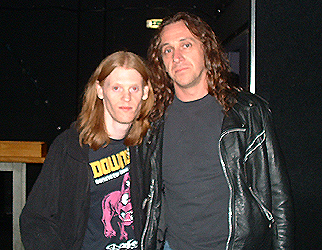 Pictured with Dennis of 'Beyond Fear'
Glenn: So 'Beyond Fear' is an ongoing thing? Are you still part of 'Iced Earth' as well?
Tim: Yeah, it's definite, I mean the goal, I mean I'll get back to Jon (Schaffer, lead of Iced Earth) probably August/September. I mean he's working on stuff now.
Glenn: The 'Demon and Wizards' thing?
Tim: Well he's doing the 'Iced Earth' now – he's working on a new Iced Earth record which is going to be the 'Something Wicked' concept, so I really don't know anything about that. So it's something that he has in his head so it actually benefits 'Beyond Fear' because it gives me more time to tour and do stuff, so we'll get together and it's gonna be big stuff with 'Iced Earth' in the next couple of years. It gonna be really a lot of touring and big stuff you know, but my goal is to make 'Beyond Fear' and 'Iced Earth' the same level and we'll see if it happens.
Glenn: What were your favourite points of the 'Iced Earth' Tour of 2003?
Tim: You know it was a great, great trip and obviously the festivals over here – Graspop and another festival we did but that was awesome. They were great fun – I love doing the festivals but it was great in the (United) States, I mean, you know the 1st run with 'Children of Bodom' and 'Evergrey' was a lot of sold out shows – it was a really good time and ending with 'Gettysburg' every night was ..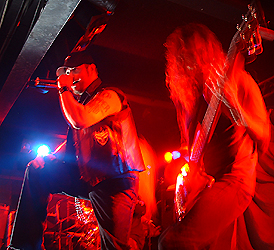 Glenn: Special.
Tim: Was good yeah. So I always loved the opening with 'Burning Times' - I think we opened up with 'Burning Times' I think – Oh no, we opened up with 'Declaration Day' then straight into 'Burning (Times). So it was great man – it was a great opening and I enjoyed it – it was a fun time.
Glenn: When did you realize you had that intense voice, was it from being a young kid?
Tim: Yeah, a young kid – just singing. Just singing to people. You know I remember when I was young and it was easy to sing a lot of stuff and you know, singing in music class in grades kind of stuff – I was always the guy just jumping up on and singing stuff but the Metal Voice it really came when I started when I put on some (Judas) Priest and it was easy to sing. Singing 'Victim of Changes', I mean this was later on. In High School, I remember singing 'Victim of Changes' and I'd call a band and say, 'Hey, I'd like try out for ya' and they'd say, 'What's in your set, What can you do?' and I'd say 'I like to sing 'Victim of Changes' and do the high notes' and they're like 'Yeah sure' – 'Now I can, I assure you'. I never made any of those bands so they didn't believe me. But that was it man, it was something that I was born with. I probably would have rather been born smart and been a doctor and then it would have been a lot easier but (laughs) or a brain surgeon or a you know, but er , it was something I was born with and I had to work on it and try to keep it and fine tune it.
Glenn: Do you have vocal warm-ups beforehand to keep it in trim?
Ripper: A little bit. I need to start doing that more and more and I need to go to bed a little earlier.
Glenn: Partying after being the main thing?
Tim: It's just even last night wasn't bad - we just sat on the bus but we sat up for a long time and instead of doing that I should have went to bed. Not very long though. Only a few hours after the show but you have to do that – the older you get, the more sleep you need to get and the more you need to take care.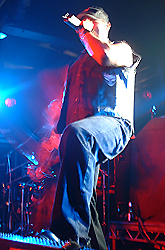 Glenn: True. Definitely. Away from the music, what sort of hobbies do you have outside?
Tim: Well I do a lot with my family now. I have a 1 year old daughter and a 3 year old son so most of my hobbies are spent with the kids and wife because I used to go golfing and I used to go to the gym and stuff like that but it's so much harder now to do all that stuff and drinking beer was a good hobby of mine and my wife but everything starts to come to a halt at home – so it's a lot of family stuff and I enjoy it watching the kids grow and the funny things they do – it's kinda funny.
Glenn: Of all the places you've seen and played in, in either Judas Priest or Iced Earth – what would you say are some of the best countries you have been to?
Tim: Well that's always hard – it really is. I mean, they're all different and they are all so good. I mean it's fun – I always have fond memories of certain shows that I've done. The show in London at the Astoria was my 1st time and was always a fond memory – it was my 1st entrance into England as the Judas Priest singer and I got a bootleg of the show and I got a Ripper chant out of the crowd and that was my first time of ever getting it and I'm thinking of all places to get it for the 1st time it was in the London Astoria. That's pretty good you know. You know of all the countries – my 1st time in Greece was great but they all looked good in their own way. I mean I don't think I have a favourite, I mean I was so love playing in the (United) States because it's a little bit easier on me. My home area in Ohio was always a great place to play 'Cleveland, Ohio' but I like 'em all really. I love travelling and touring.
Glenn: When you are traveling, what sort of stuff do you get up to? Do you watch DVD's or listen to CD's?
Tim: Well I'm golfing on my computer right now. (shows me the screen) Does that kind of look like me there?
Glenn: Yeah.
Tim: So er, I actually sleep a lot and watch movies. The other guys have been listening to some music but I don't listen to music really much. If it had to be, it'd be I'd have the Iron Maiden DVD and you know, I'd listen to stuff like that but I watch some movies. It's usually about it. In the (United) States the buses have satellite TV so you can watch TV so it's kinda cool on that aspect but doing this is a little different on here. But it's definitely DVD's and movies on here. If the weather gets nicer I'll take a lot of walks and stuff.
Glenn: Yeah. You'll be waiting a while for the good weather over here.
Tim: Yeah the rest of the guys took a walk today but I'm not that dumb. I smell the rain coming.
Glenn: Exactly.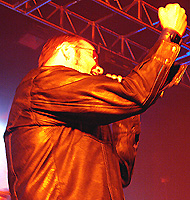 I thank Tim for the interview, have a few photos with him and let him get back to his game of golf!!
Special thank yous to Aaron & Roger (Tour Managers); Alison Edwards of Pure Press); Michael Klinger @ SPV (Germany); the members of Beyond Fear & Anthrax; DJ Mutley, Slomo, Nick and all the helpful security & bar staff at the Corporation; Scott Allen (a good mate of mine for his assistance on the tour bus) & Jason (of Friday 13th Metal Zine)