The Follow-up Interview with
'Robert Sarzo'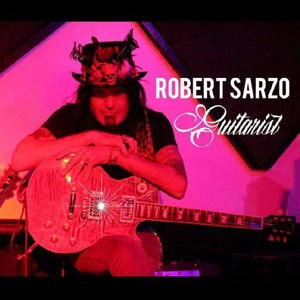 Lead Guitarist of 'A Salute To Santana', 'Hurricane'
& 'Diane & The Deductibles
that took place on September 8th, 2016.
Interviewed by Glenn Milligan.
Glenn: How did the show go on 27th August?
Robert: Oh it was excellent. Really good. Right now we are in the middle of editing the videos. I'm very happy with it. It came out great. The audience was dancing all over the isles. It was a very successful evening for both bands.
Glenn: Awesome.
Robert: I have another show coming up in San Pedro at a very nice venue. It's called Alvas Showroom. A lot of really, really great musicians have played there like Alan Holdsworth. It's a really cool room and it's my third time playing there. The other two times that I've played there have sold out. I was really happy with that so I'm back again. That's coming up on October 8th and I'll be playing at my birthday bash at that show because it's two days after my birthday. So it's close enough.
Glenn: Oh yeah. You've got to give it a good shout out and get the audience with you on that one. Get them to sing 'Happy Birthday' to you!
Robert: I've never done that before.
Glenn: Oh well, why not? You've got the chance to do it. It'll be awesome.
Robert: Yeah. It'll be fun.
Glenn: How did you become a member of Diane & The Deductibles?
Robert: It's a really interesting situation because my wife is in the insurance and she is a licensed agent. Diane read my wife's resume and saw that she had been involved in Music Matters. She asked how she was involved and who she worked with – this and that… then my name came up and I'd just got off tour with Queensyche - well two or three months prior. She said, "Do you think Robert will be interested in playing with us?", so that's how I got involved.
Glenn: Cool!
Robert: It's been almost two years.
Glenn: Nice one. That's great. You play acoustic and electric guitar. What is your preference or do you like them both as much for different reasons?
Robert: Electric because I can do more on it for the obvious reason that you have more dynamic. You can have more different compression through the tubes that I'm using. I've just started using Ruby Tubes. A new endorsement that I am playing through my acoustic amplifiers and I don't use limiter compressions. I really rely on two bands that give me that compression that I need. Most of the sound comes from the desk. You can get the same set-up for different guitar players that are playing electric guitars and they are going to get a different sound out of the amp even though it's the same settings. To answer your question I would say electric. You have more volumes. You can turn up, you can turn down, you can make it play like an acoustic guitar. Then you can play with a pic or play without a pic. You can do a lot.
Acoustic, you are pretty much just acoustic. What is really cool is that I'm playing the Golden Guitar. It's called a 'Grand Concert Series' and it also has a mini pick-up that I'm hooking up to a GR Roland Synthesiser so I can have a string ensemble playing along with me when I am playing acoustic.
Glenn: That's cool. You midi it in?
Robert: Yeah. Especially when I don't have a keyboard player in the band. I am also the keyboard player. It's something that I've been doing since the early 80's with the EVL system so I'm very used to playing midi. I think I was one of the first Heavy Metal guitar players that was going out on tour and running a midi system live.
Glenn: Wow! That's another first then?
Robert: I believe I was the only one. Crazy enough. I have my EVL pick-up running through my Ibanez guitar. I was running a whole rack of synthesisers and samplers and the other rack was all Marshalls. Back in those days you could fly your gear and racks to Japan and everywhere you went. It didn't matter how heavy it was. Nowadays it's a different story.
Glenn: Yeah it's all about money now! How heavy is this? How heavy is that? What have you got here?
Robert: Yeah you can't even bring too many magazines on board on flights somewhere.
Glenn: Wow! You have an endorsement with Cleartone Strings.
Robert: Yeah I have been playing them for a few years. They actually last longer. They don't rust and if you do the test and put others in water and then put in the Cleartone you will see the Cleartone are not rusted and the other ones are. I live in a boat and they are going to rust. They are not coated though, they are treated. They are the best strings. They play really well and I love 'em.
Glenn: You got to judge a car show on 9th August. I guess you have got a big love for cars as well as boats.
Robert: Yeah I love cars. I was judging a car event. My son and I used to have a lot of fancy cars. We used to take them to shows to show. We were big fans of cars. From Maseratis to Lotus. It was a nice little hobby. I don't spend time with that anymore. I'm really more into electronic equipment and amps and guitars. Even though I was before then too but I only have so much time to spend on things. Now that I live on the water, the creative flow is so intense that I'm always writing parts and music and lyrics. It's really interesting compared to living on land in land.
Glenn: Now you are free'er because you can think, 'I fancy living in a different marina' and you can just move around a bit whereas if you are on the land you've got to think about selling house, cars and everything else. I guess it's much easier for you as well?
Robert: Yeah. I really enjoy being on the water. It's been something that I've been wanting to do since I was a young man. You've got to do it. I'm glad I did. I'm really enjoying it. It's great energy out here.
Glenn: Awesome. It's so tranquil at times and you get your rough days no doubt as you've said because you lost your first boat that you had on there.
Robert: You create your own vibe. You are a product of your own environment. You control your environment or at least you are supposed to. It's something that I chosen to really be part of and the people that I meet at the marina are in the same state of mind. It's what they want and that's what they chose. Really nice people.
Glenn: Awesome. Last time we talked you were looking for a singer and I know that last time you were out with Hurricane you had a guy called Michael O'Mara.
Robert: That is correct.
Glenn: What happened to that guy because I thought that at that point you had got the band sorted out with a singer but then you said you were still looking?
Robert: You know, you try people out and with some people it just doesn't work out. You just keep looking. When I found Kelly when I formed Hurricane, I think Kelly was the hundredth vocalist I had checked into.
Glenn: Wow!
Robert: I did check out that many. It took me a couple of years to find Kelly (Hansen) and Jay (Schellen). Tony (Cavazo), I found pretty quick when first moved to California through Kevin Dubrow from Quiet Riot. But before Tony I had Hurricane with other players and I just kept searching. You know when you meet somebody and you do a gig when you start gigging and you go 'This is it! – this is the one!'. That's us, ourselves with the original line-up that everybody recognises. Thst's what I'm looking for right now with a vocalist.
Glenn: I guess some time you'll be able to come over to the UK and do some shows here?
Robert: I'm planning to. I want to play all over the UK, Germany, back to Japan. Hurricane was always an arena kind of a band. It was always very heavy and aggressive on stage. No laying back. Giving it all you''ve got. It will continue being the same format – to give it all. That's what you are supposed to do. That's what I expect myself to do.
Glenn: It would be good to see you do a support slot over here to a big band because it's been so long. Maybe in time?
Robert: Yeah. In time, we were out with Cheap Trick, Gary Moore. We were out with Iron Maiden for a while. Were were out with Stryper doing arenas for a long time.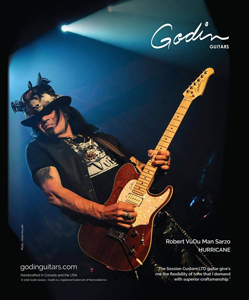 Glenn: I bet that was interesting being out with Stryper.
Robert: They were wonderful. We did over 200 shows with them.
Glenn: Bloody hell! That's a lot!
Robert: Hurricane was always on tour. We did a lot of shows. We were opening up in Arenas with Iron Maiden and we were doing the theatres and the clubs and we were headlining because we were signed already. That's how we left it. Then the band broke up. The music industry was changing. It was an interesting time for music.
Glenn: It happened bit by bit with the grunge thing and all the bands that I liked got kicked to the curb. It was a bit sad.
Robert: What happened was that with the Seattle scene, the record companies noticed that they could get bands from Seattle and put them all in a van and have them go out on tour. They didn't care how they dressed so there wasn't a big expense to launch a band. It was way cheaper to do a video and these guys would just wear clad. They didn't care – they would just go out in jeans. Back in the day it cost a lot of money to put a band on tour and dress them up. You had things custom made and it's a big, big expense. When Nirvana came out, you'd put all those guys in a van, put them out on tour and they didn't care how they dressed or what they look like and it was selling records. Record companies thought, "Wow – wait a minute". It's all about the numbers. That's part of it.
Glenn: Wow!
Robert: Then Napster came in with all the file sharing and the whole thing just stopped. Then we were all caught in the middle. Interesting enough, the record that was going to be out after Hurricane was my 'After The Storm' CD that we released a couple of years ago that was a best seller on Amazon for three weeks. That was interesting so I'm going to do a sequel to that.
Glenn: Excellent!
Robert: Same style but better. Heavy Rock with a Blues flavour with a lot of percussion. A lot of rhythms.
Glenn: Are you having a similar line-up to the last one or are you changing it up a bit?
Robert: Well the recording that I released a couple of years ago was recorded about 20 years ago and everybody's gone on to do other things, so no, it'll be a new line up. The same line-up that I'm doing my 'Salute To Santana'. They are great players.
Glenn: That's awesome. That makes it a lot easier doesn't it because you are all close. You are not flying vocals and instruments around the world on e-mail as mp3 versions etc. You can do it all organic.
Robert: Yeah and we do everything live! We don't can anything in or vocals. Eveything's live! I don't believe in canning vocal parts, soundtracks and all that. That's not right! It's like a DJ! They just flip records or whatever the hell they do!
Glenn: Exactly. You've done some of the jam nights in the Hollywood area. How did you get into those and what have been your favourites?
Robert: They called me to raise money or help out. I just get phone calls. When I'm available I go and do them and I like 'em all. It's fun because you get to play with your friends and you are playing songs that you've never played before and you learn it the day of or the day before. That's kind of challenging for great songs. I like doing them once in a while. It keeps me sharpe!
Glenn: Yeah! I went to the Ultimate Jam at Lucky Strike Live and then on the 1st night at the Whisky A Go-Go and I know you've done both.
Robert: Yeah! They were good. I've done both. They are fun. They are pretty cool. I play a lot of them with my brother in those bands. It's always fun playing with my brother.
Glenn: Yeah because you've done the Randy Rhoads tribute and the Bonzo Bash as well.
Robert: Yeah we did then at NAMM and that went really well. That's a big production. It's a nice big stage and a lot of loud amplifiers which is a favourite. I like to play loud.
Glenn: Which parts of the shows stand out to you that you enjoy the most?
Robert: The one that I played in Brazil with Queensryche and opening up for Aerosmith Monsters Of Rock in Sau Paulo. That was a lot of fun. That wasn't long ago.
Glenn: Yeah! You are endorsed by so many different companies and you were previously talking about bringing all different companies together. Are you planning to exhibit anything at NAMM or are you leaving that to other people and just enjoy the weekend?
Robert: I normally perform at NAMM. This year I'm already impressed with Golden Guitars. They asked me to perform at their booth. They've set up a really nice big stage booth so I'm maybe bringing in my 'Salute To Santana' band and also do some originals there.
Glenn: That's cool!
Robert: Yeah and go around and do the usual – signing, meet and greet and all that. Also it's about connecting with your endorsement companies and sharing different ideas for new products, new ways of doing things in a new fashion… Also giving a feedback of how their product is acting and reacting on the road and on stage because that's very valuable information. We beat the hell out of the gear on the road. I mean, this is day after day after day of being broken down, set up, broken down, set up…
Glenn: So you want to see how hardy it is?
Robert: Yes. They need to know how things are holding up. It's just giving love! I love NAMM! I don't go there to party, I go to exchange information and plan new things. I let the other people do the partying. It's more about business. That's the way I look at it.
Glenn: Yeah! I like to see people, make connections, set up and do a few interviews, see some music going down. It's not about the partying all the time because if you are partying too much you are going to miss things the next day! You'll crawl out of bed and miss half the day – you can do that anytime! It's about make it worthwhile because it's only there once a year for three or four days so I want to make the most of what I've got as I am based in the UK! You know?
Robert: Yeah. I spend time going out to dinner with different companies. It's about giving them what they need to hear. I'm very honest. If I like something I tell them and if I don't like something I tell them. That's why I go there. That's why I like endorsing products so I can help out companies and be involved with them. At the same time it helps me because I get the best of the best. I like assigning things and I like to come up experimenting with gear. I'm always experimenting.
Glenn: You never know what's going to come next do you. It's like, "Ooooh, I like this!, I like that!"
Robert: You never know. That's the way! I play different every night, do different songs, I'm always experimenting. I don't like to play it safe. I'm always on the edge.
Glenn: It gets boring otherwise doesn't it?
Robert: It's more fun and challenging!
Glenn: Exactly.
Robert: You go without a safety net and you've got to really be focussed. When I'm onstage, I'm not drunk, I'm not drinking – I don't need that. I meditate and I warm up really well and then I go on stage on fire! At least that's what I try to accomplish. Sometimes you don't have the luxury of really warming up so you have to do that on stage so hopefully you are playing a two or three hour show.
Glenn: Yeah! Because you don't like short shows!
Robert: Yeah! I like long shows. I like to be performing for long periods of time.
Glenn: Yeah. How was it doing 'Rock And Roll Fantasy Camp'?
Robert: That was recently with Judas Priest, about a month and a half ago. That went really well. That was great. I got up with a couple of bands there. They had people up there and stage and talked away to them. That's the kind of people they are. That band is so tight.
Glenn: Yeah! You can tell those that are just about the money and those that love music because that's part of their blood. That's really nice that they did that. That's brilliant.
Robert: Rob Halford – his voice was strong. He sounds great and really cool to be around. He was amazing with all the campers. It was really nice. This was the second time that they have done it. They called and said, "Hey, we want to do it again! We believe in it. We believe in the Rock And Roll Fantasy Camp!"
Glenn: That's awesome!
Robert: People really walk out of there. They go back home and they are blown away. They are just so happy. The camp is great. I've been doing it for many years. I'm still with people that were the campers. When I'm out on tour, they come to our show to see us play. You build a family all from the camp. You make friends with these people – they are really good people. They are successful in their own field. They chose to take a different route and became a Doctor, Attorney, a famous Chef or whatever… anything. They don't have to be famous or nothing. More than ever, they just love to play with us all. They'd like to be in the industry full-time but they never got to do it. Therefore, this is a great outlet and a great opportunity for people to feel what it's like to be a full time musician for those four days and we work them hard.
Glenn: I bet you do! Haha!
Robert: And they have fun. It's rewarding at the end because they get to play and they get to see us all jam. It's great! David Fishof's really built a great organisation. This is his 25th year anniversary.
Glenn: Wow! That's amazing. Did you find out about it through Rudy or was it through David Fishof?
Robert: My brother was already involved in it. He said, "Hey Robert, do you want to come to the filming at The Key Club?", I said, "Yeah!" and they were filming for a reality show for VH-1. I went there and I was in the audience watching the whole thing and I thought, "This looks like something I want to do!' I just left it at that. One day I went to the Rainbow Bar and Grill for a friend of mines birthday party. That's all! I went there and I'm outside getting some fresh air and David Fishof spotted me. He said, "Hey Robert, How are you doing? What have you been up to?!", I said, "Well actually I am producing a kid band".
They were 10, 11 or 12 years old and we were in the recording studio". He said, "Well that's really interesting. Will you be interested in being a counselor in two weeks at the camp. I need a councillor to be working with kids - a kid band". I swear to God, that's how it all ended up. That's how it opened. That's how it all began.
Glenn: Awesome.
Robert: That was my first one and that was about six years ago so they ask me when I'm available and I do it and I enjoy it.
Glenn: What songs are you playing at the Rock And Roll Fantasy Camp? Do you throw some Hurricane songs in?
Robert: It's about who is there for that one so we did some Judas Priest ones because they were there. Songs that are heavy for the concert jam. We will throw in different ideas in there and it just gets picked by whoever – Valerie (Ince) or Vinny (Appice). It's real casual. There was another time when Alan White from Yes came down or it so I said, "Why don't we do a song by Yes". I volunteered to it so we ended up doing 'Roundabout'. We dissected that whole song and Billy Sheehan sang that. He filled it out and Phil Soussan played the bass. Alan White played the drums obviously. It depends who's involved in it.
It's always changing. I don't think I've ever done any Hurricane songs for the camp because it was not necessary. You do Montrose for Ronnie Montrose. The first one I did I think was the one that Ronnie Montrose played. There's a great picture of me, Rudy and Ronnie on stage at the House Of Blues. It was a perfect angle of three guitars all lined-up. It almost looks like it was photoshopped but that's a great photograph especially because we don't have Ronnie around anymore. What a Legend!
Glenn: With regard to living on the boat, you must see some incredible things in the ocean swimming past?
Robert: Oh yeah, the other day I went for a ride and when we got back in there was really nice mellow sea lion by the wife and I. It was swimming and communicating with us.
Glenn: Wow!
Robert: Those are things that you don't have if you are not in the ocean. You see amazing things out here. Beautiful things.
Glenn: I remember being in Fort Myers and seeing a shoal of Manta Ray or Stingray all swimming in a V formation and it was incredible. I hope it stops that way and nothing gets killed off with pollution.
Robert: You know, we have a new growth now for some reason and you can see in the ocean a lot of life and there's a lot of new plants growing. It's a good sign that there's new life coming back in the ocean. For a while there, everything was dying and now it's coming back. That's a positive.
Glenn: That's great. Are you getting a coral reef coming back again?
Robert: Everything. Starfish – all kinds of neat stuff. That's a good thing.
Glenn: It is yeah. I agree because I've always loved nature. Some people don't notice anymore because they are too busy looking at their phone.
Robert: Yeah they are busy. Sometimes I will pull out my small amp and put it upstairs and the upperhelms right open. I'll bring my guitar up there and I start playing – just jamming. So many people really appreciate that. It's like 'Wow!'. That's kinds cool because it's so quiet and reserved over here. They get what I'm doing because I am just expressing my emotions and the way I am feeling at the moment here in the ocean and they like that so that's cool. No-one is screaming 'Shut Up!". (We laugh)
Glenn: It's almost like you could create your own genre called 'Ocean Rock' or 'Ocean Metal'.
Robert: Yeah! (We laugh) People here are pretty cool. We are all searching for the same vibe.
Glenn: Do you listen to many up and coming artists? What has an artist got to have to grab your attention?
Robert: Not a hell of a lot. I do really enjoy listening to Adam Lambert, the singer. I find him to be one of the best performers and vocalists. I've seen him already twice and I like him a lot when he does his own thing. When he was out with Queen, I saw him with Queen. I saw the original Queen and Adam did a great job. It's cool when he has control of whatever he wants to do. Musically, that's one artist that I'd really like to one day collaborate with. I guess what he is doing and I see what he is doing.
He's a really great frontman. I've always liked to work with great frontmen – with Geoff Tate – he was one of the best. A vocally strong frontman that can really push his thoughts and techniques into the audience and it allows me to be my best that I can be. I don't have to hold back. I can really push myself to the limit as a guitarist and a performer. I like that. I don't like vocalists who get a little thrown off when you really push yourself. You get really into it and it makes them feel and think, 'Oh wow! What's going on here'. Kelly Hanses was great too out with Hurricane. He's out with Foreigner. I've always loved having great vocalists.
New bands – I don't know. It's hard to for a new band out here to really get pushed. Back in the 70's and the 80's, record companies used to be able to really nourish artists and bands. They had the concept of doing that and the money. Nowadays they don't do that. It's a different market nowadays. Bands or musicians don't go out being able to play all night – 6 nights or 7 nights a week and really work on their craft. It's not their fault. There's just not enough places to play. People are not going out as much as when I was growing up in Florida – especially in Florida. I was able to play secen nights a week and get paid for it. Now there's no place to do that. Not even in Florida, there's no place to do that.
Glenn: They are not interested.
Robert: Yeah! It's just a different industry now. There are people doing other things because they cannot afford it financially to go to all the concerts. For a new band to really come out and be great, like when Queen came out and Led Zeppelin – those great bands – The Who and all the bands of the 80's. I don't think that that can exist. Not the way the system is nowadays.
Glenn: They don't invest in artists anymore. Guys like Rod Stewart or Elton John, they would never have existed now if the industry was like that then because some of them didn't make it until their 2nd or 3rd album as a solo artist. Nowadays they would have got kicked off after their single or last album if they didn't sell enough units for the record company.
Robert: Yeah.
Glenn: It's so different now. It's really sad.
Robert: It's different. Now with all the auto-tune and all the electronics, drum machines and people relying on gadgets that we didn't have available back then, so we had to do things live. We had to really work hard at it. We had to work really hard. Even myself, as a guitarist when I wanted to learn something off a record, for example, Led Zeppelin – a Jimmy Page Solo, I had to slow it down on my turntable but when you do that it changes the pitch of the song.
When you figure out that you are playing it at a different key, you then want to play it again with the record and compare and see if you're really playing it close to the way it was recorded, you have to transpose that immediately – really fast! Not just learning the notes and the feel of how the artist played it on the instrument, for example, Guitar, I had to learn how to transpose music really quick. It was a really good learning experience to be able to do it that way. Nowadays you can get an app and it will slow it down for you and you can loop it over and over so you don't learn how to transpose.
Glenn: This may sound blasé or pompous but I don't think the kids these are as musically skilled as what you guys were. They are more skilled technically with regard to all the gadgets they have got access too which is really sad.
Robet: Yeah and a lot of guitar players don't know how to play rhythm.
Glenn: Crazy!
Robert: They think playing rhythm is just playing power chords – just straight-forward power chords. They forget that playing rhythm is just as important as doing the solo parts or more important because actually in group you are working with, the actual rhythm section has got a groove. They don't teach that. I teach guitar private and I actually teach people what not to do and how to mute. A lot of people don't know how to mute as you are playing different runs, different solos and doing chords – different voicing, how to mute, how to get the guitar to sound like there's an actually chorus effect on the guitar without that pedal.
You can do it with your fingers. Anchoring certain fingers and then the other ones are actually doing the vibration of the chorusing and it gives it that sound like it's a chorus but its not. It's just the compression on your hands and the way you are doing different vibratos with finger number three and finger number four, then finger 1 and 2 are anchor in harmony, doing harmony notes in 1 and 3rd, then the other ones are doing the 5th and 7th or 9th but giving it a chorusing effect – giving it a certain vibrato – a certain tempo. Those are technique things that you really have to learn and a lot of people don't teach that. They just say, "Step on the pedal" – they don't have to.
Glenn: Take the pedal away amd they are kn*ck*r*d though aren't they?
Robert: Yeah and different compressions on your fingers, you are actually compression the note into the fretboard that's going to give it a certain sound and also the timing of your right hand picking with your left hand consistency. That also changes the actual tone of the instrument. It's not just playing notes. It's doing that and muting your right hand. You are muting with the palm of your hand in certain parts of the bridge that can also give it a cool rhythm feel. It's just the way you mute, with a certain cone on the amplifier to give it that. It's an overtone. You can push it with a speaker – different tricks like that. I like to teach that and you can't just get that from a book, you have to really talk about that and explain it.
Glenn: Yeah that's it. There's more to playing guitar than just playing guitar.
Robert: Yeah and more than just playing the actual notes or chords. Those are things that you learn throughout the years of playing live. I grew up playing in clubs at the age of 11 and I would play until 5 o'clock in the morning. I would be jamming on stage with great players like Dick Wagner who did most of the recordings for Alice Cooper and he did sessions for Aerosmith.
These were guys that were mentoring me in Florida when I was a kid – 11,12,13,14 and hanging out with them and I would have Alice Cooper in the audience when he was in in Fort Lauderdale at the Flying Machine. These are experiences that a lot of young players don't have nowadays other than going to 'Rock And Roll Fantasy Camp'. Then you can go there and get that experience – it's a four day experience and you have to really cram it in. If they're smart enough they will remember all those things that we teach them.
Glenn: That's awesome. What are you most proud of?
Robert: I'm proud of my Son and my Grandkids and just life in general. I love life. I am just proud of life. I love getting up in the morning and being able to do what I love to do and I'm proud that I've been able to figure that out. Finally I have come up with a way of doing things that I can do that. This is what I love to do and this is what I do. I'm proud of my Wife, Avery. It's a great lifestyle I'm having right now. I'm proud of myself that I've actually finally figured out things that I want to do and I'm doing it.
Glenn: It's like you have now discovered what the meaning of life is?
Robert: Yeah. I like what I do. I really love it. I'm proud to have good friends. I'm proud of my Brother. A great Brother and he's great to the community. He's a true artist and a great human being.
Glenn: Definitely.
Robert: He's good people and I'm proud of him.
Glenn: What would your last words be for the fans to conclude this cracking interview?
Robert: I would to say that if they really believe in the industry of music – the art of music and if they see a local artist and they want that person to really go to their fullest, then support them. Don't just download their music and take their music for free. Understand that a musician has to make a living. To continue doing his craft, so he can share what he does with you. By you taking their music and not supporting them first, you are actually also taking that away from yourself. If you enjoy what that other person is doing, help that person continue doing what he's doing. I'm a true believer in giving and paying for it.
Just help out the industry because it really is in an odd place right now. Artists cannot really rely on record companies to help them move forward with new material, new albums, new ideas. I have had so many people come to me and say, "Do another record?" but if you don't have the actual resource of like what we had back in the 70's and the 80's even some of the 90's. They would say, "We want you to do another record. Here's your budget – go for it! Lock yourself up in a room and put it together". Most people don't have that anymore. They expect the artist to deliver everything already done.
Glenn: Incredible isn't it?
Robert: Then people are not even buying the music. My catalogue now for 'After The Storm' is on YouTube for free. I spent a whole year writing that and producing it and creating it and now people can just take it for free rather than going on the original websites and buying it. For me, that's an example.
Glenn: I may check out a few snippets of an album and think, 'I like that" and go out and actually buy the proper thing. I think it's because we are old school. We like to just be able to grab a vinyl, grab a cassette or grab a CD and actually own it.
Robert: Also, if you believe and you want that person to continue contributing beautiful music and composing, you've got to support that person. You've got to respect that the person's got to eat, he's got to pay his mortgage or his rent or whatever he needs like his medical bills. You know? It's life. You've gotta eat. So if you're not donating money or bought it from the person that's actually creating it's not just about life. It's the recording part of it. It's very expensive and very time consuming to write something and record. That is my message. If you really, really want the artist to continue to get to you, you have to give to them as well.
Glenn: That makes an awful lot of sense that and I wish a lot more people would do that in this day and age that are coming up from young kids and onwards because it's just taking an easy ride and as you say bit by bit it's killing the artist and it's killing the industry even more. It's just crazy to do that all the time. I just disagree with it. Completely.
Robert: Yeah. Exactly. So if you want the person to be a real musician, you've got to contribute to that and help the young industry as well.
Glenn: Something else about mp3's and downloading albums either officially or whatever, I say that's okay but you can't go to a 'Meet And Greet' and get an artist to sign your mp3 player or something can you? There's nothing better than having a nice autograph on an album.
Robert: I know with albums, people are buying vinyl again and they do sound better.
Glenn: Yeah I agree. What got me though is that when I was a young kid, I'd get £2 a week pocket money and on the second week, I'd have £4 because on the next week I'd have £6 and I'd be able to buy an album – a vinyl. So I'd ring Berry Music in Worksop, Nottinghamshire and ask them to order it me and you've have it the week after.
You've always got the albums. I don't understand this virtual age of music at all but there you go. Time moves on…. Anyway, we've been talking for a bit but it's been good to have another good chat.
Robert: Yes I've really enjoyed it Glenn. It's a pleasure speaking with you.
Glenn: Likewise.Cool. Right I'll see you in January.
Robert: I'll see you at NAMM.
Glenn: I may even see you at Ultimate Jam Night or somewhere before.
Robert: Excellent.
Glenn: Right, I'll speak to you soon Sir.
Robert: Alright Glenn. Have a great day man and good talking to you.
Glenn: You too mate! Take care Robert.
Robert: Bye.
Glenn: Thanks Buddy! Bye.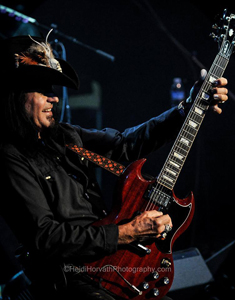 A big thank you to Monica Wild of Wild Sky PR for setting up the Interview with Robert and of course the man himself, Robert Sarzo for yet another really great informative chat!
Special thanks also to Heidi Horvath for permission to use her exceptional photographs http://www.heidihorvathphotography.com/