An Interview with
'Robert Sarzo'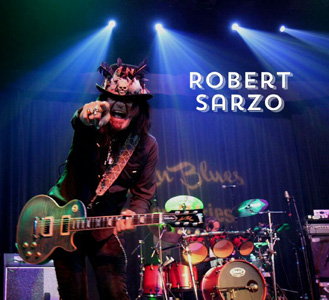 Lead Guitarist of 'A Salute To Santana', 'Hurricane'
& 'Diane & The Deductibles'
that took place on Tuesday 23rd August, 2016.
Interviewed By Glenn Milligan.
Glenn: Hi Robert, it's Glenn from Metalliville!
Robert: Hi Glenn!
Glenn: Hi, it'd good to catch up with the other Sarzo Brother because I was talking to your Rudy a few months ago – it was late last year and it was great.
Robert: Oh cool!
Glenn: So there you go. It was great of Monica to put us both in touch. How is it today weather-wise?
Robert: Oh today it's great.
Glenn: That's awesome. We've had good weather over here too. I bet it was hot when you live in Cuba?
Robert: Yeah! I live in Los Angeles. I live in a yacht. I sold the house and moved to a yacht. I love it here. It's the most Southern part of Los Angeles. It's like my Catalina island. It's only half an hour from Downtown L.A. where all the action is nowadays. This has the feeling of Cuba being here. I think that's what attracted me to this marina. It's got the hills like Cuba. I was born in Havana and I used to live a block away from the ocean. It was called the El Monaco. Monaco I think, is another word for harbour. The feel here is very much like Cuba. It reminds me of Cuba. It's very peaceful. It's very Nice!
Glenn: Is that one of the reasons you decided to settle just there because it reminded you of your old home?
Robert: I like and I almost wanted to be by the water. Then I realised because I had had boats before. I thought, 'Why not be on the marina?' A friend of mine, Jack Russell, the singer of Great White lives also on a yacht at a different marina. He invited me over and I really got to see that it's lifestyle that I wanted. My Wife, Avery agreed to it, she said, "Yeah, let's got for it, let's do it." We rescue dogs and we brought our four little dogs, two Pomeranians, a Japanese Chin and a Pekinese who live on board with us. The first boat that we had got destroyed a year ago, right after when I got back from a break on a Queensryche Tour. A storm came by and destroyed the boat. There was a hole in part of the boat and we got rescued. We were in the marina so we got another boat, a different style, a trawler. It's taller and now we are further n more by the hotel which is more protective by the wind.
Glenn: Got ya.
Robert: You know, You've got to respect Mother Nature!
Glenn: Oh yeah, totally.
Robert: Sometimes it gets windy and rough so we're further in. We love it here. It's great.
Glenn: Awesome. You were born and raised for the first few years of your life in Cuba. Why did your family decide to leave and come to live in the USA?
Robert: Well we left because of Communism and it took over Cuba. My parents acknowledged that we were not going to have freedom anymore so they got us out of Cuba. The four of us migrated to Miami. We were refugees. We came to America on September 1st, 1961. It was totally different. We left all the lights on. We were not supposed to have left at that time. My Dad was able to get us out of there. We flew Pan Am to Miami and we were staying at a relatives house, sleeping on whatever – furniture, couches… whatever until we got our own apartment. It was challenging and scary for me. It was scary what was going to happen leaving Communism.
I remember being in Cuba and I was being asked by my teachers to pray to Fidel Castro, not to pray to pay to god for ice cream because it was very hot. This was pre-school. All the kids were praying to God for ice cream and no ice cream will appear. Then they said, "Let's try praying to Fidel Castro for it, then after we all did that, the ice cream was brought in.. We were being brainwashed by Communism. After we left they closed the borders. About a year later no-one else was supposed to or allowed to leave Cuba unless they swam here.
We got here and it was hard. I've got to be honest, because of not knowing the language it was very difficult. We left everything behind – jewellery, money cars, house – everything – just left it behind. To go to a new country, not knowing the language and not knowing what you are going to do, but you know you are in a free country must have been challenging for my mum and Dad.
A few years after, we were sent to New Jersey because we were still getting Government help and my parents were still trying to figure out what they were going to do. At the time they weren't able to speak the language and weren't able to do their trade. So we went to Jersey that was even crazier. It was cold and being from a tropical island, you're not used to that. We were there for two years and then my parents figured it out, bought a car, we moved down to Miami and immediately my Father started working.
My Dad was always working – he did whatever he had to do to make ends meet. When we were in Jersey, we were watching TV at a friend's house and we saw The Beatles on The Ed Sullivan Show when they came to America. My brother and I remember that living room when we were watching The Beatles and looking at each other thinking, "That's interesting!" Then my Brother, Rudy who is four years old managed to convince my parents to get us an acoustic guitar from 'Speak Well' Magazine. It was delivered. We never put it down. It was a way to express ourselves – freedom.
Then we moved back to Miami. I was 9 or 10 years. All the kids in the neighbourhood had seen guitars through The Beatles. It wasn't really accepted being Cuban and playing Rock 'N' Roll. As young men, up to Woodstock when Carlos Santana came out and started playing Rock 'N' Roll and it was all Mexicans and not Cubans. But a Latino is a Latino and here he's playing his version of Rock 'N' Roll which is Blues-Rock. Then I found out later that when he was doing this he took Afro-Cuba music and incorporated it with blues. He says that in Interviews. It's all true. That is all the afro rhythms that I grew up with. That is all the afro rhythms that I grew up with in Havana and hearing it all over the street and everybody playing.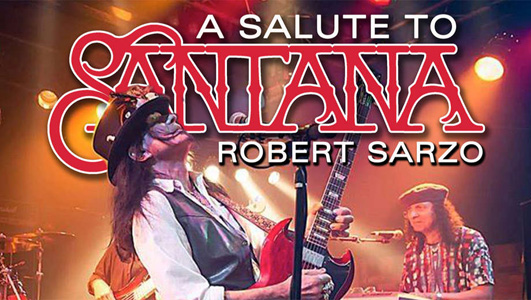 Glenn: I discovered Carlos Santana the same way – via Woodstock and borrowing tapes and albums and recording them. I thought, "This guy is cool. All the colours and imagery. So unique yet it still worked on the rock and blues base as well. He's one on his own so I can understand what you got from that. I was the same as a young adult growing up on that.
Robert: Yeah! It was very unique. Being in Miami and I was at an age that I started playing in school parties, in fact I started playing and getting paid when I was 11 years old. I even had my own car at 14 years old. I had to get really street smart because I came from another country really fast. I made myself a guitar and then I found myself a harmony guitar that I traded from baseball cards and things like that. From 14 years old, I had my first Les Paul. I worked as a bus boy at a hotel on Miami Beach and I saved hard to get a Les Paul and my mum and dad paid off the difference. That was great – my Sunburst Les Paul – that was 1971.
Anyhow, when Carlos came out he started making a lot of music and getting really popular. All the Latinos in Miami including myself, I was able to start playing in all the clubs while in Junior High School and then in High School. I would stay up all night because the clubs were playing until 4 O'clock in the morning, driving from Fort Lauderdale to Miami, I would stay up, probably have some coffee, go to school, take a nap and go do it again. That's a lot of hours of playing and playing and playing – you do a lot of jamming. You start really working at your craft as being a musician.
Now when I was out with Geoff Tate's version of Queensryche (A.K.A. Operation:Mindcrime), I had a feeling there was going to be a break and I thought, 'I'd like to Salute Carlos Santana to let him know that I appreciate what he was done way back' So I started getting in touch with different musicians that I knew in Miami that were in Miami Sound Machine in the beginning and the original member of KC and The Sunshine band who is still there today as a percussionist. He hooked me up with people in L.A. that are great players who play with Pancho Sanchez – great Latin Jazz players because I wanted to put a killer band together. One guy knew another guy and then one guy knew another guy and I started putting it all together. I've had it for almost to year now. It's been doing very well. 'A Salute To Santana'. We have been headlining all the shows that we do and some of them sell out!
Glenn: Wow – that's awesome!
Robert: We're doing the early Santana from Woodstock like 'Soul Sacrifice' to others like 'Jingo' etc. etc. We have Matt Kalin on horn – he's a jazz horn player/sax player. On keyboards, Jimi Seville – he was the band director for Dean Martin's Son Ricky, that just passed away. He was his keyboard player and he's played with a lot of people. Then there's a Puerto Rican on Percussion called Franc Ortega on Congos, Jacinto Chad Cancino on drums and vocals and Ross Schodek on bass from Texas. He also plays in Pontus Sanchez, as a percussionist. We just do the Santana catalogue. Someone called us 'Stage of Steroid' because we play with a lot of energy. I don't do the colours they wore at Woodstock but I put a little flavour of metal in it. So when I am soloing I take it even further and I get very intense.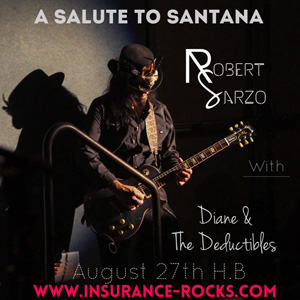 Glenn: You put the Sarzo kick into it as well?
Robert: Oh yeah, my own thing! My quote is, "It's not an imitation, it's my show of appreciation'. It's not a tribute and I'm not impersonating Carlos. I'm just showing that I really appreciate what he did and what he has created. He's a great player.
Glenn: Have you ever met or played with him?
Robert: I've never played with Carlos. I would love to some day. I've been following his career and even when he was working with John McLaughlin. I was a big fan of him and his Mahavishnu Orchestra, Chic Corea and all the percussive players like Al Di Meola but I've never even seen Santana live. I've never had the chance to see him. I'd like to.
Glenn: Same here. I've got mates who have supported him on a festival bill but I've never actually seen him across here at all in Britain.
Robert: I will. One day I will. I'd rather than just see him live, I'd sooner perform with him live and just really get down to the Latina salsa stuff! That would be a lot of fun.
Glenn: And ask him all the cool stuff that you've wanted to ask him for the last 40 odd years no doubt as well?
Robert: Yeah! He seems very spiritual and I like to connect with the energy of the Universe when I'm performing. I like to create a figure 8 and do it with the audience. You've got to communicate with the audience. I feel their energy and give it back to them and trade off.
Glenn: Otherwise it's flat?
Robert: Yes! It's part of live performance – feeling the energy and then you are with the people.
Glenn: What would be your favourite shows that you've played with the band so far?
Robert: They've all been great. The one in Texas that we did in El Paso was a lot of fun. It was nice to get away from the California area but Las Vegas was great too. They are all good and the one that we have coming up at the Huntington Beach Library Theatre on Saturday is going to be a blast because that's a really nice venue. Great lighting, great sound, great stage, great staff. It's going to be great! I'm really excited about it!
Glenn: You've played there a few times before or have you seen other people there?
Robert: I have performed there because I also perform with the hosting band which is Diane and the Deductibles. I've been doing it for over a year and we've had Missing Persons, Ambrosia, Coco Montoya, Walter Trout so it's a really nice venue. Not too many people know about it but every time artists play there they go, "Oh jeez, I want to come back!" It's very intimate. It's about 315 seats. But from every seat in the house it's really nice. It's got good acoustics also.
Glenn: I thought it would be a plush, cosy little venue like that due to its name. I think venues like that are better than big stadiums because they are more intimate and more with the audience. It's not like watching someone on a video screen from half a mile away!
Robert: Yeah! It's important to have a good show on and off stage. Very important! That's when you've got to make sure you are working with a good crew. It's not just the band, it's everybody – it effects the whole night from the people that work in the venue, the stagehands, the lighting, the ticket people – everybody, because we are all striving for a great night and everything flowing nicely. So it's important to have a good circle of people. Sometimes we are there the night before to get it right. When we play the Huntington Beach Library Theatre, the PA comes in on Thursday as well a Diane and the Deductibles, we Soundcheck and set everything up on Thursday. All the levels and then the headliner comes in on the day, early in the morning, the day of the show and that way they have more time to spend. It's set up very well by Diane Adams. We are also sponsored by Farmers Insurance.
Glenn: Cool!
Robert: They really believe in bringing the community together and they work it back to the art so it's good. It's a good thing.
Glenn: It's nice that it's all built up bit by bit.
Robert: Yeah!
Glenn: It sounds like it's got to a standard that everyone's happy with which is awesome really! What else would you like to tell me about the show? Do you have certain parts of the show that you enjoy more than others. I know you enjoy it all but do certain things stand out that you really look forward to?
Robert: I'd say all night because it's got different heights of energy. Some songs are more energetic to play than others. It requires setting a good setlist in a way that it flows very well. I think we've got it down to that. I think the way the set list is right now is really good. It's just the whole night. It's just great and it's a lot of fun to be in the opening band and also be in the headline band which is what I will be doing in this next show on Saturday which I'm playing with both bands.
Glenn: Nice!
Robert: I've done that with Hurricane and with Geoff Tate's Operation: Mindcrime on tour. We did that for a month. After you've done it for a long period like that – 20 or 30 shows and then you go back to only headlining it's like, 'Oh boy, this is going by too quick! Can we do it again?' (We laugh) Your body gets used to being on stage for three hours and you feel like you are just warming up.
Glenn: What is your audience range for the show due to you being with Geoff Tate and Hurricane for 'A Salute To Santana' band?
Robert: I feel that there's a core. I've been building a core so that when people come to the show they know that I'm not just one style of player and they understand that I'm going to give them my 200% - I am going to give it all I have. I try to surround myself with the best player I can find to do the job.They know that if they come and see 'A Salute to Santana' they are going to get the best of the best of what we can create. We're not going to go and half-ass that! Just like when I do Hurricane it's going to be the best that I can do with Hurricane because I put together Hurricane.
This is what I've been doing all my life as a musician in putting band together, organising and getting people together. I'm just having a blast right now with what I'm doing musically and my whole lifestyle.
This is what I've been doing all my life as a musician in putting band together, organising and getting people together. Not just in music with musicians but I have done it with musical companies. Then I also have another project called 'Any Crew VuDu' and I have Steven McGrath, the Bass player for Billy Idol for 15 years playing with me. It's a three piece power band. The drummer that plays with me is Ronnie Ciago who is in Diana And The Deductibles. It's a blues-rock based kind of a band. We do a little bit of everything but it's turning more into a Jeff Beck/Stevie Ray Vaughn kind of a band. So I've got that as well as playing with Diana Adams in Diane And The Deductibles and 'A Salute To Santana'.
Glenn: So you're always busy?
Robert: Yeah! It keeps you busy. I write for films, I compose with the writer from 'Saw', Marcus Dunstan on films. This is basically what I do. I love writing and I like to teach also, so I teach on Skype to certain serious musicians.
Glenn: Yeah there's quite a few people doing that. It's the way to go because you can do it these days.
Robert: Yeah. A lot of people of people are doing it. It seems like guitar is not as involved as drums. Drummers find it a little bit more difficult to do it because you've got all the drums. It's fun to do. I like putting people and companies together. I did it with Ibanez when I started endorsing Ibanez. I got involved with Ibanez because I approached them because I had an invention for the guitar for my style of playing. At that time, it was just players like Lee Ritenour and George Benson that were endorsing the company. They wanted to tap into the Rock world.
I started helping them design the whammy bars and different stuff. I asked my band at the time that I formed Hurricane when we got signed and we got taken onto the road. They actually created one of my guitars which was the Transformer Guitar that came from body states. The drawing of the neck was the shark tooth that they are still using on some of their guitars as well.
I was also using Dimarzio pick-up. I was endorsing Larry Dimarzio's pick-ups from Staten Island. When I went to Japan I hooked up there with the people from Ibanez and I brought in the option of bringing in Larry Dimarzio and using the pick-ups in the Ibanez guitars. They're still doing it and that was back in the 80's. I've gotten Lee Jackson, the amplifier builder to go and work at Lewis Music, I connected them with Crate amplifiers and Ampeg. I like to help people out and keep the who network system working.
Glenn: That's good to keep it all going.
Robert: It's a lot of fun to do that. I'm not doing it to get anything out of it. I just figured, "Hey this will work well with something else".
Glenn: Yeah! You've got a love and a passion for it. Why not?
Robert: Yeah. It's interesting to see things like that develop. I'm just having a blast right now with what I'm doing musically and my whole lifestyle.
Glenn: So basically some of the Ibanez stuff and some of the other guitars, it's all your fault? I'm kidding! That's awesome!
Robert: Yeah.
Glenn: That's pretty incredible. It's almost like you are an enigma and people won't realise this stuff at all. That's mind-blowing that to be honest with you!
Robert: I know. I was one of or maybe the first Metal Ibanez endorsee.
Glenn: Sound! I remember Hurricane from the mid 90's. I discovered the band by going around the various second hand record shops and charity shops. Me and my mate, David Roberts picked up the first album, then we found the 'Slave To The Thrill' album. We played the albums and then we saw you guys playing on MTV sometimes and thought, 'Wow – what a great band!'. I mean, once you get a song like 'I'm Onto You' in your head, you can't get it out! What a great thing to do! There's worse songs you can have rattling around in your head. It's a cracking song.
Robert: Hurricane was a good band. Great players and we stayed focussed. All the musicians from Hurricane are still active. We've moved on. It was a lot of fun. Before that I was in another band in New York City actually. I joined this guy D.L. Byron, the song writer or the main songwriter, D. L. wrote that song 'Shadows Of The Night' that Pat Benetar turned into a hit song. Before we did our first record, we did the record, Jimmy Iovine produced it in New York City at the Record Plant and I was an avid star. We went on tour with The Boomtown Rats, then we went on tour with Bob Seger, doing the arena tour – that was our first major tour! After really being out here doing arenas in 1980 – that was a blast!
Glenn: Just a bit!
Robert: My first Jack Daniels I think I ever had was with Bob Seger, hanging out with him!
Glenn: Wow!
Robert: He was great. Then after that, I came back from that whole long tour and I get a call from Ozzy and Sharon because, you know, Randy Rhoads got killed in the aeroplane accident. They flew me to Los Angeles to help them out. They told me to bring my guitar and bring whatever I wanted to bring. So I did and I started learning all of the material. I learned the whole set and I was rehearsing with the band. It was almost ten days. Then when Ozzy came back from 'The David Letterman Show' he went over the set and said, "Robert, if you want to do the tour, you've got the gig", so I said, "Yeah, yeah, I'll do it, I accept!". I went back to the room and I kept working on the material. I was living in Jersey and I was going back to Jersey the following day to perform at Madison Square Garden with the next tour because I had been picked. Next morning, we were all packing up because we were going to fly out and Sharon coaxes me and said, "Robert, I've got a problem. My Dad Don Arden didn't tell anybody, he flew another guitar player!" I found out it was Bernie Torme from England with all his gear.
Glenn: I get to see him on 10th September in Sheffield. He is playing at the Corporation.
Robert: I've never met him. I'd like to meet him. But anyway, Bernie went out on tour with them. He didn't even rehearse with them in L.A. That's one of Don Arden's calls that he made. He owned the Management and the Record Company. So okay, this guy is going to replace Randy and that was it. That's not, how I get, that Ozzy and Sharon want to run the company. So I was in and then I was out.
Glenn: Got ya! Amazing!
Robert: I got to learn the material off Randy and got to rehearse with a good band. I saw the beauty of the composition of Randy – the way he composed and created his solos. I had met him briefly in New Jersey when they played The Capital Theater. Randy was just very excited about life and music and showing me backstage his equipment and all his pedal-boards what he was using for the guitar. He was just a really nice guy.
Glenn: Yeah! Then look at what happened. I know Rudy got to play bass for Ozzy for a while. It's tragic because that would have been the first time that you and Rudy would have got to play together with Ozzy but you had to wait years later and do this thing with Geoff Tate's 'Operation: Mindcrime'. But at least eventually, you did get to play on a major stage together.
Robert: We got to tour nationally together because we grew up playing together. When we both went up to State New York in around 1984, the project that we were working on just fell apart. In 1985, I stayed in New York City, he asked me if I'd consider working with him. There was a band that was looking for a bass player and a guitar player and I told Rudy, "No, No, I really want to stay in the New Jersey/New York area. I wanted to try and get in and make things work out in New York. That's when I started hustling and going for a vision. That's when I hooked up with this project with Arista. Rudy left and I ended up in L.A. and the rest is history.
It was great touring with Geoff and Randy, Gane and Kelly all for a bit as Queensryche. We did the 'Operation:Mindcrime' album and that was for over a year. I was in the band for just about two years. I did all the gigs, all the shows – everything. I didn't miss out on any of the dates. We enjoyed every moment of it. I though it was a very enjoyable hanging out with Geoff and the family. We would be gone on a tour bus for a whole month together – living together and playing 6/7 nights a week and it was great. It was great hanging with my Brother and spending time with him after all these years. You know how it is? You grow up and then you get your own houses, your own family and then the years go by. It's not like when you were growing up and you shared the same bedroom. All of a sudden we're sharing the same little bunks and he's sleeping above my bunk. You know, we can't get any closer.. so… (We laugh)
Glenn: I bet to be honest, although you are on stage with Geoff Tate and the guys, I reckon probably the coolest thing for you will have been to bond again on close encounters with Rudy.
Robert: Yeah. We did a lot of great bonding. We did a lot of luncheons and breakfasts, spent a lot of time together and we got to travel a lot. It was fun playing in Sau Paulo play the 'Monsters Of Rock' together and sharing the stage. You do a complete circle because you were growing up and now you're at a adult age and doing it again together. It was magical. It was great. Geoff is very professional and a very strong frontman that I really like. Someone that gives it all he's got every night. Just like I like to do. I think I did as well – the whole band did! It was a very powerful show. Some fans – they really loved every second of it. They kept following us on tour. They would go to one show and fly to the next show. Very loyal fans. They were great. A lot of those fans that got to see me with Geoff or Rudy and everybody else in the band are still now my friends and their following me on my other ventures that I'm doing.
Glenn: Perfect.
Robert: 'A Salute To Santana' and 'Hurricane' - So I like to stay in touch with them. Now thanks to social media and we have facebook and all that, we stay in touch.
Glenn: That's great. I've had the chance to chat with various members of Operation: Mindcrime and Hurricane name now…
Robert: That's cool. So you got to meet Mike Hansen?
Glenn: Oh yeah I met Mike in 2012 and we were chatting for a good hour to 90 minutes at the Rainbow!
Robert: Cool! Mike is great.
Glenn: Yeah. Nice Interview that.
Robert: He's a great drummer.
Glenn: Yeah! I seem to bump into him all the time in some band or another. Usually at the Whisky and he always comes over saying something like, "Glenn! how are you doing mate? Good to see ya!"
Robert: Very talented, very versatile. Yeah, he's been with Hurricane for many years now.
Glenn: I'd love to hear you guys do a brand new album. Some new stuff coming out.
Robert: We are still looking for… we are still trying out different singers. So if you know of anything, let us know.
Glenn: Yeah. He's in f*ck*ng Foreigner, that's the problem isn't it?
Robert: Yeah! With singers, it's a very personal thing and it's a very unique thing. It doesn't have to be like Kelly Hansen. We want somebody that can be here now and move forward. We're not trying to re-create the past. We want to create the present and the future.
Glenn: Yeah because otherwise you just become a parady of the past but older.
Robert: Yeah.
Glenn: And what's the point doing that?
Robert: Right! We have ideas and we want to keep it modern. We want to keep it fresh. That's a unique presence and voice. I love people like Adam Lambert as a vocalist that has been singing with Queen. Someone that has the space, presence and the vision of what a stage performer should be like. When I was growing up I got to see Jimi Hendrix perform live and that's how I gage and that's my attitude at stage performance. I grew up watching The Who, Queen and all these bands. To me, that's how the stage should be performed.
Glenn: Yeah! You make it your own and you give it back and you make it unique as well and be remembered. It's not just four guys on a stage who play a few songs and chuck in a guitar solo and a drum solo that's just like the band that played the venue last night. That's why these bands are so memorable.
Robert: Right! When I'm looking for players and people like that, that's what I'm shooting after. The stage performance, the quality of performance. That's what I mean about looking for a very unique style. It doesn't have to be exactly like one person but it's got to be a certain vibe to it and voice. That's why we are still looking for a vocalist. Hopefully there's somebody out there that can create that image and sound.
Glenn: There's no doubt you'll find him sooner or later. Hopefully sooner than later.
Robert: We will.
Glenn: You will definitely. There's plenty of people. Just the right opportunity, You might find them in a bar or somewhere. Just a chance meeting or something like that.
Robert: Exactly.
Glenn: What would you say are your favourite times from the heyday of Hurricane?
Robert: Oh there were some good ones. (Laughs)
Glenn: I'll bet!
Robert: Japan was a great one. Being there playing in Osaka, Aloya, Solcio and being on tour with Iron Maiden was a lot of fun. Cheap Trick was fun too. We were always touring. It was a good time because the label would work with you, encourage you, believe in you and they would back you up. Nowadays that really doesn't exist. You were able to experiment musically and with videos. Now there's really no ground for experimentation. A lot of stuff now is just being sampled. It's not fresh. It's not new. So things are different. Even big bands, they are playing stuff that is already pre-recorded. The sounds. Even some of them, I don't want to name any but some of them, even the crowd of the audience screaming is recorded!! It comes through the PA and I'm like 'No – wait a minute' I've been to some of these shows and I don't see the crowd screaming at that pitch! But you can hear it come out of the PA. I think, 'Oh this is pathetic!'. I don't know. I like it when the band is actually playing live with no safety net.
Glenn: I've seen one or two bands that have been out for a bit and you listen to the vocals and you think, 'Hang on a minute! Those vocals are taped – those backing vocals!' You see it so much!
Robert: Yeah, they took it from the studio. It's like, 'Oh boy, are we getting lazy?' It's like, 'Come on! Take a chance, take a chance!'
Glenn: It's karaoke!
Robert: Oh, that's another thing, they don't even do that with their solos. It's already canned. Are you kidding? You see me perform. If you go and watch all my shows, every night I play it differently. You aren't going to hear the same lick twice. Why? Because it's a different rush. One day I had more coffee than the other. I want to play it different because I feel different. I don't believe in canning stuff. I haven't done that yet and I don't plan to do that. I like to just let the magic happen. If one night is not as good as the other one then 'Oh well!' Let it be.
Glenn: You've got your own album out called 'After The Storm'. How did that come about?
Robert: 'After The Storm' was something for a new band that I created. It was a Robert Sarzo Band actually called 'Sarzo'. Enigma kept the option – Enigma with Capital Records to do another record. They said, "You created 'Hurricane', now create another band'. So I had Rudy Relts on vocals & Larry Bones on Bass. They are different guys but I wanted to do that Afro-Cuban feel which I did. Enigma while it was going to be released, they shut down. They went bankrupt. Anyway, I had the master and RCA was picking up the record. They wanted to release it if I was okay about it. The guy who wanted to sign it left and never came back. He went on vacation to Mexico at Christmas and never came back. The guy that took over him didn't want to deal with that. He didn't want to do anything that the last guy was working on.
Glenn: Bad energy?
Robert: Yeah or he probably wanted to get all the credit. Whatever! Or had a different vision. I was still shopping it around and then at the time my wife Suzy got diagnosed with Cancer and that whole thing just took a different ship in my whole life. I asked my son and I had to take a new challenge that was to put that album and whatever else I was doing aside and just focus on trying to keep her alive. I kept her alive for about 10 years and lost her.
Glenn: That's terrible. I'm sorry about that.
Robert: Yeah. Sop my brother came around and help me put together a whole Pro-Tools studio. Just getting all the parts and all the pieces and all that and I got back into creating a lot. I never stopped playing guitar but I just stopped touring.
Glenn: I guess you found it that extra therapeutic thing to get back and perform and play in a band – not to take your mind off losing your wife but having something there again and having your Rudy and other people in your life say, "Come on, we'll keep you going, you're good, don't lose it, it's so terrible but let's make something positive out of this sad occasion".
Robert: Right. Since she passed I just locked myself up in a room and started figuring out Pro-tools, then I opened up my own recording studio in Sherman Oaks and then I got bored with that. 'I don't wanna get stuck in a room. I gotta go out and play'. Then I started putting the band Hurricane together again. Then I got into a thing of, "Let's do another one", then I got a call from Geoff Tate. But I love being on tour. I love to play out. That's where I belong. I love the studio too but it's just connecting with the audience. That's where the magic starts.
Glenn: Yeah. I must ask you about your hat. How did you find that hat?
Robert: Glenn the hat's on me. It was brought by the universe. (We laugh). This is a little interesting and I have to say dark. When I was growing up in Miami I was experimenting with life, asserting that there must be more to life. I'm into flying saucers and life on other planets. I would stare at the stars in Key West and Miami and look for other sorts of life. I believe in that and I also got involved with a girl I had met who was into Santa Ria which is a form of Voodoo. I got to experience some really cool, magical things and I got to also experience that it could be a really positive experience as well. Just like anything.
I got into that and I was out shopping in thrift shops with my wife, Avery and she saw this hat. She said, "I saw this hat but I didn't know it was going to fit you". But I saw the hat before she pointed it to me. It was a really high end thrift shop. Then I got the story from the lady in the shop that it came from a Witchdoctor who moved to Paris and sold everything to her that she could sell in her shop. I went ahead and put the hat on and it fit perfect. It looks like it's glued onto my head. When we went on tour with Queensryche everybody wanted to buy my hat. From the pilot to the stewardess – you name it – everybody. People will see that and I meet and greet everybody wearing the hat. I'd say, "No, what am I going to wear tomorrow".
My wife and I, we looked up the brand of the company that makes those hats. They are American Wool, then a buddy of mine who is a famous sculpture artist made the mould of the original one skull and I actually put bones together with my hands and I put them with the skulls. It's my parts. It's an art-piece. My wife paints it with me and then we decorate it with the feathers. They are real bones. Chicken bones.
Glenn: Awesome.
Robert: I custom make those hats as I get requests on the internet. It's under VuduMan Curiosity shop. You can google that and you can find it. We custom make the hats and it's just a lot of fun. It has a lot of good energy. We put a lot of love into it. We don't just throw it together. We personally make and press them up.
Glenn: Nice! There's a cool story behind it.
Robert: Yeah. It became popular when I went out on tour and they started calling me The voodoo man and I started spelling it 'V-U-D-U' and I own the .com and I am the VuDu Man now.
Glenn: Yeah I had a feeling there was a story behind the spelling too.
Robert: It's become my brand but I was the VuDu Man and it's been since I was a child. I just never talked about it. It's just a way of life. It's about connecting with the universe. That's all it is.
Glenn: With regard to UFO's I've seen things too in our area. I live in UFO hotspot here. There's got to be more than us around in the universe.
Robert: I cannot imagine that it's only the people on this earth. There's got to be more out there, there's got to be more.
Glenn: Exactly. Yeah!
Robert: Right I've got to go and rehearse with my 'A Salute To Santana'.
Glenn: No problem, We've talked about all sorts of cool stuff and we can talk more after you've done the show.
Robert: Sounds like a plan. Well it's been really nice talking to you Glenn.
Glenn: Well I'll let you get off now but have a great show this coming Saturday with 'A Salute To Santana' at Huntington Beach Library Theatre! You take care Robert.
Robert: Thanks Mate. Bye.
Glenn: Bye.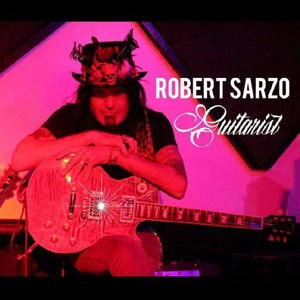 A Big thank you to Monica Wild of Wild Eagle PR for setting up the Interview
and of course Robert Sarzo himself for taking the time of his busy schedule for a fantastic chat... more talk coming soon....