An Interview with
'Ryan Roxie'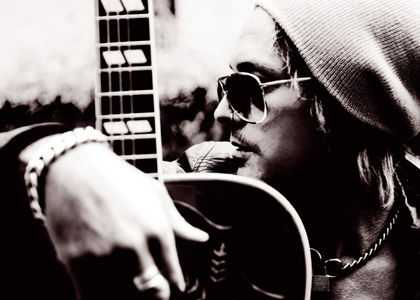 Guitarist of Alice Cooper, Casablanca and Roxie77
that took place in early July 2014.
Interviewed by Glenn Milligan.
Glenn: What would you say the differences are for you between the bands 'Roxie 77' & 'Casablanca'?
Ryan:Roxie 77 is basically 'me' , or about as close to what style of music I personally enjoy playing...guitar-driven rock-popish songs that prove a point in 3 minutes or less...If you are looking to find what music is most personal and closest to my heart, then R77 is the band for you to check out...on the other hand Casablanca is a definite 'part of me'....the part that gets to be the raucous guitar player that 'hopefully' writes hooky and memorable parts to compliment the songs of a very solid band. I'm blessed to have the freedom to contribute to both bands as well as other musical endeavours.

Glenn: Why did you decide to have to two bands running alongside each other so to speak – as in Roxie 77 & Casablanca, and how do you handle this - especially alongside your commitments with Alice Cooper?
Ryan: What can I say, I like to stay busy! ;) Each of these bands satisfies part of my musical hopes and wishes, so if I can make them all work out in the course of the touring year, I will....That being said, its not always that easy....but it DOES work out and I do get to play shows with all 3 bands annually, which I'm very lucky to be able to do.

Glenn: What are you favourite songs on the 'Ameriswede' EP and what/who influenced them?
Ryan: The first single 'Idiots & Idols' is one of my fav rockers off Ameriswede....obviously there is some influence by Cheap Trick & Ex-girlfriends amongst these songs...it's your job to discover who's who ;)

Glenn: What were the highlights recording 'Ameriswede' and why?
Ryan: To have the album mixed with 2 different approaches was something that was very satisfying. Tommy Henriksen (Alice Cooper Guitarist / Producer) mixed the 'American' side of the record (making it sound more 'radio-friendly' with a luxurious sound, while Jon Bordon mixed the 'Swedish' side (staying true to the more indie-rock lo-fi sound that so many bands that I love have.) I really like listening to BOTH versions.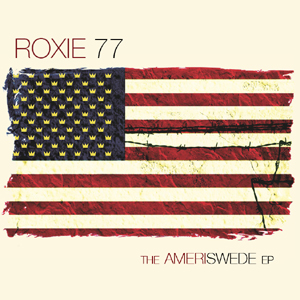 Glenn: When can we expect to see Roxie 77 over in the UK?
Ryan: Any breaks that we have on the Alice tour I will try and get R77 over to the UK being that it's only a 2 hour flight...I know this well because I date a girl that lives in London and we've made the trip many times this past 1 1/2 years :)
Glenn: What have been the coolest moments so far since Roxie 77 started as a band and for what reasons?
Ryan: Opening up for Kiss at Stockholm Stadium a few years ago was one of the coolest gigs I've ever 'fronted' in a band situation. We were the openers so we weren't expecting a very large crowd or a good response...BUT we were so pleasantly surprised when we hit the stage to find a nearly packed house (34,000) that actually gave us one of the best responses we've ever had at a live show....The Stockholm Stadion show will go down as one of my Top 5 coolest rock moments that I've ever experienced, not just a R77 moment ;)
Glenn: What were the highlights of recording the album the Casablanca album, 'Riding A Black Swan'?
Ryan: Being able to record the entire album in a 'live' setting was quite cool...we used a rehearsal room / recording room so that everyone could record together at the same time....most of the bass, drums, and rhythm guitar tracks were all done at the same time...I think that's one of the things that gives this 2nd Casa record a bit more aggression and energy.

Glenn: How long did it take to record the album and what songs were the toughest to get down and why?
Ryan: The Album was quick to record when we finally got into the studio...it was recorded over 3 'sessions' where we took 3-4 songs at a time and got the basic tracks down , did over-dubs , laid vocals...then took a break before meeting up a few weeks later to repeat the process. The hardest part of the recording was experimenting with delays etc. on the guitars as we laid down the 'effects' live rather then the mixing process...again to have more of that organic sound.

Glenn: What songs on the album meant the most to you and for what reasons?
Ryan: My personal favorite is the last song off the record called 'Just for the night'....because when we first wrote the song, it sounded like a completely different song then what it ended up being...and I'm SO happy the way the final mix sounds as I was able to pay 'tribute' to not just 1, but 2 of my guitar heroes in that song....Steve Stevens (the echoey pre-chorus parts) plus Neil Geraldo (the guitar solo)...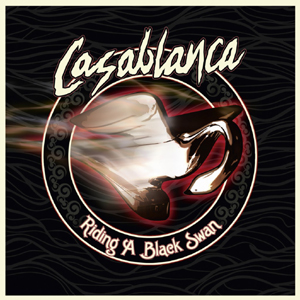 Glenn: Why did you decide to call the album that since I immediately noticed it's tongue-in-cheek likeness to a similar titled T-Rex classic hit?
Ryan:To me, RABS represents betting on the 'long shot' or the 'dark horse' if you will....we are well aware that guitar-driven rock is not amongst the most 'en-vogue' types of music to play...but we choose to play it anyway because it's the type of music we love and grew up on....and ultimately want to 'pass the torch' to the next generation.....
Whereas most popular music today is perfectly pitched and clean sounding (even the distorted guitars for christsakes!) which could easily be represented as a white Swan..... So we decided to make a record that was live, dirty, and fully of 'flaws', but coming straight from the heart at the same time....the Black Swan....not the most beautiful of the bunch, but sure as hell a lot more angrier !

Glenn: Was It a conscious decision to have 'Sweet' styled backing vocals on the song 'It's Alright' or are there other reasons you decided to do this?
Ryan: Absolutely!....every album I play on has an early '70's glam band 'nod of appreciation' on it....Good call on picking that one out!

Glenn: What influenced the songs 'The Giant Dreamless Sleep'; 'Dead End Street Revisited'; 'Heartbreak City' & 'Some Misty Morning' and 'Just For The Night' both musically and lyrically?
Ryan: Early Iron Maiden, Hanoi Rocks, Billy Idol ....these are all albums that we have in our record collections....all influences that shaped the way we listen to music....you can probably hear that in some of these songs....and we own up to that proudly! It's ok, to borrow from your influences, just don't copy them note for note! ;)
Glenn: What would you say the main differences are for you personally between the 'Apocalyptic Youth' and the 'Riding A Black Swan' album and why?
Ryan: Apocalyptic had more of a 'lush' and radio-friendly type of production sound, whereas Swan has a more raw in your face energy to it...I like listening to both as I think they compliment each other and show 2 sides of Casablanca.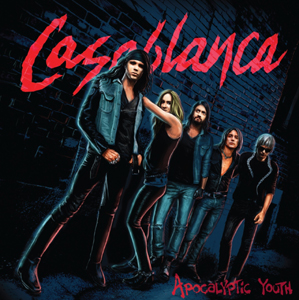 Glenn: Where exactly was the black and white picture taken of the band that is featured inside the album inlay and what was it about this actually area that made you decide to choose it in particular?
Ryan: We wanted a 'classic' look...black n white, and something that came from 'our' city...which is Stockholm.....So we shot the album cover in 'Gamlastad' which literally translates into 'old town' which is located in the center of Stockholm....it's a vibey shot and were happy to capture that moment....

Glenn: What made you change from 'Rocket Songs' to the 'Gain' that is under Sony for this, the second album?
Ryan: We love our friends at Rocket Songs records and they have done so much to help us get to this second album....Sony/Gain stepped up and said they would like to be a part of the 'journey'....so far, they have done a good job at getting our music out there.... We all know it's a long way to the top (longer if you come from Sweden!), so we try to remain friends with everyone we do business with....the type of music we all love is based around a 'community' of people...and we know we will end up working with everyone in that community at one point in our careers.

Glenn: How was the Bannermans electric show and acoustic show at Scotts Bar, Edinburgh for you?
Ryan: I always enjoy playing Scotland because of the over-whelming support I get from dedicated people that have been watching me work my way up the ranks for nearly the past 20 years....they come out and support no matter if it's in an arena or a pub...and that really makes me happy.

Glenn: Which do you prefer most with regard to acoustic and electric and why?
Ryan: As much as I like the intimate, story-telling vibe of the acoustic shows, there will always be part of me that wants to strap on my Les Paul, plug it through a Marshall, and just blow the doors out of the place.....so I must say I favor playing 'electric' just a wee bit more.

Glenn: What can we expect if we come to see a Casablanca show in the UK 2015 and what does it mean to you personally to be finally about to play forthcoming shows with the band?
Ryan: Expect a band that is hungry to win the attention of the UK fans, and deliver the songs live with as much energy and aggression (hopefully even more!) as the album has.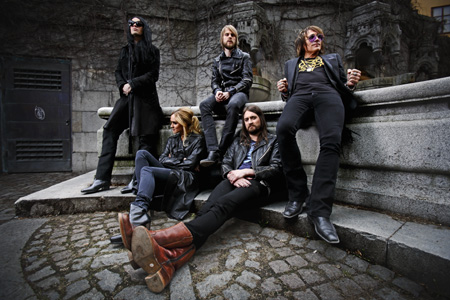 Glenn: What made you decide to have guitar lessons available from your good self and what would you say it takes to be a good guitar teacher in your opinion?
Ryan: I want to make sure that the next generations of rock n rollers keep the guitar as the obvious instrument choice when it comes to playing music and writing songs.... All that DJ stuff is fine (in small doses), but there no computer-based program that will equal the adrenaline you get by hearing a kick-ass guitar driven band doing a great show...that's why the word 'rock star' is still used for so many different things other then music....it's the ultimate thing you can be.
Every teacher has a different style...the best way to teach is by simplicity I think. I have done a few online courses for people that are interested and if they would like to check them out go here: http://www.playalongmusic.com/en/ryanroxie And if you are really serious, send me an email and I'll send ya a code for a free month of these lessons to see if you like them or not.
Glenn: These days, what do you most enjoy when performing with Alice Cooper on stage and why?
Ryan: I appreciate every moment I'm on stage with that guy because I realize just how much of an icon he is....his influence transcends so many different genres of music...and there are few people that can deny his greatness as a performer....I know that it's a privilege to be up on stage with him every night, but the cool thing is that he makes us (the band) feel like we are really important to the whole process, which just inspires us to play better and better for him...

Glenn: Have there been any scary close-shave moments on stage so far with Alice with regard to props and if so, what were they and where?
Ryan: Chuck Garric (our bassist) got stabbed last year on stage by a sword....luck it was just in the shoulder and it didnt' require any stitches....but yeah, between guillotines, whips, and knives someone is bound to get a scratch now and again ;)

Glenn: What have the most enjoyable shows been so far with Alice Cooper and which forthcoming ones are you looking forward to and why?
Ryan: This upcoming tour with Motley Crue is going to be a BIG one...Over 77 shows with these guys, so I'm looking very much forward to playing withsome of my 'heroes' growing up, as well as playing some of the coolest venues I've always wanted to play like Hollywood Bowl and Madison Square Garden.
Glenn: What have been the funniest moments you can talk about that have happened while being on tour with Alice and why?
Ryan: To be honest....we laugh every day on this tour....because we appreciate the unique position we are in....to be this age and still doing what we are doing at a high level is a very rewarding and 'fun' experience....
Glenn: What have been the best things you have learnt from Alice so far over the years and why?
Ryan:To show up on time, always put in your best performance (never phone it in!), and treat the fans the same way you would want to be treated if you were paying money to see them do their thing.....respect!
Glenn: What do you most enjoy doing when not involved with music and why?
Ryan: I enjoy hanging around really good, positive, and funny people...which luckily includes the woman in my life Bianca as well as my two kids Lennon & Natashia Grace....they make me a better person just by being around them ;) Also, I dig playing golf with the Coop...who wouldn't?
Glenn: How would you personally describe the guitar style of Ryan Roxie?
Ryan: Definitely NOT perfect...but perfect for Rock n Roll....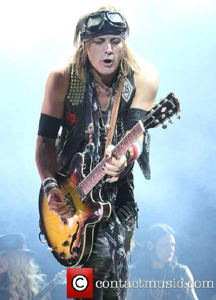 Glenn: Can you see yourself writing an autobiography one day?
Ryan: If I ever do write a book I'd want to make it 'inspiring', not just stories about how much f*ck*d up sh*t me & my band mates have done...there's enough of those type of sensationalistic books out already....how in the hell could anyone ever compete with 'the Dirt' anyway...?
Glenn: What would you say you are most proud of so far and why?
Ryan: I'm most proud of being able to say that I never stopped trying to do what I do for a living, and I know that I'm very lucky to be in the position that I'm in right now...It was because I made the choice to be here, and I hope I bring inspiration to everyone else out there to find what it is that they do best and accept it as part of their reality....people really do 'choose' their reality.
Glenn: What would you like to say to the readership of Metalliville and fans overall who have read the interview?
Ryan: Thanks for reading this small book!...Thanks for supporting me and the bands I've been in over the years, and hopefully our paths cross somewhere down the road of rock....If you have a serious question, track me down on ryanroxie.com (my email address is right on the site), and I'll do my best to give you a serious answer....but in the end, we shouldn't make life so serious..let's make it a Big Rock Show! Cheers! Ryan
A big thank you to Faye Blaylock of No Quarter PR for setting up the Interview