An Interview with
'Scott Holiday'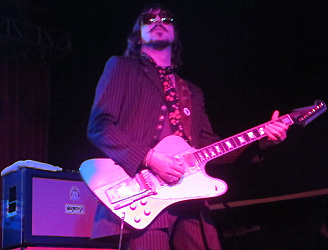 Guitarist of Rival Sons
that took place at O2 Academy, Sheffield on 17th March, 2012.
Interviewed by Geno D.
Geno D: So how are you finding England?
Scott: We've been here a few times. I think this is our fourth time. We love England. Great, great people. This is a great place - a really great place.
Geno D: How did the band all come about?
Scott: Well from my side of it, I'd just come off a big record deal with Atlantic and I decided I wanted to do something a little different. I was looking for something a little mellower and my roots are clearly based in rock and roll and elements of soul and I thought, 'I am gonna make a band like that' because it feels like it's dying out because not a lot of rock n roll so I went painstaking and searched out members and stuff and found Michael Miley - the 1st musician buddy for the band.
We played together and connected very well and he found our bass player Robin (Everhart) while playing a jazz gig for Isaac Hayes right by his home which is kinda cool. We had another singer for a while and we signed a deal for EMI, it was touring with the record and we decided it wasn't totally perfect and decided to find somebody who was more right on the money and came across Jay (Buchanan) who I wanted immediately. When I told the guys I'd found our singer - he was playing like acoustic folk and soul music and it turned out one of them was friends with Jay ten years before. He was best buddies with him.
He was actually doing his own thing but eventually after prodding him over and over again, Jay called and we talked on the phone and finally found each other over a load of old blues - Howlin' Wolf, Son House, Robert Johnson... - so many old blues people. We realised that we had something really strong. We thought this was development. It was great - this old blues we were into. Then we kept talking through about what we liked - of course Elvis, Chuck Berry, Jerry Lee Lewis and also the mod era - The Small Faces, The Who and even bands he was discovering that I like Creation, The Monks - the garage up to like Creedence, Zeppelin, Sabbath - you know we kinda talked through the airs. The Stones, The Beatles of course - discussed what we loved and didn't love. We discussed about what was on now - why would we do a rock band? Is there even a rock fan out there? The world is so devoid. So we decided on what we agreed on - we said, "Let's do this" and glad we did. We were just gonna let everything happen.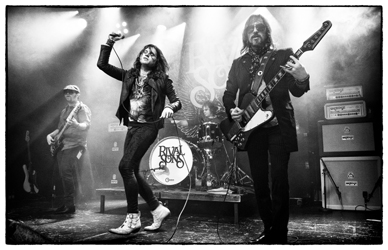 Geno D: Well it did and very very quickly.
Scott: Well immediately when we started to play local - our 1st show at like 'The House Of Blues' - they sold out the House Of Blues show. (Previously) they sold out the Viper Room, they sold out the Roxy. Coming back we sold out the House of Blues - we like had an immediate reaction from people around who lived locally and pretty much right from there.
Geno: It was surprisingly from Earache, for them to put a band like 'Rival Sons on the label'.
Scott: It is - it was a bit of a shock because this is Earache?
Geno D: Yeah because this is good rock and roll - so how did the whole Earache thing come about?
Scott: It was ironically via the Internet - i think it was myspace and they just heard what we had going on and contacted our management. We were fortunate enough to wangle a really good management early on. They contacted them, got hold of us, said, We're interested". We thought they were taking the p*ss and having a joke on us so we kind of just shoved it to the side for a quick second and went "No". We thought they were kidding. We just kept on doing what we were doing and we were busy enough and then the Manager said they keep calling, they keep talking to us, they are very interested and they are not b*llsh*tt*ng - they are genuine", "Ok then we should start talking to them", and everything just kinda lined up. They were nice folks, had a great vision and idea of what we were doing and what they would do and their track record was good.
Geno D: So you guys then got onto the International scene?
Scott: We actually hit with our E.P (the self titled 'Rival Sons') ... We agreed to let them give away our second record.' so 'Pressure and Time' is our 3rd. They just said can we do this? We wanna do this.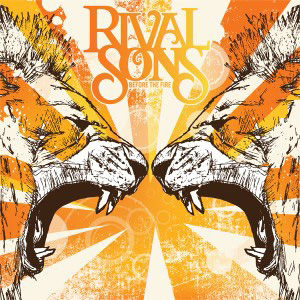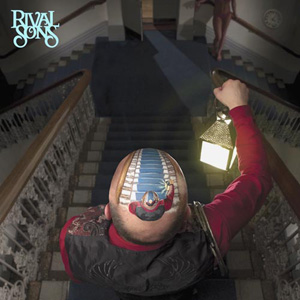 Geno D: Then 'Pressure And Time' comes out and then all of a sudden 'Bam'.
Scott: (It was like) Is that what you expected? Is it what you wanted to see after putting the band together in such a short period of time. Yeah you always want that in a gradual line. You know every musician will tell you that they they are just beaten down and they aren't looking at that at all - that's cool when people look at it like that but of course with this kind of music, we wanna play to throngs of people and make people feel good. They have a groove most of the time. We're playing tonight to like 1500 or so. It feels good - you can feel everyone there. You can feel what everyone's feeling. Feel the time of them being with you or whatever. We wanna pull it up as much as we can and I think we are have some good dates and it's pretty good. All of our dates in the UK have been sold out. The dates in Europe were mostly sold out and if they weren't sold out they were quite packed in the audience so we can't expect too much more than that.
Geno D: And then last year you did the Judas Priest/Queensryche..
Scott: That was an interesting tour.
Geno D: I caught you guys at the Doncaster Dome and I have to say you guys in that venue - you guys were the band of the night.
Scott: Arr that's nice.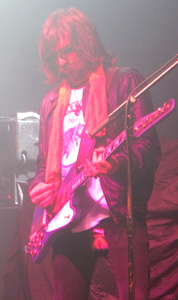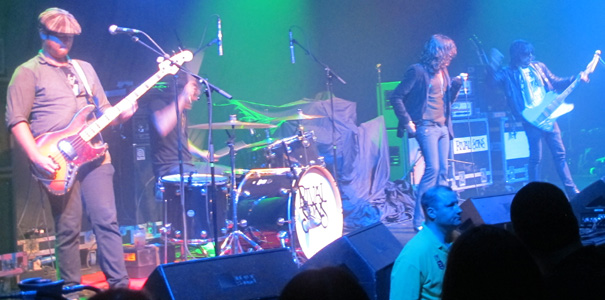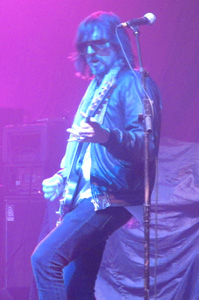 (Doncaster Dome, 17th July, 2011)
Geno D: And then you went onto High Voltage.
Scott: Did you see the second show?
Geno D: Yes I did, I was gonna ask you how that came about?
Scott: It's so weird. We love Electric Wizard and couldn't wait to see 'em. We got all pumped up. Listening to them on the bus and everything and then we played our set and as we were finishing up backstage while being on the main stage, our Tour Manager walked up to us and said, "Hey, I just had an offer for you guys to headline the Metal Hammer stage". "That's Electric Wizard's - what are you talking about?". "Well because of this shooting they are held up in Belgium or something and they are stuck - they can't come". We were like, "We can't see 'Electric Wizard - that was the band we wanted to see! Now you want us to headline in their spot in front of all the Electric Wizard fans - we're gonna get bottles of p*ss thrown at us you know?
(Live at High Voltage 2011)
Geno D: The response was absolutely amazing.
Scott: Yeah it was great. We decided 'Yeah we'll do it - we love them, we'll do it for them, we'll fill it for them as honourably as we can to fill the spot. We filled it too with our fans, they came and it filled up real quick. We were able to turn it up as the others - we worked up the set - it would have been really sh*tty for the main stage so we got to crank it up a bit more to make it a bit more of a show.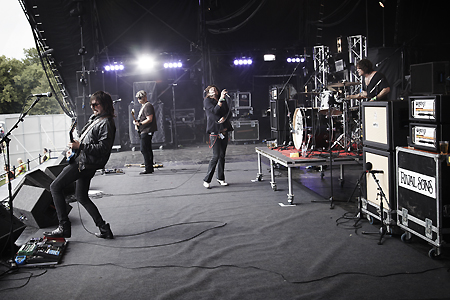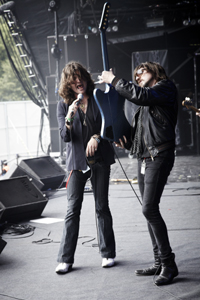 (Live at High Voltage 2011)
Geno D: And then all of a sudden you get one of your tracks in a film (Real Steel).
Scott: That was cool and that was really to be honest very nonchalant for us - like there's the money, there's the offer I gave you - it's kinda like the future, people fighting and robots fighting? "Well where's our song gonna be?", "Well from the 1st fight scene where a robot fights a real live bull like in a rodeo". "Like f*ck yeah - put our song in there - that's amazing" I have a young son and was thinking all the time, 'Oh he's gonna love this!' so we ended up at the screening in LA and I took him with me to the screening and he was just locked (into it).
Geno D: So what's the future hold for 'Rival Sons' after this tour?
Scott: Yeah we have the rest of the UK tour for like a week and a half, 2 weeks or something and then we do a headline tour through Europe - Germany, Sweden, Scandinavia - all over Europe and then we go home for a moment and we're finishing the mix on our record that we've already done - we are just wrapping up the mix for that and getting all that together.. get that record record out and we have dates backed up so in the Summer we are coming back here for the festival season.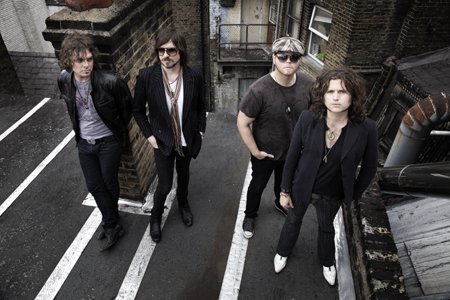 (London - July, 2011)
Geno D: When are we looking for an album release?
Scott: I think we are looking at August. We don't know yet but that's how it's looking so it's moving quick.
Geno D: Cool. Is there any advice to give up and coming bands who are trying to get into the industry?
Scott: It's tough. The industry is b*llsh*t. In a way it's consuming itself so that could be good or bad, however you wanna look at that. It's actually good because it's giving everybody more of an equal amount for rock bands and stuff you can expect to sign a Rhianna deal right now anyway. You know, it's like it gives more people exposure and more immediate and because of the internet you can be visible very easily and very quickly. Find out what you wanna do and be as uncomprimising as you can and make sure you are having a lot of fun with it because if it's not fun and you are really going for the golden egg it really won' t be great I guess. It really won't be worth it because there's a lot of sacrifice... So if you find a good group of guys it's very important and you love it and you are tough riding as possible. This recipe will probably push you through the sh*tt**st of times.
Geno D: That's good, good sound advice there. Scott it's been an absolute pleasure and I know you guys are gonna kick some *ss tonight.
Scott: Thanks man.
(Geno D with Scott Holiday)
A Big Thankyou to Talita (PR) & also Tour Manager, Pete for arranging the Interview.