An Interview with
'Ryan Lilly'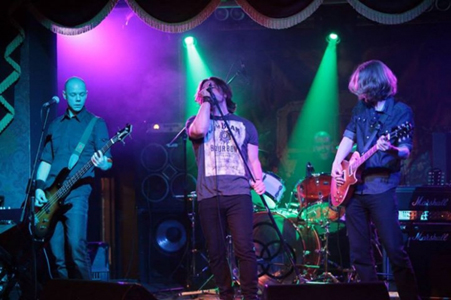 Bassist of the Rock Band 'Screaming Eagles' from Northern Ireland
that took place in mid August, 2013.
Interviewed by Glenn Milligan.
Glenn: How is your part of Northern Ireland for music and how did this gear you for the love of Rock Music?
Ryan: I wasn't aware of what our local music scene was like in the beginning, I was too young to realise. Though when my old man took me to a Status Quo concert at the age of about 12 which was my first ever, I knew then what genre I was going to follow, no question. Now having played in all corners of our wee country I've learned that great bands are everywhere here, it's richer than it's ever been before and I expect it to get even better in the future.
Glenn: What turned you onto playing the bass?
Ryan:To be honest I fell into Bass more than setting out to play it. I always played guitar but when we lost our Bass player (years ago, at the time) I tried my hand at it and have been with Adrian ever since. Someone famous to deputise for me? Wow, never been asked that before. My heroes are Cliff Burton, Duff McKagan (guitarist transition to bass also), Flea, Billy Gould and Tim Commerford. Any of the above would be mind blowing to watch them take my place for a set, can you imagine!?
Glenn: What led to the formation of 'Screaming Eagles' and where did the name come from?
Ryan: Screaming Eagles began when we parted ways with our old front-man and we recruited my long-time buddy Chris who had been in and out of other cover bands, it was only a matter of time really. Then, Soundstone, became Screaming Eagles. We wanted a fresh new start with no connections to our past music, a clean slate if you like to start at the bottom, play the opening slots etc.. we always enjoyed that no pressure slot because we could see people's faces when we 'opened' for shows and the reaction was wow, this is the opening act right?! The band name has no connotations or references to anything at all, we thought it simply sounded cool, it was the one all four of us agreed on and it stuck
Glenn: Where did the album title 'From The Flames' come from and why did you decide to call it that?
Ryan: The album title came from Adrian, who actually never explained in any detail why although my interpretation is that once we parted ways with our previous singer we questioned should we continue? After a few jams with Chris the feeling was of excitement, the writing process intensified and we realised we had an album of pretty good material so from almost quitting, we worked hard and rose 'From The Flames' once again, bigger better and stronger.. See what I did there?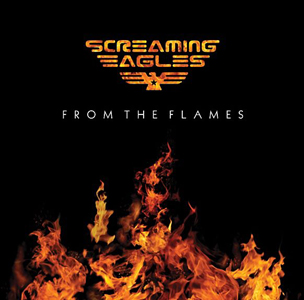 Glenn: What songs mean the most to you on the album and why?
Ryan: Each song has it's own place in my heart, some more than others but all are precious to me because it's something that I'm proud of and I'm sure the other lads would agree.
Glenn: What were the standout moments recording the album and for what reasons?
Ryan: Standout moments recording, there were quite a few. One that comes to mind is Adrian completely frazzled out after hours of Lead guitar, he just melted and was having an out-of-body experience, hands just wouldn't play anymore. To the liquor store it was and with a few glasses of wine, he hit it again, it was a beautiful thing.
Glenn: The album comes across very spontaneous and as though it has been recorded live. How did you achieve this?
Ryan: Our producer, Ross Cullen, had great vision and was quite proactive which helped a lot, he helped evolve the songs from live to record. We all knew we wanted to keep a little of the live feel and steer clear of the polished, Leppard-esque records.. that's what we're about, playing live and we just brought that attitude in there with us and it shows in the vibe.
Glenn: How long did it take to record the album?
Ryan: The full album recording was done in just over a week, very quickly indeed. Not many albums get done so quickly but we kept up the intensity and we were on fire, studio time aint cheap either!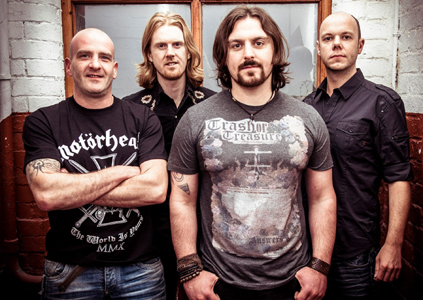 Glenn: Why did you decide to have it mastered over in California by Mark Chalecki at Little Red Book Mastering?
Ryan: Haha. Mark Chalecki was a no-brainer choice, his previous work stood out and it was the perfect choice for us.
Glenn: With many songs on a debut it's often the case that several of them are already tried and tested for a good while on the road. Was that the case with you guys or were many things concieved in the studio?
Ryan: Some songs had been on the go already and some were brand new. Most of the songs we already had were in fact changed quite a bit, everything from the arrangement to bridges and endings/outros etc so overall it definitely had a 'new' feeling throughout.
Glenn: How are the songs usual created in the band with regard to who writes what and how they become a finished product?
Ryan: Adrian is probably the most creative, this is normally the way as with most bands I'd imagine, the axe man is the main writer. We all bring our own pieces and ideas as well as our own individual instrumentation, we knew what worked and what didn't quite quickly so as to keep the cream only. Luckily we all tend to agree on this, most of the time anyway.
Glenn: What bands/artists would you say have influenced you guys and how have you used those influences for the style and sound of 'Screaming Eagles'?
Ryan: We have a lot of diversity regarding influences between the four of us and what we listen to. Between us we listen to everything from AC/DC to Elvis. If we all liked the same few bands we wouldn't have as much scope for creativity or differing ideas which I think comes through in our record. We didn't want to copy or be like any other band/album, it was a Screaming Eagles record and there's only one of us!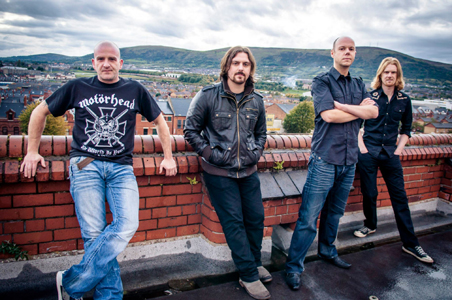 Glenn: What are the personalities of each band member and how does these affect how the nucleus of the band works overall?
Ryan: Each one of us has our own personality traits and quirks. Some of us are intense, some laid back, some jokers and some highly driven. All the ingredients and attitudes which helps us gel as band mates. We keep each other in check. I won't mention who is what by the way, it's my own opinion but we've been in a good place together for quite a while and it's special.
Glenn: What song or songs on the album lyrically most sum up the attitude and feelings of the band overall and why?
Ryan: To pick a track of the album which would sum the band's attitudes and feelings most would be, well the first thing coming to mind is Blood. Verse and chorus, I won't quote it so go listen to it.
Glenn: How would you describe a 'Screaming Eagles' Show and what sets you apart from other band's shows out there these days?
Ryan: Our shows are very ballsy, we like to rock out and enjoy what we're doing, some crowd interaction and singing/dancing always drives us. It's difficult to say what separates us from other bands but it must be something to do with the songs we've put together, if the songs are good enough people will buy it or take time to tell us what they think. The songs don't lie.
Glenn: You got any road stories worth telling, if so what?
Ryan: Tour stories? Haha sorry tour talk stays on tour, you should know that!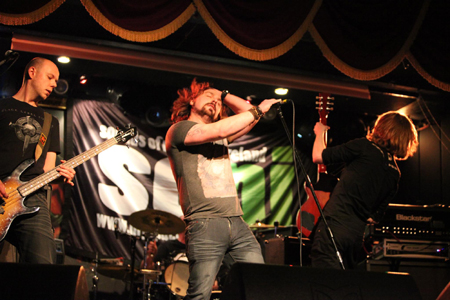 Glenn: What are the near and future plans of Screaming Eagles?
Ryan: Plans for Screaming Eagles are to keep playing more shows and get the album to the biggest audience as possible. The overseas reaction has been incredible, and it's the next logical step to tour in UK and hopefully further afield in Europe and beyond. We're currently discussing options with various promoters/management etc, it's a matter of when not if.
Glenn: What would you personally like to say to fans of the band reading and the Metalliville Readership in general?
Ryan: So, it's been a pleasure talking to you guys and thanks to all the Metalliville listeners for taking time out to check us out. A special thanks must go to our nearest and dearest for all the support and also everyone who has come to our shows, bought an album/download, a t-shirt or simply took time out of their lives to promote us in whatever way they have no matter how big or small, you all make it worthwhile!
Peace. Cheers for your time guys………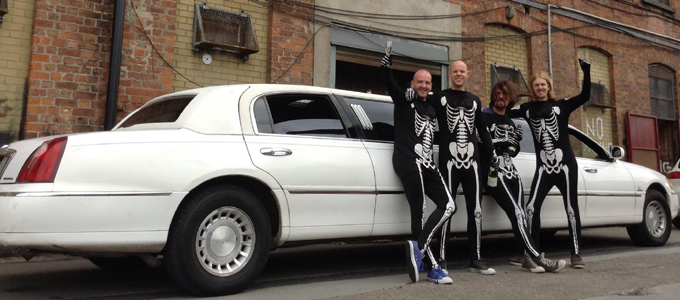 Nice One Ryan! Looking forward to seeing you all in the UK Soon!