An Interview with
'Sean McNabb'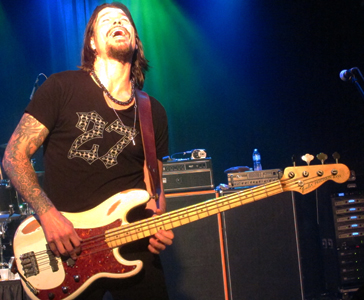 Bassist of Lynch Mob, Resurrection Kings & Dio Disciples
and formerly of Dokken, Quiet Riot & Great White
that took place on October 5th, 2016.
Interviewed by Glenn Milligan.
Sean: Hello!
Glenn: Hiya Sean!
Sean: Hey, how are you my friend?
Glenn: I'm doing good! Firstly, I want to congratulate you on your marriage mate to Christine!
Sean: Oh thank you very much! I really appreciate that.
Glenn: No problem.
Sean: I'm the luckiest guy in the World. I've got a beautiful wife and I'm really, really lucky she'll have me.
Glenn: (I laugh) She's lucky to have you as well mate! Don't put yourself down!
Sean: She's a great woman. We've been together 12 years and we thought it was about time to make it official.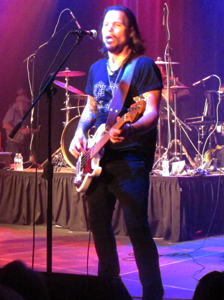 Glenn: How was your birthday?
Sean: Very good. Pretty chilled. It's just another year older.
Glenn: I tell you what, nobody would believe you were 51.
Sean: Oh man, thank you! I was trying to tell myself that too after tour season this year. It took me a couple of weeks to recover where it normally doesn't. I've had a really busy year and everything worked out schedule-wise. That's always nice when it comes together like that.
Glenn: That's cool. There's nothing finer. How was the Bowling Alley Jam for you Sir?
Sean: We had a ball with that. Bowled a game with some friends. Then we played a little Kiss music. We did 'Detroit Rock City' – my good friend, Gilby Clarke and I, the guitar player from LA Guns… we had a ball with it! It was a lot of fun and I heard they raised some money for the 'Children Of The Night' Charity so that's always a good thing.
Glenn: Awesome. That must have been something being able to ride on Lermmy's Victory?
Sean: Yeah! That was really cool. It was over at Niji Management. That's Wendy Dio's Office. We are all good friends with Tod Singerman, Motorhead's Manager. He was living over there and they were moving to Burbank. So me being a Harley roider and board member on the Ronnie James Dio Cancer Foundation, they asked me to move the bike for them. I did that and hopefully I'm going to ride it in next years 'Ride For Ronnie' for the Cancer Foundation. It will be our third annual ride. Last year we raised over 50K for cancer research.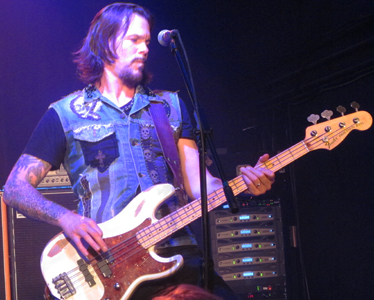 Glenn: Awesome!
Sean: Yeah.
Glenn: It's a nice dint that!
Sean: Thank you.
Glenn: It's all worthwhile – totally.
Sean: Absolutely.
Glenn: How was last night at the Ultimate Jam? I watched the last half an hour. Sat it bed. It was more like 7 o'clock in the morning. I saw the guy from Downset and some other bands.. How was it from your point of view?
Sean: We had a great two-song set. We did 'Driven To Tears' By The Police and we did 'Don't Stand So Close To Me' which is really two cool songs because The Police are such a great band. Until you dig into the songs… I thought I knew them until I went back and had to learn them. (We laugh) Then you realise the genius of all those guys – great songs. We had a great set and some fantastic players – Mitch Perry on guitar, Chris Adler (Lamb of God) is on drums and Joe Retta on vocals. Joe Retta, I've been working with. We are getting ready for a Dio Disciple's weekend at the end of the month here with Craig (Goldy), Simon (Wright) and Scott (Warren). We've got a couple of gigs in Portland, Seattle with the 'Disciples. I'm hearing some interesting things about the hologram. You've probably heard about that?
Glenn: Yeah. It looks so bizarre. The first thing I though was 'Holy Sh*t! It's putting Oni (Logan) out of a job or Joe or anyone else that's going to sing the part – where's their paycheck going to come from?'
Sean: Well I think people really freak out on it. They like it. I am hearing some things that might be some future things but I can't talk too much about it. It was met with such great response that there may be some more things. It's really cool to be involved with that. I loved Ronnie! He showed me how to carry myself at a very young age and was always very helpful, down to earth and cool. It's cool to be involved with that.
Glenn: Nice. How did you originally get involved with that? Was it through knowing Wendy?
Sean: Yeah. When I got my fitst national gig in Quiet Riot, Wendy was managing Paul Shortino and we became friends. We've known each other close to 30 years now. We've become really good friends. When they were going to start the 'Ride For Ronnie' Charity, she asked me to become a board member, help her with that and bring in some of my 'Sons Of Anarchy' friends. I was glad to help and it has worked out. We've had two really good years and we're looking for out third next year.
Glenn: I remember meeting her in 2005 at Sheffield. She was the Tour Manager with Anthrax and walking around with Scott Ian. We were like, 'Holy Sh*t! That's Wendy Dio'. It was one of the first times I was star-struck because of who it was. I just nodded to her and she smiled. I was too nervous to say hi because of who it was. That was a rare thing for me.
Sean: She's a love. She's really sweet.
Glenn: Yeah! She smiled. I think she knew we were a bit nervous about going up and saying hi to her. Anyway, you've had a busy day. You've just done a class.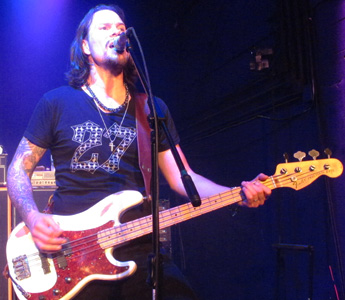 Sean: Yeah! Doing a running class. You've got to try and stay in shape at 51. We run four to five miles at intervals on treadmills. You do the abs and the weights after that. You've got to take care of yourself if you want to keep running as hard as we do in the Rock 'N' Roll Business.
Glenn: God Yeah! It's like you do a marathon every night on stage. The heat and everything up there must be incredible – the lights and all the body heat. It must really take it out of you so you've got to stop in shape.
Sean: You do and I don't know if you know that I do some acting too so you've got to stay thin for that. The cameras put some weight on you. Not only on for health reasons but you want to try and stay looking good. You've really go to take care of yourself. It's really important if you want to sustain a career into your 60's and 70's.
Glenn: How did you originally get into the acting business? I know you are a trained actor but what was your break to actually get in there and do it?
Sean: I grew up in drama classes. I was always in school plays. From a very young age I grew up doing all that. Then when music took over in my teens. That became the focus throughout my teens, 20's and 30's. Then in my mid-30's I was thinking of getting back into it again. When I got sober at 39 years old I decided there was a lot of things I still wanted to do. Quickly, in the Rock 'N' Roll Business, the drugs and alcohol went hand in hand for many years. For me personally, it stopped working and I had to make a change. It really was the best thing I ever did. I realised that there was some creative things I wanted to do – acting being one of them, so I started to get back into it and started studying again.
You do all the things that all the other actors do like short films, web series and independent films. I got a little bit of a break on 'Sons Of Anarchy' which was nice. I never got made a full regular but they had ame around a lot. We were hoping that that was going to go a little further but I was really blessed to have some good face-time on that. I got a little bit known on that show. 've had two films come out since then – independent films where I've played some very nice roles. It's something that you're always striving to improve on and it's a very tough business just like the music business. As long as you don't give up and you always trying to improve. A lot of people give up after they get frustrated that they're not getting a break. It got a little bit slow lately but you've got to just keep soldiering on. I always say, "Hey, you're one role away from breaking it This is wide open."
Glenn: Yeah!
Sean: For any actor.
Glenn: You just never know.
Sean: You just never know when that role of a lifetime is going to come around for you so you just keep charging.
Glenn: When it comes to acting and performance musically, would you say it's like a similarity between either music and acting because you are still performing or would you say it's a totally different ballgame altogether from a mindset.
Sean: You know, it really isn't. There's a lot of similarities. Just like you learn songs or learn a song, you learn a script. You figure out where the beats are, the objective changes – you figure that out, memorise it – it's very similar being onstage and also being on camera because you never know what's going to happen and you've just got to go with it. At any given time, there's times where you're on stand and it sounds like complete sh*t and you find out what kind of actor you are sometimes. You can't act like you are having a bad time – you don't want to cheat the audience or anything.
There's times where you can't hear anything and you've got to act like you're having fun. There's similarities because the audience will pick up on that – making silly faces and having a bad time, they are going to pick up on that. There's a lot of similarities. Staying comfortable on stage and being comfortable on camera. It's very much the same and there are a lot of parallels in the acting and the music. It's going hand in hand for me.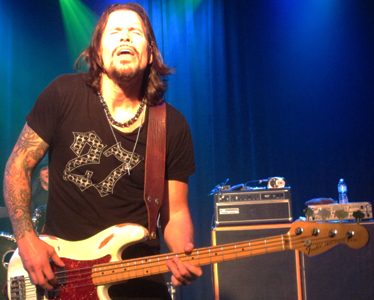 Glenn: I guess that's one of the reasons that you adapted from one to the other pretty straight-forward. It wasn't like jumping into the river of crocodiles or something?
Sean: Yeah. Well there's times where you look at monologues that might be a page long and it feels like a river of crocodiles. (We laugh) If you are learning it, it comes down to you – how much work did you put it to get it right and remember it? You stay on it and pretty soon you drop the page and you've got it. Like you said, a lot of similarities there and I'm real passionate about both of those things.
Glenn: I was reading last week and it said that one of your favourite films was 'Tommy'.
Sean: Yeah! 'Tommy' and The Who were the whole reason I wanted to play music. My Father dropped me off at a matinee of 'Tommy' when I was maybe 10 or 11 years old – my life changed that day. The movie is so out there and avant-guard. I didn't really understand a lot of it but I left there and the music made such a big impact on me. John Entwistle of The Who, God rest his soul – The music of The Who, it really left an impact on me. I left that theatre that day going, "I wanna play Rock 'N' Roll!" I don't know if you remember 'The Ox & The Loon'?
Glenn: Yeah!
Sean: That was one of the coolest tributes we ever did. It only last for a couple but it paid tribute to John and Keith – he was just absolutely incredible. It was the greatest compliment I ever got. It was from John Entwistle. As a kid, I got to know him a little bit here in L.A. and he said to me, "Sean – you're a good little bass player!" I thought that was the coolest thing coming from my peers and the guy that made me want to play bass and gave me that compliment. It was just really cool. Anybody that looks up to me and my playing, I try to give them encouragement because he gave me encouragement.
Glenn: Yeah!
Sean: He was a good man.
Glenn: Tommy is my favourite film and Entwistle is my favourite bass player. Seriously. I've got these connections. I've always felt this connection with John Entwistle and then years later, a buddy of mine in the Cape Coral area of Florida said, "I've got to know this guy called Steve Walinskas" and it turned out he was John's best mate! He was from Philadelphia. I got to know him and I have actually got a picture of me playing one John's red Buzzard Basses!
Sean: Yeah?
Glenn: Yeah! Seriously! It was one where John did a rehearsal with The Who and by all accounts, Roger said he was playing too loud and to turn down so John dropped it to the floor. It's got a crack in it as a result of that. Steve was showing me how to play 'My Generation' and songs like that on his bass. The fact that you can feel the vibration! He'd got his bass stack as well because he was such a big friend of his – it was mind-blowing. As well as that, my other connection, when I was at RCAT – a college in Rotherham, South Yorkshire, we did this assignment in the 'Moving Image' class on a film we like so I thought, 'I want to do Tommy'.
Sean: Yeah!
Glenn: Yeah! So I studied it all. I researched it and went on various things that had come out in the press at the time. We weren't at college full-time and one day I watched 'The Andrew Neil Show' across here and he said, "Next week we've gopt Pete Townsend talking about Tommy". I thought, 'F*ck*ng hell, here we go!'. I thought, 'This is perfect because this is my college assignment' and being a massive fan of Pete and all the band since I saw them play at Live Aid in 1985, I thought, 'I've got to get on this!'
So I contacted the BBC several time and told them about my assignment and said, "Can you get me on air and ask Pete a question or two?" Anyway, they got me on The Andrew Neil Show. I phoned them up and I said to Pete, "What do you think of the film Tommy that Ken Russell directed?" Pete Townhend said to me, "I think it's a quintessential piece of British Film'. He was talking about it for a bit and that was great. So surreal to be able to get to sit and chat live on BBC TV with Pete Townshend about the film and Ken Russell! So there you go!
Sean: Wow! Cool!
Glenn: I've got it on video. It was back in the day when we were still using video! Pretty amazing.
Sean: It is amazing!
Glenn: I got lucky. It was just the right place and the right time.
Sean: Right!
Glenn: Exactly Man! Let's talk some more about 'Ultimate Jam Night'!
Sean: Sure!
Glenn: What would you say your favourite nights have been at 'Ultimate Jam Night' so far and why?
Sean: You know, they've all been great. I really liked personally playing the stuff with horns because it's something I don't get to do in my regular gig. Playing some of the funkier stuff is always fun. Anytime we've got a horn section I really like that. We've done that quite a bit. The 'Metal Night' was a lot of fun a few weeks ago that we did – that was great. The 'Ultimate Jam' is really cool because it's just not going on anywhere else in Hollywood like that. It reminds me.. we used to play this place called 'Captain's Cabin' on Sunday night. It was just this little dive bar.
On any given night you'd have Slash and we'd have guys from Government Mule – whoever. Paul Shortino and I, Quiet Riot or whoever… You'd never know who was going to show up. It was about guys playing together and girls. Rebecca Bramlett would show up. You'd have the greatest time. Those jam nights have always been real special to me – Chuck (Wright), Matt (Starr), Jessica (Chase).. everybody's doing a great job and really keeping that going. It's a place for the musical family that we have out here for everybody to come and play together. I've never left there unhappy. You always have a good time. Everybody brings their 'A Game' and thanks to The Whisky we've got a place to do it.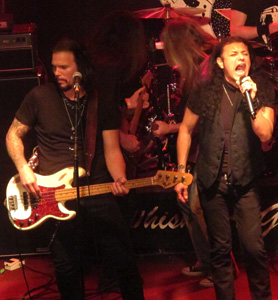 Glenn: It's amazing there!
Sean: Yeah it's always fun! He (Chuck Wight) knows a lot of talented people in the family. Anytime they ask me and I'm available I say yes because it's always rewarding. Now they are streaming it so people can watch it like yourself across the pond together! That's pretty cool!
Glenn: It is!
Sean: Who else is doing that?
Glenn: Nobody! It's a great thing to be able to wake up on a Wednesday morning and think, 'I'm up in good time! I'll watch a bit of 'Ultimate Jam' So it's perfect that! I must mention Lisa Morton Woodard! She is such a great person. She has set me up with so many great interviews. So big kudos to Lisa for that.
Sean: Yeah! She's Great! I love her!
Glenn: Yeah she's awesome isn't she mate?
Sean: Yep!
Glenn: How did you become part of that? Was it through Chuck and Matt?
Sean: Yeah! It started out.. we were at Lucy's – the bar in Taluca Lake. Chuck and I have been friends for many, many years. I've followed him in so many bands. We've shared gigs and thinks like that and became buds. And Matt, I've worked in several bands – we're the best of friends. We've got a nice network here. Matt & I alre also in Burning Rain. He does a lot of work with that (Ultimate Jam Night) when Chuck is busy. I have to talk to those guys because it is a lot of work trying to co-ordinate that every week – a lot of work. It's good for the fans. They get to see people play together that they don't normally get to see. A fantastic guitar player like Mitch Perry.
Glenn: A great guy as well. As well as the Zinna TV part, they've also introduced the 'Bravo Tip', where fans can actually log on and say what they've liked about it and get artists gigs in the future etc. How's that working for you at the moment?
Sean: I'll see how it goes. If I get feedback from other people that are doing it and its doing well for them I would look into it but I'm on there for fun. I need to hear more about that.
Glenn: I saw you on stage on stage on 29th March on the opening night at the Whisky A Go-Go of the Ultimate Jam Night. Oni (Logan) was onstage and he do two or three songs and you were on with someone else too, then I met you at the Englewood gig that my buddy Joe (Bear Devito) put on – the one on Florida!

Sean: Oh yeah!
Glenn: How was that?
Sean: That was cool. It was the Charity event.
Glenn: It was yeah.
Sean: Yes I think we had a good show. I don't remember it being bad. I think we played a pretty good set. It was nice to be involved with those people, their charity. It was the Gulf Side of Florida.
Glenn: Yeah! It took about an hour to get there. It was a good gig thatr. It was actually chucking it down with rain on the way there. Me and my buddy Dale (Owens)were coming and we were driving down there. Then it all cleared up a bit!
Sean: That's Florida for ya!
Glenn: It is. You've got a busy night for the Cathouse 30th Anniversary coming up too!
Sean: Yeah that's for the next couple of days. That should be interesting. There's special guests and I think people are going to be really surprised. It's gonna be great! I'm looking forward to that. On the Thursday they are going to be over at the Whisky and they've got more bands. It should a couple of fun nights.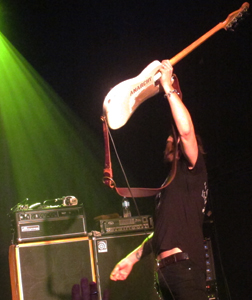 Glenn: Yeah! I wish I could check it out myself.
Sean: Actually I owe a lot to the Cathouse and Riki (Racthman) because when I got to LA, somebody took me to the Cathouse and that's how I met Frankie Banali and got into Quiet Riot because of the Cathouse.
Glenn: Awesome.
Sean: So yeah, I owe those guys a lot of gratitude because I may never have got my national gig without that place. It's kinda neat to be involved with the anniversary.
Glenn: Awesome. Some things are meant to happen though aren't they?
Sean: Yeah! I believe that!
Glenn: They say 'Good Karma' and all that!
Sean: Sure.
Glenn: Definitely.
Sean: Absolutely.
Glenn: Yeah! What would you say your favourite bass is? Do you always stick with that certain bass or do you play different basses for different situations?
Sean: I like the Fender mostly but I've got maybe 35 basses. I've got collectible stuff, I've got the old Specters. I just got a couple of really nice Music Mans from Music Man company but somehow I keep going back to that P(recicsion) Bass that I play which is a '73. I've been playing that for the last 15 years. For some reason it just feels right in my hands. The tone is what I have been enjoying. It just feels right and sounds right to me. I pick that up about 9 spots out of 10 at a time.
Glenn: Right. It's a similar sort of thing that Chuck said to me as well. It's just 'The Bass' of Rock. That is the bass – the Precision Fender Bass – that is the number one bass. That's bas(s)ically what he said to me (Scuse the pun!)
Sean: Billy Sheehan – a good friend of mine., he turned me onto one of his pedals and gave me one of his pedals – a Billy Sheehan Signature Expression Pedal and that has really been great for me. It adds a little bit of drive to your tone. You get a little bit of that Geezer Butler. But at the same time, you don't lose the bottom end. That was always my problem with distortion pedals. I've never been big on effects. I'm one of those 'Plug Straight In' Guys! His pedal has been great for me and it adds a nice full bit of bite to that ad distortion a little bit. I'm really thankful with that pedal. It's been great for me and he's such a great guy. A great player. The guy is just a virtuoso. He's amazing.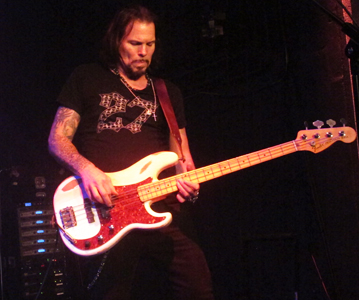 Glenn: Yeah, I agree.
Sean: Nobody can do what he does and I admire that. Guys that are special like that. Likie Jacco was or John Paul Jones or James Jamison or John Entwistle – those guys are all the special guys.
Glenn: The breed of these people will never happen again. I think some of us were just born at the right time to actually see these guys and experience these sorts of guys. Will this phenomenon happen again or are we just lucky to be around at this point?
Sean: I think everything's changed so much with the record business.. the internet.. it's interesting because you see people on YouTube that have these amazing chops. They definitely can play in their room but I'm not sure if they're getting out and playing in bands. That's something that you've got to do. I love seeing videos of these people doing fast and incredible things in their bedrooms. That's great but we all learned from putting the needle back on the record, we didn't have YouTube. We would put a quarter or a 50 cent piece on the needle when it was on the record and try and slow it down so we could hear what was going on.
What that did for us was that it developed our ears. Now you just go to YouTube and somebody shows you how to do it and sometimes they're right (I laugh). But it's interesting. I think we do come from a different time to where we learned from playing with people that were better than us. That's how I learned. I took some lessons but I mostly just learned from playing with guys that were older than me that showed me what was up. I think that doesn't happen as much in this day and age. I think we were born at a special time that bred all these great musicians in every field so we're real lucky.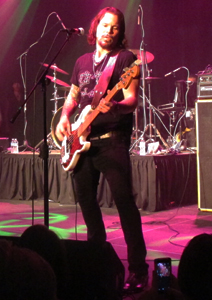 Glenn: You don't learn unless you've done it and you've had the experience one-to-one with people because you can watch videos of people a much as you want but it's a totally different ballgame when you're there on stage or one-to-one. It's a totally different thing isn't it?
Sean: Yeah! You can learn the notes and stuff but what you can't learn is the feel. The only way you're going to learn that feel is by playing with a lot of people and pretty soon you start putting the notes with the feel. Those are the guys and girls that I admire that have that feel. It just comes from playing with a lot of different people and learning everything. I learned everything the hard way and I continue to learn. That's the only way to really learn.
Glenn: Yeah!
Sean: The perfect example is a kid that starts playing guitar and his dad gives him everything. The best guitar, the best amp, the best whatever but the kid… he was given everything. He doesn't have to go out and shovel snow, rake leaves to buy his first guitar or whatever… wash cars – so it's different now. We had to go through all that stuff. It just somehow made it more special when everything wasn't given to you.
Glenn: Yeah, you had to work at it.
Sean: Yeah! You got in trouble and your Mum would take away your guitar and you learn. "I want to keep my guitar", so I do the things she tells me to do.
Glenn: So basically, at times you were one of the Bad Boys and then you joined 'Badd Boyz' later with Mitch Perry!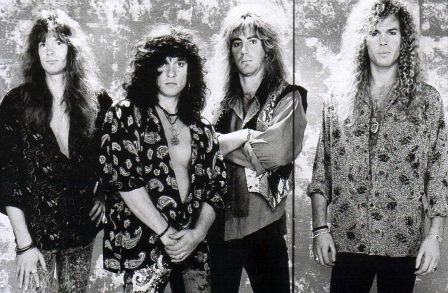 Sean: Hahahaha!
Glenn: I just had to put that in! Hahahaha!
Sean: Yeah that was a fun band and it just came at the wrong time. You've got bad timing.
Glenn: Yeah.
Sean: We were still trying to do the hard rock thing when the whole Seattle scene – that all changed everything. Too bad because it was a great band. The timing wasn't right for us. Things were changing at that point but a great band.
Glenn: Yeah, yeah. I mean, the musicianship and the people in that band is just incredible. Can you ever see you guys just doing a one-off or something and say, "Look, this is what we did as Badd Boyz' and look who we've got on vocals. The line-up, it is pretty amazing isn't it when you look back at that to what you guys have become now?
Sean: Yeah! Those were a bunch of guys who were part of that jam family. We used to do it at the Captain's Cabin on Sunday. I could see us doing a jam night or something like that possibly but I don't see Badd Boyz getting back together for any kind of reunion or anything. Yeah, I mean, 'Never Say Never'. Everybody's so busy these days. It's hard to get everyone together with the schedule – Paul with Rough Cutt, Mitch with Ratt now, I'm busy with Lynch Mob, Joe Lynn Turner and Dio's Disciples. It's hard to get everybody together for the scheduling. That's what I find. Bands like the 'Ressurection Kings' are fantastic with Vinny Appice, Chas West, Myself and Craig Goldy.. I mean it's hard for us to do gigs because of everybody's schedules!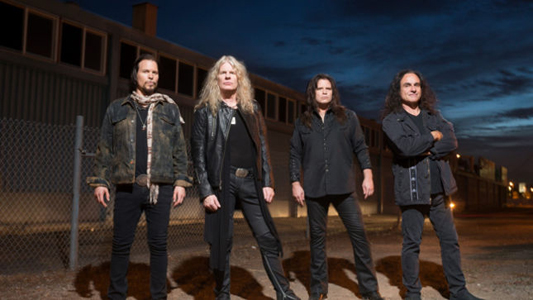 Glenn: Yeah there are so many bands that Vinny has been laying down drums for recently. I have seen a lot of press releases lately that say Drums – Vinny Appice! which is cool.
Sean: Vinny is absolutely incredible. He's one of the legendary drummers of our time. To get to work with him is absolutely incredible. On top of that he is one of the nicest guys you'll ever meet.
Glenn: Yeah, I've not met him yet but I've interviewed him (on the phone) and met his Brother, Carmine who I also interviewed (on the phone later). I'll bump into him in Sheffield because 'Last In Line play Sheffield Corporation on December 2nd. That date is firmly branded in my head! It would be nice to see Resurrection Kings especially knowing Chas. He's got such a great voice and such a nice guy. We were out drinking after the Whisky A Go-Go Jam night!
Sean: And you survived it?
Glenn: Yeah! I was flying out the next night back to Florida again (We laugh). Things are happening in Hollywood. It's just surreal!
Sean: Back to the 'Last In Line', we were going to Tour with them, Lynch Mob was and it ended up not working out but Andrew is a good friend of ours. He was actually in Lynch Mob at one time. We were going to tour the 'Last In Line' and 'Lynch Mob'. It sounded like a great idea. I think it didn't work out because of some scheduling things but that makes sense. Lynch Mob, we're about to finish a record that we've been working on for the last year. We're just finishing up some vocals and things like that but I think you can expect a new Lynch Mob record next year.
Glenn: Aweesome.
Sean: It's something we're real proud of. We worked hard on it.
Glenn: Nice. What can you tell me about that song-wise, highlights of it so far, studio or the writing process, can you talk about that much yet?
Sean: Yeah! We wrote the record together which is cool. Not a lot of bands do that anymore. It was nice to be involved in that process and I think we've got some good songs. George Lynch is such an iconic and fantastic guitar player. He's amazing and I worked with him back in 2003. This band was together in 2003 in this current line-up so it's kind of neat to be back in the band almost two years now. We're a little saner now since we were in 2003.
We've got some nice chemistry working in Lynch Mob. We're a vibe band. When you go to our show, it's really a vibe and we jam a little bit. It's never the same thing which is pretty cool. Some nights we go over the top and take it somewhere we never thought it would go. Just like anybody – some shows are better than others but sometimes it really blows us away.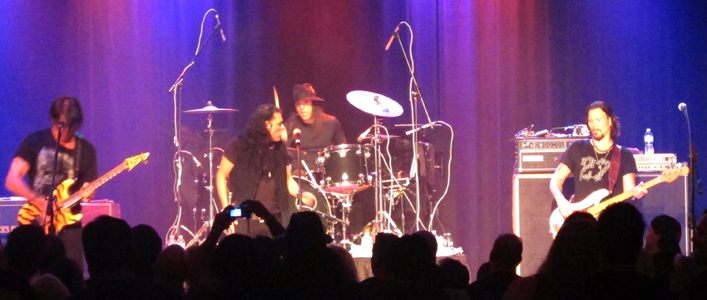 Glenn: Cool!
Sean: It's a great band and I hope we're gonna have another busy year. We did almost 60 gigs this year by the time it's over and we've got a few more things this year. We're looking forward to a busy year next year. We're gong to be on the 'Monsters Of Rock Cruise' which everybody's getting back from today! (I laugh) We're on that in February and the Dokken guys… the original Dokken guys are in Japan, they're doing that run, so I'm sure that's going well for them. Yeah man, it's going to be a great year! Here's the thing, is that all my friends seem to be working and that's a real blessing.
Glenn: That's always a good thing.
Sean: Yeah. All my friends in bands seem to be working. We may not be selling records like we use to but people are out playing and working. That is really cool to see and a real blessing for all of us.
Glenn: Awesome. What else can you tell us about the forthcoming Lynch Mob album?
Sean: Well, I'm pretty happy with most of the record. Some songs aren't finished yet so I don't know how they're going to turn out or what they are going to be called but we've got a handful that are already really, really great and Oni Logan, he's a lyrical genius and he can really put it together. He blows me away. The guy's a poet, a Rock Star and a great singer. He's got his own thing. I'm really looking forward to what he's over there doing on the rest of these songs. What I've heard so far has blown me away.
Now Jimmy D'Anda and I are in a couple of other bands. We've got a kind of special lock going between us and we've done a lot of playing together. A bass player always says, "When the drums are good, everything is beautiful in my world! When the drums are good, the band is good! When the drums are not good, it doesn't matter what you do – nothing is good." So it really all starts with that and he's just playing with a fabulous feel and that big groove thing is a real pleasure to play with him.
Glenn: Awesome Man! I remember the first time I met Oni. He'd just come back from NAMM about two years ago. We were just sat having a few beers in the Rainbow and chatting away and I didn't realise it was him until after we were just about to go. It was a case of "Holy Sh*t, you're Oni Logan aren't you and we were just getting together as buddies. We were having a laugh and he was saying to Amy Rae Yard (OZZFestAmy), my writer there about me, "I like this guy – he's cool!". We were instantly buds! So great.
Sean: Yeah! Oni's down to earth
Glenn: Yeah! That voice of his is incredible. What he can do with that voice is.. you know, it's a proper deal with the devil job isn't it?
Sean: Hahahahaha! Yeah, he's something special for sure.
Glenn: Yeah! What would you say your favourite bass lines are that you have the joy of playing over the years are and why?
Sean: I tend to gravitate towards the walking bass line a little bit more. It's interesting because I feel like the more I grow as a player, the less I play, the more I work. I think it takes a lot of people a long time to figure that out. I used to be worried about doing bass solos and all that stuff - that's great to do once in a while or one time a night maybe in the set but I just feel like now the less I play and the more I can sit in the pocket with the drums, the more I work.
If you can do some singing on top of that, that really helps. A singing bass player is always good for a band. That's kind of been my ticket – somebody that can sing and play. I think that's the reason I've gotten the majority of the gigs that I've got and been blessed to have. Hopefully that will continue but like I said, 'The less I play, the more I work' it seems like. (We laugh)
Glenn: I guess a good thing about being a singing bass player is because if you've got a decent voice and a good range, you're covering an entire musical range aren't you you're doing your bass notes and your high and your mid notes with your vocals so you are covering it all. You've got the full sound.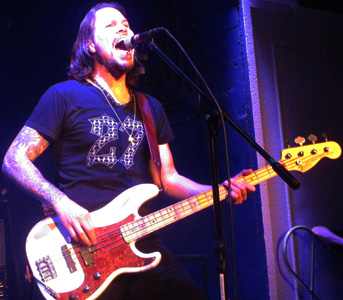 Sean: Well you try and I like this about basses. Your bass isn't like something that's so out-front but as soon as the amp stops working or the bass goes away, then what have you got – everything goes to sh*t! It's one of those things that you don't notice until it's gone. The band will say, "Well what happened? Now we've got nothing!"
Glenn: (I laugh) Yeah!
Sean: So I always just try and put some proverbial ass in it – as in the music. That's my job to put some low end into the music and just try to make it groove.
Glenn: You've worked with so many incredible frontmen over the years. Who would you say stands out and why that really grabbed you?
Sean: I've been blessed… there's so many… Paul Shortino being one of my favourites; Kevin Dubrow – amazing singer, James Christian from House Of Lords – incredible, Don Dokken – incredible talent. There's so many – Keith St. John who worked with Montrose – a great singer. I can't remember everybody right this minute but when you're playing with a great singer it makes everybody better. Joe Retta has been blowing me away lately on the jams.
I got to play with Ronnie James Dio a couple of times – auditioning for him. I didn't get the gig but that was a really neat experience.I played with some others like Robin McCauley is one of my favourite singers – he is something special. There's really some talented people out there. Jack Russell – another great singer. Back when I was in Great White, our studio used to be right next to Dokkens studio. One guy I really still want to work with is Paul Rodgers. I think he is one of the greatest singers of our generation. He can still hit everything. Him and Sammy Hagar are two of the top Rock Singers I think.
Glenn: Oh definitely.
Sean: I know I'm forgetting a bunch of people but like I said, a great singer makes everything better. It takes everything over the top.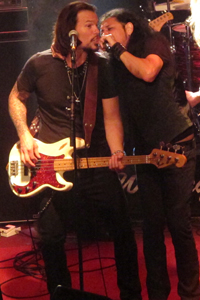 Glenn: Yeah! You are dead right. Here's a quirky question for you: Was it weird to go from Dokken to Lynch Mob? Was it like crossing over to the dark side or something? How did it all go together?
Sean: It was completely fine. I realised that I've been with Dokken's music since it came out. Even in Lynch Mob we play a lot of Dokken. We play five or six Dokken songs. I've been playing that music for close to 25-30 years. It was really a good thing. Like I said, I was in Lynch Mob back in 2003. In one way or another I've been involved with those guys for many, many years.
I've known those guys for many, many years. I knew Don, I almost joined his solo band back in the day and I knew Don for many, many years before I was ever in Dokken. In one way or another, I've been associated with those guys for many, many years so it was an easy fit to play with both bands.
Glenn: Over the time you've worked with various bands, what would you say are the highlights of the various tours, shows and festivals over the years and why would those come to mind?
Sean: Well some of the big are always fun. M3's or some of the bigger festivals we've played like Monsters of Rock and things like that – Brazil. It's always great to play those big shows. That's fun but we give just the same amount at a club gig. I don't want anybody to leave a gig unhappy and I don't want anybody to feel like they didn't get their money's worth or we didn't leave everything that we had there for them. Whether it's 300 people or 50,000 or whatever, we give the same amount. We try to leave o it all out there. People pay good money to come and see us so you try and do the best that you can for that. It's interesting because sometimes you think, 'Wow! That was a really great show!' and nobody says anything.
Then you say, "Wow! That show was really not that great" and everybody tells you, "Dude, that was f*ck*ng great!". You just never know. When you think it was a bad show, they think it was the greatest show they ever saw and when you think it was a good show, people don't say anything. I just try and give the same every time and let people decide. Hopefully the mix is good for them. That's the hard part some times. In some of these rooms to get a mix right is tough (especially) in these big rooms. Some times they are just not designed for music. Hopefully the mixes are good for the fans. That's how bands make money these days by touring. It's not selling records anymore.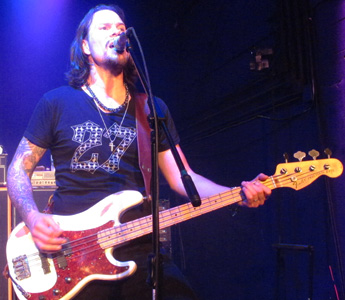 Glenn: God no!
Sean: Thank God we've got fans that still want to come out and see us.
Glenn: Oh completely yeah!
Sean: We give our all. No matter if it's a festival or a club gig.
Glenn: Awesome. You might not be feeling great at times but it's when the acting comes in as well. You might feel like sh*t! You might be full of cold or something but you've got to still be like, 'Sean – bang on form – happy as Larry' sort of thing and you might have a crap monitor mix and they don't realise that at all.
Sean: They don't realise. Exactly. You have to lie actually. It happens more than you think.
Glenn: How was the sound at the Englewood gig onstage?
Sean: Good. That was good there.
Glenn: Awesome.
Sean: Very good. They took good care of us there. The next day at that 80's Festival. That was good as well.
Glenn: Yeah?
Sean: Yeah! Really good! But the sound is pretty good on stage at the 'Ultimate Jam' I've got to say.
Glenn: I've been to so many shows at the Whisky A Go-Go and the sound is always amazing. They put so much work into getting it right that if it goes bad there is something seriously wrong because it's done so well. The rehearsing, the prep for it and everything else. It's like all the boxes have been ticked. It always seems to work. I know you gets get two or three days to learn songs but you must get used to that of not knowing what is going to come next.
Sean: Yeah and you know, I put the work in. You have to put the work in because you never want to be the guy out there that doesn't know later, screws it up.. Well that still happens sometimes but that's live Rock 'N' Roll! We don't rehearse and it's interesting. It happens a lot less. The problem is, is when somebody learns a live version or somebody learns a studio version – that can be a problem. But it's happening a lot less. But like I said, I'll take a live band making a mistake anytime over people lip-syncing cds's or a DJ or any of that crap, I'll take it.
Glenn: Yeah! I agree.
Sean: I'll take it warts 'n' all because it' real. I've seen too much of too many people out there faking it and not singing and stuff. That does nothing for me. I would somebody be a little sharp or flat and screw something up and have it be real than faking it.
Glenn: Yeah exactly. Basically, no safety net whatsoever. That's how it should work and that's what's made guys in the last 30 or 40 years or from they hey of Rock 'N' Roll great in the first place. There was no Memorex back then, there were no backing CD's to throw in, in the desk or something – it was all real. That's why they were so good.
Sean: Yep!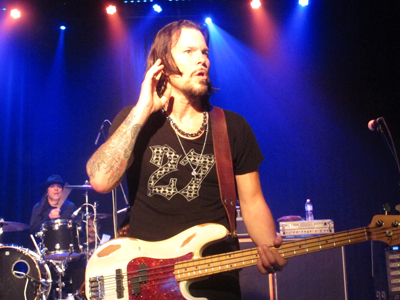 Glenn: That's why you guys are so good because you've always done that.
Sean: It's not supposed to be perfect. That's why they call it 'Rock 'N' Roll'. If you like everything to be perfect, don't because it's always going to have its little bumps and things but that's what makes it cool.
Glenn: Yeah exactly. Back to acting again, if you had the chance to work with a particular Director, who would that Director be and why and what sorts of films would you like to be cast in?
Sean: It seems like I get cast in a lot of the edgier stuff. I've been trying to work on my comedy chops. We have a group of actors here that get together once a week and we work on scenes here in town and put things up. It's actually a great way for us to… we call it working out, like going to the gym. We put up scenes and it doesn't cost us anything – or very little. Somebody brings a copy or something and we work out once a week. It keeps you sharp because if you don't keep sharp, it's very hard to audition anyway and that helps us keep sharp.
One of my favourite Directors is Peter Weller. I loved him as an actor and I really love him as a Director. He's done a lot of directing in TV. He was Robocop originally. He's one of those Directors for me that I feel like he gets something out of people that not everybody gets. I mean, there's so many great Directors all over here in town and all over the World but he's one guy that I really hope to get to work with. I got to work with him a little bit on 'Sons Of Anarchy' but I really want to work with him more in-depth. Hopefully one of these days because I really like him and he's a great hang.
But there's so many guys that everybody wants to work with. That's an art directing actors and getting things out of them that you wouldn't normally get. It's just like a Producer with music. The same kind of thing. There's people that get things out of you that other people can't get out of you and that's why they're great.
Glenn: It's like they have the ability to ask an actor to do something, not tell him otherwise his ego could explode and walks off set saying something like, "That m*therf*cker etc". They've got to be able to deal with people because certain people have a different temperament as well no doubt?
Sean: Absolutely. Everybody wants to work with (Martin) Scorsese and that would be amazing to but you never know what will happen. That's the interesting thing about this business is, you know I could hang out with you and get a call in ten minutes and it could be life-changing. You try and keep yourself ready, healthy and keep your chops up, you never toss away that you can't and be open. Allow the Universe to open up for you.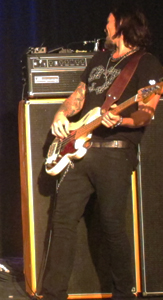 Glenn: Sometimes a chance meeting are the coolest meetings because there's no apprehension, there's no nerves like a bad adrenalin rush or anything. You are just sat with someone and you say, "Hey, it's so-and-so and so-and-so", and you just get talking and that's it you know? You just never know so you as you said. It's amazing how it all works out like that.
Sean: Yes. Absolutely.
Glenn: You've got quite a few endorsements as a musician. you've got Ampeg.
Seam: Yeah.
Glenn: How did that come about?
Sean: I've been with Ampeg my whole career. They've always been very good to me. I've got a garage full of it much to the chagrin of my Wife. (I laugh) They've been really great. It's on the rider of every gig I play. That's what they have to provide. I get bummed out when they don't but I can always make it happen with a good Tubehead SVT and a good A-10 two-head cabinet and I'm happy. But like I said, they're a great company and pretty much the standard amp for Rock 'n' Roll Bass. There's a lot of other Amp companies but that's the one for me.
Also, Dean Markley Strings – I've been with them since '96 and that's a family for me. They've been incredible. I've really good friends and they've always supported me. You'll see me hash-tag Dean Markley Strings a lot just because I believe they are the best strings in the World – not only for bass but for guitar and everything else. I don't know if you saw my first solo video 'Fresh Air' but I played some guitar I that.
Glenn: I'll check it out, I've not seen that yet.
Sean: Yeah! It's on Vevo – it's good stuff. But anyway, they are another fantastic company that is just like a family to me. Musicman has been really good to me too. I've got a couple of brand new Musicman's that I'm starting to get out and play a little bit and they sound really good.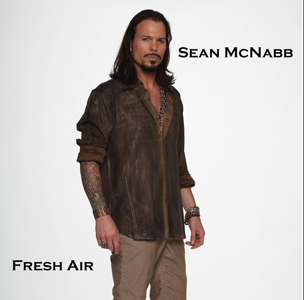 Glenn: Awesome.
Sean: Those are the big three companies that I've been using for quite some time and of course Fender. They've always been well to me as well. Yeah, you know, keep it simple – use what works.
Glenn: Because we've got NAMM coming up, will you be demonstrating or anything for NAMM or taking part in any of the off-shoot gigs that also happen as well?
Sean: Yeah. I'm not sure what the schedules for that are going to be. I reached out on the Bonzo Bash so I will see what happens with that. Also, I use EMG pick-ups, I usually do something with them and I've been using those pick-ups my whole career. Hopefully I'l be doing something with them but I'm definitely going to be there.
Glenn: Cool.
Sean: We have a gig on Friday night Lynch Mob does upstate. I may not be there Friday but I plan on being there Thursday and Saturday, possibly Sunday.
Glenn: Nice!
Sean: Are you coming to NAMM?
Glenn: Yep I've got affiliated with a contact there, which is cool.
Sean: Well I've got to things to tell you about NAMM – comfortable shoes and hand sanitizer (Laughs).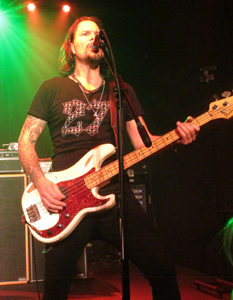 Glenn: Because otherwise you can get Nammthrax can't you?
Sean: Yes you can. Nobody wants to get sick. You need sanitizer because you meet a lot of people and comfortable shoes. Two staples of importance for NAMM.
Glenn: Talking of shoes, that leads me onto golf shoes. You're a golfer as well?
Sean: I'm a hack golfer. (I laugh) I'm not good. I'll hit one down the middle and I'll hit three off to the right or left. I was playing quite a few charity golf tournaments for a few years and I was starting to get a little bit better but I haven't played in over a year. It would be like not playing your guitar for a year. It kinda goes south. I did enjoy doing those tournaments for many charities. My wife and I are involved in a lot of charity work and she has done some great work here in town with her station, Fox with getting kids adopted in a programme called 'Wednesday's Child'. It's just really inspiring to see what she's managed to do with the social workers and they've gotten over 500 inner-city kids adopted.
Glenn: Nice!
Sean: It's been really cool to witness and she got me into doing philanthropy and giving back early on in our relationship. It's been a really rewarding experience. I try to do as much of that as I possibly can. It's also something we get to do together and we have some fun doing that.
Glenn: Because of course, you can't sit in the Radio Station Studio and she can't sit on stage and going to every gig with you so it's perfect.
Sean: Yeah, you know she's a real Rock Star here in town because she's been on the air for about 25 years on Fox. A lot of people recognise here in the Southern California area. She handles it beautifully. She likes to come out to gigs on the road because she says, "Nobody knows who I am and it turns out nice!". (We laugh)
Glenn: That's cool.
Sean: Like I said, I'm really blessed to have her in my life.
Glenn: What would you say you are most proud of over the years either in life or musically?
Sean: I would say what I'm most proud of is my sobriety in life is the best thing that happened to me. The drinking and drugging thing, like I said, it went hand in hand with Rock 'N' Roll for many years. It stopped working and it hasn't been easy. I'm going to be 12 years sober in November.
Glenn: Congrats.
Sean: It's been quite a journey. It's really taught me a lot about myself – the programme has. Not just with the drinking and the using but growing up and learning how to be a functioning human being and deal with adversity when stuff goes wrong - I've got the tools to deal with anything that comes at me and to not lash out. That's a big growth thing for me as a man and as a person and as a Husband and Father and all that stuff. It's been really great for me to have that inner-peace in my life because I didn't have that for many years. It's been really, really fantastic. What a journey!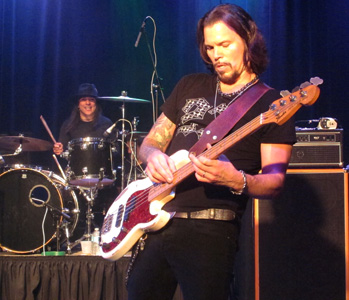 Glenn: It's amazing!
Sean: And I still go to meetings because I know if I get too far away from it a drink starts to sound pretty good and then the next thing you know I'm doing everything again and that wouldn't be good. It's been one of the greatest things I've ever done. One of the hardest things I've ever done but also one of the most rewarding things I've ever done. So if anybody's out there struggling with that, get yourself plugged into people and some programmes and things can really turn around. With that being said, that's only for me. It works for me and it's not for everybody and I certainly don't judge in any way what anybody else does – it just works for me.
Glenn: To look at you, you'd never think that, that you'd been through all that because you just look so damn well. (Sean laughs). Some guys that have gone through that look so haggered, like they've had 10 paper rounds and worked every hour god sends and done everything under the Sun and not looked after themselves. But to look at you, you would have no idea – seriously!
Sean: Well there's a big network of sober guys in Rock 'N' Roll and we've all been through the ringer and dark periods in our lives and come out the other side who continue to try and be professionals in our fields. It's neat when you run into other guys and you fell better sober, you don't feel like you're doing it alone. You are running into them at a meeting. It's pretty cool. It's quite a little network of sober Rock 'N' Rollers – it's pretty awesome.
Glenn: Awesome! And it's more Rock 'N' Roll to be sober than not really isn't it?
Sean: Yeah!
Glenn: Because you can be out there longer and live a longer, better, prosperous life.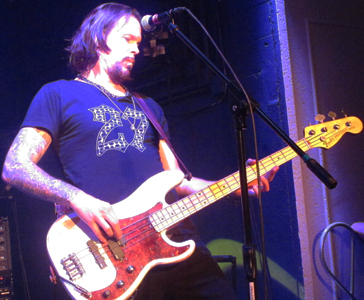 Sean: Yes! Absolutely that! Like I said, never judge on anybody. They do what they do and we do what we do. It's not better or worse, it's just different.
Glenn: That's a really nice answer that and I appreciate that answer – it's a good one.
Sean: Thank You.
Glenn: No problem. It's been a pleasure. Is there anything else you'd like to say before we wrap it up?
Sean: No. Just thanks for having me on your Zine. I appreciate you being a professional. It's been a real pleasure chatting with you Glenn. Thank you.
Glenn: Thanks a lot Sean. I really, really appreciate it.
Sean: Hopefully we'll be over in the UK at some point soon and doing something.
Glenn: Well it's been an absolute pleasure having a good chat with you.
Sean: Okay Glenn thank you.
Glenn: Take care Mate!
Sean: Alright Brother.
Glenn: Bye.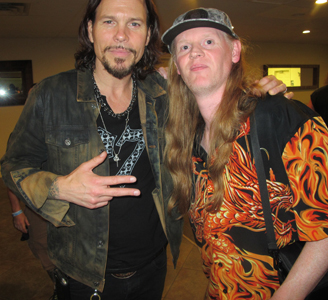 Big thanks to Lisa Morton Woodard for setting up the Interview
& Sean McNabb himself for an in-depth enjoyable chat!
Concert Photographs taken by Glenn Milligan @ Rock Angel Society Benefit, Englewood Event Centre, Florida & Ultimate Jam Night, Whisky A Go-Go, West Hollywood. Photograph above w/Sean McNabb taken by Joe Bear Devito.