An Interview with Shari Black Velvet, Chief Editor & Owner of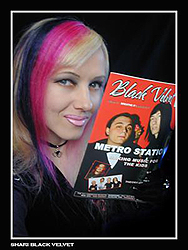 Black Velvet Magazine
on 19th March, 2009 by Glenn Miligan
What was your main ambition(s) when you were at school and why?
SBV: That was so long ago I can barely remember! Actually when I was at school I was really into travelling. I wanted to be an air stewardess at one point. I nearly went to college to do travel and tourism – but I didn't. It's funny though – I've since travelled all over the world including going to the US probably over 45 times and I know there's no way I'd want to be an air stewardess now. When I go on flights I am so exhausted and always try and sleep as I never get enough sleep at home, and I think I'd hate to ask people what they wanted to eat or drink and serve them.
Where did you get the name 'Black Velvet' from - did you grab it from the song of the same name or was it from elsewhere?
SBV: It came from my choice of clothing. I started wearing velvet when I got into rock music. First I'd buy leggings, then I'd buy a velvet skirt, then it snowballed and in about 1992 I decided that all I'd wear would be velvet. I wanted to have my own style – so when I went out all I'd wear was velvet. 'Black Velvet' sounded the best name. 'Red Velvet' or 'Purple Velvet' didn't quite have the same ring to it.
How long did it take you to decide on the name and what others were in their running for it and why on their own grounds were they disregarded?
SBV: I don't think it took too long, there weren't any others in the running. 'Black Velvet' was my first idea and the one I went with. I wanted it to symbolize what I was – and wearing black velvet is who I am. I am always recognized by my black velvet gloves for example. Tyson Ritter of The All-American Rejects told me I was the only 'journalist' he recognized because of my black velvet gloves.
What did you find to be the main obstacles that you had to overcome to get the magazine into fruition and how did you get around them?
SBV: I think the main obstacle has always been the printing costs – and getting people to buy it! In the early days I wasn't in touch with so many record and press companies either. You build that up over time.
Which Articles/Reviews/Interviews have been the most pain in the arse to set up and how long did it take to make them eventually happen?
SBV: I wanted to interview 30 Seconds To Mars and that was hard to set up – in fact it hasn't happened so far! Originally – before they came to the UK (except for one London show years before) – their UK press officer said she'd put me down for an interview but then she left the label. Then I was put in touch with their US press officer who when they came over to do Manchester and London shows a few years ago put me down for an interview on the London day – but then a couple of days before she asked me if I could do my interview at the Manchester show as they were rescheduling times, so Kerrang! had the time I had previously been given for London. I said Manchester was fine – although on the way to Manchester I had a phone call telling me the band had decided not to do press that day – so I ended up not getting to do the interview.
Then on the next tour the press officer tried again to set it up – although apparently their manager said he hadn't heard of Black Velvet and I didn't get one scheduled for that reason. I think he only wanted them featured in huge magazines that were on sale in all the newsagents and other stores. Others that have been a slight pain to set up are smaller bands when the press officer has not given me a time for the interview and told me the tour manager would sort it out. One time it was the day of the show and I was waiting to hear from the tour manager all day to find out what time my interview was. He eventually called me back 10 minutes before doors and asked if I could do the interview after the show. So finally I got it done at the end of the gig.
How were your first ever interviews and how did you feel whwn doing them?
SBV: I definitely think I've improved a lot over the years. I don't really remember the first ones, but I know that now I spend so much time researching and I rack my brain trying to think of different questions that the band won't have been asked a million times already. I'm a lot more confident when it comes to interviewing now as I believe I do come up with good questions. I used to hate doing face to face interviews and would be really nervous. I still get nervous before each interview but I look forward to them now. I think it's because I know my questions are good.
What artists have surprised you as Interviewees and for what reasons?
SBV: I don't think I've been surprised by anyone. I do so much research before each interview that I pretty much know what a band or bandmembers are going to be like – so no-one surprises me.
Which artists have been the most memorable as Interviewees either good or band and why?
SBV: I love the animal rights based interviews that I've done – with bandmembers like John Feldmann of Goldfinger and Tyler Rann of Midtown (who've now split up). Tyler inspired me into becoming vegan, which is one of the best things I've ever done.
Which artists have you had the chance to meet and interview on the spur of the moment (out of context) and who was most surprised anbout it - you or them?
SBV: I don't do spur of the moment interviews. I have to research a lot to come up with good questions. I'm a perfectionist so not happy unless I've spent time researching a band inside and out. Plus I think I'm crap at asking questions off the top of my head. If I met a bandmember and wasn't schedule to interview them I wouldn't ask to.
What do you enjoy to do outside the magazine?
SBV: I barely have time to do anything outside of Black Velvet as it takes all my time – although I do have a dayjob too (well, two actually). Hobbies-wise though, I'm into animal rights and once in a while I will go on one of the big national animal rights marches. Saturday April 25th I will be going on the coach to the National World Day for Laboratory Animals march and rally in London. The coach leaves Redditch at 7.30am which means I'm going to have to get up at 4.30am – which I'm not looking forward to. But I have to do it as it's for the animals! I think more people should speak out against animal cruelty. Vivisection is a complete waste of time – but the general public are brainwashed into thinking it is needed to cure diseases. However many drugs end up killing people instead! And how many years have we been trying to find a cure for cancer? All that chemotherapy that Jade Goody had did nothing. A perfect example of how futile animal testing is. It's time money was put into humane research.
What other magazines do you think match up to Black Velvet Magazine and why?
SBV: I think there are lots of great magazines out there. I think personally I do strong, in-depth interviews that aren't matched by that many. Mags I love reading include Lifescape, Big Cheese and Punk Rock Confidential! I had/have subscriptions to all three – although I think I have slacked on renewing the Punk Rock Confidential one. Blame the recession! Lifescape (veggie mag) and Big Cheese are much bigger than Black Velvet of course.
How powerful do you think the Zine Medium is, in order to get the artists heard and the music business into some form of halthy state?
SBV: To be honest, I think it's not the strongest medium at the moment as things like MySpace and YouTube are much more powerful. It's a shame. Everyone wants to listen to music for free online and everyone wants to read everything for free online. The main reason is the lack of money that everyone has. I wish something could be done to change the world so that somehow we all had more money to survive on. Ok, rich people don't have to worry and some have millions, but there are many, many people who can barely survive. It's hard enough finding enough money to pay rent and bills – a lot of people don't have money to spend on themselves after all that. It sucks.
If you had the chance to Interview any artists that are no longer with us, who would they be and why?
SBV: I'd love to interview Richey Edwards of Manic Street Preachers as I always thought he was pretty amazing. He was really intelligent and quite a deep person, I think.
What would you say from your point of view are the most tedious parts of running a Zine?
SBV: Trying to get people to buy it! Haha. And hassling my contributors for their contributions. Oh and approving all the myspace requests, sifting out the hip-hop fans. I get annoyed that hip-hop/rap fans send Black Velvet add requests when we're a rock mag. I don't understand WHY they want to add a rock mag to their friends list – and it bugs me when people send you add requests just to bump up their friends list. It bugs when bands try and promote themselves in your comments sections as well and say 'thank you for supporting us' just because you approved an add request. Just because we approved your add request it doesn't mean we are supporting you!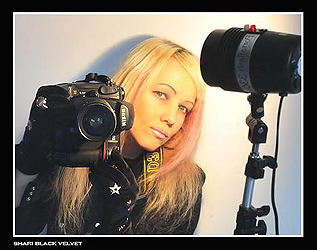 Where's the coolest place that the Zine has managed to get you?
SBV: I think photographing Bon Jovi at some of their stadium shows, photographing the main stage at Download festival a few years ago and all the bands we've interviewed and featured are the high points. I appreciate everything I've managed to do due to Black Velvet.
How many CD's would you say you recieve to review and what's your process of selection for each issue or other writer?
SBV: There are 59 album reviews in issue 60 – and 30 single reviews. I get sent a lot, lot more but only the good CDs get reviewed. I listen to every CD that I get sent. If I think it sounds ok, and it's rock-based or fits in with what Black Velvet features then it will get reviewed. If I don't like it, then it won't. I get sent some trendy pop stuff once in a while and some uber-heavy thrashy death metal stuff – and obviously those sort of things won't get reviewed. Anything that's too dull or just really bad doesn't get reviewed either. I do try to send music to contributors that I think they will like but I can't always send them everything they'll like, it usually depends on who has nothing to review and what I have here. Sometimes they will get sent a variety of CDs to review.
What's the most prestigious commnent you have ever recieved about Black Velvet and who was it from?
SBV: I've received some nice comments over the years although until recently didn't make note of them, which is a shame. When Goldfinger were on the cover John Feldmann sent me an email saying: 'The pictures are great! The mag looks sooo good! I wish I would have done the interview!!! The questions are amazing!! Shit... THANK YOU!' (I interviewed Darrin and Kelly for that issue as John had gone to get vegan food). That made my day that he bothered to email me and thank me – and even cooler was the fact that he then put the cover of Black Velvet as his default MySpace pic. No other band or band member has done that – and that's what really stood out. I am so flattered and honoured that he liked it and actually used the cover as his default pic. When I asked Matthew of Madina Lake if he got the Black Velvet with Madina Lake on the cover and that I hoped they liked it he replied saying 'We LOVED it! Thank you so much. You truly understand who we are and we're very grateful' – so that was cool too.
How would you say your Zine Manuafacturing has changed over the years and whats your thoughts to the change?
SBV: These days a lot of zines look as good as professional magazines. I and other zines get them printed professionally and lay the pages out on the computer. Back when Black Velvet was first born I didn't even have a computer and used a cheap Canon Starwriter word processor. I even hand-drew the Black Velvet logo! I think it's great that zines can now look as good as magazines that are in stores – but I wish that stores would stock zines. I once sent a copy of Black Velvet to Borders and was told it needed to be 'more substantial'. One distributor told me it needed to have a higher price. I guess stores want mags to be around £3.50 or something so they get a bigger cut of the price which then makes it more worth them selling it. I don't really have the time or money to add a lot more pages to Black Velvet though – so I prefer to keep it to 40 pages and be £2.
How strict are you when it comes to your own personal deadlines?
SBV: I'm very strict about deadlines. I've always been a perfectionist. I've always hated being late. I'm the type of person that will make sure I'm early rather than late – so I always make sure every issue of Black Velvet is completed by deadline and I hassle my contributors for their reviews and contributions if I think they've taken too long.
Whats the wackiest Question you have ever asked and artist, who was it and what was their answer?
SBV: I don't think I ask wacky questions. All of my questions are inspired by the band and their music. Some of my questions are inspired by their lyrics – maybe if they've got a weird lyric I will ask a question relating to it.
Who has been the biggest disappointment to meet and for what reasons?
SBV: I haven't been really disappointed by any people although I've been at a couple of 'signing sessions' where they herd you through so fast it's like you're on a conveyor belt. I lined up for one 30 Seconds To Mars signing which they did after their first ever Manchester show. I thought it'd be cool to see if I could get a photo of them with Black Velvet but the security wouldn't let me take a pic so that was disappointing. I do understand that when you're doing signings you need to get through heaps of people though and if they take time it just takes too long – but it would have been nice to have got one pic with Black Velvet. I don't care about autographs, I just thought it would be cool to have a pic of them with an issue of the zine.
Do to your looks and charm, do you ever find you become the interviewee and the artist attempt to chat you up? Who has been the best exaple of that so far and how did you get around it? – lol
SBV: I pretty much never get chatted up. When I go in to do my interviews, I go in, do the interview, take a couple of pix and then leave.
What artists can you definately say that Black Velvet has broke into the main limelight and how does that make you feel?
SBV: I don't know if I'd say that Black Velvet has broken any bands into the limelight. I know there are bands we've interviewed and featured that have since had sold out shows in Birmingham – when none of their own shows in the UK have sold out – but maybe that's because there are just more people with great taste in music in Birmingham. There are of course bands Black Velvet has probably covered more than other mags – such as Sugarcult. I loved the band Bandcamp and featured them a few times but they split up. I've had a friend in the US tell me that bands I've talked about or written about ages ago that she hadn't heard of at the time she has since seen written about over there and she remembers I told her about them first.
What have you yet to conquer as a Zine Editor & Interviewee?
SBV: The main thing I think is to get it into more stores and to get more people to buy it!
What's the furthest you have travelled to cover an artist and who was it and how did it go?
SBV: I've seen Bon Jovi play all over the world including Japan – so I'd probably say them – although I didn't specifically go to write about it for Black Velvet. My friends and I just decided to go and see Bon Jovi in Japan – and then I decided I'd write something about the tour in Black Velvet.
What are you most proud of so far and why?
SBV: I'm proud that I'm still doing Black Velvet after 15 years. I'm proud of my hard work and dedication, and I think Black Velvet keeps getting better. I hope if anyone's reading who hasn't checked out a copy they will do so. A 4 issue subscription is only £8 and if you order a single issue in advance it's only £2 so it won't break the bank that much.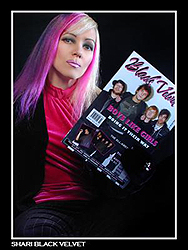 Nice One Shari, here's to another 15 years !!