An Interview with
Shawn Duncan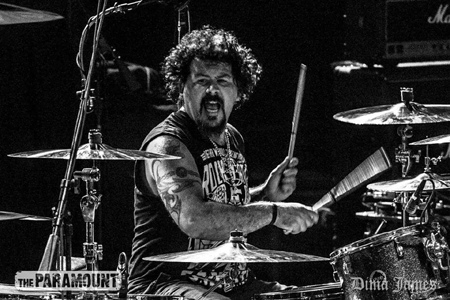 Drummer of DC4, BulletBoys & ODIN
that took place on September 5th, 2014.
Interviewed by Glenn Milligan.
Glenn: What made you want to become a drummer originally?
Shawn: I really do not know! When I was VERY young (like 5) I would take out my mom's pots, pans and Tupperware out and bang on them. I also made drums out of coffee cans! My father was a songwriter and performer and I used to watch the drummer and sometimes sit behind the kit. I just always loved everything about them.
Glenn: What was your first kit and how did you get it and where from?
Shawn: My first kit was a makeshift Ludwig. It had various colors and parts. It actually belonged to a singer we had who eventually gave it to me. The first kit I ever purchased was a Sonor.
Glenn: Who were your favorite drummers at the time and how did they influenced you personally?
Shawn: There were so many. I was raised listening to a lot of Chicago and Motown. So there is a lot of that in my sub-conscience when I play. But my early big influences were Steve Smith, John Bonham, Cozy Powell, Alex Van Halen, Roger Taylor, Keith Moon and Bill Ward. How they influenced me personally? They all have tremendous feel and are/were extremely creative. NONE of them were trying to be anyone else. Be yourself, play what you feel.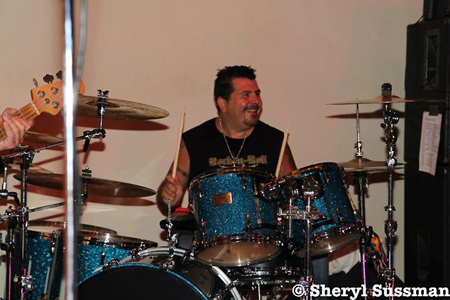 Glenn: How would you describe the drum style of Shawn Duncan and who would you say you are similar to and for what reasons?
Shawn: This is a difficult question. I don't like to compare myself to other drummers simply because it can be misunderstood. I have been told that I play like a blend of Bonzo/Vinnie Appice and Alex Van Halen. A power drummer who has swing.
Glenn: What is your favorite kit and why?
Shawn: Currently I love Crush Drums. They sound fantastic and have awesome hardware! My treasured kit is a red sparkle set of 1969 Ludwigs 26, 13, 16, 18. Incredible sounding drums.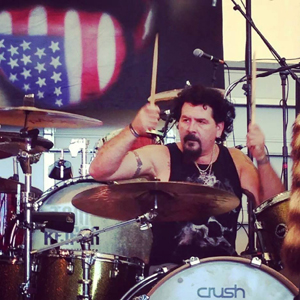 Glenn: What do you miss about the heyday of Hollywood and why?
Shawn: I miss the support the fans had for local music. It is sad that more people do not support their local bands as much as they did back then. THAT is why so much good music came out of there. We had an incredible support system. Clubs were honest and paid you fairly, radio was not owned by huge corporations and would play your music, we had local magazines and newspapers and the people were into music…it was a perfect storm.
Glenn: How would you say Hollywood has change since those hair metal days?
Shawn: Well see above. But for the most part there really isn't a "Hollywood" music scene. Greed has pretty much destroyed it.
Glenn: What were the most memorable moments as a member of Odin and for what reasons?
Shawn: Too many. But I guess the premiere and after party for "The Decline" movie because it was off the hook fun. Touring, because touring always rocks. Generally enjoying the whole experience of the time.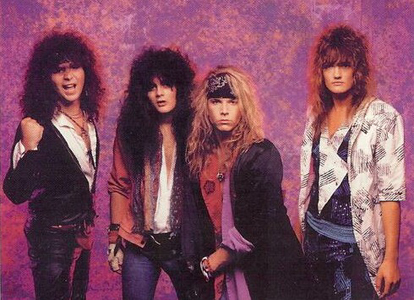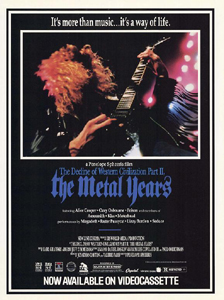 Glenn: What are the coolest recollections of being part of the film 'The Decline Of Western Civilization Part 2: The Metal Years' and what goes through your mind if you ever re-watch that movie?
Shawn: True story. When we shot the hot tub scene Chris Holmes was there with us. Chris was Randy's (singer) roommate and was pretty much responsible for breaking Odin in Hollywood. Anyhow, we were partying pretty hard there and after our scene was done they went to Chris's mom's house and shot the infamous "pool scene" with Chris. So we were somewhat responsible for his condition!! HAHA!
When I see it now I just think about how much fun we had back then.
Glenn: What would you say are both the advantages and disadvantages of playing in a band alongside your brothers you like do in DC4 and for what reasons?
Shawn: Me and Jeff were in Odin together so between Odin, DC4 and other projects I have appeared on 11 albums with him. Basically I have been performing with him in some capacity for 35 years. So when we work together it is easy and sometimes we don't even have to speak to get a musical part together.
Playing with Matt is also easy because he has been in various projects with me and Jeff as well.
The advantage is that my brothers are fantastic musicians and are super easy to work with. Also, blood is thicker than water so we have each other's back.
Glenn: What would you say are the main differences between DC4 and Odin on both a musical and band chemistry level and why?
Shawn: Honestly, DC4 is just a progression of Odin. Odin was mine and Jeff's band as is DC4. Musically the songs are Jeff's as was Odin. The only difference is that we got tired of dealing with "singers" so Jeff took over the vocal duties. Odin was a 4 piece with a front man. In DC4 we added Rowan Robertson on guitar so we are fortunate to have 2 very talented lead guitarists and a fuller live sound.
Glenn: What have been the most memorable moments in DC4 with regard to live shows and studio work?
Shawn: We played the Monsters of Rock Cruise in 2012 and Rocklahoma those were great gigs! Studio work I guess would be every time we record. I love recording and can't wait to go back in.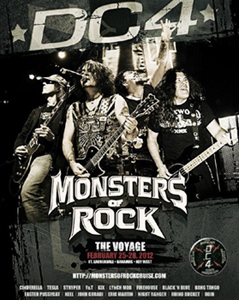 Glenn: How did you become the current drummer for the BulletBoys?
Shawn: Basically their drummer could not do a 6 week tour and I was available. I have known Marq from back in the day and his manager contacted me after seeing a post I placed on FB stating I was available to tour this summer. Next thing I know I was on the 'Bang Your Head' tour. I have been home for 3 days and want to go back out already!
Glenn: What turned out to be the best shows on the BulletBoys tour and why?
Shawn: There were many. We played some incredible venues and some were quite historic. Most of the promoters were top notch. Ultimately they all rocked.
Glenn: What songs with the BulletBoys did you get the most joy out of playing and for what reasons?
Shawn: Always fun playing "For the Love of Money" and "Smooth up in ya" because the crowd digs those and sing along etc..I also dig playing "THC Groove", "Born to Breed", "Bringing Home The Gun" and the newest song "Symphony" which was just released on I-tunes.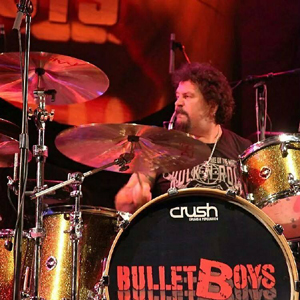 Glenn: What do you enjoy doing outside of being a drummer - as in hobbies and interests?
Shawn: I enjoy fishing, reading, following the stock market, home gardening and of course going to see live music.
Glenn: What would you say are the best and worst things about living in the Los Angeles area and why?
Shawn: I grew up here. Born and raised in Los Angeles, it is home. So the best part is that L.A. is home. Also, can't beat the weather!
Worst part would be that it is getting quite expensive out here and there is no music scene. I have to travel a lot to make money doing what I do. I love to travel, but there used to be a vibrant music scene here and it is simply non excitant now so that is sad.
Glenn: If you could do a drum duet with any particular drummer, who they be and what would you like to perform with them if you hand the chance and for what reason?
Shawn: I couldn't even begin to think about that. I really don't know.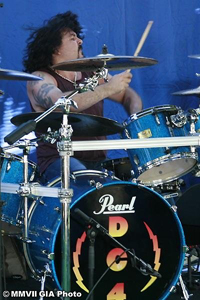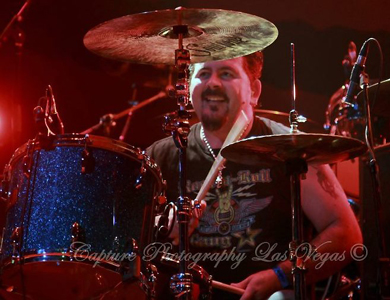 Glenn: What have been the most enjoyable tours you have been a part of so far in your career and what makes them so memorable to you?
Shawn: Probably the first tour with Odin when we were supporting Alcatrazz . Because it broke my tour cherry and well, let's just say it was over the top.
And then the one I just did with BulletBoys because we played some awesome venues in front of a lot of people and had a great time.
Glenn: For you personally, what would you say is the key to the making of a good drummer?
Shawn: Be yourself. Play with feel and support the song. Be REAL and play with your heart and not your brain.
Glenn: What would you say keeps you motivated as a drummer?
Shawn: To do what you love is not work.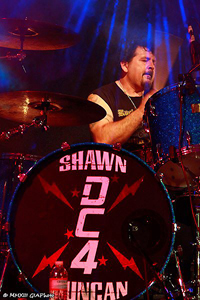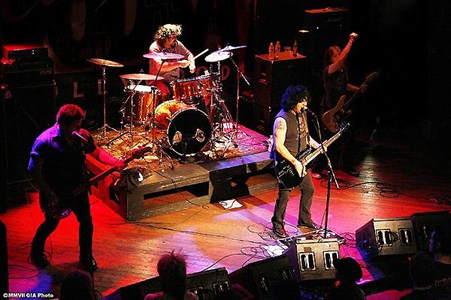 (By Greg Allen - GIA Photos)
Glenn: Do you have any rituals before you hit the stage - if so, what and why?
Shawn: Usually I warm up a little with paradiddles, flams and single stroke rolls with my sticks turned backwards (using the butts because they are heavier). That's pretty much it.
Glenn: What are your coolest road stories that you can tell?
Shawn: I think it is often the parts in between the gigs and looking out the window and seeing the world. I am fascinated by the beauty of the Earth. Be it from a bus or a plane.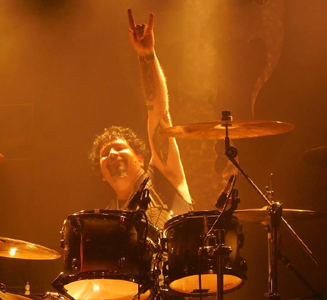 Glenn: What would you say you are most proud of as both a drummer and in life overall and why?
Shawn: Well as a drummer I am most proud of the 11 albums I have appeared on and the fact that I still am able to play and enjoy what I do. In life overall my son.
Glenn: What else would you like to talk about in the interview that I have not touched upon?
Shawn: I would like to thank Paiste Cymbals, Aquarian Drumheads, Promark Drumsticks and Danmar Accessories for their support.
Glenn: What would you like to say to the fans out there reading this Interview?
Shawn: Check out DC4, Odin and BulletBoys. Get reacquainted with the music and/or purchase some. We can only do what we do because of you. Please feel free to follow us all on FB and Twitter to keep up on what we are doing.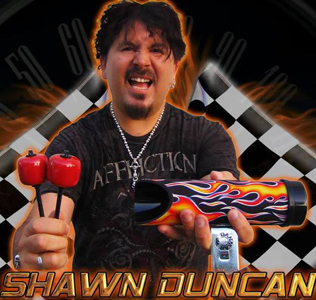 Great Passionate Answers Shawn! Thanks Brother!