An Interview with Rock/Metal Trio,

from Sheffield, UK.
These guys have have been gigging numerously over the past few months - They are a top class band who have a powerful Sabbath style about them. As yet they are unsigned but hopefully it won't be too long before they clench that almighty record deal. The band line up is Kev (Drums); Richard (Bass/Vocals); Brian (Guitar/Vocals).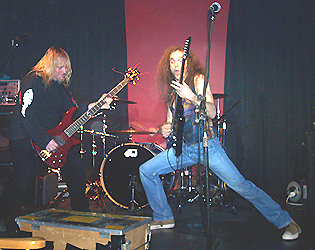 (Live at West Street Live, Sheffield, Jan 3rd, 2006)
How did you come up with the name "Shrine of the Monkey"?
Richard: The name was my idea, don't know where it came from, but monkeys are quite cool I think, but I don't want to f*ck one or anything!
Kev: Richard must have got this name before we got together, so it was a case of, "Yeah, alright then".
Brian: Richard did.
What other names did you come up with and why did you reject them?
Richard: No other names were put forward
Kev: I'd thought of a name, but thought ,"nah no need to start tossing a coin".
Brian: We don't know, Richard didn't tell us.
How did the band get together?
Richard: We did our first gig in Sept of last year. We only did 3 of our own songs though, we only had 3 songs of our own I think! In front of some hells angels at a bike rally.
Kev: I'd started going to jam night at the Deep End, got up and did "War Pigs" with Richard who I'd never met before. Few weeks later asked me if I was interested in forming a band, introduced me to Brian then we got it together.
Brian: Through Jam Nights and Coffee Mornings.
How long have you each individually been playing?
Richard: We all met at the Deep End jam night. I met Brian about a year before I met Kev & Bri and I had already decided to get something going. We just needed a drummer of good standard. I saw Kev play, that was it. I've been playing for ever! Too long!
Kev: Not that long really, I've always loved Rock and thought I wanna be in a band, bought a kit aged 27, practised and practised, never had any lessons, got in a club band for a few years. Band packed in, got my drums nicked 7 years ago so packed in, started playing again last year.
Brian: Long Enough.
Who are your main musical and vocal influences and why?
Richard: Orange Goblin, Sabbath, Sleep, Budgie.
Kev: Too many to mention, Deep Purple, Montrose, AC/DC, Van Halen, Led Zep, Hendrix to name a few.
Brian: Satriani because he exists, Coverdale because I grew up with the Snakes.
What bands did you play in previous?
Richard: Seventh Son, new album due soon. Been with them over 20 years.
Kev: Club band, "Steel Kingdom", "Big T Band", plus help a few bands out when stuck.
Brian: Previous bands were: Gearbox, Halfshaft and Oddjob.
What made you decide to go down the original band route?
Richard: It's the only way.
Kev: It's got to be better doing your own stuff.
Brian: Have always done originals, (covers are a necessity).
What gigs have been memorable so far and for what reasons?
Richard: West Street Live. The 1st time we played me and the band really went for it. Playing with Biomechanical was awesome as well. The Boardwalk, they're all good.
Kev: So far its got to be opening slot for Biomechanical, simply because no one knew who the f*ck we were, quite a few people commented after how much they had enjoyed us more than the others. That's not being disrespectful to the other bands on the night.
Brian: All Brill.
Does it do your head in playing other peoples songs as well in a live set?
Do you simply please yourselves what you put in a set or do you try and work it to suit the audience - hence a lot of rock by numbers songs?
Richard: We write our own songs. Doing covers is a means to an end. It gives us the opportunity to play venues like West St Live on a Saturday night, rather than on a Tuesday to 20 people. The covers we do are just what we all know, so we don't have to spend much time rehearsing them.
Kev: We only do numbers what we hope the audience would like. If its crap I would not play it. There is no set routine what we do.
Brian: Covers are ok. Good to have your own stuff appreciated alongside them!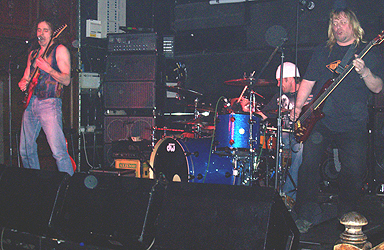 (Live at Joseph's Well, Leeds 11th March, 2006)
If you wanted to be totally self indulgent, what cover songs would you have in your set and why?
Richard: I would like to do the whole of 2112 by Rush.
Kev: like to do something by Led Zep - Black Dog or Kashmir.
Richard: I really rated Robert Plant as a front man because he was cool. But so was Bon Scott!
Brian: My self indulgent cover would be a live version of," Memories", by Satriani.
Got any good rock n roll stories worth telling - care to go on sirs?
Richard: The funniest thing. We rang the Dome in Doncaster to see if we could get a support there. The guy offered us the big hall. Wanted us to meet him, said we were brilliant! Started ringing us up all the time!" Like you're Brilliant! We've heard of you!" He thought we were the Arctic Monkeys! LOL
Kev: Not yet but you'd know what to expect being a drummer in a rock band.
Brian: No comment.
What have been your best Spinal Tap moments so far?
Richard: See above.
Kev: A bit early for that but I'm sure there will be some along the way.
Brian: Watching the singer fall off stage because he forgot his glasses.
Where does the picture come from on the cover and how long did it take you to decide on the cover?
Richard: I wanted Blood and Skulls on the cover! I think Kev sorted that one out. I didn't want our pics on the front cover, but I think its a good cover so I'm not right all the time.
Kev: My son did it taken from what photos we'd got and thought bump-bump-bump that'll do.
Brian: The picture comes from a gig. It took 2 minutes to decide on and due to the time factor we rushed the cover.
What influenced each of the four songs on the e.p?
Richard: Ken Bigley getting his head cut off (poor guy) for Gods Name, and total disillusionment with our leaders, (Iraq, Bush, Blair) for Anthem.
Kev: Brian and Richards answer, when we all get together though it just clicks.
Brian: The moment.
What's next on the recording agenda?
Richard: Hopefully an album later in the year.
Kev: Try and get some time and produce an album that will make you play it over and again cos you love it.
Brian: An album with better cover.
If you were to be signed up, which label would you like to be on and why?
Richard: Most of my dealings with record companies have not been pleasant. Been done out of a lot of money over the years, by one company or another. I'd only sign for 1 album Max anyway. In the age of the internet downloads record companies will be obsolete soon anyway. Its all down to distribution and what better way to distribute but on the net? Its all about getting your music heard.
Kev: Not too sure, it would have to benefit us otherwise there would be no point just getting signed.
Brian: Roadrunner, they're not afraid of Rock.
Which venues/areas would you like to play in the future and why?
Richard: Don't mind where we play. Just want to push the band forward, no such thing as a bad venue.
Kev: Hopefully outdoor festivals maybe even Monsters of Rock (on small stage), Don Valley Stadium would be brill especially local band from Sheffield.
Brian: Any, so long as it is full.
If the chance came about, what bands would you like to have a tour support slot with and why?
Kev: Realistically any named Rock/Metal band where their audience would appreciate our kind /style of music.
Brian: Black Label Society.
What do you all do outside the band - jobs and hobbies/interests etc?
Richard: I'm an Electrician, Brian is a Plumber and Kev is a Gangsta!
Kev: I'm a self employed car dealer at the moment, but I've done demolition, scrap metal, you name it - that kinda thing. Hobbies are walking my lurchers, Speedway, most sports, boxing etc & camping.
Brian: Look after my family and work.

What's your opinion of the Rock/Metal scene in the UK at the moment with relation to both concerts and new releases?
Richard: Its cool, at least people are listening to metal again, but it's becoming more corporate, less interesting, everyone sounds like Mastodon now or Opeth.
Kev: Good, it went quiet not so long back, the younger generation are really into it as much as us older guys now.
Brian: I have no idea being so busy I don't get a chance to see any.

What's your opinion on the live music scene in Sheffield and reasons why?
Richard: The live music scene is good in Sheffield. Plenty of bands playing, too much Indie Sh*t though!
Kev: Excellent, more people into live music.
Brian: Apathy on audience part.
Where do you see "Shrine of the Monkey" in the next 5 or ten years?
Richard: F*ck Knows!
Kev: Hopefully we stick together. Make a few CDs at least of some quality. If only crystal balls were real, I could tell Ya!
Brian: That's a Monkey Puzzle Question!!!!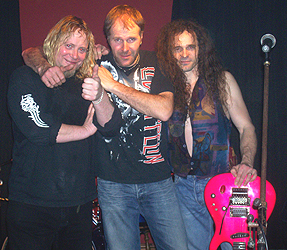 Thanks to their Manager, Sue for setting this up !!