An Interview with the Barnsley/Sheffield Rock 'n' Rollers
'SILVERJET'
that took place July, 2006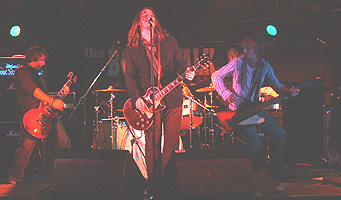 How long you been playing and in what formats?
Andy: 6 years as us more or less. I joined Dave after my Doncaster band 'Skalee
Base' supported Dave and Pauls band 'Sweet Cyanide' at 'the other side' bar in '99. Dave had a good idea of what sound he wanted and I liked it. A couple of Drummers(insert jon and his band here) and Bass players later(Paul came back),we took the gag off Dave.............Silverjet!
Dave: When I was 17 I joined Paul's band at the time Sweet Cyanide to play guitar, real Sleazy/Glamy rock n roll. I loved it, it was so much fun and we even got to play with Spike and Tyla back then. Around that time Andy and his band Skalebase where hanging around Sheffield a lot and we saw them in Jam nights etc.. and about 2 years into my time with Cyanide the plan was that Andy would become rhythm guitarist for Sweet C cos we wanted to thicken things up a bit but we never ended up gigging like that cos the band split very soon after.
Jon: I'd been in quite a few rock covers bands, pub circuit stuff. I'd been quiet for a while and wasn't even looking for a band to be honest. It was back in days of old Corporation on Bank Street, my missus was talking to Dave's missus in toilets (like women do) and it was mentioned Dave and co were looking for a drummer. My missus told Dave's missus that I was a drummer. Later that night, I vaguely remember Dave coming over in Corp to ask if I'd help out and I drunkenly said 'Yesshshhs!!" – the rest is history as they say
Paul: Yeah, I'm the new boy. Me and Dave go back years from the Sweet Cyanide days, We played with Andy's band and thought he was cool so we nicked him for ours, only for it to fall apart. I went off but they kept going and I kept following what they were doing cos I knew it'd be a great band. I couldn't wait to see them do something. Then they had some gigs booked and the bass player left so they asked me to do them a favour…. As soon as we'd done those first coupla gigs we knew I wasn't just filling in any more!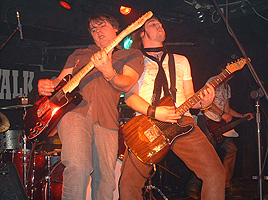 What are all your main influences and what was it about them that did it for you - any particular, songs, albums or gigs that put them and their style of music in your heart?
Andy: Every gig I see has some sort of effect on me and influences the outcome of
my next performance. It either tells me to do or do not do something.
Jon: I agree. A moment I always remember like that is being at a Wildheart's gig. At the end of a blinding set Ginger said "Listen kids, if your not in a band, learn to play an instrument and get in one – it's the best thing ever" – he then threw his guitar into the crowd and walked off stage. That's rock 'n' roll and he's right – it's great. Being in a band is not just about playing music you like but making music and giving a performance that other people like as well.
Paul: I hate trying to name songs or albums cos there's just so many, it just depends on the day as to what my answer would be. It's just music. Ya can't help what ya like, ya just do. We just do music we love, it's honest and means something to us.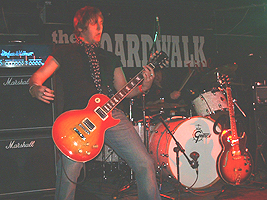 From what people say about us, it seems pretty obvious who some of our favourite bands are. We constantly get the Crowes/Quireboys comparison. Dogs D'Amour, Aerosmith, The Stones. Am I happy with people saying these things? Hell Yeah! They're all fuckin' amazing bands.

Dave: Since I was about 7 years old I can remember being into loads of rock bands, my brother was a massive Iron Maiden fan, he got me into them and some other bands as well and he also got me into playing guitar. After that so there's just so many bands that do it for me, GnR, Aerosmith, Black Crowes, Buckcherry, Motley Crue, Quireboys, Dogs D'amour, AC/DC, Bon Jovi, Skid Row, Poison...the list goes on and on and I can't be arsed to keep going but ya get the picture!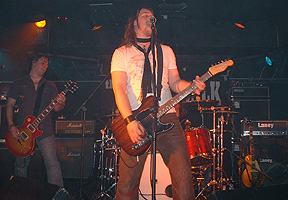 Where did the name Silverjet come from?
Andy: A Silverjet!
Paul: For all you non-guitar geeks out there, that's a guitar! Ain't it the one Joe Perry uses on the 'Dude Looks Like A Lady' video?
Dave: From a really cool guitar…Nothing meaningful I'm afraid.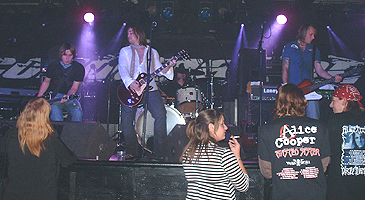 What are your thoughts on the fact that a band in the USA had the same name (now long gone of course)?
Andy: Don't give a sh*t! other than it looks like we supported Keanu Reeves' band a few times.
Dave: We had never even heard of them till after choosing the name and seeing as they were quite a few years ago and had a different style we just thought…ah, be rite!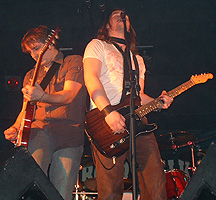 Did it take long to get the band together - what were the main factors of its formation?
Dave: It took forever…that's how long it seemed! After Sweet Cyanide me, Paul and Andy started jamming with one of my old mate from the street I grew up on who played drums. We looked for a singer for a few months and didn't get anywhere. Paul was actually just helping us out till we found another bass player cos he didn't want to keep playing. Then we got hold of Paul Gilliver who was a permanent fixture on bass for the best part of two years (maybe more). Still never found a singer…(Ah memories)...Anyway, skip forward a few months and Paul came back and I started singing just so if nothing else we could get a few fun gigs out of it.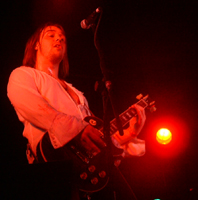 Andy: A singer was the main problem..... ....its frustrating not knowing why its so f*ck*n hard to fill a space. Lookin' back we can see it was difficult cos there wasn't actually a space to fill.
Jon: Think it was almost four years from me joining to our first gig. I think if Dave had't 'volunteered' to sing we would have split up.
Paul: Heh heh. They always wanted someone who sounded like Dave. Just didn't know where to start looking…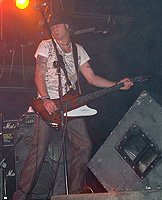 You been able to support many artists so far like Quireboys, Dogs D'Amour, Spike (Solo), Statetrooper etc etc - what has stood out - you must have some crackin' stories so far - any you can talk about in web-print?
Andy: Weekend with the QB's! was a good one. First show with them Paul breaks a string on his bass in the first song in...HOW!
Spike playing harmonica in sound check with us in scunny. Brief but cool!
Paul: Yeah, he did 'South Of Soul' with us. I was just grinning. I used to have Quireboys posters all over my wall as a kid and here was Spike jamming with us!
Andy: Me and jimi trying to convince Paul Guirin that Time Team is cool! (Rock'n'Roll)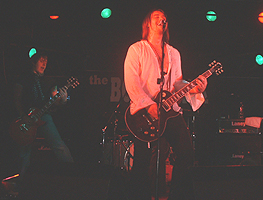 Paul: I think it was the first time we played the big room at Corp, me, Andy and Dave went to our 'dressing room' (the van!) parked in the courtyard and got ourselves locked out by a fire door. The courtyard shutter was closed so we were trapped and due onstage in 5 minutes! They'd turned the music on as well so nobody could hear their phones ringing. Eventually Jon found just in time. I'm telling ya, being in a band makes you realise Spinal Tap isn't a piss-take, it's real life. This shit happens! We got lost backstage in Whitehaven too. 'Hello Cleveland!' Andy was nearly blinded by a smoke machine in Wakefield. The list goes on…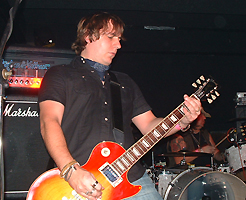 Dave: It's all been so great so far, to say we only intended on playing a couple of gigs for fun we've ended up doing so many cool things. For me the best experience with the guys you mentioned is when we were playing some shows with Spike & Friends, at one dirty empty place in Scunthorpe Spike got up and had a bit of a jam with us in sound check. He played Harp along to South of Soul and gave a few "Woh Yeah's" it was so cool!

Jon: Like Dave said, it's all been good. And the cracking stories don't just come from playing with the signed artists, plenty of other spinal tap moments. We've had fun bumping cars round car parks to get the van out. Packing a tiny hotel lift out with amps, drums and guitars sending it on its own to floor 9 for somebody else to greet. God knows what people thought when it stopped at floor 5, doors slide open and its crammed full of gear.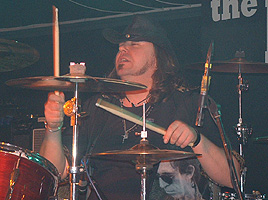 Fave venues/best gigs you have played so far and why?
Andy: For me... Mexborough Civic with Zen motel. Cos we came back after new year with a bigger better sound and the kids loved it. I'm sure theres some close seconds cos there's been so many gigs that i've come off stage feeling great.
Bar matrix was a surprisingly good one. Thought we got sh*tty end of stick being on so late and it was midweek. when SOTM ended with every one was in the other room I thought that was it... but people came in when we played and they were rockin', dancing, cheering, even had to do an unprepared encore.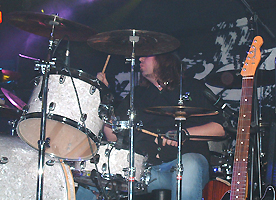 Paul: Headlining the Corp a coupla months back was great. Like a proper homecoming. We didn't know what to expect but the place was packed and the reception was great. That blew us away.
Edinburgh Exchange was a blast. We went up there with the Quireboys. Nobody knew who we were but they got into it. It was one of the best crowds we've played to. Like we were the headliners – until the Quireboys came on then the place went nuts.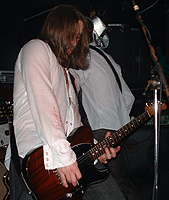 Dave: Personally I like most venues, there's not been many disappointments. There have been so many great gigs and fantastic crowds that it's really hard to have one fave but definitely one that stands out for me is when we played The Sugar Mill in Stoke on Trent. There was about 300 kids around 14-18 and we were a bit unsure how they would take us but the went crazy! It was a great feeling. Also the same thing happened at The Mexborough Civic, not as many but still screamed the place down and got a little crazy! Oh yeah and The Corporation show that we headlined was amazing! Loads of people came and rocked the place.
Jon: Our first Junktion 7 gig in Nottingham still sticks in my memory as being a good one. Only our second ever gig and we went down a storm in front of complete strangers – think it was a defining moment, after four years of being in a practice room.
In the future who would like to tour with if you had the chance and why?
Dave: Anyone that will have us?!?! Any one that is out to have a lot of fun playing some good time Raawwkkk 'n' roll I reckon. And just in case they're reading Buckcherry? Gilby Clarke? Velvet Revolver? Aerosmith!?!?!?
Andy: On the bigger scale....The Stones. Cos they are Rock'n'Roll. In mean time a tour round uk with a smaller r'n'r band that are keeping rock rock! like Rattlesnake Remedy. They are one of my favorite bands at the minute. They remind me of every thing I like about Aerosmith plus more. Good luck to them.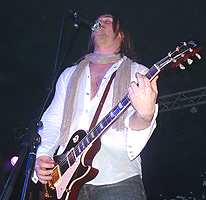 Paul: They're a good set of lads and absolutely awesome live. We've got a couple of shows coming up with them and we can't wait. We're a good match, similar style but different enough that people will see 2 different bands. (Don't think I've put that right but hopefully you get what I mean!)
Jon: Anyone, if it gets us out and about, and not just the UK………. America anyone?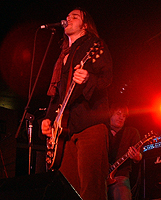 What is your way of putting the songs together - what works best for you?
Andy: Some songs come by playing them once together with everyone guessing (feeling) how they should go. Others need 1 or 2 members working on them to get the song going in the direction it should before bringing to 'the room'.
A lot of our songs have come this way. there is no particular way how a good song comes about. You've just got to work on it when it comes. where ever you are. We've all got busy lives so if something doesn't work in 'the room' when we are there, it often doesn't see the light of day. I see it as a filter, not from whats 'easy or hard' or 'good song or bad song' but generally what works and feels right for us at 'the room' works and feels right for the audience at the gig.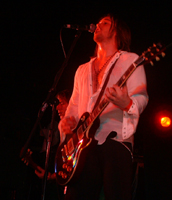 Dave: I tend to be the main songwriter and to be fair for the most part the songs are finished before they hit the practice room. I'll say I've got this what do you think? If it's a thumbs up we'll play it, iron out the creases and if it's a thumbs down it'll be scraped. Sometimes I'll have a something that needs a few words finishing and Paul with be the man for the job. 'Like a fool' was a song that I had apart from the chorus and Andy came up with that,' She sings' Andy wrote the music for and I came up with the words and melody. It's worked so far I think.
Paul: Normally, me and Jon will be picking something up and Dave will say, 'No, it needs a different feel to that' so we tell him we'll change it and then don't bother…
Jon: I'm just happy to be here and usually do as I'm told!!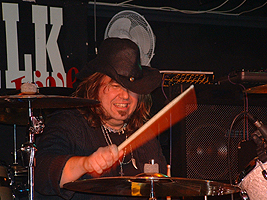 What material are you most proud of so far and why?
Andy: a good song live is what does it for me. 'Face to Face' 'Like a Fool' 'Mardi Gras'. But a lot of material i'm proud of is some of the songs that don't make it to the stage. We have many songs that are a little different to our live experience. 'Might have Been Alright' 'Hard Time Lovin' 'Serenade' 'Long Grass River' These are often left out of sets due to time and to keep sets as hard hitting as possible. New audiences dont let you stop for a ballad or laid back song or they lose interest. Hope fully we can get some
of this stuff recorded and available for people via website/myspace so then they can be introduced at gigs. Also we may preview some of these at some acoustic gigs in the pipeline....
Paul: I really like the way Mardi Gras has developed. I always loved the song before I was even in the band. We played it at a couple of early gigs and it didn't feel right and it got dropped which I was gutted about. Then about 18 months later we just jammed it and it started to kick ass. Then we put the big live ending on it and suddenly it became our opening song, I still love it!
Dave: Everything you hear us play! A guy that comes to see us quite a lot said to me the other day that for him our newer stuff defines us as Silverjet, which was nice to hear.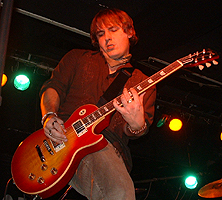 Any other artists in the area you also think deserve the credit, since there's mile more bands worth signing apart from the Artic Monkeys (ahem !! cough cough, I nearly choked typing that !!)
Andy: Sheffield bands... Flatline, Scrim we saw the other day. I liked that.
Paul: Yeah Flatline are a really cool new band. I knew one of the guys and went to check them out on their first gig and from that I suggested we put them on at the Corp with us. I knew they weren't just your average local band. We've played quite a few times with Disarm and Ten Foot Dolls too; 2 other great bands that you can count on to do a good show. When you're on the same bill ya better be ready to play cos they can make ya look decidedly average!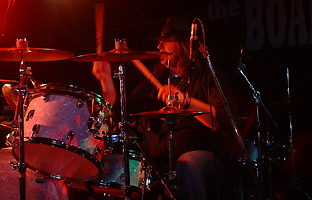 Dave: Yeah! I really like Disarm, Ten Foot Dolls, Teenage Casket Company (Notts), Viva High Rollers, Maeven, Zen Motel (Essex) loads more.
Jon: Yeah, Disarm for me are really strong band that deserve to do well, if only for their abilities to play their instruments so well whilst being completely w*nk*r*d.

How's the recording of the new album going ? Any fave songs so far and why?
Dave: Slow! We're not getting much chance to do much recording at the moment with gigs and hols etc.. but I'm sure you'll not need to wait too much longer before you get a taste of something new!
One of my fave new songs at the minute is 'Broken', it's not been recorded yet so you'll have to come and see us to hear it! ?
Andy: New Album?...... We haven't had any thoughts on the album yet as a package.
But songs are coming thick and fast. A lot of new stuff is taking over our live shows so i dare say some of those will be on there. 'Broken', 'Mardi Gras', 'By The Way' 'Out To Dry'. Maybe some of the accoustic, laid back stuff. It will be a good mix Silverjet music. We've got a lot of good songs coming that no one has heard before so even we can't give you an idea whats gonna be on there. I'm sure we'll have plenty happening to keep people interested until its complete, live and recorded. Keep watching!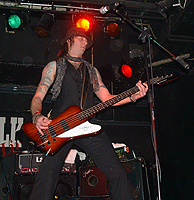 Paul: Whatever happens it'll still be us. We've got a lot of stuff that we want to put down but every time we come up with something new, it becomes one of our favourites and knocks something else off the list. We were in the same boat when we did 'Honour Amongst Thieves', some of those songs were written while we were recording and we liked the way they came out so much they replaced the older stuff. Ya could say it didn't come out how we expected really but in a good way.Thieves', some of those songs were written while we were recording and we liked the way they came out so much they replaced the older stuff. Ya could say it didn't come out how we expected really but in a good way.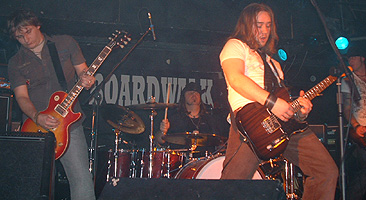 Thanks for that guys - see ya at gig or two or in The Corporation, Sheffield