SNAKE from SKINLAB:
Interviewed by Tony Watson, 7 p.m. October 9th 2001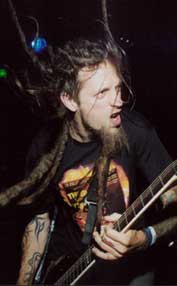 HOW ARE YOU?
I'm fine; I'm over here doing some mixing. I've spent a couple of days in Nottingham and I am now in London and will be heading home tomorrow.

SNAKE, CAN YOU TELL ME ANYTHING ABOUT THE BAND?
Well Tony, we are a four piece band from California who love being in a band and playing music, the music is on the same lines as Slayer and Machine Head with a little bit of hardcore thrown in, the music also has an emotional background to it, but we aren't commercial, I'm not into that commercial sh*t that's around today.

WHAT EXACTLY ARE DOING HERE IN BRITAIN?
I should have been here with Steve but he couldn't make it. I'm putting down some guitar tracks because we couldn't get the sound we wanted. We are working with Steve Everts who has worked with Sepultura, we tried to get Andy Snead over but he couldn't make it, so I came over because he had 8 days to fit me in to get the sound I wanted.

WHEN IS THE CD RELEASED?
It should have been out at the end of the month, but it's been held back due to Slipknot, Slayer and Machine Head releasing theirs.

WHAT IS THE CD CALLED?
The third album is called 'THE REVOLTING ROOM'; the CD single will be 'SLAVED THE WAY'. We have done 9 new tracks for this CD.
HAVE YOU DONE ANY EXTRA TRACKS THAT MAY APPEAR ON CD SINGLES?
We have done a couple extra including a Smashing Pumpkins track 'Boy With Butterfly wings', but we kneed to get the vocals down on this one. I hope it gets used in a film or something!

HAS THE CD GOT A THEME TO IT?
No not really, it's about everyday life, who we are and who we want to be.

WILL YOU BE COMING BACK TO BRITAIN IN THE NEAR FUTURE?
We are doing a tour in February, and then we head out to Australia in March.

WILL YOU BE HEADLINING THE TOUR?
I hope so, if not I hope it's not with some shi**y band.
SHI**Y BAND! WHAT DO YOU MEAN?
You know, these bands that just go on tour and get pi**ed up all the time.

WHO WOULD YOU LIKE TO GO ON TOUR WITH?
Slipknot, Slayer, Static X. The thing is, with bands that are that big they ask for too much money. Bands like us haven't got the money to go on tour with them; we are all in full time employment.
DO YOU LOVE TOURING?
Yes, I really enjoy it, playing to people who appreciate what we do is great.

A COUPLE OF FRIENDS AND I SAW ENTOMBED AT THE WEEKEND AND SAT TALKING TO THEM ON THE TOUR BUS. WE DIDN'T REALIZE HOW CRAMPED THE TOUR BUS WAS AND HOW TIRED THEY BECAME.
You saw Entombed at the weekend; I wish I had known I would have come with you; it would have been nice to see them again. We toured with Entombed a couple of years ago what a great bunch of lads we really enjoyed that tour.

WHAT ARE YOUR OCCUPATIONS?
We are all painter and decorators, but now I'm a tattoo artist. Glen Telford our new guitarist is a sound and music engineer from New Zealand. He heard we were after a guitarist and auditioned with a few others, we liked what he did and he has seemed to bring the best out in all of us.
YOU'RE A TATOOIST!
Yes, I'm a bit of an artist. A friend got me into it about a year ago and I started to practice on myself because I didn't have the confidence to stick needles in people. I have been doing it full time for about three months and I love it. It's great to see people walking around with your artwork on their bodies. I would love to take it on the road to spread my artistic impression all over the world.


THANKS SNAKE FOR MAKING TIME TO PHONE ME FOR A QUICK CHAT, I HOPE THE NEW CD AND TOUR GO REALLY WELL FOR YOU AND I HOPE TO SEE YOU SOON.
No, Thank you Tony, it's been nice talking to you, I will have a look on your web-site now and I hope it does well for you all.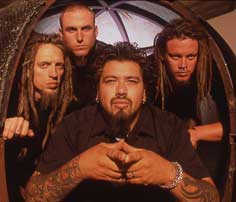 COMMENT ON SNAKE AFTER INTERVIEW: - Snake is one of the kindest blokes you will ever meet and he is so down to earth, great guy.