Steven Adler interviewed by Glenn Milligan at The Birdwell Club, Birdwell, Barnsley on February 7th, 2005.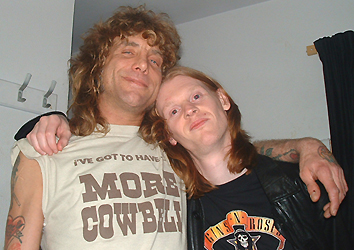 Glenn: Hi, It's Glenn
Steven: Oh dude - Glenn, you're Glenn, Hi man, how you doing?
Glenn: Sound man, good to meet ya matey. (And onto the interview after a good old greeting) What would you say were your favourite times in Guns N Roses when you first got together?
Steve: Oh god, I think the time we drove from … well we got together on a Tuesday as Guns N Roses and did a show on a Thursday at The Troubador in Los Angeles. Friday morning we were driving up to Seattle to do a show and the car broke down in Bakersfield and we hitchhiked and got a ride up with a truck driver – an 18 wheeler. We got a ride full of some solo guy with his son and a low-rider, two hippy chicks and a couple of other crazy people. We drive to Seattle, we did the show, went back to Duffs friends house, ate spaghetti, smoked the best marijuana I ever smoked. So we did really good. That was the best one. Instead of driving right back after again, we had a show in Oregon – two shows in Oregon and one in Seattle. But we made it up there – it took us hours – we did the show, ate spaghetti, smoked pot, went back home and this was all in 24 hours.
Glenn: During the times of the Appetite for Destruction songs, there must have been certain songs that stand out and for what reasons did they stand out?
Steven: Well the beats are different, the grooves are different. Buts that was Guns N Roses – the last (as in original line-up). After that, every song sounds the same. It's not a groove, it's like a time – it's time – the drumming's different. When I was with them I had a groove. You see, That's the sanity of not knowing what the f*ck you are doing. You can have a groove. There's always a jam – I like that.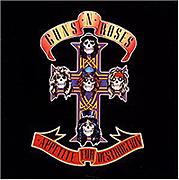 Glenn: What would you say your favourite shows were?
Steve: New Orleans with The Cult. Everywhere with Aerosmith. Donington with Iron Maiden and Kiss. Megadeth, David Lee Roth, The Coliseum with The (Rolling) Stones. Every night that I was able to play, that I gave those guys was the greatest night and the greatest show. So particularly what was in the air with playing with Aerosmith – it was in the round – that's literally in the round where people are behind you and it was so exciting and they were singing so loud that I was telling my drum-tech, 'Get a bucket, get a bucket cos I'm gonna throw up, get a bucket, get a bucket' and he made it right through to the end of the song 'It's so easy – (sings the last few notes), der der der, blah, blah, blah - blurrrgghhh (imitating being sick). (Laughs) See I was so excited – it was so exciting. It made me throw up it was that exciting.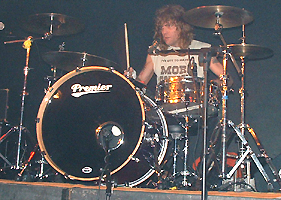 Glenn: What's it like being Steven Adler ?
Steven: I am the same guy off-stage and on-stage. I went out all my life on time. It's my home. It's always business what I do and I like my time by myself so when I'm out playing that's my time to be with people that are out there paying (to see me) to appreciate me. To put it this way, I get no love and no respect at f*ck*n' home – but god-damn, I get such love and such respect when I'm touring that no really, any man can understand. I got a love and respect and (found out) what love and respect really is. I mean, you got an ex-wife who's got no respect for you and that's at home where you should be happy.
Glenn: So you prefer life on the road?
Steven: Oh yeah. Being on the road is the greatest thing in the world. There's no better love or respect.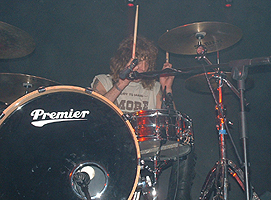 Glenn: Would you say there are certain songs you like playing more than others from Appetite?
Steve: I like playing 'em all but yeah. I love playing 'Night Train'. 'Night Train's great' and 'Rocket Queen'. I mean all the songs have their own beat, their own groove. All the songs weren't just me – it was Slash coming in (as well).
I mean a lot of the songs came together by me goin, 'Dude, check this beat out' and they came up with something like that too. Playing with them was a thrilled game man – we were so tight. Duff knew what I was gonna do before I was gonna do it and I knew what Duff was gonna do before he was gonna do it.
Glenn: Like a psychic chemistry?
Steven: Yeah. I mean, that Farm Aid thing was the last show I ever played with them. And Wh-ma, say hello to the bad guy, Okay? I played that song 'Down on the Farm' – that was the only time I ever played it. To this day, I have never heard how it really goes. It was like, 'We'll finish the set with 'Down on the Farm' (says Duff) and I'm like 'Duff, Duff, oh what the f*ck song is this?' and he's like '1,2,3' and I've never heard it – I've never played it, I've never heard it. I just knew what he was gonna do, we just knew what each other was gonna do – we didn't even have to look – that's what it was like. We were that kind of a band and as a group and that's such a rare thing to ever have. That's why we had the chemistry we had. It came from our hearts. Oh man, we were 5 different people, 5 different personalities but we were the same persons when it came to playing music. We all wanted to do and be the same person.
Glenn: When say for example Slash came up with a song, which song really blew your mind?
Steven: The hottest one was 'Sweet Child O' mine because we were rehearsing in our studio. We had that back in the day when we stayed around on Sunset Boulevard and he played it first crazy – crazy like you do. It was fun and crazy, just playing this riff (that was) like out of a circus and it just like that.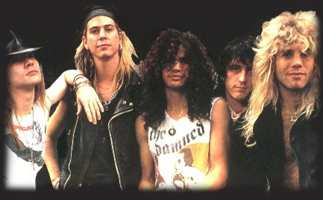 Glenn: How would you say the LA scene has changed since the Guns N Roses days?
Steven: I've been so faithful because I came to Hollywood in what? (thinks) '74. Me and Slash grew up together from being like 11 years old. That was 1976. We flunked school every day and walked all over f*ck*n Sunset, just talking about making it big, making records, traveling around the world, scr*w*ng every girl we possibly can and I was lucky enough. We as a band and myself as being a part of that band, it was something really goin' on. It was the best time I ever had in my life.
Hollywood is completely different now, now the place to be is Las Vegas. Hollywod is for kids, for teenagers – Las Vegas is for adults. All I'm saying is that, that is what Hollywood was like at the time. I had Motley Crue, Ratt – well I like the other guys, I don't like the new Ratt. They are very, very tight.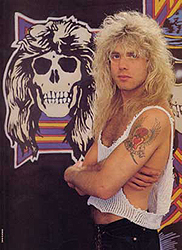 There were girls stripping, women would come out of these little homes out in the valley and take care of us. (We were) up and coming rock n rollers – you know (they give us) money, food – a lot of love, a lot of sex, a lot of love, lot of love - and the best time – it's not the same anymore. Like Bruce Kulick from Kiss, he was at The Rainbow and got shot – SHOT at the Rainbow – what the f*ck - I mean that sh*t never happened man when we were hanging out. I mean, me and Slash were hanging out at The Rainbow since we were 12 years old. I talked to the owner of The Rainbow and he wished me luck and it was all 'And God bless you'.
Glenn: What made you decide to form the Adler's Appetite?
Steven: Well I do it for myself and for the fans. And Slash, Axl, Duff, Izzy and myself. We owe it to our fans to be playing and to be giving them an opportunity to hear and I enjoy playing the songs that I have been apart of. It's in my heart and to see all those people singing songs that I was involved in writing in, in rehearsal rooms and closets and it seems everywhere 'round the world they go. People sing them words, word for word. My favorite thing in the world would be when I sign and people take my picture they shake (hands) and to make big biker dudes cry.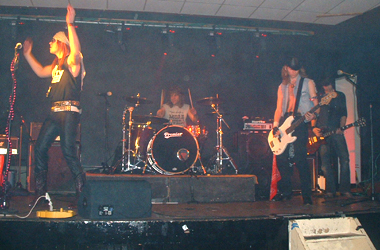 I think there are songs that I think we actively never played with, and they go, 'Dude check this out, check this out, check this out, it's cool man, check this out man' - and people are doing it. It's all of us together as a unit, the five of us, we owe it to our fans and other people that are giving me the love and respect that I have got from them all 'round the world plus a couple of promoters here and there (laughs). So love and respect and we all owe it to 'em. If it wasn't for these people that I play for – singing, crying and laughing and enjoying this music and we as a group as well as myself – I just wanna keep it alive, you know, and show my appreciation and my faithfulness.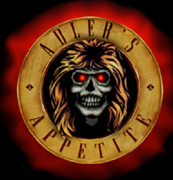 I could watch cable tv and get stoned all day but it's because of our fans that I get do that (as in go out and play the music). But I have those times where I am in my house and what I do in my home and with my family is my business and nobody else's business. But obviously when I'm working and travelling my life is everybody's life because everybody's life is a part of my life.
And I think Axl, Slash and Duff and Izzy and I myself should all start talking and stop having this – 'Well you're this, you're that' – We're all the same people, where all the same people, we all made mistakes, we all done the same drugs, we've all done the same sh*t, we've said the same lies so f*ck it with you all, let's just have fun man. We've always wanted, I knew it, I grew up staring in front of the mirror air-guitaring to f*ck*ng Aerosmith and Zeppelin and my rock star idols and I get to do it and they did the same thing. Right, I gotta play.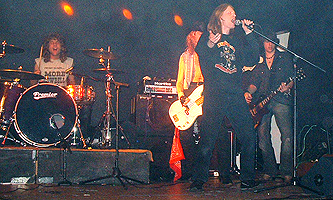 He then plays a set with 'Guns 2 Roses' (GNR Tribute). It was an interesting, nostalgic kinda night.
A Very Special Thank-you to my good friend Rossi (UK Tour Manager) for making this possible, the tribute band, Guns 2 Roses and the other cool people I met on the night at Birdwell Club.