An Interview with a Legendary Musician of Fort Myers Beach, Florida, USA - Ladies and Gentlemen, may I present to you in all his glory,
T-Bone
as Interviewed by Glenn Milligan, Early August, 2007
How did the creation of T-Bone - the musician begin with regard to getting into music and influences - when and why?
I have been influenced by the musicians in my life since I was a kid, but never thought of it as a career option until around '93. I got out of the army in '91 and delivered pizzas for a couple years before deciding that I didn't really want to work unless it was music related. I went to The Recording Workshop in Chillicothe, where I was introduced to pro gear that I had not used before or since. Shortly after completing their course I went to Florida to cut grass and be warm. There I met Rob Robinson (also from TRW), who hooked me up with a gig teching for Blackfoot. It was there that I met the first musicians I would end up working with.
How did you come up with your image and what influenced it (with the shades and the funky beard etc)?
I wear glasses because I am blind without them, and they are tinted because I live in Florida. I was persuaded to shave my voluminous beard by Blackfoot bass player Tim Stunson (possibly acting as spokesman for the rest of the band) who said I looked like a homeless guy. I left a fu-man-chu type thing and envisioned that I would let it grow long and braid it together, which I did. Stunson is also the reason people call me T-Bone: my name is Tim also, so we were labeled T1 and T2. When he left the band they started replacing '2' with 'bone'. I think Rickey started that.
What were the 1st bands that you were in like and how did they influence what you stand for today?
The Oysters Fantastic Band was a trio of ex-Blackfoot guys (John Housley and Bryce Barnes) wondering who we would use as a drummer while Stet was out on tour. We decided on nobody, and played creative arrangements of songs that could be delivered acoustically. Then there was The Dirty Geckos, the kind of band that crack and egos were destined to ruin, but that is the band where I realized I was a bass player.
Tell us about those early fruitful or fruitless gigs that you were part of!!
There was a lot of tequila. I don't remember any fruitless ones. Some were extra fruity. I didn't like those as well.
When did the songwriting begin and what influenced the 1st songs you wrote?
I can't pinpoint an exact start time. I have been influenced by all the musicians around me, and my lyrics have been inspired by work, weather, women, drugs etc.
Have you always been a bass guitarist or do you play other instruments as well - if so what and how do you incorparate them into the sound and style of Funkbone?
I played guitar for the Oysters, and I joined Funkbone as a second guitar player, and moved to bass after a few months. Guitar players like me are a dime a dozen. Guitar players in general are a dime a dozen. I am surrounded. We like to rotate at gigs. We all like to take a turn behind the kit. It is best to leave Timmy back there, but he likes to play his guitar. He writes on guitar.
Tell us about the other members of Funkbone and how you all met up - of course, I know the guitarist is your bro, but the readers don't - lol !
I met Tim Johnston in the late 90's when I was working up at Studio Sea and he was there recording with Tattooed Love Child (my favorite local band at the time). We didn't band up 'til later, but he was the first Funkbone guy I met. Funkbone was formed around Tim Johnston and Dwight Buchanan. When I joined on guitar there was Grady Stafford (now deceased) on bass and a singer named Brian who's last name is evading me. It was Grady who brought me in - I had been jamming with him and his other band at The Reef and he wanted to get rid of Brian and add another guitar. Turns out he wanted to play guitar too, so he quit to play guitar in the Grady Stafford Band and left me holding the bass.
We tried adding other guitar players (Timmy's brother Dave was with us for awhile), but we weren't finding what we were looking for, so I called my brother Mike in Ohio and made it sound like a better gig than it was. He moved down and has been here ever since (about 8 or 9 years).
Trying to get Dwight to work with other guitar players is like pulling teeth. He'll jam with them all day long, but tying him down to specific supporting parts was becoming increasingly more difficult, and he quit and was fired on the same day (in 1999 I think). We were going to kill each other. It might happen yet - we still work together from time to time (we did The Barking Shark Biscuit Band for a while).
We just recorded The Funkbone Song recently with his guitar and vocal. It was Dwight that wrote that one (with arrangement help from the rest of us), and Grady's affection for the chorus that named the band.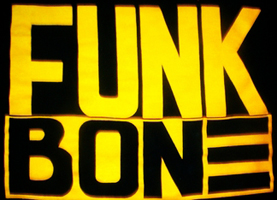 How would you describe the style of Funkbone and how did it come about? It kind of reminds me of Pink Floyd meeting up with Faith No More for a party that has been gatecrashed by Janes Addiction & Anti-Product !!

Timmy writes metal, I write pop, and my brother writes ambient sh*t, so collaboratively we write ambient pop metal. Kind of like Jimmie's Chicken Shack.

Do you guys rehearse much for gigs - whats your typical rehearsal like ?

We used to rehearse 2 to 4 days a week, and they were like several hours worth of arguing. It was fun somehow. I remember fun in there somewhere. We were recording on this crappy old cassette 4-track and everybody was pointing out everyone else's faults and failures. It made us a really tight band that was starting to hate each other. We were gigging a lot and getting sick of each other's attitudes. We actually had to stop playing together for a while - like a year or so. These days we still rehearse new stuff a couple times a month, and it is a lot more civil.

What have been some of your best gigs and for what reason?

My favorites are always the private parties, particularly the ones in Pine Island. Location! I saw the scariest lightning I've ever seen at a Pine Island gig. Arced right around us as we were loading up. Changed our hairstyles.

So what have been your favourite road stories - now this is where it no doubt becomes interesting - not that the rest of it isn't of course?

The bands I play with now don't travel much (Funkbone is the only one that leaves the state). I remember I had been working for Blackfoot less than a day when I disabled the Ryder truck full of gear. I hit some tread stretched across I-10 and it bashed the U-joint. Then there was this gig somewhere near Atlanta where we actually had a few hours to relax and party (rare for the crew), and by now my food/sleep schedule was completely f*ck*d.

I felt the need to fart, so I let a little go (what George Carlin would refer to as a 'test fart'), and oops! Yup, a little extra. There were these beautiful girls dancing and coming up talking to me, and there I sat on a road case with actual poop in my pants. Bryce tells that story better than me.

I went to Europe with Skynyrd. I don't know how to turn that into one cool story; every country was a different cool chapter. I tasted my first fresh Heineken. I toured a castle in Copenhagen, enjoyed a fine Italian meal in Amsterdam (where I bought the only legal weed I've ever had), saw the sun all day and night in Helsinki - I was surprised to see so many Confederate flags overseas. There were more stars and bars at Rockpalast than there were at Atlanta.

What other bands have you done gigs with and where and how did they come to be?

I've been playing with The Casey's HouseRockers (and related musicians) for years. That band (re)formed from the remains of The Windy City Blues Band. Guitar player and owner of Casey's Alley Greg Stott (now deceased) wanted to start playing in his bar again. He had witnessed the Geckos and the evolution of Funkbone under his own roof, and wanted back in on all the fun he made possible.

We had (have) Trimble McCollough on drums (he's pretty incredible) and Sundance Dave on guitar as well. That band folded when he died, but we got together a year later with piano player Michael Baer to form The OOgles, which took more of a jazz direction. Recently Greg's little brother Paul (also a fine guitar player) has taken the reins of Casey's and we have re-reformed the HouseRockers.

Playing with Greg primed me for The Cobalt Blues Band with Beer Bottle Bobby (now deceased) and Shaky Ray. Beer Bottle was an amazing madman and playing with those guys was like fantasy land. I learned improvisation with these guys, and the originals were so good. Bobby and Mike 'The Kid' Stravinsky had complementary guitar styles and tones, and we blew doors down. Post-modern blues is a different animal than the more classic variety I had been playing with the HouseRockers.

The Sean Carney Band is more classic blues and very cool originals. He just won some award. I met these guys while freelancing for the Island Arts Foundation, and they hire me when they come to Florida. They put me on their last record for a track or two.

I sometimes get together with random guitar players and drummers for power trio stuff. Also, Stetson and I have a duo we like to call The Two Incredibly Embarrassed Men that we pull out of the closet for special occasions.

Who would you say have you had the greatest pleasure of performing with on-stage so far, where & how did it come about?

The Cobalt Blues Band and Funkbone. Two completely different vibes, same euphoria. Beer Bottle Bobby was a magic man, and any night you saw him play it was the best band you ever heard. Funkbone has a similar kind of thing - like we are giving somebody a well-deserved, hard-earned something that they look for often but find rarely. Sometimes gigs have a tendency to feel like a recital, like even when the response is positive it lacks the level of enthusiasm that proves that you really touched the nerve. Not so with Funkbone or Bobby.

What's it like living and performing in the Lee County area of Florida?

While there are many things about Lee County that suck, the view isn't one of them. Living on the coast and playing music for a living is its own reward. Can't think of anything I'd rather do. My best friends are all here.

What are your favourite venues and why?

The Beached Whale and Casey's Alley, because they really seem to want us there. Casey's is the best sounding room in this town.

Have you been approached by record companies in the past to release your material?

Nope.

Were you ever signed up at any point - if so, by who?

Nope.

Is there a Funkbone or T-Bone album available and how do people get hold of one?

Nope. Demo versions of some of our stuff are floating around our various myspace pages.

What do you all do when not part of Funkbone?

We all play in other bands. Timmy is a daddy. Mike fishes and sells guitars. I play video games. Battlefield 2. I'm building a couple guitars for Funkbone usage.

What other outfits are you part of when not in Funkbone and whereabouts do you play?

The Casey's HouseRockers play every other weekend at Casey's Alley. Sometimes it's a 9 piece or more. Keys and a horn section. Nice.
The Sean Carney Band can occasionally be found at various locations around southern Florida.

Members of Funkbone and Vintage Vinyl combine to form The Flying Hasselhoffs, and we can be seen at 'Tweenwaters on Captive irregularly. More of that ambient pop metal stuff, with an asian hybrid twist.

If you had the chance, who would you like to support or be on the line-up with for a tour or gig if the possibility came up?

Sure.

What are you currently up to with regard to recording and can we expect some new Funkbone songs or T-Bone song songs?

There are several from Funkbone we are mixing now and several to be recorded as soon as we are done mixing these (some of those will be Flying Hasselhoff songs). I haven't exactly dedicated all my spare time to slaving over a console. There are a few HouseRocker originals in various stages of production also.

What are your favourite songs of your own that you play at a gig and why?

'My Friend Jill', because I get to play guitar on that one.

Overall what songs have you been most proud of and why - what influenced them and why? I love the song that mentions Bryce Barnes (kinda cool is that) !!

I am equally proud of anything of mine that I bothered to play in front of an audience. Any songs I might be ashamed of will never be heard by you! That one you mentioned (Song for Alex Jones) is a work in progress - I want to get Michael Baer to put some honky-tonk piano to it, and I'm still tweaking the verses. That song was inspired by conspiracy stuff posted on google video. It also is one of my favorites at gigs because I get to say "George Bush killed JFK" over a microphone.

What legacy do you want to leave and what do you want to be most remembered for when you go and play on the great stage in the sky?

I want to be forgotten. *wink*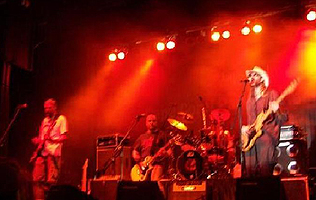 Now that's a quality Interview Mr. Bone, Cheers Matey