An Interview with
'Tchad Drats'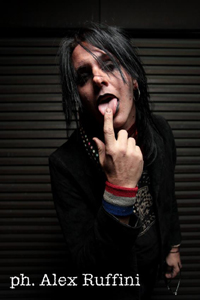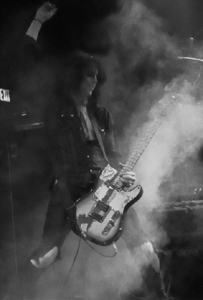 Guitarist of 'Prophets Of Addiction' & 'Trash Gallery' that took place late March, 2012.
Interviewed By Glenn Milligan
Where abouts did you originally come from in the USA and what was it like there growing up as an aspiring guitarist?
I grew up in a tiny town called Saco, in the great state of Maine. It was fun growing up there playing guitar. The population was dismal, but there were plenty of people to play with.
Who influenced you to play guitar?
My cousins Mike and Marc. They were twins and Marc played drums and Mike played bass. They taught me to play 'Smoke On The Water' when I was 7, took me out to their jam shack, and we jammed on it. That's all it took.
Who were your favourite guitar players in general?
I always loved Eddie Van Halen and Jimi Hendrix. The Young Brothers in AC/DC. I could make this list go on forever but I have stuff to do this afternoon.
What were your first gigs like playing in a band and what did you play songwise?
80's hair band covers with some originals. We played at parties locally or would rent a local hall and try to put a show on.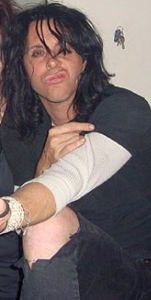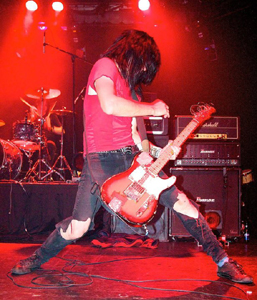 When did you realise it was the job for you in life and how did you go from cover bands to playing in an original band?
I realised when Ijammed with my cousins that first time. I always played originals - even in the cover bands.
What was the 1st original band you were proud of being part of and why - what were the highlights of this?
'Cheerleader' back in the late 90's. We lived in boston. The highlights were recording, playing shows in a band that I thought was great.
How did you 1st meet up with Lesli Sanders back in the day - I understand you were a member of City Girls Boys?
Yea! I played in CGB - that was a blast. Les and I met through an add in a local L.A. paper. He needed a guitarist and needed a band. We hit it off immediately when we met.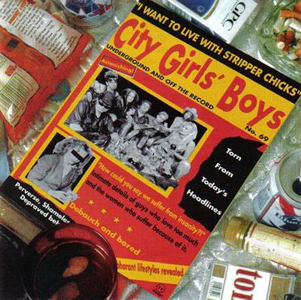 What were the best parts of being in that band and what stories do you have from those days worth talking about?
Well, I loved the music we did, Les is a great songwriting machine. I'm sure there are plenty of stories, but it's all a bit of a blur...haha
How did you become a member of one of the line-ups of 'Pretty Boy Floyd' and get to get record the 'Size Really Does Matter' album?
I was playing guitar with Les' band and 'Floyd needed a guitarist. So Les had me meet Steve 'Sex' Summers and we just went from there. We had someone giving us a couple dollars to record, I happened to be in the band at the time, so we recorded.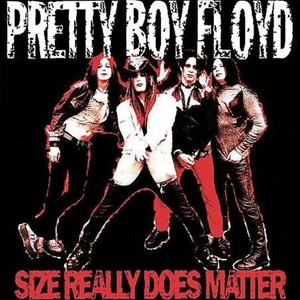 What song is your fave on the album and what influenced it?
I love the song 'Earth Girls', maybe the influence is in the song title, I'm not sure.
What gigs have been memorable as a member of 'Pretty Boy Floyd' and why?
I can't remember any of them. Haha!! Joke. It was nice opening for Poison. They were all fun wherever we were.
What have your fave tours been and why?
Hard to say. They're all great fun and we get to hang and meet a sh*tload of cool people.
Tell us about the other bands you've been part of and what happened to them such as Model Saint etc?
I've played in too many to mention. Modelsaint are going strong. Great album I highly recomend. They're about to go out on the road with Ministry in the states.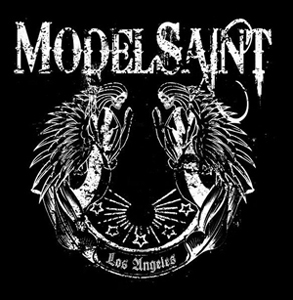 How did you later become a member of 'Prophets Of Addiction', again with Lesli Sanders and what have been the highlights of the UK/Europpean Tour?
Well, it just sort of happened, Les and I being together again. It's unavoidable I think. We were kind of made to play together. Highlights of the tour, I'd just have to say playing for the folks.
What do you miss about Europe and the UK and how would you say it differs from your part of the USA?
UK - Idid not miss the food. Haha! I love everywhere I get to go and play. It's what I live for. My part of the USA is Hollywood/Los Angeles. It's a whole world of its own.
What are you currently up to at the moment?
Well, i'm in a small town outside of Toronto, Canada gearing up for a German tour in April, playing guitar for my new pals, 'Trash Gallery'. Tour dates are on their facebook and myspace page. Just go to facebook and do a search for them. It's some good rock 'n' roll!! Go check it out!!
What is next as the Guitarist in 'Prophets Of Addiction'?
We'll see what happens.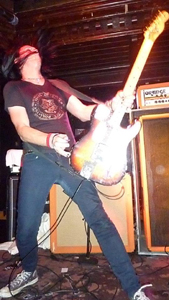 What do you like and dislike about Hollywood?d for you personally?
I love Hollywood. I'd rather not focus on dislikes.
What would you have done if you weren't a guitarist in a band?
Died.
What else do you like to do outside playing the guitar and why?
Are you really asking this? Should I give you the R or X version.
Who have been the coolest places to hang out in and why?
Well, its to hard to choose. major cities are always outstanding, but there's a wonderful calming charm to the smaller more secluded spots.
What have been the best Hollywood nights out and who with?
Way too many to pick from. Let's just say they're often very interesting. I'm preferring more going out to a play or a fun night of bowling and pinball these days as opposed to chillin' at the Rainbow and getting blindly f*ck*d up - lthough that's still fun once and a while though!
What is the craziest most rock and roll things you have done - sober or otherwise and how did it turn out?
O h come on, my Mom's gonna read this!!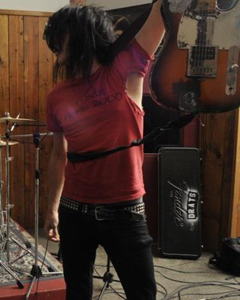 How would you describe the guitar style of Tchad Drats?
I'd prefer to have someone else describe it. Style may be a bit of a stretch - it's just Rock 'N' Roll guitar.
How would you say your have changed as a person over the years since you've been in the business a few years now?
Bigger, stronger, faster and with a general distrust for most people.
What are you most proud of so far both musically and in life in general?
Musically? Places I've gotten to go from the simple blessing of rock 'n' roll album recorded and having the balls to follow a dream.
Life in general? Conquering many demons and many, many obstacles on my journey to be a better person.
What other things would you like to talk about that I've not mentioned?
Enough about me, let's talk about you.
What would you like to say to anyone reading this interview?
Thanks for reading!! I hope to be playing in your town real soon and be sure to come up and introduce yourself.
See you on the road!!!
Thanks Glenn! Stay in touch.
Thanks Brother.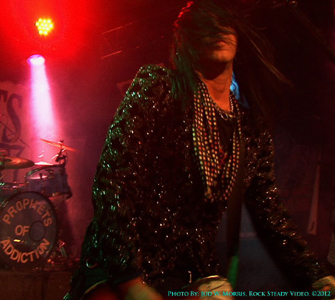 Be sure to check out Tchad Drats while on tour with Trash Alley if you get a chance!!