An Interview with the Drummer of Axe
'Ted Mueller'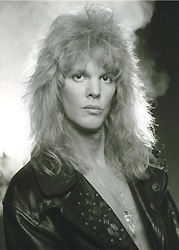 that took place in Feb/March, 2010.
A Legend that I originally met over in Hollywood @ The Cat Club,
Sunset Strip in November, 2009.
Interviewed By Glenn Milligan.
Glenn: What influenced you to become a drummer?
Teddy: Dad (RIP)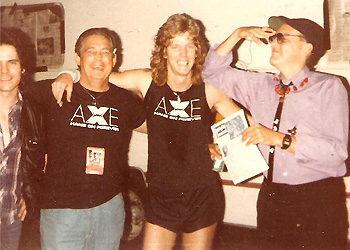 Teddy with his Dad on the left with Cheap Trick Members
Glenn: What was your 1st ever kit?
Teddy:Slingerland calfskin heads

Glenn: What were your 1st bands and how were they different or similar to Axe?
Teddy: My 1st professional band was called Prism. In 1968, I was 14 years old. It the 22nd audition.. and was hired on the spot ha'.. We had a girl singer which at the time were not many. So we did Janis Joplin-rip, Jefferson Airplane, Tina Tuner's 'Proud Mary' and Zep, Procal Harem & Joe Cocker.
We had Tom, the Hammond B3/piano player and played material by Traffic, Zep, Jimi Hendrix (RIP), Spencer Davis, Chuck Berry & The Byrds. We did American-hippie and English rock blues stuff. I sang 'To Love Somebody' and 'Holiday The Begees' - ha. We played colleges, festivals, bars, Benedetta/Benny - (RIP) my lifelong friend's club, The Scene Club Ballroom. Jimi Hendrix, Cream, The Allmans with Duane (RIP) all played there in '68 - us in Sept…true. I was 14yrs old. We drew as many as 4000 people in Madison, and Milwaukee, while outside and 200-2500 inside. A Fun-band.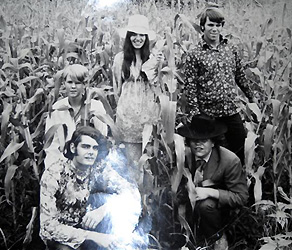 Then 'Short stuff'. They were strictly a blues-band w/lead harmonica..then guitar. We did Muddy Waters, Howlin' Wolf, Sonny Boy Willaimson, Willie Dixon, Little Walter, junior-wells…blues. Junior Brantley, the piano player taught me much..about feel. He went on to 'The Fabulous Thunderbirds' and Jimmie Vaughns solo stuff. Jon Paris taught me a lot too - he has sung and played harmonica with Les Paul-rip until his passing. Before that he did years with Johnny Winter & Bo Diddley a lot!
Mick~Ronson-Rip was absolutely wonderful. My friend, Jay Davis was playing bass/vocals and said Mick wanted to try 2-drummers. I went up to Bob Dylan's Manager's house in Woodstock, New York for a month. Bobby, the other drummer was great and Sue, Mick's Wife was sooo gracious and kind…I miss her curry ha'. The band never materialized, but lovely fun. Jay went on to play with Rod Stewart for many years and co-wrote 'Baby Jane' with Rod. Then I joined Axe.
Glenn: How did 'Tongue' come to be formed?
Teddy: Tongue was too much fun..! a down and dirty, heavy, blues-based, good-time band. I was the 55th drummer to try out.. hired on the spot. They just released an album. The bass/drummer left because they graduated stout state university in Menomonie, WI and were hired by some co. So Rick Clark was hired on bass and me on drums. I said, "Well ahhhh..ha' you have to come to my house and ask permission from my dad..how much I'll make..etc. I'm still in high-school."
They did.. it's time to Rock..!!! I toured and graduated. The day after I moved to menomonie..! Let the party begin again..! They were already big and toured the United States to Hollywood and back.. take a month off.. do it again..! We would draw 5000 people at all our outdoor gigs.. Milwaukee's alternate sight at the lakefront '72 and '74 and many more.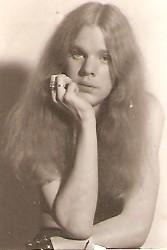 Glenn: What songs did you play at your 1st gigs that were originals?
Teddy: 'Keep-On-Truckin' was Tongues hit. 'Voodoo Woman', 'AC-DC' - a song - not the band. Many originals with only 4-copy songs. We were an original band & played the same places as Cheap-Trick, & Styx who were a copy-band at the time.. they only had 'Lady' as an original, ha' true…and Reo Speedwagon played.

Glenn: I have checked out some killer footage you have placed on youtube, love the Teddy Mueller Tongue Band at the Starwood 1974 clip !! Is there any more footage of the gig?
Yes I do have more footage of the Starwood show '74 but none with Mickey Larson (Rip) though. He fronted and played keys for the Best years.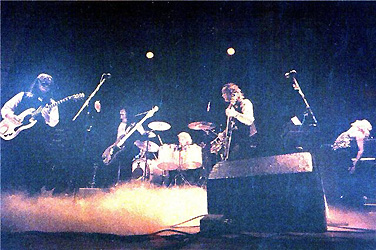 Glenn: Did Tongue record and/or release anything?
Teddy: We have a 45rpm..ha'..wonderful memories.. a great FUN band-LIVE....! We did a 45rpm single with me 'Hotel Arbutus' and 'Harp Thang' in '72 at Audiotech Studios in Minneapolis, MN. The Starwood was tooo much fun too. We played there 5 times in 3yrs. Wonderful-days.
Glenn: How the band Axe come to be and were you supporting and headlining? Was anything recorded with this band and what happened to them?
Teddy: I met Bobby Barth from Axe in '72 at Denver's at Mr. Lucky's. He was in Wakefield then…Babyface came later. I met my dear, dear friend Danny Johnson, guitar/vocals and Jay Davis-bass/vocals in a group called Axis. Vinny Appice later joined. We toured together a lot Tongue/Axis…Grand Dayz..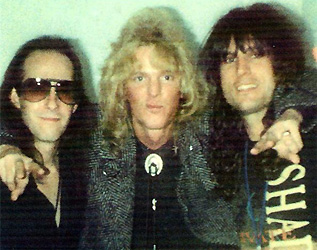 Teddy & Vinnie Appice / Teddy with Danny & Jay
The members Bobby Barth-lead-guitar/lead-vocals, Michael Osbourne-Rip-guitar/vocals, Michael Turpin-bass/vocals/screams, Edgar-Riley- Jr-keyboads/vocals/screams and me teddy Mueller-drums/vocals arrived in Gainesville, Florida in the fall of 1977.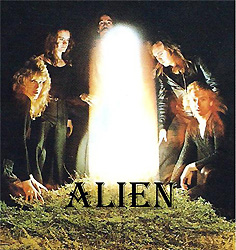 We were actually called 'Alien' 1st. We shared a rehearsal warehouse with Blackfoot, who was managed too by our Manager, Lou Manganiello (Rip). We rehearsed while Blackfoot went on the road with my precious Ruby Starr (Rip). A tornado came thru Gainesville and landed right on our warehouse totaling all our equipment. They found some a mile away.. Wow..what now??? Our backer bought us all new equipment. We continued!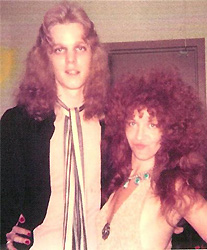 Teddy Mueller with Ruby Starr
We thought we were ready and our Attorney, Walter Hofer setup showcases at SIR-NYC..! MCA/Curb signed us in '78. We all felt WONDERFUL - our dreams were coming true.
We did the record in Los Angeles. We stayed at the Continental Riot/Hyatt-house for 3 months. Then MCA found out about a new movie coming out Alien with a $20 million ad campaign! They decided a name-change MUST-Happen.. We thought of many.. Axe was Born..! We were a Hard-Rock band with flavors of Pink Floyd and King Crimson..as per the song 'Battles' on the debut album..! I was not happy w/MCA-Curbs decision on a Producer, Michael Lloyd.. he wanted to break into Rock. His claim to fame was 'The Osmonds' and 'Shawn-Cassidy'..??? A problem that seemed to haunt-us…. Producers??!! We were kids thrilled to be Worldwide Recording Artists..lets Rock ha'..!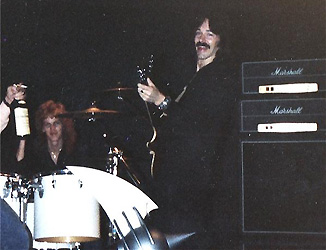 Glenn: What would you say were the advantages and disadvantages (if any) of being a signed band?
ADVANTAGES of being signed..??
Teddy: Well, the fan's 1st - ..girls, girls, girls,..drugs, meeting Wonderful People. The pressure to perform 'Adrenaline' ..touring with some of our all-time favorite groups our 1st being Judas Priest - the 'Unleashed In The East' Tour in '79. We started the tour at the Houston-coliseum. The next night was the San Antonio Coliseum. We were in the dressing room and a Radio DJ asked us, "When in the set is 'Battles'..?"
We said its not in the set-list and he freaked and said, "You better put it in.. its been top-3 for ages!"
We went, "It's a slow eerie song, they'll throw sh*t at us..ha'!".
He said, "They'll definitely throw sh*t if you Don't play it".
We decided to start with it.WOW - this was the very 1st time Axe saw 15,000 lighters for us – WOW WOW WOW..! We did all of Texas - our biggest market for Axe-always. We were thrilled Kids - ha'..! We also did over ½ the British Steel Tour later that year..Judas Priest really took us under their wing..!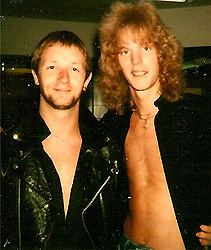 Teddy Mueller with Rob Halford
I still have letters from Rob and Dave Holland. We loved them All..! K.K., Glenn & Ian too..! We did every Tour from 'Unleashed' through to 'Screamin' For Vengeance' In '80 we did the whole USA on the Rock N' Roll Marathon with Frank Marino & Mahogony Rush & Humble Pie (who were promoting the 'Fool For A Pretty Face' Single & the 'Onto Victory' album), Angel and Axe. That was a tour of 6-buses and debauchery at its finest - ha'..Sex,Drugs, & Rock 'N' Roll ha'..
We were in Boise, Idaho when the volcano Mt. St. Helens Blew up !BOOM! ..it was raining ash..! True. We had a leg of 3 Ted Nugent Tours; The Kiss 'Lick It Up' Tour & Cheap Trick - the whole USA One-On-One Tour.
We did the Ozzy 'Diary Of A Madman Tour; 50-dates after Randy Rhodes died (RIP) .. I was going to see him when the news hit the radio! I turned back for Gainesville - Sad..!.. The tour began again with Axe as special guests. It was Grand! Ozzy bummed cigarettes from me. He said once, "Teddy we're almost done with the tour and no-one has thrown anything at you guys"..ha'..! Crowds used to eat Ozzy's special-guests for breakfast! Not ss..never on any tour..!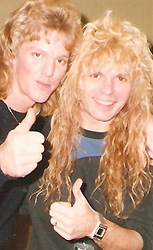 Teddy Mueller with Rudy Sarzo
We toured with Joan Jett on part of the 'I Love Rock 'N' Roll and 'Bad Reputation' Tours. We did the Quiet Riot 'Mental Health Tour - over ½..! Part of ZZ Top's 'Eliminator' Tour; Iron~Maiden ..(who we Loved!) Miss Steve, Bruce, Dave, Adrian, Nico - I knew Clive too. We also toured with Alice Cooper, Deep Purple, Scorpions; Queensryche; Def Leppard – sooo many ..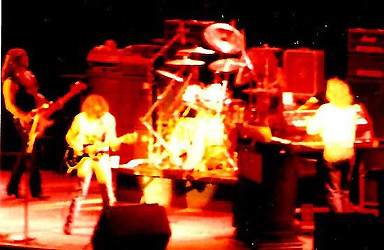 The last before Michael Osbourne (RIP) passed was the Motley Crue 'Shout At The Devil' Tour. Bobby was also seriously injured & Axe broke-up for a while in 1984! We loved to play LIVE.. We never were recorded properly except by Tom Allom of Judas Priest Fame.. He originally produced the 'Offering' Demo and was screwed out of doing the Offering-album..! By guess-who..?..?
A good time for DISADVANTAGES of being signed – girls, girls, girls, drugs.. besides the norm - road-food, forgotten clothes, hotel rooms that aren't ready, not much sleep, what town are we in..?? ..Where's that smelly bus? Attitude bus drivers, under-age girls.
The pressure to Perform was ON. The pressure of keeping the machine going..! All bands have to give up power of attorney to Managers and they Can & Do take your money. We all have our 'VH-1 Behind The Music. I don't and haven't made one dime off of 'Offering' or 'Nemesis'! Ripped I think is what you call-it.. Don't get me started!
One Manager/So-called Producer took us for it all – '$'. It's always said because it's true - the fans get us through... People who love 'Music LIVE!'. We started because it's our Love..and continue for the same reason - Fun and Love.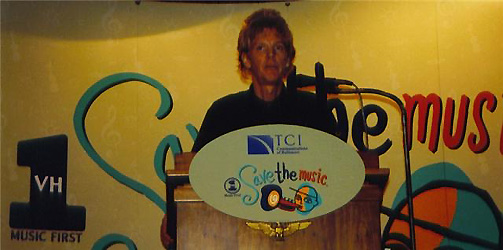 Glenn: What songs and albums are most memorable from the Axe days and why?
Teddy: Let's see - I'll keep that personal!

Glenn: What would you say are your favourite points of your time in Axe with regard to being in the studio, touring and socialising?
Teddy: We had a lot of fun my fave times in Axe?..many - .Maria/Yolanda in San Antonio ha'..the Ozzy show at Irvine Meadows where they filmed the crazy-train video - 30,000! The Oakland Coliseum with Ozzy 18,000 sold out.. Nothing thrown at us..in Bakersfield we got extra sound-check time - Mmmm..Ozzy didn't go on that night - Axe headlined..ha'ha'..! The days Judas Priest's Managers took us over..!
Arnakatta and Jim Dawson; Dickie Bell; Tom Allom produced our demo until Jim was commited for cocaine addiction.. - it ended '81.
We always had fun on the Priest Tours.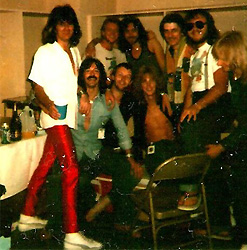 They were the best ..The first time I heard the word 'Metal' was on tour with 'Priest'..before that it was the term 'Hard Rock Band. Led Zeppelin; Deep Purple; Uriah Heep & Humble Pie etc. were known as 'Hard Rock bands' - not metal.. until Priest. Ted Nugent too was great to us.. all we toured with were..actually!!! We were fortunate ..there's so many.. it just ended in tragedy..! But many Great Memories..!!!
Glenn: What are your best road stories and crazy happenings that you can talk about?
Teddy: Road stories.. all I'll do is get in trouble here mate - ha'ha' :o)
Glenn: You had some cool stage clothes back in the day - what would you say were the faves and why and what momentous gigs did you wear them at?
Teddy: Stage-clothes..? We were just a leather and jeans band.. I liked bullet belts and military stuff .

Glenn: What were you involved with after Axe and which ones have you most enjoyed playing in and why?
Teddy: I went glam after Axe to work. Cheap Tricks Manager at the time, Ken Adamany asked me to join his new band 'Bad Boy'. I did for a year and started my own group, 'The Machine' through my friends in Talas. Phil (Naro) couldn't do it so he turned me on to Mark Anthony and George Burnhardt - he's with Rick Springfield now. My old Manager stole my Lead Guitarist, Mark Woerpl so I quit the Music Industry - I'd had enough. Drummers are like Rodney Dangerfield.. no respect - ha'..! So I was Glam for a while..! To survive in the USA.
Glenn: Who are your favourite drummers and why?
Teddy: John Henry Bonham~Rip, Keith Moon~Rip, Simon Kirke, Charlie Watts, Ginger Baker, Richard Pistal Allan of 'The Funk Brothers (Motown), Carmine and Vinnie Appice, Cozy, Cole - There are sooo many!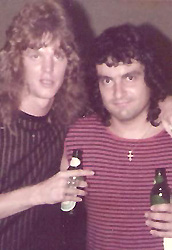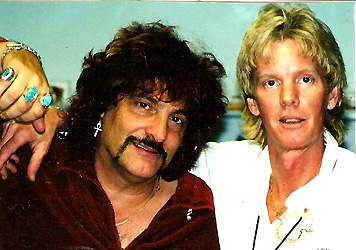 Teddy With Vinnie Appice (Left) & Carmine Appice (Right)
I like style - an original style.. A lot of rudimental drummers sound alike to me.. no style or Feel with the exception of Tommy Aldridge and Neil Peart.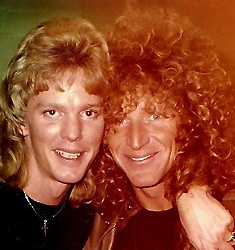 Teddy with Tommy Aldridge
I like originality and the feel! Just a personal opinion I love the guy in 'Kings of Leon'.. kick it in the *ss I always say - ha'..!

Glenn: How would you describe the drum style of Teddy Mueller?
Teddy: My style comes from the blues – a simple feel and the English way of the snare - a touch laid-back, simple driving kick-ass live drumming with some ghost-notes…I don't know. I just do what I do!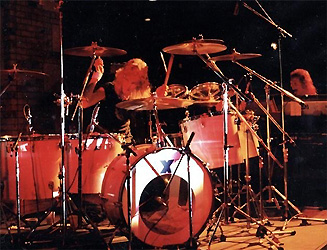 Glenn: Do you have a favourite kit you like to play and for what reasons is it so special to you?
Teddy: I sold them all - my Rogers, my Ludwig, my Tama that Jackson Spires (Rip) from Blackfoot gave me I miss. I use a Yamaha Stage Custom Kit now..!
Glenn: What are your thoughts to the Internet and how has it helped and inspired you spiritually and beyond?
Teddy: Wow!I spend a lot of time on it..! I'm pretty sick now. I have advanced liver disease; hepititus b/c; advanced viral/alcohol cirrhosis - only 9% of my liver-works..I've been doing the combo treatment for Hep-C - an injection of interferon once a week and 1200mgs. of ribavirin a day in pill form - I failed miserably. I only completed 18 of a 48wk treatment. I went from 180lbs.to 114 in 18wks. I am off it now and dealing with the horrendous side effects. I'll never be the same….
So I you-tube Zeppelin, Deep Purple, Cream and all my favorites and I've been watching. Also learning about the treatments more. I've gained a lot more knowledge online.
Spiritually I've been awakened - my dream is to make it to my dad 'John's~Rip birthday 12/21/12 when the sun, the milky-way, and the universe will all be at its center, the 1st time in 28,000yrs. The planets will shift their axis and time will change..along with the end of the mayan calendar that we have been following for 5000 yrs. Why not 12/20 or 12/23/24/25/..nope 12/21/12 or 13/13/13 I was born on the 13th ha'…that's some beyond - Captain Beyond ha'…it's been a helluva year…! Look forward to Beyond.
Glenn: How did 'The Teddy Mueller Experience' come to be at The Cat Club and how did you get to know the other members of the band if you don't mind me asking?
Teddy: 'The Teddy Mueller Experience' started when some friends found out I was coming to LA. Happenin' Harry runs 'The Cat Club' on Sundays. He asked me to come and play. I told him my drumming career is over maybe 2-songs. He said "Sure", so I asked some dear,dear, friends if they would do it with me so Jon Hyde and Bobby Pickett - the rythm section for 'Swan Song Records' band 'Detective' who Jimmy Page signed and produced agreed.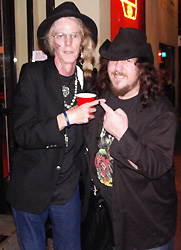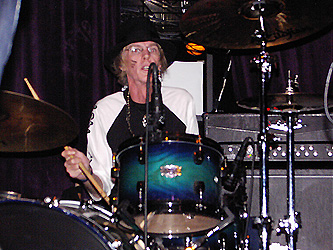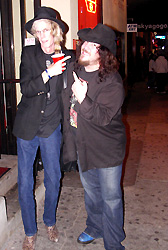 I asked Jon to sing - he's a Great singer/songwriter & he wrote much of Detectives material…yet plays drums in Detective and Bobby to play bass and my friend Detlev Wolff from Hamburg, Germany who lives in Hollywood. He was in NYC but said he'd be back in LA on Saturday to play guitar.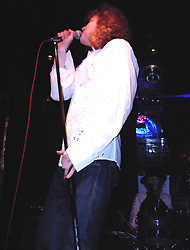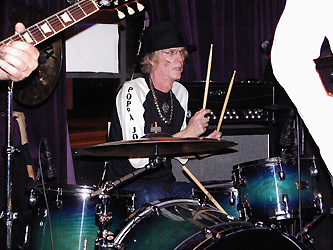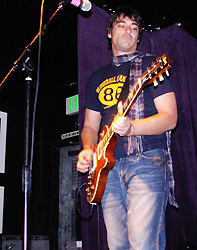 So on Sunday I went to Jon's church which is mostly music - The Refuge at the El Portal Theatre. Aaron Wolfson from church came and played the Telecaster too. We met at Jon's, talked about it and went and did 'Rock Me Baby', 'Mustang Sally' and 'Blues Deluxe' off 'The Jeff Beck Groups' 'Truth' album.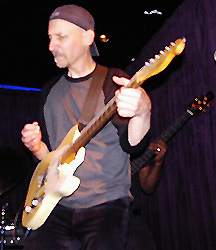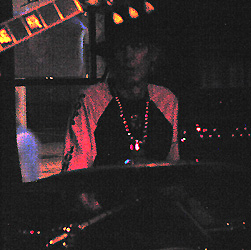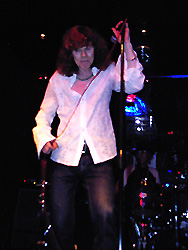 Glenn: What were the highlights at the Cat Club that night for you? - it was my 1st night in Hollywood and it was amazing for me - especially since it was filmed as well!!
Teddy: It was a Blast - the whole night was a highlight for me..! Someone in the audience named it 'The Teddy Mueller Experience' - not me ha'.. Its on the video I put up. It's always Grand when your with dear, dear, friends – joy, hope, LOVE….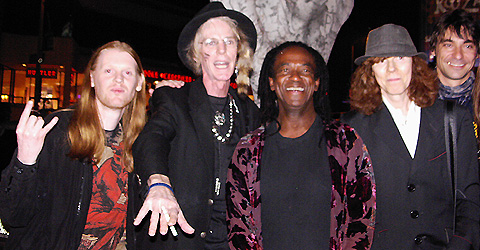 Glenn: What are your hobbies and interests outside of music or playing the drums?
Teddy: My hobbies have changed greatly since my sickness. I still have some!

Glenn: What musically are you currently busy with at the moment and how is it going?
Teddy: Musically, I am putting together the soundtrack for a documentary I'm working on called teddyland. I'm working on my foundation too! Awareness for hep-b/c tattoos, addiction, treatments, side-effects - Knowledge is Power! It's spreading sooo FAST Dangerously. Bobby Barth is helping along with many! So we'll see….maybe some-more Teddy Mueller Experience shows..???
Glenn: What parts of the world have stuck out in your mind for you personally while touring or otherwise and why?
Teddy: ALL OF IT

Glenn: Which people have been memorable people (famous or otherwise) that you have had the chance to meet so far and why & how and when did you meet them?
Teddy: Memorable people I met – Wow I have been blessed here..lets see.
I'll start with the BEST..! I moved to West Hollywood, California in 1975 to start a band with Deniel Edwards. My precious friend, Ruby Starr (Rip) introduced me to Ritchie Blackmore. He was starting 'Rainbow'..he invited me to dinner a few times at the Rainbow Bar & Grille. We went early, one night everyone seemed to come – Carmine Appice, Ronnie Dio, Cozy Powell, Badfinger, Jerry Shirley and Steve Marriott - Steve left pretty abruptly - he was tweakin'..ha'. A wonderful evening for me ..
I was invited to the 1st Rainbow show at the Santa Monica Civic, so Deniel introduced me to Jon & Glenn Hyde (RIP). I was living at the Tropicana hotel! Well Jon and his band Detective were just signed by Jimmy Page to Swan Song Records. Jon got his check and got his own apt and I went from the Tropicana to live with Glenn & Rene!
Glenn was Detective's Road/Stage Manager. Well we used to go to SIR a rehearsal/rental studio to watch detective write and rehearse material for their upcoming album. Time went by & all of a sudden Led Zeppelin are rehearsing and writing the 'Presence' album-the 7th in the studio next to detective – that's how I met Jimmy and Led Zeppelin. They were there at least a month, maybe 2..? They stayed in the Malibu Colony where Robert was recovering. I got to stand in the doorway and watch Led Zeppelin rehearse - WOW.. only Glenn and I were allowed in the building besides Detective & Zep. It was closed except the equipment rentals came and went. Girls had to leave messages at the front desk - ha'..true.
It gets crazier - Deniel & I never played! I stayed about a year and flew home to Milwaukee, Wisconsin. I'm on the plane in the back, bummed that I hadn't found a group, strung-out on heroin. I look up & swore I saw Jeff Beck – nooo – gone. Then some musicians are coming down the aisle. I said to myself, "That's Jan Hammer and Fernando Saunders & Tony Smith - The Jan Hammer Group. Fernando sits next to me - ha'. We had a lovely flight. Fernando wanted to buy my black-velvet-shirt for $200..ha' true. Anyway, he told me they're on Tour with Jeff Beck and are opening up for Fleetwood Mac.
The next night I went and he introduced me to Jeff Beck. We were all talking and low and behold Stevie Nicks is coming our way and Jeff doesn't see her. Fernando & I do. So she came up to us and Jeff introduced us all. She grabbed Jeff and walked him away. Fernando and I looked at each other and said, 'Lucky B*st*rd – ha' true story!
I also met Alice Cooper, Randy Rhoads (Rip), Mick Ronson (Rip), Sue, his wife so kind and gracious, Keith Moon (Rip) at Dennys in Hollywood. Iggy Pop was there too. O Other memorable people include David Coverdale, John Sykes, Phil Lynott, The Firm, Rick & Liz Derringer, The Ramones (Rip), Billy Mira, Bebe Buell, New York Dolls (Rip) some JT A, Cyrinda (Rip), Brad Whitford – Sooo many ha'- he introductions to Joe Perry & Steven Tyler. It's been quite a ride for me..ha. Just lucky for this old hippie, junkie gypsy bluesman, rocker, live drummer dude - ha' …many, many, roads travelled.

Glenn: If you could do a drum duet with anybody, who would it be, what song(s) would you like to duet with them and why?
Teddy: One with Jon Hyde of Detective - he's a dear friend and would be fun. Dennis Chamber's too and I forgot he's a fave. Regarding songs - too..many with more thought ha'…!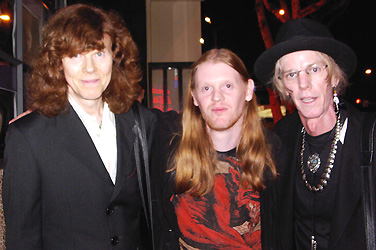 Jon Hyde, Me & Teddy Mueller
Glenn: What are your future plans and what are you looking forward to most in 2010 and beyond and why?
Teddy: Future-plans? my foundation to help hep-b/c-victims and addicts/alcoholic and my documentary. Who knows maybe some more Teddy Mueller Experiences… staying alive as long as I can mainly.

Glenn: What are you most proud of in your career so far and for what reasons?
Teddy: Making the fans, friends and family I've met along the way proud! That I was lucky enough to play drums for a living most of my life through all the ups and downs of the music-industry. I enjoyed the journey. It's a crazy business and some Dreams came true.
Glenn: What other aspects of being Teddy Mueller would you like to talk about that I haven't covered?
Teddy: I have a few! I have 3 different personalities - we'll leave it at that.
Glenn: What things would really surprise your fans that they never imagine of Teddy Mueller?
Teddy: What would I say to surprise people - the next surprise is still around the corner. Yet remember teamwork makes dreams work. David Jon Gilmore wrote on my Facebook wall, "Welcome to the 2nd page – love, light and happiness'..and I'm part Native-American Indian.
Glenn: What would you like to say to any readers and especially fans who have read the Interview?
Teddy: Joy, hope, Love to ALL from Teddy John 'T-Bear' Mueller. I have started The Teddy John Mueller Foundation in 3/10! You can go to www.teddymueller.com and find out more!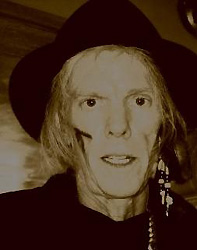 Thank You for an incredibly good, poignant and honest Interview Teddy!
RIP Brother... It was a pleasure to meet you and have you forever part of Metalliville Zine