An Interview with the UK's up 'n' coming Rockers,
The Burning Crows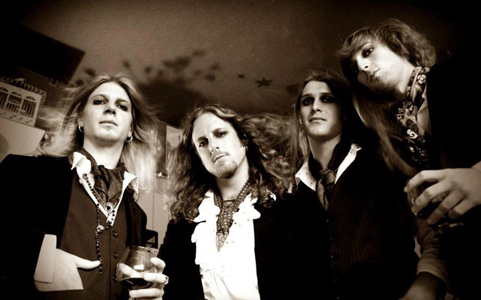 that took place in January 2013.
Interviewed By Glenn Milligan
Glenn: What are the musical influences and backgrounds of The Burning Crows and how did they direct you into the style that you perform today?
Chris: Well it's mostly centered around rock obviously but we all have varied music tastes, from metal, country, soul, etc and I think we all bring our own style to the music.
Whippz: There's a lot of KISS and AC/DC but Chris is definitely right and for us it's all about being band that we'd want to go see and really giving the fans exactly what they want. Music you drink, dance and er, walk someone home to...
Glenn: Where did the name come from and why did you decide to call yourselves 'The Burning Crows'?
Chris: We spent ages trying to think of a names, but none of us were really happy with that so we decided to come up with something new and The Burning Crows just felt right. Oh and we wanted something that would make a cool logo haha!
Whippz: Really? I'm pretty sure I recall you saying "Look at how many birds I set on fire! I'm naming the band after this!"
Glenn: How did you all meet and when did it become apparent that you'd become a well-gelled band?
Chris: We've known each other for a long time through old bands we used to play in and we gelled as soon as we started rehearsing, so it just seemed to come naturally.
Will: Yeah, to find 3 other like minded people is so hard but this was so easy. Like it was meant to be...
Whippz: There's a lot of camaraderie there too from all years of abuse we've given each other, so we all just click musically as well and when everyone puts their own spin on a new track it just comes out sounding like us.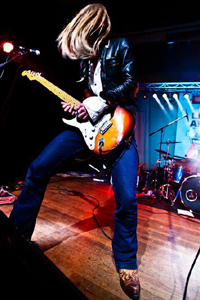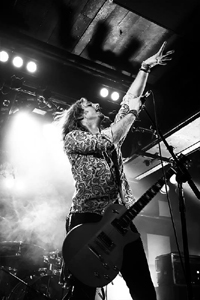 Glenn: What were the first written by you guys that most excited you and for what reasons and what influenced them?
Will: All of them!
Chris: Yeah, all of them! There are songs that I like more than others but I love playing all of them!
Whippz: How rude! You should love them all equally like dirty little children! I think one of the most exciting times at the beginning though was when Lance came back from Nashville, we went through 'Going Down' with all the guitars and vocals and it just sounded mad!
Glenn: How were the first gigs and where were they exactly?
Lance: I can remember that at a lot of the first gigs I was extremely drunk. I do remember falling into a drum kit in Norwich though!
Whippz: I have trouble recalling a lot of the first gigs too to be fair. But when you think about it, we were essentially playing to boozers full of mates on a Saturay night so it's hardly surprising! That's the way you really learn your craft though, as they have no problem heckling or throwing glasses at you haha! Good times!
Chris: I remember our first ever gig was at The King Edward 7th in Norwich and it was a blast! We'd been rehearsing for months and we couldn't wait to get back on stage. The place was packed and the response was incredible so we knew we were on to something then.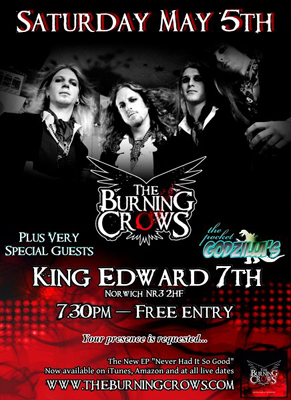 Glenn: How was it for you when you released your 'Never Had It So Good' E.P. with regard to critics and the general public alike?
Whippz: We were all really excited about releasing it but we had no idea it'd do as well as it did if we're being honest. The fans, the media, even the bands we toured the EP with all got behind it. Was an incredible feeling, like taking a massive step to the next level.
Chris: Yeah, the response has been fantastic! Everyone has been really positive! We keep selling out when we tour though which is good... I think?
Glenn: Did it take you long to start getting noticed and when did you realise you were onto something?
Chris: We played over 100 shows up and down the country in a year, literally wherever and whenever we could but things really started to kick off when our Manager, Matt Goom came on board.
Will: He got involved at just the right time and has been a massive part of raising the profile of the band and pushing it to the next level. Then we set out on our own headline tour of the UK & Ireland, that was kind of like "The Moment".
Glenn: What led you to choosing to have Matt Goom, Drummer of The Quireboys as your Manager, or should I say, what led him to choosing to manage The Burning Crows?
Chris: We've been fans of The Quireboys since we were kids so when after a show he said he wanted to help us out we jumped at the chance. He's got a great eye and ear for music which paired with this crazily brilliant vision he has is really inspiring.
Lance: That and the fact he wouldn't leave us alone. I even found him lurking in my house one day! The pervert.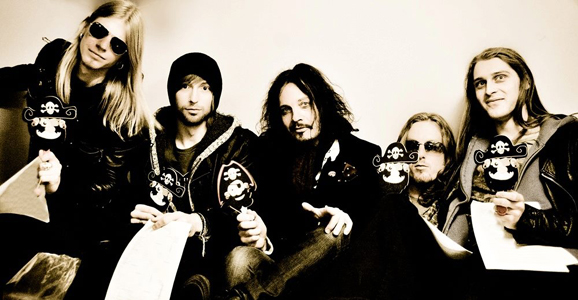 Glenn: What were the highlights for you all recording the E.P. and why?
Lance: My highlight is Nick Brine, he is a very experienced lover (of rock) and very generous.
Will: The atmosphere at Rockfield is amazing. It's a great atmosphere to work in and really pushes you to bring everything you have to the plate.
Chris: Just being at Rockfield was insane! Seeing the piano that Freddie Mercury recorded Bohemian Rhapsody on, "The Wonderwall" where Gallagher sat and recorded 'Wonderwall', the list goes on... Then you hear the songs come together in the studio and it's great having such a creative environment where you can add little bits in to the songs as they come into your head. It's a lot of fun, can't wait to go back there to record the album!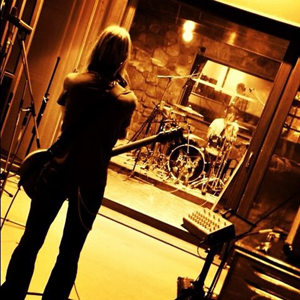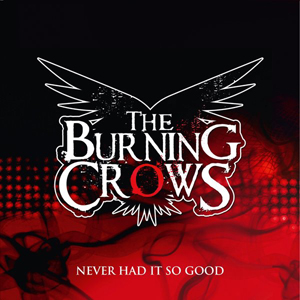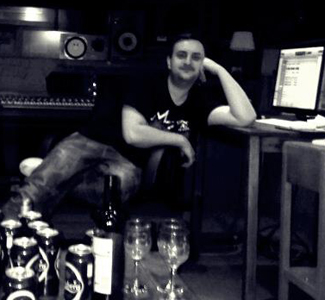 Glenn: What led to the 1st UK tour in 2012 being booked and what were the highlights of it?
Chris: We wanted to step things up a bit and what better way to do it than with a headline tour!? It took a lot of work but the end result was just awesome! The support bands were great, our Tour Manager, Paul Nunn who we couldn't have done it without was just fantastic, the fans were amazing, we couldn't have sked for a better response! Just being out on the road and being onstage everyday is what we do. It's like the natural place for us to be.
Lance: Ireland. I loved Ireland! It's the best!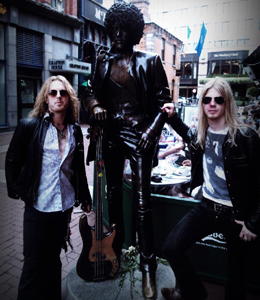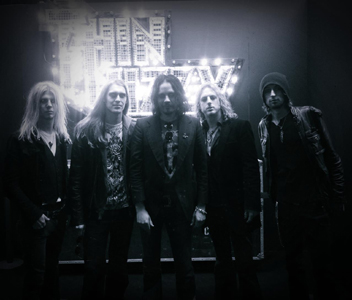 Glenn: What are your favourite stories on and off the road and for what reasons?
Chis: I couldn't possibly say... although Will running in to the wall head first in his sleep was hilarious!
Lance: Hahahahahahahahahahahaha Will once... Actually I really can't say he will chase me and hurt me. It's so funny that even thinking about it makes a little bit of wee come out.
Will: I may have done a few stupid things. The wall incident really hurt! I wouldn't recommend it.
Whippz - Haha! There's so many but we just cant commit them to print. No doubt there'll be a book one day. Or a nice piece in the Daily Sport.
Glenn: Tell us about the life and times of touring with the Quireboys in December of 2012 and what stands out the most for both good and bad reasons?
Lance: I don't think there are any bad reasons, being on the road is a blast! Tiredness can creep up on you sometimes but you just have to man up, remove the tampon and find the bar! Being out with The Quireboys brings another dimension to whole thing.
Chris: The Quireboys were awesome, very welcoming and great to be around. They made us feel right at home. Getting to watch them side stage every night was a big highlight!
Whippz: Definitely and I've been listening to those songs since I was about 13, so to actually be up there on stage with them every night singing "Sweet Mary Ann" and "7 O' Clock" was a massive buzz! There may have been a frothy quencher or two after as well but I don't remember too much of what happened after the shows haha!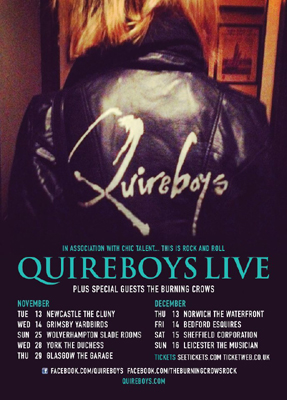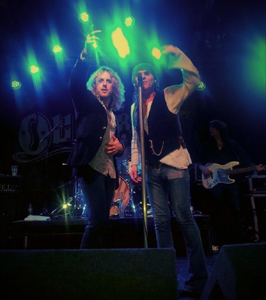 Glenn: How would describe the sound and style of The Burning Crows and why?
Chris: Straight up, good time rock!
Lance: It sounds like two fat people having sex in a bath whilst listening to AC/DC and Kiss at the same time!
Will: I have to agree with Chris............and Lance.
Glenn: What do you guys like to do when you aren't as a band unit?
Whippz: Wine.
Will: I eat a lot.
Lance: I like to entertain myself by having sexy parties and tending to my collection of stuffed animals which I call "the tribe"
Chris: I personally like to hunt for things to use as a glass eye. Mine is really sh*t and smells funny.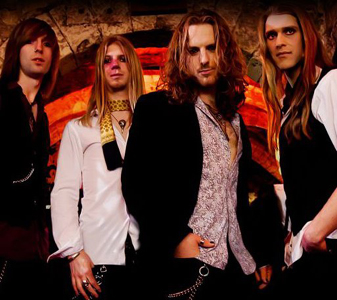 Glenn: Where did the idea come from to finance the forthcoming album and hows it all going on the money side of things?
Chris: We thought what better way to make an album than to get the fans involved! Pledge music is a great way to do that and to be honest we couldn't have done it without the support of our fans!
Lance: We weren't sure how it was going to go though so we managed to find this old lady who kept loads of money in her freezer as she didn't trust banks, so we beat the sh*t out of her and stole it!
Will: Is she getting a signed copy then?
Glenn: Dare I ask what the album is gonna be called as yet?
Chris: Will have to wait and see...
Whippz: Behind The Veil!
Will: Can we say that yet?
Whippz: We can now!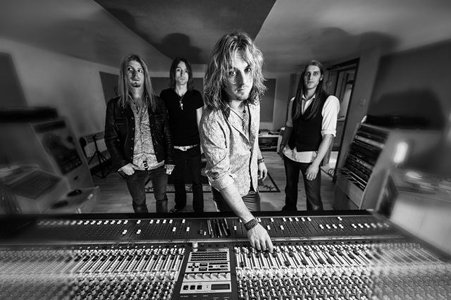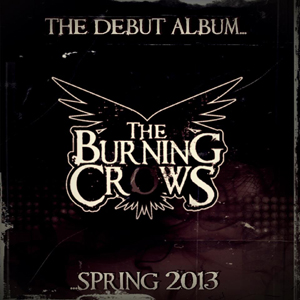 Glenn: What songs are written for the new album and when does recording begin as you have stated it comes out on May 4th 2013?
Lance: All the stuff is written and recording commences on the 25th of February!
Whippz: Yes indeed it'll be a 12 track album but if you pre-order through PledgeMusic.com you get a couple of bonus tracks too as well as getting before everyone else. There's a load of cool free stuff if you do too, so if you want get onvolved, please do, we'd love to have you be a part of it!
Glenn: What would you say are you most excited about with regard to recording the new songs and why?
Chris: The whole writing and recording process is great fun but the best bit is when you see people's reactions! You'll love it!
Glenn: Who else would you like to tour with if you get the chance and why?
Chris: Would love to tour with someone huge like Aerosmith or AC/DC!
Lance: KISS!!!
Whippz: Any of those. But if that can't be arranged, then I'll settle for touring with our future selves so we can see who went bald, who got fat, who got "the problem" and who went to prison. I might put some bets on now actually!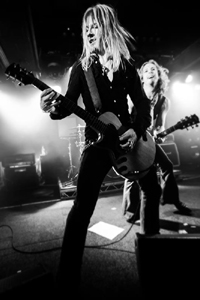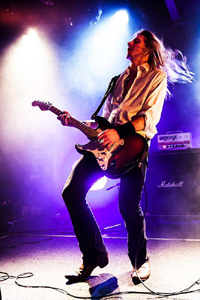 Glenn: What are the immediate plans after the album is out?
Lance: Pub.
Whippz: Pub.
Will: Pub.
Chris: Pub. And hopefully another tour!I've got my good eye on Download as well!.
Glenn: So far what venues have become a favourite and for what particular reasons?
Lance: The Garage in Glasgow and The Corp in Sheffield as we always seem to have a brilliant time there whenever we visit!
Chris: The Yardbirds in Grimsby is always good fun to go and play, great sound in there too!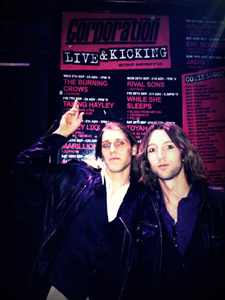 Glenn: If you weren't in The Burning Crows, what do you see yourselves alternatively doing?
Will: Food critic. I love eating.
Chris: Probably session drumming.
Lance: I'd own a taxidermy practice. I love stuffed animals. They are even funnier when they have people clothes. Plus it would be a good way to justify my collection of stuffed animals.
Whippz: I'd be the drunkest man in the world. Possibly homeless.
Glenn: So who are the wackiest characters in the band and why?
Chris: Whipps and Lance, when those two are together they are like Beavis and Butthead haha
Will: They do have this weird connection. They know what each other is going to say and constantly laugh at each other for what seems like no reason.
Lance: We are all quite odd. I mean, Will for example made BBC news with his antics and I woke up with my postcode tattooed on me! Plus you can't forget Chris and his glass eye...
Glenn: What new songs are you most looking forward to playing live to the fans and for what reasons?
Chris: "Say My Name" is gonna be particularly fun to play, it's got a great feel to it and I think people will really like it.
Lance: "All the way" as it is a good foot stamper! I like stamping!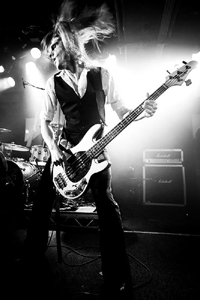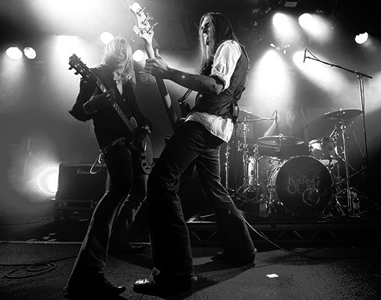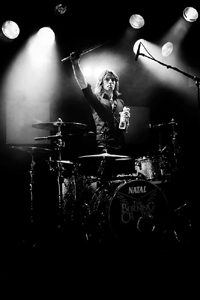 Glenn: What goes through your minds before hitting the stage?
Chris: Mostly just clock-watching and warming up
Lance: "Where's my wine?" and "did I tune my guitar or did I imagine tuning it?"
Whippz: Haha! Me too! Remember wht Will said about that weird connection?
Glenn: What would you say are your favourite parts of The Burning Crows show are and why?
Lance: I love it all but the 1st chord is always a moment for me as you hit the crowd with it! You see their eyes change, some to fear, some to wonderment it's great!
Chris: From the moment we go on to the moment we leave. It's great getting out there meeting the fans as well after.
Glenn: What else would you like to mention that I haven't covered?
Lance: Chris is gay. Oh and please go pledge on the album!
Will: Yes, please pledge on the album! We're at 100% but any extra pledges we get after are still a massive help and 5% goes to the Childline Rocks charity too
Whippz: And a massive thank you to all who've got their's pre-ordered already, it's because of you this all happening and we really do appreciate it!
Glenn: What would you like to say to the fans who happen to be reading this interview?
Band: Thank you so much for all the support throughout 2012, cya out on the road in 2013!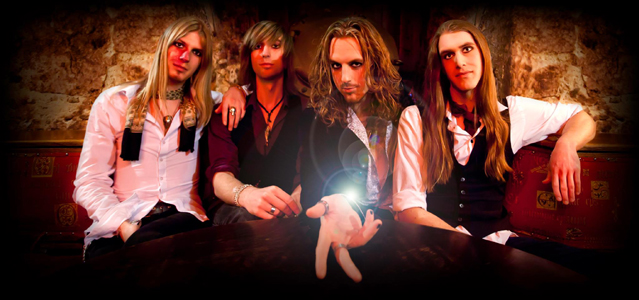 Big thanks to all of the band and Manager, Matt Goom