An Interview with
Charlie Tiger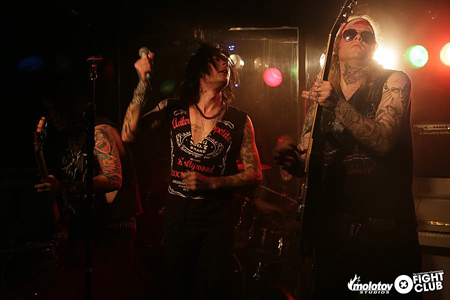 Bassist of 'The Vice' from Sweden
that took place on 1st April, 2013.
Interviewed by Glenn Milligan
Where did your interest in Rock & Metal come from and what led to you forming the band?
I would say all of us pretty much has the same backgroud there, older friends and relatives who showed some cool stuff to you when you were a kid. That kind of stuff usually sticks.
The reason we formed The Vice was that it was time to stop f'n around. We all knew each other since way back and made an unanimous decision to create some honest, dirty and mean music.
Where did your band name come from and what made you choose it?
We wanted a name thats easy for both eyes and ears :) Looks good, sounds good, and still got some sort of meaning to us.
Introduce the members of the band and what made them the ideal choice for the band?
Dani - Vocals
Rick - Lead and rhythmguitars
Charlie Tiger - Bass
Pete - Drums
We all grew up in the same town in the north of Sweden, and have played together in different kind of projects earlier. When we decided to put The Vice together there really wasnt any other members to be considered.
Who are the wildest members in the band and why would you say that?
We all have our moments. Different Vices so to speak. But come to our shows and decide for your selves.
What songs are you most proud of writing so far and why?
One song that were especially proud of is You & I, the first song we ever wrote and still today sounds amazing.
How would you describe the style of the band?
We use to say that we stand on a pretty solid rock-base, with a hard, dark and mean edge to it.
What were your first shows like and where were they held and what are your best memories of them?
Our first couple of shows were held in Stockholm, Sweden. Great shows and crazy crowds. And getting the band on stage for the first times was quite a blast!
What revs you up before a show and how?
Comming to the venue and feeling the atmosphere usually does the trick. When the audience starts coming the excitement ain't far away..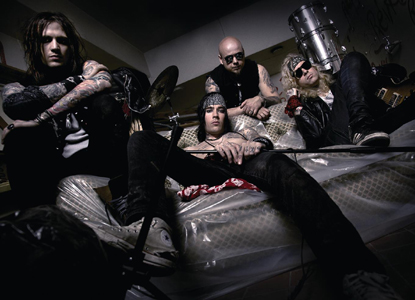 What are your favourite parts of your show, with regard the show presentation itself and the songs featured in it too?
Medleys involving the audience always gets you going! We've got'em in a couple of songs which is great fun.
What songs seem to go down best and why?
'Findin' My Way' seems to go down really well. Its a good party song that we made a video for aswell. The video was well recieved and made it somewhat of a favourite. Check it out: vimeo.com/45761472
What's the most ott song you have ever covered in your set and how did it go over to the audience?
Hehe. The only song we have ever covered is Hanoi Rocks - 'I Can't Get It'. We had it in our set on the U.K-tour we did this winter and it was a great success.
What have been your biggest attended shows so far and how many people?
Our biggest show so far was in our hometown last summer. Don't know how many, but a full house is a full house.
What do you find your age range of fans to be and what's the percentage of male to female in the audience and for what reasons?
It's surprisingly wide, the ones we're missing are the absolutely youngest and the absolutely oldest hehe.
What are your best road stories so far?
Haha, well we had some crazy nights with Dirty Passion on our U.K-tour together this winter. Afterparty with DP, a bunch of hardened bikers, in a cellar is a good way to start a tour, haha. But the details will have to wait until the biography..
Album-wise, what are you most happy with and why? Also what memories do you have of recording and promoting that said album?
'Deathspells & Roses' that we released last summer. We feel that it represented us well at the time, and a step in the right direction. Were recording new material in the end of May, keep your eyes and ears open. This will be the one.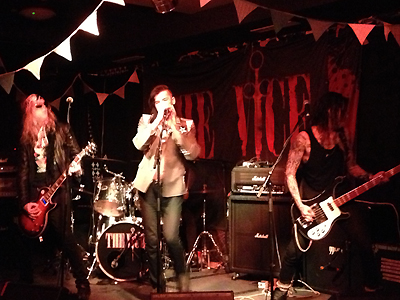 What have been your most eventful tours so far and for what reasons?
We did a U.K-tour together with Dirty Passion this winter (February/March). 9 days, 9 shows, getting to play our material for crazy britts, great crowds, great girls, great parties. Cant complain.
What concert and tours do you have coming up soon and what are you most looking forward to?
Planning a European-tour this fall. Untill then we'll do some gigs here and there, hope to catch some festivals.
What makes you stand out from the rest of the bands out there today and why?
I think that it's our songwriting that will make us stand out from the crowds. A harder, more vicious take on everything. Good looks dont harm anyone either.
What could you see yourselves doing if you werent in this band?
No plan Bs.
If you could feature a guest member in your band, who would it be, what song (s) would you want them to perform on and why?
We all love Hanoi Rocks, so McCoy or Monroe with us on stage performing 'I Can't Get It' would kick ass.
In general, what will you be up to for the rest of the year and beyond?
As we said; Recording new songs in May, that will be released shortly after that. Giging as much as we can during summer then hitting the European roads again this fall. During all this we'll start working on the songs for our first full-length!
What would you like to say to any fans out there reading the Interview?
We love you guys 'n' girls youre amazing!! Keep coming to our shows and stay updated at www.thevice.nu and www.facebook.com/theviceonline Make sure to follow us on instagram for all the latest madness @theviceofficial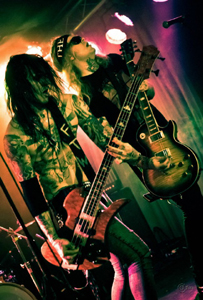 Cheers!
// The Vice
Kick Ass Words Charlie, Cheers!