An Interview with
Tod T. Burr
Drummer of Tuff, Shameless & Merle Jagger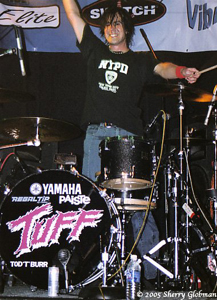 that took place in February 2012. Interviewed by Glenn Milligan
What was it like for you growing up in New York and how did it influence you on both a personal and musical level?
Except for the snow it was inspiring. I didn't know it at the time but having four real seasons and some of the best food in the world helped shape who I am! I grew up with great parents who believed in me and passed on values that I still use today. New York radio stations at that time were fantastic!! I was always outside climbing trees, running around in the woods, working on cars and motorcycles. I can't relate to kids today who sit in the house all day playing video games….I kick ass at Halo but I still make sure get plenty of exercise!!
What turned you onto playing drums - why the drums?
I was always of fan of the drums…even before I really know what they were. I bought a cheap pair of drumsticks when I was about 13 and banged on boxes and gas cans in my garage. Finally in high school I joined the marching band. I guess I just had a natural talent. Picked it up very quickly. It wasn't until college that I realized you could actually make a living at playing drums! So, I left school, moved to Los Angeles and began a long hard climb to be able to pay my rent in the music business….
Who were your favourite drummers when you got into playing?
Ringo, Peter Criss, John Bonham sand Keith Moon were all early influences. Then I discovered Rush and Motley Crue. Neil Peart and Tommy Lee pretty much sold me on a career in drumming….Lately I have been going back even farther to more musical drummers….studying Buddy Rich, Louie Bellson, Willie Cantu and Mitch Mitchell!
What was your 1st kit and how did you acquire it?
Ha! I forgot about it until right now! It was a Hondo. Some Korean or Chinese p.o.s. Broke the kick pedal in a week, cymbal boom in a month and the snare in six. I covered it black and white contact paper like Alex Van Halen. Sold it three years later for $50. Worked my ass off for years to finally purchase a pro drumset around 1986. Even though i had only been playing for 4 years i knew I needed to play something that sounded decent….
Did you have lessons or are you self taught? - feel free to tell us about this time in your life in those early learning the beat days!
I am pretty much self taught. I have had a few lessons here and there to correct problems with my technique, otherwise, I am a sponge for drumming information. I read every issue of Modern Drummer for almost 15 years. Went to many concerts, drum clinics and practiced like crazy. Still do! I guess I was born with an ear for music because i have produced many other acts as well.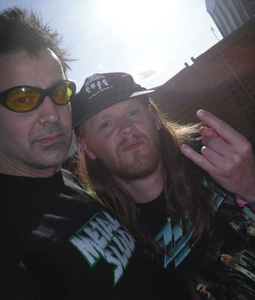 Did you have a band in school or did you form bands after your school days?
Joined a band almost immediately in college. Played a few gigs, learned a million terrible cover songs and basically honed my chops.
What were your 1st bands like and concerts like - what memories do you have of back in the day?
My first real band played Judas Priest, Van Halen, Motley Crue, Scorpions cover songs just to name a few. We had a light show, our own PA, costumes….but I don't think we were very good. lol. However, I did learn a bit about the business. Bookings, song selection, making set lists, rehearsal schedules, transportation of gear and set pieces. And I do remember the first time I got flashed by a girl in the front row at a Battle Of The Bands. We got second place!
What made you decide from New York to Los Angeles and when did it take place?
I went to college in Arizona. A band came through town needing a drummer. I finished the tour and then moved to Los Angeles good a month later...
What do you miss about living in New York and why?
Just the pizza. It is simply the best pizza in the world
What were your personal highlights of the 80's heyday and why?
Went to The Rainbow in Hollywood within 48 hours of moving to Los Angeles. The Sunset Strip was packed with band guys and girls all hanging out way after the bar closed. Helicopters were called because everyone had spilled into the street and were blocking traffic. It was the place to be!!!
What do you miss about they heyday of the 80's or even the early 90's for that matter?
I really miss the music scene where you could actually make money. The ultimate goal was to get a record deal, make millions and tour the world. Well, two out of three ain't bad! Record company greed and shortsightedness have ruined everything. The good news is you can actually make an ok living playing music if you have good product and some business savvy. Plus, you don't owe the suits millions of dollars!! I also miss watching music on MTV. The reality shows they play now are horrible!!
What were your fave cover bands you played in and why?
Actually, didn't enjoy the five sets a night, full time cover band experience. However, I did get to play a lot of different styles of music, learned how to pace myself and not have to work in an office…
What songs did you like and also dislike playing with regard to covers and why?
Hated playing Start Me Up by Stones, Everybody Wants You by Billy Squier, and Footloose by Kenny Loggins. However, when I started the drum intro for Footloose the crowd would start dancing right away!! Black Magic Woman by Santana was one of my favorites because we would do the long jam outro….
What cover songs did you find the most demanding and why?
None really. I just had to make sure I didn't play too hard early in the night because I had four more hours to go!
When did you realize playing the drums as a career was the life for you - what was the turning point for you as opposed to anything else that could have become your life route?
When i realized I was pretty good at it and had way more dedication to my craft than the people I was playing with. I wanted to be on MTV so bad when I was in my 20's. I began to work very hard at making the music the best that it could be...
What was the 1st band you worked in that you realized your part of and a member of the professional league of players?
I joined a band called The Glory Bayonette around 1989. I was referred by the drummer in Autograph who became a friend after I played on a demo of a band he was producing. The Glory Bayonette was produced by Mark Christian of Berlin and The Big F. He taught me to take my playing in a more unique direction while playing for the song. We came very close to getting a major record deal. We were a year before Rage Against The Machine and I really feel if the singer didn't walk away from the band we would have been in the forefront of a new style of music...

What led you to becoming endorsed and who with? How did it make you feel as a result of this?
Some people feel becoming endorsed is a final goal. It's not. Endorsements are a two way street. It's not all about free stuff. It's about a relationship. The player benefits by having new gear, assistance in rentals overseas, and additional publicity. The company also benefits from publicity but they also gan valuable feedback about the performance of the product. The artist reps at my companies I endorse are not only a business relationship but a personal one as well. Some of them I have known over 20 years!
How did you go from being a guy behind the kit to become the guy who also did the teching?
I was working for a video company in Hollywood doing the 9-5 thing and I needed some work done on my drums for a recording session. I took my kit into a company called Drum Doctors, who specialize in drum customization, tuning, teching, and cartage. While my drums were being worked on the place was crazy busy. I jokingly said to the owner, "You look like you could use some help." He said he would tear up my invoice if I went with one of the delivery guys. I did. The boss called me later that night and offered me a job. I quit the video business the next day. After almost 4 years at Drum Doctors I quit to work at SIR Hollywood, working my way up to Drum Department Manager, when I was offered the chance in 2005 to tour the world with INXS. That lead to Def Leppard and Motorhead.
What do you enjoy most and why? Or do you enjoy both aspects for different reasons?
Obviously, playing the drums is more artistically satisfying. However, helping someone else make art also has satisfaction. Luckily, I am able to do both.
Is it strange to go from being the guy behind the kit to seeing someone else play that kit - from a mindset point of view - if that makes any sense?
It is very strange! Not many people I know can wrap their heads around switching from player to tech. I really feel my ability to play drums makes me a better drum tech. There have even been chances for me to play with the band when the drummer is late or misses soundcheck.
What have been the highlights around the world while being a drum tech with regard to both seeing the countries and working in the various venues?
Wow, the best part of course, is getting to places I've always wanted to go…Sydney, Tokyo, Paris, Brussels, London, Sofia,..and of course, back to New York City. Also, the added benefit of getting to see friends around the world!
What are the craziest stories you can tell as your time as a drum tech?
The first thing anyone who has toured for years will tell you…."I can't remember!" or "I can't say that in an interview…I could wreck careers and/or marriages!"
During your time as a drum tech, what are you most proud of and why?
Being able to say i have worked with some of the best players in the biz. Also, I drum teched for a Lexus IS350 TV commercial (see link below) and was the main drum tech for Brian Tichey's "Groove Remains The Same" John Bonham tribute concerts in 2010 and 2011.
What have been the most demanding times you can recall so far as a drum tech and why?
In 2008 Def Leppard was in the middle of a world tour. The main drumset was in a sea container on it's way back from the UK. The second drumset was on it's way to Australia. I had less than a week to build a third for the Def Leppard/Taylor Swift CMT Crossroads TV show. It was a lot of work but I made it happen!!
I understand you also play in a country band called Merle Jagger - how did the band come to be and how did you become involved?
The producer from The Glory Bayonette, Mark Christian (see above), asked me to fill in for a few shows with his country rock instrumental jam band, Merle Jagger, in Northern California and Las Vegas. I put weeks into learning a brand new style of music. I have played rock, jazz, metal, blues, etc but country music was a new world for me. Merle Jagger has been the most satisfying and challenging music I have ever played! After the two shows the original drummer got married, quit the music business and moved to the east coast. Mark asked me to join Merle Jagger as the permanent drummer in late 2009. We have played many, many shows and backed up several other singer/songwriters in the country/rock field.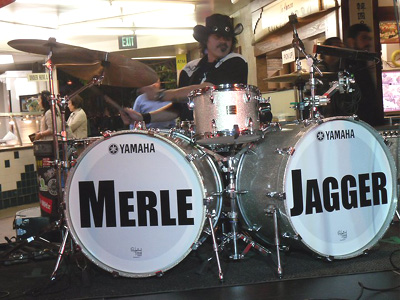 What have been your favourite times in Merle Jagger so far and why?
Last November we were asked to open up for one of the most famous banjo players in the world, Earl Scruggs, at UCLA's Royce Hall. Sold out show with almost 2000 people. We tore the roof off the place and Earl's band was very kind in complimenting us. Also, we have been the number one country band on Reverbnation.com's website on and off for the past year.
What do you most like about living in and around California and where are the coolest places to hang out when you have some downtime?
Of course the weather is fantastic and most of the musical instrument companies are here. Also, the record companies are here but that matters very little these days. Plus, I can play for free or do pre-sale shows anytime I want! LOL!
Are there particular venues people should check out in the LA area that are off the beaten track a bit and for what reasons?
The most famous ones are The Whiskey, Roxy, Troubadour, Key Club, etc. I have played all of the many, many times. They are still pay-to-play venues so I don't play them that often anymore unless someone has hired me to back them up there. I play the new Ranch Party at The Farmer's Market on 3rd and Fairfax about once a month. Always free and always good bands. Most of my shows these days are out of town. Way more money to be made outside of LA these days.
How would you say LA or more to the point Hollywood has changed over the years?
People still arrive by the boatload every year expecting to make it big so the talent pool is quite large and so are the contacts.
Unfortunately so is the amount of no-talent. It's been a long time since I have seen a local band that is doing something new and exciting. I remember when i first moved here the scene was filled with great bands, putting on great shows and generally pumping life into the scene. Nowadays I see lots of posers, DJ's and wannabe's who care more about how they look than putting the work into knowing their craft. The venues cater to these "scenesters" so the number of available places to play dwindles every year. Kinda sad really….
What led you to become a member of the following bands - Tuff/Shameless and Pretty Boy Floyd?
Another funny story….I was dating an actress in Hollywood (yeah, i know, how cliche) in the early 90's who knew of a singer putting together a new band. Todd Chase had just left Tuff and was the bassist. I brought in Michael Parnin from Calamity Jane for the guitar spot. After outgrowing the singer, Chase, Michael and I formed the heavy metal trio called blAck and later changed our name to substAnce D. After 2 records on Noise/Century Media and several tours we broke up. I happened to be working at SIR Hollywood with the current bassist in Tuff who asked if I could fill in for a show to be streamed live on KNAC.com. Since I was familiar with the Tuff catalog i said yes. After the show the Tuff singer, Stevie Rachelle, asked if I would do the summer tour. The next year we toured the UK for a few weeks with Shameless. Steve Summers of Pretty Boy Floyd was singing with them for that tour. These connections have turned into several albums, plus Japanese and European tours. In fact I will be doing a European tour this year starting in the beginning of March until the middle of April.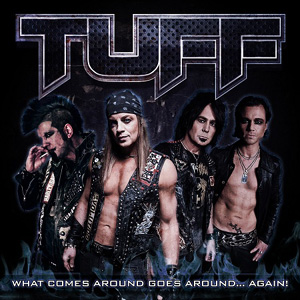 What songs are you most pleased with that you have recording drums for and why?
The substAnce D albums are very personal to me. I worked very hard on making them something very special. I still have fans from around the world complimenting them. Also, I arranged the music and played on a record for the local LA band Agrokulcher. Very proud of how it came out. Great playing, great songs…too band the band, like most bands tend to do, imploded. The album Tuff: Live In The UK was recorded straight to the board with no overdubs. The latest Tuff and Shameless albums were recorded the same month and both are out by now. The new Merle Jagger album will out soon with some the craziest, most inventive playing I have ever done. I can't wait to hear the final mixes!
You did a UK tour a few years ago with the band Tuff and Shameless a few years ago - what were the highlights for you and for what reasons?
Our local UK promoter took great care of us and the crowds were very receptive. I love Rock City in Nottingham, JB's in Dudley, Underworld in London and a bunch I can't remember! One time a table support pole fell through the floor of our bus and after prying the table off of the guitar players and my own legs we had to run back down the road a retrieve it!!
What kind of sticks and tools are your preference and why?
I am a Regal Tip Artist and have been since 1997. I have played Paiste Cymbals Artist since 1998. I also endorse the Kelly Shu Bass Drum Mounting System. I have a large collection of Yamaha Drums which I choose the appropriate sound and set up for the bands I play with. Meinl and Latin Percussion have also been very kind to me.
Who have been your favourite bands you have shared a bill with and for what reasons?
I have opened for Disturbed, Danzig, Bastard Sons Of Johnny Cash, Pissing Razors, Morbid Angel, Chevelle, Downset, Adema, Faster Pussycat, LA Guns just to name a few, However, probably my favorite was opening for Y&T last year. Y&T was one of my favorite bands growing up and I even tried to audition when Leonard Haze left. And obviously, the Earl Scruggs show last November.
What revs you up for a show before the hitting the stage? - well not literally - lol - hammer just out of shot!!
Just the fact that I have the opportunity to get payed to play music revs me up!
What made you decide to do the forthcoming tour and what are you looking forward to and for what reasons?
Timing is everything in this business! I have a small break in-between Merle Jagger tours. I dream of the day I can go from tour to tour. Besides I love playing with the Shameless band. They take great care of me and are great guys. See everyone in Europe in two weeks!
Which kit will you be playing and why did you decide on that one - or will you be using different kits at different venues to save touring one around?
If the budget would have allowed I would have loved to use my Silver Sparkle Yamaha Maple Absolutes with two 24" bass drums but I will probably just use the backine kits provided at the venues. I learned years ago to play well on anything!!
Are there certain songs you are looking forward to playing in the show - what are they and why?
I am looking forward to playing the new Shameless songs since its rare that I get to tour playing the songs I recorded on the album…but I do this time! Also, this will be the first time we have played them with a full band. I can't wait! And "Queen For A Day" is a blast to play.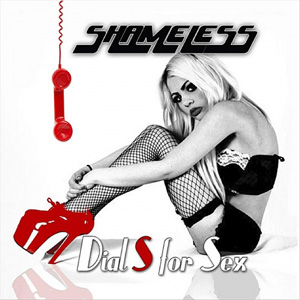 What is the most rock and roll thing you have asked for on a tour rider and was your request met?
Um, just cold beer and hot food. Don't always get it.
What is the 24/7 of a tour day for Tod T. Burr?
Shower. Not enough sleep. Not enough prep time. Show is over way too quick. Days off are few and far between but enjoyed to the fullest!
When you come off tour, what do you like to do to unwind and how long is it usually before you wanna get on the kit again?
I usually sleep for 24 hours straight right when I get home. I have my own studio so I am usually back in within a day or two. I have the best drums in the world so it's hard to keep away!
What hobbies and interests would we see in your CV outside of playing drums and how did you get into them?
I have always been a fan of vintage cars and motorcycles. I have owned over 20 motorcycles. I used to have a 1968 Dodge Charger. Currently I enjoy working on my 1971 Chevy Monte Carlo. Oh, and I spend a bit of time playing Halo on XBOX!
What are you most proud of so far in your career and why?
My work ethic is solid. My connections are valid. My professionalism is secure. Plus, I have some great musicians and music business people I call friends.
What would you like to say to all the fans out there that could be reading this interview?
Thanks for taking the time to read about my crazy life! I am including some links below for additional websites, pictures, and video!!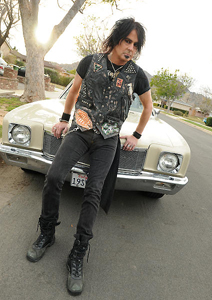 www.tmburr.com
www.myspace.com/drumslut
www.merlejagger.com
www.tuffcds.com
www.shamelessrock.com
www.youtube.com/watch?v=NSw9EGf8evw (Lexus TV Spot)
www.regaltip.com/artist-roster/full-artist-roster/t-m-burr
www.paiste.com/e/endorser_det.php?page=image&endorserid=202
http://www.kellyshu.com/endorsements/