An Interview with
Todd 'Vinny' Vinciguerra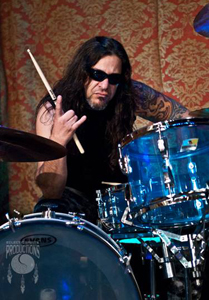 Drummer of the band 'VHF' (with Joel Hoekstra and Tony Franklin) that took place on May 9th, 2015.
Interviewed By Glenn Milligan.
Glenn: How did Todd 'Vinny' Vinciguerra get introduced to the drums?
Todd: I started drumming at the age of 5 or so. What first drew me to the drums was seeing my Uncle Bob play in my Grandmother's basement. I would see him practice with his band playing songs by Alice Cooper, Cream, Hendrix, Uriah Heap and I thought it was great. He would let me take the sticks and bang away.
Glenn: Who were your first influences and what songs did you like to play first off and why?
Todd: My Uncles were my earliest influences growing up. Bob is still drumming today and my Uncle Ger was a great bass player. Ger would take me to my first drum lessons as a 7 or 8 yr old kid. From there it was Peter Criss from Kiss, Derek Longmuir of the Bay City Rollers who had a Saturday morning TV show when I was growing up and I loved his Ludwig Vistalite drum set. I think he had a different color kit every week. My first song that I played with a guitar player was Dazed and Confused by Led Zeppelin. Loved the groove!
Glenn: Tell us about the first shows you played.
Todd: Well not counting all of the school bands, like concert, jazz and marching, I had a rock band in high school that played the local teen centers, house parties and the village amphitheater. They were fun. One of those high school bands played for the Jerry Lewis Telethon. We played some Led Zeppelin, Lynyrd Skynyrd and .38 Special. That was a fun show because that is where I got to meet girls from different schools... haha.
Glenn: Tell us about the great moments you shared with 'Big Brother & the Holding Company' who I actually saw at Orlando's 'Hard Rock Vault' in April 2004.
Todd: Very cool you got to see them play! I met Sam Andrew from Big Brother & The Holding Company when I auditioned for the play, 'Love, Janis'. That was in San Diego Ca, and oddly enough they were running it in New York City and Joel Hoekstra was the guitarist. He was the one who asked me if I wanted to audition and meet Sam.
After I landed the audition and did a run of the play, Sam called me to see if I would be able to sit in for their drummer Dave Getz for a show in Minneapolis. I said, "Absolutely", then asked Sam for a set list. Funny thing was he said I knew most of them and sent me a CD of some of the songs to learn. When I got to the gig, there were several songs on it that I did not know.
The bass player, Peter Albin said to follow him for the breaks, "and this song has a surf beat, this one is rock n roll, this one is blues, you start this, kind of Bo Diddley....and watch me for the stops...." It was a blast! I broke out some double bass and just had fun with it. A few months later they asked me to tour UK and Germany. That was an awesome experience. We were treated great!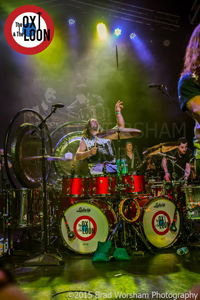 Glenn: How and when did teach drums begin and what is it about teaching that you like so much?
Todd: While I am not currently teaching, I have taught off and on since the mid 80's. I teach my students the importance of being able to read music, rudiments and how to appreciate and play different styles of music. At times, when dealing with more stubborn students, I would show the similarities between a thrash drum beat and a polka beat.
Funny thing, one of my cousins, Mike, who is also a drummer, left playing in rock bands to be in a polka band, and he is having a blast! I like showing students that they can play pretty much anything they've set out for as long as they put in the time needed to be proficient. There are no shortcuts to being a good drummer.
Glenn: Do you have any particular students worth talking about that have gone on to big things we may know about?
Todd: One of my former students, Chase, is playing the 'Welcome to Rockville Festival 2015' with a band called The Sweet Escape. On the bill are: Godsmack, Breaking Benjamin, Slipknot, Slayer, Marilyn Manson and Korn. The list goes on. It's very cool for him. That dude has his stuff together!
Glenn: So how was it being endorsed by such companies as Paiste & Ludwig etc and what does it mean to you personally?
Todd: Being endorsed by Paiste, Ludwig, also Evans Drumheads and Promark sticks is great. To me, it means that I am considered one of the best of the best! So many of the drummers I idolized growing up play these products, and now I am one of them....hopefully inspiring yet another generation of drummers.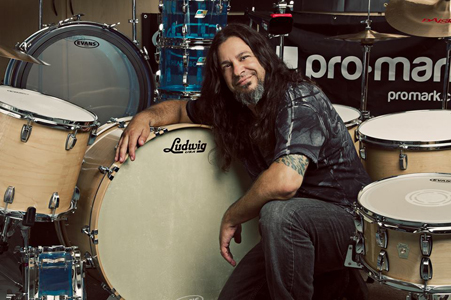 Glenn: What made you want to form the band 'VHF' from a musical point of view style-wise?
Todd: To be honest, I formed VHF to hear the music that I wanted to hear. I could not find a band like thi, with that much musical freedom in a harder rock setting. If you know of one similar, please let me know.
Glenn: What was it about Joel Hoekstra and Tony Franklin that made them the certain individuals that you wanted to for the band with?
Todd: For me getting Tony on board was huge, he was my "dream" bass player. I first noticed his unique style in The Firm and then was blown away hearing him in Blue Murder. There is something about how he plays that fretless bass, I really wanted that on my music.
Joel is a no brainer as well. That guy is a virtuoso in every sense of the word. Listen to everything he has done. I was lucky that we were actually room mates many, many years ago. We have talked about having him play on my project for years. I will get into that later, but I actually started writing the ideas about 15 years ago and was sidelined for 5-6 years due to a hand surgery.
Glenn: Tell us where the idea from the cover of the album came from?
Todd: Since we were calling the CD 'VHF-Very High Frequency', I wanted to add the power lines in somewhere. But also some the music tends to be spacey, I wanted the sky and start. So my friend who did the CD design and logo for us, Tony Morabito, (Former Riot lead singer), had the idea, and the picture he took in Venice CA.
Glenn: What is the story behind 'Mind's Eye Records' – who are they and what was it about the label that made you want to release the album on it?
Todd: 'Mind's Eye Records' is a label I started because I was not happy with a few companies that I was talking to. One wanted more of a traditional band, another did not like the idea that there was not really a radio hit. So I said the heck with it and did it on my own. Talk about total creative freedom. I was able to do the project exactly as I wanted, no compromise. I hope to be able to expand if I find other like minded bands.
Glenn: Same goes for 'Headtrip Publishing'?
Todd: Yup my publishing company!
Glenn: How long was the project in the making and what were the toughest moments to overcome and why?
Todd: The project really did not take all that long. I think we started in April and I had all tracks rough mixed by November. The interesting concept from this band is I wrote and arranged the drums first. Then sent the drum tracks to Tony. He had free reign to come up with the chord progressions, rhythms and overall vibe. Once the rhythm tracks were compiled and had a rough mix, I sent them off to Joel who also had freedom to create whatever he wanted over the rhythm tracks.
For me, the tough moments were at the very beginning when I was recording to Tony's bass because I really wanted to throw down many crazy over the top fills and make it a drummer's CD. But by leaving room for Joel to shine gave us a great end result. I am a huge fan of guitars and I really like Joel's playing. I remember one time he called me because he wanted to change the ending of one of the songs, 'Invisible Thread'. He said, "The ending is too long" and I said 'No, that is where you will play another lead - kind of like the ending of Comfortably Numb by Pink Floyd". He said, "Ahhh" and got my idea. The end result is great!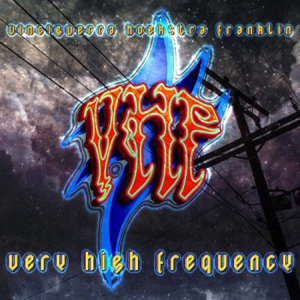 Glenn: Which drums did you use the most of for the album and for what reasons?
Todd: I used my huge Ludwig Classic maple kit, consisting of a 14" tom, 16/18" floor tome, 26" bass and my Black Beauty snare....big kit=big sound!
Glenn: Do certain songs on the album mean the most to you and if so, which ones and why – not to mention, what influenced them?
Todd: Some songs mean more than others and for many different reasons. 'Backside of your Eyes' was the first song the Joel sent to me completed. I was blown away with what he did - epic solos, so many interesting textures. I listened to it several times in a row, picking out all of the subtle parts. All is within was a hand drumming groove I came up with years ago when I first bought that particular djembe. 'Invisible Thread' has this trippy tribal drum groove that is very fun to play. 'Shattered Insomnia' is just a straight ahead upbeat rocker. The grooves that came to me for this project is just a mix of everything that I listen to from Zeppelin and Floyd to middle eastern grooves.
Glenn: Have you done any shows with the band?
Todd: As of yet we have not played together as VHF. Schedules permitting, we can make that happen.
Glenn: What are you up to right now and when do you expect us to see another release from VHF?
Todd: Right now I am working on yet another video idea. As well as getting my home studio up and running so I can start laying the ground work for more music! I have 2 or three other tracks from Tony already. It's way too early to say what though. I will be shooting some videos to show what the songs would have sounded like if I did add some of those crazy fills I mentioned earlier....just for fun.
Glenn: Tell us about your area where you are based in and what it's like with regard to music and live venues?
Todd: I live in Southern Orange County California, about 20 minutes south of Anaheim. There are a lot of local venues to check out. LA is about an hour or so away depending on traffic.
Glenn: How would you personally describe the drum style of 'Todd 'Vinny' Vinciguerra and how long would you say it took you to get your own style as well?
Todd: My style is a hybrid of John Bonham, Keith Moon, Nick Mason, Phil Rudd, Bill Ward, Ginger Baker - the list keeps going. To get your own style is to be able to take all of your influences, mix up but not play like them exactly. Study and practice but when it comes down to it, play from your heart and don't think exactly what you are going to play.... feel it... if that makes sense.
Glenn: What else would you like to talk about that I have not covered?
Todd: Just simply recovering from the hand surgery and going through that was pretty rough. A day or so after that surgery, I was sitting on my couch, my hand was cut open on one section to drain, many stitches elsewhere, and I got a call from Joey Belladonna, singer from Anthrax, asking me to drum for him on some European dates. I had to decline, never knowing if was able to drum again. Flash forward 10 years later and all is well! My point is never give up, believe in yourself and always be prepared.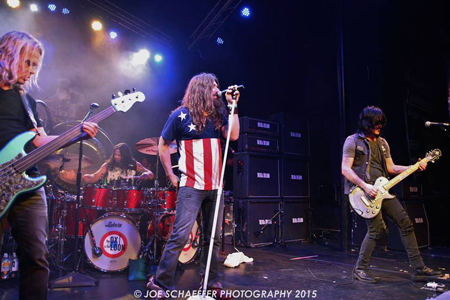 Glenn: What have been your proudest moments overall so far for you and why?
Todd: Musically, my proudest moments were getting my books published through Mel Bay Publications; that was after being turned down by several publishers - persistence pays off. Then being published 8x in Modern Drummer Magazine. The first time I was in Modern Drummer really caught me by surprise, as I submitted the lesson 5 years prior. That was the time in my life recovering from a hand surgery where I could not drum, and I get an e-mail from Bill Miller from MD, asking me where to mail the check to.
It was Bill who encouraged me to not only write more, but to try and drum again. He was such a huge influence and motivator for me. I was heartbroken when he passed away. All the time he was helping me, I did not know how sick he was - a truly great guy.
Obviously getting the VHF band off the ground and then being asked to play the Ox and Loon show. This is a tribute to the rhythm section of The Who. That was an overall fantastic event. Brian Tichy put this event together along with the Bonzo Bash and Randy Rhoad's Remembered events. He is a great guy and was very happy that he invited me to play this show.
For me, the highlight of the event was being able to not only pay tribute to one of the greatest drummers in rock music, but to also jam and hang out with such great musicians. I had the opportunity to play the song 'Substitute', with my VHF band mate, the Fretless Monster- Tony Franklin on bass, Gilby Clarke of Guns 'N' Roses on guitar, Michael Devin of Whitesnake singing and Joe Retta 0f Heaven and Earth/The Sweet/Dio's Disciples on backing vocals. There are many pictures and video on my Facebook page, check them out.
The end of the night was epic. During the song 'Won't Get Fooled Again', each drummer took their turn at a drum solo. As each drummer finished, they came to the front and sides of the stage and continued to play on a tom while the next drummer got up and did their sole. This culminated into Dave Lombardo's ending solo with 20 or so drummers playing along and then the subsequent destroying of the drum set, toms, gong….you name it. Quite an experience.
If anyone has any questions or comments, feel free to hit me up, I love talking drums! Rock on!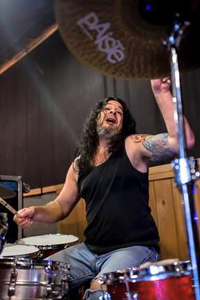 A big thankyou for the hard-hitting answers Todd!
Be sure to check out:
https://www.facebook.com/toddvinny.vinciguerra