An Interview with Bernie Torme & John McCoy
of the Incredible Rockin' Trio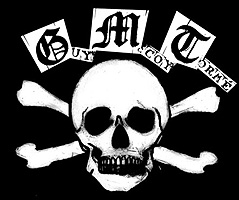 that took place in June 2007.
Interviewed by Glenn Milligan.
(Please note - All Photographs below taken by Lisa Valder unless stated otherwise)
Why did you choose Retrowrek Records to release the 'Bitter & Twisted' album - Is this your own label - as opposed to going to a bloodsucking, soul-scraping Major label?
John: We put the album out on Retrowrek because although labels were interested, none would commit to an early release and were talking about lengthy release schedules. And none of course would give us the huge amounts of money we are accustomed to. We wanted the album out and wanted to have artistic control, in fact we are both control freaks!
Bernie: Yeah well, you know, its true we wanted total control, not wanting to be a pawn in their clapped out corporate game etc etc blah blah blah.........
Fact is, we did the album totally off our own resources, and then we tried to get a deal, and had absolutely little to no serious interest. It was the "we like it but will you sign with us for the world forever for feckall and by the way can we also kick your ass and sell your house to finance the band" sketch.
Well what do you expect - two geriatrics and a punk care in the community victim? I mean really its not surprising, as a part time outsider I'd probably think exactly the same thing! "If they think its so good let them do it themselves! you want to walk on the water, walk on the feckin water!"
So we did, we believed in it, I believed in it, I was stupid enough to put it out on my record company Retrowrek, and here we are walking on the water: and actually chaps it's done rather well......I'm really glad I did! Damp socks, but we haven't drowned yet!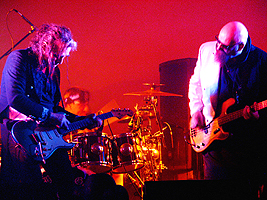 (Live at Holmfirth by Andy Lee)
What's it feel like to be working together after so long apart?
John: Much better than any previous projects we have worked on in the past. I spose we've matured musically and personally. It just feels like the right thing most of the time.
Bernie: God it's hell! He's a bigger pain in the arse than ever!
Why did you decide on Robin Guy as a drummer?
John: I'm beginning to wonder. No, he is perfect for us musically and its difficult to find anyone mad enough to put up with the two of us.
Bernie: because he was the best.
Robin, who are your main influences and why?
Bernie: Since Robin is unavailable at the moment because he's drumwhoring somewhere in Germany I know he'd want me to answer that on his behalf: Robin wants everybody to know that his main influences are Bernie Torme and John McCoy, and also Jameson's whiskey which Robin also knows he has to keep buying for the old b*st*rds or they'll sack him........
John (pretending to be Robin): My main influence is a little known and under-rated drummer called Stix Hoypolloy from a band called The Split Knee Loons. I model my whole style and life on this genius.
What are your fave songs on the album and why?
John: It changes with time .At the moment I like 'Longer Than Tomorrow' and 'Summerland'. Two songs that show the diversity of GMT's material.
Bernie: All of them. Which is a rarity. I especially like 'Rocky Road', 'Down To Here', and 'Summerland'.
What are you most looking forward to regarding live shows? How have they gone so far?
Bernie: Rocking! And rocking even more! So far its been GOOD! So good I can't even remember any of them! It rocks!
John: The shows up to now have been remarkable! We surprise ourselves sometimes and unlike some bands/projects we have been involved in its fun! Immensly enjoyable atmosphere. The more the better!
What can we expect to hear in the set - any old faves that you have all been involved with as well? - be cool to hear 'No Easy Way' or even 'Fatman' !!
Bernie: 'No Easy Way' is a possibility if we ever manage to rehearse again, it's a great track, we've done secret of the dance quite a few times, 'Fatman' was played quite a few times last year, but I'm really not Nicky Moore, I don't think I did it anything approaching justice, I feel uncomfortable about doing it. In fact the only good thing about it was being able to call John a 'F*t B*st*rd!
John: It's difficult, particulary when we are not headlining, to fit in all the things we want to play apart from what others would like to hear. We actually did 'Fatman' on a few early shows (mainly so Robin and Bernie could abuse me) and have stuck in the odd Gillan song but now we are thinking about adding some brand new songs from those we've been recording recently. Expect a few surprises.
Why did you decide to call the album 'Bitter & Twisted'?
John: I guess because we are.
Bernie: McCoy's bitter and I'm twisted.........
How did the songs come together in time ratio - were they all written for the band in mind or have some been re-worked and taken from other parts from your careers?
John: Bernie and I have a long history of writing songs together, right back to the 1970s so there was a wealth of songs, part songs and ideas already there but we are still writing at an alarmingly productive rate. Most of the 'Bitter and Twisted' album is brand new ideas (if there is such a thing) and we don't dismiss any until one of us feels sick.
Bernie: It's mostly new, 'No Justice' was a bit of a revivified zombie, there was a few ideas from John's acid years in the 60's like the 'Summerland' bass riff, but mostly made up as we went along. 'Cannonball' owed a fair amount to our previous life in Gillan I think.
Is the band a project or is it a full-time prospect from hereon?
Bernie: No idea, at our age I'm not sure that's really a valid question! I'd like to do quite a few albums but be quite prepared to bin it when the spark is gone! We have a lot of absolutely hugely killer tracks in the bag for the second album, so that's a really nice feeling. We've got a lot of live work coming up, that's enough for now.
John: It is a full time project although we all have other things going on, GMT comes first and hopefully will continue for a long time.
What are your favourite 3-piece bands? Do you remember an excellent 3-piece rock band from Sheffield/America called Strongheart - www.strongheart.org.uk
Bernie: I've never heard Strongheart, I have heard the name. I will try and check them out. Personally the Jimi Hendrix experience the cream and Hendrix's Band of Gypsys'. I loved Thin Lizzy most of all when they were a three piece, first with Eric Bell and later with Gary Moore. And Skid Row (not the American one) who were a seminal three piece in Dublin where I came from with Gary Moore on guitar were hugely influential for me. Also the great ZZ Top though I kind of lost interest during and after Eliminator. And the awesome Mountain of course too. I've always loved that three piece thing. And the Jam early on and the Hammersmith Gorillas, the Pirates, the list is endless!
John: No sorry don't remember hearing Strongheart but the name rings a bell. Favourite 3 piece bands? Apart from the obvious Cream and Jimi Hendrix Experience I really like early Z Z Top and The James Gang with Joe Walsh. I liked Mountain when Felix Papalardi was still around.....now my favourite 3 piece is GMT.
The album comes across as very in your face and real Nice One !! - how was it recorded - bit by bit or all at once live?
John: We recorded it at Bernies Barnroom Studios while it was still being built!The builders are big fans.Not the easiest of situations but the results were excactly what we were going for and discussed ahead of starting.Most of it is just the three of us in the live room,very few overdubs or tracking,except Colin Towns keyboards nd most of the tracks are one of the first three takes.
What were the highlights and lowlights (pardon the phrase) of recording the album?
John: The highlights for me were finishing it and the day we went to Talulah Tormes school fete. The lowlights were and continue to be Robins putrid farts.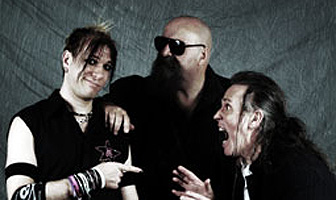 (Robin: "He farted, not me !!")
Bernie: The highlights for me were getting what we got out of it, it's by no means an automatic process, ever. Lowlights, like highlights, are just part of the process and the chemistry. Gating the drums is a lowlight - it takes years.
Do you have plans to take the band overseas - say parts of Europe and the USA and beyond - where would you like to play and why?
John: We'd like to play anywhere but the logistics of actually doing it are very complicated and we are too busy being musicians to seriously work on that. We'll just wait till the right things get offered.
Bernie: But we are working on it - we have done some gigs in Ireland of course. And Scotland coming up. It might be independent by then......
What and who influenced the songs 'Down To Here'; 'Miss the Buzz'; 'Cannonball'?
John: "Down to here" grew out of a jam welded on to a sweet sad song Bernie had. "Miss the Buzz" started with the bass riff, "Cannonball" is the sort of song Bernie and I have written before but the first with genuine stuttering from his nibs!
Bernie: I wouldn't have said sad and sweet about Down to here, I think its fairly doomy really, is lyrically about life on earth, which is a dark place when the sun doesn't shine, hello Mr. Bipolar Explorer! Miss the Buzz was about a period as a teenager in Dublin, could be anywhere but for me its set there. 'Cannonball' was a Gillan type track, not sure what it was about apart from life's headaches including the famous Torme stutter!
Did any particular artists influence 'Summerland' - it kinda reminds me of The Doors with some Who auto-destruction goin' down at times?
John: Good comparisons!I spose it is a bit Doors-ish,once again it grew from the melodic bass riff and mutated.Thats a riff I've been waiting to record since the 1970s.Very happy with that.
Bernie; Pretty accurate! a bit of Irish folk and maybe pink floyd thrown in and that's it. Definitely who and doors though: the who thing was precisely how we explained the drum chaos parts to Robin. I think he still has nightmares about it.......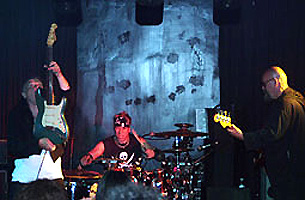 Bernie, what impact has Dublin had on you as a guitarist in particular ? Who would say your favourite vocalists are and why? How have they influenced you?
Bernie: Pretty huge I would say. There was a great tradition of guitar players and instrumental excellence generally, you know, demon fiddlers and pipers and stuff that I grew up hearing on the radio, we even had a shell shocked tramp around our way who whistled like Charlie Parker doing jigs and reels! No joke, he was mind blowing, he used to win all these international competitions. That cultural obsession with lone warrior musical excellence does not apply in all parts of the world. I was lucky I could go and see incredible guitar players like Louis Stewart, Rory Gallagher, Gary Moore and Eric Bell, and lots of others who were fantastic but vanished from view, quite easily from when I was around 14 or so, Gary must have been only 15 or 16. And I could go and see the Chieftains and all the traditional stuff too, and folk trad stuff like Planxty or Sweeneys Men, or acidy stuff like Dr Strangely Strange.
It was a fantastic mix to grow up in and draw from.
And here in the UK, to get ethnic, people had to embrace Indian music, in ireland i just had to hear paddy moloney or seamus ennis or leo rowsome on the pipes, or hear sean-nos traditional singing stuff and I was part of that and it was part of me in a way that indian music was not part of the everyday inhabitant of the UK .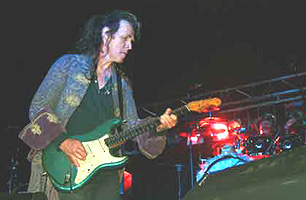 Another thing about it was virtually impossible to find a guitar teacher, I never had one, so there was no right way or wrong way, if it worked it worked: that's the total opposite of the Berklee approach where everybody appears to learn the "right" way. There is no right way, if it sounds good it is good, and really it was a far more individualistic time and approach and that's what appealed to me about it, you made your own path through the wilderness. Its fun to get lost, one of the good things about GMT is that we still do that, we get lost very well! Parts of rock and metal guitar playing seem to me to have turned into some sad sub classical genre nowadays, where you have got to learn to a standard and qualify. Totally uninspiring and unimaginative, the whole point is doing it wrong and differently. That was what was great about psychedelia in '67 and punk in '77.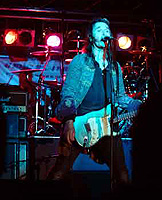 Favourite vocalists? I personally really like people who are not trying to be opera singers, I like raw and real and intimate and something that touches you. It could be talking, for example I love Van Morrison's "Coney island". The operatic thing just seems to me to be bombastic and lacking in emotion, I just don't like it much personally. So everything from Bob Dylan to Johnny Rotten, a lot of folk stuff, I love Anne Briggs for example, going on to Phil Lynott who I also love, classics like John Lennon, Jagger, up to Steve Marriott, Eric Burdon and Aretha Franklin. I liked Jimi too, because it worked. If he had sounded like Mr. Heavy Metal it wouldn't have. I like Ozzy, he reminds me of John Lennon.
Influenced me? Not possible, I'm not good enough at it to be influenced! I just do what I do, I couldn't do much else even if I wanted to, recently though I think its worked pretty well in the context of GMT.
John, who would you say your favourite bass players are these days - is it true to say that you still get influenced by any new stuff out there - who has took your attention at the moment?
John: Most bass players are pretty boring. I should Know. I still get influenced by new stuff but not bass players, I like "old school" players like Jack Bruce & Felix Papalardi. Phil Lynott was greatly under-rated as a bass player, John Gustafson was/is one of my faves, Jaco Pastorious, Donald "Duck" Dunn etc but the things that have my attention at the moment are harpist Andrea Vollenweider and acoustic guitarist/singer Hose Gonzalez,check out his album "Veneer".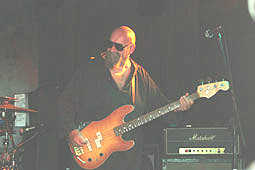 What do all of you enjoy doing when not involved in music?
Bernie: A quiet drink and a blank brain. Not necessarily in that order.
John: Theres not much time that I'm not involved in music but when I can I enjoy helping my wife in her antiques business and spending time with my best mate Bob.
If Ian Gillan ever wanted to reform Gillan - would either of you ever consider it? What would it take? I bet a million people have asked that - especially since they have been re-releasing the Gillan and Ian Gillan band albums?
John: I'd consider it ,depending who asked and what had been said prior to that question. Businesswise it would probably be a good time to do it but there's still so many unanswered questions and unpaid royalties. (Yawn)
Bernie: I've been quoted as saying "never" in the past, but that's not really true. Fact is the ball is not in my/our court, it's in Ian's, always has been, nothing has changed for me since I left (or according to Ian's version of the story got sacked).
It's very difficult if not impossible to work with someone who guarantees something and then doesn't keep their word, denies they ever agreed to it in the first place, and then to add insult to injury acts as if he's been let down by the people around him.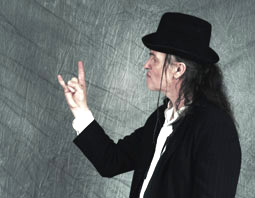 It's quite simple really, Ian just has to do what he said first time round. And if he can't remember what he said I know four men who can! But if he can't even manage that, which is a 99.9% probability, for feck's sake stop trying to blame everyone else, take it on the chin, shut-up, apologise and try to move on. It's very sad and short sighted. And it's not about the money for me, it's about trust.
Fact is that financially to do something like that would be much more of an earner than any solo Ian Gillan gigs or albums will ever be. It would be nice for the fans and if he can't stand me because I didn't say "yes" often enough, there's always Janick.
But in an ideal world I'd love to do it. The someone who is standing in the way is Ian, not me, it always has been, but the problem is not going to go away without him walking the walk. That may well be never. It's a pity.
What's your thoughts on those re-releases ? Hopefully you will be receiving some royalties from them?
John: Well royalties are promised......we'll see. The releases are the culmination of many years of difficult negotiations. They sound pretty good but I wish they had used the original artwork throughout.
Bernie: It's nice to see them out, the original artwork would have been good, but they may not have had useable copies of it. Hopefully we will be getting royalties.
Are any other Gillan live releases planned in the future on CD or DVD?
John: Still have a wealth of live and studio material but I think there's enough out there at the moment. There's talk of a DVD featuring the Top of the Poops appearances and a "Rock goes to College" but that's out of my hands.
John, What's the odds on a Mammoth DVD release on Angel Air or a collection of archive clips all packaged up from various point of your career - like the previous compilation album?
John: Very Good. A DVD of my various bands including a few Mammoth tracks has been scheduled for some time.....I must get round to actually doing it!
What can expect to see listed in a GMT Tour Rider?
John: Guinness, Jamesons Irish Whisky, Guinness.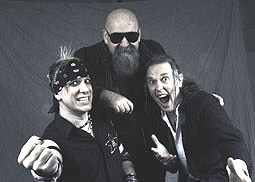 Over the years in the music biz, what would you all say are your favourite moments (or least) - you got any great road stories worth telling?
John: I think my favourite/memorable moment was when arriving at a hotel in Bradford on tour and being told the "Mr Universe" album had just charted at No.11! It seemed to me like all those years of hard work had finally paid off..............little did I know!.
Least favourite was after playing a final show at Wembley with Gillan and loading my own gear out to a hastily rented van ,surrounded by people asking if they were going to get paid.
Bernie: I think Gillan playing the Nuremburg festival in 1980 was my high and low point, we trashed everything and died on our asses - God it was great!
If you got the opportunity, what artists would you like to tour with and why?
Bernie: GMT. Whitesnake would be good.
John: I'd like to tour with bands that are doing it for the music and not the money. Are there any?
Have you got any cool road stories involving 'Groupies'?
Bernie: Groupies? What are they? I dimly remember the phrase back in the day, these days its grannies...........
Glenn: So what's ya best 'Granny' Stories then?
Bernie: Granny Stories: you put your left leg in you put your right leg out, you do the hokey cokey and you shake it all about..........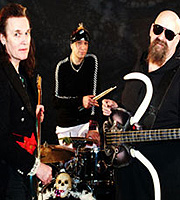 Thanks Guys for a very informative Interview, looking forward to seeing you live !!