An Interview with 8-Balled, Bassist of the Sleaze Glam Band 'Tracy Gang Pussy'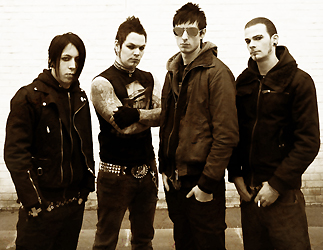 in June 2009 By Glenn Milligan
Where did the name of the band come from ?
(8-balled) : Revlon found the name when he had the idea to form the band, 'Tracy' is for Tracy Lords, 'gang' represents us and for 'pussy' i bet you don't need a draw.

How did the band come to be ?
(8-balled) : The band was formed in 2002 by Revlon. He wanted to assemble a group of sleaze / rock n'roll because it's the music he liked. It took a lot of trouble to find the ideal line-up but after several hearings, the gang was formed ! TGP quickly recorded and released "Born to Lose, Live to Win" and "Black", both released in 2005.
What would you say influenced you as musicians and to become a band and why ?
(8-balled) : We listen to certain things that everyone of us doesn't necessarily appeal to others, but we all like stuff as the Rock'n Roll Scandinavian scene, with bands like Backyard Babies Turbonegro and the U.S. scene with Motley Crue, Social Distortion, AFI, or Anti-Flag. Here are some examples that come a lot when talking about the influences of the band, but there are so many !
What were your fave times during the recording of Number4 ?
(8-balled) : Every next day, hearing how the songs were growing.
Why did you simply call the album Number4 and not have a more imaginative title ?
(8-balled) : We wanted something straight to the point. I bet 'Number4' speaks for itself.
What moments in your careers so far have been momentous and why ?
(8-balled) : Personally, end of 2005 when the gang contacted me to join TGP's adventure. Because at first i was in the audience.
What made you decide to sign with 'Apokalypse Records' ?
(8-balled) : We have been very happy with the work provided by 'Apokalypse Records' on our second album 'Black' and after the deception with our last record company that we decided to sign with them again. They are faithful with us so !
What's your area of the world like for Rock 'n Roll' ?
(8-balled) : For the moment, I bet everyone of us would say Germany and Czech Republic, it's always great moments to play there, the kids are crazy. But we didn't played worldwide yet so am sure there is so much more areas as great as there.
What concerts come to mind for both good and bad reasons ?
8-balled) : I think, it is to have opened for Funeral For a Friend in Prague in late 2007, if I am not mistaken. About the story, having sold more merchandising than FFAF was fun and very flattering.
Who would you like to support if you had the chance and why ?
(8-balled) : A thing we are trying to get is a tour support, more than just an opening act. You know it's something am sure gonna help TGP a lot and first of all we want to live that at least once in our musicians life. And if you want a band name, personally if I could choose right now I'd say Anti-Flag just because I f*ck*n' love their music.
What are you most looking forward to about playing Japan in October 2009 and how did it come to be ?
(8-balled) : Japan is a place we want to go since awhile and it's finally planned. I can't wait to see how we're gonna be received and hope we get the chance to kinda see how life is there.
What venues or parts of the world would you love to play and why ?
(8-balled) : More than a part of the world, we'd love to finaly find a real tour support.
What would be found on your band rider ?
(8-balled) : Jack Daniels and lots of it.
What's your thoughts to the current status of the music business and what you do to make it better ?
(8-balled) : It doesn't go good as everything business lately but we try and have to do with it. We try to release attractive stuff and packaging and to get our Cd's the cheapest it could be in stores even if it's hard to get the control on that stuff.
How has myspace been for you and what have been its advantages and even disadvantages ?
(8-balled) : Without myspace, I guess it would have been harder to communicate and promote the band over the world and so play foreign.
Any UK gigs planned in the near future?
(8-balled) : Some gigs are already planned as you can see on our website or myspace but not yet in UK. But yes we are working on it. I really hope so because we didn't get the chance to come a lot in UK.
Where do you see yourselves a decade from now?
(8-balled) : ...a decade is too far to think about but i hope we still get the chance to be here and play even more than the present day.
What would we find in your hobbies and interests sections of your CV/Resume and why ?
(8-balled) : I bet the same stuff as everyone playing in a band. Fond of music, playing for ourselves and with our friends trying to share our passion.
What consists in the average day of Tracy Gang Pussy ?
(8-balled) : On tour our average day is beeing on the road in the van and so the part of the day we all look forward is when we are on stage.
What have been the coolest road stories and why ? care to tell ?
(8-balled) : In Romania July 2006 I believe it was, we have been lost in a town without any signs to guide us and our GPS didn't wanted to find a signal. We faced a wasteland with cars registered in France in the process of burning. We finally found our ways and arrived safe, but on that moment it was kinda scary. We all laugh about it now.

What are you most proud of so far as a band and as individuals ?
(8-balled) : I bet we are all proud about what TGP's doing. As a musician i am very proud to travel and play far from home.
What would you like to say to fans who may be reading this Interview ?
(8-balled) : I'd like to thanks them and see you soon on the road.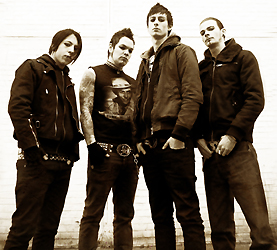 A big thank you to Nathalie Tachet for setting up the Interview