An Interview with the Frontman & Guitarist of Californian Rockers, Wyldsky,
Tyler Nelson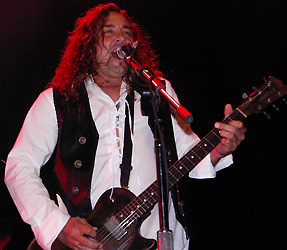 that took place in January, 2010 by Glenn Milligan
How did it make you feel when chosen to be a member of Great White?
It was a great experience for me. I definitely appreciated all that was absorbed from that opportunity.

What have been the most memorable events with Great White and why?
There were so many great times. One of my most memorable would have to be playing in Grand rapids Mich. for 55,000 people. My biggest crowd to date.

I was there at the LA Music Awards at Avalon Theater, LA - how was the night for you guys and what does the award mean personally to you? How did you feel about receiving it?
Well, we would have liked to perform a longer set. But, all and, all I felt it was a successful show for us. Personally it was nice receiving the award we hope it will be the first of many for us!!!!

I got talking to Doug Richardson (who I remember from Alligator Stew) - how come he doesn't feature on the album? What happened to the original bassist that did play on the album?
Doug was not featured on the album because he did not record on it. The bass player who did is Steve Evans. Great guy who we still keep in touch with. A very busy Musician who has toured with and, recorded with just about everyone. A Great friend!!!!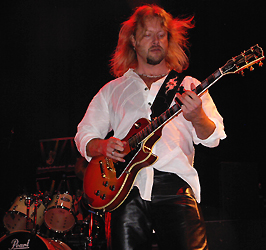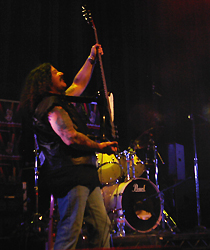 What areas of the world would you like to bring Wyldsky to and for what reasons?
Definitely the UK!!!! But, seriously everywhere. We want to Tour the Globe. We feel the music needs to be everywhere there are People to enjoy it!!!!

Overall, what were the highlights of writing, recording and mixing the album and why?
So many great things happened during the making of the Record. This Recording was contrived from years of personal experiences that i had been through and, wanted to put into music. So I guess the highlight would have to be the completion of the entire record. And, let's not forget sounding as good as it does!!!!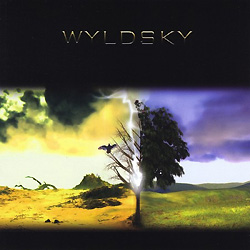 What are your personal favourites on the album and what inspired those particular songs?
Wow!!!! That's a loaded question? Let's just say they all are a part of me very much so. The inspirations that initiated each song of course are different. But, it is a life time of experiences that have been the cause of the alblum!!!!

What influenced the song 'Rendez Vous'?
That song was written for my Daughters (Wylie and, Skylar). I wanted them to have something that they could always turn to, to know I am always there for them even when I leave this World!!!! Also the name of the band was contrived of their names put together!!!!

So tell us, who is 'My Baby' & 'Wild Honey'- were they a particular person in general or based on quite a few different people - if so, who and what was it about them that caused them to be immortalised into songs?
Those were written for My Lady "JMarie" my best friend and, partner in a world gone cold!!!! She is my inspiration!!!!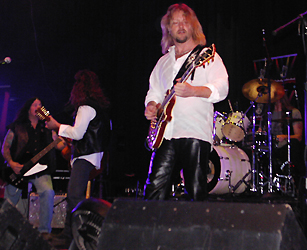 One of my all-time faves on the album is 'Where You Belong' - what influenced that one?
I actually have a Video idea for that one. It's pretty much about being thankful for and, realizing things can always be worse!!!!

Who are you saying 'Goodbye Good Riddance' to and why?
A Girl named Danielle. An old Flame!!!!

What are your personal thoughts to being compared to the likes of GNR and Led Zeppelin etc and who could you compare you guys to and why?
Another loaded Question! Well I am flattered to say the least. These are some of my favorite bands on the planet and, to be compared is very humbling to me cause I would never for a minute think i could compare. You know These Bands and, many more have been a big part in what started me out on my journey so it is a great feeling to hear that people can see the influences showing through!!!!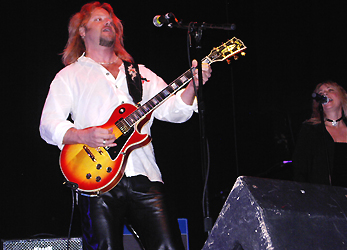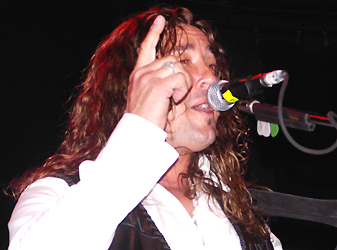 Were any songs left off the album - if so, which ones, what style were they in? Will they be on the 2nd album?
There is one song that probably will be on the next album that I actually did with another band I played with in the early part of 2000. They are called Judge Jackson. Still out there doing their thing. Great friends of mine. The song is called " Love keeps bringing me Down". Kinda Eric Claptonish!!!!

What's next for the band and what is hoped for in 2010?
We are re-assembling some members as we speak. To start this New Year out right we are planning a tour to hopefully start-up come early this spring.

If you had the chance to tour with any particular bands, who would they be and why?
Led Zeppelin!!!! Hahahaha. No to tell ya the truth. There are so many great acts out there to mention just one would limit my way of thinking. Whoever we would hope to tour with I just hope would be good people and, into Kickin Ass and, taken names.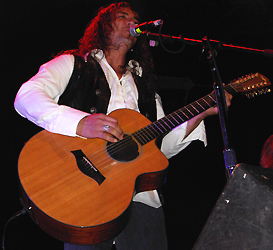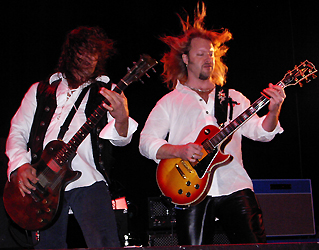 Where would you say are your favourite parts of the USA and for what reasons?
Well for certain California. Cause it has a lil' bit of everything you could want. But, I love New Orleans, the Carolinas, Florida , Georgia, Michigan, The Dakotas. Crap I could keep going!!!!

What's the usual day for Tyler Nelson?
@ the moment working hard to keep the wolves away. Lovin my family and, friends. And, always thinking 'bout the future of WyldSky!!!!

If you had the chance to duet with anyone as a vocalist or guitarist, who would they be and why would you choose them? What song(s) would you like to duet on?
Maybe Steven Tyler or Chris Cornell. Couple of my favorite Singers. Or My Lady J'Marie cause she has pipes like know Body's business and, we make Beautiful music together!!!! Song? I would have to say I would like to write one with whoever I did the duet with!!!!
What are you most proud of so far in your career?
The Journey's I have been Through in this life of music. And, still here to talk about the stories is probably my proudest achievement.

What things would you like to talk about that I haven't mentioned already?
I feel you had great questions. I'll think about that and, let you know for future interviews.

What would you like to say to fans and future fans of the band who are reading the Interview?
Can't wait to meet and, Rock for ya in the near future and, also to be well and, take good care!!!!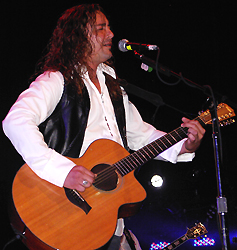 A big Thank-You to Ivan Gospich @ Mandatory Musicfor setting up the Interview & John Filizzola @ It Girl Public Relations for the Photopass to cover The LA Music Awards where I took Live Photos and of course, Tyler Nelson himself and all the guys in Wyldsky