An Interview with
'Ven'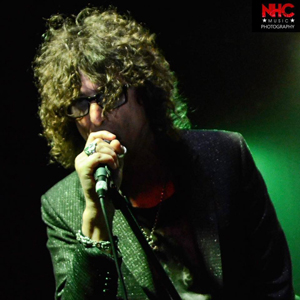 (Photo by Miff Morris)
The Frontman of the Los Angeles Based Rock Band
'Venrez'
that took place on Wednesday, August 26th, 2015.
Interviewed by Glenn Milligan.
Glenn: What lead you to wanting to become a singer and getting into the music business?
Ven: I have wanted to front a rock band since I was 9 years old. I was singing along to 'Paint It Black' by the Stones and all the Beatles songs on the radio. Rock music has always been my passion and it was inevitable that one day I would take a stab at it and see if something great could happen.

Glenn: On a scale of 1 to 10, how hard is it to get noticed and build up a following in the area of Hollywood and Los Angeles overall and why? Also which places do you most enjoy playing at that have a special place in your heart there?
Ven: In today's world it an absolute 10 if 10 is the hardest, because it's hard as hell. This town is not what it was in the 70's, 80's and 90's - not even close. People do not go out no matter what to hear bands today. They get out for the name bands that come through town, but it is so hard to get people out to lets say a local band night.
It takes a tremendous amount of marketing yourself & bugging the sh*t out of people to come to your show. It's really frustrating cause you will get 120 people who commit to come and 40 show up. Moreover, until you can draw well, it's a pay to play situation here which totally sucks. Those days are long over for us thank god.

Glenn: Who are 'Monarch Music Group'?
Ven: We have wanted to remain independent and have total creative control over our music. So I formed Monarch Music Group, LLC as our label and we have all the freedom that comes with that as well as own all of it. These 360 record deals today are shear slavery and it's an independent world in rock today for new bands on the rise, so why not own it all if you can. We are very lucky that we have had the resources to do so and to fund ourselves for recording and touring.

Glenn: How did the current line-up of Venrez come to be as that's really impressive?
Ven: Well the current line up is quite different than the original line up. We were a 5 piece with Alex Kane of LSD (Life Sex Death) fame on second guitar and Michael Bradford on bass. Both those amazing artists were original members. But when Mike could not tour this year we sought out a new bassist, thus Cynthia Gillet, and Alex has been playing with Richie Ramone.
Jason has relished the four piece and he is such a great player. I think Jason being show cased as the sole guitar player, playing through two cabs and heads in stereo is an amazing thing. The four piece never hurt Led Zeppelin. But the option to add another guitar player in the future for tours is there. As for recording, Jason can easily play all the parts of both guitars.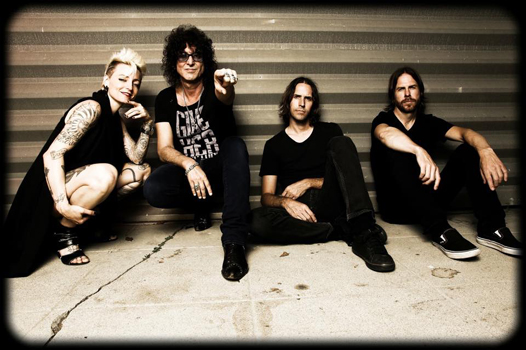 (Photo by Morat Photograpy)
Glenn: Where did the album name come from 'Children Of The Drones' and what made you decide to choose it?
Ven: 'Children Of The Drones' is a track on the album. Jason and I felt it was a great title and that we should title the album after that track which is now the title track. The song has great meaning and importance to me as it encompasses some of my greatest desires of messages to get out to the world. It has a vegan world health conscious part to it with 'concrete for the trees as they poison the bees'.
They are actually poisoning the bees which if wiped off the earth would also wipe out 80% of the crops of food the world eats and cause wide spread world famine. This is extremely alarming to me and what is equally alarming is this is something most people do not think of or know about.
It also sends the message of not being a sheep and maniupulated by governments by being a drone and not a free thinking human being with freedom of choice and ability to affect positive change.
Glenn: Tell us about the album cover and how it came to be?
Ven: Once we decided on the album title, I came up with the idea for the cover and hired an extremely talented graphic artist, Ms. Ani Roschier, to create the cover from my rough sketch. She immediately understood the concept I wanted and hit a home run I think.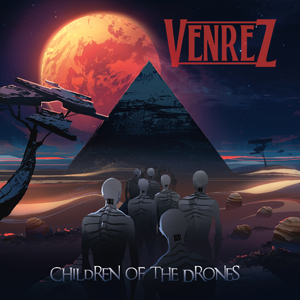 Glenn: What originally turned you onto sci-fi and why did you decide to base the album on it?
Ven: I am not intentially writing sci fi song lyrics. I write about messages I want the world to be aware of, personal experiences I feel people can learn from and past history. My friends tell me they love my science fiction songs, but they really are not at all. 'Children Of The Drones' is a warning of what we want to avoid, and I am doing nothing but painting pictures with music, lyrics and art.

Glenn: How were your vocals recorded and were any effects used on them to an extent – if so what and why?
Ven: We record all our albums in our own mobile recording studio set up in my house. Sometimes we use different mics to get certain effects, but there were really no effects on my vocal on this record other than standard reverb etc...

Glenn: Tell us about the overall recording process of the album .i.e., how long it took and anything that was overcome during the time, not to mention highlights?
Ven: Jason and I wrote and recorded the album over a 4 month period in 2014, recording at our leisure in our recording studio in my house. With the departure of Mike on bass and Alex on guitar, Jason played all the guitar and bass parts, Eddie all the drum parts. Ed Davis is our original drummer and I am so grateful to have him, he is amazing.
This made for an effortless, smooth and fast recording process rather than Jason having to teach parts to a bass and other guitar player then sitting with them to record it. Jason writes the music and produces us so with him recording all the guitar and bass parts it just made recording that much more efficient.

Glenn: What were the first songs written for the album and what is your personal method creating a song?
Ven: Jason and I write songs together a few different ways. I will send him lyrics and then he puts music to them and sings the demo. Then we record the song with my vocal and his backing vocal. I wrote most of the songs to this album by putting lyrics to Jason's music. I think both methods are very effective, but as a lyricist, when you hear music and then write what the music makes you think and feel it's a bit different and perhaps the method I slightly favor but not by much.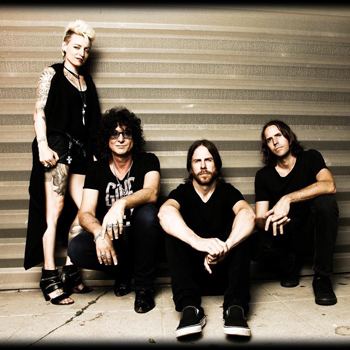 (Photo by Morat Photograpy)
Glenn: Which songs on the album mean the most to you and why? Also, what influenced them?
Ven: 'Children Of The Drones' because of the message to be fellow earthling and enviroment friendly and do not give up your individuality. Reflection because the lyrics are a combination of experiences with my wife and youngest daughter.
'Salvation' because that is my song about WW2 and the Nazi death camps which killed over 6 million Jewish people and millions more of other ethnic backgrounds and people of mental illness. Then 'Devil's Due' which is my anti drug message song on the record. I see drugs destroy so many people and musicians that a song regarding that subject was important to me for this album.

Glenn: You have a very unique sound musically for the band – what were both the subconscious and conscious influences and for what reasons? How would you personally describe the sound yourself and why?
Ven: Jason writes the music and is heavily influenced by The Jesus And Mary Chain as well as other bands influenced by them. He loves dark melody and sick harmonies combined with meaningful lyrics. He was and is one of the most sought after musicians in Los Angeles and I am truly honored and blessed that he chose to write songs with me the past 6 years and hopefully for years to come. I think we have created a new genre and do not sound like anyone but us.
When people hear our music they at first think it sounds like something they have heard before then they realize that they have not. If forced to give my comparison opinion, everyone wants comparisons when a new band hits the market that is truly a new genre, is that if you blended The Doors, Tool, The Jesus And Mary Chain, Pink Floyd, David Bowie, Ozzy Osbourne, Led Zeppelin and a tad of the 90's grunge bands with some big ass 70's rock under-beats and made it 2015 fresh, that could be us.

Glenn: What would you like to tell us about the tour supports you have done since the bands conception and how did they come to be?
Ven: We have been lucky to have done some great tours with some superb bands such as legends like Alice Cooper and Slash as well as Fuel, Buckcherry, Hardcore Superstar and Richie Ramone. We will tour with Michael Schenker overseas this October 30th through November 22nd which we are really excited about.
Most of the tours are booked by our manager and agent in New York but Schenker came about through a big promoter who loves our sound and had seen us live on a couple tours where we were support in the recent past. Nice to be noticed and grateful to be blessed by that.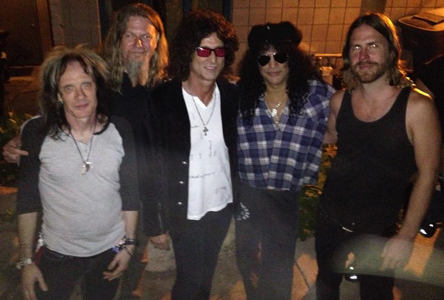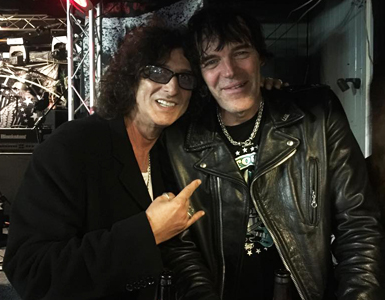 Glenn: You toured the UK in March, 2015 – which parts of the UK made and impact on you and how would you say that the crowds were different towards you from region to region?
Ven: We have been touring the UK fairly consistently since our first ever tour in December 2010. The March 2015 tour was our first headline tour anywhere in the world. We did shows in England, Wales and Scotland. It was an absolute blast and we were received beyond my expectations, specially in Scotland.
I love playing for the fans in the UK. They are tough fans, but if they like you, they are some of the best rock fans in the world. I think the fans dug us in every city and every country and I did not notice much difference honestly.
Glenn: How was the CD Launch show for you on July 22 @ The Viper Room that many of us were lucky to be present at? What highlights come to mind of that night?
Ven: Well it was our first live show with new bassist Cynthia Gillet. Cynthia has been recording and playing live with Billy Ray Cyrus for a few years now and rehearsals with her had been stellar. So the biggest highlight for me was how she just killed the set and made the band sound better than ever.
It's also always nice to play to our local fans in LA/Hollywood packing it in to see us live. We had not played the Viper Room in a few years, and it was just a blast because it's a great room with a great sound.
Glenn: What are you looking forward to with regard to the October Michael Schenker's October Tour in Europe and why?
Ven: Well he is another legend of rock. So it's an honor to tour with him without question. Our fans in Europe want to see us live and hear the new album songs and it's perfect timing to deliver it to them. The venues are all superb and there will be packed houses for every show.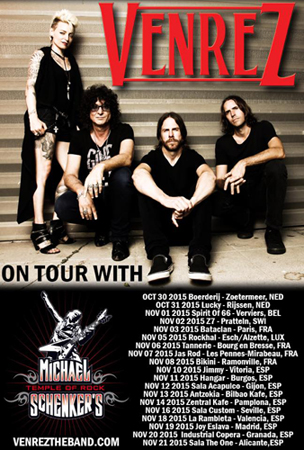 (Photo by Morat Photograpy)
Glenn: How did the forthcoming tour come to be?
Ven: The promoter of the tour had promoted two past European tours where we were support. He booked the Spain leg of our most recent tour in May/June 2015 Richie Ramone. We went out to lunch before the last show and he told me about the Schenker tour and that he wanted to put us on it. I was like right on man let's do it!

Glenn: How are the rehearsals going for it what has stood out so far?
Ven: They have been absolutely stellar!!! We know the songs blindfolded so we have fun joking around and doing silly things at times to keep it fun. This band is a very special group of musicians and we are world tour tough, tested and ready to go tonight.

Glenn: Where else would you like to tour if you had the chance?
Ven: Mexico, South America, Indonesia, Australia, China and Japan.

Glenn: For those who have never seen Venrez around the World, what reasons would you say they need to come and check you out?
Ven: It's hard to remain humble and answer this question honestly. We are a go on feel big time sound rock band much like Aerosmith where every show is a bit different as the band goes on the feel of their energy and the crowd in front of them that night.
Our live shows prove we are better live than the recorded music and to me that is the most important aspect of being successful there can be. If you cannot deliver live, to me your over. We bring hard, heavy, sexy and in your face.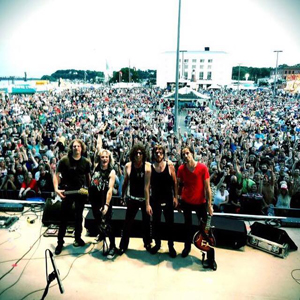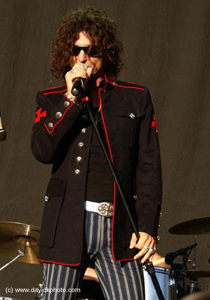 Glenn: If you could do a duet with any particular vocalist, who would this be and what would you like to perform with them and why?
Ven: Alive - Mick Jagger, Dead - Jim Morrison. They are both my top inspirations as front men with Bob Dylan running a tie with Jim Morrison as lyrical inspiration for writing words. There are so many Rolling Stones songs I would love to sing with Mick but topping my choices would be 'Dead Flowers', 'Let It Bleed' and 'Sympathy For The Devil'. If Jim Morrison was still alive, 'Crystal Ships'.

Glenn: If you were a Superhero what would he be called and what super powers would you want to have and for what reasons?
Ven: The C*nt and my powers would be to stop stupidity.

Glenn: Which cartoon character do you most identify with and why?
Ven: Roger Rabbit for obvious reasons.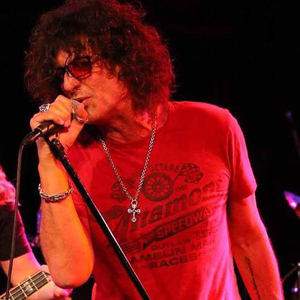 Glenn: As well as fronting Venrez, you are also a Movie Producer. What led you to this and what would you like to tell us about this side of you?
Ven: I got into producing Hollywood feature films quite by accident 11 years ago. It's a very long story but I am truly blessed to have a dual career in two artistic forms that I dearly love which are film and music. They allow me to express myself in a manner of getting messages and lessons across to the masses which I feel are responsible and important.
We could have made our path easier by getting on radio with stupid lyric, pop crap but no way. Venrez does it the Venrez way and if we brand and become a big name or not we don't care. We only care about doing things our way and putting out our music our way.
Glenn: Anything else you'd like to discuss that I haven't touched on?
Ven: I want to thank all the fans of rock music around the world and let them all know how much I love you all and how grateful I am to you all. Without you, there is no 'Rock 'n' Roll' and us musicians have no career or purpose.

Glenn: What are you most proud of so far and why?
Ven: I don't really feel proud about anything other than not selling out for the almighty dollar and the devil's gifts. But I do have to admit that I am proud that I got to tour with the legends Alice Cooper and Slash. That is something that can never be taken from me and something not many can claim to have done.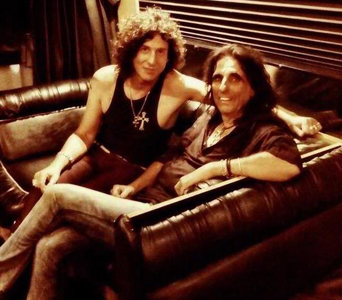 Be sure to check out:
https://www.facebook.com/venrez
All Photographs have been supplied and used by kind permission of Ven.