An Interview with
Wayne Findlay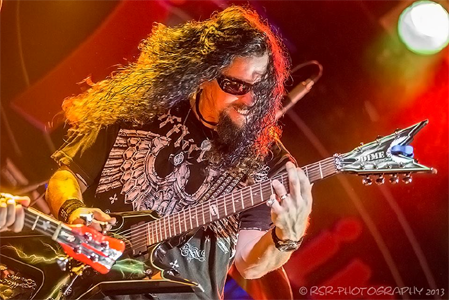 Guitarist/Keyboardist of the Michael Schenker Group, Temple Of Rock & No Sky Today
that took place late July 2013 during the 'Bridge The Gap' Tour.
Interviewed by Glenn Milligan.
Glenn: What got you started with an interest in music from the get go and how did it inspire you?
Wayne: I had neighbors on both sides of me that played piano, where I grew up in Mission Village, San Diego. That impressed me at an early age. Also friends of my parents, played piano and would show me stuff to play on the piano. This led to formal piano lessons around 5 years of age. Later around age 8 or 9, I started getting interested in guitar after a friend of mine brought over KISS "Alive II". We opened the double album cover, with all the pyrotechnics and giant flames, and put the record on, and was completely blown away!!
Glenn: Who would you say influenced you from an early age with regard to bands and artists in general and in what ways?
Wayne: Early influences were mostly classical Masters: Bach, Beethoven, Mozart, and Liszt. Mostly from the lessons and piano competitions I was involved in. This I would say, is always underlying in all of my compositions and playing, probably from being most impressed by this style first.
My parents would listen to Three Dog Night, Creedence Clearwater, The Mama's and the Papa's, the Carpender's, the Eagles and stuff like that. Hearing that around the house, vacations and in the car.
After I began playing guitar early guitar influences were: KISS, Jimi Hendrix, Van Halen, AC/DC, Black Sabbath...
Glenn: What is San Diego like for music compared to other areas of California and does it have it's own identity going down - if so, what?
Wayne: In the mid to late 1980's, everyone wanted to be in Hollywood. I would take the train up to see bands and stay with friends. Motley Crue, Iron Maiden and Queensryche were big influences at this time. I took the train up to see Yngwie on his 1st and 2nd tours there. Later in 1995, I moved by myself to an apartment in Hollywood for about 6 months or so. But by this time, unbeknownst to me, the idea of starting a band, getting signed, had better chances in Seattle. There were bands like: Ratt, Jake E. Lee, Stone Temple Pilots, Blink 182, P.O.D. that are from San Diego though. There was a small music scene but not like Hollywood first, and then later in Seattle.
Glenn: How was your time at San Diego State University and what do you remember best from those times and why?
Wayne: The knowledge I recieved from my studies at SDSU has helped me tremendously as an artist. Studying all the classical and modern masters, composing everything from medieval motets to symphonies, to electronic music and jazz, was both intense and very rewarding. Ear training and theory were also huge and indespensible to where I am today. Studying from professional classical guitarists and doing master classes with world renowned guitarists was extremely important. For me this was a period of revelation and exploration. During this time I also gigged in my own original rock bands and taught guitar, piano, bass and organ, 6 days a week! At one point I had 60 students a week.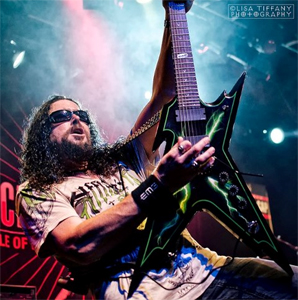 Glenn: What do you consider makes you stand out from other people who were taking the course in order for you to succeed in your music career?
Wayne: I think taking piano and guitar lessons at an early age, combined with playing in my own rock bands since 11, really helped me have an advantage. This was a great foundation that helped lead me to a scholarship to SDSU.
Glenn: What led to you working with Michael Schenker?
Wayne: I was guitar teching for Guitar Zeus and also in a band with my friend Kelly Keeling(Blue Murder/Guitar Zeus/Baton Rouge/TSO) in 1999. He had just recorded MSG's "Unforgiven" album, and it was through him, that I was asked to audition. I gotta a call, and was asked if I wanted to audition for Michael Schenker!! I was so excited!! Then a week later, they called back, and asked if I wanted to audition for Vinnie Moore the same day too!! I had a total of 40 songs to learn in a month. So, I charted all the guitars, keyboards and backing vocals for the audition. This was a valuable tool for me to be able to chart the difficult, and large amount of music. I got the gig, and would play with Vinnie Moore 1 hour, and MSG for 2 hours, every night for 6 weeks.
Glenn: What were your thoughts when you were offered the position in the band with him and for what reasons?
Wayne: F**ck Yeah!! was my first thought... and after they called to audition for Vinnie too, I thought, "Oh S**T!! My work is cut out for me!! I was going to audition for 2 guitar legends and 2 of my heroes that I looked up to. The pressure was on!!
Glenn: How long did it take you to learn the set list for MSG & Temple of Rock overall and what went through your mind while learning them?
Wayne: I quickly ran through the set one time, the night before I left for the tour. Just to refresh my memory. It gets easier since I've been in the band for 15 years.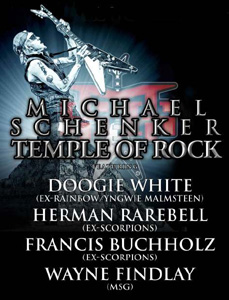 Glenn: Which people you have worked with over the years have proved to be the most memorable and why?
Wayne: I've been blessed to have toured, recorded and performed with so many historic rock legends and incredible musicians: Michael Schenker, Vinnie Moore, Uli Jon Roth, Hermann Rarebell, Francis Buccholz, Doogie White, Carmine Appice, Pete Way, Chris Slade, Leslie West, Gary Barden, Chris Glen, Simon Phillips, Neil Murray, Rudolf Schenker, Michael Wilton, Jeff Martin, Kelly Keeling, Pete Holmes, David van Landing, Robin McAuley, Warred Di Martini, Cofi Baker, Spencer Davis and many more. One of the perks of being in a band with a guitar legend, is getting to play with so many amazing players!
Glenn: I saw you last November at The Canyon Club, Agoura Hills, California - what were your memories of the show and how was it for you and overall the last US Tour?
Wayne: It was a great show! We have a blast every night on tour!! Who wouldn't with so many awesome musicians and cool people!!
Glenn: What does it mean to you to be the longest lasting member of MSG and what qualities do you need to have to be there for this duration in your opinion?
Wayne: It's truly an honor to be in MSG for 15 years now. I don't take it lightly either. I'm very dedicated to what I do. I'm constantly working on improving my skills and musicianship.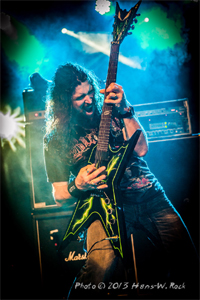 Glenn: What is usually running through your mind during a show and why?
Wayne: I'm usually on auto-pilot believe it or not. It's kinda weird. I'm up there just having fun. There are a few areas to concentrate on a difficult or fast passage. But other than those places, it's about concentrating on putting on a good show. I also pray when I'm on stage as well.
What would you say your favourite moments of an MSG/Temple Of Rock show are and why?
Wayne: Highlights for me are "Shoot Shoot", "Too hot to Handle" and "Let it Roll". Also my guitar solos in Rock you like a Hurricane and Blackout.
Glenn: What would you say your preferred guitar and keyboard are with regard to both live and studio work and for what reasons?
Wayne: Dean Razorback 7 string guitars all the way!! I love'em for live and studio. Nord Electro 2 and 3 and Korg Extreme Keyboards the same.
Glenn: What are the best road stories you can tell us?
Wayne: Way too many!!
Glenn: Why was it decided to play both guitar and keyboards during a show as opposed to having separate musicians? Is it a financial aspect or more to it than that or more to do with the performance?
Wayne: Definitely a financial reason and performance reasons. Makes it financially more practical and doesn't clutter up the stage.
Glenn: Dare I ask what your favourite line-up has been of MSG over the last 15 years and why?
Wayne: I love all the line-ups!! It's too hard to pick just one.
Glenn: Can you tell us all about your own band 'No Sky Today' and how that came to be?
Wayne: Paul Jones our singer had written the first lyrics for the song we recorded, called"NO SKY TODAY". The band was eating pizza at a place called Planks in Columbus, Ohio. I kinda of looked at the guys and said what are we gonna call the band..."NO SKY TODAY?" and we just said, "There it is!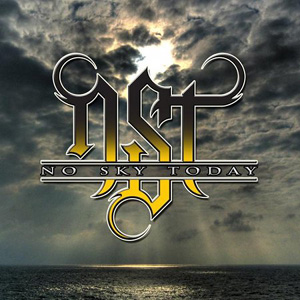 Glenn: Do you have 'No Sky Today' in order to satisfy your composing needs or are there other reasons too and if so what?
Wayne: Yes, that's it exactly. I write massive amounts of music and need different ways of bringing what I hear to life, in the studio and live.
Glenn: What are you most pleased about regarding 'No Sky Today' and why?
Wayne: The fact that I completely wrote the music and produced the entire album. Paul Jones completely wrote the lyrics and vocal melodies on the album. We make a great team. He's got a killer voice!
Glenn: What shows do you manage to do as 'No Sky Today' each year as you are no doubt extremely busy with Michael a lot of the time?
Wayne: When not on tour with MSG or Temple of Rock, we schedule time to tour or work on the 2nd NO SKY TODAY album. Although, I have been pretty busy with Michael the past 2 years.
Glenn: What shows have been major highlights so far on the current MSG UK Tour and for what reasons?
Wayne: Every show has been killer, but Shepherd's Bush in London is always a highlight. It was my first time to Dublin this year, that was also cool.
Glenn: What major differences have you noticed about audience reaction around the world and what areas do you most look forward to playing and why?
Wayne: The crowds are great all over the world, but 2 that always stand out are Spain and Brazil!! I love when they sing the soccer/futbol chant at the top of their lungs. Makes all the hair on your arms stand up!!
Glenn: What led to you being the Producer and director of the show and what does this personally involve for you as opposed to being solely a performer?
Wayne: I've always helped whichever line-up Michael has chose, to learn the in's and out's of the songs. Sometimes pre-production before the tours. I usually try to work with band members, when convienent, and work out parts. I've always produced all my bands, so it's just natural for me.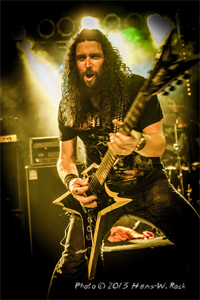 Glenn: What do you enjoy doing when you aren't on the road or in the studio and what turned you onto these particular things?
Wayne: I used to live in Maui, so vacationing in Maui or Hawaii is always top of my list. Love just being in the water. I try to get in as much as possible, wherever I am. I'm also a certified diver, so getting a dive in is always fun.
Glenn: What do you like most about your area of San Diego and why?
Wayne: Being close to family and friends where I grew up, and because it's absolutely beautiful there.
Glenn: What would you say are your proudest moments in your career so far and why?
Wayne: Playing Wacken for 70,000 screaming fans was incredible!!
Also composing and producing the NO SKY TODAY album was extremely rewarding...
Glenn: Would you ever consider writing an autobiography as there's no doubt you've a lot to talk about and if so what would you call it?
Wayne: Yes, I will at some point for sure. No titles yet, that will come in time!
Glenn: What would you like to say to the fans of your good self and the Metalliville Readership who have been reading the Interview?
Wayne: Thanx so much to all the fans at METALLVILLE for all your love and support over the years!!! Much love and peace to you!!! METALLIVILLE ROCKS!!!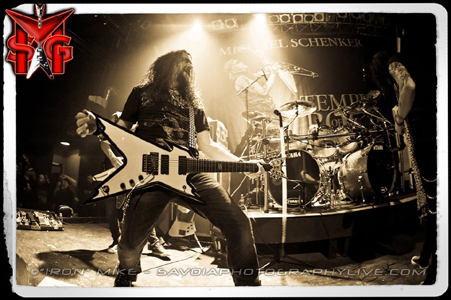 Be sure to check out:
www.waynefindlay.com
www.reverbnation.com/noskytoday
www.facebook.com/waynefindlay
www.myspace.com/waynefindlay
www.twitter.com/waynefindlay
A big thank you to Wayne for going well out of his way on a busy schedule and coming up with some amazing answers.