Danny Danzi
Interviewed by Glenn Milligan in 2001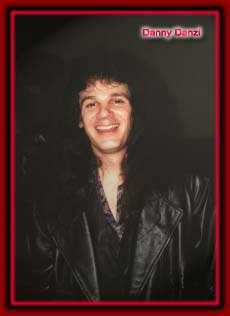 Glenn: What turned you onto playing guitar? How old were you?
Danny: When I saw and heard Van Halen in 78 (God I was so young, I still can't believe my Mom let me go to that show!) I knew what I wanted to do for the rest of my life. I think I was…..young, VERY young. J
Glenn: Are you self-taught - or did you have strict lessons?
Danny: I had a few lessons with a teacher named John Carbonetta. Great blues/classic rock player, and one of the only teachers that really taught something. He was tough as hell on me because he believed in me. He also was one of the only ones to attempt to teach me with my weird tuning set-up. But I was pretty much self-taught until John. I wound up staying with him a bit over a year. One day, we both knew it was time for me to go on my own. We still see each other and hang out frequently. If you ever would have told me "Danny, John and you will be best buds one day" I would have definitely laughed at you. Man was he tough! Thank God I had a good ear and a few chops.
Glenn: Has your style/tastes changes much since you started?
Danny: I'm less structured as far as song writing formulas. I hate super heavy stuff (I can't believe I'm saying this) and if it doesn't have a good hook, I just won't listen to it. Back in the day, if the solo didn't rip I didn't listen to it.
Glenn: How were discovered?
Danny: That's quite a question. I guess it depends on your idea of "discovered." I've always been pretty well known all throughout the tri-state area, and got my notoriety from playing anywhere, anytime. Where there was a gig or any live music, you'd see and hear Danny Danzi. Whether it was cover or original material, I'm not embarrassed to say I was a musical prostitute. J As far as the AOR scene, Reggie Wu from Heavens Edge and I are good friends. I went to his house to help him with some new gear he was messing with and he told me to check out his site that a fan from Sweden had made. I checked it out and mailed the dude that runs it. His name is Daniel Starisina, and he and I became good friends. I sent him a demo of my stuff, and he dug it. So he sent me a bunch of contact info for all the labels looking for the type of stuff I do. I talked to all of them, and decided Z was right for me. So Daniel played a very important role in my "discovery" as far as AOR. Thanks Daniel! (we hear this story once again my friend…see, I never forget.)
Glenn:Who have you worked with previous?
Danny: Nobody known. A few cover bands, a wedding band, and several original bands. Many shots at auditions, but never an actual tri-out with anyone famous. Tossed a few ideas around with Johnny Lima and Jimmy Lawrence…what a fun time that was!
Glenn: When did you realise you had a really good voice as well as being an exceptional guitarist?
Danny: When "Somewhere Lost In Time" the song was recorded. It wasn't until then that I felt I started sounding like a singer instead of a guitarist wannabe singer. There's really only 4-5 tunes I like my voice on. But I've always had a good back up voice. I basically got tired of singers and the attitudes some have, so I tried it myself. I get better and better with each song, so that's a good thing. I'm even starting to like the sound of my voice, but it did take a long time for me to get to that point.
Glenn: If you weren't a musician - what could you see yourself doing?
Danny: I could have been a pro baseball player if I would have stuck it out, but something about shakin' my butt for the ladies overpowered that desire. J Either a ball player or a cop. Several years of martial arts training (turned pro for a while, but it got old) as well, so I might have opened my own school. I actually still might someday.
Glenn: What style do you enjoy playing most of all?
Danny: Probably pop/rock. Along the lines of what I do now, but less guitar oriented. The work out I do on guitar to keep my chops up is just like lifting weights. As soon as you miss a few days, you have to catch up. So I'd rather get away from the intense solo stuff and just write hit material. But this is how I established myself, and the people accepted me for what I do. I'm not going to ever stop ripping unless my fan base disappears.
Glenn: Does song writing come natural to you - or do you have to work at it?
Danny: It comes natural for sure. Sometimes I have to "work" on an idea or an orchestration or a group of harmonies etc. But working to write a song usually gives poor results. Songs must be felt or inspired. I can't sit down and say "I'm going to write a song today." I could say "I'll work on a few ideas" but you can't force it. At least "I" can't.
Glenn: Are the songs autobiographical or are some slightly fiction based (at times)? Or do you draw on happenings from other people's lives etc?
Danny: Pretty much everything in that question applies to my writing. Sometimes I'll take a personal experience and add someone else's mixed with mine. Most of my stuff is pure autobiographical. Right from the soul and actual experience. The only tune that was fiction was "Dirty Mean & Nasty."
Glenn: Was it easy to get a record deal or did you have to submit a lot to many different companies - via the web-site?
Danny: It was very easy actually. I made the connections in a few days, and had the deal etched in stone in under 2 weeks. I did submit quite a lot of stuff. I got positive feedback on all of it though, not rejection notices.
Glenn: Why did you choose to sign to Z Records?
Out of the labels I talked to, they offered me the best deal for what I was looking for. I was able to add amendments to their contract without fighting for them. This of course made me feel more comfortable and gave me more of a reason to go the Z route.
Glenn: How long was it before the first album was released? Were many songs written well before?
Danny: That album took forever to create because I was just one guy working on it in my spare time. When I signed the deal, things moved more quickly. All the songs but 3 were written years before. The song span in years is from 87-99.
Glenn: How has the album been received by fans, the media etc?
Danny: So far it's been very well received from what I hear. The e-mails I've gotten have been all positive as well. Sure you get a few bad reviews, but you can't make everyone happy, you know?
Glenn: What's the most enjoyable gig you've ever played?
Danny: To me live gigs are my reason to live. I really never looked at any of them as being more or less enjoyable. It's me being me in each one and that's where I feel I shine the brightest.
Glenn: Do you enjoy touring? If anything, what do you dislike about it?
Danny: I love it! I wish I did it more often. The suitcase gets old, but other than that, it's a great life. Sure you miss your family, but this is what I've worked and prayed so hard for. Not being married or having a girlfriend or any children also makes this a lot easier for me. If I had a family, I'd not want to be away from them, so until that happens, I'll take life on the road. J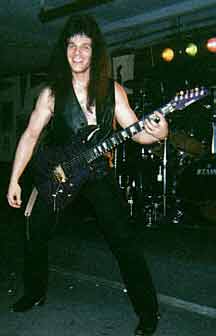 Glenn: Are there many differences between the 1st and second album?
Danny: They are really about the same. The debut you sink or swim, same with album 2. At least if album 1 was good, you can afford a bad album 2 and possibly get one more chance to shine. So I guess now that I think of it, album 1 is the most important. If you blow that one, why would anyone want to take a second chance? Album 2 usually shows maturity and better everything. You learn from the mistakes of album 1, and try new things. It's still very stress filled because you know some people want to see you fail. They hope the good first album was a fluke and you stink on album 2 so you just go away.
Glenn: What do you enjoy doing when not busy with music?
Danny: Dirt bikes, racing my new car, building computers, travelling, bowling, dining out at a new Italian restaurant every night, the beach, movies, you get the idea. I'm pretty normal. J
Glenn: Where are you planning to play this time round? Or is that down to Mark Alger (Head of Z Records)?
Danny: We still don't know. It's up to the band and I, as well as Mark. We have an album to finish, so we won't be thinking of playing anywhere until it is fully completed. We all work together on the tour thing, and now that I have my own band, this opens several new doors for us.
Glenn: Who are your favourite artists and why?
Danny: Eddie VH, Dann Huff, John Sykes, Eric Gales and Randy Rhoads for guitar inspiration. Steve Perry, Richard Marx and Dann Huff for being the best and most heart felt male singers. Whitney Houston, Mariah Carey and Christine Aguilera for teaching me vocal expression and dynamics. Mike Portnoy, Neil Peart, John Bonham and Scott Travis for being the Gods of rock drums and for giving me my meter.
Glenn: Who would you most like to play with?
Danny: I'd fill in for VH any day and I'd love to work with Ozzy or Michael Morales. I think my style of guitar playing would push his already great tunes over the top.
Glenn: Who's in the band? Will you be touring with them? Do you have the full-time line-up sorted - or is it forever changing?
Danny: No more changes! Hahaha! The following members are permanent or dead, that was the choice they got from me. They will tour and there should be no more changes. Andy Slostad-rhythm guitar, Wayne Davis-bass guitar, Timmay Lloyd-drums and Phil Buckleman-keys.
Glenn: Do you have any humorous stories to tell that have taken place in your career so far?
Danny: Yeah, actually. I fell down the steps doing a solo at an outdoor gig. It started raining, got a bit slick, and I bounced down the steps on my arse! Wound up on my back and just tried to wail on the guitar because inside, I was wailing in agony but didn't want to scream. Ah the thrill of live accidents. J
Thanks for your help Danny.
"Thanks for involving me mate."
Danny Danzi