An Interview with
Fast Train Union's 'John Wetherilt'
(Guitar/Backing Vocals/Piano)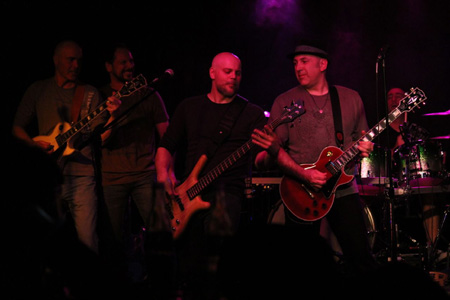 from Ottowa, Canada that took place in July 2013.
Interviewed by Glenn Milligan.
Glenn: Why did you decide to call the band 'Fast Train Union'?
John: I originally came up with the name Fast Train and the guys all really liked it as it evokes motion/movement and kind of has that 70's coolness factor/sound. After a few days of getting use to it I started to think that maybe a 3 word name for a band would be even cooler, ie Grand Funk Railroad. We've all been friends for a long time but we were all in different bands, so when Al Perrier and I decided to put this together it was really a union of sorts so there you go "Fast Train Union". Plus FTU has a nice ring too ( a little tongue and cheek).
Glenn: What are the influences of each member musically and what turned you onto that particular role in the band?
John: Musically we're pretty diverse. Paul (drums) and I spent over 10 years working for HMV so we listened to everything, Al (bass) is a huge Blue Oyster Cult and Grand Funk fan and Sean (vocals) loves the Police, and Bad Co.. It`s funny now I come to think of it that we all like GFR.
Never really analysed it before. I`m more from the Zeppelin, Boston, Rush, Triumph, Lizzy and Schenker mold though (really anything with great guitar work). I think that as the main song writer my past and present influences definitely shape or guide our direction whether it`s conscious or not. Musically we all seem to mesh really well. I think that Sean`s voice adds a level of trueness to our music as his timbre is very organic. Whether it`s Al or myself bringing in idea`s every member has complete autonomy for their own parts. I think this gives us a lot of individual breathing room.
Glenn: What is Ottowa, Canada like as an area for a band to come from and how did the area influence you musically?
John: Coming from Ottawa (the capital city of Canada), we`re use to a very reserved music community ( I think it`s all the government workers). In reality though the music scene is diverse with more venues opening for live acts every year. The bands that gig in Ottawa usually all play original music exclusively which has led to a decent underground scene. Our current favourite club is the Brass Monkey (great sound system, great stage and a great layout for the audience. So far we`ve only done headlining shows around Ottawa but if the right support gig tour came up I`m sure we`d jump at it. In the past members of FTU have opened for band such as Exciter, Alias (members of Heart and Sheriff), Trooper, Blue Rodeo and Rik Emmett (Triumph).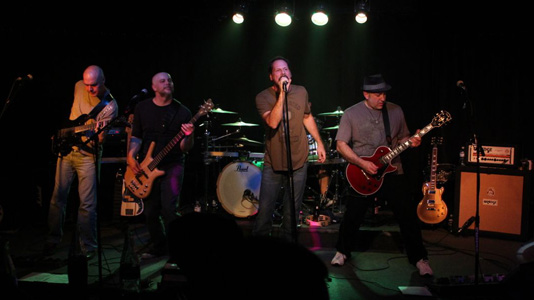 Glenn: How did the front cover of the 'II' album come to be and where were the pictures taken and when?
John: The album cover was done by a really good friend of Paul`s (Dan Durocher). He`s done some amazing covers for many bands including `Live`` (they`ve sold hundreds of thousands of CD`s in North America). We came up with a general concept and after a few tries he nailed it. We think it`s a great representation of what lies beneath the cover. I think he did it all on photoshop. Pretty amazing.
Glenn: Who is 'Alethia and what's the influence behind the song?
John: Aletheia..... oh yes... an ancient Greek word that personifies truth but used as that illusive perfect woman guiding with implied sincerity. I actually thought it would be a great name for a song and there you go! Don`t think I`ve ever dated an Aletheia though....
Glenn: What influenced the epic 'Fly Until Tomorrow' and what made you decide to start the song with a very bluesy like riff?
John: Fly Until Tomorrow- I came up with that initial riff when we were recording our first album. I thought it was a great riff and made sure to put it aside for FTU II. When I started working on it again after the 1st cd was done it all just kind of fell into place. I always had that intro idea with the guitar and vocals coming through an old radio and then breaking out with the main riff. I was happy how that turned out.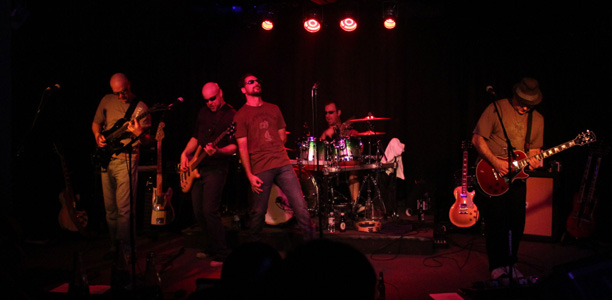 Glenn: What is your favourite song on the 'II' album and why and what influenced it?
John: I think my personal fav. on the album is the Truth. For me it feels like the most polished song and lyrically just gets me, especially the chorus (even after hearing it probably 100 times). I think it has all my favourite elements of a good song, and the guitar solo could be one of my favourites as well.
Glenn: When will you be commencing work on the next album and what have got ready for it so far?
John: Looks like we will be going into the studio this winter to start work on our 3rd cd. If it`s any indication learning from our past experience it should be done late 2014. I already have about 7 songs done and I know the other guys have a few ready so hopefully we can start preproduction in September. We`ve already started to rehearse one of my new songs`Falling Down` and it`s coming along nicely already.
Glenn: How long did the first two albums take to record?
John: The first 2 cd`s took us about a year and a half from start to cd pressing.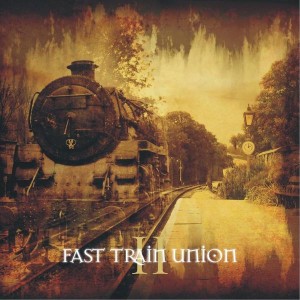 Glenn: Can we expect to see 'Fast Train Union' play over here in the UK & Europe and if so when?
John: Unfortunately we won`t be in the U.K. any time soon, unless we get some big festival show lined up. Who knows.... I would love to play in the U.K!!!
Glenn: What goes through your minds when you hear your songs on various internet stations?
John: I have to say that the best feeling in the world is hearing your music on the radio, or seeing that one of your songs was downloaded 100 times or having someone order your cd from the website. To have anybody connect with your music in some way is the best feeling in the world. Music is a personal journey but knowing that someone in Australia, or Brazil, or the Netherlands, or the U.K., or the U.S.A. is listening to your music validates you as a musician and definitely legitimizes what you love and do. I think that the musical landscape is more tolerant for and perhaps hungrier for our style of 70-80`s riff guitar, NWOBHM outside of Canada. I think our fanbase is definitely more global.
Glenn: What cool road stories do you have that are worth talking about that you can actually talk about?
John: I do have some great road stories, but I`ll save those for some point if we ever meet in person:) I can tell you that when Metallica came 2 years ago we got to meet the band and gave them a few copies of FTU 1. Not sure if they listened to them or not, but Lars totally busted us on the track order and names. He asked me what my fav. song was I and I told him 'Wasted TIme'. He then asked me what track it was on the CD, and of course I got it wrong. Very embarrassing. He totally loved seeing me squirm. It`s funny now looking back at it. I should have known all the songs and the track numbers for them. Oh well, lesson learned.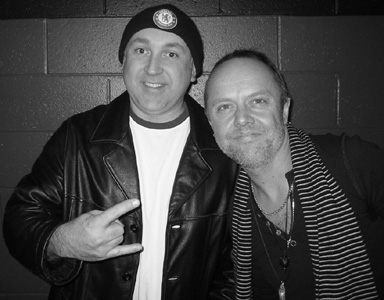 Glenn: What would you like to say to fans of the band and the readership of Metalliville who have read this interview?
John: To all the Metallville fans that read our interview, THANK YOU, and if you like multi-layered guitar rock a la 70` 80`s scene please check us out www.fasttrainunion.com
Big thanks for that John!!