An Interview with
Johnny Trowbridge
Frontman of UK Rockers,

that took place on 3rd March, 2013.
Interview by Glenn Milligan
Where did your interest in Rock & Metal come from and what led to you forming the band?
In 1980 KISS came to Australia and that was it for me, I was hooked and I have been ever since. After playing in so many bands over the years I finally got the chance to work with the best guitarist I have ever had the chance to write with. That was 10 years ago and since then Richie Beardsley and I have written 3 albums with our old band Tara's Secret. After the split we decided that if we were going to do anything else, we were going to do it for us. We would write songs that we loved rather than writing to that "melodic rock" template. Whats the point of writing songs you don't enjoy?
Where did your band name come from and what made you choose it?
We sat down right at the start and knew that once we had the name we could start spreading the word! So we wrote a massive list of names down and then crossed nearly all of them off. We got down to 3 I think, but the one that stood out the most was SKIN&BONE. It reflects everything we do, its not over done, it's not flashy or pompous. It's to the point, it's stripped back to the heart of rock n roll.
Introduce the members of the band and what made them the ideal choice for the band?
I've already mentioned Richie, I don't think I will work with a finer guitar player. We have spent so long writing together that we know where each other is going in a song before we get there! It's just a pleasure to work with him. Simon Perkins was the obvious choice when it came to drummer. Simon was with us in TS and there was no way we were going to let him go! He is a real powerhouse and everytime I watch him play he amazes me. It's like he is posessed by John Bonham and Cozy Powell all at once!! We just needed that missing part of the puzzle, after auditioning several bass players we met Scott Clarke. He really blew us away with both his personality and his playing. Together with Simon we had the perfect engine room for the band. Oh and then there's me! These guys make me look good (laughs).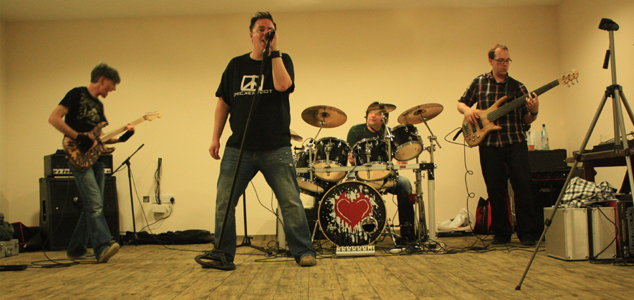 What songs are you most proud of writing so far and why?
I think I'm proud of everything we have written. Some songs stand out though, those songs that either really work live or have a personal meaning. The title track of our forthcoming album "The Exceptional Child" was written about a very good friend of mine who passed away a couple of years ago. I knew I had to write a song that celebrated his life. It was very difficult to get it right and I think I rewrote it about 5 times before I knew that's how it should be.Grahame was a fantastic man and I think this is a fitting tribute to him. That makes me proud.
How would you describe the style of the band?
I recently described it to someone as Scooby Doo meets Shinedown! It's full on rock and roll. No messing around, just back to basics music. I think bands are sometimes too busy trying to reinvent music rather than going back to the roots and discovering how good it really is. We are a rock band, we are not trying to change the world or reinvent the wheel, we are here just to make people have a great night out and enjoy music for what it should be!
What were your first shows like and where were they held and what are your best memories of them?
Our first show was in Sheffield at the Plug. We had a 40 min slot on an all day bill. We threw every song we had in the set. Just before going on Richie's amp blew!! Time ticked away and still there was nothing from the 5150! Lucky for us headlining band "Little Crazy" loaned Richie their amp. So we were off, far faster than we should have done!! But we had a great show. It was that moment when we realised that people liked what we were doing!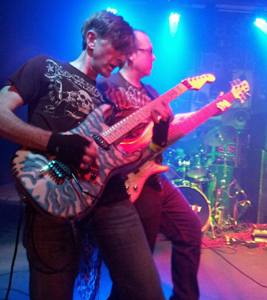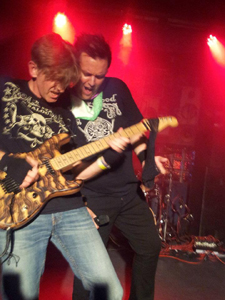 What revs you up before a show and how?
I try not to rev myself up before a show. I would rather sit somewhere quiet and get myself together. If I revved myself up I would probably peak to early!!
What songs seem to go down best and why?
It all comes down to the audience, some shows other songs go down better than others. But the more we play songs the more our audience "get" them. It's great when you say a title and people cheer before you start!
What's the most ott song you have ever covered in your set and how did it go over to the audience?
Maybe not in SKIN&BONE, but we did cover Lady GaGa and Kool and the Gang when we were in Tara's Secret, never again!! (laughs)
What do you find your age range of fans to be and what's the percentage of male to female in the audience and for what reasons?
We seem to get a wide range of fans. A really good mix of both male and female, maybe what we are doing appeals to everyone rather than just a certain type.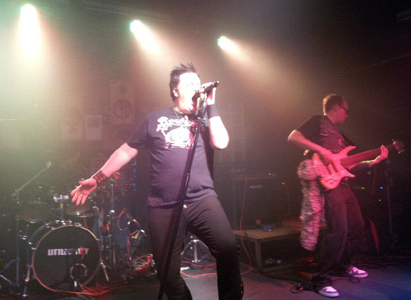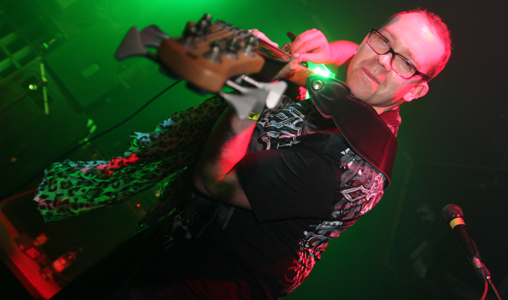 Who would you like to tour with if you had the chance and for what reasons?
There's so many bands we would love to tour with. I think bands that we compliment work far better than just playing with anyone! I know Richie would love to tour with George Lynch, he is a massive fan. I just think bands we respect would be cool. Any offer is considered!
What could you see yourselves doing if you werent in this band?
Who knows, it would probably be back to the day jobs. I think because I have worked with Richie for so long it would be hard to start over again. I think Richie would be a lighthouse keeper!! Scott would join a jazz fusion band and Simon would go back to his swing band roots!!
Who has been the coolest artist to work with outside of the band and why?
We are currently working with Jay Parmar who is producing our album for us. He is a great guitarist and has worked with some fantastic artists himself. He is a great guy.
In general, what will you be up to for the rest of the year and beyond?
We start recording our album in May and then its just more shows and getting SKIN&BONE out to more people. We have some great shows lined up and plenty of irons in the fire.
What would you like to say to any fans out there reading the Interview?
Thank you for your support, it has been a great journey for the band and you guys make it. We have so much more coming and you will all be there with us. Watch out for "The Exceptional Child" soon.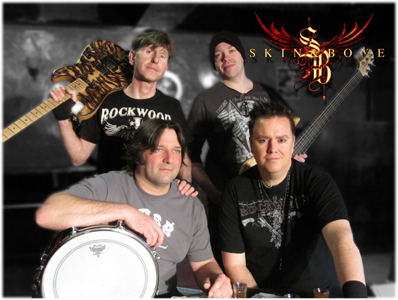 Great Words Johnny!