Nina C. Alice - Lead Vocalist of 'Skew Siskin'
Interviewed via e-mail by Glenn Milligan, BA Hons CS
Answers recieved 1st November 2003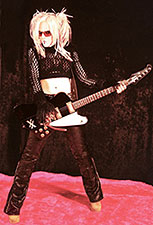 How did the band originally get together?
Jim was looking for a singer in the USA and found Nina in Berlin. Through a music shop we met Jogy who brought Nik into the band.
How were the first gigs and where did they take place?
Very strange. Only musicians in the audience thinking they can do better.
In Berlin and suburban.
How was the rock scene when you first got together?
Not too bad. Nirvana was just happening and a lot of new bands gave a brief visit on the scene.
What does the C stand for in Nina C Alice? Is it your real name?
Caroline, and yes, it's my real name.
How would define the style of Skew Siskin if you had to?
Raw energy! Ass-tight with some chaos added, Janis Joplin on speed meets AC/DC with Tina Turner.
What's the reaction from the press when they meet you?
Pretty good, they are happy that a band like us still exists. They know we are honest musicians and are dedicated. The press likes us a lot for some cool reasons and I can't complain! I like to be in the spotlight as much as my band mates do. We love to joke around a lot with journalists who got humour up their sleeves. That makes it a fun thing.
How did you become friends with Motorhead - Lemmy especially - any good recollections worth sharing?
It took some touring, record sessions and some fun talks to realise we got a lot in common and yet are really different people. Through the years of knowing each other we figured we became close friends.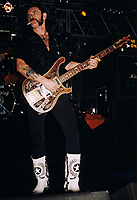 Stories? There are too many to share ... and....uhmm..I ain't selling my friendship in the press. I am really happy that Lemmy and I are friends and that he's a serious fan of my band and I do respect him a lot, his music and his way of thinking.
What's the story behind Lemmy to guesting on the al bum 'What the Hell'?
Lemmy was on "Electric Chair & Voices Of The War" (That's the album before WTH) co-writing lyrics with me already. We met in our studio (www.monongo.net) for the first time 1996 to write a song (B4) for that album. We immediately worked really well together and whenever it appears to be possible, with schedules and locations, Lemmy comes to the studio and co-writes or writes lyrics with/for me.
I appreciate his style and effort a lot, as he is one of the rare people who put the fun together with some raw attitude lyric wise. We are laughing a lot in between recording and videogame playing, that's a relaxed situation to write really cool lyrics.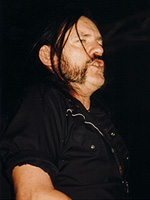 He's just the perfect co-writer for my singing and vocally we match perfect and I will work with him more in the future!
He is guest on our upcoming album "Album Of The Year" again! He produced some vocals for me as well this time! It's good to have him sitting in the backround and telling me "You can do that better, try again!". I have highlights vocally when he's around.

It's just.... I always remember: hey! it's Lemmy who's listening right now, I better sing brilliant or he thinks it's crap. Lol! He's my butt kick.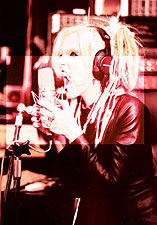 Who else would you like to appear on your albums and why?
A lot of people I would like to work or/and just jam or play together: There is, let me see:
Zakk Wylde, ZZ Top, White Zombie, Jeordie White ( we got some ideas, but we don't know where we are going with that right now, because both of us got pretty full schedules), Alice Cooper, Rick Rubin, Ozzy Osbourne, Accept (Wolf Hoffmann especially), Aerosmith (sing with Steven Tyler), Marilyn Manson (he liked one demo song from us a lot and I think he would be the only person who should produce the song)..Maynard of Tool/Apc (his way of singing is so far away from mine, I think we could do something weird) Dave Mustaine, Nina Hagen, James Brown, Aretha Franklin, AC/DC, Iggy Pop, Kid Rock, Trent Reznor, David Bowie, Anastacia, Tina Turner and so many more......
Why? Because I think all these people have got something special:
Talent, and they are unique!
Who has their 'head up their ass'? Is it a dedication?
Fake people saying:"You guys are so great" thinking:"I hope you split up." I guess that happens in many variations to everybody in daily life. It's dedicated to everyone who thinks it's about him/her..hahah. It's one of the sarcastic lyrics!
Who would you want to 'Spend the Night' with and why?
I would love to hang around with Kid Rock - well, during the day -. And Clint Eastwood? Why? Because Kid is a fun guy I believe, I love his attitude and lyrics .....and Clint, man, because he's a hit!
But, sharing a night is too short, I am not a one-night chick! I'd hang out with many people to find out who they are. But the guy who spends the night with me is my secret...
What made you decide to record the 'Jesse James'? that Cher had a hit with a few years ago? - by the way - awesome version!!!
Thanks! The song was recorded 1992 (one year before Cher did it). Doc McGhee (who managed Bon Jovi at the time) heard it , loved it and wanted to use it for the film "Young Guns". But Cher entered the charts with it and we didn't think it would be a cool idea to be around with the same song.. and our Manager back then f*cked up with Doc anyway, so, we thought, f*ck it!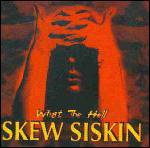 Since then the song was just lying around in the cellar. When "What The Hell" was recorded we added the song last minute, because it was too good to be locked away.
Why is it so long a wait for the new album since 'What the Hell' came out in 1999?
During 2000 the rhythm section left the band unexpectedley due to music business frustration and the band broke up completely. In summer of 2002 a new lineup started recording again.
When Lemmy heard that the band re-reformed, he gave us a 'start-present' and invited us to his UK-tour okt.2002. That was our (successful) test with the new line up. The upcoming tour is a result from the UK Tour, as lot of people think now, we got the best line-up together ever.
How did the tours with Motorhead come about?
Although everyboby seems to think different , we didn't tour very often with Motorhead (the last one is 5 years ago), but it was always a most enjoyable experience because they treated us very good and fair. To be on the same bill with the best Rock 'n Roll (beside us --hahaha) band, gives you a lot of the right attention and puts you right in front of the audience that happen to like us a lot too.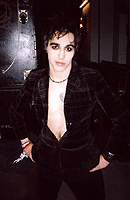 Damien Insane (drums)

What are your thoughts of the last tour with Anthrax and Motorhead - any good stories?
Seeing Lemmy with Hawkwind in London was kind of funny. Being on that tour in UK without a record label is a great good story to me!
We didn't mix up with Anthrax a lot I must admit. I don't know if it was me, but I am not running into everyone easily, and they didn't either.
Maybe next time we have more stories to tell, as this tour was only a week long and the location distances have been pretty long!!
How was the gig at Manchester for you?
First gig with the new band. Hectic. Lots of uncontrolled (but good) energy. The bass player was dying because his amp fucked up during the first song and stayed on full blast.
It was a good show nevertheless. The audience was fantastic and we have been welcomed very VERY good! For an unknown act it was really wow.
The thing is, my Grandad is English and his mother was born in Manchester, it was special for me! I got Manchester blood running in my veins! That made me feel connected in a special way..
What would be found listed on a Skew Siskin Tour Rider?
Milk, chocolate powder, water.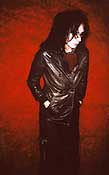 Jim Voxx (guitar)
What's the latest on the forthcoming album?
It will be released on November 24th. We have just begun to promote the album, so there's not much to say right now at this moment.
Is a headlining tour planned anywhere in Europe?
Yes in 2004. But right now we don't know exactly where. The dates will be posted at: http://www.skewsiskin.net
Who would you say your best fans are?
For us all of our fans are best fans.
How do you find SPV with regard to Promotion?
Hopeless. Really. For other bands they may be good, but for us they messed up completely.
How did you find your new drummer and why did 'Crash Klick' leave?
Crash left from one day to the other. After five years he "didn't like the songs" all the sudden. Damien moved from Hamburg to Berlin saying: "Now I'm here and in the band" and we accepted.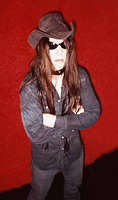 Spray (Bass)
What do you all do outside the band?
There's not much "outside the band" really. We live together in a house and the music is what we live for. Damien and Spray watch Soccer a lot, or the band hangs around and watches a movie. Last great movie we watched together and cried tears laughing was: School Of Rock! That movie will be big!
Do you find you are treated differently because the band is female fronted by Nina - as opposed to a male vocalist?
Not at all. It's about music and what you got in your brain. But it definitely is cool to have a girl singer, because she reminds you that there was something else too...
What other female fronted bands are you into and why?
Patti Smith and Janis Joplin for example and everybody who has something to say.
I like No Doubt, Guano Apes, I loved Joan Jett and listen to PJ Harvey. Nina Simone- R.I.P.
Why? Well, I guess because they are really good.
Major Influences?
AC/DC, Motorhead, Janis Joplin, Hendrix. Led Zeppelin, Black Sabbath, Ozzy, Aerosmith, MC5, Patti Smith, White Zombie, Blondie, The Ramones, The Sex Pistols, Megadeth, David Bowie, Gary Glitter, The Cream, The Who, Rolling Stones, Iggy Pop, Grandfunk Railroad....but, you may not hear these influences, it's about the vibe often!
What's your own personal favourite material and why?
It always changes . Depends how I feel.
If you come come up with the best tour package (obviously Skew Siskin included), who else would you have on the bill and who would headline?
This question is really tricky, as everyone now would either wait if I can manage that, or if not, think that I failed! Let me see who I come up with spontaneously..
I'd love to play a really huge monster arena show with us opening, then Zakk Wylde, then ZZTOP, White Zombie and then Kid Rock.
And I guess that that will never happen, or can you find some money cow for that please? ;) Hahaha, no honest, whenever there are chances to be put together on great bills, it deosn't matter who's headliner, as long as you're treated well, get good sound and light and have a backstageroom. There are so many great bands out there, why concentrating on just a few only? We'll see what the future brings!
What's the usual week consist of as a member of Skew Siskin?
Dealing with Damiens accidents. My schedule is always full to top, too much to tell. But it's always something to do with Skew Siskin.

What are the best and worst chat up lines you have ever heard?
Best: none! Just shut up and wait.
Worst: "Marry me", or: "you are what I was waiting for all my life"
What are Skew Siskin's future plans?
Touring, recording, writing, touring, recording, writing, watching TV, touring, recording, writing, counting the money, remain cool, healthy and stay humorous,
touring, recording, writing..............etc until we blackout.
-------------------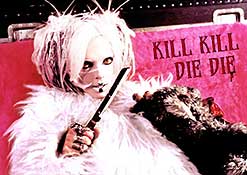 Thank you
Nina C. Alice
A Pleasure Nina - thanks for top-notch answers. A big thank you to Sarmad (Skew Siskin Webmaster) for piecing it together.