AN INTERVIEW WITH ROCKY SHADES, VOCALIST OF

ON JUNE 2ND, 2007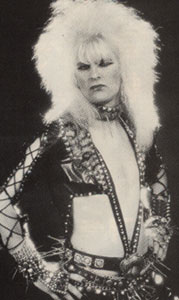 (A piccy from the Wrathchild days)
Hows it looking for 2007 for the new band - line-up? Did it take long to put together?
I WAS SO LUCKY, I NEEDED A VERY SPECIAL BRAND OF LUNATICS TO WORK ALONGSIDE ME TO MAKE MY IDEA WORK SO I HALF HEARTEDLY PUT THE ADDS ON THE NET AT THE START OF APRIL 07. I GOT A REPLY FROM A CRAZY GUITAR TUTOR AFTER A COUPLE OF WEEKS WHO HAD SEEN ME BACK IN THE 80'S AND WAS A FAN.
HE KNEW A KICK ASS DRUMMER WHO RAN HIS OWN MUSIC PRODUCTION COMPANY WHO HAD WORKED WITH A RYTHYM GUITAR PLAYER WHO CAN DOUBLE ON BASS IF NECESSARY WHO HE RECKONED WAS AS CRAZY AS MYSELF. WE GOT TOGETHER, CLICKED IMMEDIATELY AND STARTED REHEARSING. THE ONLY UNSURE PART OF THE GANG IS A PERMANENT BASS PLAYER AS WE ARE STILL AUDITIONING. BUT I KNOW WITHIN THE NEXT COUPLE OF WEEKS THAT WILL BE SORTED.
SO THE WHOLE BAND WAS ASSEMBLED IN 2 WEEKS.
What's it gonna be billed as and why?
ITS GOING TO BE BILLED AS "R.S.W." (ROCKY SHADE'S WRATHCHILD) UNTIL PEOPLE ASSOCIATE THE LETTERS RSW WITH MY BAND THEN IT WILL BE JUST KNOWN AS R.S.W.
IM CALLING IT WRATHCHILD BECAUSE ALTHOUGH IT IS NOT GOING TO BE A RE-DRAGGING OF THE OLD BONES AND IDEAS IT IS A NEXT GENERATION PROGRESSION. IT IS THE DARK SIDE OF WRATHCHILD THAT NO-ONE WAS EVER MEANT TO SEE.
I'M A VERY SOCIALABLE ANIMAL BUT I AM VERY DARK SOMETIMES AND IT TAKES A WHILE TO GRASP WHAT I AM ABOUT OR WHAT I AM TRYING TO ACHIEVE.
I WANTED TO PLAY SOME WRATHCHILD FAVOURITES LIVE BUT DONE THE WAY I WOULD HAVE DONE THEM IF I WAS IN CONTROL BACK IN THE GOOD OLD DAYS…….MEANER, HEAVIER, LESS FLUFFY, MORE MARILYN MANSON AND STONE SOUR THAN POISON AND BANDS OF THAT GENRE.
MY BUDDIES IN PSYCHOWRATH TURNED DOWN THE OPPORTUNITY OF USING THE NAME WRATHCHILD IN THEIR NEW GUISE AND AS I WAS WRATHCHILD WITHOUT ANY SHRED OF DOUBT I HAVE EVERY RIGHT TO BRING THE NAME BACK FROM THE DEAD.
BUT ANYONE EXPECTING TO SEE THE OLD WRATHCHILD WHEN THEY COME TO SEE ME WILL BE DISAPPOINTED ON ONE SIDE OF THE FENCE BUT MIND BLOWN ON THE OTHER.
WE ARE GOING TO BRING ENTERTAINMENT BACK TO ENTERTAINMENT.
What have you been up to since the Wrathchild split, I heard rumours you were working for the local council or something like that and had laid the music side to rest?
NO – BULLSH*T - HERE IS THE TRUTH FROM THE MOMENT I LEFT WRATHCHILD TO PRESENT DAY.
I LEFT WRATHCHILD AND WENT OFF TO STUDY OPEN UNIVERSITY CHEMISTRY TO FORGET MUSIC……COULDN'T STOP PARTYING AND SINGING AT THE KARAOKE EVENINGS SO AFTER 2 YEARS I JOINED THE BAND WHICH BECAME "ONE TRACK AND DIRTY" WE DID SOME SHOWS BUT THEN AS SOME OF THE MEMBERS LEFT TO PURSUE OTHER MUSICAL PROJECTS I WORKED AS A SINGER ON AND OFF IN VARIOUS BANDS FROM SOCIAL CLUB (I WISH I WAS DEAD BANDS) TO A 13 PIECE SOUL BAND.
I HAD A BLUES ROCK BAND WHICH WAS GOOD BUT DUE TO INTERNAL MEMBER DIFFERENCES THAT WAS PUT TO REST.
I THEN DID 8 YEARS AS A TRACKWORKER AT MG ROVER WHILE GETTING THE BIRMINGHAM BLUES BROTHERS TOGETHER, TURNED PROFESSIONAL AND TOURED THE WORLD FOR 7 YEARS.
I WAS A TEMPORARY POSTMAN FOR 5 WEEKS BUT HAVE NEVER WORKED FOR THE COUNCIL.
WHILE ALL THIS WAS GOING ON I NEVER STOPPED WRITING SONGS AND WAS ALWAYS WAITING FOR THE RIGHT WINDOW OF OPPORTUNITY TO OPEN TO BRING WRATHCHILD BACK FROM THE DEAD.
PSYCHOWRATH BEAT ME TO THE PUNCH BUT ONLY USED THE WRATHCHILD ANGLE TO PULL IN FANS, THEY ONLY GAVE THEM A COUPLE OF TOKEN SONGS IN THEIR SHOWS SO I THOUGHT WHY DON'T I PUT A BAND TOGETHER THAT PLAYS MORE WRATHCHILD SONGS BUT IS NOT JUST ITS OWN TRIBUTE BAND……..HENCE R.S.W. WAS BORN.
WE WILL BE PLAYING SOME WRATHCHILD NUMBERS AND SOME OF OUR OWN…….NO COVERS HAVE BEEN MENTIONED YET BUT WHO KNOWS?
What made you decide to come back again? - good on ya I must say
YOU'LL LIKE THIS ONE, DEEP INSIDE I WANTED TO GET BACK INTO ROCK BUT BAND AFTER ATTEMPTED BAND JUST WASN'T HAPPENING.
I CAME CLOSE WITH MY "PIRATES OF PASSION" PROJECT ROCKS ANSWER TO "PIRATES OF THE CARRIBEAN" BUT IT WASN'T RIGHT.
LET'S FACE IT IM NO JACK SPARROW.
THEN ONE DAY MY SONS BEST MATE SHOWED ME A SITE ON THE INTERNET THAT A GUY IN TEXAS HAD PUT TOGETHER WHICH HAD NOT ONLY KEPT THE NAME OF WRATHCHILD ALIVE BUT HAD REKINDLED INTEREST IN THE BAND WITH NEW PEOPLE.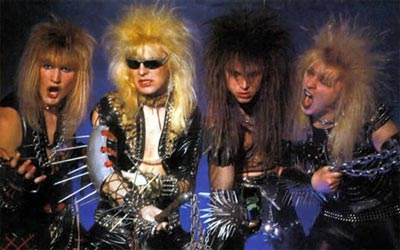 I NOTICED THAT NO-ONE CONNECTED WITH THE BAND HAD SPOKEN THROUGH THE FORUM SO ONE DAY I JUST SAT ON MY PC AND STARTED TALKING WITH FANS ALL OVER THE WORLD, ONCE THEY REALISED IT WAS NO WIND UP MY POPULARITY SOARED ON THE SITE. NOW WHEN I FIND TIME TO POST MESSAGES AND ANSWER THEM I'M TREATED LIKE A DEMIGOD HA HA HA.
THEN AFTER I DO ALL THE GROUNDWORK PSYCHOWRATH'S PHIL STARTS TALKING THROUGH THE SITE AND I CAN SEE THAT THEY ARE GETTING A LOT OF ATTENTION SO I THOUGHT, "I'M HAVING ME A PIECE OF THAT" AND STARTED GETTING MY OWN BAND TOGETHER.
NOW IT'S ONE OF THE MOST EAGERLY AWAITED THINGS ON THE SITE.
How is the new band going to differ to Wrathchild in quality and musical style?
THE NEW SOUND IS HEAVIER, ED WAS A GOOD DRUMMER IN WRATHCHILD BUT I'VE GOT A GUY THAT WILL MAKE ED WEEP WHEN HE SEES HIM PLAY……HE IS CALLED "SONIC ERRUPTOR" …..BUT YOU CAN'T HANG HIM FOR THAT.
THE NEW SOUND WILL BE TWO GUITARS AS I HAVE ALWAYS WANTED WRATHCHILD TO PLAY WITH 2 GUITARISTS BUT NONE OF THE GUITARISTS EITHER LANCE OR PHIL WOULD WORK WITH ANOTHER, YET ON RECORD PLAY WITH DUAL GUITAR OVERDUBS……NEVER UNDERSTOOD THAT.
ALTHOUGH THE SONGS ARE GOING TO BE CATCHY THEY WILL BE HEAVY IN STRUCTURE AND MAY NOT BE GREETED WITH TOTAL OPEN ARMS BY THE FLUFFY ROCK FOLLOWERS.
BUT AS THE BAND WILL LOOK SO GOOD THAT SHOULDN'T STOP THEM COMING TO SEE US…..EVEN IF IT IS ONLY TO GIVE US GRIEF…..BRING IT ON.
What can we expect from the new band with regard to set list - any cool stuff to report to us on?
THE DETAILS OF OUR OWN SONGS WILL BE REVEALED LATER,
FOR NOW I WILL GIVE YOU A TASTER OF ONE SONG WE ARE PLAYING AT THE MOMENT "ENGLAND SLEEPS" (WE ARE YOU WAKE UP CALL).
Will you guys look total glam or more street/metal in appearence or a mix?
I DON'T THINK THERE IS A VISUAL LABEL TO DISCRIBE OUR LOOK
I'M LIKE A FUTURISTIC PUNK (SEX PISTOLS MEETS SIGUE SIGUE SPUTNIK).
MY GUITARIST IS THE BUTCHER.
MY DRUMMER IS A TRIBAL ZOMBIE.
MY RYTHYM GUITARIST IS JUST STRANGE…….BELIEVE THAT'S THE BEST I CAN SAY RIGHT NOW.
Whereabouts are you planning to play and what are you most looking forward to?
STAGE ONE OF OUR LIVE ONSLAUGHT WILL BE SOME LOW KEY SUPPORT SLOTS TO BLOW OUT THE COBWEBS THEN WE WILL PLAY SOME HEADLINE SHOWS ACROSS THE UK, AND WHEREAS PSYCHOWRATH HAVE ADOPTED THE 'YOU CAN'T GET TO SEE US APPROACH' WE WILL BECOME A HOUSEHOLD NAME.
I'M JUST LOOKING FORWARD TO PLAYING MY OLD CLASSICS AGAIN AND AIRING SONGS THAT I HAVE BEEN WRITING FOR THE LAST 15 YEARS.
ALSO I HAVE SOME DEAR FRIENDS OLD AND NEW THAT I CANT WAIT TO PARTY WITH.
What were your favourite aspects when you were the lead vocalist of Wrathchild with regard to albums, making videos, playing live, PR and socialising - what comes to mind worth talking about?
THE MOST ENJOYABLE THING THAT SPRINGS TO MIND INVOLVED SEMI NAKED LADIES AND SPRAY CREAM WHILE SINGING……..THAT MADE IT ALL WORTHWHILE.
I DID ENJOY THE ALBUM RECORDING BUT PREFERED THE SEX.
THE GIG LIGGING IN LONDON WAS GOOD I HAD SOME GREAT TIMES WITH SOME OLD PALS……HANOI ROCKS, BEKI BONDAGE, GIRLSCHOOL, LEMMY, BRUCE DICKINSON, TWISTED SISTER, GWAR ETC.
So what's your fave Road Stories of the glory days?
WITHOUT A DOUBT IT'S GOT TO BE UPSETTING BLACKIE LAWLESS AT ST ALBANS CITY HALL 1984 TOUR, HE WAS MAKING A REAL 'I AM I'M ME' ASS OF HIMSELF AT THE GIG WHICH WE WERE CO HEADLINING NOT SUPPORTING LIKE HE SEEMED TO THINK WE WERE, SO TO TEACH HIM A LESSON AFTER THE TOPLESS BIMBO HAD BEEN TORTURED IN THE WASP SHED ON STAGE SHE WAS REPLACED WITH THE SKELETON THAT WAS MEANT TO BE REVEALED AT THE END OF THE SONG, WE OPENED THE SHED FROM BEHIND SAT THE SKELETON DOWN IN A TOILET POSITION WITH A PAIR OF ROADIES JEANS ROUND ITS ANKLES AND A NEWSPAPER IN ITS HANDS THEN CLOSED THE DOOR AND WENT OUT INTO THE CROWD TO WATCH BLACKIES FACE WHEN HE OPENED IT AT THE END OF THE SONG…………………..PICTURE IT MAN - I HAVEN'T LAUGHED SO HARD IN AGES AND HE STILL HATES ME TO THIS DAY.
THEN THERE WAS THE TIME I WAS PARTYING WITH HANOI ROCKS MINUS MIKE AFTER A BIRMINGHAM SHOW AND A COUPLE OF FOREIGN MAGAZINES MISTOOK ME FOR MIKE AND STARTED TAKING BAND PHOTOS BY THE REEL LOAD AND THE BAND SAID NOTHING JUST CARRIED ON SHARING A BIG BOTTLE OF WHISKEY, MIKE WALKS IN SHOUTS AT THE PRESS, WHO ONCE THEY REALISED HAD NOT TAKEN THE PICS THEY WERE AFTER GOT MAD THINKING I WAS JUST A NO-BODY, THEN THEY DISCOVER WHO I AM AND TAKE REELS MORE PHOTOS WITH A NOW INEBRIATED BAND AND MIKE WALKED OUT.
FOR MORE STORIES YOU WILL HAVE TO MEET ME AT A GIG SOMETIME AS I'VE TONNES OF THEM !!
Is a new album planned - if so, when and how will it be available?
NOT CONCERNED ABOUT AN ALBUM YET, I WANT TO JUST GET BACK INTO PLAYING LIVE AGAIN.
I'VE BEEN PLAYING ANYTHING BUT ROCK FOR SO LONG I'M CHOMPING AT THE BIT.
WHEN WE DO RECORD DETAILS WILL BE ANNOUNCED AND MAYBE A DOWNLOADABLE TRACK WILL BE PUT ON OUR SITE.
THAT WILL HAVE TO BE SEEN LATER.
What label would you want to sign to if you had the chance and why?
I DON'T CARE WHO RELEASES MY STUFF AS LONG AS IT IS DONE WITH A PROPER BACKING.
I WOULD LIKE ROADRUNNER RECORDS BECAUSE ONE OF MY FAV BANDS AT THE MOMENT STONESOUR ARE ON THAT LABEL AND IT WOULD BE AWESOME TO SUPPORT THEM.
What sorta stuff do you get up to when not involved in music these days?
WHEN NOT PLAYING LIVE YOU WILL FIND ME AT THE GYM TONING UP MY OLD FRAME……..I'M NOT FULL OF MYSELF BUT I LOOK OK FOR AN OLD BLOKE.
So what would we find in Rocky's record collection
WHAT WONT YOU FIND?
IVE GOT 400 OR MORE CDS, 2000 TAPES AND 900 VINYL ALBUMS
NOT TO MENTION HUNDREDS OF MP3 TRACKS ON MY PC.
SEX PISTOLS,MARILYN MANSON, KISS, STONESOUR, VELVET RELVOLVER, SENSATIONAL ALEX HARVEY BAND, CIRCUS OF POWER, ADAM ANT, VAN HALEN, ALICE COOPER, INXS, SLADE, SWEET, BOWIE, NEW YORK DOLLS, AEROSMITH, DAVE LEE ROTH.
SOME OLDER STUFF……TYGERS OF PAN TANG, RAVEN, FORTNOX, SAXON, SAMSON, MAIDEN, MOTORHEAD, TWISTED SISTER, METALLICA, HANOI R.
STARZ, TRIGGER, TEAZE, ANGEL, WHITESNAKE, PURPLE, SABBATH, ZEPELLIN, HENDRIX, FRANK ZAPPA, ZZ TOP, WASP, POISON, FASTER PUSSYCAT, G & R, LA GUNS,
NEWER BANDS – CRASH DIET, PANZER PRINCESS, SISTER
Who are your fave bands and vocalists and why?
I HAVE MANY FAVOURITES BUT MY FAV VOCALISTS OF ALL TIME ARE-
MARILYN MANSON FOR SHEER VOCAL PRESENCE.
KISS FOR AMAZING USE OF BACKING VOCALS AND THE ULTIMATE STAGESHOW.
ADAM ANT FOR HIS AMAZING STAGE PRESENCE AND SONGWRITING.
DAVE LEE ROTH FOR BEING AN AMAZING IN YOUR FACE FRONT MAN
AND BEING THE MAN EVERY BLOKE WANTED TO BE.
THE SEX PISTOLS FOR SHEER AUDACITY AND ATTITUDE.
ALICE COOPER FOR SCARING ME SH*TLESS AS A CHILD AND HIS AMAZING STAGE PRESENCE.
IAN GILLAN FOR BEING THE MOST POWERFUL VOCALIST ON THE PLANET.
DEE SNIDER OF TWISTED SISTER FOR TEACHING ME HOW TO RAP AND CURSE BETWEEN SONGS.
COREY TAYLOR OF STONESOUR FOR BEING THE ONLY PERSON I KNOW THAT CAN SHOUT LOUDER THAN ME.
Fave Wrathchild album and why?
ALTHOUGH THE PRODUCTION IS A PILE OF PANTS FAV WRATHCHILD ALBUM WITHOUT ANY SHRED OF DOUBT IS 'STAKK ATTAKK'.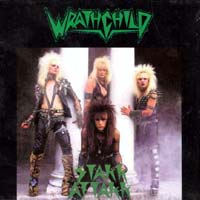 THERE IS NO FILL IN SONGS ON THIS ALBUM AND HAD IT BEEN RE-RECORDED HEAVIER BY RCA AMERICA AS ORIGINALLY PLANNED BEFORE THE LEGAL SH*T IT WOULD HAVE BEEN THE BEST ALBUM IN THE KNOWN UNIVERSE.
CHECK OUT RSW'S VERSION OF STAKK ATTAKK LIVE AND IMAGINE AN ALBUM FULL OF THAT………………WHOOOSH.
What are you planning to call the new album - any ideas yet?
NO TITLE FOR ALBUM PROJECT AS YET BUT IT WILL BE AN ALL BAND COMPILATION……….ALTHOUGH WE ALL HAVE INDIVIDUAL IDEAS THE FINISHED SONGS WILL HAVE BEEN MAULED BY ALL OF US.
Can you ever see the original Wrathchild reforming - reasons for answer?
I CAN'T SEE THERE BEING A REUNION AS BOTH BANDS PLAY DIFFERENT SIDES OF THE SAME FENCE…….PSYCHOWRATH IS FUN TIME FLUFFY ROCK …….RSW IS HEAD DAMAGE CASE FUEL.
SHOULD WE FIND OURSELVES ON THE SAME BILL THEN WE MIGHT BE ABLE TO JAM TOGETHER BUT MY MUSIC TASTES ARE FAR HEAVIER THAN THEIRS.
ANYWAY ENUF IS ENUF I'VE ONLY JUST COME BACK FROM PLAYING SHOWS IN SARDINIA SO I'M BLITZED.
ROCKY