An Interview with Sam Andrew of Legendary U.S 60's band,
Big Brother and the Holding Company by Glenn Milligan
Date: 1st July, 2004
What turned you onto playing guitar and forming your first band?
Sam: My father played the guitar. I thought guitar playing was what you were supposed to do as soon as you could get your hand around the neck of the instrument. I learned how to play the blues in E and the ballad changes in C - A minor - F and G7 and then formed a band. I was the only member of Big Brother who had played in a rock and roll band before we all came together.
How did you originally come up with the name Big Brother and The Holding Company?
Sam: There were two names. Big Brother courtesy of George Orwell, and the Holding Company courtesy of a silly hippy pun. "Holding" meant "possessing illicit drugs." We decided to put the names together, although some of the more forward thinking among us worried about whether such a lengthy name would fit on a record label or a marquee.
How did it affect you when you first got signed to a record label from a personal point of view and did people around you treat you differently?
Sam: As far as I was concerned, we had already succeeded just by playing this new music in front of our friends, which is how we saw the audience. Commercial success didn't mean a lot to me, although it certainly did to other members of the band. I think we all treated each other in a special way in those early days of the counterculture movement. Everyone was special then, and they are still special today. It was an unusually creative bunch of people.
What recollections do you have of going into the studio with the whole band for the first time when you got signed?
Sam: The studio always makes me nervous. It is such an antiseptic, dry environment. Big Brother was an improvising band and we fed off the audience who were our peers. When we first went into the studio we met people who didn't know our music and didn't really care a great deal about it. We recorded "live." That is, overdubs were kept to a minimum. We were only working with four tracks then anyway. I liked working with Janis in the studio. She double tracked her vocals and that was a new sound for me, one that I still like a lot. She would sing the song, and then merely sing the song again with herself. Now they would electronically duplicate the part, but then we just sang it twice and it sounded good to me. We did the same thing with guitar parts.
What was your initial contract like with Columbia - was it a good deal or not at the time when you look back on it?
Sam: I liked Columbia. After all, that was Miles Davis' label. And they had a very complete classical music division, so there was a serious tradition of fine music at Columbia that we all appreciated.
How was it when you get to hold in your hands your first ever album release as well as hear it played on the radio or see yourselves in newspapers and magazines?
Sam: My whole experience with Peter, James, Janis and Dave was ecstatic from beginning to end. Just unbelievable. It was a graduate course in media and how media can help you, destroy you, distort you, magnify you. I would have a conversation with Janis and two journalists would be present and would later write their versions of that conversation. You cannot believe how differently people perceive the same events until you experience that firsthand. This was all very educational and thrilling.
Which would you say is your favourite Janis Joplin material and why?
Sam: Little Girl Blue and Summertime, no question. I liked everything that Janis sang and I loved her big, wide open Bessie Smith/Ma Rainey voice, but Little Girl Blue and Summertime are very special to me because they show Janis reinterpreting songs that have been done so many times in so many ways.
Which festivals did you like playing most and why?
Sam: I liked Monterey because at Monterey we learned that people in the United Kingdom were feeling the same things that we were. There was a wave of revelation washing over the entire world, and Monterey showed us that vividly. Monterey was the beginning, Woodstock was the end.
What are some of your favourite stories of life on the road in the 60's Heyday?
Sam: Being thrown out of restaurants because we had long hair. Being beaten on the back by a rabid woman in Manhattan and feeling the sympathy of the crowd. Sharing a room at The Hollywood Center Motel on Sunset Strip with Janis and the boys in the band, all of us in one room. Visiting Hampstead Heath with Suzy Creemcheese. Being caught in a very compromising position in the broom closet of the Fillmore Auditorium. Quiet talks with Janis on the way home from gigs.
After the sad death of Janis, what did you do as an artist - did you carry on in different outfits or diverse into other interests as well?
Sam: I studied composition, harmony, counterpoint and arranging at various schools in Manhattan. I loved this period. I did some work in the recording studios and I did some work in the painting studios. My dual life as artist and musician began at this time, although I was in a San Francisco art show with Marty Balin very early on.
At the time were artists such as Janis and Jimi Hendrix thought to be as godly and legendary as they are now, or would you say that their posthumous fame has increased?
Sam: These people were loved when they were alive. They were loved because they were artists and they were free. Now they are lionised as celebrities and that is a different thing. The quality of adulation has changed. I saw Jimi Hendrix more as a musician, a miraculous musician, then. Now he has entered the pantheon of famous people. Janis was a pioneer, tough, uncompromising, volcanic. Now she is a figurehead.
What did you like about the late 60's era most and what things, if any, did you dislike and why?
Sam: The rule books were thrown away. I liked that. Everything was beginning anew. The things that I didn't like about the 1960s arose out of the things that I did like. This is a common enough situation. There was a lack of perspective. We were all true believers and didn't really see the whole picture, although we tried. There was more disorderliness and chaos and just plain being lost than you would think now as you look at the history of that era.
We weren't really sure where we were going. There was a lot of triviality and silliness --- fun but dissipating of energy.
What was it that made you decide to come back together as Big Brother and The Holding Company - did it take much persuasion to get the other members involved?
Sam: There were times when everyone wanted to leave the party but me. That was hard. One of my colleagues said to me, "Sam, get a job," and I yelled, "I have a job, it just doesn't pay much." I started the Sam Andrew Band and kept it going until finally the Big Brother people were ready to start playing again. In 1986, one of the agents called us and asked us if we would get together and play the twentieth anniversary of The Summer of Love. The Summer of Love? What a cheesy name for what we went through in the 60s! Anyway, we said no, but then we thought, "Hey, I wonder if we can still play Piece of My Heart?" We could.
Why is James Gurley not a part of the band anymore?
Sam: James needed to prove to himself that he could do a music project on his own. I think he has done that very well. He wasn't happy in the Big Brother band for a long time. I was driving, he was in the back seat, and he complained the whole way, without really doing much to change anything. He needed to drive himself and it took his leaving the band for him to be able to do that. Writing a song is easy. Getting a band to arrange and record that song is a monumental effort. I think he has probably found that out by now.
How did you find Chad Quist who replaced Tom Finch?
Sam: I played with both Chad and Tom years before they were in Big Brother. Chad was in the Seattle Sam Andrew Band and I played saxophone with Tom Finch in a big band during the 1980s. Chad and Tom are both far more technically accomplished than we were/are. The standard of playing these days is much higher than it was. They are beginning where we finished. It's an honor to play with these guys.
Since re-forming why do you have different singers fronting the band, instead of simply keeping to one?
Sam: Things were simpler then. Now, everyone has two or three bands, children, a house, commitments, spouses, real lives. No one can really make a full time career of Big Brother right now, and I rather like it that way.
I love hearing the different singers interpret these songs that we have done so many times.
How did you come to discover Wendy Rich who performed with you at The Hard Rock Vault in Orlando, Florida?
Sam: Wendy wrote me an e mail and then sent me a tape. She is a great singer in a lot of different styles. I went down to see her in Saint Petersburg, Florida, and was amazed at her talent. We wrote the most beautiful ballad together. Her singing is just so evocative and musical. She can belt out that distorted nightclub voice and then she can be so lyrical it will just break your heart. So good. Big Brother are famous for picking good vocalists.
After all, we picked Janis. We've had a lot of wonderful singers, Lisa Battle, Kacee Clanton, Kathi McDonald, Andra Mitrovich, Jane Myrenget, Lisa Mills, Cathy Richardson, each of them far above average.
What are your personal thoughts on the gig at The Hard Rock Vault?
Sam: Oh, it was fun. I always wondered where all those instruments slept at night. There was my SG-Kustom guitar that I had given to the Hard Rock years ago. There it was in the Vault. What a thrill it was to see it. The staff, the people, at the Hard Rock are so courteous and so professional. It reminded me of playing at The Rock and Roll Hall of Fame or the EMP in Seattle, two other places with knowledgeable staff.
How was it for you holding your old guitar again?
Sam: It was like seeing an old girlfriend all of a sudden.
Strange, enchanting, offputting, magical, confusing. Jimi Hendrix played that guitar one night at his club, The Generation, and I used it on several albums both with Big Brother and with other bands.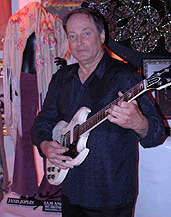 Why did you decide to eventually part with it?
Sam: That's a good question, because I like that guitar. I like all SGs actually. They have that long snaky neck and great sustain. I think some of the guys at Hard Rock asked me if I had a guitar for them and I said yes because Paul Reed Smith gave me a guitar and I wanted to try that for a while.
I really like that PRS, by the way. To me a guitar is a tool. I don't name guitars or anything like that. I don't burn guitars either any more than I would burn my favorite paint brush. I understand the sacred ritual involved in burning a guitar, the mythic quality of it, but burning a tool is something that I would never do. A good tool deserves respect and a kind of partnership.
I notice that you have recently done gig gigs with Vanilla Fudge and Canned Heat - how did that come about and how were the gigs?
Sam: Vanilla Fudge and Canned Heat are old friends. I have long admired the business acumen of Fito de la Parra who has singlehandedly kept Canned Heat going for years. And in Manhasset, Long Island, I know a lot of the same people as Vanilla Fudge, so, in a way, they are like family. We have done projects before, share some of the same agents, so it seemed like a natural thing to tour with them. I like Theodore the guitar player with Vanilla Fudge. He's a great player.
Who came up with the 'A Salute To Janis Joplin Tour' - featuring Big Brother & The Holding Company, Kozmic Blues Band and Full Tilt Boogie Band' and when is it likely to take place and where?
Sam: An old friend of mine in New York called and wanted to put on a Janis show at the Summer Stage in Central Park. It seemed like a long shot to me and we talked about it for a year. He wanted Big Brother, Kozmic Blues and Full Tilt to back up such singers as Simone (Nina Simone's daughter), Millina Khan (Chaka Khan's daughter), Sophia Ramos, a very hot vocalist from New York and a lot of other talented chanteuses. I didn't really believe that he could pull this off but he did, and it was a wonderful afternoon. We dedicated the show to Janis, the spirit was right, the audience was incredibly sympathetic and it was just a successful undertaking all the way. My agent Tim Murphy did a huge amount of work on this and he had the idea of continuing this so that other people in the country could see what we had done. Tim has made this a reality now and in 2005 we are going to take out the three bands and some as yet unnamed vocalists.
Are there plans to record and release anything as a momento of the tour as a CD, Video or DVD?
Sam: All of those, yes. And maybe a television program as well.
How would you say that the audiences differ around the world that you play to? Do they vary in age range and sex ratio?
Sam: We get seventeen year olds who weren't born when Piece of My Heart was on the charts. They know every word to the tune and they seem to have a good time at the shows. We get people who are our age and every night we play is like a high school reunion. Someone always shows up whom I haven't seen since the 1960s. So, it's a very young audience and a very not so young audience.
Is the audience what you were used to in the 60's?
Sam: No, we have all come a long way from there. There is not the same focus in the society at large as there was in the 60s, although I think that is slowly changing as young people become more and more aware of what is going on with the government.
How would you say the music biz has changed since you first started?
Sam: Music has become more specialized, more developed, technically more advanced. The business of music is now corporate like the rest of the world. The competition is more fierce. I don't envy people who are starting out today. There is so much more to contend with.
Do you have plans to write an autobiography and if so do you have any titles in mind at the moment?
Sam: It's All Over My Head? Watch My Dust? The Best Is Yet To Come? Lickety Split? I Didn't Wake Up This Morning? That's All Folks? No Comment?
Are there plans to go into the studio and record a new album - maybe an all star one with Full Tilt and The Kozmic Blues band as well all collaborating together?
Sam: No, but that's a great idea.
What else do you do outside of music that keeps your spirits high?
Sam: I'm an artist and a sculptor and am always planning one project or another. I play jazz on the piano and that's very satisfying.
What do you enjoy most about music and playing in general?
Sam: That it's always new, always immediate. Music is a game of proportions. Liquid architecture. Ecstatic philosophy made audible.
If you could put together your very own concert bill, who would you feature on it and why? - of course with Big Brother would be in the bill or headline it.
Sam: Glenn Gould playing J.S. Bach. Ray Charles. Big Brother would open the evening. Mariah Carey? Fiona Apple?
If you had to choose a song or songs that summed up Janis Joplin as a person and a performer, what would they be?
Sam: Turtle Blues, Try, Nobody Knows You When You're Down and Out.
If Janis was here today, what do you think she would make of the world and the music being produced today?
Sam: I think she would like a lot of it. There's such an amazing variety.
What she would make of the world? What she would make of George W. Bush? What she would make of the fact that we invaded Iraq for no real reason? Difficult to say.
What parts of your career so far are you most proud of?
Sam: I am very fortunate to have known the people I have known, Janis Joplin and all the rest of the very creative people who made the counterculture of the 1960s, artists, musicians, writers. These are talented people who really cared about each other and who still care about each other.
Thank You Sam for making this one of the Best Interviews on the entire Webzine
Special thanks go to Sunni McKay, all of Big Brother and the Holding Company, Wendy Rich, Mike and all the staff at Hard Rock Vault, Orlando, Fl. USA
Dedicated to the Music and Memory of Janis Joplin