An Interview with
'Ted Poley'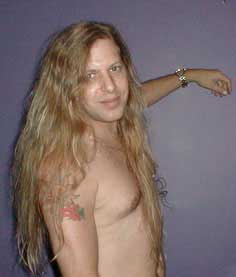 The Frontman of 'Melodica' and formerly the vocalist of 'Danger Danger'
that took place on 13th August 2001.
Interviewed By Glenn Milligan.
Glenn: Are you in touch with members of Danger Danger?
Ted: NO, NOT REALLY.
Glenn: How has the recording gone for Love Metal?
Ted: PERFECTLY. JUST AS WE PLANNED.
Glenn: How does it differ to your previous releases?
Ted: BEST SONGS AND BEST PRODUCTION SO FAR.
Glenn: What is your favourite material on the album and why?
Ted: ALL OF IT, BECAUSE ITS MY NEWEST STUFF AND ITS STILL FRESH.
Glenn: What has it been like supporting your own album as opposed to a record company?
Ted: PRETTY MUCH THE SAME, EXCEPT NOW I GET THE CHECKS!
Glenn: Do you find it easier to have a distribution deal as opposed to being tied to a record company?
Ted: YES, MUCH EASIER EXCEPT YOU HAVE TO PAY FOR THE PROJECT YOURSELF, THAT'S THE TOUGH PART.
Glenn: As a writer and frontman who are your main influences and why (regarding performers etc)?
Ted: NONE, I TRY TO BE MYSELF.
Glenn: How do you keep your voice in trim?
Ted: BY SINGING EVERY DAY.
Glenn: Do you prefer performing acoustically or electric (and why)?
Ted: BOTH ARE FUN, VERY DIFFERENT BUT FUN.
ELECTRIC IS A BLAST AND ACOUSTIC GIVES ME A CHANCE TO REALLY SING THE STUFF.
Glenn: How have the Melodica albums been selling?
Ted: GREAT, NO COMPLAINTS, WE HOPE TO BREAK ALL THE SALES RECORDS WITH LOVEMETAL.
Glenn: How is the melodic rock scene in the states?
Ted: NON-EXISTENT.
Glenn: Who else should we be checking out as well as Melodica?
Ted: TONY HARNELL, BRAVE NEW WORLD, JOHNNY LIMA, XENON -THESE ARE PEOPLE WHO HAVE SHOWN ME SUPPORT.
Glenn: Could you see yourself ever performing again with Danger Danger - or co-headlining a tour with them?
Ted: NO.
Glenn: Do you have any interesting tour stories to tell?
Ted: TOO MANY, YOU'LL HAVE TO WAIT FOR THE BOOK!
Glenn: Who would you most like to work with that you haven't already?
Ted: I WANT TO TOUR WITH DEF LEPPARD.
Glenn: What's the rock scene like in your part of America?
Ted: PRETTY LAME.
Glenn: Overall, what dominates the airwaves of America at the moment and what's the attitude of the media to rock music?
Ted: CRAPPY BOY BANDS OR SH*T CHICK SINGERS LIKE SH*TTNY SPEARS.
Glenn: What influences your song ideas?
Ted: REAL LIFE.
Glenn: What initially turned you onto the rock scene? First bands? First Gigs etc? How did they go?
Ted: MY FIRST KISS CONCERT, THAT'S WHEN I DECIDED I WANTED TO DO THAT FOR A LIVING. I AM STILL TRYING.
Glenn: What's your all time favourite song of your own? Why?
Ted: 'MISSING YOU' - DON'T KNOW WHY.
Glenn: Fave Bonemachine and Danger Danger track? Why?
Ted: LIFE AND TIMES BY BONEMACHINE, GREAT SONG! NO FAV D2 SONGS.
Thanks again for your support! - Ted