An e-mail Interview with the lead vocalist and lyricist, Terry Ilous from the LA Based Rockers, 'XYZ'
Dated: 10th July 2003
Questions by Glenn Milligan, BA Hons CS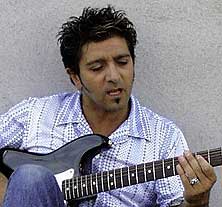 Initially, why did you name the band XYZ?
We wanted to call the band 'Dokken' but the name was already taken :) so we took XYZ.
How did XYZ get together?
Pat and I left France one day, arrived in Los Angeles and formed the band XYZ.
It was very hard at first because most people did not like the fact that I was from Europe. My dad was Spanish and my mom is French - so great if you want to bake bread and drink sangria but not if you want to rock after a while, well a long while, lots of pastas with ketchup, we got a huge deal. It was not easy.
How was it trying to get signed in the first place - how did you achieve it?
Very hard as I said. No one liked the fact that I was from Europe - then it happened.
We used to play the strip in front of 700 to 1000 people and still no labels! We had sex with every girl that would buy us dinner or rehearsal time. We were very, very poor spending all our monies on the band.
What would you say were your main low and high points in your formative years when the Big Hair Image was the 'in-thing' as well as the exceptional standard of musical/vocal ability (before grunge reared its ugly head)?
I think the fact that I could sing pretty well was my strongest point. My lowest was the fact that I was not a natural blond - ah ah - I did not look like a pretty boy in these days. Having a muscular body was not the "in thing" - most singers were blonde, slim and really good looking - so I dyed my hair, but was still ugly..... ah ah so that was tough!
What were your favourite Gigs/Tours and why?
The MSG/XYZ Acoustic Tour because we were really close to the fans. Doing these acoustic gigs was purely amazing. I used to talk to the crowd like I'm talking to an old friend - really casually and for me that's the kind of relationship I like to have with my fans.
Who are the best and worst artists you have dealt and worked with and why?

I can't really say any one was bad or better to us. I was there to have fun and really had a great time. Ozzy was cool. Alice Cooper was cool too.
Have you always been in the music biz - if not, what else have you been doing also?

Following the bands break-up I was very upset. I lost a lot of money, lost my wife, my so-called friends and found myself becoming a homeless person! Yes, a homeless person.
I lived in my car for few months - an old Toyota that I had traded for an amp.
I became very depressed and suicidal then a real friend at capitol records helped me out and the rest is ... history. I started to book gigs as a singer for commercials, cartoons did few movies and soap opera, I'm so glad he was there for me.
What made you decide to cover 'Fire and Water' for the 'Hungry' album?
Some ass hole at Capitol told us to do it! I'm not too pleased with the result. I thought we killed the song.
Who are your greatest influences and how have they influenced you? (both musically and vocally)?

I always liked people with emotion and sincerity in their voice - Ray Charles, Freddy Mercury, Steve Perry and many others.
As far as bands I always loved Led Zep because they were not afraid to come up with something new every time - they never repeated them selves. They were my true inspiration.
When I recorded the " Letter To God" CD, I kept that in mind. I did not want to give the fans something that I already have done. I kept the original sound of the band and added a more up dated sound. I kept the roots and went further. I think it's important to know that the roots are there.
It's so sad to see bands repeating themselves all the time - band members that are 50 years old writing songs about strippers! and high school girls!
God knows most of these guys are fat with arthritis and have to use Viagra to get it up!
Why lie to the fans? The fans, true fans, are not stupid - they have aged too! They still love melodic rock obviously !!!! but want to hear the real artist in you. Never lie to fans - never !
I mean look, my CD is still heavy metal, I do not sound like limp biscuit!! Listen to "Touch The Sky " - it's true heavy metal. I like heavy rock but I gave it a new twist.
XYZ "Letter To God " is just an evolution from the previous CD's.
Have you always been in control of your musical style or did the record company have a large say?
Sure - the record co. had something to say but you have to fight with them. That's why I'm so happy to be an Indy artist! I do what I want. I don't like Record Executives - they are just a bunch of frustrated nerds that could not get the girls in high school and want to take their revenge by controlling their artists - Yes they may have money .. but backstage they'll get nothing else but the band's left over - since when are A&R cool people?

Why did you decide to call the new album 'Letter to God'?
After the death of my son, Samuel Ilous, I decided to write one more song and I called it "Letter To God" - the lyrics were so strong that I decided to name the CD after that.
What influenced the cover of the album?
It does not matter in the eyes of god if you are a Jew, a Christian, Buddhist or what ever else. When pain strikes you, we all feel it the same way! Mothers and Fathers of a dead child will cry the same kind of tears no matter what part of the world they are from.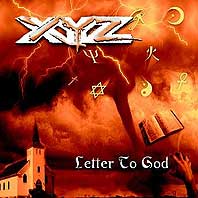 How long did it take to complete the album and what did it cost (if you don't mind me asking) as the quality is exceptional?
Jeff and I have our own recording studios, so I can't really tell you how much I spent on the record. I can tell you that it took me 8 months to record it. We only took 3 weeks off and worked on it 4 days a week.
What have been your best times in the studio working on the 'Letter to God' album?
The first day and the last day. I was so excited when I started to record it. I felt
like I was 20 years old again. Wait a minute Oh - I thought I was still 20! Thank God I did not write songs about strippers! ah ah
The last day I was scared because I truly believed no one would be interested in
hearing the CD. That is why it took me so long to record it. I was scared so kept pushing the release date.
What are your favourite songs on the album and why?
"Asking" - It's about a kid that I know too well who never cared much for his dad while he was alive, so when his dad died, all he could do was to write a song asking him for forgiveness.
Who is the song 'Asking' about and for what reason was it written?
My dad. I'm that kid.
What is the musical influence behind 'Rainy Day'?
A cool Led Zep groove - a bit middle eastern too.
What influence the song 'United' both lyrically and musically?
I'm so tired of people wanted to control the world in the name of God. 9/11 was hard for me - I lost a few friends. The fact that terrorists did it in the name of God made me sick! But the fact that some countries still have diplomatic relationship with those terrorists makes me puke.
Terrorism is something we should take seriously. I don't always agree with the US foreign policy , and we < Americans > have made a few mistakes in the past but the truth is America is still a better country then Iraq or Syria etc etc.
Yes, we are not perfect but if it was not for the US the world would be marching to the sound of another beat. The world would be speaking another language - Do you follow me?

United "is for those who died trying to make the world a better place, in Normandy or else where.
What influenced the songs 'Tell Me' and 'Touch the Sky'?
"Tell Me" is a reflection on the meaning of my life. "Touch The Sky" is a pure 80's heavy rock song with big guitars... I think Paul and Jeff did very well in that song.
Why did you record two versions of Tango (one in English, the other in Spanish)?
Spanish is my second language. My dad's family was from Spain Barcelona/Madrid, so I was really happy to record that song in Spanish. Every time I sing in Spanish I think about my dad, he is the reason why I'm here today - he was a musician.
What made you decide to re-record the songs 'Inside Out' and 'What keeps me
loving you'?
My German label thought it would be a good idea. I like these new versions - after all you can't find my first CD anywhere, so why not give the fans the chance to hear these songs again.
What's your connection with 'Rough Cutt' frontman, Paul Shortino?
Just a great pal. I always liked his voice and believe he is one of the best singers Los Angeles has ever had! I'm a big fan!
What are your future touring plans?
Well we had the Great White Tour but that got cancelled due to some insurance. But Sure, I'm p*ssed! We are working on another tour - we will see. Europe should happen in November.
Why have you never been big forerunners of the Rock scene - did you have bad
promotion and other set backs - if so what?

Yes - big ones. We did ok. The band sold over 1.2 million Worldwide so it's not bad but I believe we could have done better. I think I was not aware of the music biz before and that's a mistake.
How did you get to know Vinnie Appice and Nir Averbuch and how did you
manage to get them to play on the album - had been on the cards for a while to work alongside each other?

Vinnie is a pal - one of my favorite drummers and Nir - well, I have worked with him on some voice over project - he is brilliant.
How was it working with Yngwie Malmsteen's Engineer, Tom Fletcher and how
did you meet?
Tom is incredible I recommend him! He is so easy to work with. Brilliant guy!
How is the band funded - is it through a record company or is it completely self funded? What would you say are the advantages and disadvantages that you've come across in the music business and why?
I'm the label and artist. I fund everything. It's good because I have control. It's bad because control is expensive. I spend a lot of time working on it. XYZ being with a major label is cool but you don' t make any money unless you go gold. I was gold twice, so I know! And even then, it's not much.

Would you say there are certain bands you sound similar to and who? - I hear
awesome bands like Skin and Kiss of The Gypsy in there, plus Led Zeppelin?
What's your opinion?

Well I'm flattered! I guess we all have a little bit of another band!
I grew up listening to Zep, so of course that was easy .. The other guys you mentioned I don't know them at all but I'm sure they are good if I remind you of them ah ah.
How is the Rock/Metal Scene in your part of California? What's big at the moment? How does the area treat you as artists?
Rock is coming back but it s not here 100% yet. The media still control the biz
so rock is behind - but thanks to some cool music sites it's coming back
In your own words, what's it like to experience XYZ live?
For you or for me?
For you - True Heavy Metal band with big guitars loud drums and cool songs.
For me - lots of stress making sure that I'm that cool heavy metal band!
What types of songs do you like singing best and why - ballads or rockers or
both and reasons why?

Depends on the mood I like songs with great melodies so ... no melodies, no song -that's why I don't like Death Metal .
What would you say you would like to be remembered for?
A sincere rocker trying to get a little space in the busy streets of Heavy Metal.
I hope to succeed!

When can we expect a visit to the UK?
November, I love the UK.
So much culture - great place to live. Although I don't like the food! but UK fans are great. They know all the lyrics. They know all the songs. I really enjoy the UK. It will be fun plus the pubs are cool. PS beers are on you pal!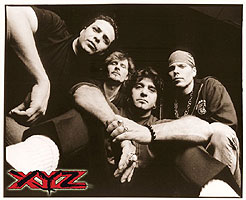 Take care. Terry Ilous
www.xyzmusic.com
And those pints will be drank in the 11th Month - you betcha !! Cheers for that , Glenn.