An e-mail Interview with the Unsigned as yet Glam-Gothic Artist called 'Virginia Creeper' - July 2003 by Glenn Milligan, BA Hons CS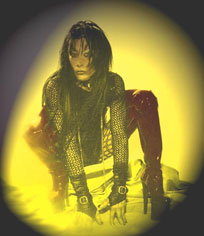 Why did you call yourself 'Virginia Creeper'?
The title VIRGINIA CREEPER brings into question the identity of gender, witnessing VIRGINIA CREEPER in a live performance brings the title and persona together. Originally Virginia Creeper refers to a vine that grows uncontrollably, as will the music of VIRGINIA CREEPER.
How did you find out about the song 'Hot Child in the City'? - it's very much an unsung, unheard classic in the UK?
Hot Child In The City was a #1 single in the U.S. during the summer of 1978 for Canadian GLAM artist Nick Gilder. I felt the song represented the entire 1970's New York Glam Scene, the roots of my music. The song has also become a trademark for VIRGINIA CREEPER.
What is the latest news on being signed to a record company?
At this time VIRGINIA CREEPER is shopping the 'COMFORTABLE IN THE PAIN' EP to management and several major and Indie record labels.
Will there be a full length album out and if so what will we expect to hear? Song Styles etc
The full-length release VIRGINIA CREEPER on KILLER QUEEN RECORDS is scheduled for release in the winter of 2004. The new material will be a lot heavier than 'COMFORTABLE IN THE PAIN' and the full-length may include another cover song.
How did the band get together?
The band has been through several line up changes. At the present, the band features guitarist Kirk Roth, who played on the 'COMFORTABLE IN THE PAIN' EP.
Your voice has a unique kinda old-man quality to it? When did you start singing like this?
After years of training I developed my own style. I wanted it to sound as aggressive as my music.
Who have you been compared to and how does that make you feel as an artist and individual?
The music has been compared to Alice Cooper, Motley Crue, Marilyn Manson. All who have been major influences on VIRGINIA CREEPER.
Since you incorporate a variety of different musical styles from Glam to Nu-metal - do you have a certain favorite or do you like to keep it varied?
I still listen to a lot of 'old school' GLAM: Alice, the Dolls, Iggy, but the NU METAL is more in touch with my style. A darker, heavier sound, combined with the drama and excitement of the 'old school' GLAM.
What's your connection with Twiggy Ramirez, apart from the musical aspects and how did you meet him?
We met at a club in Manhattan during his Manson days.
Have you worked together and on what?
Not at the present, possibly in the future.
In the Nu-Metally 'Crazy Boy' where were the sirens taken from and did you require permission to use them?
The sirens in 'CRAZY BOY' were sampled from an actual police car outside the recording studio.
Is there any truth in the reference to 'Crazy Boy' in the biography that you are schizophrenic - or was it simply written to make the bio and song sound elaborate?
'CRAZY BOY' is autobiographical, IT'S ALL TRUE.
What was the influence behind the song 'Restless'?
'RESTLESS' is an accurate description of a former relationship…….that wasn't meant to be.
How did 'Restless' do as a single and where and when was it released?
'RESTLESS' is in heavy rotation on several Indie radio stations throughout the U.S.A. The single is also being shopped to various labels at this time.
Since 'Mercy' is both electric and acoustic, would you say you were trying to match the excellence of any other songs of this vein and if so, which ones and why?
'MERCY' has been compared to 'Stairway To Heaven'. The song starts out calm and passive, then elevates to an aggressive frenzy. The song has also been compared to 'Patience' by Guns and Roses, and 'Outside' by Stained.
What artists have been a major influence on you and how?
As stated earlier, the 1970's New York GLAM Scene, and present day Industrial Metal.
Outside the music, what else are you involved in?
VIRGINIA CREEPER is currently in the process of developing and Independent record label.
What's it like being a Rocker in Farmingville, New York and what's the scene like with reference to clubs, bars, venues and local media?
Farmingville is a small, quiet town on Long Island with not much of a club scene. This is my getaway from the chaos of New York City.
What have your own personal favourite gigs been and why?
Several shows I did in Manhattan, New York City is home to VIRGINIA CREEPER.
Best Tour Stories?
VIRGINIA CREEPER was once accidentally booked at a club on Long Island on the same bill with four thrash metal bands…. needless to say, VIRGINIA CREEPER won the uninterested crowd over.
What initially turned you onto the idea of fronting a rock band?
VIRGINIA CREEPER grew up in New York City, and lived on East 59th Street, where the infamous GLAM Boutique 'Jumpin' Jack Flash' was located. On several occasions I would see the members of Alice Cooper, The New York Dolls, and The Edgar Winter Band on my way home from school. This was the beginning of VIRGINIA CREEPER……
Who is your co-writer 'A. Cryson' and was he a previous band member?
A.Cryson was a former band member and former co-writer who has moved on to pursue a different career.
How did the four-track 'Comfortable in the Pain' come about and where does the title come from?
The four songs on 'COMFORTABLE IN THE PAIN' showed of a variety of my music styles. All four songs have a very special meaning to me and reflect different times in my life. The title 'COMFORTABLE IN THE PAIN' seemed appropriate.
Have you based your image on particular artists and made it your own?
The image of VIRGINIA CREEPER is my own creation, sort of the offspring of Alice Cooper and Christina Aguilera…DIRTY!!!
What are your future plans?
VIRGINIA CREEPER returns to the studio to record the follow up to 'COMFORTABLE IN THE PAIN'. The new single is entitled: 'MISTAKEN', scheduled for release in September 2003. Tour is scheduled to follow.
Where would you want to tour if you had the chance?
Europe…U.K… Japan…then back to New York City.
What is 'Virginia Creeper's' ultimate goal?
The ultimate goal of VIRGINIA CREEPER is to rule the world.
Future plans?
Future plans, at the moment include: the full-length CD, touring, and a live performance on DVD.
VIRGINIA CREEPER