American Head Charge – Corporation,Sheffield, Friday, October 24th, 2014
Set List: All Wrapped Up/Dirty/DND/Writhe/Ridicule/Drowning Under Everything/Seamless/Just So You Know.
Well I remember being sent their album, 'The Feeding' many years ago and for a while now, OZZFestAmy has raved and talked about the band constantly and to be honest after seeing these guys live it is of little wonder.The Minneapolis based metalheads burst out on stage to the sounds of Ministry (whose Guitarist, coincidentally enough, Sin Quirin is a former member of American Head Charge), with Cameron hitting the boards last of course to some killer applause from the packed house on this Friday night in Sheffield.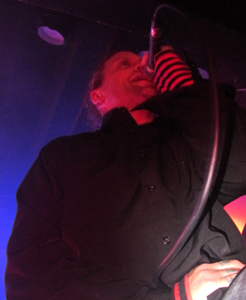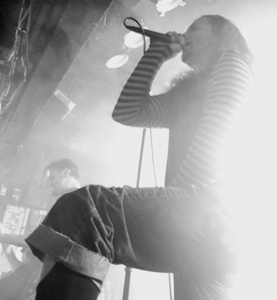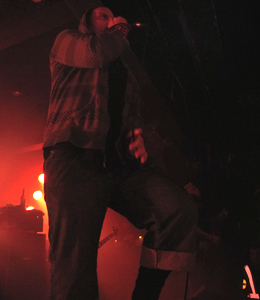 With an animated sextet that is completed by Bassist, Chad Hanks; Keyboardist, Justin Fowler; Guitarists, Karma Cheema &Ted Hallows; Drummer, Christopher Emery, they will leave most bands standing and wondering which way to turn – or most likely put down their instruments and take serious cover. What struck me straight away was the immense power from this frontman's voice – be it crackingly in-your-face second to none singing or the rabid, ferocious bawling blasts that vehemently threw the thoughts of theirs to the crowd with the rest of the guys meshing it all together so tight with violent yet relaxed perfection since they show no worry about nailing it all down to the fans who lap up the heavy goods on offer.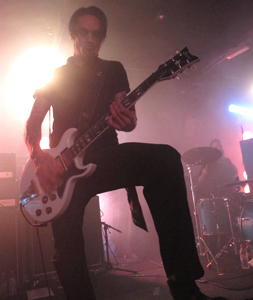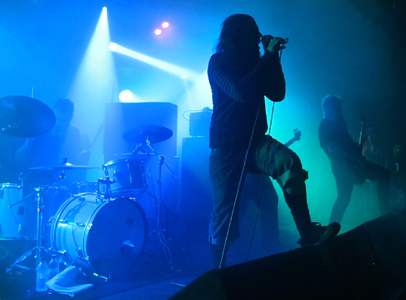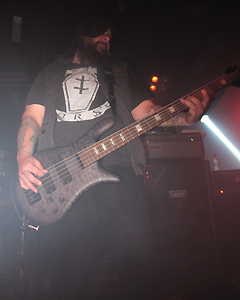 There is plenty of blinding strobe usage throughout the 8-song strong set adding to the exploding white-hot intensity of the performance with Cameron coming on with his hood over his head like a mad metal monk before unveiling his curly blonde locks during 'Dirty' and thrashing them hard like his life depended on it.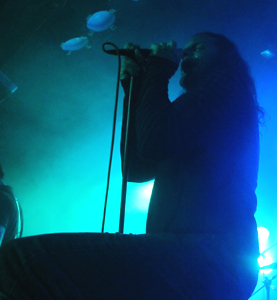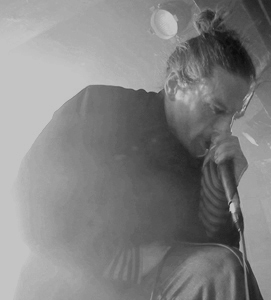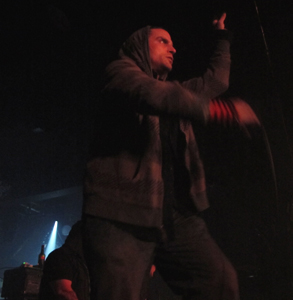 There's a negative bombastic nastiness to their style but also a healthy helping of dark yet subtle beautiful majestic moments seeping through the songs from time to time. We are even treated to a new number that goes by the name of 'Drowning Under Everything' that Cameron informed me later would be appearing on their forthcoming album.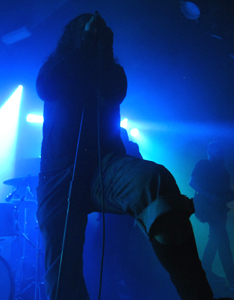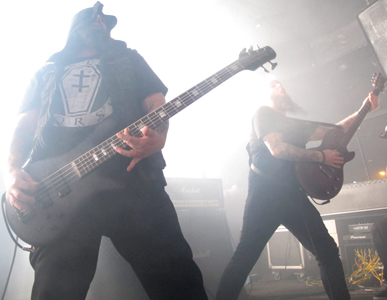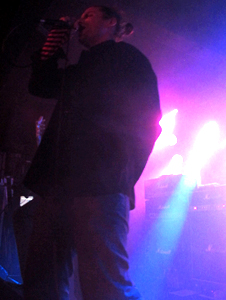 Highlights from the AHC show were the opening industrial meets nu-metal brashness of 'All Wrapped Up' the quiet to loud in-ya-face Writhe' and the closing melodic 'n' sinister 'Just So You Know'. Mr. Heacock even told us from the stage he remembers the first time they had played there (which was in 2005) and that he thought it was a cool venue. I reckon the 'Charge will be back in Sheffield again to turn fire up the electricity in their own right some time next year. Bring it on – we certainly need it!
10/10
By Glenn Milligan

Alestorm/Lagerstein – Corporation, Sheffield, Friday,October 10th 2014
Well this was a real surprise for myself and my buddy Steve Froggatt because we never expected the venue to be as rammed out as this for something that is very much a novelty kinds of genre – as in Pirate Metal – whatever next? Imagine Power Metal meets Heavy Metal slammed in with sea shanties, a healthy helping of authentic Hungarian folk music and Celtic ambience with visual aids not unlike Captain Pugwash and Treasure Island and your are somewhere close.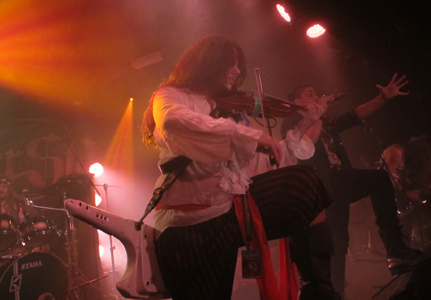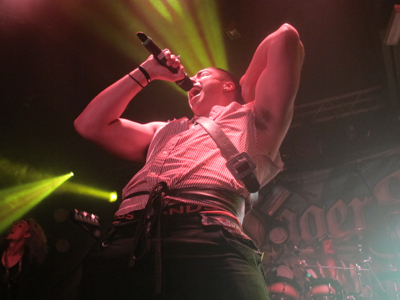 There was a real mixed range of audience in here from around 18 to mid 50's and very much toward a 50/50 male to female ratio which makes a great difference to the majority of Metal shows. Okay, so we missed the first three bands of Piratefest2014 as the tour is called but we wanted to make sure of covering the main two bands of the night.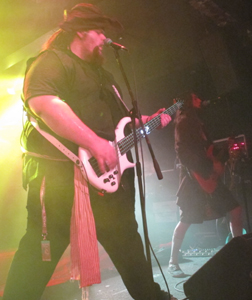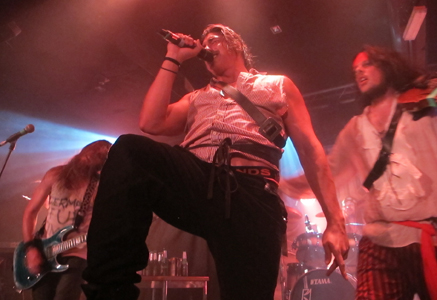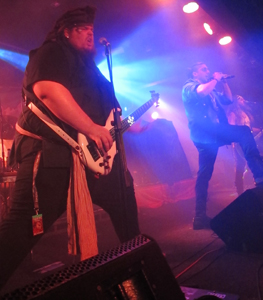 Lagerstein were a cracking comedy act indeed from Australia with a bassist (The Immobiliser) that was nearly the size of that guitarist in Bowling For Soup who knocked back 2 cans of Guinness in less than 30 seconds and didn't spill a drop – now honestly – not kidding! These dudes were a laugh a minute with Mark Flute saying, "I loved it. I enjoyed the drinking sessions they had".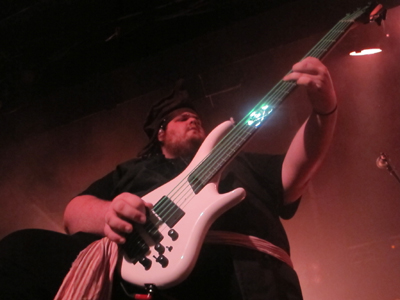 In fact they had their guitarist drinking beer from his own boot and a couple of girls on stage did the same from theirs as well. There were songs aplenty about life as a pirate and plenty of drinking on a regular basis from some homemade beer-bongs - I wonder how they would explain those while going through customs.
Set List: Intro (Monkey Island)/ Walk The Plank/The Sunk'n Norwegian/Drink/Over The Seas/Shipwrecked/Magnetic North/Back Through Time/Nancy The Tavern Wench/Keelhauled/Pirate Song/Wooden Leg!/Wenches & Mead.
Encore: Intermission (1741)/1741 (The Battle of Cartagena)/Hangover (Taio Cruz Cover)/Captain Morgan's Revenge/Rum/Outro (Questing Upon The Poop Deck).
Now here was the part of the night that they'd all been waiting for, the awesome Alestorm from that country up north that goes by the name of Scotland. The place went literally f*ck*ng mental immediately with kids coming over into the photo-pit – the security had their work cut out and so did we getting pictures too – not to mention a blow-up boat that was thrown all over the room that was still intact at the end of the set.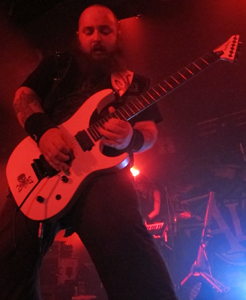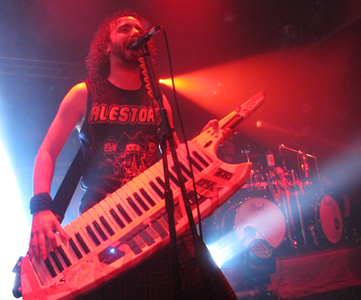 Making a special appearance in the set was Gary Monkey B*st*rd who proved to have a similar voice to their frontman, Christopher Bowes funnily enough – a real highlight of the show with the entire audience shouting 'Gary' after his song about monkeys. Other songs were taken to well such as 'Wenches & Mead' which as Mark Flute points out, "Went down a storm", with Steve Froggatt going on to say, 'Always loved 'Keelhauled', 'Nancy The Tavern Witch' and 'Wenches And Mead' – the list is endless… 'Keelhaul that dirty landlubber – with a bottle of rum and a ho ho ho….' – you reckon he enjoyed it?

The filled room of fans sang and danced to all the songs that were on offer with many getting right into the spirit of it all dressing up as pirates, wenches and even one dude in a giant parrot costume – man, he must have been red hot but he did get a lot of attention – hahaha. It's also worth noting that 'Wooden Leg!' was humourously dedicated to Heather Mills too. Toward the end, The Immobiliser from Lagerstein joined them onstage for some kickin' backing vocals – oh and some more drinking too – well what else?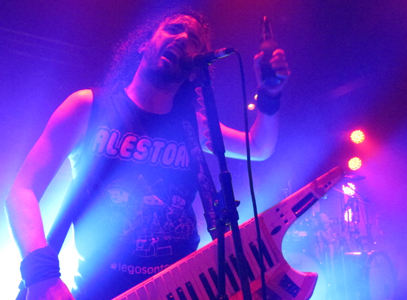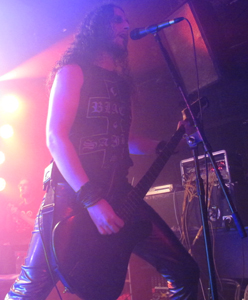 Now what made this gig pretty incredible on top of the crazy pantomime spectacle of it all was the fact that the fans had Alestorm's frontman literally in the palm of their hands. Like Mr. Froggatt states, '(I've) never seen a singer travel from the stage to the bottom bar by crowd surfing', which really was a mind-blowing spectacle and goes to prove what trust, unity and bonding there is with this band and their fans.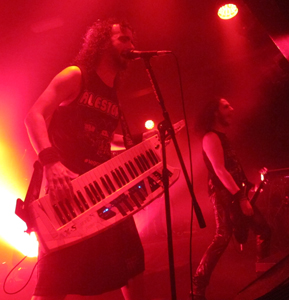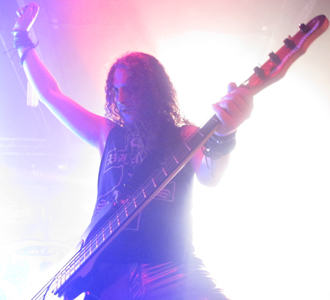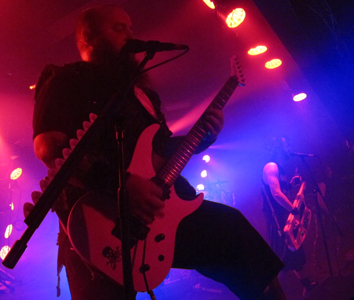 A wild night even though it did get rather repetitive and silly, rather "like Pirates Convention" as Steve put it – but that was the idea to be honest – you could never take this serious – neither is it meant to be taken serious either. It's a wonder that the clubs bars weren't drunk dry!
9/10
By Glenn Milligan
Big thanks to Mark Flute & Steve Froggatt for their input!

Aerosmith – Whisky A Go-Go, West Hollywood, California, USA, Tuesday April 8th, 2014
Setlist: Draw The Line/Same Old Song And Dance/Pink/Walk This Way/Mama Kin (with Slash)/Train Kept A-Rollin' (with Slash).
Going to see Aerosmith on April 8th 2014 for the announcement of the 'Let Rock Rule Tour'. Being there was a pleasure for me and anyone in the audience. The last time I saw Aerosmith it was December of 1987 in St Louis with Guns N Roses.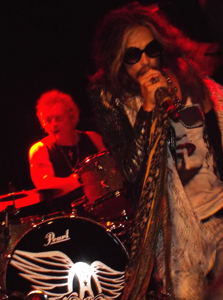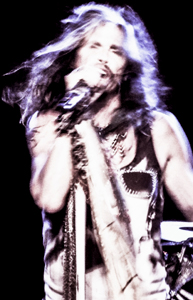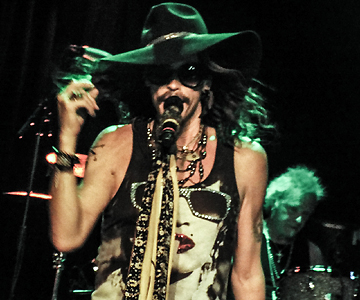 I had found out about this two days before the show. I just did not know that they were going to play at the Whisky. Who would of guessed such a small venue would host a band of this magnitude?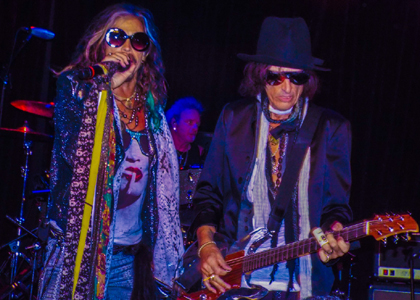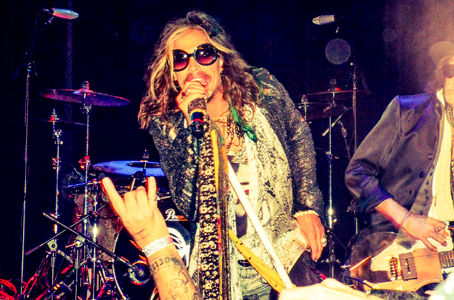 I was fortunate to be an insomniac. I stayed awake over 24 hours glued to the radio and news locking down the location. These are the photos that I took of the experience. If you cannot look at my photos and see the energy just jumping from the performers in them; then you might want to see them live.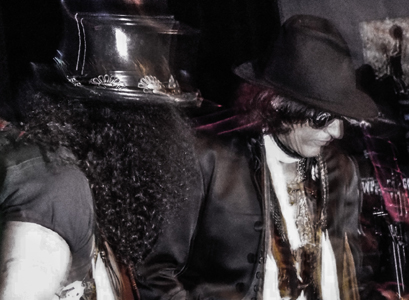 Tyler was in top spirits. You do not keep a band together this long without them being a tight unit. Slash jumped on stage and joined them. These are my views through the lens of my camera. I hope you enjoy them.
10/10
by OZZFestAmy

Aerosmith/The Dead Daisies -
Rod Laver Arena, Melbourne, Australia, Saturday 4th May 2013 (Global Warming Tour - Third Leg)
Setlist: Draw The Line/Love In An Elevator/Jaded/Oh Yeah/Cryin'/Last Child/Rag Doll/Janie's Got A Gun/Livin' On The Edge/Stop Messin' Round (Fleetwood Mac Cover)/I Don't Want To Miss A Thing/No More No More/What It Takes/Come Together/Dude Looks Like A Lady/Mother Popcorn (James Brown Cover)/Walk This Way.
Encore: Dream On/Sweet Emotion.
I had been anticipating this gig for 24 years after missing out on tickets the last time 'Aerosmith' played Melbourne at the end of the 80's. My brother told me that I was wasting my time and that Aerosmith had "had their day" and Steve Tyler "will be useless 20 years on and without the drugs". How wrong he was; granted there were no back flips off speaker box, but at no stage did I feel disappointed. The main support act was 'The Dead Daisies' a power band headed by Jon Stevens of 'Noiseworks' fame. To be honest I was outside for the support bands and only stuck my head in a couple of times to hear bits of songs. All reports from friends after the show were favorable and along the lines of "you should have watched them". After a delayed start it was announced that 'Aerosmith' was about to take to the stage. We made our way to our seats and were a little surprised to see how far away from the stage our seats were. Never mind at least we were there and we did have a clear, front on view of the entire stage. (we did manage to pinch some better seats closer to the stage as the concert progressed).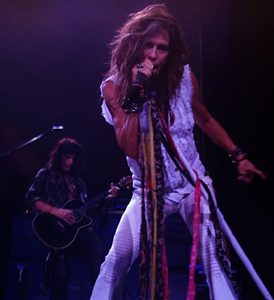 Within a few minutes of being seated the stage erupted in smoke and lights and the show began. Steven made his way down the cat walk style runway looking like an albino peacock. He was dressed in all white with a long coat, scarf, leather pants and huge white star shaped glasses. Their opening song was 'Draw the Line' followed by 'Love in an Elevator'. Steven let us know early on that he's "still got it" with a spine tingling finish to 'Jaded ' where he held the final note for what seemed an eternity. As the show went on Steve stripped off a layer of clothing with almost every song, ending up in his tight pants and vest only. I must say for a man of his vintage he's kept a pretty fine form. Early in the set they played one of my favorites 'Crying' followed by 'Last Child' and 'Rag Doll'. One of the more interesting parts of the show was when Steven introduced the 'Sea Shepherd' a charitable group set up to protect our oceans and marine life.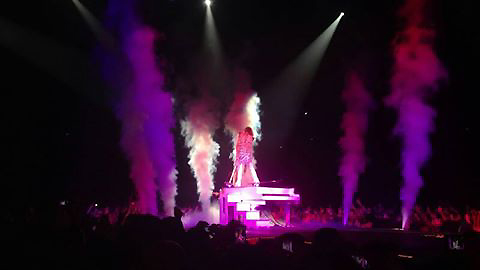 The members were visible in the front of the stage by their logoed tops and were special guests of the band. After the introduction the band broke in to 'Living on the Edge' with a video clip on the big screen showing the members of the band on the ships with the 'Sea Shepherd' crew. After this Steven took a break while Joe preformed very well received a solo of Fleetwood Mac's 'Stop Messing Around'. Steven returned, blowing his harmonica before breaking into 'I Don't Want To Miss A Thing'which seemed to be the favorite with the younger members of the audience. This was followed up by "No More No More' before the crowd had a mass sing-along to'What it Takes". As well as Joe Perry's Fleetwood Mac cover the band also covered the Beatles 'Come Together'and James Brown's 'Mother Pop Corn'. In between these two was the classic 'Dude Looks Like a Lady'. The band finished off with 'Walk this Way' then left the stage; but we knew there was more to come.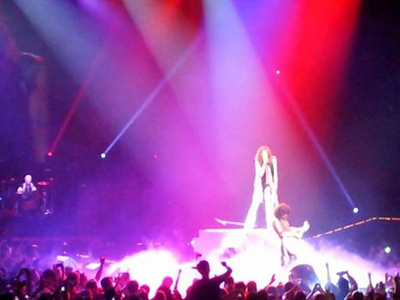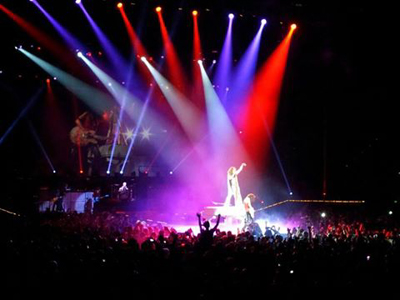 The siloettes of the ninja stage crew setting up a grand piano gave this away. The band returned to the stage and Steven began playing 'Dream On' on the white baby grand positioned at the end of the runway. Soon he was joined by Joe who mounted the piano and began playing on top, as the song went on they swapped places and Steve replaced Joe on top. This part of the show was awesome with the lasers, lighting and smoke creating and amazing effect. The final song much to my pleasure was 'Sweet Emotion' before the band left the stage for the final time. The camera followed Steven, projecting him onto the big screen as he made his way off singing a rendition of Muddy Waters 'Manish Boy' into the lenses. The crowd dispersed; loved up and all fully satisfied with the evening's entertainment. It really was an amazing show; the awesomeness of 'Rod Laver Arena' can sometimes make you feel lost and disconnected with the band you are seeing but not in this case.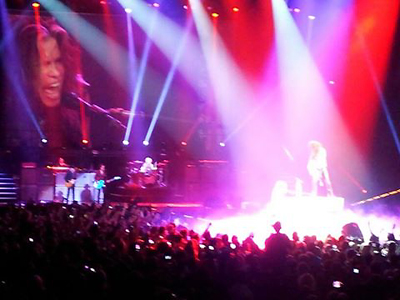 Aerosmith are true entertainers and were able to capture the attention of the audience to the point where you would sometimes think you were in the intimate surroundings of a private show. The over the top lighting, smoke and confetti showers was all you would expect from a band with such a glamorous lead singer. The band was in great form, the line up of Guitarist Brad Whit ford, bassist Tom Hamilton and drummer Joey Kramer has been the same for over 30 years. Unfortunately Tom had to pull out early on the tour due to illness; however his stand in, David Hull, did an admirable job as did the touring keyboardist, Russ Irwin. Steven Tyler and Joe Perry truly have some crazy magic bond between them. Steven is defiantly the bigger show off but Joe isn't far behind, and his guitar playing is incredible.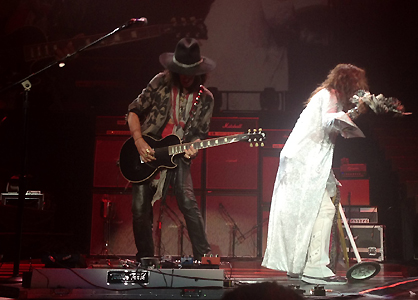 As for Steven Tyler, what can I say? He may resemble an old prostitute nowadays but he's still got it. That seductive sleaze and trademark flamboyant style has not left him and boy does he know how to captivate an audience. His energy never wavered as he strutted the stage belting the songs without missing a beat. It was an incredible show from an incredible band and at last I can mark 'Aerosmith' off my bucket list.
10/10
By Liza-Lee Campbell
Special thanks to Jose Stephenson from the band 'Super Saloon' who was fortunate enough to be in the general admission section and kindly let me use some of his close up photos for this review.
Anvil – Corporation, Sheffield 21st June 2011


Set List: March Of the Crabs/666/School Love/Juggernaught Of Justice/Winged Assassins/On Fire/This Is Thirteen/Mothra/Thumb Hang/White Rhino/Fuken Eh!/Forged In Fire/Conspiracy/Metal On Metal.

Encore: Jackhammer/Running.


Wow - is it really a year nearly since I last saw these guys at another venue up the road from here. Nice to see that they are now playing in the Corporation in the big room as Mutley knows how to promote a fine rock and metal show - unlike that another venue I won't mention. The place is pretty packed as well I am pleased to say and everyone lavishing the return of the Canadian legends to these parts. Lips greets us by talking through the pick-ups on his guitar that he is famous for and then it's a full-on metal assault for the rest of the night much to our delight.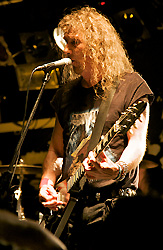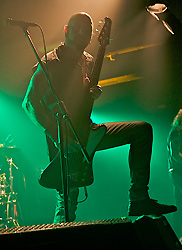 They pack in plenty of tunes to their 90+ minute set including a couple from the new album 'Juggernaut Of Justice' such as the title track itself that gets claps galore in its truckloads not to mention an awesome solo in 'Mothra' with Lips on the good ole silver dildo (that's only used for this purpose of course - more tea vicar?). The man is full of humour and jokes to Jason from 'Friday 13th Zine' that he himself is balding and there's time for it to happen to Jason too - lol and even dedicates 'Winged Assassins' to him too . He has a rant about the craziness of the USA about it being a 'Conspiracy' with regard to the truth behind 9/11 and 'Is Osama really dead?' as they couldn't produce any pix of his body' - It makes you think doesn't it? He is also proud to be from Canada with the song 'Fuken A' being about just that! Bassist Glen who is still called the new boy even though it's been many years on those 4 strings in this outfit is digging it and poses around on stage left with that heavy instrument of his.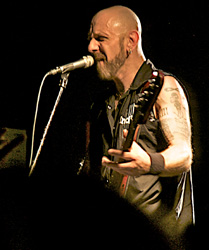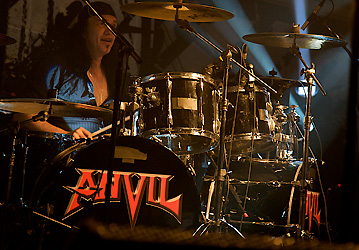 Rob Rhiner gets to do his drum solo for the epic 'White Rhino' giving the other 2 guys take a breather and no doubt a toilet break too - wash your mouth out with soap boy - fancing saying such a thing. It was great to hear the momentous 'Thumb Hang' again which is the 1st song Lips ever wrote and dedicates it tonight to Ronnie James Dio - saying he was one of the nice men in Rock and got to have breakfast with him at a hotel which both Anvil and Dio were on the bill for - in fact Ronnie recognised Lips straight away and it had been 18 whole years since they last met. The show would not be complete without 'Forged in.... (wait for it) Fire' of course that Lips has us screaming back at him, not to mention their other anthem 'Metal On Metal' - they just don't write 'em like that anymore do they?!?!

I can't believe the show went so fast and it didn't seem like 5 minutes before the were running through the BJ nut galore that is 'Jackhammer' and the fast-paced 'Running'. These guys even came out less than 5 mins after the show to meet the fans and have photies with them and sign autographs - true pros at the job as well. I am sure this Metal Trio will be back next year as Sheffield loved them.
10/10

Review By Glenn Milligan

Pictures By Nigel Hughes
The Australian Classic Rock Show - City Hall, Sheffield, Monday, 10th January, 2011
1st time at the venue this year and to start the year off it's an expensive covers band from down under who turn the songs into a formulaic show with a video screen that features a far out kangaroo pulling out various vinyl albums, playing them on the turntable with some cool crackles and the band below playing a few songs from them 9with some great footage as times to add to the atmosphere - 2.5 hours in total with a break in the middle!
They are a ten piece outfit altogether with around 3 or 4 different vocalists, one of which is more mainstay than the others who has a Robert Plant/Roger Daltrey look about him - well worth noting was the hot young backing vocalist and percussionist, Amy Smith (dressed in black). They start up with up songs from Supertramp such as the humourous 'Bloody Well Right' and go onto Dire Straits (the longies 'Telegraph Road' & 'Private Investigations') featuring the stage left guitarist who had a long blonde ponytail and glasses who does a great impression of Mark Knopfler both instrumentally and vocally and then liven it up even more with some Led Zeppelin for the hardcore fans in the audience as the said frontman calls them. They were all numbers from Led Zep 4 and the 1st one played was the one that gets you banned from Guitar Shops - yep thats the one 'Stairway To Heaven' that was followed up with an amazing rendition of 'Battle Of Evermore'.
A 20 minute or so interval took place with Ice Cream Sellers etc which was rather bizarre for a rock 'n' roll concert if you ask me but went down really well all the same. Steely Dan songs started up the second half with the excellent 'Reeling In The Years' being a real highlight. They took it down a bit to a different mysterious vibe with some prog sounds of Genesis with the hardly ever played 'I Know What I Like (In Your Wardrobe)' and the haunting 'Ripples' that never come back! Then the best numbers from Pink Floyd's The Wall in 'Run Like Hell/Another Brick In The Wall (Part 2) and of course 'Comfortably Numb' that closed the 2nd part of the show.
Of course everyone wanted an encore in here tonight and they gave us a great version of Lynyrd Skynyrd's Freebird that featured 2 acoustics and 2 electricsa if my memory serves me right and ne that they wanted us all on our feet for, The Who's 'Won't Get Fooled Again' that served for a perfect classic rock ending.
10/10
By Glenn Milligan
Anvil/Girlschool – O2 Academy 2, Sheffield, Wednesday 7th July, 2010
We'd been all looking forward to this gig as soon as it was announced especially as it featured not one but two Heavy Metal bands that have been beating out the riffs for a good few decades.
Set List:
Demolition Man/C'Mon Let's Go/Not For Sale/Hit And Run/I Spy/Never Say Never Again/Screaming Blue Murder/Future Flash/Yeah Right/Race With The Devil/Emergency.
1st up were those London-based Rockers, Girlschool who taught many a man and woman that that females can do it just as loud and powerful as the blokes. They came on totally cock-sure – is that the right word to explain that one – hmm – well I said it anyway – they got balls anyway these chicks. It made a change for many to see them away from a line-up with the Mighty Motorhead and instead with some Canadian Legends (more of them later).
A major highlight of their set included 'I Spy' from the 'Legacy' album that Ronnie James Dio recorded with them who they dedicated it to tonight. Frontwoman/Guitarist, Kim McCauliffe said that they had just been playing in Germany and that it was rather embarrasing to be English over there (for obvious football reasons – no worries though as Spain beat them that night) and went onto play 'Never Say Never Again' (will that be a reference to winning the World Cup in the future we all wonder?).
Kim also said it was nice to play somewhere cooler was the venues were 40 degrees in Germany – one of her guitar strings doesn't seem to think so though and snaps so she uses Lips guitar instead. I did notice that bassist, Enid handled most of the vocals for the show with her wailing almost soprano voice – it was as powerful as Kims so all is good.
Other highlights in their set included their cover of 'Race With The Devil' by the original Gun and the other song they duetted with Motorhead with – the one and only 'Emergency'. Great set Girls. Afterwards they come out and enjoy the main band of the night and meet their fans as well. How cool is that!
Set List:
March Of The Crabs/666/School Love/Winged Assassins/This Is Thirteen/Mothra/Dildo Guitar Solo/Lips Solo/Flying Blind/Thumb Hang/White Rhino (Drum Solo)/Mad Dog/Forged In Fire/Metal On Metal.
Encore:
Jackhammer.
Well the fans in here were going absolutely crazy before the band hit the stage (they even set up their own gear too – something you don't see much these days). When Lips, Robb and G-Five do hit the stage the peeps in here go absolutely mental and Lips welcomes us all by shouting to us via his guitar pick-ups much to the delight of those here tonight with Anvil starting up with a Metal Barrage of Classics that begins with their instrumental, 'March Of The Crabs'. Anvil have control of the entire room from the 1st second.
The main man and his band are completely buzzing to be here in Sheffield, with Steve (Lip's real name if you didn't know) even saying that he was really impressed with the crowd in Sheffield and they were way better than the ones in London. Bassist, Glenn Five recieved a massive applause when Lips introduced him as well and they went into the old fave 'Winged Assassins' that featured a bass with 12 strings.

All through the gig there was the screaming of 'Anvil, Anvil, Anvil.....' in between the songs and the energy and powerful emotion simply didn't stop throughout the entire set, making the well-loved Canadians work even harder for their money. Lips asked who had seen 'The Story Of Anvil' and I think every hand in the room went up, not to mention a massive cheer.
"You've met my Wife, you've met my kid, you've even met my mum!", Lips exclaims to us all. He also went on to say that Tommy Aldridge was a d*ck when he met him as he acted like he didn't give a sh*t – he don't have no time for that bullsh*t rockstar arrogance at all! We get a song we saw them record in the film '13' from the album 'This Is Thirteen' that sees Lips sing through the guitar – an awesome spectacle to see for sure, as well as getting the purple sparkling dildo out and gives us a dynamic solo that comes complete with pulsing vibrations – oooh yeah baby!
The epic 'Mothra' is metalled out to us – man this has such a non-stop party vibe to this show, not to mention 'Flying Blind' from the 'This Is Thirteen' album – the number that if I'm not mistaken is the one that sees Lips sing in the vocal booth. There's a tribute to Sabbath – a band that Lips said that he loves and grew up on and dedicated their 1st ever song ever written to him – the classic 'Thumb Hang' and gets us to give a 'Thumbs Up to Thumb Hang'. Before doing this though he sticks his guitar lead onto his tongue creating immense feedback and jokes 'That ought to tighten up my pubic hairs' – hahaha – that's a new one to me on stage before going into the Black Sabbath influenced oldie.
Lips gets us all to scream for stickman, Robb Reiner gets the chance to shine with the powerful instrumental come drum solo 'White Rhino' so he'll burn up and he does just that with his own equivalent of Toad ot Moby Dick and still has plenty of energy for the rest of the set. It seems that Lips has plenty of rude stories for the stage and all of them are true no doubt such as the one about the english bulldog who humped his leg and gave him the pink crayon treatment – oh the wrongness - hahaha – what a great way to open up 'Mad Dog'.
Like the perfect set, the major numbers leave us (thumb) hanging to the end of the night -as if we'd actually go away if they were played earlier though! So how can you better the title tracks of the albums 'Metal On Metal' & 'Forged In Fire' which are Hard 'n' Heavy 80's splendour and give our tabs (a term means ears) a damn good ringing. It was really cool of Lips to thank Girlschool and told us that back in the day Anvil were support to Girlschool and now their English buddies are opening up for them.
When they come back on, Lips tells us another funny story about the time that orginal bassist Ian Dickson was in the band and they shared hotel rooms. Turns out Mr. D often had a chick with him and one who was a regular kept Lips awake through the night on many an occasion – I'll leave your mind to serve up the images – it was so bad that he didn't want sloppy seconds from Joan or a BJ from her and went onto write the song 'Jackhammer' as a tribute – if that's the right word in this instance – lol.
After the last note of this bedcrushingly brilliant number the guys bow to us all amid a mass of cheer and after about 10 minutes come down to meet everyone, sign photos and albums and have a photo or 2 with their Steel City fans. True, down to earth gentleman they are too – the way everyone should be.
The perfect way to end a perfect evening of Metal !!
10/10
By Glenn Milligan
Are You Experienced? – The Boardwalk, Sheffield, Saturday 6th March, 2010
Well this is a real sight to behold – a full on Jimi Hendrix tribute complete with a dude called John who does the main man some major justice. The only difference is that he plays a right handed guitar but it's been custom made so it looks upside down and it sounds absolutely killer spot-on as well and John's voice ain't too bad either to say the least.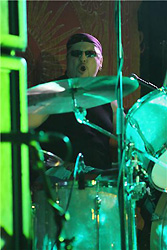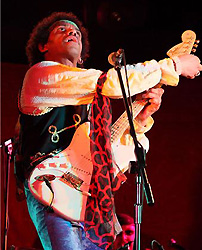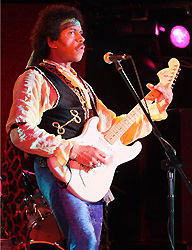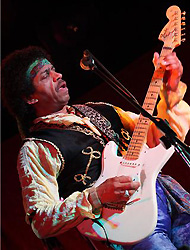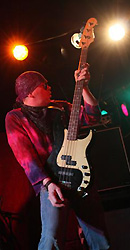 The opener is 'Can You See Me?' – we certainly can mate and I am really impressed as well. John asked for requests virtually straight away and a Hendrix fan asked for 'Machine Gun' that the guys had a try out at and nailed it on the head no problem with the gargantuan number being dedicated to the our troops over in Iraq and Afghanistan – nicely done brother.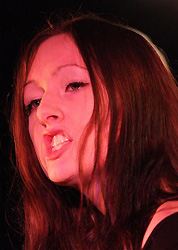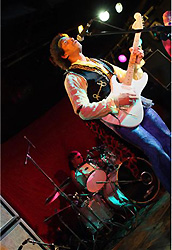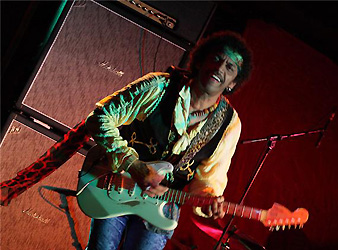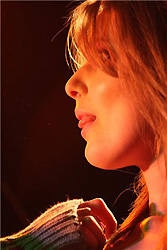 A smattering of well known numbers followed such as 'Wind Cries Mary' and a long epic 'Red House' which always goes down well with the luesier fans of Mr. H. "Are there any Dylan fans in tonight?", John asks the audience and a few shout, "Yeah", and put their hands up too. "This is for all 3 of ya", John jokes and they play 'All Along The Watchtower' without the slightest mention of the word Jehovah – hahaha – couldn't resist putting that in. John plays the 1st part of his own then the other 2 members join him for the song.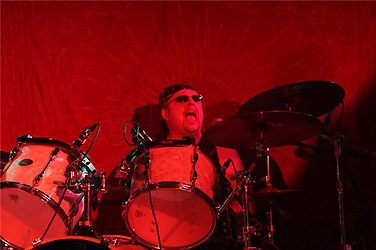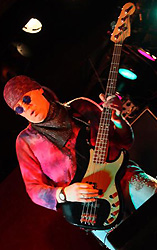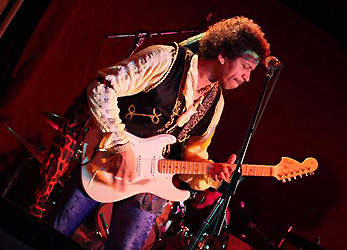 John went on to tell us that they were to be appearing on BBC's 'The One Show' on the 8th March due to a brand new Jimi Hendrix album coming out and they would also be playing 'The Isle Of Wight Festival' this year as it's 40 years since Jimi's Death this year. He went on to say that it with some bloke called 'Beyonce' whoever he is much but heard he's got a great arse – lol – much to the amusement of the crowd.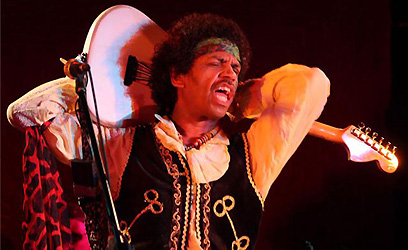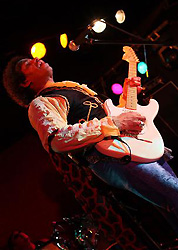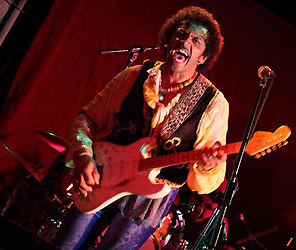 'Hey Joe' was next with the guitar being played on the back of John's head that sequed into 'Star Spangled Banner' with plenty of guitar tapping going down with the main man saluting us with the peace sign using the right hand, not to mention ripping into my personal favourite instrumental '3rd Stone From The Sun' in the middle, before firing back in the rest of 'Hey Joe'. We couldn't complain with a burning version of 'Fire' and I must admit I was stumpt as to what the next song was – a more obscure number for the hardcore fans no doubt.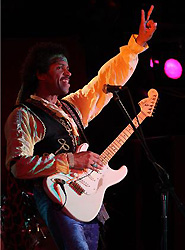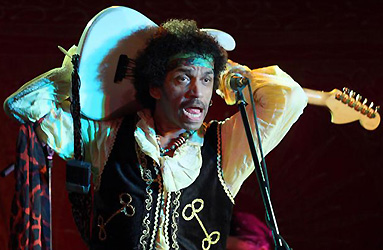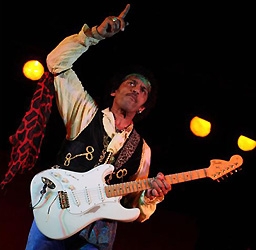 'Foxy Lady' saw John asking for some ladies of the very nature getting up on stage and dancing for us all to behold – best of which happened to be 1 who stole the show completely called Lauren – her moves were f*ck*n' incredible and totally mesmerized every single man in the room – it's a wonder that John kept it together but he didn't miss a note of the number or make one mistake.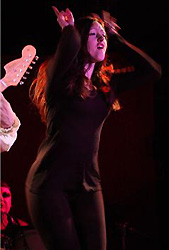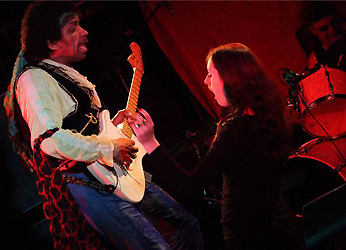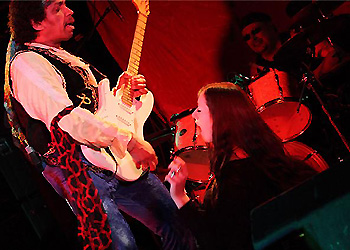 The other girls didn't stand a chance of competing with and watched in pure amazement and no doubt a bit of a streak of jealousy too. John thanked them all for the moves!! And you can't some lookers or two making a few moves can you - we all agree on that one for sure!!!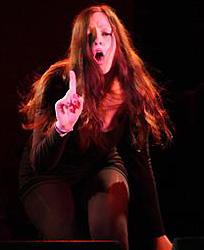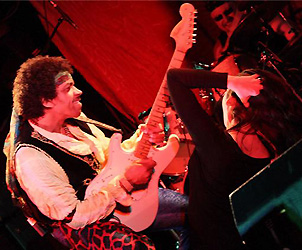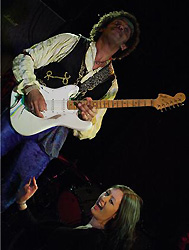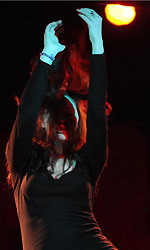 Back to more Dylan with a hevied up version of 'Like A Rolling Stone' – Hendrix style of course where he got us to sing the main chorus that was closely followed of with the Jimi take of Chuck Berry's 'Johnny B. Goode'. Our mate Helen decided she wanted to hear 'Little Wing' when John asked about anymore requests where he jokily said the band didn't know too well but would a go at it all the same (or words to that effect).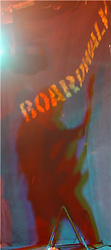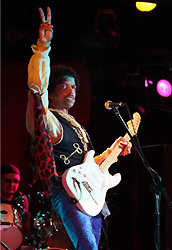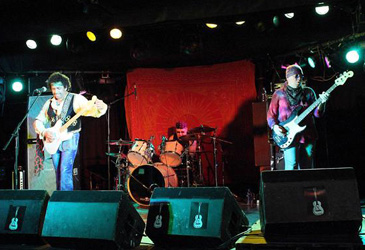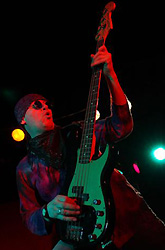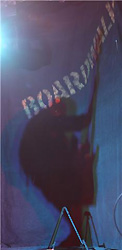 Classics aplenty then followed in 'Freedom', 'Are You Experienced' and 'Crosstown Traffic' and of course the 2 Chiles that we all know are 'Highway' (not heard too often) and the one that needs no introduction – of course the 'Voodoo' one with its 'Slight Return'.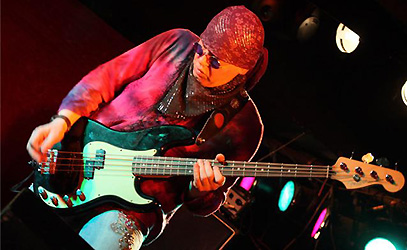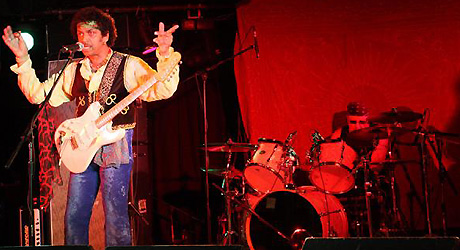 That was the main set over with but of course they came back on again – as if they wouldn't with John playing a black Fender Stratocaster for 'Wild Thing' with the guitar being played by the teeth and the sound fed back into the amp. John then got the axe on the stage floor & set fire to it with lighter fluid for about 10 to 15 seconds and put it out funnily enough – well we don't want the fire officer shutting the building down now do we!?!?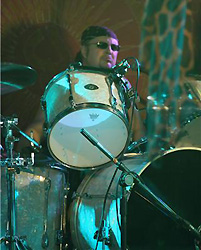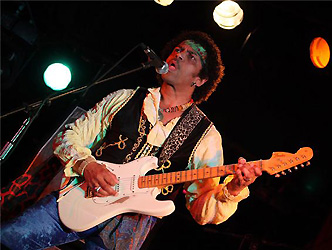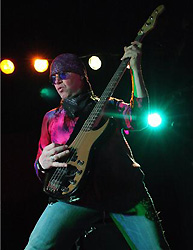 Brilliant show that should have had many more people in attendance – not to really as those there dug it – though some peeps were a little too quiet at times for some of our liking. Looking forward to seeing this amazing tribute act back in Sheffield soon.
10/10
By Glenn Milligan
Photos by Bernard Froggatt
The Answer/General Fiasco/Toxic Federation -
Corporation, Sheffield, Monday 29th November, 2009
Twas the second night gig in a row at the old 'Corp as was previously here on the 28th for Vain in the little room. Tonight though, it's to the left and into the big live room for a high volume party from some of Irish's finest - and no I ain't talkin' about malt whiskey either or is that whisky - I never did get my head around that.

Anyways, the place had started to get nicely filled already for the nights openers who go by the name Toxic Federation, a five piece from the Nottingham and Derby parts of the UK - just down the road from us to be exact about it.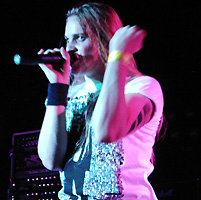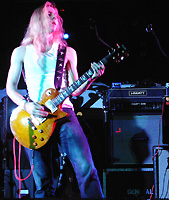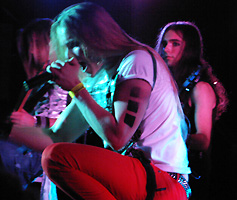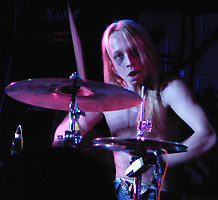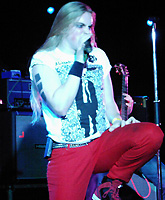 They look the part and they play the part and can't really be more than their mid 20's - good looking guys (without me sounding gay - hahaha) who remind me of the good ole days when killer hair and plenty of it was the complete norm in rock.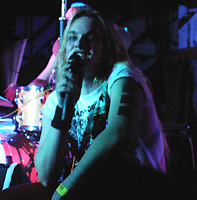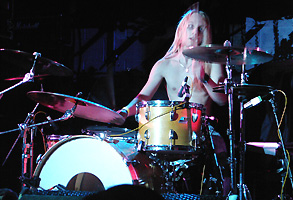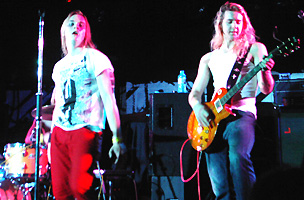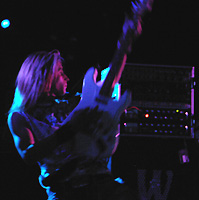 They are as tight as tight and their blend of rock and metal is kinda early to mid 80's meets the early 90's kinda sound - imagine Iron Maiden meets Skin and Little Angels with a voice and dynamic providince to match.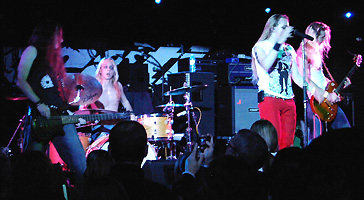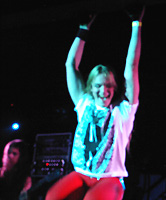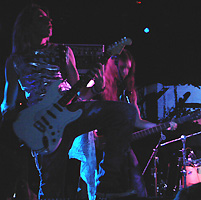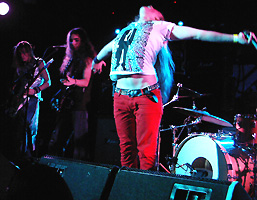 Their 30 minute set goes down amazing, with their frontman, even swinging around from the top of the front stage ceiling - if that makes any sense.
8/10
Next up were an outfit from Northern Ireland called General Fiasco - in fact someone actually said they should stop there as well. Bit harsh – lol. It was a really strange band to have on the bill as their style was more indie rock and far more suitable to supporting a band at somewhere like the venue down the road that starts and ends with an 'L' - with their look emulating just that as well.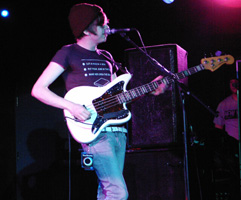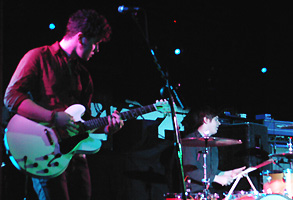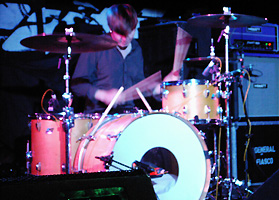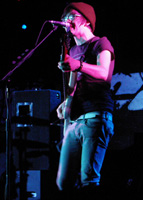 They were given a kinda polite applause but you could tell that peeps weren't too interested in the stuff that was filling their ears - with most of the crowd more interested in filling themselves with beer. Last song was actually the best number that had a far more rockier arrangement that they said was their latest single.
6/10
Now when it came to the other Irish lads - The Answer, the room was rammed - seems that their AC/DC support slot recently and no doubt ongoing has done them no harm at all – in fact the teaser number before they came on was 'Money Talks'.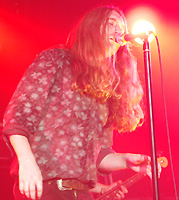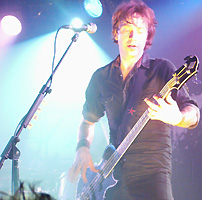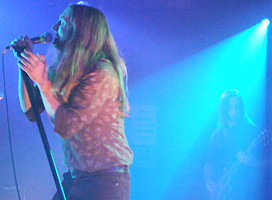 It was actually the 1st time that many of us had seen them headline in their own right (it last happened around April/May '06).I had previously seen them support Alterbridge and Whitesnake, so it's been a few year since I set eyes on 'em on a stage. The lights were bright and in full beam and so was the band - the instrumental members of the band coming on 1st, building up the intensity for when Crooning Cormac hit the boards - ok crooning ain't exactly the right word - but it fits and you fans there reading know what I mean. He was so incredibly confident as well and felt totally at ease immediately, singing his welcoming to the steel city audience in the good old style of The Black Crowes 'Chris Robinson'.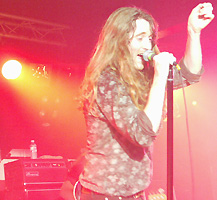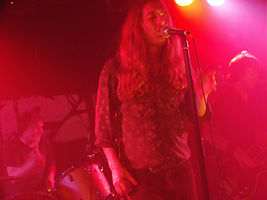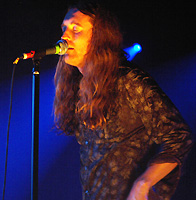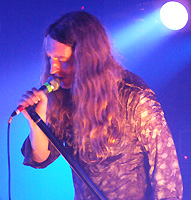 The place went nuts for the next hour and a half and The Answer were so pleased to be playing their songs to such an immensely enthusiastic crowd. Heavy and solid 70's like blues rock is definitely what these guys and girls came to hear and that exactly what they got of the finest order. Opening number was 'Tonight' from their current album 'Everyday Demons' which is obviously going down well since they played around 90% of it and a ton of material from the debut 'Rise' such as the anthemic 'Come Follow Me', Keep Believin' and 'Evil Eye'. At a couple of times the harmonica came out and we got some killer blues screaming from it.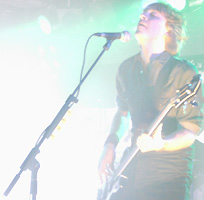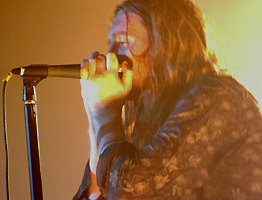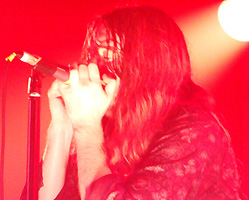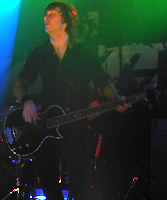 Love the last slidin' number that was a real highlight of the show. Don't know how he keeps that voice in full force for so long because there's simply no limit to its raw power. Strobes were a plenty tonight too, so I hope that no epileptics were in as they'd be in for trouble for sure – still peeps were warned beforehand and all was good. Cormac knows how to work the crowd and told us it wouldn't be right (or word to that effect) if he didn't the fans in Sheffield singing too – and that he did too – you were all in fine voice so thank yourselves for it – the band were impressed for defo.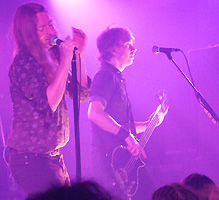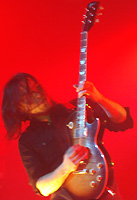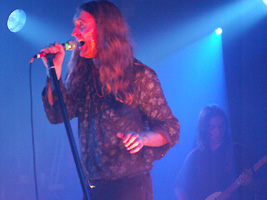 A solid spectacle of retro rock was thoroughly enjoyed by all and I can see peeps coming back for more again and again – Cormac, Cormac, Cormac, I hear you scream a band who really wear their musical love on their sleeves and through their sweat glands too. Outstanding – I just knew this band was gonna be big when I reviewed the advance copy of their 1st single, 'Keep Believing' in 2005. They believed and we believed in them – no doubt they will be back in Sheffield in the next year or 2!
10/10
By Glenn Milligan
Airborne/Skirtbox –
Corporation, Sheffield, Saturday February 16th, 2008
Well would you believe it, they don't seem to have been out 5 mins and they've completely packed out Corps big room !!
Anyways, supporting them though are a rather good band who deserve a lot of attention with the rather controversial name of 'Skirtbox'. Now you wouldn't have got away with that a few years ago would ya – but since dear old Mary Whitehouse popped her clogs it seems like anything is possible!
Hailing from London they have one of the warmest live sounds that I have ever heard in 'ere room – it's all truly perfectly audible and rightly so as these guys rock like f*ck in a style that is akin to Skid Row with an ear for Love/Hate. With 2 superb vocalists in tow who both have real in your face slightly throaty but high 'n' trill voices, not to mention knockout guitarwork of 80's Hard Rock & Hair Metal order – yep you guessed it – glambouyant and flambouyant with wailing solos a plenty.
Skirtbox's material is like a pint of Tetley, 'it guz down great lad' (hopefully I got the right beer there – haha) and like a good glass full, they leave you wanting more. Love the song called something like, 'When it comes to love, I ain't got no friends' about making it with your best friends sister. Classic- Come back to Sheffield and make it soon.
Now I thought I had heard loud before in this building but the sheer volume of Airbourne was absolutely blistering – now I thought Motorhead were the loudest – well these guys tonight were f*ck*n' louder – and I can't believe I just said that.
This was too much like a wall of sound where you everything just fell into the same block so you could hardly distinguish one thing from another – unlike the Skirtbox, the vocals were just buried in the mass mess of a mix that resembled bad medium wave radio. Shame on the soundman for this – unless they really wanted it to sound like sh*t – don't make sense if you ask me.
Music- wise this was pure AC/DC without any AC/DC songs – kind of a mix of both eras heavied up a bit with Brian Johnson like vocals in a Angry Anderson like vibe. The entire room just went totally crazy for these Australian born Roadrunner Records Artists – it was literally like a second coming of Jesus Christ with people going.
At one point the lead vocalist/guitarist came offstage while still playing his Gibson SG and grabbed himself a pint from the bar and didn't seem to miss a note at all! The peeps here loved all this – it really was a crackin show and a half where they must have played their entire album that features their now epic 'Diamonds in the Rust' and much more.
There's no doubt that with such a healthy turnout that these high flyers will make a return to Sheffield – hopefully with better sound next time.
8.5/10
By Glenn Milligan

THE ALMIGHTY + Head Inc. -
Corporation, Sheffield, Thursday, 24th January 2008
I seem to remember these four chaps from Glasgow - well two plus one from Belfast and one from Canada - treading the Corp's sacred floor some 13 months earlier, and proceeding to blow the balls off the gathered punters with a set that included numbers not played since the days that a chap called Tantrum stood in their ranks. Was that a warm up for tonight's events because looking back now it did certainly match.
Heralding their arrival onstage are Aussie quartet Head Inc, who sound like a raw version of the Mighty guys themselves - circa 'Powertrippin' - albeit with one guitar, then given their vocalist can only just about squeeze in between their drums and the mike stand as it is, that might be just as well. Their impressive sounding mixture of numbers isn't too unlike another great export from Down Under, namely Rose Tattoo of whom I can't help but wonder if their bass geezer is an ex member. Squeezing a princely eleven tunes into 35 minutes, they stir up a fair ripple of applause at the front but one believes everyone's got their noise saved for one band and one band only.
That's right, The Almighty, and justifiably so more this year as they clock up 20 in the business. Two decades passed since these guys, bar Pete Freisen of course first grouped under the moniker they have been graced with since. And it is a song from 'Powertrippin', the ex-Alice Cooper man's first outing with the lads, that opens up tonight's almost two-hour long extravaganza.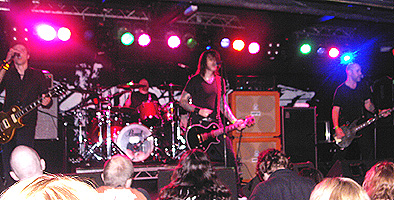 'Taking Hold' brings back teen-hood memories as my first live encounter with them (supporting Maiden in 93) commenced with this testosterone-laden hard rock bruiser and as one of many thirtysomethings watching them today am subject to a considerable goosebump or two.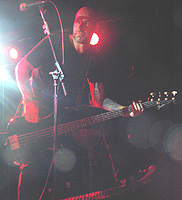 Strangely moving further into the mid nineties with 'Unreal Thing' we then descend on the classics with 'Crucify' and the first of the evening's many giant surprises, 'Gift Horse'. No looking this one in the mouth intended but it is actually nearly two decades, as announced by Ricky Warwick.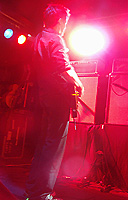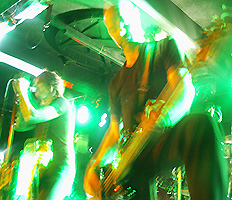 He has grown the hair long again and with the 'tache make him look like a cross over of Ginger from the Wildhearts and Lemmy, since this gem last came out onstage. Seperated by modern day punk anthem 'Do You Understand' comes another treat with 'Praying To The Red Light' and we see a collage taking shape onwards from this moment.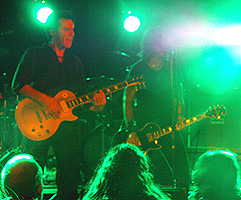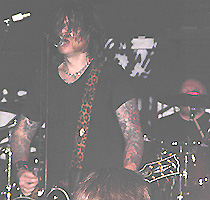 For every Freisen-era fave that ensues, one of their jurassic nuggets finds its way in as well. 'Addiction', 'Crank and Deceit', 'Over The Edge', 'Jesus loves You', 'Wrench', 'JonesTown Mind' and 'All Sussed Out' just about outbalanced in the popularity stakes by the likes of 'Blood Fire And Love', 'Devil's Toy', 'Full Force Lovin' Machine', 'Destroyed', their two immortal anthems 'Wild n' Wonderful' and 'Free and Easy' and encore 'Little Lost Sometimes'.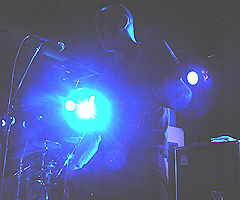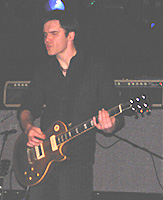 The Almighty are reknowned for their band/audience relationships as Ricky emotionally thanks us for twenty years of rock n' roll with the "Al-f***in'-.....you know what," and the space during 'Wild...' once occupied by his trademark singalong stint is used for introducing messrs Monroe, London and Freisen.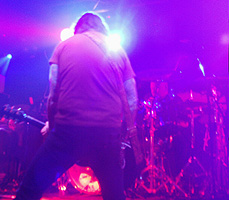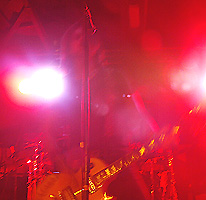 Pete himself, ever the patter-meister, shows us some smart widdling techniques while toying with an effect, mid-set and we get bombarded by Stumpy's drumsticks more than once during the night, with one lucky bug**** I mean chappie, standing next to me catching one.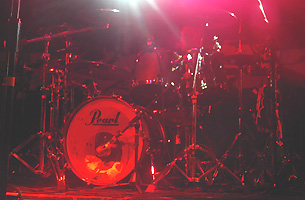 A cover of Beastie Boys' 'Sabotage' to round things off - rather unusually - and they are sadly done after 107 minute of sheer class from a classic rock act who I hope don't intend going away too soon.
Totally undeterred by the rather sqibbly 120-odd turnout (come on, even Gotthard pulled in about four times that many into this room last year –where were you all today?) Ricky Warwick still cherishes the company of those who do actually amass behind the barrier.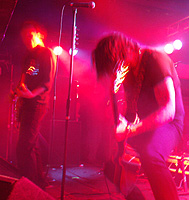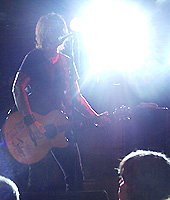 An awesome night for all, especially moi as I get a free t-shirt out of it - Stump notices the faded state of the print on the one I am wearing from last year's tour l and apparently I am not the only victim in this case. Last year's comeback bash was a proverbial backside-booter enough as was but this.... size-twelve taken in turns with both feet and then some .
Here's to that 20 years past indeed lads, and another on top.
10/10
By Dave Attrill

Abbatoir / ZZ Eliminator/ Aynsley & The Porn Stars –
The Boardwalk, Sheffield, October 27th, 2007
Well I had been looking forward to this gig for a few weeks and in all honesty some of it was good and some of it wasn't. Would have been nice to have seen more in the venue – I supposed many people were at Halloween Parties or something.
Pity I missed virtually all of the 1st band 'Aynsley & Porn Stars' who I found out from my buddy Bernard, came from the ashes of Trailorpark Trash – they were rocky enough but don't know if they have enough to make it though – watch this space I guess – nice silver, sparkly jacket though dude as well as a gorgeous blonde up there on stage as well. Be interesting to hear their album though as they were selling it tonight.
Up next were a local tribute to that Little Ol' Band from Texas who go by the name of ZZ Eliminator, although these boys come from Wakefield and closer to Texas Homecare.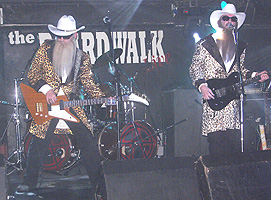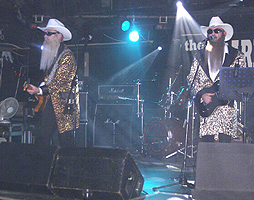 Nice to see they get a good hour it seems up there on stage and they really do look the part and performed numbers like 'Gimme All Your Lovin'; Waitin' For The Bus/Jesus Just Left Chicago'; 'Legs' and 'My head's in Mississippi' – albeit a crackin' set list.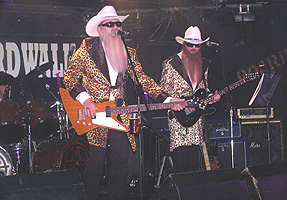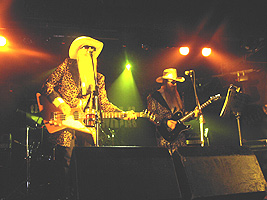 Just a pity that they played some of the numbers too fast at times which lost the dirtyness that ZZ Top always have and vocally didn't always sound like Billy & Dusty and made the odd slip up in the songs – LA Grange ended a bit funny. I was pleased to see that they did include one of my faves though 'Tube Snake Boogie'.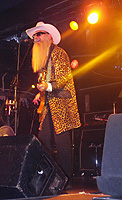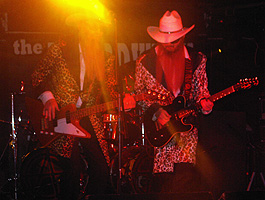 I reckon that with a bit more mileage and rehearsal this band could be a real polished outfit – like to see them again in about a years time and see how much they have improved.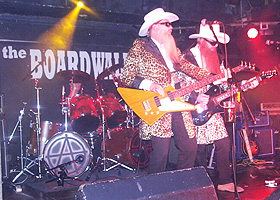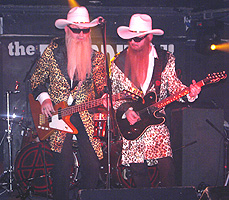 I had already heard of the headliners before via a BBC Radio 2 series about tribute bands so I was eager to see what Abbatoir were about – especially with a name like that. I found out tonight – they butcher (scuse the pun) Abba songs by turning them into Heavy Metal numbers that have more in common with the likes of Zakk Wylde's Black Label Society, Metallica, Megadeth, Black Sabbath & Dio.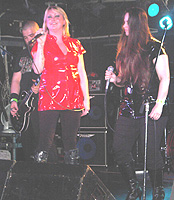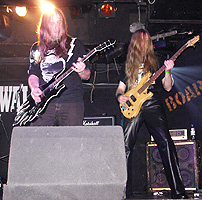 The backing band are absolutely second to none – totally faultless in every way possible but the female vocalists leave rather a lot to be desired at times. It's OK for the 1st few numbers, but once the novelty has worn off it becomes very apparent that the singing ain't exactly at Agnetha and Frida standard – they can carry off the forceful strong heavy wailing parts somewhat but when it comes to the harmonies then forget it – the problem being as both voices sounding virtually the same, so basically there aren't any – which goes against what Abba were about in the 1st place – apart from having some brilliant songs that is.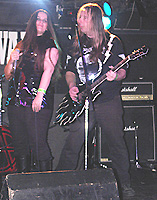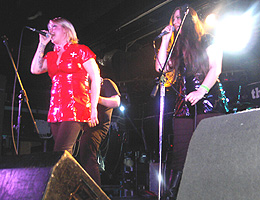 The set list was damn good and they opened with 'Gimme, Gimme. Gimme' followed by classics such as 'Eagle' that was very 'Holy Diver/Heaven and Hell' in the musical dept – so that's where Ronnie stole it from!! 'Summer Night City' was more like an all-out thrash number and was entertainingly hilarious and other notables included a very heavied up 'Voulez Vous' and a thoroughly rocked up 'Super Trooper'. My question is, What No 'Dancing Queen'? – that's like Abba's biggest number and it was chopped out the set altogether – beats me man!!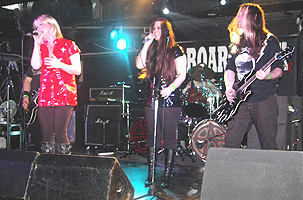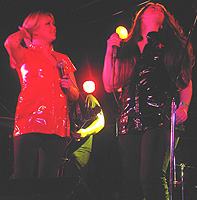 Abbatoir could be a damn fine band if only the vocalists were better and also had the bodies of Agnetha & Frida in their heyday. These girls have got plenty of meat on them and are beefed up enough for the Slaughterhouse - maybe that's part of the joke of them being called 'Abbatoir'. You can never tell can you!!
7/10 for ZZ Eliminator & 5.5/10 for Abbatoir
By Glenn Milligan

THE ALMIGHTY + McQueen –
Corporation, Sheffield Thursday 28th December 2006
When I last saw messrs Warwick, Friesen, Monroe and London share a stage together, I was an 18-year old Audio Visual student at Sheffield College. Ten and a half years on and yours truly is now a respectable filing clerk.
Ricky Warwick himself has popped up again in the intervening decade, supporting Def Leppard on their 'X' tour in '03 alongside the Dark…. whoever-they-were. Said Lowestoft foursome have risen to Arena status then dropped from sight totally in that time but said Glasgow foursome have dropped back in, still at 600 stand-up venue status but that's always the way these lads liked it.
All girl London outfit McQueen, who supported Wasp here nearly two months back again pass time though little much more for me, their stuff still needing a bit more time to absorb.
Nothing boring at all about the set our headliners have in store for us tonight though. A fellow punter was saying earlier how they should consider playing 'Destroyed' again some time. Not so much knocked for six as for seven we are to be as this happens to be the very tune they take to the stage with this time. Having taken some possible comeback tour set-list tuition from Wasp, the Mighty lads have about twice as many surprises in store themselves and what's more, they leave their latterday faves in too, unlike Lawless and the lads.
'Do You Understand', 'Unreal Thing', 'Jonestown Mind' and 'Wrench' are collaged amongst, and outnumbered by …would you believe it 'Resurrection Mutha', 'Love and Power', 'Sin Against The Light' and 'Little Lost Sometimes' played for the first time in fifteen years from what I gather. "Since when did 'Free and Easy' have an Acoustic guitar, for f***'s sake." Ricky answers one punter guessing the upcoming title as he changes into his other instrument for this number.
Very little is heard of the 'Powertrippin' material all night, apart from 'Addiction'; 'Over the Edge' and 'Powertrippin' itself from what was Canadian axeman Pete Freisen's debut with the band. A chap who is on loan from his old boss Alice Cooper these days, Freisen is rarely seen without a smile all evening, and like to get as close to the crowd as he can although the happiest sight on stage today is Floyd London whose battle with Leukaemia of late is a clearly winning one.
Ricky even manages to grin once or twice through the space of the hour-an-a-half (it really must be Christmas) but you think we aren't mate when you belt out timeless killers like 'Full Force Lovin' Machine', 'Wrench' and the dual pairing of 'Free and Easy' and 'Wild and Wonderful', the latter reunited with its legendary sing-along stint.
A three song encore follows, the only song of their own composition being their chilling western-edged ballad 'Jesus Loves You (But I Don't)' but sandwiched between covers of some Skids number (as in Richard Jobson's lot, not Seb Bach and co) and Sex Pistols classic 'Bodies', it is a superb climax to a super-superb set by Britain's most rebellious rock n' roll act today. Having had to dash for the bus straight after the last chords to 'Bodies' - and Ricky's shouting of 'Thanks Sheffield' - faded out, I don't know if they returned for a further encore although I'm guessing it probably unlikely, I don't think I could handle anymore as the Almighty were fu…. I mean effin' mesmerising this time round.
I remember the very first time I put 'Free n' Easy On' as a kid on some metal comp I'd borrowed off my dad and look where it got me today. Whether they're back for good, or for the cash, I couldn't give a banana-chomping zoo animal's backside, the point is the Almighty pounded with all their might tonight and we were duly flattened.
Please say there's another album coming one day guys we've missed you.
10/10
By Dave Attrill

ANTHRAX/Beyond Fear/All Hell Remains - Corporation, Sheffield, Saturday 8th April 2006
Reunion fever sweeping the metal nation of late has brought some welcomely drastic results with. Of the most prominent of those catching it is the classic line up of thrash legends Anthrax. Yes that, you did read right. The line up of Joey Belladonna, Dan Spitz, Frank Bello, Charlie Benante and Scott Ian are booked to play this very room tonight.
The disappearance of John Bush back to reformed Phoenix metallers Armored Saint, also to appear at this same venue three months time, possibly establishes that this isn't quite a one-off for the wonga, either.
Ironically, tonight's guest players feature a chap who until recently fronted another cornerstone act in place of a vocalist who'd left in 1992. Having stood through some other noisy act called 'Only hell remains' who open up tonight's proceedings, it takes little time to recognise that chap standing up there amongst the other four that make up Beyond Fear as ex Priest screamer Ripper Owens roof-rankling tones set the punters punching their air from go. Their own material is as close to the Brummie legends as you'd get without being sued, and that is meant in terms of some not un-Tipton/K.K like shredding from their two stringsmen, one who looks like a very overweight version of Scott Ian himself. Putting in one or two JP faves from his time with them - yes some people still stuck with the Priest through their Halford-less years - a mosh pit almost begins to form at the front, which should as a warning to what to expect when the headliners hit stage centre.
An intro tape – the song from Blue Brothers during the chase scene through the shopping mall – heralds the return of New York's and as soon as they kick off with 'Among The Living' one learns the hard way that having a full drink in your hand at any time during this set was a very foolish stunt - the mosh pit even extends to those round the bar, indicating that nowhere is safe to stand still.
Making perfectly sure of that, Belladonna and boys bruise with classic followed by god-given classic. 'Figure Of Eight', 'Skeletons In The Closet', 'Antisocial', 'I'm The Man', 'NFL', you name them, they play them. Not one new song tonight, nor any Bush-era (come on lads, a bit of 'Only' wouldn't have hurt)shows up, the band obviously under the impression that they were to be in a room facing 700 total prime-era purists when they thought up this set but the ode to their influences with a sing-a-long burst of Maiden's 'Wrathchild' goes down as any integral part of the show.
Both Joey and Dan are grinning like pigs in the proverbial brown coloured thingy throughout the entire hour-and-a-half duration, no less than fully aware how good it feels to be part of such a powerful musical machine once more. Little as much as we are as they launch into closing encore 'I Am The Law' and the entire room just shudders under fourteen thousand feet. Anthrax are still very much the law as was turning up at this show – it sold out – and I hope they don't 'f**k about no more'….at least with certain members within their ranks .
A blinding evening of old-fashioned metal we don't seem to get often enough today.
10/10
By Dave Attrill

Alterbridge/The Answer/Logan –
The Octogan, Sheffield, 17th November, 2005
Now I haven't been to this venue since seeing Terrorvision back in '95 which I remember fondly – ten years on and it's as fabulous as ever in here. The audience have a span of about 40 years as well – plenty of each sex as well.
It was a surprise to find out that Logan were on the bill as well and first up – who I'm sure I saw a few years since supporting Alice Cooper and Dio a few years since if my memory serves me right. These lads are from Glasgow and I can't believe that they still aren't signed up yet – how can record companies take no interest in them – the crowd here f*ck*n' loved 'em and agreed they would come and see them on a UK headline tour next year if it took place.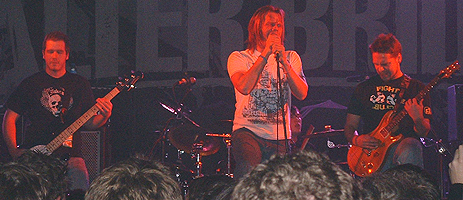 A few free albums were thrown out to the crowd much to their delight as well as wrist bands. Stylewise, they have a kind of uplifting Pearl Jam style to them and even the vocalist has an Eddie Vedder edge to him as well. Very enjoyable indeed.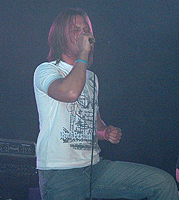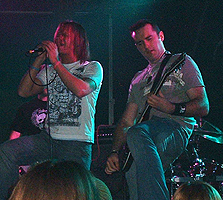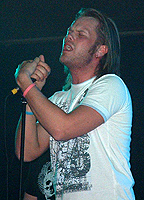 It's little wonder that the next band were awarded the 'Best Rock Newcomer' award by Classic Rock this year as they are absolutely mindblowing – cross The Black Crowes with Led Zeppelin in both looks and style of music and you get the 'The Answer' - powerful rock 'n' roll swagger from Downpatrick, Ireland. They appear to have come from nowhere but no doubt they've been at it in Ireland for quite some time before being signed up by Albert Productions.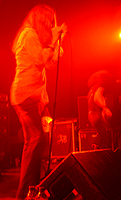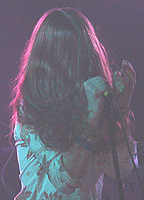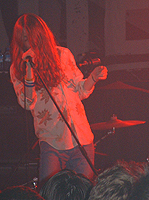 Don't think the album is out yet to be honest but that made no difference to any here – I spotted one or two of their t-shirts already – nice one. Hard to pick a highlight as it was all one big massive one, I did recognise 'Keep Believin' though from the E.P of the same name that was released in July. They performed a great song soon to be released as a single called 'Never Too Late' that we were urged to buy which will help them out immensely – as if we wouldn't. Boy, I can see The Answer getting as big as that band who have got two brothers in the line-up who have the same surname as 'The Witchfinder General' – you mark may words – it'll happen !!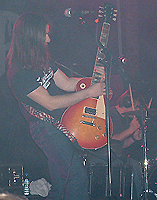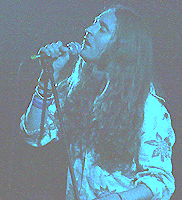 Alterbridge as many of you will know are what took place when Creed changed vocalist and style. Not a band I know a lot about but I really enjoyed them all the same – they still have that Creed-like sound but they are miles more rockier and in your face as opposed to a second rate Pearl Jam without the hits.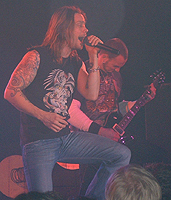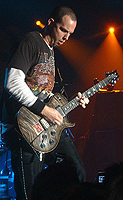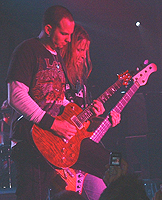 A good 90 mins was enjoyed by all tonight. Vocally it's like Axl Rose meets Jon Bon Jovi – superb frontman who can even play a mean guitar too.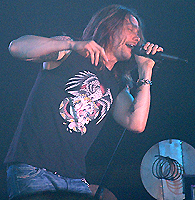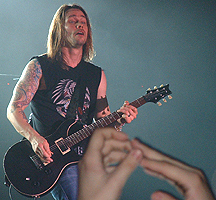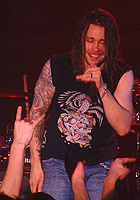 As well as cuts from their debut album they even played us some classic rock in the shape of AC/DC's 'Whole Lotta Rosie', a snippet of Jimi Hendrix's 'Purple Haze' and a full-on barnstorming 'Rock and Roll' by Led Zeppelin – it's a pity that 'Cormac Neeson' vocalist from The Answer didn't join them for this number.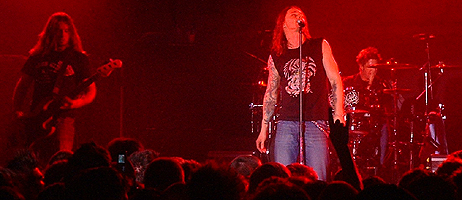 I must say I'm real glad I stuck out to see Alterbridge – reclon I'll check out their album now !! It's reviewed on the A section of CD reviews afterall ain't it.
A night that featured 3 exceptionally great bands with incredible frontman who all have tons of stage presence – a perfect bill if you ask me.
10/10
By Glenn Milligan
BRYAN ADAMS + Speedway -
Sheffield Hallam FM Arena, Sunday 24th October, 2004
Whilst the popular music industry of present almost automatically laughs out of town anyone past 35, a few elder statesmen still find their musical goods eligible for delivery courtesy of continuously upheld quality and performance. Bryan Adams slips through the barbarians, laughing. An almost sold out Arena tour, twenty five years into his career can only mean loopholes in these evil laws of the music market of which he and audience alike take advantage without hesitation.
Female fronted hard rockers Speedway get the party warmed up ahead, blasting through a forty minute set of 80's propelled material with not one poor song amongst the nine included. Having apparently been around for a while now, I would have appreciated being able to get hold of one of their Cds at the merch' stall later.
Enter B.A. (not Mr T's A-Team alter ego) and my thirteen -year wait to taste this guy's material live finally comes to. The Canadian legend has once again assembled a full size band and back on rhythm guitar, seems to look a lot more comfortable strapped intro his more commonly associated instrument as he tears into the title track from his well-received 'Room Service' Cd. Prefering to start with more recent material, it's not til five songs into the set that we come to the classics, not that there's anything bad at all about 'Love Is An Open Road' or '18 til I Die', but 'Can't Stop This Thing We Started' is where the singalong starts in earnest for all of the room's 12 ,000 occupants.
A brief mess-about with his six-string preceeds 'Kids Wanna Rock' the first of five tunes off 'Reckless' tonight and he only has to mention that classic 1984 Lp and the crowd are on their feet an' roaring. A three-part acoustic stint follows, packing in Back to You and surprisingly his two biggest hits to date, 'Summer of 69 ' and chart-shattering Robin Hood movie theme 'Everything I Do' though with a few brief electric interludes fitted to keep things lively. Either way, the approval of the admiring throng could be rated as deafening.
Classic duet 'When You're Gone' requires a replacement for Mel C's spot behind the mike, step forward one lovely-looking young lady called Sarah from the crowd. Though requiring a look at the lyric sheet first, the biology student from Doncaster carries off the tune with little fault and earns herself a bundle of t-shirts and signed tour programmes from the man himself after the gig. The remaining half of the set is almost dominated by oldies, 'Heaven', 'It's Only Love', 'All For Love' and of course, song of the night for most, 'Run To You' collaged well amongst another newie or two and other recent faves like 'The only Thing That Looks Good On Me Is You' and 'Best Of Me', Bryan ditching his guitar fro the latter and mingling with the public, and does he have trouble fighting them off or what.
Finally after two hours, the Groover from Vancouver has to be off to groove in some other town, thanking one and all for the evening and his pleasure at performing on northern English stages once again, having already played Newcastle and Manchester over previous nights. An indestructible display of performance from a chap in his forties who will lie down laughing every ageist cynic in the face with his undiminished musical/songwriting talents and we will happily join him doing just that. Hearing a couple more numbers off 'Waking Up the Neighbour would have been nice, by the way, though, Mr Adams, especially 'Thought I'd Died and Gone To Heaven' amongst them but maybe next time, old chap. One of the best Sunday evenings in Sheffield ever, I think.
9.5/10
By Dave Attrill
(written on 25th October, 2004 !!! - fastest ever done live review on the site)

Ace of Spades (Bedouin)
The Little Un, South Elmsall, Pontefract 12/05/01
I guess you must be wondering why Alan Davey's Bedouin are playing as a Motorhead tribute band? A question I asked Alan, who explained that so many promoters had asked him to do it, since there wasn't one - a valid reason - hence temporarily re-naming the band 'Ace of Spades'.

Opening with 'Bomber', they blew the building away with tremendous volume. Alan Davey's voice being well audible over his thunderous bass (which he told me had Lemmy's pick-up attached to it - 'nough said!!) and the slamming of ex-Hawkwind drummer, Danny Thompson, not to mention the obliterating scream of Glenn Povey's Guitar.
Although the pub wasn't even half-full, Ace of Spades didn't seem too bothered. They forced on as though they were Motorhead playing a major venue. Those present loved it - and many seemed oblivious to the famous band members on stage at their local that night. After only the second song into the set 'Over The Top', Glenn breaks a string or two - so an instrumental jam took place between Danny and Alan, which was riveting, in true 'head style. 'Everything breaks, thankfully not my voice", churps up Alan before introducing 'Speed Freak' - alarming Mr. Thompson instantly who breaks into an 'Oh F@*£', but saying this, his playing was spot-on (well nearly - but we are talking full-out machine gun pace - so give him a break).
Witnessing members of Hawkwind, playing the song 'Motorhead' (originally a Hawkwind ditty) is simply ironic, but fitting quite the same. They even placed 'The Watcher' into the set as well - could the night get any better than this - in fact yes it certainly could - especially when the band graced us with note-for-note perfect run-throughs of classics like 'Dirty Love', Metropolis (one of only two slow Motorhead songs, added Alan), 'Stay Clean', 'Iron Horse' and 'Dead men tell no tales'. Finishing the set with the only possible closer, the anthemic, 'Ace of Spades' and encoring with 'Stone Dead Forever' and 'Overkill', Alan's Trio proved that they can equally challenge Lemmy's bunch any day of the week to a Heavy Metal Duel.
It's bit hard not to give this gig a 10 out of 10.
By Glenn Milligan, BA Hons CS
ASIA - Nottingham Rock City, Saturday 23rd March, 2002
I do get uncomfortable when it comes to bands whose material I'm not adequately acquainted with but after one night of these Brit legends, I think - and -hope - the said situation will be rectified promptly.
Catching the last song by tonight's guest act, TEN, I do get a chance to witness new guitarist Chris Francis's performance as they blast through 'Name Of The Rose' in ever fine form. Come on lads, Vinny Burns never left at all, did he, or has he's just cut his hair and changed his name.
A little while on and enter John Wetton and co and for a couple of hours as we travel through twenty years of one of British melodic rock's biggest success stories. Unbelievably enough, I recognise a good fifty-or-so percent of the tunes performed tonight although the only one I can put a name to straight away is 'Days like These' from the popular seventies-set TV sitcom of same name, plus there's a burst of 'Video Killed the Radio Star' during the keyboardist's stunning solo spot.
For the record, I understand only him and Wetton remain from the day they began business but the twonew members, especially the guitarist know their way around the house. Other new Asia-ites might also be interested to know that Vinny Burns once occupied this position. Whoever plays in the band though is not too much of an issue as music of this quality, giving me practically no cause for complaint. This is purely men's music (from an age point of view, that is) for those mature enough to appreciate virtuoso displays such as tonight's performance.
Even I at 24 years old felt like the 'kid' amongst the crowd almost exclusively populated by punters aged 30-upwards. I rarely become a fan of a band this quickly but it does happen.
9/10
By Dave Attrill