Randy Bachman –
BB King's Blues Club & Grill, New York City, New York, USA, Thursday, June 23rd, 2016
Set List: Roll Down The Highway/Shakin' All Over/These Eyes/Laughing/American Woman/No Time/ Undun/No Sugar Tonight/New Mother Nature/Looking Out For Number One/You Ain't Seen Nothing Yet/Let It Ride/Takin' Care Of Business/For Prince – The Messiah Will Come Again.
When artists create music, they put their heart, soul, blood, sweat and tears into creating their art. The other side of this is the songs that that will forever trigger memories in those who listen. Hearing a certain song can send us back to family road trips with the radio playing, listing to records in our friends' basements, or falling in love for the first time.
Randy Bachman took us on such a journey that evening at BB King's Blues Club in New York City. Amidst a backdrop of two large video screens projecting images from the past decades against a soundtrack of the most noted works of The Guess Who and Bachman Turner Overdrive. This was not only an historic venture into Bachman's history but also ours.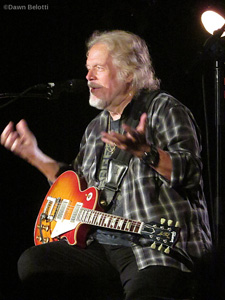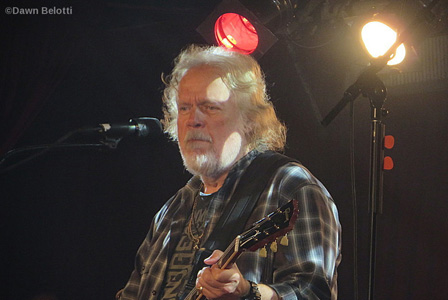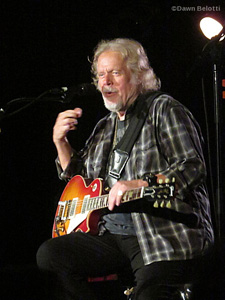 Bachman opened with Bachman Turner Overdrive classic track, 'Roll on Down The Highway' which immediately captivated the audience and started the progression of songs and the tales that led to their creation. Hailing from Winnipeg, Canada, Bachman initially was a student of the violin but eventually found his passion in the sound of the guitar. In 1960 Bachman formed his first band. Unfortunately the first few chosen band names nearly cost pricy lawsuits. Tiring of unsuccessful choices, a chance suggestion on a piece of paper, after tiring name rejections, simple stating 'Guess Who?' led to one of the most successful bands of the 1960s and 1970s.
Bachman launched into the Guess Who's first US hit, 'These Eyes' which landed the band on the famous American Bandstand stage and reaching number 7 on the U.S. charts. The opening enchanting keyboard notes and melodic vocals mesmerized the audience. Traipsing through the Guess Who's catalog , Bachman continued to awe the enthusiastic patrons with well known numbers ranging from 'Laughing', 'Undun' and the bewitching harmonic f 'No Time'.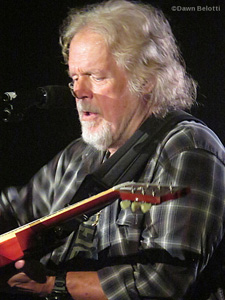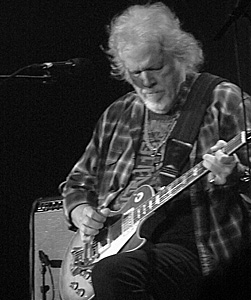 Bachman spoke of his account of a cross Canada tour on a bus with little to do. He spent his time with his guitar, tuning and experimenting with melodies that in his words, "drove the rest of the band crazy" but resulted in one of the most well known Guess Who hits. The opening chords of 'American Woman' commenced. For that moment, while we were physically in BB King's Blues Club on June 23rd 2016, mentally we were lost in the sounds and visions of 1970.
After Bachman left The Guess Who, he teamed up with fellow Canadian bassist Fred Turner forming his second legendary classic band, Bachman Turner Overdrive. Bachman explained while recording their most successful album, 'Not Fragile' the band had decided to add a ninth song, a track that was previously to be left off of the album. Bachman and his fellow musicians on stage jumped into 'You Ain't Seen Nothing Yet', a song that was nearly cut from the album and reached number one in twenty-two countries. There was not a person in their chair on the audience floor. Quickly responding the replication of the original smooth bass line and singing along with the catchy familiar chorus, the assembly of music loving fans was elated.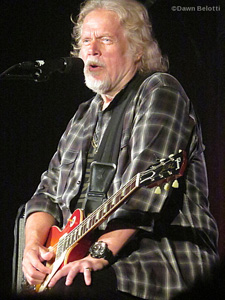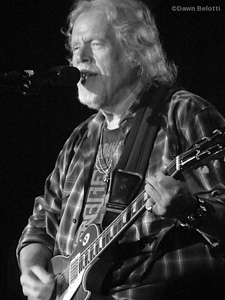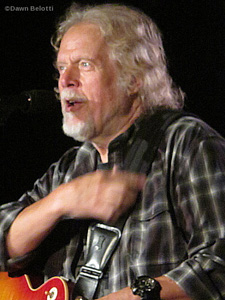 The evening forged ahead with more BTO tunes and ending with their most celebrated track. Bachman detailed his lyrics had been developing for a while and only at a small venue where he was forced to handle lead vocals due to a band illness, his song took its shape. 'Taking Care of Business' guaranteed that the spectators to our sensational evening would continue to get no rest and with absolute delight they resigned to it. I came into this world in January of 1966 into a New York City that would have scared the hell out of the faint of heart. My generation grew up with the Vietnam war, sleeping in the back our of parents car at 4am while they waiting on a gas line if their plates were even or odd that day. These were the days of Kent State, President Nixon's demise and school air raid drills and other intensities that shaped the music of the 1960s and 1970s.
However they were also the days of Kiss lunch boxes, saving our allowance to buy a '45' and listening to the music of The Guess Who and Bachman Turner Overdrive on a transistor radio snuggled against our ear. We had the best music, the best generation and our parents would get up every morning from their alarm clock's warning and take the 8:15 into the city.
10/10
By Dawn Belotti
BARANOVICH - Dove & Rainbow, Sheffield, Saturday 30th April, 2016
Some people never sit down for a day in rock. And it's not just has-been megastars trying to muster a final buck (or quid) from their career - hard working local musicians on the Sheffield scene who deserve to get more attention than they do for their many years of effort continue to pick up the pieces no matter how many times they fall. Like Steve Baranovich for example. Having recently seen another excellent outfit dissipate prematurely, the lad hasn't wasted a second wondering what to do next, and whacked another group of eager young rocking gentlemen into the same room, tonight's blistering live debut being the result.
Dividing a nine-song set up equally between newies, covers and numbers from previous acts is a crafty start but having enjoyed Gary Moore's similarly arranged set on the Monsters of Rock tour in 2003 I am not to be offended. Nor are the rest of the excited throng gathered in the Dove this dusty Saturday evening, and as Steve and his new gang gear up with opening double brace 'Have A Nice Day' and 'Fire In The Sky' it's business with balls as usual for the boy.
Evidently pushing a more bluesier button on his machine this time, Mr B's voice sits strong atop of these two summery hard rock strutters, as Steve himself struts his stuff on the stage...and also off it. Directly behind the opening salvo, we roar right into the first of tonight's three kick-arse covers, starting with Queen's 'Tie Your Mother Down'. A natural rock n'roller since the start, Steve Baranovich could belt this timeless track out all day and hardly anyone would end up remembering it was a different band's composition.
Doing the same a couple more times, but slightly different in principle, the band burst into a couple of numbers from Steve's past acts, 'Maneater' (Jury's Out) and 'Flesh To Flesh' (In The Name Of) one of which he jokingly informs a younger bandmate was "written before you were born", while on another, he adopts a stage position in the centre of the saloon, stirring up the enthusiasm in the crowd - do please note that not getting into the mood of things at a Steve Baranovich gig can seriously damage your rep.
Bandana-clad guitarist Myke Thornton looks on bemused while playing but he's enjoying it - you can tell. Another newbie follows to a fair amount of noise. 'Mr Hyde' holds strong reminiscence of Steve's most recent outfit, Gotteri, with the same gutsy grittiness that has seen this guy in business the last twenty years. Suddenly it's time for another cover. Steve totally brings the crowd to check with his take on Aerosmith's 'Dream On' before introducing the tune from every dad rock comp ever released – i.e, Cooper classic 'Poison'.
Finishing off with unplayed Jury's Out number, 'The Morning After' structures the set in a slightly unorthodox method but for those who have stayed loyal to Steve's musical exploits from the start it's a treat. In truth, seeing this geezer attack with exactly the same gutsy grittiness that has kept him in business the last twenty years is just that itself. There are a few out there who might unfairly accuse him of trying to flog a dead horse in the way he has so suddenly re-emerging with this latest outfit.
The truth is, Steve Baranovich's latest steed is lethal and kicking... God forbid anyone who dare get in his way at the Grand National.
9/10
By Dave Attrill
Buckcherry/Dirty Skirty – Dixie Roadhouse, Cape Coral, Florida, USA, Thursday March 3rd, 2016
Tonight, 99X and Dixie Roadhouse presented Buckcherry live. It was not the first time that this band has been invited there and I'm sure it won't be the last!
Now the Dirty Skirty guys come from the east coast of Florida and have played with some very well known names such as Lita Ford and LA Guns, as well as many others. This wasn't their first show at The Dixie Roadhouse either as they opened for Quiet Riot to one of the largest crowds they have ever preformed in front of approx. 3,000 on opening night of Bike Night in the Cape.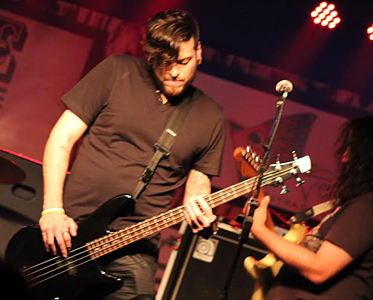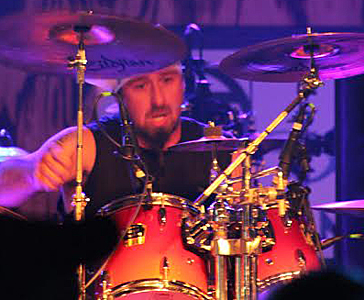 They have their own way of doing things and are promising to do big things in 2016. They put on an energetic show, getting the crowd hyped up for Buckcherry. Keep your eyes open for these boys, I'm fairly certain that South West Florida has not seen the last of them!
6/10
When Buckcherry took the stage the whole place 'Lit Up!' Ha-ha-ha, yes, that pun WAS intended. Frontman, Josh Todd jumped in with both feet and rocked it with his undying energy. Keith Nelson and Stevie D are both phenomenal guitarists, and the bass skills of Kelly LeMieux are amazing. Xavier Muriel banged away on the drums and kept the beat like no other!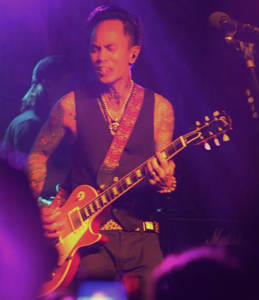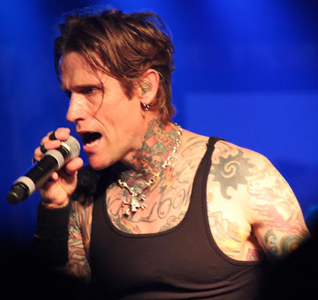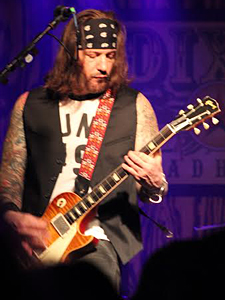 This band is no stranger to the venue and enjoyed every inch of the stage. The place was packed and every person present was enjoying themselves to the fullest. Buckcherry knows how to keep the show rocking and even through the 'slow' song Sorry, the whole crowd was singing along and having a good time.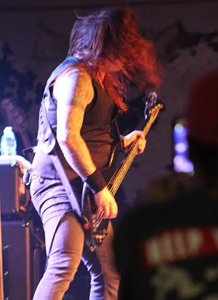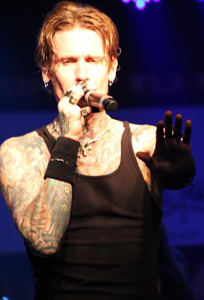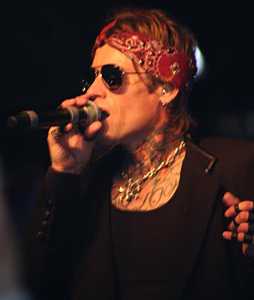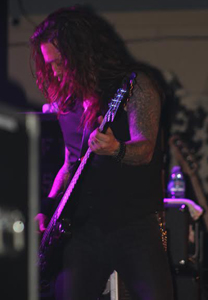 I'm sure that there were some patrons, that come Friday morning, were thinking they were sorry that they had to go to work...hahaha...quite enlightening to some, and most definitely a sight to see! I'm sure it will be a night that will not soon be forgotten by many. Just have to say this in my own defence... no, I am NOT the 'Crazy Bitch'!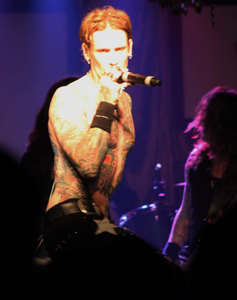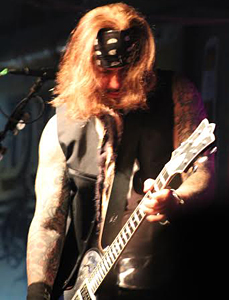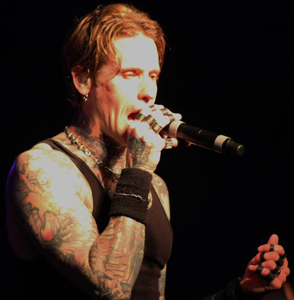 Ha-ha-ha...Rock on Buckcherry, Rock on!
7.5/10
By Juliana Kenyon-Anderson
The Graham Bonnet Band/Evyltyde/Fear Lies – O2 Academy 2, Sheffield, Sunday February 7th 2016
Set List: Voodoo/Banshee/Forever/Dial The Storm/Army Of You/The Last Goodbye.
The first visit of the year to this 'ere venue for me proved to be a very worthwhile experience since I got to see two outstanding up and coming bands and a legendary frontman all in the same night. First up are local Sheffield Rocker Quartet 'Fear Lies' who've been gigging around these parts for a fair few months, though it's the first time I've ever caught my eyes on the 'Lies and I must say I am mightily impressed with what my ears received in their performance indeed.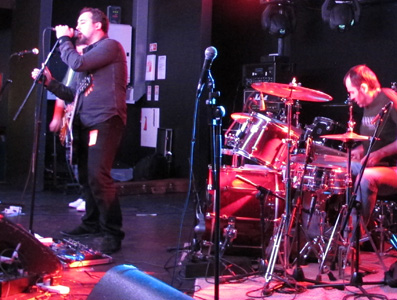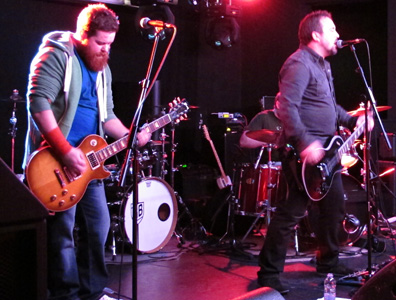 They were saying in the afternoon that their sound is like Foo Fighters meets Therapy? and Motorhead which I am inclined to agree on here. Extremely confident and doing themselves proud on local turf with highlights including the excellent opener 'Voodoo'; the well received new cut 'Banshee' that reminds me of The Beatles 'Come Together' gone stoner and the fantastic well placed in the set closer 'The Last Goodbye'.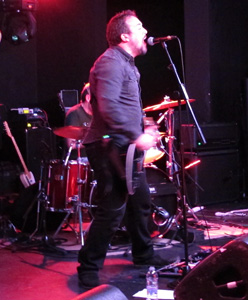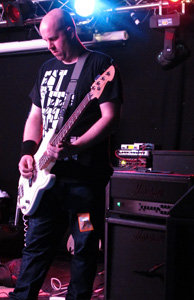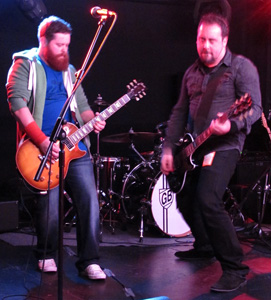 I am looking forward to seeing them again since their songs come across extremely polish with cracking hooks and chorus's to them. Like Nic Rudd (the man who was Produced their album says, "They'd be good being a support to the Boss, Mr. Bruce Springsteen" – make it happen lads!
Set List: Down Below/Kick You Down/Your Darkest Fears/Chastity/Killer/Living To Die/Avenge The Fallen/Fly Away/Bullet In The Head/Guilty.
The London based, two years strong, female fronted Metal band, signed to BME records who come across very progressive in style and keep you wondering at times what is going to happen next in their songs. Beards and hair galore is also the order of the game with these touring warriors and warrioress.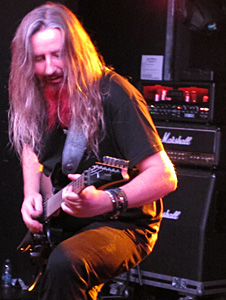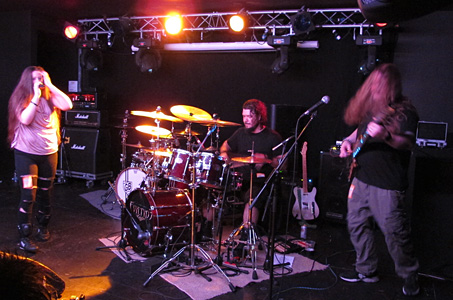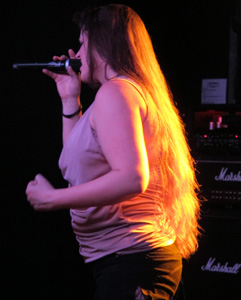 They have the power of Iron Maiden, the darkness of Dio and much more with the emotional and strong vocals of Hannah Delaney with highlights including the moody and atmospheric opener 'Down Below'; the heavy ballad 'Chastity' about a stripper with Miss. D asking us how they are in Sheffield – too funny!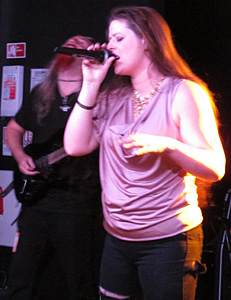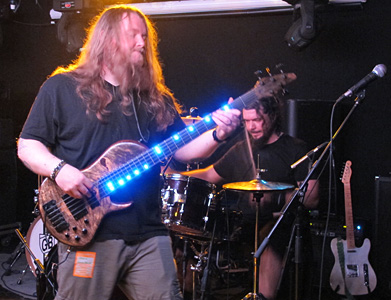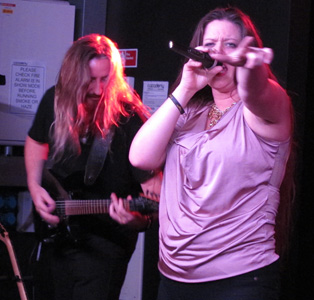 Then there's the full-on drums pounding galore of 'Avenge The Fallen'. The well filled room of Sheffield folk and beyond loved them and I hear they will be back again this year – awesome!
Set List: Eyes Of The World/All Night Long/SOS/God Bless/Will You Be Home Tonight/Night Games/Suffer Me/Dancer/Loves No Friend/Desert Song/Mirror Lies/Witchwood/Only One Woman/Island In The Sun/Since You've Been Gone/Assault Attack.
Encore: Lost In Hollywood.
Well it's a good year since the legend who is Graham Bonnet was here in Sheffield City but as soon as the show was confirmed I was immediately looking forward to it and counting down the months since I'd not seem him since January 2015 when I did that great interview with him and Bassist, Beth-Ami Heavenstone.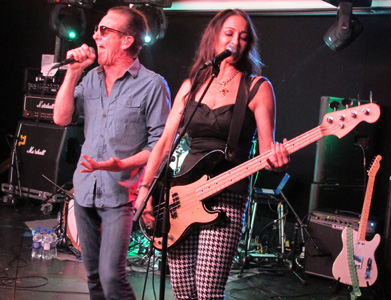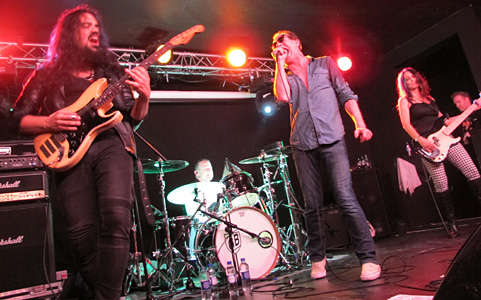 They've switched drummers since they were last here and sat with the sticks now is former Fates Warning, Mark Zonder on the stool and what struck me straight away was how well rehearsed it all was. Maybe it was the inclusion of Mark but I must admit the Graham's voice was so full 'n' powerful and hit every note of each song perfect and sounded so warm – in fact it was practically on fire it was so good. Frikkin' awesome!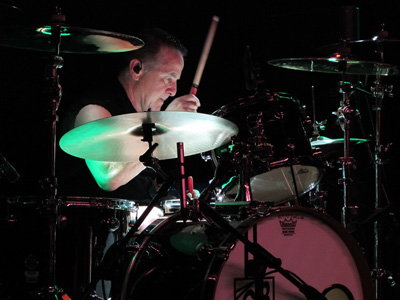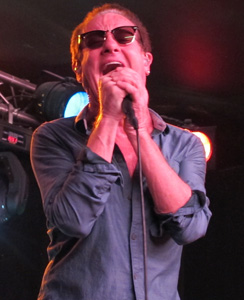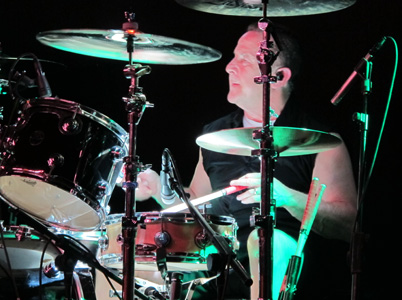 Loved the fact that the band had packed in plenty of vocal harmonies and those pre-recorded keyboards really filled out the sound too. Graham informed us that his Cousin Steve was in tonight, "Where are you Steve?" he shouts and eventually we get an 'I'm here" from the back of the room in front of the mixing and light desk. His cuz had travelled all the way from Skegness to be at the show, where Graham is from, exclaiming he'd just played a show there and it was the first time he'd been there on stage in 49 years.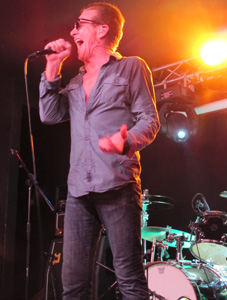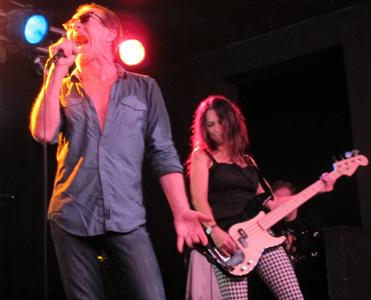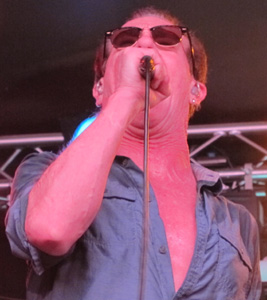 Beth-Ami's bass work was so damn solid too with Conrado coming across like a mix of Blackmore, Schenker and Malmsteen all rolled into one – easily one of the best rock guitarists I have ever seen – oozing so much confidence, charm and passion from every note he cranked out of that Fender Stratocaster.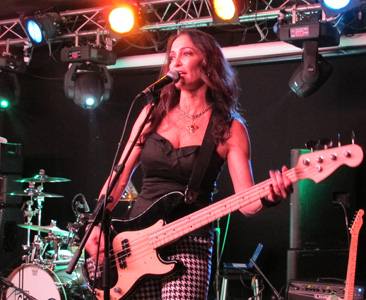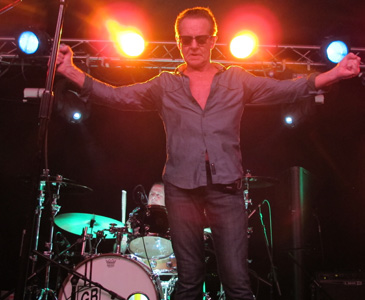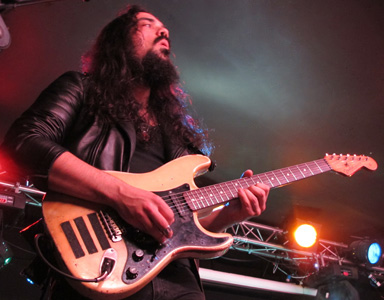 What a well mixed set list it happened to be as well and widely covered various points in Graham's career from his days in The Marbles (performing 'Only OneWoman' written by Barry Gibb) though to Rainbow classics like 'All Night Long' and 'Since You've Been Gone' (that we were invited to sing along to) as well as solo material like his hit 'Night Games' and newer cuts like the so far unreleased 'Mirror Lies', not forgetting the Michael Schenker thunderous milestone 'Assault Attack' too that he got to perform with the man himself on a Japanese Tour last year.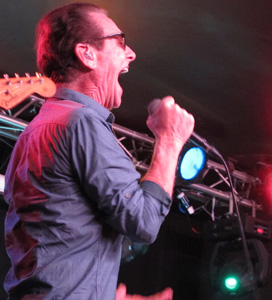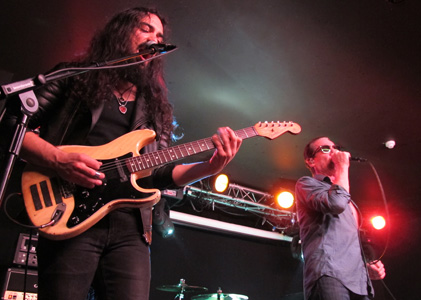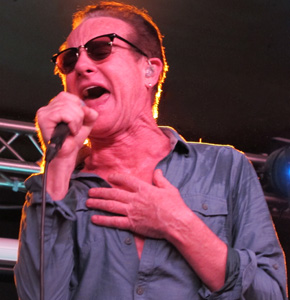 Other highlights in the set were ballads like 'The Witchwood' that Graham told us was about a haunted house that he spent time in 'Loves No Friend' from his Rainbow days or 'Suffer Me' from the Yngwie filled Alcatrazz times; the catchy chorused 'SOS' with its doo-doo doo-doos from his 'Line Up' album and the poppy 'Dancer' from the MSG period.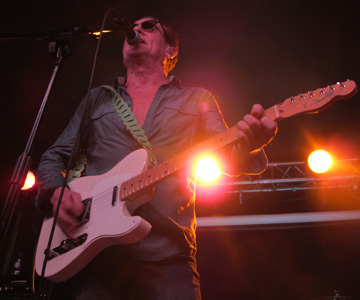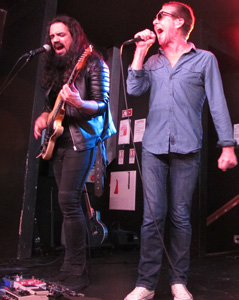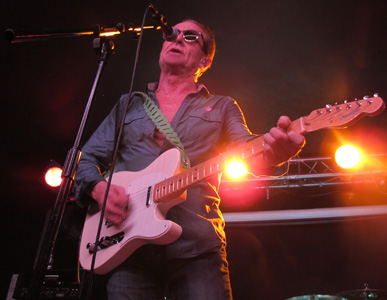 On that stage was a serious amount of smiling from every member and huge lashings of love for each other which overlapped as a human emotional avalanche into the finely filled room of fans that took it on and appreciated every single second of it all. To put it bluntly, The Graham Bonnet Band completely nailed it from the opening Rainbow epic 'Eyes Of The World' to the encore of that other 'Down To Earth' classic 'Lost In Hollywood' that funnily enough also brings that classic to an end as well.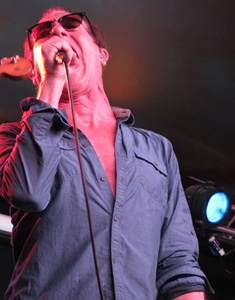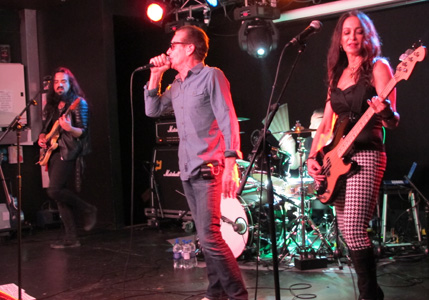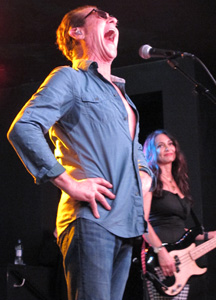 Brilliant night all round and I personally can't wait to see 'Tour Diary Part 3' and the next time the band plays Sheffield again! My only moan was the fact that way too much red lighting was used making poor Graham look virtually the same colour as a bloody lobster or the same shade as me after too much time in the sun!
10/10
By Glenn Milligan
Blue Oyster Cult –
Cocofest, Sunsplash Family Waterpark, Cape Coral, Florida, USA, Saturday November 14th, 2015
Set List: Game Of Thrones Theme (Intro.)/OD'd In Life Itself/Golden Age Of Leather/Burnin' For You/Career Of Evil/Shooting Shark/The Vigil/ME 262/Buck's Boogie/Black Blade/Then Came The Last Days Of May/Godzilla/(Don't Fear) The Reaper.
Encore: Cities On Flame With Rock And Roll.
'BOC' headlined Saturday's 'Coco Rock 'N' Roll Day. From the amazing guitar talents of Buck Dharma and Eric Bloom to the antics of Richie Castallano on rhythm guitar, as well as the bass and drum duo of Kasim Sultan and Jules Radino, these gentlemen, like a fine wine, have only gotten better with age.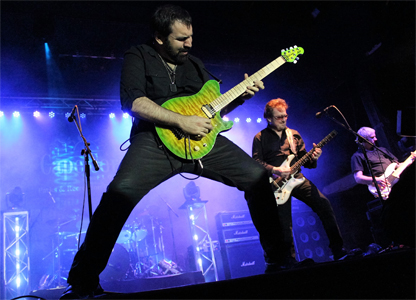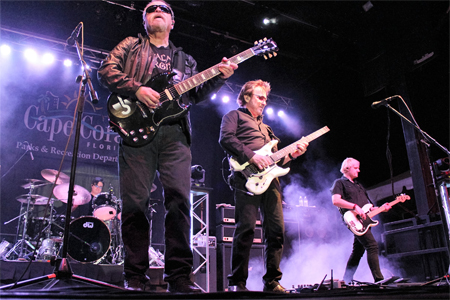 Since the release of their eponymous debut album in 1972, these amazingly talented musicians still know how to rock the crowd and bring smiles to the faces of many a concertgoer. Tons of people were singing along and a lot of air guitars were being played. Highlights of the show for those who came to see them play live, were the ever popular 'Godzilla' and '(Don't Fear) The Reaper'.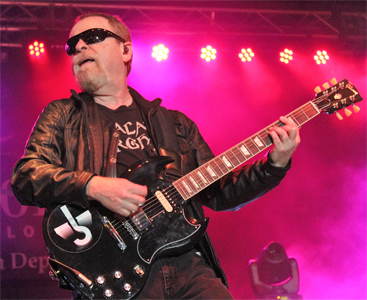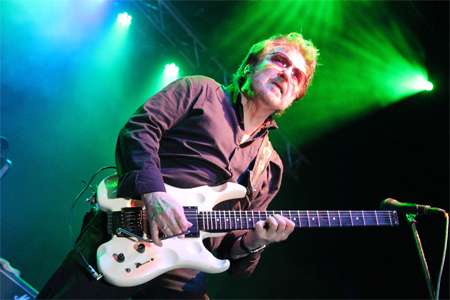 This show was one that will be remembered by the entire band for some time to come as there was a 'ruckus' down front with a couple of the concert patrons, and they stopped the music as the bouncers were getting things under control. I'm not exactly sure if it was Buck or Eric who said..."All these years of playing tunes to live audiences and I believe this is the first ever fight we have had at one of our shows." He made light of the situation and said..."So...ok...back to the music!" They picked right back up where they left off and continued jammin.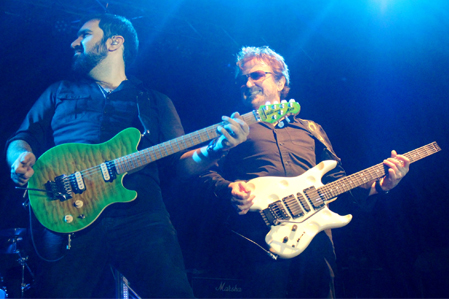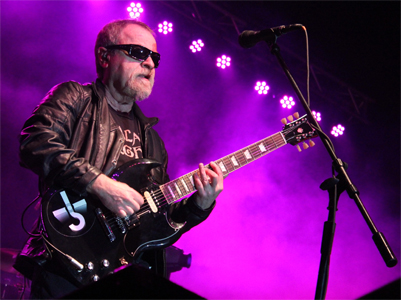 From the onset of their entrance to the stage, until the last note that was left ringing in the ears of all the die hard fans this band has accumulated over the years, Blue Oyster Cult showed why they are still booking shows and packing the grounds.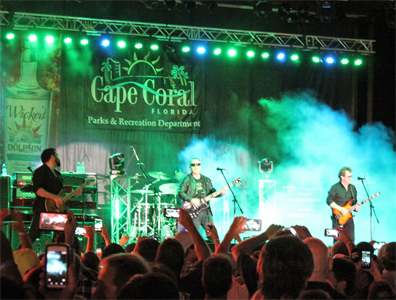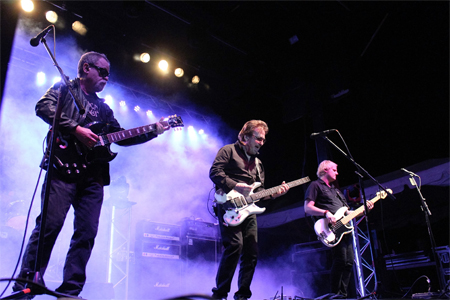 Well done gentlemen, well done.
7/10
By Juliana Kenyon-Anderson
Bouillet/Made N America/Brittney's Rage -
The Whisky A Go-Go, West Hollywood, California, USA, Monday, January 19th, 2015
Set List: Cutting Deeper/Sorry/Tripping In A Dream/Love Song/Bidi Bom Bom/Talking To Jesus/Serpent/Set me Free.
Well it's a quiet Monday night in Hollywood on Sunset Blvd itself but this cannot be said for the inside of the Whisky. These three bands are nothing short of exceptional and it showed by the appreciation that was given by the people in here.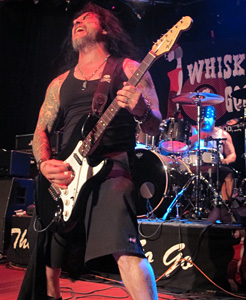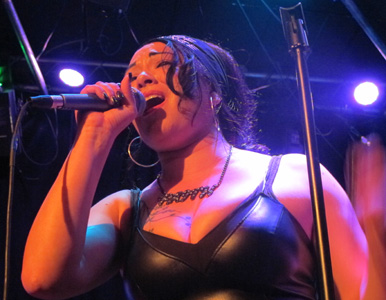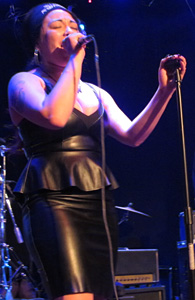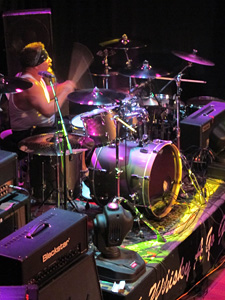 I arrived in time to see virtually the whole set of Brittney's Rage, a real force to be reckoned with metal quartet from El Paso, Texas whose frontess makes up half the bands name though she seemed a happy lady to me and not a bit of rage in sight. On this gig they had a dep drummer who had only had three days with them previous to learn about forty songs . Now that's some task but he pulled it off to perfection.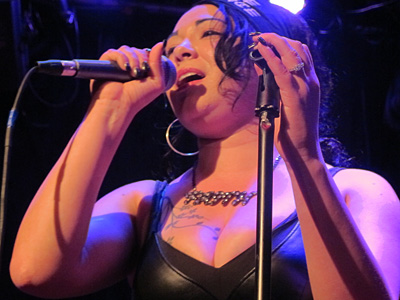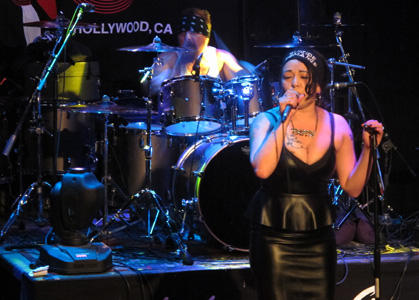 Brittney has a powerful sweet toned and lays down the vocal lines so well -man she's got a great voice indeed and so has guitarist Tony who sings lead on a killer rocking number and later duets with Brittney on the final song. We were even treated to a punk number too in their own kickin' texas style.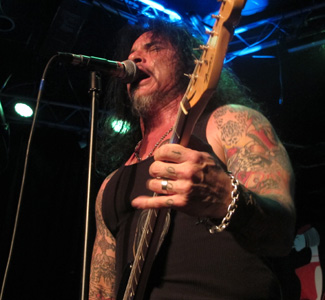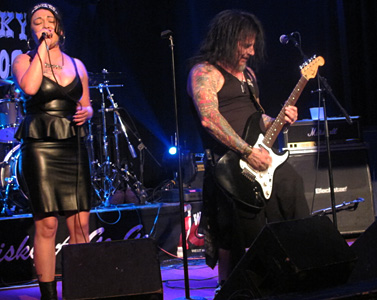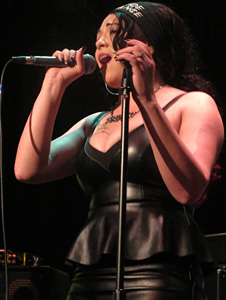 This was a superb set and very enjoyable. I was pleased to have spent a pleasurable time in their company and enjoyed several drinks with them too later during the night.
Set List: In Rock We Trust/Locked N Loaded/White Girl Rhythm/Black Widow/ Hell Yeah/Here Comes the Pain/Sin City/American Made.
Next up were a formidable four piece who go by the humourous name of 'Made N America' - now before you ask, no this is not a feeble attempt at an Iron you know who tribute but Stateside but are a meat and potatoe ball-busting set of rockers who firmly sound like the latter end of the 80's putting me in mind of Accept, AC/DC, Love/Hate and a bit of Warrant likeness there too. Vocally, is like Udo Dirkshneider who also has some Brian Johnson rasping in their too.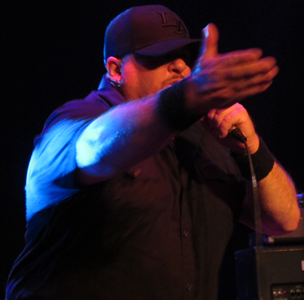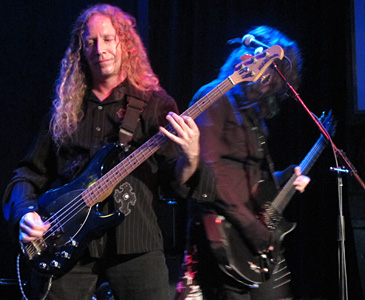 Musically it was like travelling back to the hair band days of the strip which was full of all those pretty boys of yesteryear. Songwise, 'Locked N Loaded' was awesome not to mention a track later in the set that stole very much from an old Bon Scott classic. I must say that I really dug them.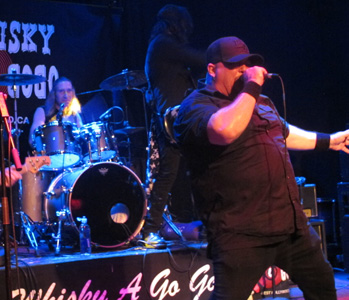 To say they were proud of where they came from was by far an understatement especially when you consider their closing ditty 'American Made'.
Set List: Those Who Know/Krushed/Scattergun/Deafening/Seeing Through/Blind/Quirks/Defiant/Order Of Control/HOAL.
The band Bouillet were a different entity altogether ad the instrumental stakes had truly been raised when it comes to the term of headliner since this was maestro cream of the crop progressive rock that was very fusionistic with its own unique style. There wasn't a vocal song in sight during this set and was centered around Racer X Guitarist, Bruce Bouillet.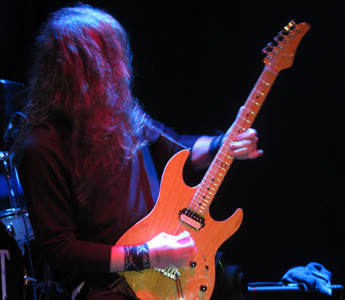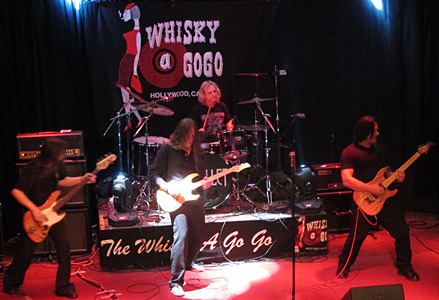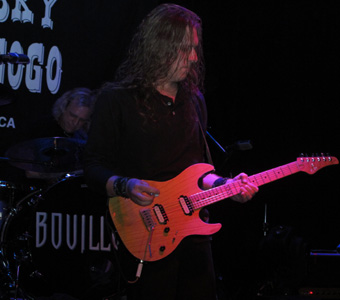 It's little wonder that some of the areas most sought after live and studio session guitarists and bassists happen to be here in the audience because these guys here are definitely musicians who are highly hailed as musicians that the layman may fail to comprehend since this was as far away from amateur hour as you can possibly get.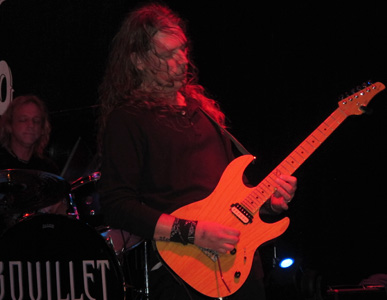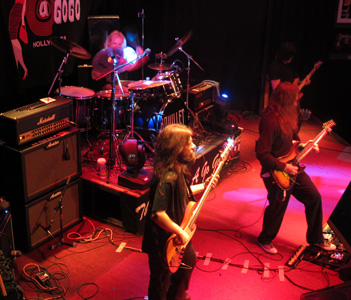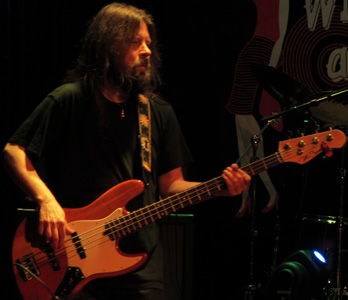 Many of the musical pieces had a very similar style and arrangement, so for those not familiar with the work of Bruce Bouillet it came across like we were hearing the same instrumental entity again and again with only a slight change in the guitar-work at various points. The sound and quirky style of the double B pits me in mind of a way more sophisticated Steve Vai with elements of guys like Joe Satriani but holding onto a 70's kinda vibe at the same time - an almost quasi-mystic Gilmour thing going down but not to the point where you would accuse him of plagiarism because there is so much more going on.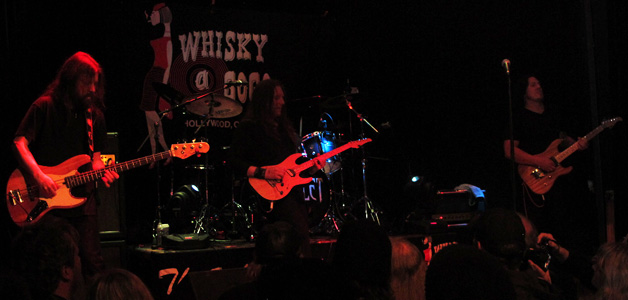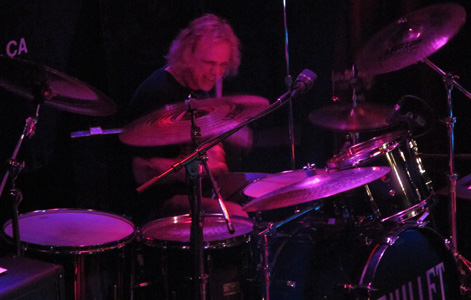 The other three guys are top of the tree too who comprise of Bassist, Matt Beal; Guitarist, Greg Marra and Drummer, Mike Hansen who is also the stickman in the Rock band, Hurricane - proving that there is so much more to his groove and capability than classic rock, blues and funk. He's as sophisticated and synchronated as hell with arms flying all over the kit - utterly mind-blowing to say the least.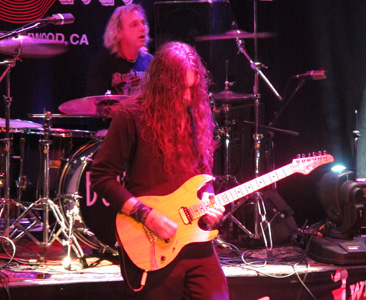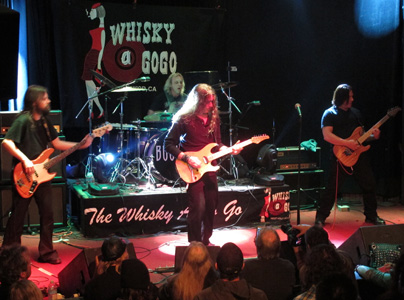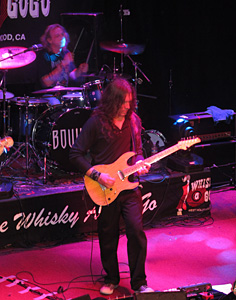 Overall it was an interesting set but catered way more for those who are die-hard towards this precision mode of music than for those who are new to it and hearing it for the first time.
8.5/10
By Glenn Milligan
Graham Bonnet – O2 Academy 2, Sheffield, Tuesday December 2nd, 2014
Set List: All Night Long (Rainbow)/Love's No Friend (Rainbow)/Makin' Love (Rainbow)/Bad Girl (Rainbow)/Always Be There (The Marbles)/Eight Days A Week (The Beatles)/The Witchwood (Alcatrazz)/Mirror Lies (New Song)/Seven Deadly Sins (Drum & Guitar Duet).
Encore 1: Since You've Been Gone (Russ Ballard – a la Rainbow).
Encore 2: Night Games/Lost In Hollywood (Rainbow).
Well I have literally waited years to see this famous frontman in Sheffield since I failed to do so a while ago because of drastic weather conditions which hit the city.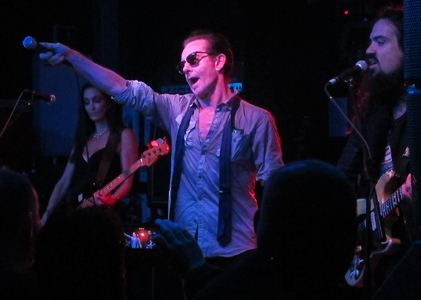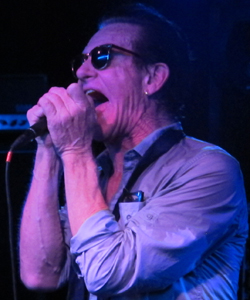 Anyways, the time came on a baltically cold December's night to witness the Skegness born singer on his 'Catch The Rainbow' Tour. It was a set that had a little bit of everything in there that spanned various moments in the mans career from the early days fronting The Marbles in 'Always Be There' where we saw him take to the acoustic guitar on – not to mention an excellent bit of The Beatles 'Eight Days A Week' to brand new material in 'Mirror Lies' which fit snugly in with the other offerings.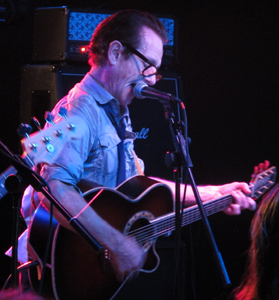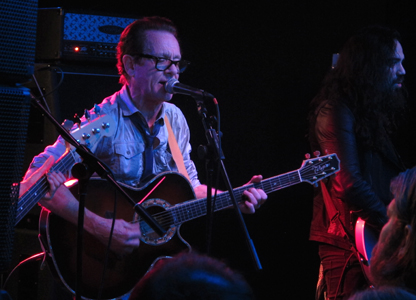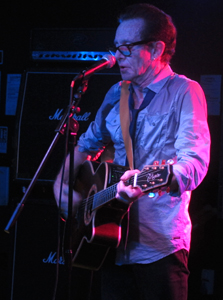 Personally I've not seen the O2 Academy 2 so packed for a wee while but let's be honest, Graham is an absolute legend of Rock and by all accounts one of the nicest guys in Rock Music – which he completely proved tonight and grabbed all the people in here immediately with a lot of songs that everyone couldn't wait to hear. The sound was excellent with everything being crystal clear much to my delight. How can you argue with many hardly ever played Rainbow numbers such as 'Bad Girl', 'Makin' Love' and 'Love's No Friend'? You just can't! Not to mention even an Alcatraz song thrown in there that went by the name of 'The Witchwood' – a place that is dear to Graham's heart it seems.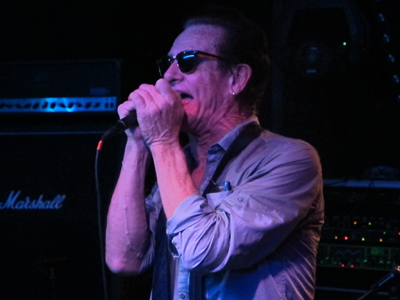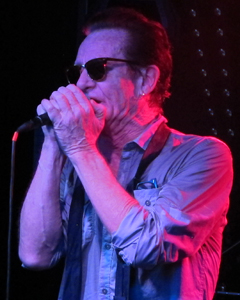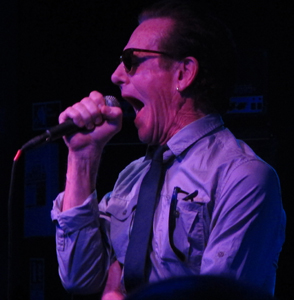 Mr. Bonnet was extremely comical in his approach and way, way 'Down To Earth' like the Rainbow album he is the lead singer for that featured well in the set opening with the classic 'All Night Long'. He doesn't take himself too seriously joking about how he got fired from MSG by Michael Schenker after a Sheffield show or laughing about the fact that his acoustic guitar was going out of tune. The laughs with him were endless – the man is such a pro up on stage – well he's been doing it long enough hasn't he so nothing seems to worry him.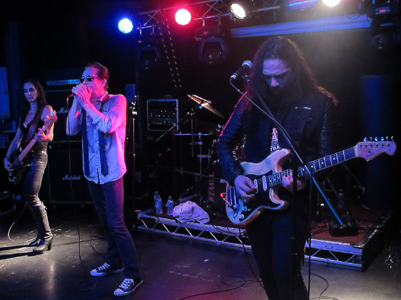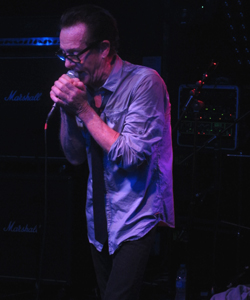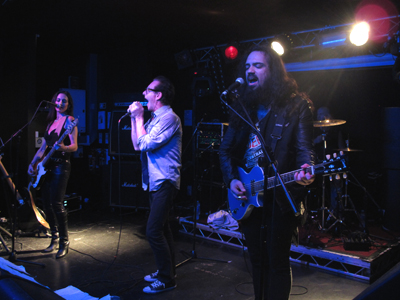 The man has still got it as proven tonight since that instantly recognisable voice piped through the PA even though he was feeling a touch under the weather tonight and like a true gentleman, he introduced the band around the 3rd song in and lets everyone shine. What a solid outfit they are with the wildly animated Justin Lack of Hollywood's Metal Heads 'Enrot' manning the kit who is watching Animal from The Muppet Show with never-ending arms and boundless energy right through the entire set.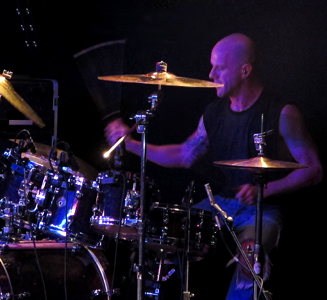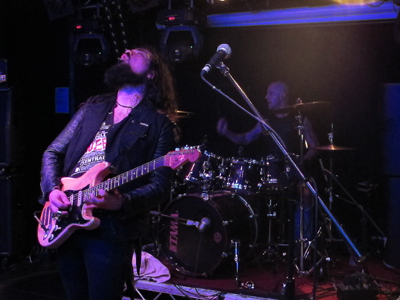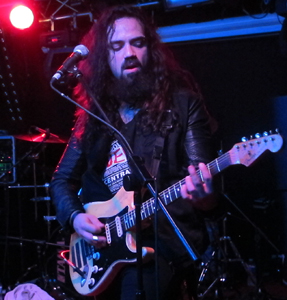 Justin also joined dual forces alongside mesmerizing guitarist, Conrado Pesinato while top-dollar bassist, Beth-Ami Heavenstone and Bonnet himself wentoutfora breather for the highly impacting instrumental, 'Seven Deadly Sins' that flamboyantly blew everyone's minds. There were so many highlights to the show and what a blast it was to hear the UK Icon perform 'Since You've Been Gone' in the 1st encore after you've heard it so many times on the radio and tv. To experience it in front of you sung by the exact man from the record is so mind-blowing – not to mention closing the set with the pummelling 'Lost In Hollywood'.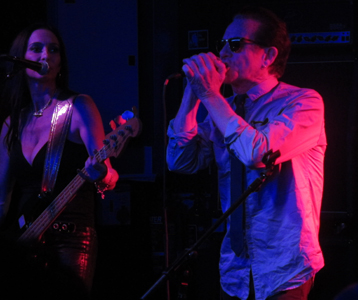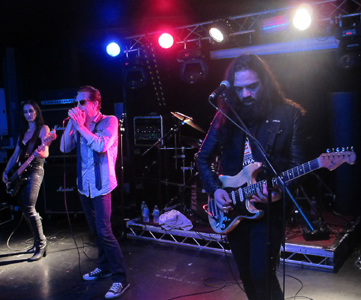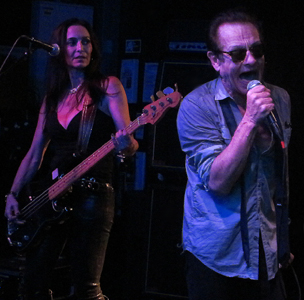 What made the second encore even cooler though was the fact that we got an exclusive song that luckily the band knew that was screamed and shouted for by the Sheffield fans – who would have thought that we would have been treated to a faultless rendition of 'Night Games' that Graham joked about hoping he could remember the words for – he knew them perfect.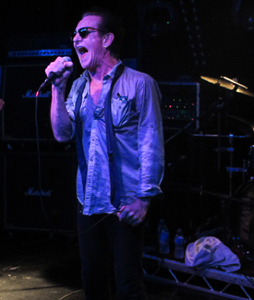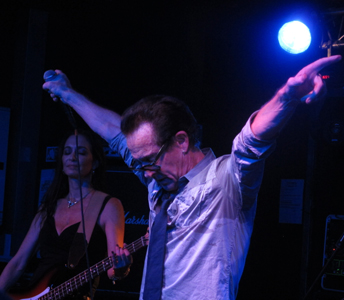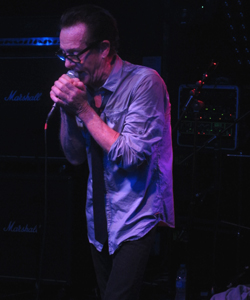 Well worth waiting for – a great night was had at the Academy!
9/10
By Glenn Milligan

Bonafide/Bad Touch/Perfect Crimes – Corporation, Sheffield 25th March, 2014
It had already been a big weekend for bands in Sheffield with shows from Steel Panther, UFO, Monster Truck and Tyketto, but the rocking doesn't stop in this town. Tonight Swedish no nonsense rockers Bonafide are in town as part of their Bombo tour. I first saw the band a few years ago doing an acoustic show at Hard Rock Hell and they really impressed me. But plug them in and turn them up and they are in a completely different league!
But first we must talk about the support bands. It can be a little hit and miss and being in a band it can also be a little soul destroying playing to a half full venue and tonight that duty fell on Perfect Crimes from Sheffield. Now I've never heard of them before so I had an open mind. The band have been together since 2011 but still tonight it felt like they had been together for a very short time.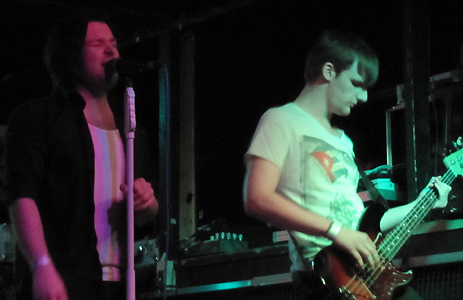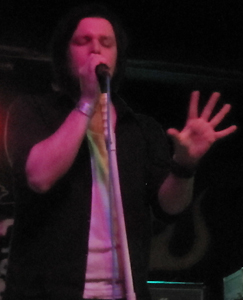 Something didn't seem to gel tonight as the band played through songs such as "Black Cloud"; "Come Around"; "73" & "Why try". I love songs with a great groove and a big hook and they seemed to lack in Perfect Crimes' material, the phrase all filler came to mind. It was a very long 30 minutes. A redeeming factor was that each member sported a great fringe and the lead singer reminded me of Dec from Ant & Dec! Ah well you can't win them all.
2/10
Next up was Bad Touch. Now I was familiar with the name but I have never seen or heard anything by them. Right from the start the room was hooked, not only with the songs but with the lead singers amazing moustache! Bad Touch bring a great southern rock n roll feel to this cold Tuesday evening. Think a heavier Quireboys with a very good time thrown in and you are halfway there! We rock through some great opening songs "Dr. Heartbreak"; "Morning Light" and "New Day".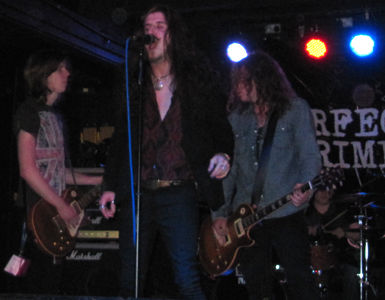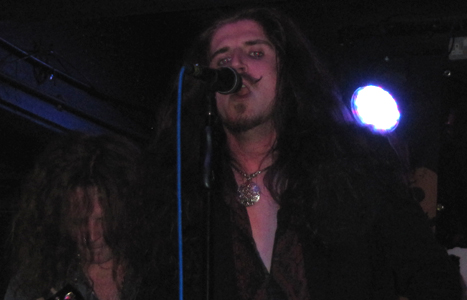 The atmosphere on stage was infectious, Stevie is a great frontman including the small but enthusiastic audience throughout the set. You can't help but dance around. We carry on with some great songs including the very memorable "Good On Me" a song about wearing ladies jeans.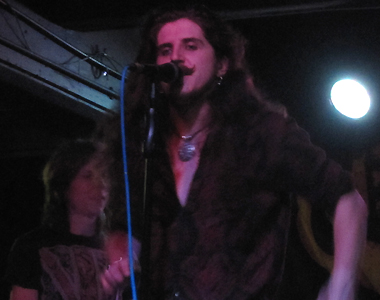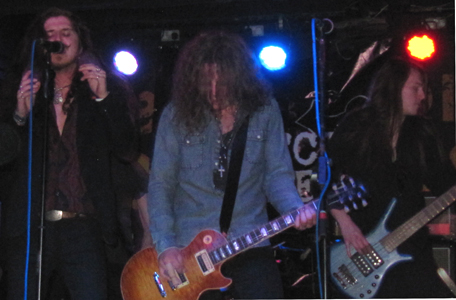 I know a guy who does wear ladies jeans so this song did make me laugh! This time 30 minutes was not enough! Great band with great songs and a really good show!
8/10
So it's time for the main event. It is a shame that the small room in the Corp is sparse on bodies but we don't care we are there for a good time and we know from the first notes of set opener "Bombo" (taken from the band's new album) that we are going to get it! Frontman and guitarist Pontus is enjoying every moment on stage and it shows, fooling around with the rest of the band right from the start.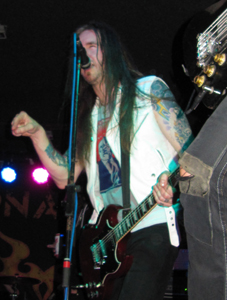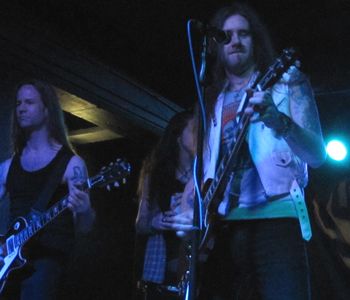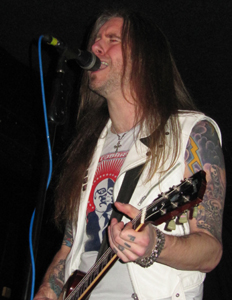 Straight into "Doing the Pretty" and "Loud Band" the guys from Sweden have us dancing and singing along with them. We get another new song from the Bombo album "Rock 'N Roll Skal" is a great no frills boogie song. Check out the video it's filled with some familiar faces, Joel from Airbourne, Dan Baird from The Georgia Satellites and a whole host of other rockers. The song is so catchy filled with hooks and a great sing a long chorus. We move on to more of Bonafide's great brand of rock n roll, "Down", "Harmony" and "Can't Get Through".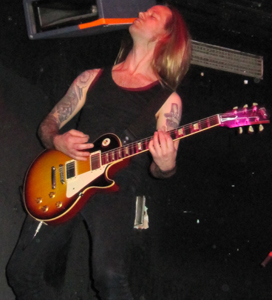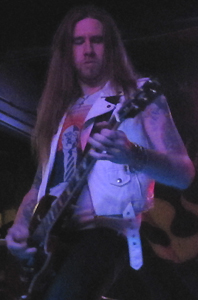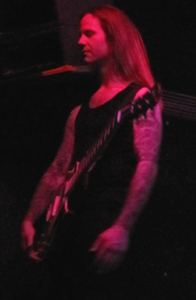 We then go back to the band's first album from 2007 for the funny "Peg Legged Pete" which really rocks as well as bringing a smile. Then Pontus introduces their exclusive UK e.p which is only available at shows, If you get a chance buy it! The first song "UK song" is brilliant and very funny with a mention of Barnsley and Sir David Attenborough! Right back to the show. "Night time"; "No Doubt About It" follow and then we get a short guitar solo.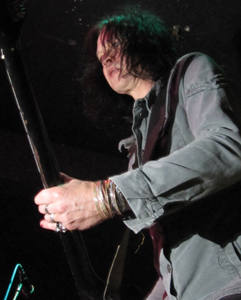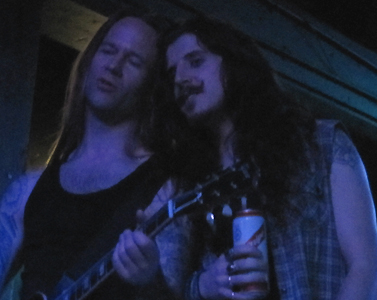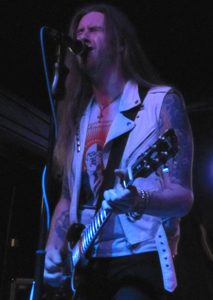 Another song from the Bombo album is next "Suburb Baby Blues" and it is an instant hit. A real great feel and I can' t wait to get this album, Pontus explains the song is about having to catch public transport out of Stockholm into the suburbs to see his girlfriend and the trouble it can cause, again he engages the whole room and shows how easy being a frontman comes to him.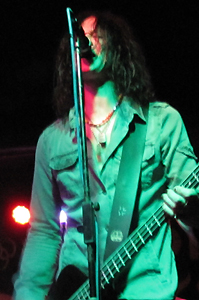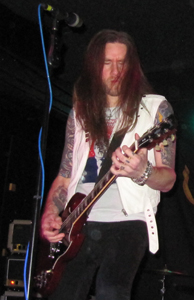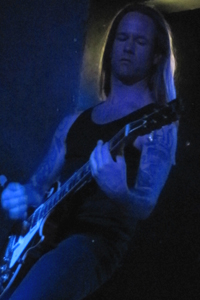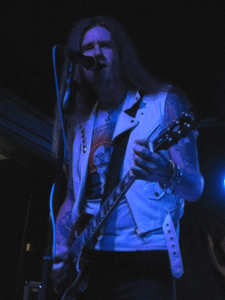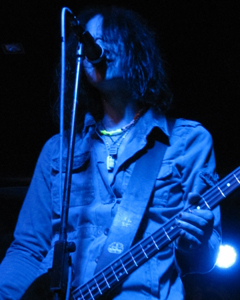 So it's into the home straight with classics "Dirtbound" and crowd favourite "Fill Your Head With Rock" we sing a long and dance about again. The end of the night has come too soon and the band leave the stage, but the audience is not ready to go home just yet with chants of "One more song!" then "3 more songs" then "12 more songs!" The band return and give us "Hard Living Man" from the 2009 album "Something's Dripping" It's been a great finish to a great night!!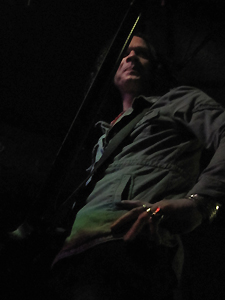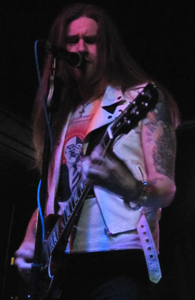 If you have never seen Bonafide or Bad Touch go and check them out, if you love hard good time rock n roll you won't regret it. It's the most fun you can have with your clothes on!!
9/10
Review By Johnny Trowbridge
Photographs by Angela Trowbridge
Black Sabbath – Motorpoint Arena, Sheffield, Saturday 14th December, 2013
Set List: War Pigs/Into The Void/Under The Sun/Every Day Comes And Goes/Snowblind/Age Of Reason/Black Sabbath/Behind The Wall Of Sleep/N.I.B./Bass Solo/End Of The Beginning/Fairies Wear Boots/Rat Salad/Drum Solo/Iron Man/God Is Dead?/Dirty Women/Children Of The Grave.
Encore: Sabbath Bloody Sabbath Intro/Paronoid.
Well we found out two or three years ago that the reformation was gonna happen with the original line-up but then Bill Ward wasn't happy with what on the table and pulled out of the album and tour. What we do get is Ozzy Osbourne, Tony Iommi and Geezer Butler with live drummer, Tommy Clufetos (Rob Zombie/Alice Cooper/Ted Nugent) on the stool although RATM drummer, Brad Wilk, laid the beat down on the '13' album.
Now for some reason or another all the photo-passes and review tickets were disallowed after being issued which is completely bizarre but it's always good to have a couple of aces up your sleeve (these being Jane & Gaz). Anyways back to the band, it's no mean feat starting your show off with one of your climaxing songs which is pure proof that these old guys still have balls by kicking in immediately with 'War Pigs' to drive everyone wild from the first second – though we do hear Ozzy shouting to us before the curtain goes up hahaha.
Ozzy asks us if we are looking forward to Christmas and says he isn't as he stopped drinking many years ago so it's a waste of f*ck*ng time to him – classic statement indeed. He does seem on autopilot with his shouts to the audience asking us if we are having a good time because that's what it's all about and saying 'I can't f*ck*n' hear you' or 'I still can't f*ck*n' hear you! – not that that's any surprise of course – of and of course the obligatory 'go f*ck*n' crazy'.
Several things really impressed me of the show such as how well it flowed song-wise, the quality of Ozzy's voice as it was bang on form and there was only 1 cringe moment towards the end but he is getting on a bit and also the video screen set up was outta this world with various film footage and live shots from the gig itself. Also the fact of how well Tony Iommi was looking tonight really impressed me too since his cancer that he still dealing with. The performance of every member was real top of their game as the fingers of Tony and Geezer never stopped moving hardly.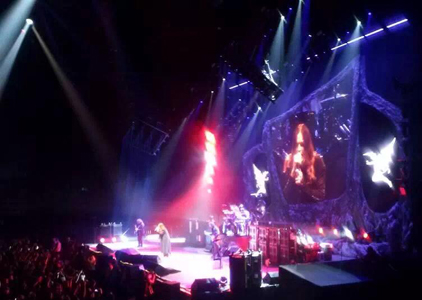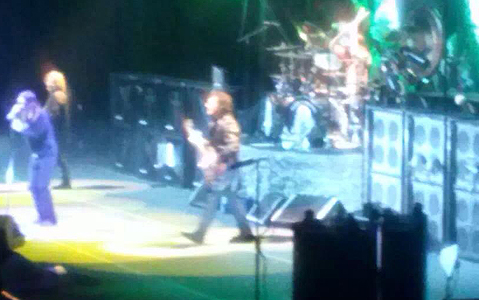 I've never seen a show with so many tits and blood on the backwall before – even more than the average Motley Crue show I gotta say – now that takes some beating – especially in the song 'Dirty Women' that had boobs-a-plenty throughout.
Newer material such as 'Age Of Reason'; 'God Is Dead?'; 'End Of The Beginning' stood up well next to classic material such as 'Fairies Wear Boots' and 'N.I.B.' which I was surprised about as I thought it would fall flat on its arse to be honest with you after reading one or two previous gig reviews but I guess there was miles more atmosphere in here than listening to them on the '13' album plus the fact that the accompanying video action was an added attraction too.
The drum solo from Tommy dragged on a bit too long for my personal liking as I've seen hundreds of them over the years but it does show you what the guy is capable of but it was awesome to hear the epic instrumental 'Rat Salad' again that ran into it and you can't complain when it's followed by the Beavis & Butthead Fave that is 'Iron Man' can you?
After an epic set they came back on to do Paronoid which was pre-teased with the 'Sabbath Bloody Sabbath' intro that I would like to have heard in its entirety but what can you do when you have many more great songs in your catalogue? Easy answer - Play them next time you are here as Ozzy asked us if we would like to see them come back – of course we would – kinda goes without saying. Hope Ozzy is a bit slimmer next time too as he really could do with losing a few pounds.
This was the best UK show I have seen this year by far!
10/10
By Glenn Milligan
Photos by Gaz Brabbit Crowther

Buckcherry/Ritchie Ramone -
Gershwin Room, The Espy, St. Kilda, Melbourne, Australia, Thursday 18th April 2013
It was a delayed arrival to the event due to prolonged pre-gig drinks, trouble finding parking then tequila shots from the boot of the car. When we finally arrived at the venue we had missed the first support band 'The Art' and 'Richie Ramone' was half way through his set.
My timing turned out to be perfect as I met 'Buckcherry' singer 'Josh Todd ' as he was exiting the back stage door to get in some rather hot looking 'friends' who were waiting at the ticket counter. He looked much younger than his 42 years and if it weren't for the tattoos he could have been mistaken for a young punter rather than the lead singer of the headlining act. We exchanged a quick "howdy" then I left him to do his business and made my way into the 'Gershwin room'. The room was wall to wall with punters but I managed to get to the bar and order my first jug of beer.
After a quick drink I worked my way through the crowd to the half way point to watch the last half of 'Richie Ramone'. The sound was hard and heavy as was expected and although I am not familiar with his music I recognized his rendition of 'INXS' 'Don't Change' which had the audience singing along with patriotic pride.
7/10
Main Set List: Ridin'/Rescue Me/All Night Long/BrokenGlass/Everything/Sorry/Dead/Porno Star/Lit Up/Gluttony/Nothin' Left But Tears/Rose/Crazy Bitch
Encore: Oh My Lord/Wrath
After a reasonably short interval 'Buckcherry' took to the stage. I made a vain attempt to get to the front but the place was now packed solid and no one was willing to give up their prized position. The band went straight into action rocking out 'Ridin' from their second album 'Time Bomb'. This was followed by 'Rescue Me', 'All night Long', 'Broken Glass' and 'Everything'. Songs were played with full on energy which never wavered for the duration of the gig. It was hard to take your eyes off this mesmerizing band; all facets of the act were fully engaging with everything you would expect from a true rock band. By the third song Josh and Stevie D had their tops off exposing their extensive body art. Xavier sat at the back with the wind blowing back his hair looking like a stereotypical glam rock drummer. Keith and Jimmy with their black shirts and hats rocked it out with complete professionalism, while Josh worked the stage with power and enthusiasm, belting out the lyrics with his deep, raw vocals.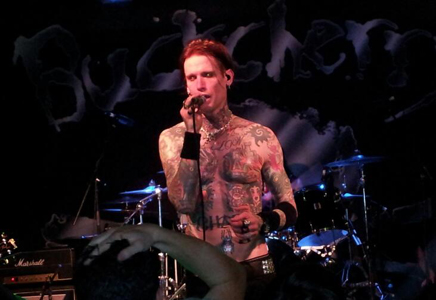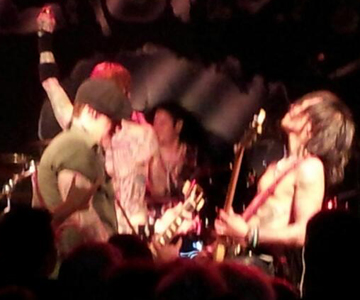 As the show went on I managed to work my way closer to the front. I had never experienced a crowd more determined to remain cemented to their spot and not allow me through. It was like forcing my way through a police blockade at a student riot. I secured my position a few rows from the front in time to watch the last half of the set which included their classics such as 'Sorry', 'Lit up', 'Porno Star' and 'Gluttony'. By now they had the crowd singing along; fully engrossed with all eyes on the charismatic band members. The band was like a well oiled machine and had the sync and balance of seasoned musicians. They all seemed to thoroughly enjoy being there particularly Stevie D who had a permanent grin on his face for the duration of the show. Nearing the end, Josh announced the band members one by one giving each the opportunity for quick riff before rocking out 'Crazy Bitch'. This was of course the highlight of the show and crowd participation was mandatory with all in the room singing along.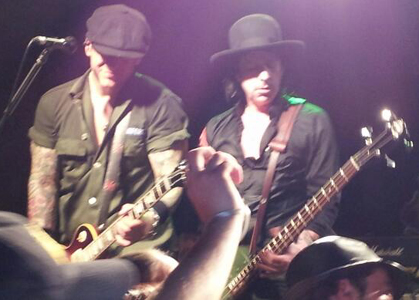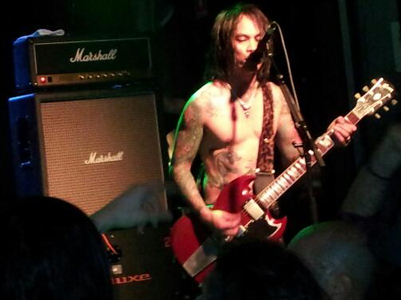 The band left the stage but were coaxed back out by the pumped crowed which were not ready to leave after being whipped into a frenzy by the last song. They came back and played 'Oh My lord' and 'Wrath' before making a final exit from the stage. The crowd was now satisfied to let them leave and all punters disperse with smiles on their faces. Most of their well known songs were played the only exception being 'For the Movies' and 'Lawless and Lou Lou'. They only played one song from the first self titled album but otherwise played a good balance of old and new songs to keep the audience happy.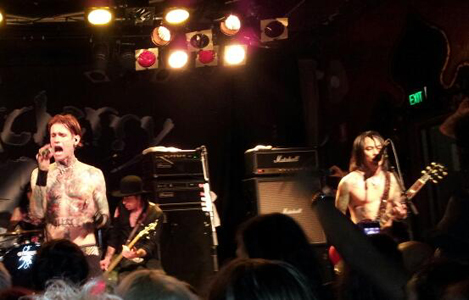 Overall this was a high powered fully entertaining show from an energetic hard rocking band.
10/10
By Liza Lee
BulletBoys/Nightmare/Little Caesar -
Key Club, West Hollywood, California, USA, Saturday 3rd November, 2012
Set List: Rock & Roll State Of Mind/Hard Times/Supersonic/Hard Rock Hell/American Dream/Redemption/Prisoner Of Love!/Rum & Coke/Chain Of Fools/Drive It Home.
Now it's great to be back at the Key Club as I haven't been for over a year now. So what better way to do it than see a band who make their mark in Sheffield early next Month, making this almost a preview show for me.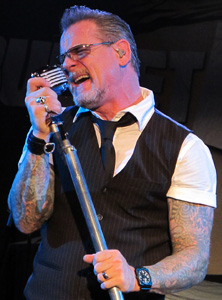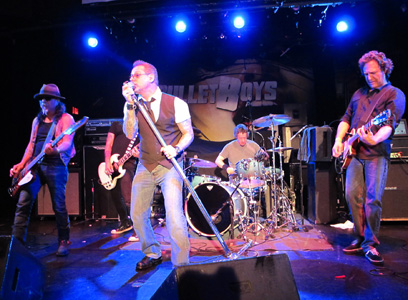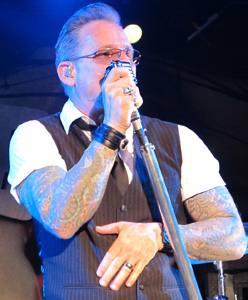 The guys of Little Caesar have obviously been around a while and give us some good ole rockin' songs - 10 in all which the people in here obviously know and love with highlights in the opening anthem 'Rock & Roll State Of Mind'; 'American Dream' - yeah I still got mine, which is why I keep coming to this wonderful country; 'Rum & Coke' which I have few too many stories too and the apt closer of the set, 'Drive It Home'.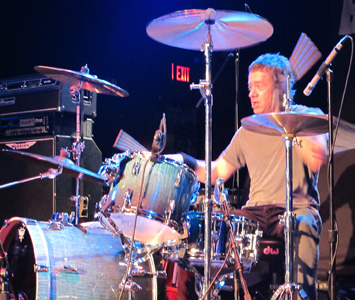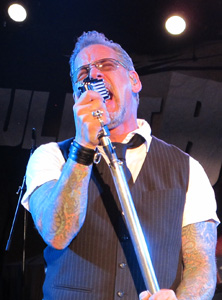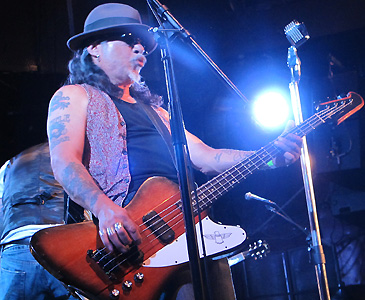 I can't help thinking that their frontman, Ron Young don't half look like Graham Bonnet of Rainbow & Alcatraz fame. He's got a great strong voice with excellent back-up vocals from the band too. Cheesily I actually write on the back of one of our flyers, saying how I am looking forward to seeing them in Sheffield, which Ron read and told me over the microphone that they were looking forward to seeing us too. How cool is that?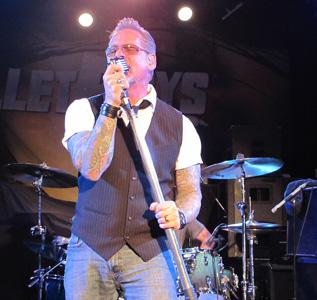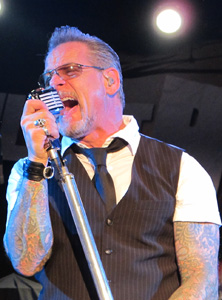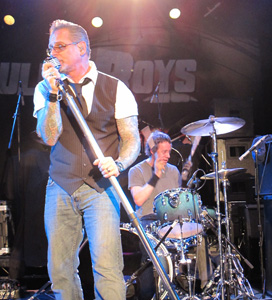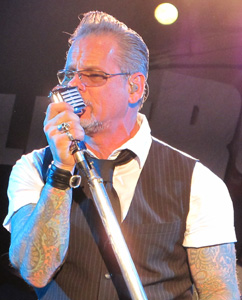 Overall their sound is excellent with some exceptional playing by all of the members. This was a thoroughly enjoyable meat and potatoes, warts and all set that would warm the heart of anyone who likes a damn fine slab of hard rock of a bluesy meets 80's vein.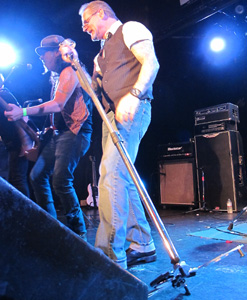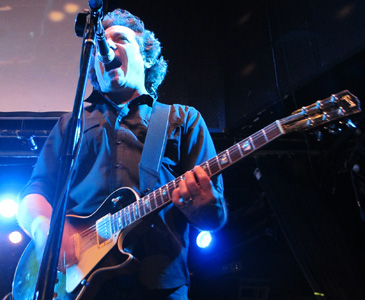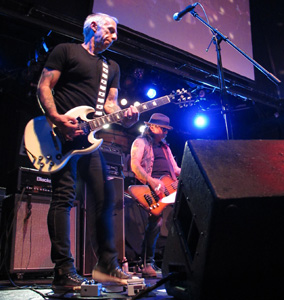 I also manage to catch some of Nightmare who are Hollywood's Alice Cooper tribute band who feature my buddy Nick as the main man who looks and sounds like Mr. Furnier. Okay, it was towards the end of their set - so annoying when they put good bands on at the same time as each other but thems the breaks at times.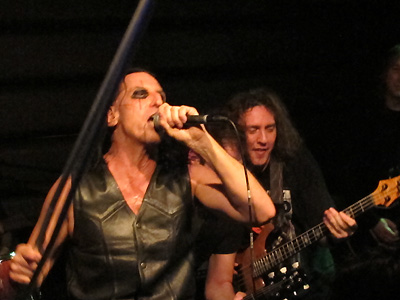 Least I got to see a killer version of 'Go To Hell' with a chick slapping a whip around the stage; a supreme take of 'Eighteen' as well as a personal fave of mine in 'Under My Wheels' that closes a famous film about the 80's hair bands in this very area and even bump into a couple of my Swedish buddies too.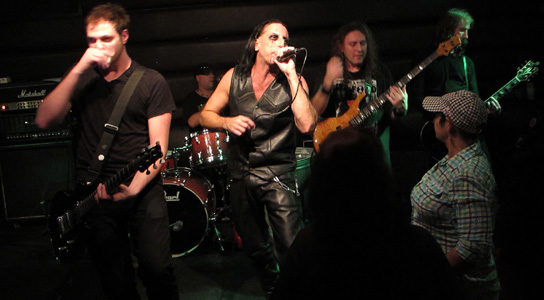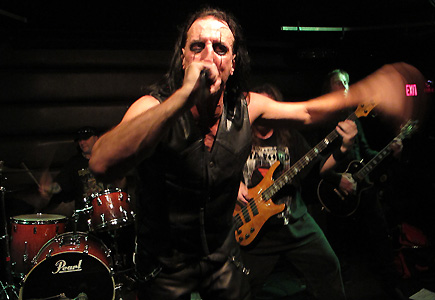 Set List: Born To Breed/Hard As A Rock/Hell On My Heels/Bring Me Home The Gun/THC Groove/For The Love Of Money/Witness/Road To Nowhere/Wasted/Kissin' Kitty/Smooth Up In Ya.
After a chilled out changaround on stage it was time to see the BulletBoys take to the Key Club boards. Okay, the only mainstay is Marq Torein of the double B band now, although the original line-up did reform earlier this year who takes care of both guitar and vocal duties, the latter of which he is most known for. Hey hang on a minute, that's my buddy Troy Patrick Farrell on that double bass kit who I last saw on stage with Pretty Boy Floyd in Sheffield a couple of years ago who these days plays with White Lion still and also Gilby Clarke.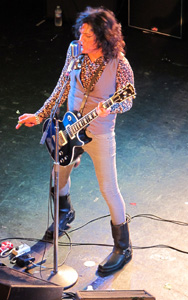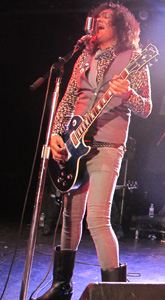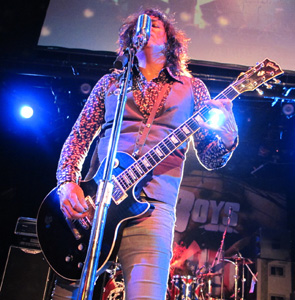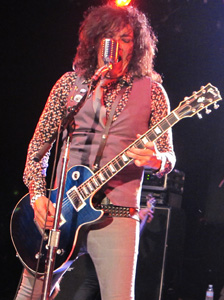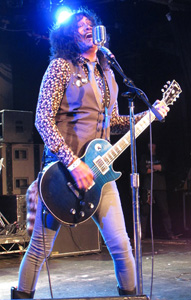 It's a decent length show and these guys are tight with Marq still having that exceptional voice of his with all the notes intact at 50 something. We get numbers from a variety of points in the bands career or should I really say the frontmans in this case with the odd number from the '10 Cent Billionaire' album and various points before, in-between and after.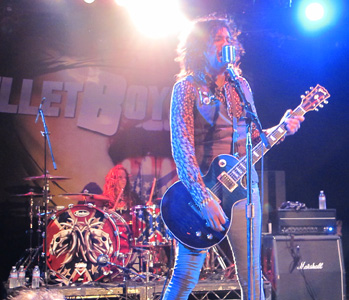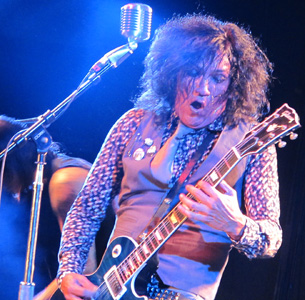 Marq gets us all to shout out for his long term buddy at the front who I've personally seen at many Hollywood shows up and down Sunset Strip and also dedicates a song to Dimebag Darrell tonight as well. It really is outstanding playing all round from these 'Boys especially from Troy on that double bass kit of his with throbbin' bass coming from Johnny 5 Johnny 5 on bass and lead guitar licks from Nick Rozz. They totally compliment Mr. T perfectly.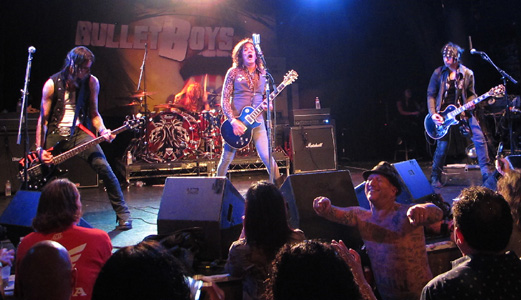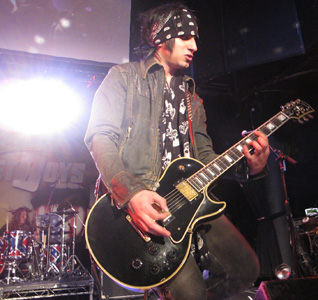 Highlights of the show include the opening fast and pulverising 'Born To Breed'; the funky numbers that are 'THC Groove' & 'For The Love Of Money'; the 80's vigour of 'Hard As a Rock' and the hairspray blues groove that is 'Kissin' Kitty'. Now there's only one way to close the show and that is with their one hit, 'Smooth Up In what?' - 'Smooth Up In Ya' of course from their self titled debut that came out many moons ago - over too decades since at last look. What did strike me though was the fact that he let the fans hit the high note of the chorus as opposed to dealing with the risky one himself - only going for it once towards the end of the number.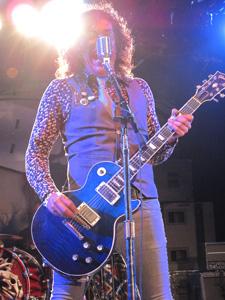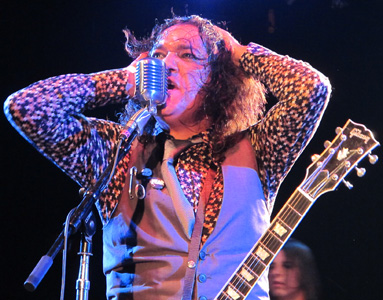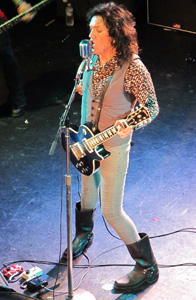 Marq then thanked us all and Little Caesar too, informing us that he loved each and every one of us before bowing out and leaving the stage with the rest of the band. I must admit it was excellent to see Marq and his BulletBoys perform on stage since it was a first timer for me. The last time I saw him was while I interviewed him at a mates place back in 2006.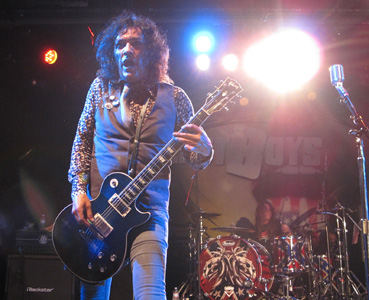 This was a cracking night indeed.
9/10
By Glenn Milligan
The Burning Crows/Spill Sixteen/Gotteri - Corporation, Sheffield, Wednesday 5th September, 2012
Gotteri Set List: Seven Year Itch/Remember My Name/Devil Eyes/Don't You Call This Love/Do Without/From The Outside.
Back to the legendary small room at the Corp again for a triple rock band line-up of two up and comers and one from further afield.Everytime I see Steve Baranovich he seems to be fronting another band with one or two members of his previous oufit there by his side. The new group go by the name of 'Gotteri' who have Russell on guitar that I've known a good while.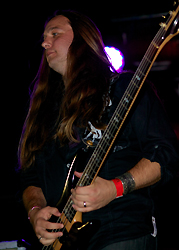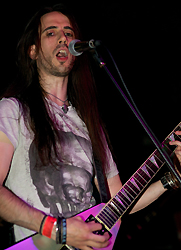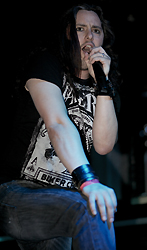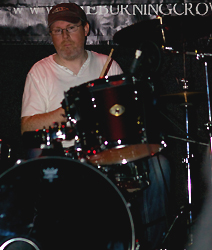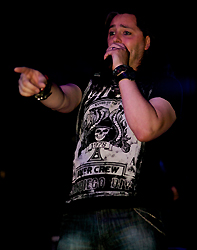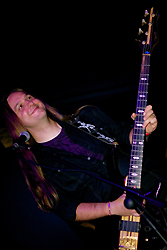 After a bit of a fractured start - well after the 1st number due to a lead problem they fire into a selection of songs that were written 70% by their Bassist, David Gotteri and 50% co-written by Steve. These dudes have been in every band together since 1999. All in all, these local rockers lift the crowd up well with numbers like 'Do Without' & 'Remember My Name'. Not a bad feat actually to say that Steve was suffering from a bad cold.
7/10
Spill Sixten Set List: Doin' It Tonight/On My Way/Damned/All The Same/ Kick In The Face/One Way To Go/By You/Love Drunk/Come With Me.
Now I've heard of these guys who feature 2 ex-members of Silverjet in Bassist, Indi and Guitarist, Andy Mewse. These guys mean business with a well-pumped muscle dude called Stevie on vocals who can sing - boy can he sing - hitting highs like his voice has never broken. He is full of confident fun and tells us that he may forget the words to one or two of the songs (he doesn't appear to of course - haha) and that one or two are killers when it comes to singing them.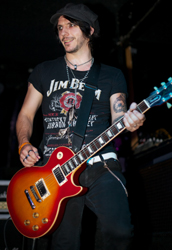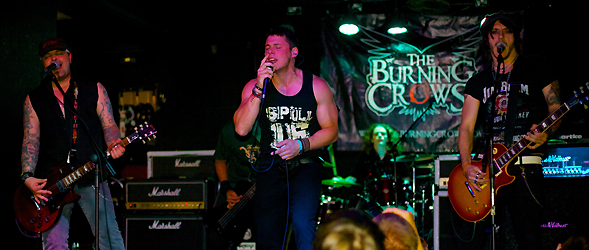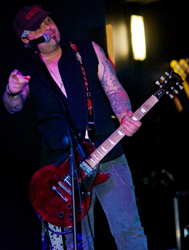 They are extremely tight and professional giving you a definite feeling that they are very well rehearsed and know just how to get an audience (new or otherwise) right where they want them. There are plenty of highlights when it came to songs that included the ballsy 'On My Way' and the outstanding rockin' closer 'Come With Me' with some other great stuff spread around the set. Best band I seen from Sheffield for a damn long while.
8/10
The Burning Cros Set List: The Queen/Going Down/All The Way/Slow Up, Get Down/Falling Down/So Wrong/Devil May Care/Best Damn Everything/Time/You, Me, Tonight.
Well I go the CD 'Never Had It So Good' sent to me last year and I was mighty impressed with it so was real pleased to finds out they were playing Sheffield. I expected this was gonna be a mighty night with The BC's and they didn't let me down. A full force rock show on a small stage from a band who have elements of Skid Row, Little Angels and a few LA elements thrown in there for good measures.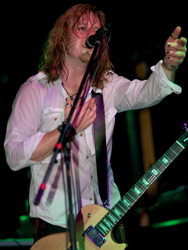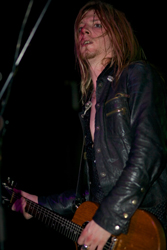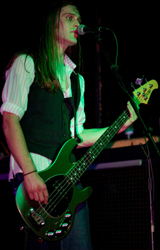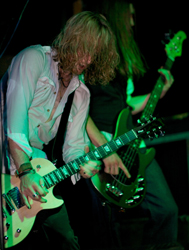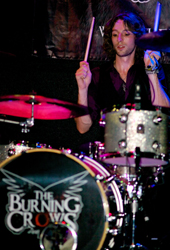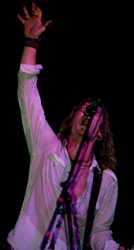 The wire and fire up the Steel City crowd on a Wednesday night with a good helping of the locals taking a real shine to them. It was like watching a recently made young Francis Rossi (Will Lockett - on Bass & backing vocal) and Rick Parfitt (Whippz -Vocals & Guitar) up there in the looks department though they play a lot more than 3 chords in this quartet with The Burning Crows line-up being completed by Lance Daniels (Guitars/Backing Vocals) & Chris Chapman (Drums & Percussion).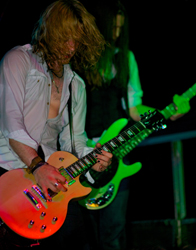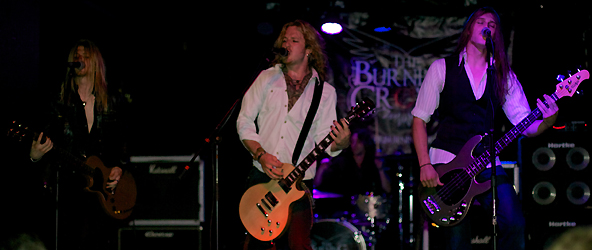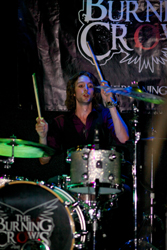 They played us a cooking set of songs that were made up of songs from the CD from last year and some unreleased numbers too that I imagine will feature on a forthcoming longplayer - I mean album. Highlights of the gig included 'The Queen' that sets the standard of what was to come the full on blasting finesse of 'Slow Up, Get Down'; the very addictively chorus screamer that is 'Going Down' and the very impressive coming complete with cowbells closer that is 'You, Me, Tonight'.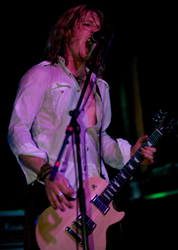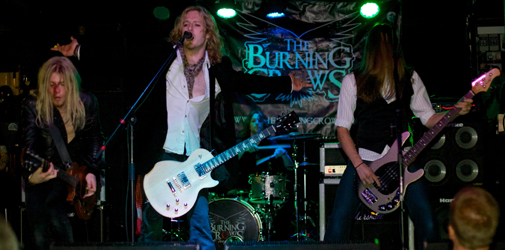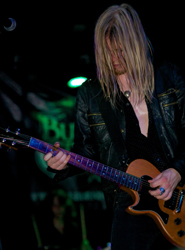 Afterwards they came straight over to meet everyone - what a humble and cool set of guys they were too. They deserve to be big indeed.
9/10
Review By Glenn Milligan
Photographs by Bitchin' Rob of BitchinRockPhotos.Com
Blackened Eyes - Corporation, Sheffield, Saturday 18th August, 2012
Set List: Lies Within/Walk Alone/Hunting Season/Till Our Dying Breathe/Hearts Of Stone/Forgiven In Death.
It's been a damn good while since I last went to the venue and it was nice to return after a good few months. Tonight was one of those nights that you find out about last minute via one or two buddies the day before and makes you think, 'Yeah, I'm up for that!'.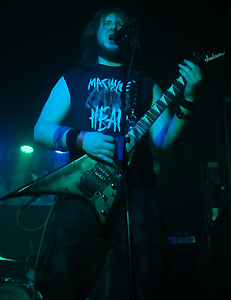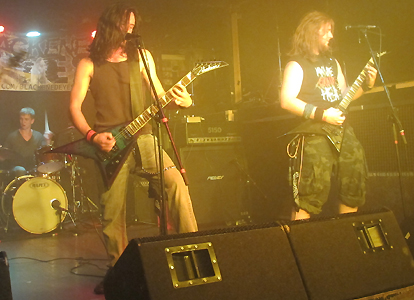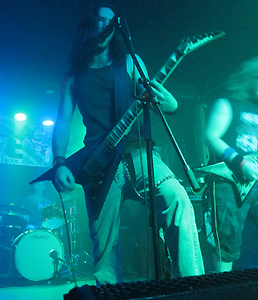 Anyways it was a 5 band affair night where you never know how many peeps are gonna come out to see the bands and could be on the verges of one of them local unsigned nights. Whether it was or wasn't, it made no difference to me when these 4 guys from Rotherham hit the stage. A tight-unit that is made up of Josh Kenny - Guitar/Vocals; Dave Mitton - Guitar/Vocal; Jak Higgins - Bass & James Burton - Drums.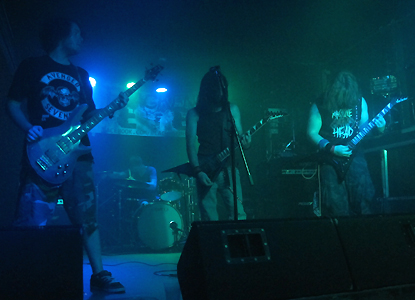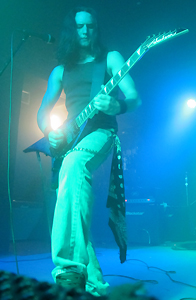 After the 1st few cranked up seconds you could tell these boys meant business and piped up a good half hour or so of full-on thrash metal with growling vocals - think Slayer meets Testament and real old school Metallica and whatever else from the depths you wanna trow into the delightful equation. It all sounded extremely professional and I was astounded later when I found out they had only been together for about 8 months.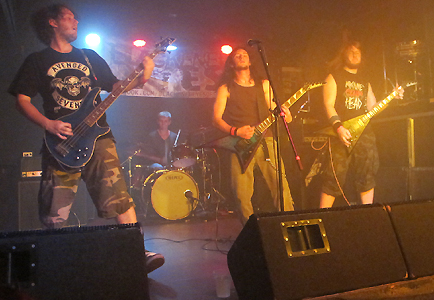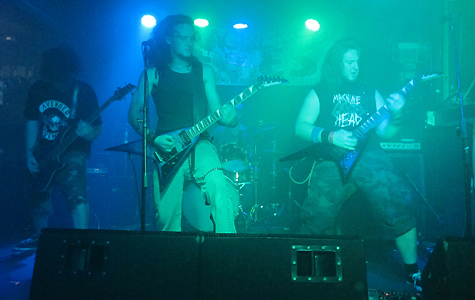 The guitar soloing was impeccable and very uplifting, not to mention a top-notch rhythm section and primal vocals to top it off, that came from two vocalists who either fronted a song in its enirety or backed it up at selected, precise & needy moments. Highlights of the set include the opener 'Lies Within'; the fantastically titled 'Till Our Dying Breath' and the closing 'Forgiven In Death'.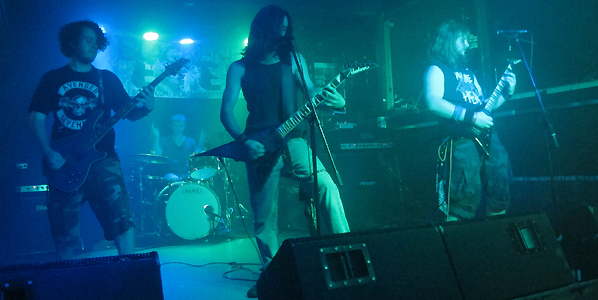 Watching 'Blackened Eyes' was just like going back to '87 or '88 - Sh*t Hot!!
10/10
By Glenn Milligan
Black Stone Cherry/Rival Sons - O2 Academy, Sheffield, Saturday 17th March, 2012
Rival Sons Set List: All Over The Road/Burn Down Los Angeles/Pressure And Time/Soul/Face The Light/Get What's Coming/Torture.
Two great gis in a row in Sheffield - that don't happen very often and its off to classic retro rock tonight somewhat with 2 bands who have many members that weren't even a twinke in their mums and dads eye when their many influences were at the height of their peak. Rival Sons are very old school and always remind me of Led Zeppelin gone Iron Butterfly with a meeting with Robert Johnson at the Crossroads. In their 7 song strong 30 minute or so set they light up the large 2000 capacity sold out venue like it's the heyday of the early 70's with flambouyant colours being worn by the band members with music to match in high calibre quality.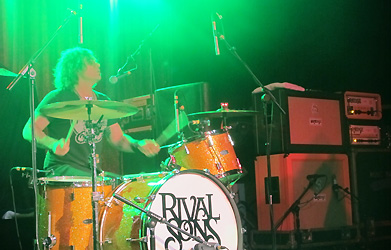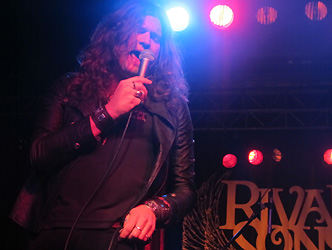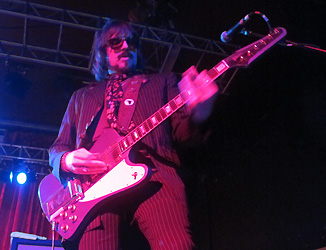 It's a very mixed cross section of audience in here tonight from young kids to peeps in their late 60's with a healthy helping of both male and female showing that people in Sheffield really do appreciate good rock music no matter how old they are. I am guessing that a good handful witnessed Rival Sons on the Judas Priest UK Tour last year and were so impressed they got here early so witness their outstanding set. Man these guys are good - one of the best LA bands I have seen in a good while that haven't jumped on some sad musical bandwagon and doing it because they love music 1st and foremost - believe me it shows from every band member up there.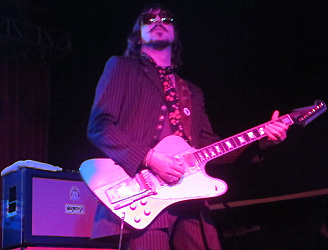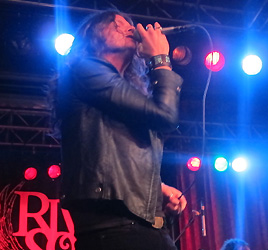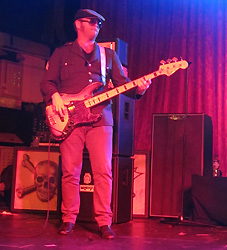 Highlights in the set include the title track of their album, 'Pressure & Time'; the throbbing bluesy blaster of a stomper that is 'Get What's Coming'; 'All Over The Road' with its cutting slick guitar stabs and 'Hush' like ending or the extensive slow blues grinder that is 'Soul' that is very Janis Joplin meets Robert Plant. I am so looking forward to seeing these guys do a headline tour as there is so much milage in their material it's untrue.
Black Stone Cherry Set List: Change/Maybe Some Day/Blind Man/Such A Shame/Hell & High Water/Soul Creek (with Death Letter Intro)/In My Blood/Rain Wizard/Like I Roll/Killing Floor/White Trash Millioniare/Drum Solo/Stay (Acoustic)/Champagne Supernova (Verse & Chorus) (Oasis Cover)/Rape Me (Nirvana Cover)/Things My Father Said/Devil's Queen/Blame It On The Boom-Boom.
Encore: Peace Is Free/Lonely Train.
Now this is the 1st time I have seen these guys headline - in the past its been supporting the likes of Def Leppard or other such big names. Something decent to come out of Kentucky - let's not mention Chicken or horses - hahaha - I am talking music here ok. The place is rammed for the revved up southern rock n roll mixed with a slice of blues, a hint of stoner and in general a damn good time up there. Black Stone Cherry have the on-stage position perfectly nailed and make the job look so easy - the key to a good act and prove they are a well-oiled touring unit that makes them shine superior against many other rock bands out there in the cosmos.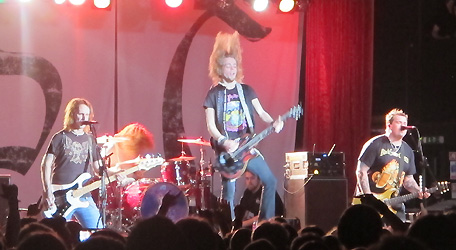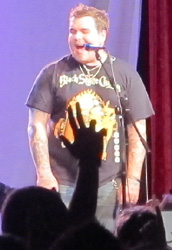 They performed a well crafted set of songs that comprised of the best of their three albums and then some with major highlights of the concert being the well known crowd faves 'Hell & High Water' & 'Rain Wizard' that need no introduction at all; the slow but very ballsy 'White Trash Millionaire' (get your hands in the air he shouts).Then there's the raunchy rythmic 'Blame It On The Boom Boom that got peeps going loads in the vocal dept, not to mention the acoustic 'Things My Father' Said' that saw the crowd sing the entire song, with Frontman/Guitarist, Chris Robertson saying his father would be so pleased and want to thank every one of them - a truly magical spectacle of a concert moment indeed.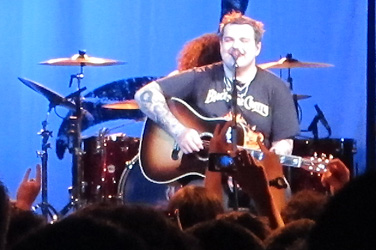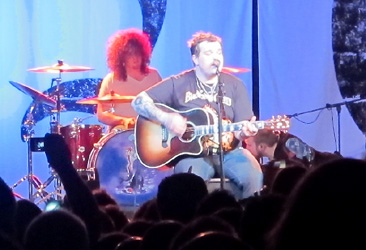 I thought the covers were a strange choice in Nirvana's 'Rape Me' as they ain't exactly a southernly band and was rather odd for them to choose an Oasis song in 'Champagne Supernova' - funnily enough though, both songs went down really well. They did a killer job of them though so proves a fans fave band can perform literally any song at all and get away with it like it's one of their own.We even got a kickin' drum solo from John that thundered around the room majestically that gave the other guys a short break.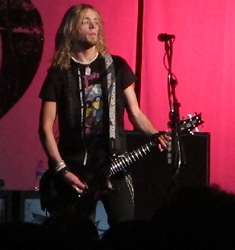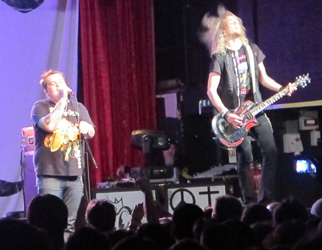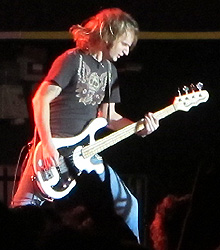 Lead Guitarist, Ben Wells told us about how they got to the venue friday night and partied there at a strange night where guys were wearng real tight jeans and stuff - hmmm - not to mention them realising the band were sleeping outside on the tour bus and constantly banging on it, so got hardly any shut eye. You'd never think it though because this dude would never keep still and leapt about all over the place like Pete Townshend in his heyday crossed with Chris Holmes (now of Where Angels Suffer), while bassist, Jon Lawhon, kept the deep noted timing to a t - or should that be a b?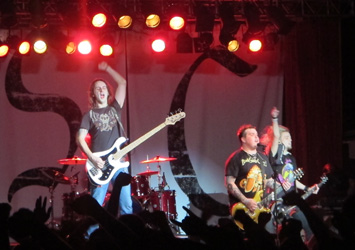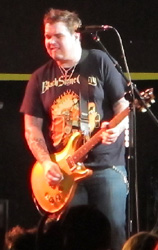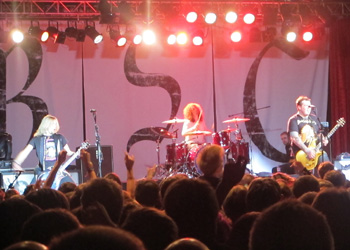 For the home run they encored with a couple of numbers, starting with 'Peace Is Free' and concluding with 'Lonely Train' that it's always damn fine to hear them crank out with its throbbing and a pounding chorus. Everyone in the place goes wild with arms everywhere and singing at the tops of their voices for all it was worth.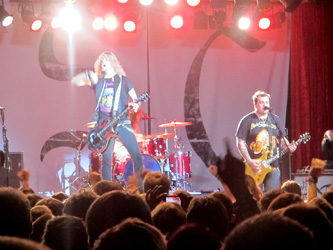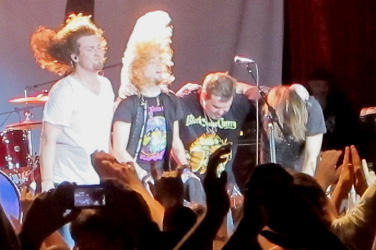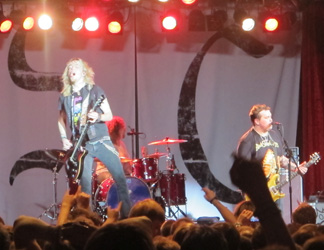 The guys end with a group bow and the lights go up - see ya next time!
10/10
By Glenn Milligan
Blaze Bayley - The Key Club, Sunset Strip, West Hollywood, California, Thursday, 10th November 2011
Set List - Intro/The Brave/Futureal/Lord Of The Flies/Voices From The Past/The Launch/Steel/Killing Machine/Look For The Truth/Blood & Belief/Kill & Destroy/Guitar Solo/Man On The Edge/Man Hunt/Robot/The Clansman/I Like It Hot/Virus.
I've not witnessed this man for a couple of years - the last time was when he supported Quireboys at O2 Academy 2, Sheffield with former band Wolfsbane who get together now and again for the UK odd tour in their original form. The last time I saw him i his own right was when my buddy John Slater was on guitar in the Blaze band supporting Helloween in about 2001 at Rock City, Nottingham so was good to see he still had it.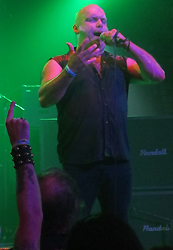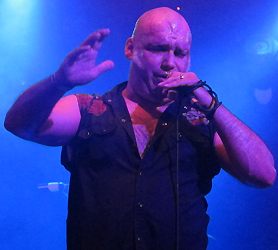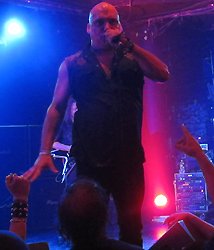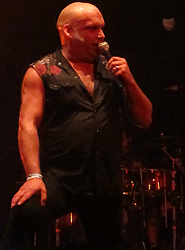 Ok, some of his hair, well all of it was missing apart from the sideboards - well I suppose the receeding thing had caught up with the Wolverhampton Legend and Blaze had gone for a complete shave which I was really surprised to see. The change in image did not deter the fans though as it's the music and that do the talking with this killer concert being no exception to the rule.

I noticed that he had a different band line-up, with the lead guitarist being from Mandy Lion's outfit (as my mate Cali-buddy, Kruzin Kenny pointed out), whose solo's were played like his life totally depended on it. It saves on flight costs I guess and the musical outfit was utterly perfect and shined visually and of course soundwise proving that Mr. B must have spent a good while putting the US version together.

Ok, the room wasn't exactly full but credit to those who showed up and gave the club a mighty amount of atmosphere. Blaze and the band powered through some real gritty and old school riffy material from his last couple of albums in the 90 minute or so set of songs with a beastly amount of confidence to this Californian crowd which saw the frontman rialling and revving them up to their fullest excitedness, proving they could match the craziness of the British and European crowds.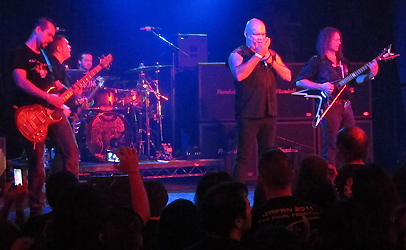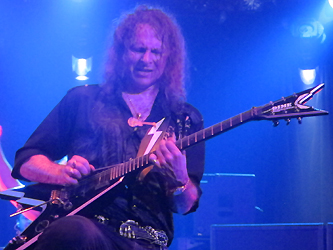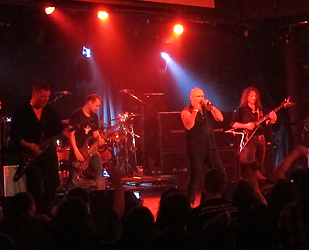 Blaze bounded from one end of the stage to the other raising his hands for us to roar in delight for him like he did during his time in that band that stole its name from a medieval torture device - no prizes for guessing that one - hahaha, screaming at us that we could do better and we did, not mention having us sing on many of the hook lines of many of the numbers which didn't take much persuasion at all.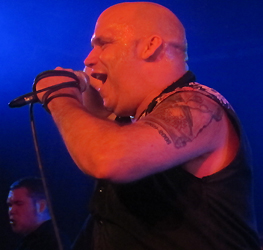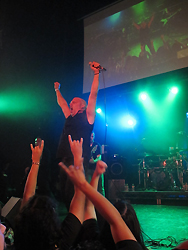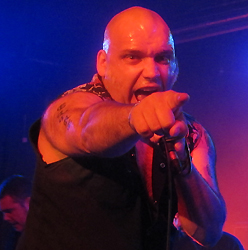 It's worth noting that several members of the crowd had actually travelled over to North America to see him - now that's dedication for you and they weren't dissapointed either by what was on offer with well known older diamond blasters that included solo numbers of his like 'Look For The Truth' & 'Lord Of The Flies'' as well as Man On The Edge' and 'The Clansman' from the Iron Maiden days or the wonderful Wolsbane favourite 'I Like It Hot' not to mention more recent cuts such as 'Blood & Belief'; 'Voices From The Past' and 'Kill and Destroy'.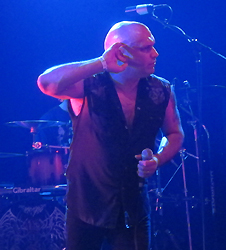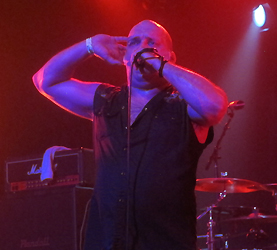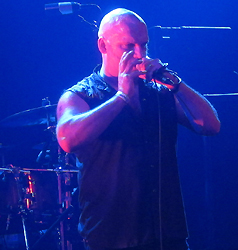 He appeared to be overjoyed by the overall reception that he and the band recieved and came out straight after the set was over joking that he'd sooner be out here with us than backstage with strippers and pole dancers and a whole array of stuff - lol. He confessed to us, "I'm am not a rockstar, I'm just like you" and hung out after, chatting with fans, signing autographs and had pictures with us. What a superb, honest and down to earth, humble nice guy - the way everyone should be.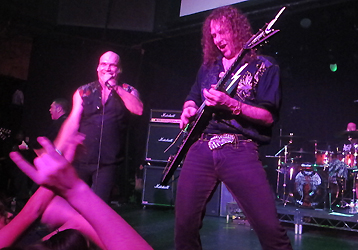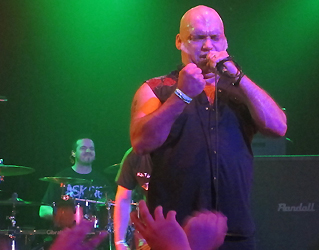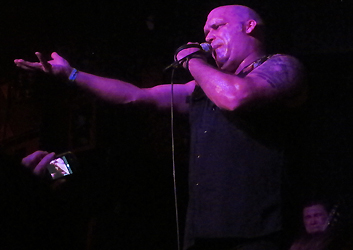 One of the best British Heavy Metal frontmen you're ever likely to meet and witness on stage. Mr. Bayley, you did your country proud mate and us at Metalliville salute you.
9/10
By Glenn Milligan
BLAZE BAYLEY/THE MERCY HOUSE/INDRA -
Corporation,Sheffield, Saturday, 11th September, 2010
By the time I get to the Corp. the room already is starting to fill as Rotherham's local hero's INDRA have ensured that their fans came to the gig. INDRA is a 3 piece out fit who's mix of rock-metal-punk morphed into neo-grunge has been building a strong following in the surrounding area's and who's profile was raised even more when they won the myspace/ / Vodafone Ones To Watch.
They kicked off their set with 'Love Is A Drug', a punchy little number that had the crowd moving. Lead vocalist / guitarist Andy Sawf has a voice that is a mix of Motorhead's Lemmy with a bit of Kurt Cobain thrown into the mix is in good form and his interaction with the crowd is proof as they shout for more.... and more the band gives rolling through tracks 'Punk & Bec', 'Deliver', & 'Wilder then the Sky'. Drummer Brandon and Bassist Matt have thrown themselves into the evening and are sweating from the ferocious rhythms they have been providing and by the time they start 'Dead Heaven' both INDRA and the crowd are just getting started for the heavy fancy guitar work which Andy is known for...the only let down was the band being told they had to cut their set short but that didn't phase them as the band are professional and accommodated the wish by mixing up 'Godstar' & 'Last Line of Defianc' into one extended song. The crowd goes wild and the band are at it's best.
A strong 30min set by INDRA which highlighted the tenacity and yet professional outlook of these guys proving that the reason they are getting the attention they deserve is that pure and simple love of music, great songs do work wonders …...
9/10
The MERCY HOUSE are a 5 piece band from London who rolled into Sheffield on a high as they hit the stage with no sound check. So it took a couple of songs before the bugs got worked out and the mix levels correct. Duo guitar riffs throwing a classic blend of rock-metal by Dany & Dan soon had the crowd back on their side.. Lead singer Drew has a great vocal range and definitely proved that when 'Lead the Way' starts....for a band that drove 4 hours to get to the gig they didn't let that get in the way though I don't believe they were in top form.... however, I will be seeing them again cus I know they will be back......
7/10
BLAZE BAYLEY is in fun mode and even with all of his theatrics is one of the most gracious performers when it comes to interaction with his fans as he was out signing photos and cd's before and after the show.
Much has been written about BLAZE's voice but tonight he dispelled any misgivings anybody has. The evening was filled with a mix of track from previous releases but the majority was from the release 'The Man Who Wouldn't Die' which was also the closing song. BLAZE has surrounded himself with a great bunch of players so when tracks like 'Lord of the Flies' or 'Futureal' are played they take on a new identity and BLAZE flows flawlessly through them. High energy, passion and a never quit attitude is what makes BLAZE so approachable and you can't help but admire and respect the guy. 'The Man Who Wouldn't Die' is a strong album and BLAZE's commitment to it will keep him busy well into 2011........
10/10
Overall the evening was a success a nice mix of bands and a great head-liner and proving yet again that rock ain't dead …..
8/10
By Geno D

Wild Willy Barrett & the Sleeping Dogz - The Boardwalk, Sunday 11th April, 2010
Last saw Willy when touring alongside his old sidekick, John Otway and what an amazing show that was. As a result, this gig went straight in the diary of defos to check out.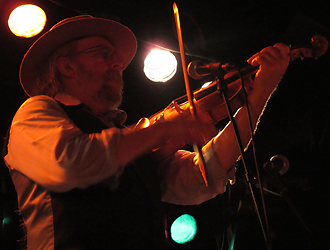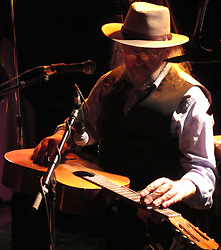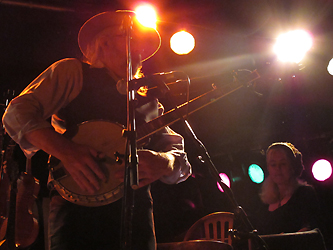 The Sleeping Dogz is Wild Willy Barrett plus Mary & John - so it's a good ole trio outing this time - it's just a pity about the pitiful attendance in tonight as this was as comedious (is that a word - it is now) and musically brilliant as I was expecting. Willy tells us he's not wild anymore just livid and informed us what kinda thing we were to receive that we'd be truly thankful for. The opening number was a countryesque ditty with Willy on the fiddle (that had a bow with plenty of snapped strings) and he asked if Kevin was in the audience who he saw at previous gig or two ago and joked that it was a rare name in these parts.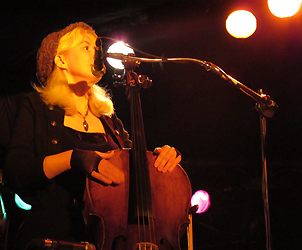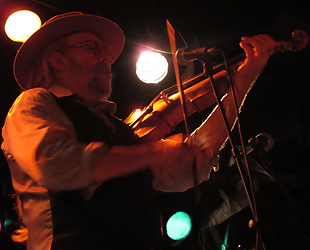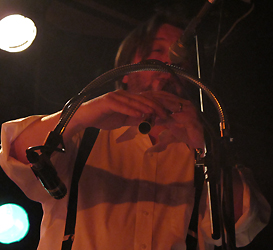 They aren't into many songs that have choruses in them and in fact only about 3 to 4 of their numbers possess one – the 1st of which has a chorus that's simply 'Oy!' or is that 'Oi!' and turns out to be reworking of the old classic 'Out On The Western Plains' that Rory Gallagher recorded in the early 70's but done with a kinda Mexican/Spanish sorta style. Turns out that Mary too writes some damn fine tunes such as 'Don't Throw Me To The Chrisitians' that featured her on the guitar as opposed to the Cello. A song written when she learnt how to play and now has the confidence to do it in front of an audience that had some slightly controversial lyrics in that – hahaha – they may not understand me, Willy sings without a bolt of lightning in sight.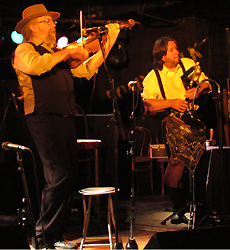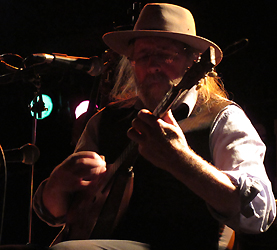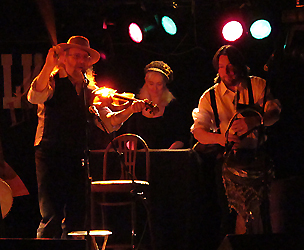 When it comes to improvising, it seems that Willy is definitely a man whose good at this – Eggs just for food – not likely – Willy plays slide guitar, sorry I mean Eggneck guitar in this case as the man himself puts on a cool tune about being born in Notting Hill. It gets a good laugh and its intact by end of the song too. John plays an array of things including flute clarinet, drum and a snake charmer thing – I must find out the name of that They seem to like gypsy like music – well old style Spanish and Irish etc, I guess and this comes into fruition on a number called something like 'Anyway' – a miserable number but a cracker all the same. It's followed up with the jokey old 'What A Rotten Song' for a laugh with Willy back on banjo again and then a real funny number called 'The Judge & The Bailiffs' with the slide guitar coming out again.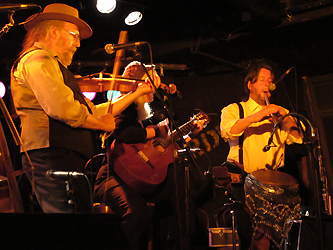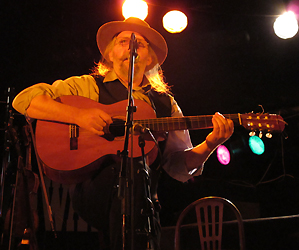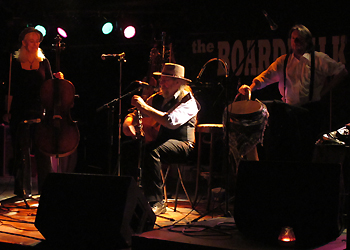 There's a real highlight in 'The Girl With Sad Eyes' I think it's called where Mary does some real strong echoey backing vocals and they have a sinister almost Grace Slick touch to them that come before Willy has finished singing the song lines and after well. It's very effective stuff, not to mention the sounds of the Irish Pipes that John plays that fills the room with incredibly strong ambience.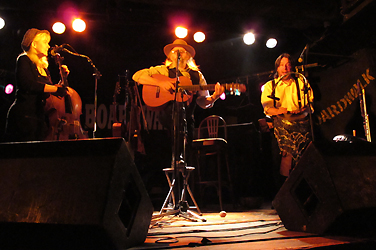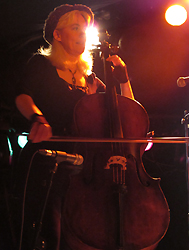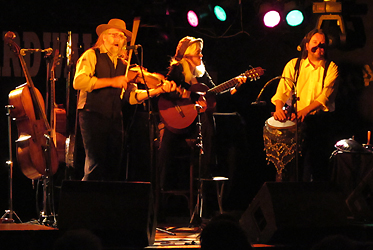 We get a short break giving them chance to sell a cd or 5 with the second half opening with a country number that has plenty of mentions of the bookies 'William Hill' and then a sad song about 'Milton Keynes' – funnily enough called 'Milton Keynes' where you'll never get out alive where Willy taps the guitar as an effective substitute for a drum break. It also has a chorus in this one too – a nice easy one to remember 'Chicken' – hahaha.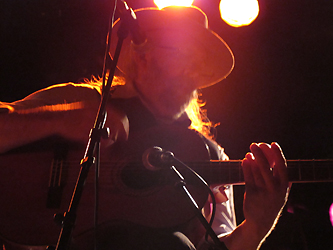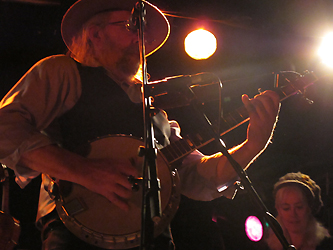 Other songs included 'Emperor's Head' is one hell of a great number and features plenty of Mary's Cello and it was due to her amazing playing that Willy wanted her in the band – she creates the sound of a police siren on it as well that has an ucanny likeness that it's scary – especially since there are two Police Stations within throwing distance of the venue. The last song of the set was a rendition of 'Cigarettes, Whiskey and Wild, Wild Women' that is actually one of my favourite songs of all time – I have it on the 78rpm by Red Ingle & The Unnatuaral Seven. It was great to hear it live and the chorus is killer which Willy gets us all singing on.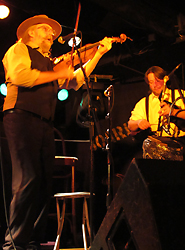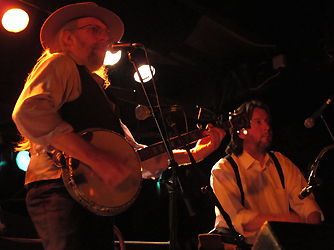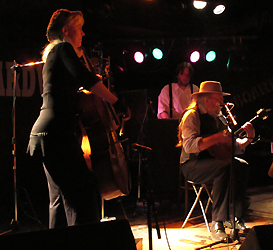 One hell of a wild night – I just wish more people would have come out for this as most people in Sheffield dropped a real clanger by not attending. Let's hope that more attend next time he brings his Canine friendz to Steel City.
10/10
By Glenn Milligan
Bad Company/Joe Perry Project – City Hall, Sheffield, Sunday 4th April, 2010
Now this was a great way to spend Easter Sunday night – not an egg in sight but plenty of good ole rock music. It's a packed hall for the gig and its hardly surprising when these Rock Gods are in the house. From Aerosmith, we get the Axe legend who is Joe Perry with his own project, aptly titled 'The Joe Perry Project' who crank it up with the old Aerosmith classic 'Let The Music Do The Talking' and it certainly does that, with Hagen from Germany fronting the band in place of you kinow who singing the song. They then take it back a bit further with the old Rufus Thomas hit, 'Walkin' The Dog' that that said band that starts with an 'A' recorded way back when and Mr. Perry is in full-on slide wailing out some killer blues for us on both numbers that sets the trend for much of the set.
After being warmed up by those 2 hits Joe informs us, "We're stepping off one train and onto another as I got a new album out called, 'Have Guitar, will Travel' and this is the guitar" (a white and black strat) and announced a great song from the album that I like called 'Slingshot Baby' – another cracking bluesy like number. One thing that became apparent is the fact that Mr. P likes to have a different guitar for just about every single song – and why? – because he can – simple as that! We even get to hear a number that he said was on the 2nd Joe Perry album, a fave Woody Guthrie song called 'Vigilante Man' that rocks out as much as the others and sees the man himself take the lead vocal and Hagen in stage centre playing a large green tom-tom drum with him posong quite a bit with the sticks held in the air – it looked way cool as well !! Joe ain't a guy that believes in fakery at concerts so he brought out his guitsr tech to play the 2nd guitar part in the instrumental from the his previous album, a ditty going by the name of 'Wooden Ships' – he can't see the point of having him hidden behind the stage and us out in the audience thinking they are faking it.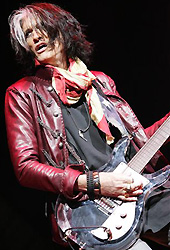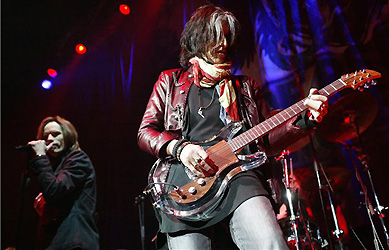 "With us, what you see is what you get and what you get is what you see", he tells us – to be honest that's the way it should be – this ain't no Pussycat Dolls or Girls Aloud bullsh*t here – this is real deal rock 'n' roll. Joe's poses are legenday and he does a great one during this epic instrumental alongside his bassist, David Hull with his gorgious gold and white sparkling Fender Stratocaster – love the short quiet bit in there that gives a lot of atmosphere to the bluesy like groover. Joe Perry is a big Fleetwood Mac song so one was included in the set tonight called 'Somebody's Gonna Get (Their Head Kicked In Tonight)' that was perfectly placed as I heard later that some idiots in the crowd were heckling Hagen and saying something like, 'Bring On Steven Tyler, where's Steven Tyler' that I think was totally out of order on their part! An old track was resurrected that he and Dave Hole recorded when Dave was 14. "There's a lot of train numbers going around tonight but this one I like the best and it's called 'Rocket Train'" with Hagen back on the vocals.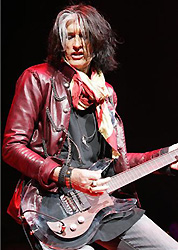 In the middle of 'Rocket Train' we get a killer bass solo from Mr.Hull that amazes everyone in the hall while Joe Perry has a breather, a quick chat and a drink on the side of the stage with the on-stage soundman. David even throws in a few tunes including a snippet of The Rolling Stones 'Sympathy For The Devil' before Joe Perry joins him centre stage. The end of the solo features David slide the neck of the bass down his microphone stand in true rock 'n' roll form while they pick up the song with Hagen back up on the vocals. It's a family thang next as Joe tells us that they are gonna play us a song that is by his Sons band who are called 'Tap' or something like that who are doing well on i-tunes and such like – they are gonna play it because he and all the band love the song. Wish I knew the name of it, but anyway Hagen f*cks it up and seems to forget the words or sing in the wrong key. Joe says something like, "If we're gonna play it, we're gonna play it right – it's in the key of C". It turns out to be a great kick-ass rocker and Joe is thoroughly enjoying doing back-up vocals and joins Hagen in the middle of the stage – this time it was perfect and Joe said, "My sons say. 'Thank You".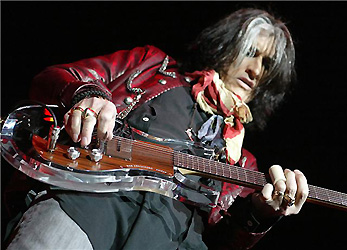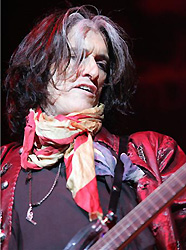 "Remember when I was on about those train songs, well here comes another one", Joe says and we get a familiar Aerosmith intro and yes..... you guess it, 'Train Kept A Rollin' comes thundering at all at full steam ahead. Hagen sounds very similar to Tyler but he doesn't move very much on stage throughout the gig – unless Joe didn't want him to come across as a wanna-be Steven as this is his own band. "You might know the next one and if you do sing along", and we get the well known riff of 'Walk This Way' and a perfect rendition of thew song both musically and vocally. Now this is what I call a major support and it don't get better than this – see you at Donington in June Joe with the other band.
9/10
Review By Glenn Milligan
Pix by Glenn Ashley
Well Bad Company were certainly in good company tonight when they opened up with 'Can't Get Enough Of Your Love that guaranteed them to have the whole whole of people loving them from the 1st note – not that they didn't already or for the last 30+ years of the bands existence (give and take the odd quiet period). A raptuous applause ensued the Paul Rodgers fronted outfit and you could tell that the band were realy happy to be there.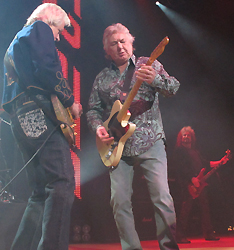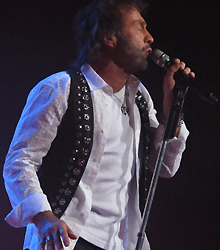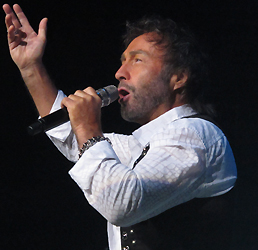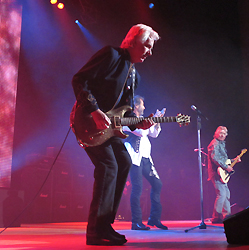 Running Of The Pack was soon to come that saw Paul at the black grand piano and it sounded magnificiently great. Paul commended what beatiful people we were in Sheffield and said it was time to have some fun, seeing them pulled out the old 50's rock and roller 'Youngblood' that he told us after that Bad Company had a hit with early on.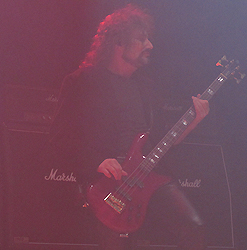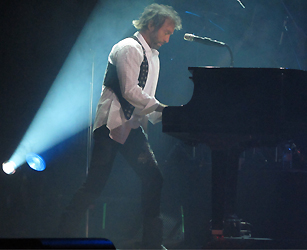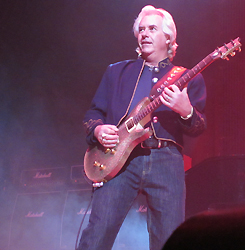 What's happening now, they've ditched the electric guiars and there's just Paul and Mick Ralphs stood there armed with gorgious acoustics with a sparkled lit backdrop of candles. Someone in the crowd or maybe it was several shouts out 'Seagull' a few times and guess what, that's what got played ! Maybe they were at a gig the previous night or just had an inside inclin that it was time for a song about a winged bird. Paul pays tribute to Boz Borrell saying what a great guy and bassist he was with a song going by the name of 'Gone, Gone, Gone'. Man it must be getting hot up there because Mr. Rodgers has just taken his shirt off to reveal a white sleeveless shirt and arms that are nicely toned up.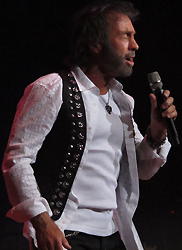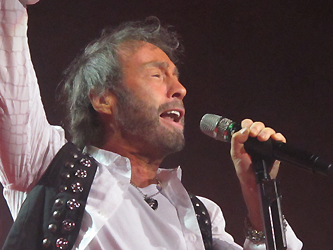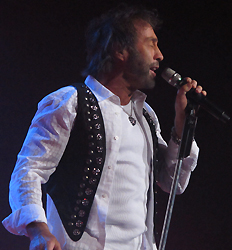 It's time for another classic 'Rocksteady' kicks in much to everyones delight and then gets us all doing some loud vocal bits to warm us up. By all accounts I can be heard all over the room as my voice is so loud – I only sang the last 2 bits as well – lol. "We hit Las Vegas and got a Slice, this is 'Electric Land'", Paul informs us and we all get enjoy a nice helping of splendid American romantisms.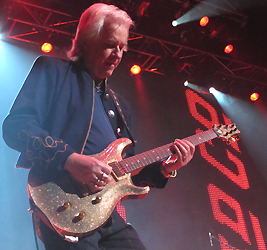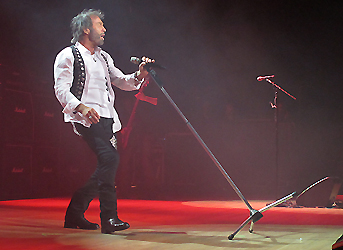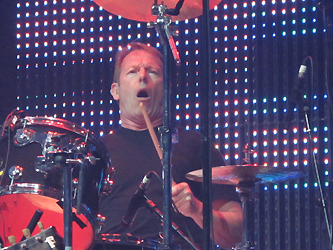 If you want more excellent ballads you've come to the right place as we get their 'Simple Man' – that makes 3 songs I know of with that title – the others coming from Lynyrd Skynyrd & Charlie Daniels. It's a time-life rock compilation feature up next though that funnily enough goes down amazing that starts up with Heart man, Howard Leese on Mandolin before the song kicks in to that familiar opening riff that sees the crowd go mental when they recognise it – I am talking 'Feel Like Making Love' – a number that many have no doubt been waiting to hear and they weren't disappointed either. Paul gets out his harmonica for the instrumental solo section of the song and no-one needs any encouragement to pipe up the vocals in the crowd.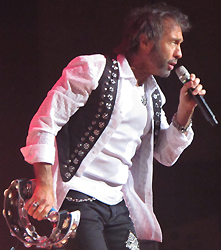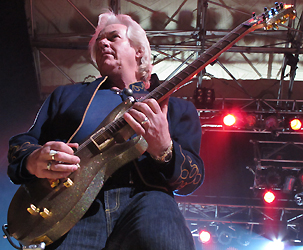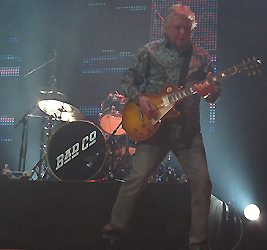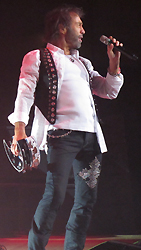 "Now you've got your voices warmed up I want you on your feet – stand up for 'Shooting Star'", or words to that effect and not a second order is needed as the audience immediately rises for one of their greatest ever songs – my favourite of theirs actually and no doubt of many people in here tonight. There's pix of legendary, late rock stars on the screen behind the band that include Janis Joplin, Keith Moon, George Harrison, John Lennon, Freddie Mercury and of course Paul Kossoff of Free.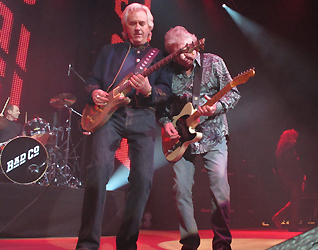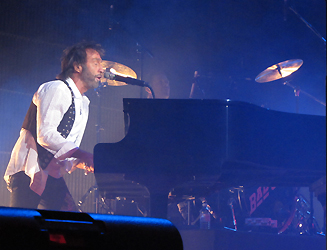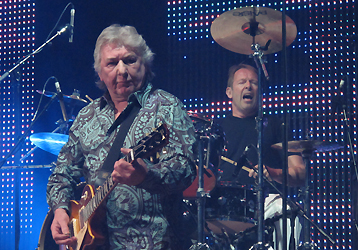 After such an epic they wound up the main set with the classics 'Rock 'n' Roll Fantasy' & 'Ready For Love' before coming back for 2 encores – the 1st was the band name song of course 'Bad Company' that sees Paul return to his beloved black grand piano again while some real effective lights send spiral long beams over the band and audiece alike before coming onstage again for the last number of the night that was iroically 'I'm Movin' On' that sees Mick Ralphs front centre for his solo with Paul getting everyone clapping and on their feet again – you really wouldn't want to do anything else actually as they deserved it after such a movin' (scuse the pun) show.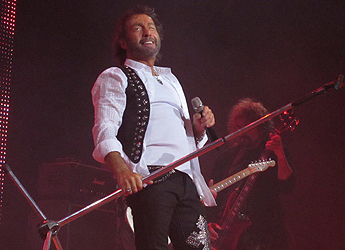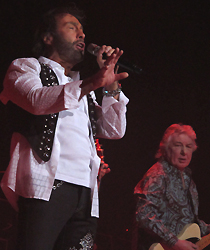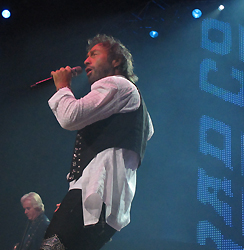 One of the best shows I have ever witness and I think it'll be going in my top 10 or top 15 at the very least. I can't think of a better way I would have liked to have spent a Sunday night than in the presence of these Rock Legends. Outstanding!
10/10
By Glenn Milligan

BONFIRE + Crimes Of Passion - Corporation, Sheffield Saturday,19th September, 2009
I wondered if these guys were ever going to finally make it to Sheffield as previous bookings by the corporation failed to materialise. Like I said something, here Bonfire are, for their first Steel City gig since a support tour with Judas Priest some 20 years back. years since I last saw Bonfire myself, on the Z-Rock fest at Manchester Ritz that lengthy enough of waits itself has given me chance to expand my ownership of their catalogue. It has also given Crimes Of Passion time to come into being, so what better excuse to have Rotherham's hard rock pride and joy opening proceedings today.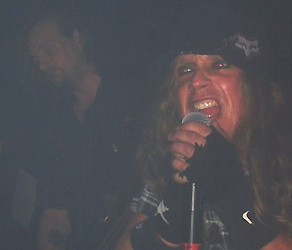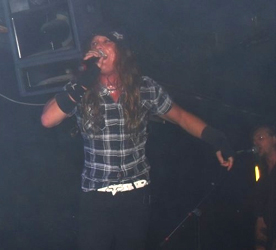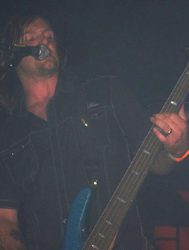 Given a generous 45 minutes to paly with tonight, Dale, Andy and the lads treat us to one of their strongest ever performances and with strong enough songs SA 'The Me I Lost', 'Fight You On My Own' and 'God Made Me Your Angel' they can't stop the muscle. Dale even takes to mounting the stacks - the first time I've seen him risk it in the Corp's small room - to tower that little higher enough to see who's amongst those in for the night but the bounding of 'Pretty In Blood' and Dio's 'Holy Diver' cant help those age old Trafalgar court boards remain stable that long. Andy Lindsay's ever more Eddie-inspired shreds see more damage to the roof as usual and a sleek tapping stint always comes with a smile from this gent. Longer than the support slots we are used to, the 45 minutes still by way too quickly and leave us longing for that headliner in November to hurry up in arriving. Awesome stuff tonight boys.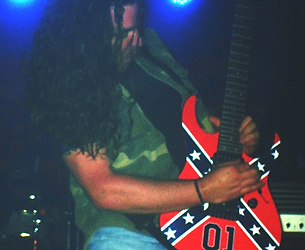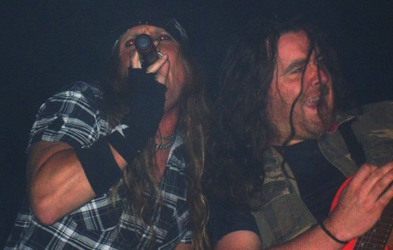 Hoping Bonfire's' 90 minutes definitely don't go by as quick, using more latterday material (well, post 1989) for their opening pair of numbers helps the punters take their time to welcome them in though the lyrics to 'Bells Of Freedom' and 'But Still We Rock' seem as fluent to most down the front as the golden oldies due later on this evening. Not far behind follow the favourites and one song I've been waiting all night to hear, 'Tony's Roulette' immediately affirms the already established tone for the night. 'Sword and Stone',' Under Blue Skies' ,'Don't Touch The Light' and '..' follow to much popularity.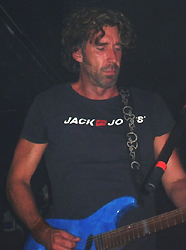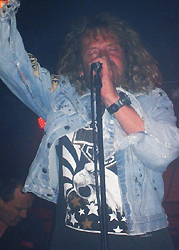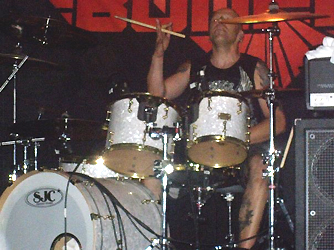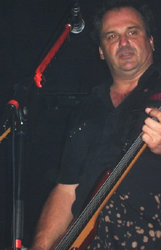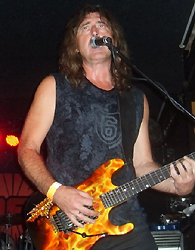 Being from a foreign language-speaking land fails to harm their sense of humour with Klaus Leissmann delivering ongoing banter throughout the show, mostly centering around a 'gun' and a 'coat' and eventually roping in bemused guitarist Chris Limburg too. 'Proud of My Country' which Klaus quite ironically introduces by telling all and sundry its not actually a clever thing to admit to being when on his native Teutonic turf is an example of the more Nelson-like direction these guys have taken in more recent years but it is still one of their most powerful compositions.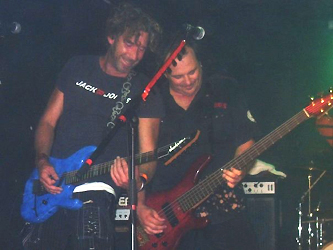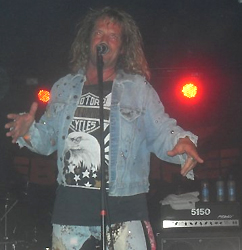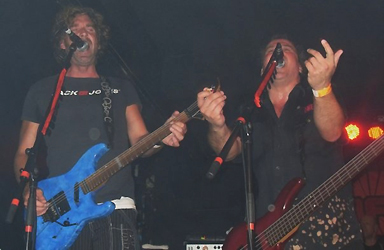 Ideal to warm us up for what follows as they brace their top three numbers from 'Fireworks' together and hit us hard with them. Most of the people here tonight have probably played 'Sweet Obsession' ,'American Nights' and 'Ready for Reaction' to death over the last two decades but the day they become sick of hearing them is delayed very much longer after that. Klaus makes it all the more fun with his constant pounding left and right across the stage despite keeping the mic on its stand for most of the time and offering singalongs to individual crowd personnel a la Metallica.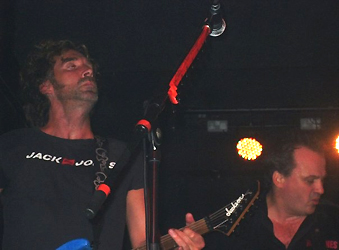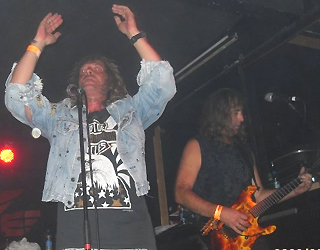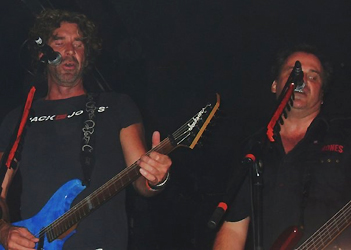 As with Hetfield et al, they encore with another pair of timeless classics themselves as 'Hard On Me' and 'Bang Down The Door' come pounding at us before we've got a chance to turn yet alone run and both seem at least twice as fast as they do on record. A bow from all five and they are sadly gone but with a phenomenal performance like we've just witnessed it seems only right.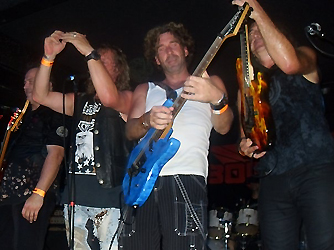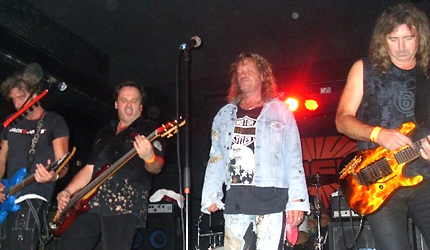 They may be down to only two originals, in the shape of messrs Leissman and Ziller, but with the current personna embodying the weight and throwing bit about with every inch of might, the purists have not quite been alienated today.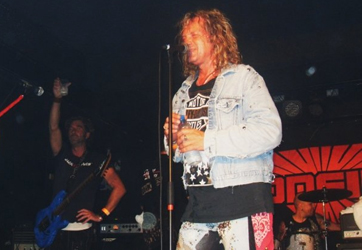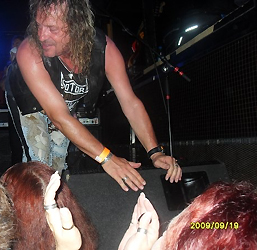 Worth the 7 years wait…or 20 - by the way Dale Radcliffe was at that Priest gig all those years ago as he (and Klaus) make clear during the night - to see Germany's no1 melodic hard rock export on display again, the crowds may be smaller here in 2009 but the passion for the music buried within the souls of those who attend certainly is not.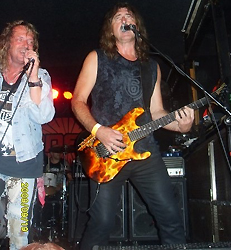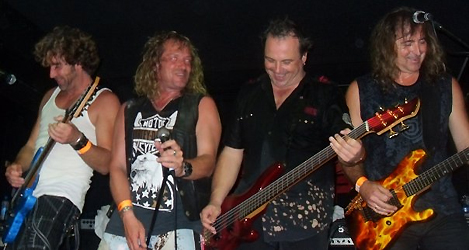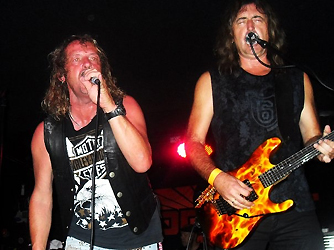 Come back again ASAFP lads, we still love you and even more after this weekend.
10/10
By Dave Attrill

Deborah Bonham – The Boardwalk, Sheffield, Sunday 30th August, 2009
It's the bank holiday weekend and what better way to spend it than a night in the Boardwalk, especially when someone as good as this is on the stage. And before you ask, yes Deborah is a relative of that certain late John, drummer of Led Zeppelin – his younger sister in fact. So how is it possible to upstage such an incredible performance here tonight – well actually if you are the Boardwalk Ghost it's pretty easy, who decides to knick off with Guitarist, Pete Bullicks shirt and hide it somewhere. This is true – I kid you not as confirmed my the venues co-mainman, Chris Wilson.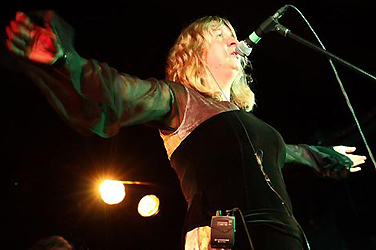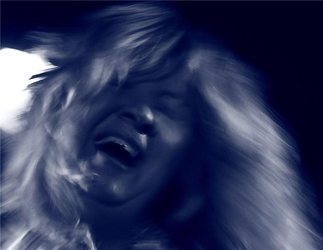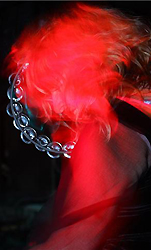 What hits you immediately is what a strong voice Debbie has live as well as on record (I reviewed 'The Old Hyde' album a few years ago). The band are also great and sing some nice backing vocals as well that totally compliment Deb.An array of songs from that said album and current studio release 'Duchess' are perfomed tonight. 'In My Soul' being the 1st one. Was brilliant to hear 'Black Coffee' that Deborah said is a tribute to the late great Steve Marriott. In fact, Humble Pie's Jerry Shirley was the bands drummer for a while but has since retired and the stool and sticks have since been taken by Bob Pridham (I think his name is).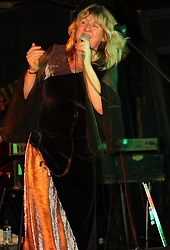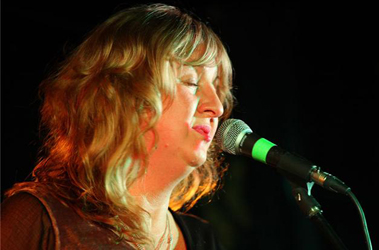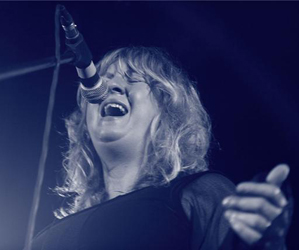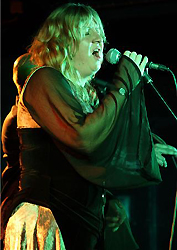 It really was a joy for Deborah and the whole band to play the Boardwalk and praised it greatly as well as Chris Wilson and the fans here tonight and went onto do the song, 'Hole In My Heart' that was written by Steve Marriott & Jerry Shirley and finished off by Deborah to be included on 'Duchess'. A killer song indeed as was 'Waiting So Long' that had some brilliant backing vocals.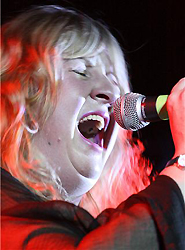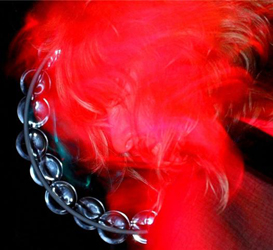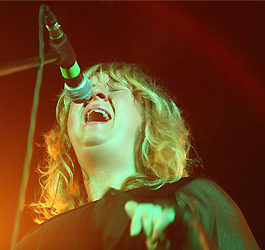 'Battle Of Everymore' was simply amazing that featured Deb on acoustic guitar and 2nd vocal/backing vocals, Peter on mandolin and keyboard player, Gerard Louis on lead vocals – a knockout rendition indeed. It was lovely to find how incredibly down to earth and humble Deborah is, saying that she was nervous and laughed and joked about getting sweaty palms when she had to perform 'Open Up Your Heart' (from 'The Old Hyde') but she played it beautifully and I think I spotted her glance over to Peter on mandolin because he had played a wrong chord or 2.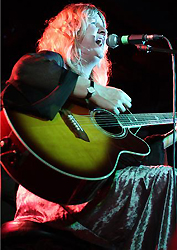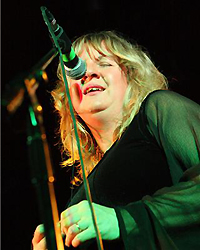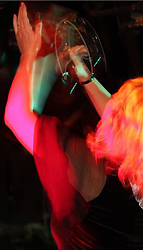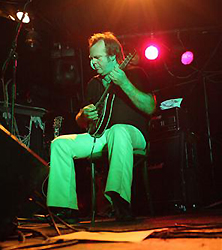 The in-your-face lyriced 'How Do you Feel' was up next – great solo Pete towards the end of the number that blends in with the drums.. It was amazing to hear how her voice holds up really well and does not falter at all from beginning to end. 'Whevever you're ready fellas' she says and they go in the rockin, southern bluesy 'The Devil In New Orleans' that sees her with the foot on the kit at times and getting really cool and real into the song, complete with tambourine.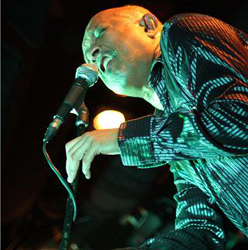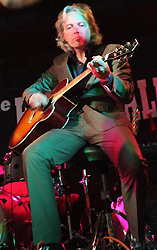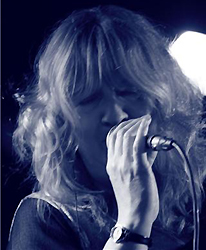 The tear-jerker of the night was the title track of 'The Old Hyde' - a tribute to her late Brothers, John & Michael and her Father John as well. She told us the story of how 'The Old Hyde' was a place that brother John bought many years ago from the royalties of either Led Zeppelin 1 or 2 and renovated with their Father and that it was a sad number about losing people close and how it affected her. There wasn't a sound from a soul in the house as the audience was competely captured and mesmerized by the performance and the topic of the song itself. It include a sombre but beautiful guitar solo from Mr. Bullick.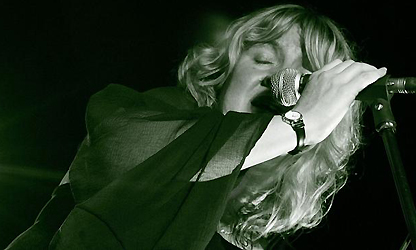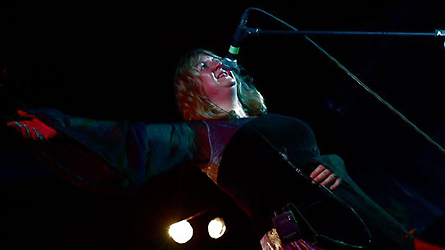 Two songs were performed as an encore, the 1st of which was her alltime favourite song, 'Stay With Me Baby' – a classic from the 1960's (as featured on 'The Old Hyde') and then a full-on electrifying 'Rock And Roll' by of course, Led Zeppelin where she let the crowd sing the 'Lonely Time' line. "We'll be back next year", Debbie tells us. I for one can't wait.
10/10
By Glenn Milligan
Buckcherry/Dear Superstar/Heaven's Basement/The Crave –
Corporation, Sheffield, Saturday 25th July, 2009
It's a full-on four band bill at the Corporation tonight and its a good half full and the rest went the 1st band hit the stage at just gone 7 O' Clock – yep it sure is time for a party and openers The Crave make the most of what they got here giving a strong rocking 20 or so minute set. They show they have plenty of charisma and charm the crowd without much problem at all at such an early stage in their career and a major highlight tonight is the number 'All Of You'.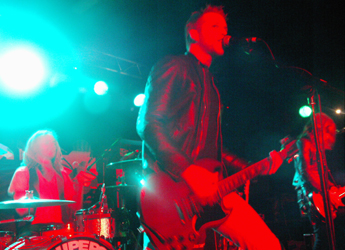 I am really surprised that the next guys aren't a lot higher on the bill as Heaven's Basement, who as Drummer, Chris told me have been constantly gigging all over non-stop hardly really come across as major favourites before they even play a single note and greeted when onstage checking their gear beforehand.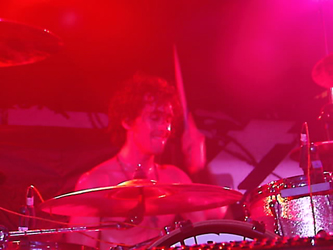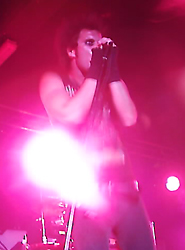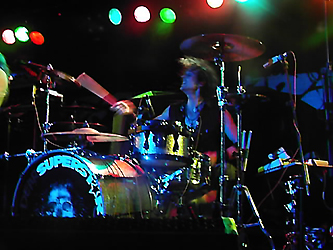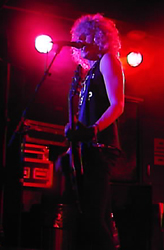 When they do walk on to start the set they are greeted with a mass roar as though its a homecoming of the local football team – now this is really special indeedy.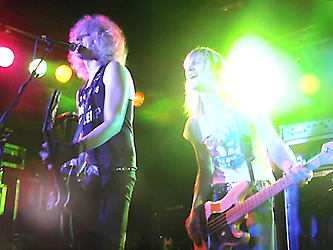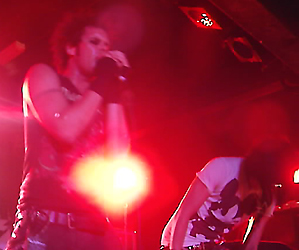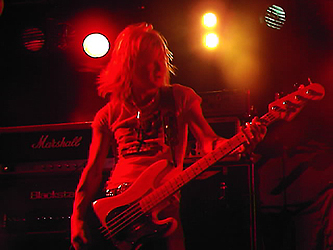 Their songs have now become live staples in this club now and this is the 3rd time in less than a year that they boys have been here – 1st time on this stage as Heaven's Basement (as some members played it when they were in Hurricane Party supporting Hanoi Rocks a few moons ago).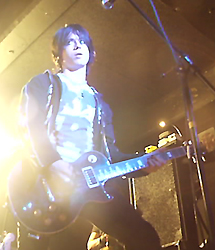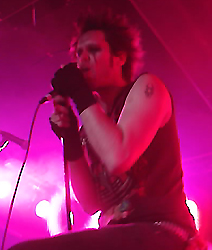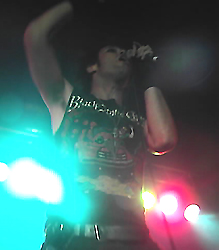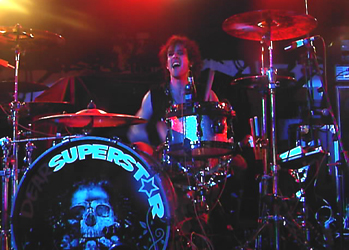 They give us exceedingly great renditions of numbers like 'Executioners Day' and 'Such is life' and even on or two newer ditties too. Brilliant stuff – the 'Basement just keep getting better and better like a fine wine with age. I reckon if they get any tighter then they will surely snap.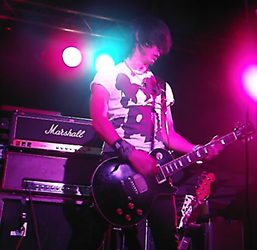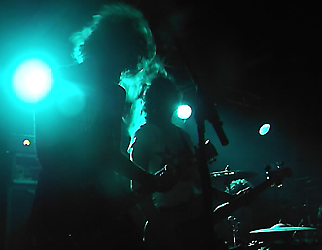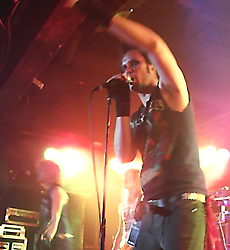 Manchester's 'Dear Superstar' are on next with their drumkit already warmed up as the last two stickholders used it to save on time – there's no wheel the kit on festival tricks here so you can't blame them really.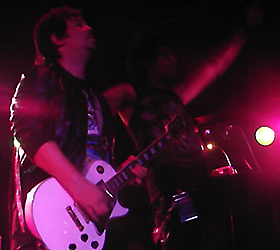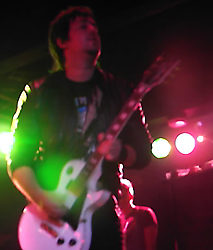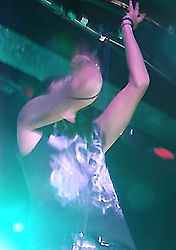 They provide a healthy helping of a selection of numbers from their self-titled debut and go down pretty well with the full venue here tongiht some of which will recognise many of the numbers live from the time they supported local boys Silverjet a few months since in the smaller room of the club.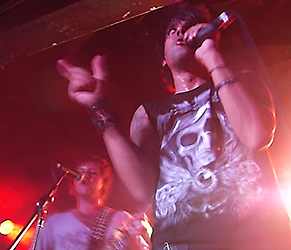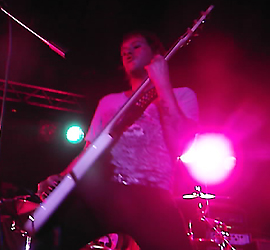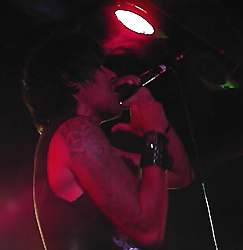 Musically they are kinda like a melting pot of fast sleaze rock mixed in with a modern sound and bit of Green Day thrown in there. No doubt they could be back soon headlining, since they are so high up on the bill and must have plenty of fans. They personally don't do a lot for me and I do find their material rather wallpapery and tedious after about 3 songs.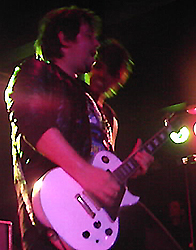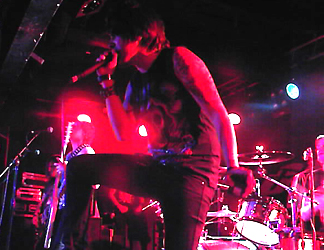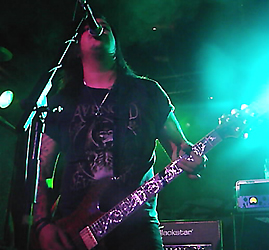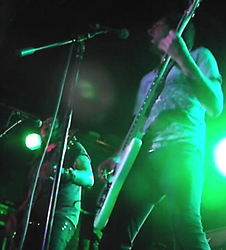 Headliners Buckcherry came on and were absolutely bang on form as you'd expect and the reception was near to deafening from the crowd. It was like they had been cherry-picked to be there tonight – but of course these had picked the 'cherry for their Saturday nights enjoyment. The Josh gyrations were bang on form which pleased the female fans no end and the altogetherness of the band fulfilled everybody with an action-packed set of excellence.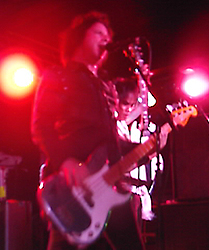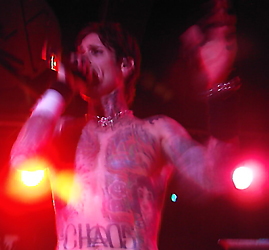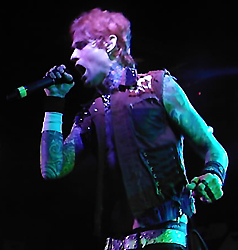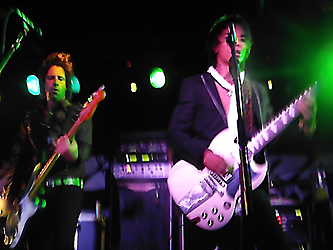 We recieved a healthy hour of material that spanned all four of their albums – with new songs from the forthcoming 'Black Butterfly', a good example being 'Rescue Me' going down as well as older numbers such as 'Lit Up'; 'Jesse' or 'Next 2 You' – in fact I even noticed fans singing along to every word – proof that the online uploading of a bands songs can be a good thing at times. It's really impossible to say anything bad about Buckcherry as they are such a polished unit of perfectionists of all things rock 'n' roll.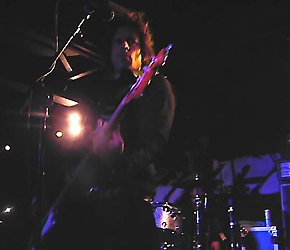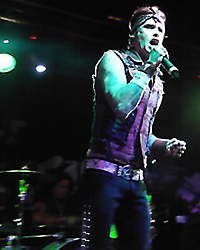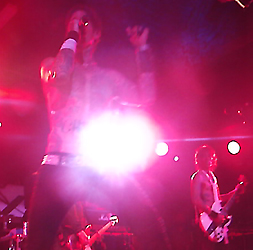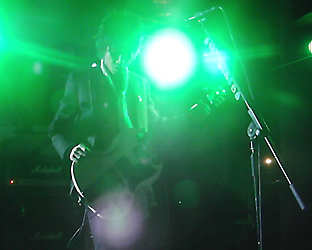 We are even treated to a cover of Deep Purple's 'Highway Star' that the lads recently played to a huge splattering of Nascar enthusiasts in Daytona, FL. USA that impressed many of the older members of the Sheffielders here tonight – they'll be playing 'Smoke Ont Watter' next kid ! or maybe not – lol. The guys highlighted the set further by playing couple of numbers that have rarely been heard much - these being 'Dirty Mind' & 'Check Your Head' that made many a fans day.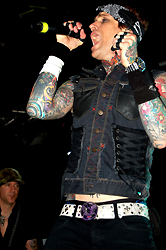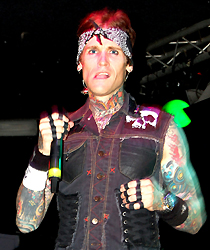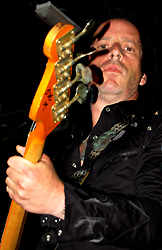 There's fast stuff and there's slower ballads to allow everyone to get a breather and one thing you can be certain is that there's always a 'Crazybitch' that closes tonights set and as can be expected goes down incredible, turning everyone right on and panting for more.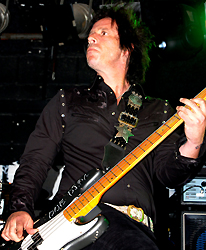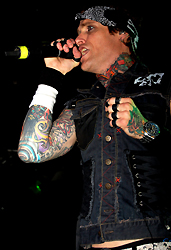 And of course you usually always get at least one more and 'Always' it was that climaxed a hell of a show from one of LA's finest bands on the planet.
By Glenn Milligan
3rd and 4th Rows of Buckcherry Photos by Lady L

BACK TO THE SEA - West St. Live, Sheffield, Sunday 10th May, 2009
Calling in on my bike to see a gig at 6pm on a sunday evening feels a less than orthodox experience though it brings back memories of various matinee stints at Classic Rock Bar, back in its day. Sheffield metallers Back To The Sea are part of an all day indoor fest at West Street Live showing of countless local acts with something to promise.

This four piece reminisce many of the great contemp metal acts from about 1997 to present and Korn, Deftones and My Own Victim are three instant names. Pumped along by strong angsty vocal rants from Dan 'Faru' Farrow who carries the ol' sing-a-bit-growl–a-bit-sing-a-bit.... routine off with respectable amplomb while a chap whom I instantly recognise as Daren the DJ from our beloved Corporation club impresses with his guitar work, B.T.T.S sail it without hitting any rocks.
I find myself relieved at the fact that today they are peddling an almost totally new set as the demo I had of their early stuff has gone sadly walkabouts so not knowing any of the numbers today will look acceptable. Attitude –laden throughout they keep their speeds assorted and throw in some quite tasty stoner metal grooves on many occasions too. My first encounter with them means having to taste them on further occasions but they're a welcome fish on my hook with what I've had first time round.
Worth dashing right across in front of an oncoming Supertram for, at least.
7.5/10
By Dave Attrill

BRITNY FOX/BULLETBOYS/PRETTY BOY FLOYD + Fatal Smile -
Corporation, Sheffield, Thursday, 2nd October, 2008
The odd one out in this bill for those who didn't realise the glam metal live scene has enjoyed a recent rebirth in the past half decade, Pretty Boy Floyd 's appearance in Sheffield tonight is their fourth in Steel city since 2003, their previous being the co-headliner with Tuff in this very room last year.
Tonight though, they are tri-headlining, together with two other behemoths of the big-hair scene, namely Bulletboys who were due to play here once before didn't quite make it, and also the recently reformed Britny Fox- the only one lacking their original line-up.
Starting off however are the latest hard rock discoveries from more Scandinavian shores. Sweden's Fatal Smile entertain unexpectedly well with their Motley Crue-meets-House Of Lords - propelled platters and while there are only 35 people in the room, 30 of them, myself included as one are clapping after every song.
Suitably warmed up to applaud LA's finest everyone is, as the Pretty Boys themselves and mount the boards and knowing that time is a little less than on their side tonight, opt wisely to form their set totally of 'Leather Boys...' material. Well the two thirds of the set that they manage to churn out that is, as a ten minute gap halfway along, instigated by technical matters ruins the opportunity they had to air the entire of their classic debut which would have been appropriate with all but one of the original PBF troupe in situ tonight.
'Leather Boys....' , 'Rock n' Roll Outlaws', 'Toast Of The Town' and 'Wild Angels' are amongst the successfully-aired favourites and the vibe appears other wise undamaged, though still the punters who have paid especially to catch the Floyd are possibly less than impressed with their lot.
The following four-piece on only become recognisable as the Bulletboys once Marq Torien's unmistakable scream comes from the mouth of the dark haired- brown, green face-painted guitar wielding figure strutting his stuff beyond the centre mike stand.
Lead axe in his side solo project, he brings his additional talent, as now a full time guitarist in the double – B's too and it shows to be a major part of the revitalisation this act has enjoyed.
Getting only 40 minutes for their first time in Sheffield is not the warmest of welcomes but like the previous act who vacated the stage ten minutes before, the Bulletboys do it by the book and throw all the faves at the followers with total suss. Sitting as expected on the first two discs- yes they include 'Freakshow' material too and the spot or two from more recent workings.
Marq, while tonight looking like something like a cross-clone of Marc Bolan and an Oompa Loopa is nonetheless the perfect example of the classic rock n' roll star. He wears his Les Paul low-slung and throws in all the poses between lines and all tunes no matter from which disc they're culled , give fans something great to talk about.
Fellow titans Britny Fox finally arrive in Sheffield and seem in fear of being blown off by the two other main entries on tonights program but NO, they rouse the rabble without fail.
New frontman Jamie is, like the bands original still powerful throat, Dizzy Davison might be today, totally unrecognisable, but matches up to him mouthwise in more than one way, rubber lips included.
Bass man Billy Childs, the band's resident Ronnie Wood look-alike , and surviving original occupant, looks to be loving every second as well, a smile rarely leaving his face but you think we were unhappy.
Rusty as I may be on titles with these lads, I recognise 'Long Way To Love' and Girlschool' from the very first scratch of strings - who wouldn't- but all ten numbers, raked in from every corner of their catalogue though mostly of course the two older pleases with everyone ready to party.
And so, with BF's set also ground to a halt after only three quarters of an hour, probably the best party metal evening in town all year long is sadly over. It may be Thursday night they came, but for us, Saturday was twice , this particular week. With Ratt, Tesla and White Lion also having recently visited, and Black n' Blue on the way shortly too, who knows what 2009 holds fro the scene.
But for now..... thanks boys, and to Mr Hobson for making it all possible once more.
9/10
By Dave Attrill
Buckcherry/The Venus Gun/Silverjet -
Corporation, Sheffield, 5th June 2006
Well who would have thought it- Buckcherry at Sheffield - in our fave club as well - confimed about 3 weeks previous - this was their Northern warmup show for the Download Festival at Donington.
This gig was an absolute priviledge for Silverjet as I was only saying to Jon Hardcastle (Drummer) when we knew about the gig taking place that it would be awesome if they were supporting - then law and behold, they get confirmed just over a week later.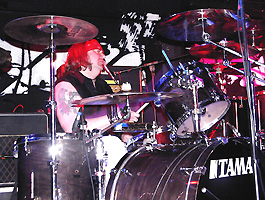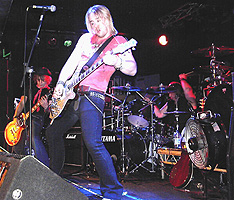 Fantastic is that one kid ! In fact they were even doing any gigs during this period but simply couldn't resist the stage in the large room on this particular night. I reckon I am right in saying this was their biggest gig to date - previously supporting the likes of Dogs D'Amour and The Quireboys.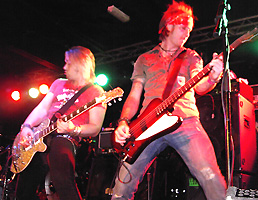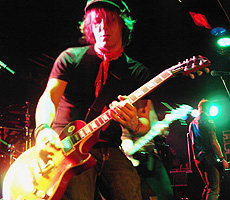 On this night Silverjet totally were totally on fire, airing 2 brand new songs 'Hell Yeah' & 'Cold Love' from the forthcoming album that are as strong and in similar style to their other more familar material.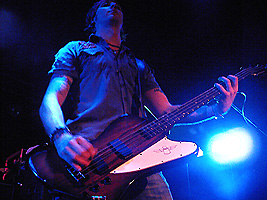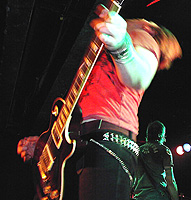 Firm faves are still well pressed into the set such as partyfilled numbers like the opening 'Mardi Gras'; 'Get Me Up' & 'Wings'.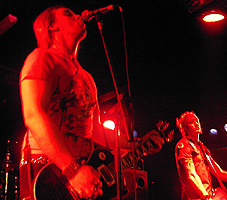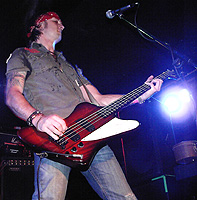 The guys were as tight as ever - bang on form and each member was buzzing on rock 'n' roll, posing 'n' playing away, needless to say, completely oozing with confidence.
The peeps in here loved them and the lads got the loudest cheers - seems most of their fanbase was here tonight in droves. Now this was 30 minutes of a Wednesday night well spent let me tell ya !
10/10
Next on the stage were a band with a name that basically meant nothing to us at all - I think they were from somewhere in London and called TVG - yep - that's right because Paul from Silverjet managed to get a skinny top with the bands logo on it.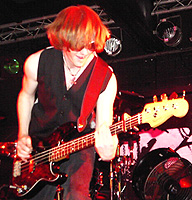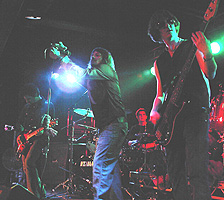 They were kinda like a miserable sounding Doors like band who had too much indieness for me even though there were elements of rock and glam in their material - each to their own I guess.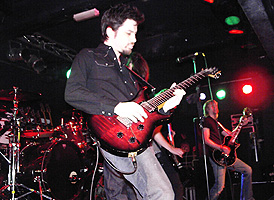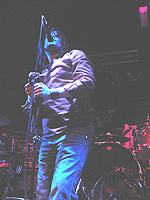 They didn't go down that well particularly and recieved a rather luke warm response - probably because the vast majority werent familiar with their material. They were tight enough and had a really good guitarist - but I personally can't be doing with that Liam Gallagher look from a frontman at all and the voice wasn't particularly strong either.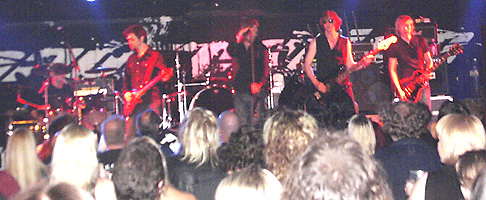 I remember seeing one number listed on the set list 'Angry Pig' but apart from that, nothing much else. A rather odd band to be supporting Buckcherry - oh well - nevermind.
5.5/10
When it came to the headliner time, everyone was fully revved up and ready to be on the recieving end of some high-energy rock 'n' roll from one of the hottest bands to ever grace the planet - thank god frontman Josh Todd put this band back together as no-one could ever replace them.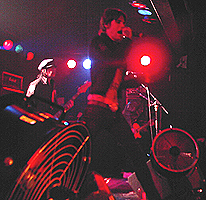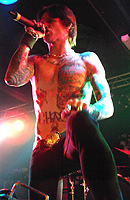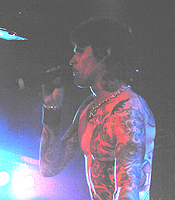 Right from start the 'Cherry were on fire with anthems such as opener 'So Far'; 'Porno Star' and of course their smash hit with the band made video - yes the dirty 'n' funky 'Crazybitch' which had us funking out and singing along with Todd as his request.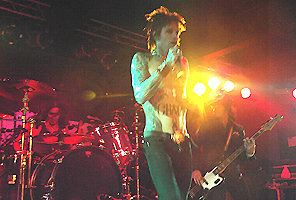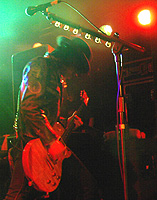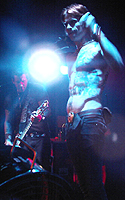 Not that we needed him to ask, followed by their current single - the groovin rocker 'Next 2 You'.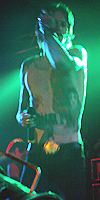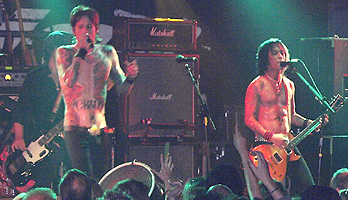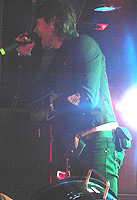 Now these guys had damn good stage personal - Josh Todd is like a spring cocker spaniel Mick Jagger or something with the boystrousness of a young Bon Scott - it's hard to put your finger on it but he's got that X-Factor that you associate with someone like Seb Bach or Axl Rose in his heyday.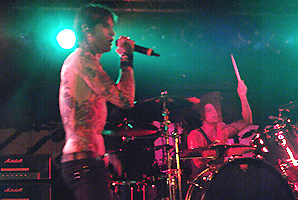 All of the band were exceptional - totally polished - no wonder as well - they've knocked up over 200 gigs on the chart on this tour alone since the release of the '15' album.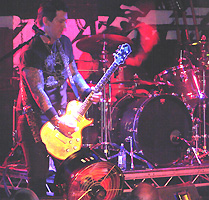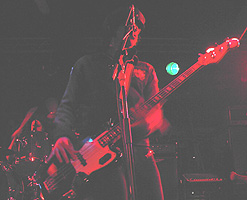 The now famous dancefloor classic 'Lit Up' did exactly that to the room where Todd gave us a commentary about the 1st time he did cocaine and had the best ...... well let's not go there - kids may be reading this review .. more tea vicar !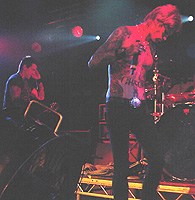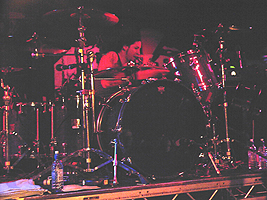 If you were there, you know what I'm taking about - but yeah - it's something that's always good that you can always rely on. Rock 'n' Roll Baby.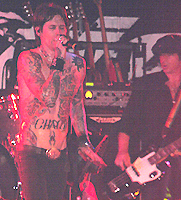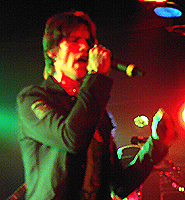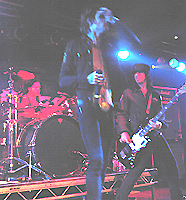 The Sheffield Choir went f*ck*n' crazy for it too - this version clocking in at a good 8 mins+. Everyone in this band has just got it - nice soloing there Stevie D ! We had our hands in the air a lot of the gig as well.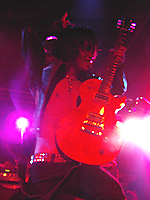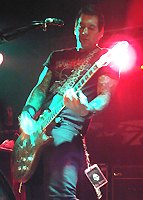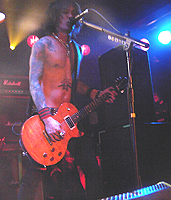 It was simply impossible not to be totally enthralled by the sheer brilliance and professionalism of Buckcherry - even doing an encore for us before retiring for a well deserved cool off and a pizza or two.
This was a concert that was nearly if not equally electrified the venue as Slash's Snakepit did back in the days of 'Bank Street' or when Seb Bach played a couple of years ago.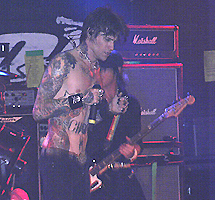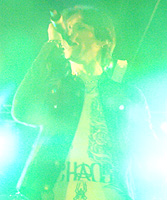 More nights like this - yes please man - We all wanna get 'Lit Up' again'. Well how were the lads at Download at Donington Park a few days later - for those of you who were there you will know that no-one was left dissapointed - a bit like this night at Corporation - I can see these guys supporting the Rolling Stones one day - more than likely they probably have already. Keep it comin' as we don't wanna lose this 'Cherry.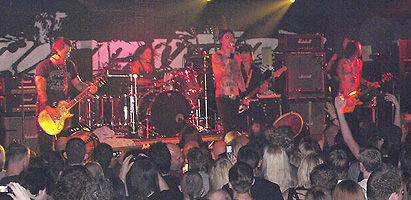 Now go out and buy the current album '15' - it makes complete sense to me and many others. So what ya waitin' for - do it now !! And While you are at it, purchase the 1st 2 albums as well !!
10/10
By Glenn Milligan
The Edgar Broughton Band –
The Boardwalk, Sheffield, Thursday, 16th March, 2006
Now here's a band that I first found out about by watching re-runs of Beat Club from the late 60's/early 70's shown on one of them German channels – think it was N3 or something like that.
Frontman, Rob Broughton has whipped off the beard and lost some hair of his head but he ain't lost his unique guitar playing – that blues prog fuzz tone and to the other extreme – that melodic cleanness as well plus thus that unmistakable quirky vocal of his – either the wailing tenor or the ever brilliant deep sawing throaty grumble. The rest of the band line-up remains intact as well, with even his son on keyboards.
I would say that the venie was about ½ to ¾ full as ell for this marvelous spectacle – they aint tour3d or played a gig in 10 years and it did not show at all from the performance here tonight. Mixing in a load of old songs which had a styles of Frank Zappa, Bonzo Dog Dooh Dah Band, Dr John (in his Night tripper period) and Mountain, as well as pure Edgar as well.
The set included an updated 'American Boy Soldier' with the opening dialogue section changed (using China instead of Russia) to incorporate the Iraq War which Rob was p*ss*d off about, due to the UK being involved; 'Love and the Rain'; Why can't somebody love me' and of course their most famous song 'Out Demons Out' that we all sang the title chorus to.
A rare, brilliant evening was had by all and in the words of The Who's 'Long Live Rock' – "even the Promoter smiled'
10/10
By Glenn Milligan with help from Martin Bellamy

Dan Baird and Homemade Sin –
The Boardwalk, Sheffield, Wednesday, October 12th, 2005
I missed Dan the last time he played this venue about 3 years or so ago, so wasn't going to let this chance go. The Boardwalk was about half full but still plenty of anticipation was here from an audience who were mostly aged around mid 30's plus with a decent male to female ratio who were all up for a grand night of rock 'n' roll.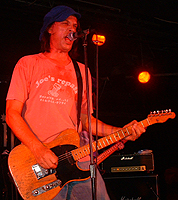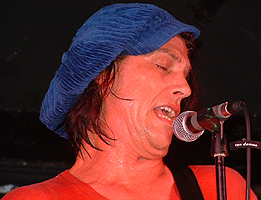 When the band came on and started they did something quite unexpected by opening up with a cover that they'd not even covered themselves – the crackin' ZZ Top number 'Beer Drinkers and Hell Raisers' with vocals also coming from the lead guitarist – now this is the way it should be done. They then went into a fair few Dan Baird cuts which were culled from past and present. Ok, I ain't that familiar with some of the more recent stuff, but do have 3 of the Georgia Sattelite albums – the first three actually.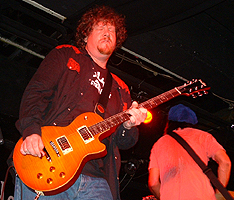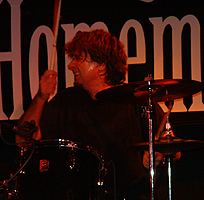 These southern boys made you feel like you'd been transferred to a Redneck Bar in the deep swampy part of the US of A. I wish it was too – like you could go out the entrance door and feel the presence of the Gators or something cool like that. . Dan exclaimed they would do no encore and instead play right through from 9.30 to 11.15 – beats hearing a loud of pointless 'Mores' from the audience don't it – gets my vote.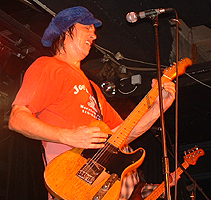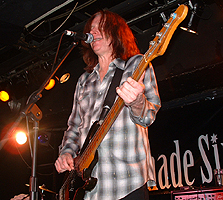 Anyway, this was so together apart from when the drummer f*ck*d up as Dan put it now and again and started a couple of songs wrong – not to worry – it was a laugh and nobody seemed too bothered anyway. Countrified 12 bar blues was in a-plenty through-out – a bit too much at times but at least we did get the classic 'Keep your hands to yourself' from the G. S. debut album that's still played in Rock Clubs today. The only snag of the set was the omission of 'Battleship Chains' – Dan, how could you do such a thing !! Apart from that moan, this was a thoroughly enjoyable escapade.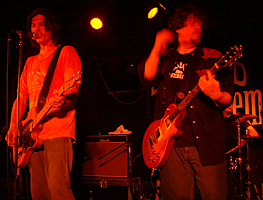 It proved to be pure comedy too especially when Mr. Baird did wacky impression of some crap dancing from Mick Jagger, after seeing The Rolling Stone a few days previous – and oh yeah – he even announced the football score as well - England 2, Poland 0 or whatever it was – yeah, you can tell I ain't a soccer fan can't ya?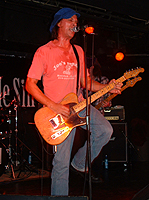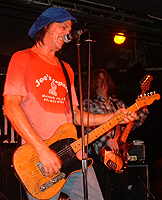 Come back soon Dan and bring those Sinful Men with ya as well. Let's hope we aint wating another 2 or three years tho.
7.5/10
By Glenn Milligan

SEBASTIAN BACH + Deadline -
Corporation, Sheffield, Saturday, December 4th 2004
Boycotting the Darkness gig this same evening, and binning my ticket for said event was probably the boldest and best advised move one could make in the face of a rare return from this legend.
Sebastian Bach's return to the UK for the first time without his ex-New Jersey cohorts came at annoyingly short notice but I know who I'd rather spend my Saturday night listening to, so take a hike, Justin. An unexpected treat comes by way of openers, the seemingly unavoidable Deadline who benefit - especially Andy - from a strong mix tonight, so it's all the more pity when they get pulled after only five numbers!!! (this will not do, Corp people).
Seb's set ain't exactly of epic proportions either though the 73 minutes seems to last a lifetime for the many loyal followers of the New Jersey act that carried him in their prime regime. As predicted, our man opens with 'Slave To The Grind', the first of a lorryfull of Skids faves on the list tonight, and sends those there in the room apesh*t from the start. Yes, there were always to be a few of his solo workings expected too and I'm lying to say I wasn't impressed with most of these newer offerings because against 'Big Guns', 'Here I Am', 'Monkey Business', '18 And Life', 'Threat To Society', I Remember You', 'Piece Of Me' and 'In A Darknened Room', they were small fry indeed.
Ever the showman, Seb mingles regularly with us, inviting one lucky lady onto the boards and treating her to an impromptu ride on his shoulders into the bargain, much to the envy of most of the other females on my side of the railing. Onto the last song of the night and we all know what that is, don't we, kids? - of course, it's S.R.'s immortal rebel anthem 'Youth Gone Wild' that gets the best deserved new lease of life it could wish for along with reaction from the punters to match. The roar when the first notes are struck sounds almost as loud as the applause afterwards as the set finally comes to its abrupt finish and with no encore to follow, a rather exhausted looking Sebastian Bach blows a kiss to this gathering of those who've stayed faithful to this day, before disappearing with his new cohorts behind the curtains, never to return.
A man who has defied thick or thin to bring us this show tonight, Seb knows as we do that true music will always prevail whilst fashions come and disappear up their own back end, alongside. The 300 in this room tonight know that for a fact that The Darkness may be entertaining a packed out house of 12000, along the road, tonight but in two years time they'll be gone. Before you get me wrong, I'm not a particular loather of the Lowestoft lads but face it, Sebastian Bach will be still around in 15 years time, they won't.
9/10
By Dave Attrill
STOP PRESS
For those wishing to make up for the brevity of Deadline's supporting slot with Seb Bach, the Rotherham boys play a headlining show at the Classic Rock Bar on Eccelsall Rd this Friday (Dec 10th). For those yet to visit this venue, it's just 50yds from the roundabout by the Waitrose Supermarket, at the bottom of Ecclesall rd, (next to the Shell filling station).

- The Corporation, Sheffield, Monday August 16th, 2004
Having missed this Detroit all-girl trio on the Skid Row Tour a few months ago, I made sure it wasn't going to happen tonight. For some strange reason, they played second on the bill to some young upstarts called 'Seed' who were kinda rocky idie who were relly no match for Broadzilla and neither were the noisy 'Fights'. In 'Room 3' was where it all took place and to be honest they didn't sound at all bad on that stage - many artists seem to suffer in here due its bad acoustics, low lighting conditions and not to mention hardly any room to spin a kitten.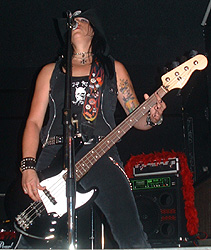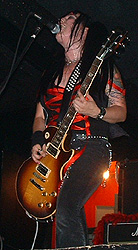 Kim and Rachel
Coming across like a young USA equivalent of the legendary UK Metallers 'Girlschool', they have the touch that's about as soft as a nuclear bomb ready to explode and engulf the audience in their mass of electric bashery and screamerings with cuts from the 'Lady Luck' album and beyond. These songs stand up real well live - in fact just as good as the album. Performing in front of a somewhat gob-struck lappin' it up crowd that aged between 16 and 50 who took a liking to their set list that included 'Ecstasy (Bombs Away)'; 'On the Run'; my personal favourite 'Y did you have 2B Psycho?' (about being constantly hassled by blokes at gigs - and before you ask - no it didn't happen tonight - no-one would think once about of irriting these cats 'round these parts); 'Liquor Snatch'; the tile-track 'Lady Luck' itself and a heavy as hell cover of Blondie's 'Call On Me' in the style of Black Sabbath as Lead Vocalist/Guitarist, Rachel 'Zilla' May put it that I'm sure Debbie Harry would approve of - nice bit of backing vocals coming from bassist Kim 'Zilla' Essiambre and Drummer, Angie 'Zilla' Manly.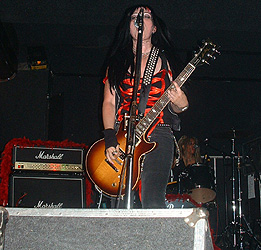 Rachel, Angie & Kim
Newer material was previewed tonight that would most likely be featured "on the next album that is long overdue", Angie told me later that stood up and well -matched the strength of the 'Lady Luck' blasters. To sum it up,Broadzilla are a full-on 'tight as their outfits' trio who should go far. They refuse to relax for a second and have more balls than many male bands that I've seen grace this small Sheffield stage. As soon as they finished their high-powered set, they spent as long if not longer than their time on stage signing and selling albums and merch, having photos taken with fans gave away stickers and pix.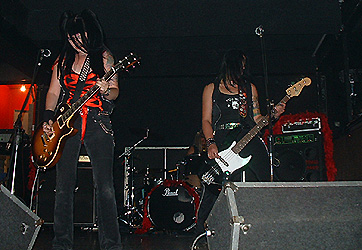 Rachel, Angie & Kim
Broadzilla were the most friendliest of females that you ever could meet. The 'Real Detriot Rock 'N' Roll Deal'.
10/10
By Glenn Milligan
Big Brother and The Holding Company -
Hard Rock Vault, Orlando, Fl. USA Thursday 13th May, 2004
Set: Combination of the Two/Down on Me/I Need a Man To Love/Save Your Love/Call On me/Blindman/Summertime/Do What You Love/All Is Loneliness/Bobby McGee/Hold Me/It's cool/Women Is Losers/Piece of my heart/Ball and Chain
I've been a big Janis Joplin fan for a number of years and bought most of her albums. Having missed 'Big Brother' when they played The Boardwalk a couple of years ago in Sheffield because of nasty winter weather threats I wasn't goin' to miss out when they hit this Floridian highlight of a musical museum.
It was a hot summers night in you know where and a few people were in on what was going to take place very soon. There should have been miles more fans here but I can't understand what happened there.
Anyways, the older original guys hit the stage - Sam Andrew (Guitar and Vocals) ; David Getz (Drums and Vocals) and Peter Albin (Bass and Vocals) alongside newer lead guitarist Chad Quist and St. Petersburg, Fl. Wendy Rich on powerful Joplin-like vocals.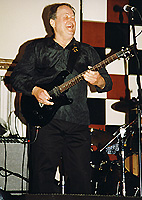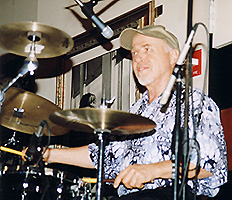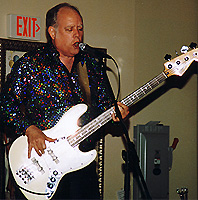 Left to Right - Sam Andrew, David Getz and Peter Albin
All alike gave a thoroughly solid performance of psychedelic rock and funk for those present of both Janis and post-Janis material with highlights being numbers like 'Down On Me'; a fantastic rendition of Gershwin's 'Summertime' (Wendy has Janis's soul, passion and heartfelt warmth - that's for certain) and of course impressive renditions of 'Piece of my heart' and 'Ball and Chain' to round things off.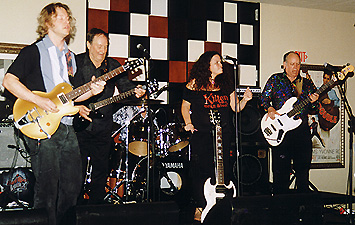 Nice solos all round from each band member (especially were also included in the set - not to mention the flashy stage costumes worn by some of our fave original Woodstock Gentry. One of Sam's original 60's guitars, an exhibit at The Hard Rock Vault (that white Gibson SG as shown in the above photo) was picked up by him early on in the set and he told us that it brought back a lot of memories as Jimi Hendrix once played it. He also went on to say that it can't be played now because a bar had been put between the bottom of the neck and body of the guitar - such a pity as it would have bee great to see it in action.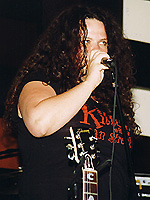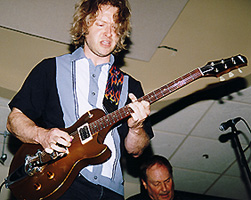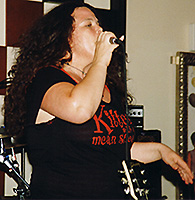 Two pictures of Wendy eitherside a shot of Chad soloing his heart out!!
The whole band went well out of there way to talk to the fans, signing cd's and photos plus posing for piccies - nice guys and an exceptional singer in Wendy Rich was enjoyed by all on this truly magical night.
9/10
By Glenn Milligan (with help from Sunni McKay)
Blue Cheer/Pon Yang - The Boardwalk, Sheffield, Dec. 2003
When walking into the Boardwalk you don't usually receive warnings about excessive volume, then again it's not everyday that the late 60's US Noisters - Blue Cheer are in town who comprise of original members Dickie Peterson (Vocals/Bass); Paul Whaley (Drums) and Andrew 'Duck' McDonald (ex Playground - see reviews of their albums in the P section of CD review) on Guitar.
Blue Cheer get up and tear out the earlobes with a load of blues (too much at times in the same key). That said, some stuff is really good - a lot of which was on their 'Live In Japan' such as the screechy booming great riffin' blues-rock of 'Big Trouble in Paradise'; covers like 'The Hunter'; 'Parchment Farm' and their version of the Eddie Cochran classic 'Summertime Blues' plus a mass their early own material such as the awkward 'Doctor Please' and 'Out of Focus'. Unfortunately, the 'Cheer don't seem to be cookin' with the audience brilliantly and receive a rather luke-warm response by many of those who turned up - maybe it was the sameness of a lot of the material or they'd seen much of the material done times-many previously.
Supported by local band called 'Pon Yang' if I've got that right who entertain and bewilder the audience of old guys with a mad musical combination of Faith No More and Mr. Bungle (yes you heard that correctly) - kinda quirky Metal crossed with Jazz and a bit of Queen (covering 'Mustapha' from their 'Jazz' album) featuring The Point's Landlord, Johnny on Keyboards/Guitar and Vocals and on Bass Guitar and vocal back-up, Mac (ex-Bal-Sagoth).
6.5/10
By Glenn Milligan
BAILEY'S COMET/Psi Phi -
The Boardwalk, Sheffield, Saturday 30th March, 2002

Psi Phi are tonight's support act - a well-favoured local lot, that I've raved about quite frequently in the past and although tonight's set only accommodated six songs, I think that if they haven't landed a deal within the next couple of years, then people are going to talk.
Next up are the headliners, another excellent Melodic rock act of today, Sheffield's very own Bailey's Comet. They may already only have half of last year's line-up from the 'Judgement Day' disc still with them but making up the numbers is the talented Tony Martin, formerly of Black Sabbath and a good friend of the Baileys for many years past. Tony makes his presence more than felt, if not only with his new Navy Seals-style shaven bonce and beret image. Not content with being just the singer, he also whips his guitar out for a lot of the set, and even produces an electric fiddle for a couple of numbers which he proceeds to play very impressively, it has to be stated.
But don't forget Des Bailey himself, the main cog making the machine go round who as well as churning out some family-sized frettage throughout the show, and also does the in-between tune talking.
Surprisingly, I only counted about seven tunes from the album, with the rest of the set being occupied with selections from Sabbath and Blue Murder, who Martin's also been involved with in the past. The Bailey material still slays as brutally on stage as it does on disc if not more so.
The brothers were mates of the late Phil Lynott and if he was looking - and listening - down from the clouds on Des and the boys now, he'd be one very happy and indeed proud chappie as his Celtic rock influence has touched these lads lives to deep and meaningful degrees, ensuring the Thin Lizzy singer's legacy lives for many a generation more.
A great night from two of Sheffield's greatest bands.
9/10
By Dave Attrill
BLAZE BAYLEY -
Rio's, Bradford, Friday, 8th March 2002
A year zooms past and we're back here again. And so is he. I'd actually seen Blaze Bayley an additional time since last year's Bradford Bash on his subsequent support act stint with Helloween. A second album on the streets, in the shape of the incredible 'Tenth Dimension' signals the start of another potentially prosperous global trek for the respected British singer, backed by the same strong soldiers as before. Accompanying Blaze again are guitarists Jon Slater and Steve Wray, bassist Rob Naylor and drummer Jeff Singer, plus an hour-and-half-plus of mind numbing metal tunes drawn from all of the Double-B's musical involvements.
Obviously it's his solo material from 'Tenth…' and 'Silicon Messiah' on the cards, riotously received as ever it is, but would a set of his be complete without at least the odd bit bit of Iron Maiden or Wolfsbane thrown. We get the routine rampage through 'Man On The Edge' - the song Blaze prides as earning him his first (and only) appearance on 'Top Of The Pops', and there's Wolvie's classic 'Tough As Steel', another stricty mainstay on a Blaze Bayley live show.
Blaze leaves out almost NONE of his essentials tonight and his by now customary sermon against the fashion-fixated music industry still hits home harder than an out-of-control fighter jet as he pours his heart out in reminding us of our loyalty to the band and this scene as a whole. Yes, we know, Blaze, we know. And with the loyalty of a few more, we could expect to see you in somewhat larger venues next time you tour beloved Blighty. Time will tell.
10/10
By Dave Attrill