'Just Got Back From The Best Cathouse In Town!'
Cathouse: Live @
Verizon Wireless Ampitheatre, Irvine Meadows, Irvine, California, USA, Saturday, August 15th, 2015
Imagine it was 1990 and we were trading shots of Jack Daniels during MTV'sHeadbanger's Ball. I point to Riki Rachtman on TV and say, "In 25 years that dude is gonna host an all day festival with Faster Pussycat, Dokken, Bang Tango, LA Guns, Jetboy and tons more like them". Thinking I was truly insane, you'd probably snatch that JD bottle from my hand immediately. With that, here we go…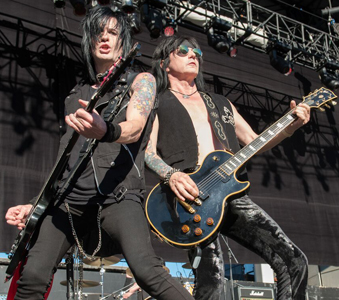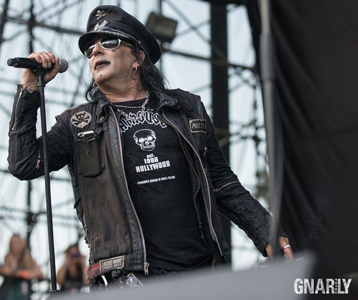 Mostly, the first half of this giant party was spent in the concessions area outside of the main arena where a second stage was set up. Among the number of merchandising booths that were set up, fans could take a shot of Coldcock's American Herbal flavored whiskey, load up on badass rock wear from Metalbabe Mayhem or say hello to Stevie Rachelle from Tuff at the Metalsludge.com booth.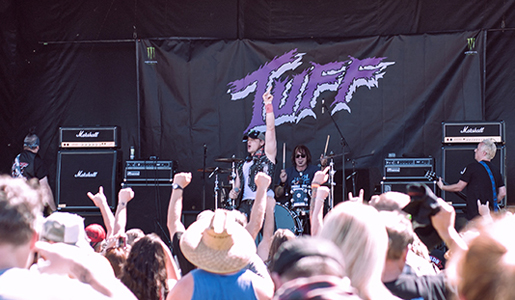 Lots of people dancing, friends catching up, relaxing on the grass while catching rays, and of course, drinking! As I absorbed the atmosphere in the festival area, I could hear Black 'N' Blue on the main stage 'over there' and Little Caesar on the side stage 'over there'. Finally, at the conclusion of Bang Tango's typically great performance (8/10), I decided to go to my seat. I got there just in time to catch LA Guns finish their set with 'Ballad Of Jayne' and 'Rip & Tear'. (6/10 - due to being incomplete).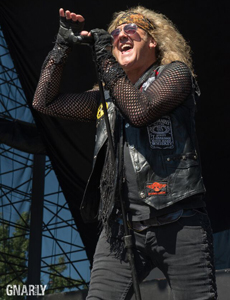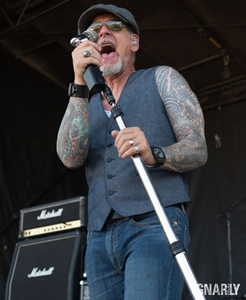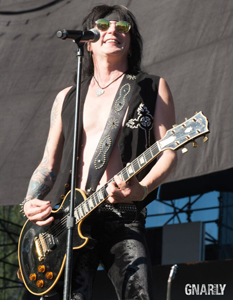 Next up, Dangerous Toys, who, admittedly, I've never really been in to. I was totally won over by the time their 30 minute set was finished. Jason McMaster was great at handling the audience as loose and laid back, as a great party host should be. The only thing that prevented them from having an absolute killer of a set was the unfortunate issues with the sound that transpired.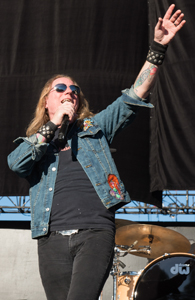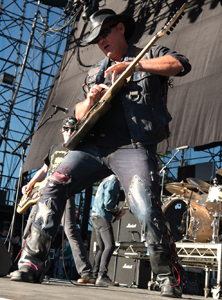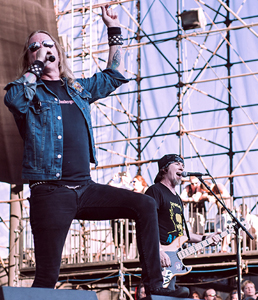 Feedback and what can only be described as the sounds of aliens landing kept popping in and out. By the end of 'Teas'n' Pleasin', the sound issues were resolved just in time for DT's ultra catchy and melodic 'Scared'. Looking forward to catching up with this band in the future. (7/10)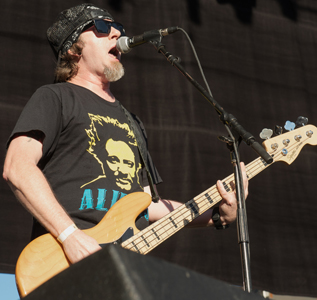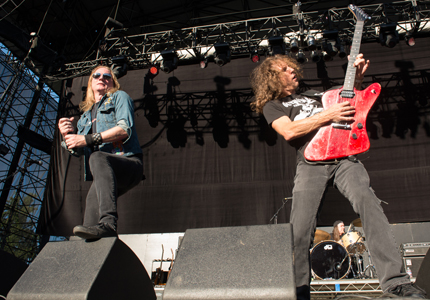 As the band gave us a quick wave and thank you, the stage continued its in between band rotation, revealing Faster Pussycat who immediately broke into the appropriate 'Cathouse' to open their set, followed by their more recent slower and heavier version of the classic 'Slip Of The Tongue'. 'Number 1 With A Bullet' from 2006's 'The Power And The Glory Hole' was a newer tune that definitely fit in well with Faster's heyday material.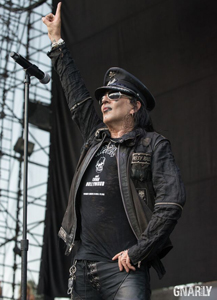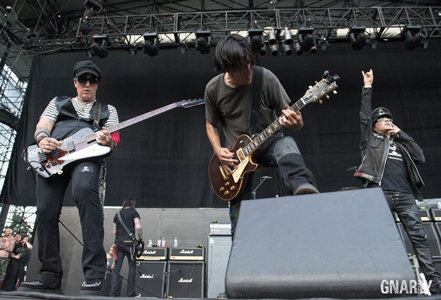 They finished their set in grand fashion, being joined by original members Greg Steele, Eric Stacy and Brent Muscat for the monster hit 'House of Pain', as well as 'Bathroom Wall' and the sing along special 'Babylon'. Very cool watching thousands of people yell "Shut Up!" on cue as stripper girls danced on each side of the stage throughout their finale. It could have been my favorite performance of the night. They really captured what the essence of this event was all about. (10/10)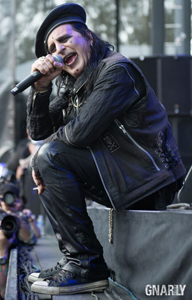 No set on this night was more packed with hair metal classics as the next artist's, The classic voice of Ratt, Stephen Pearcy. 'Lay It Down' and 'You're In Love' from 'Invasion of Your Privacy kicked off the set and Pearcy's voice was on the money. For the next few songs his voice seemed to tire a bit but by the time 'Back For More' started, Pearcy regained form and closed his set with the HUGE hit 'Round and Round'. (6.5/10)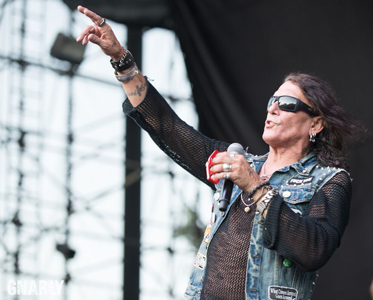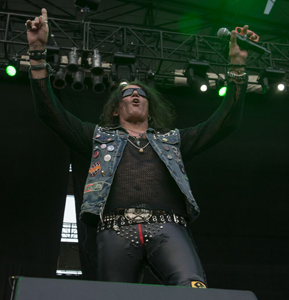 Dokken was up next. They tore right into 'Kiss of Death' and I for one, was PSYCHED. Unfortunately, Don's voice has seen much better days. Great move on his part by adding the extremely talented Mark Boals on bass and co-lead…I mean, backup vocals. By this time, the sun had gone down. The sweltering heat had subsided, and whether it was from puffing or swigging, most people were…'feeling alright'. They knew those classic Dokken songs enough to enjoy themselves. (4.5/10)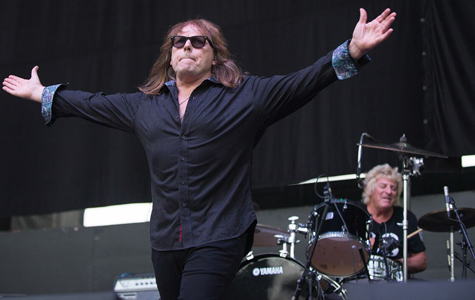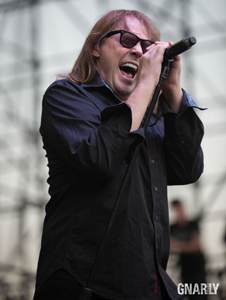 Sebastian Bach followed. This f'n guy, damn. Still has the energy he did in 1989 and his voice is as powerful as ever. His set was loaded with the expected Skid Row tunes a lot of us grew up with. I'd never heard Skid or Sebastian do 'Big Guns', which he did on this night, and was damn cool to hear, personally. 'American Metalhead' from Bach's 2007 'Angel Down' album was the perfect predecessor to his final big three: 'I Remember You', 'Monkey Business' and the angry teen 80's anthem, 'Youth Gone Wild'. (9/10)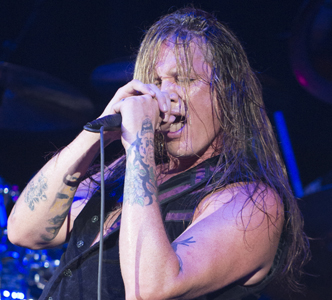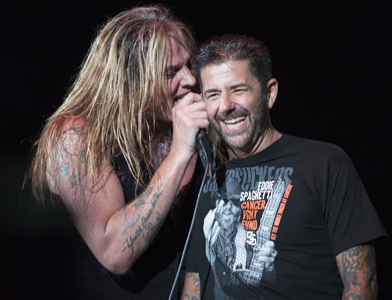 Tom Keifer of Cinderella was up next. If not Faster Pussycat, then Tom Keifer definitely ruled this night. Easily the best board mix of the night. Every instrument and voice were crystal clear. Keifer playeds a string of time honored Cinderella anthems and the two solo tunes from 2013's highly recommended 'The Way Life Goes'. One thing though, as much as I dig 'Heartbreak Station', 'Don't Know What You Got (Till It's Gone)' and 'Nobody's Fool', it was nearing ten o'clock and people were spent.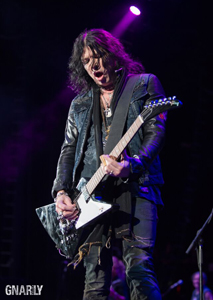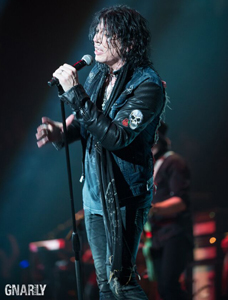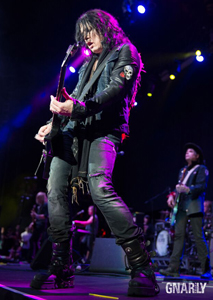 Not doing those three songs may have kept the energy in the audience. Unfortunately, the exhausted crowd had started to thin. This was by no means a reflection on Keifer's absolutely amazing performance. This dude has been to hell and back with his vocal issues. With all of the rehabilitation and surgeries, someone with lesser determination would have folded years ago. When he and his solo band or Cinderella are in your town, do yourself a favor. The highlight of his set for me was a KILLER rendition of Joe Cocker's Beatles cover 'With A Little Help From My Friends'. Keifer sandwiched that in between 'Shelter Me' and Cinderella's first single from 'Long Cold Winter': 'Gypsy Road' to close his performance. (10/10)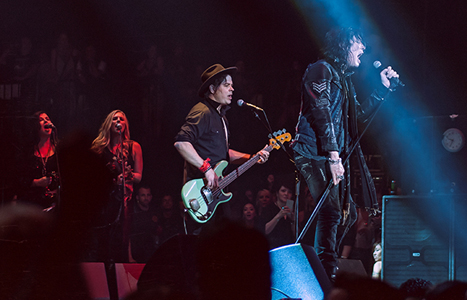 Extreme were the last band of the night. Lots of energy…TONS of energy. Killer set. 'Decadence Dance' was always a favorite and was the perfect way to start their show. They didn't let up with 'It('s A Monster)'. They blasted through the first half of their set perfectly. The 80's ballad of possibly all '80s ballads, 'More Than Words' was next, and from the reaction that Gary Cherone received when he let the crowd chime in, it was definitely 2015 as the lighters that used to light up arenas have been replaced by cell phones.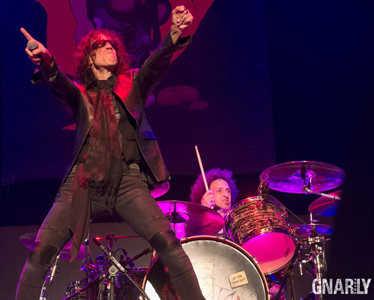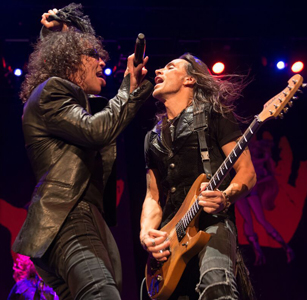 Kind of funny to hear singers say, "Lemme see those cell phones in the air!!". Extreme closed their sixty minute set with 'Get The Funk Out' followed by 'Hole Hearted'. Totally ass kicking set. More than any other band on this show, they've been able to preserve their live show flawlessly. One thing, Nuno, if you happen to ever see this, can you turn your guitar down just a teencieweencie bit, please? Thank you. (7.5/10)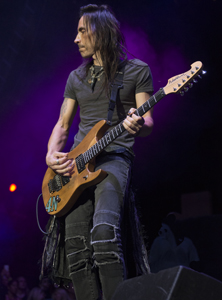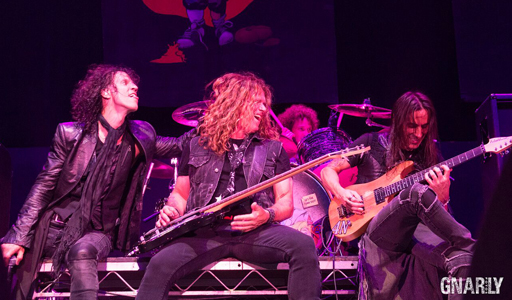 Closing the night was an all star jam that featured Sebastian Bach, Ace Frehley, Gilby Clarke, Evan Seinfeld of Biohazard/Attika 7 fame, Michael Starr of Steel Panther, Nuno Bettencourt and Phil Lewis.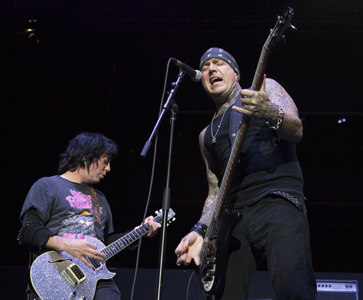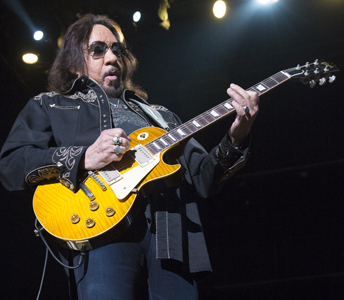 KISS' 'Deuce', G 'n' R's'Mr. Brownstone', The Stooges 'Search And Destroy' and the 'Aladdin Sane' David Bowie classic 'Jean Genie' were performed.A perfect way to end this event that was loaded with badassery from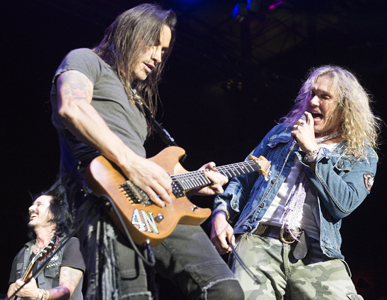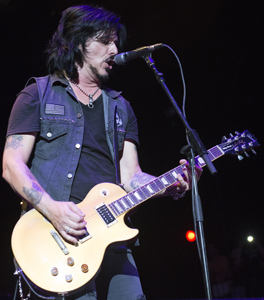 beginning to end. In the end it was a true triumph for a genre that a large amount of people were quite vocal in exclaiming would be 'here today, gone tomorrow'. (10/10)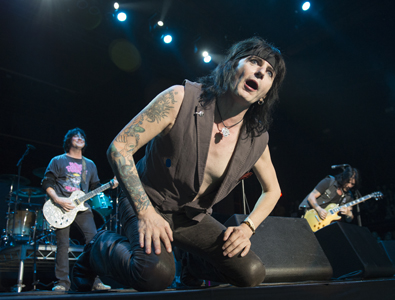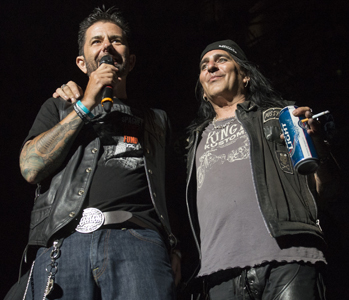 Cathouse: Live did Hair metal good. Thanks, Riki. See you next year?
Review By Eddie 'House Of Metal' Iggy
All Photos by Charlie Steffens/Gnarlyfotos.com apart from
Photo of Tuff, 2nd Photo of Dangerous Toys & 4th Photo of Tom Keifer By Taylor Foiles