Download 2007 @ Donington Park
Friday June 8th
Well I only just seen these guys at Corporation in Sheffield – Buckcherry that is – guess what, they were just as good in the centre of this race track too – as if they wouldn't be.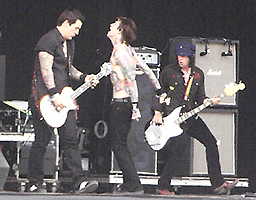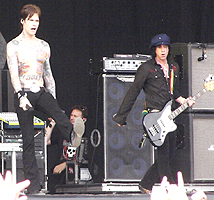 Roused up we were too and those Crazybitches in the crowd lapped up the set that included the likes of 'Lit Up' and said song as well as others from current album '15' and their back catalog.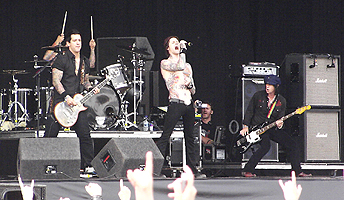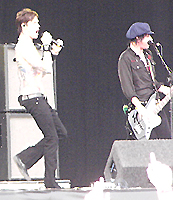 Really like the number about dreams – these guys are like AC/DC meets Guns 'n' Roses when they were a real band in the 'Appetite…' days. Tight as f*ck – spot on and Josh Todd is such an incredible frontman – with such a brilliant band overall they illuminate the park with their bombastic glam-like metal soundz even though it's early afternoon and the sun is still lit up.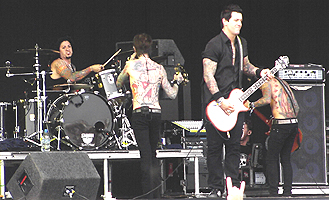 Megadeth seemed to open their set with newer unfamiliar material which is a rather riske if you ask me as opposed to some older, more respected classics. Saying that the crowd were roused or should that be aroused (whichever way you look at it).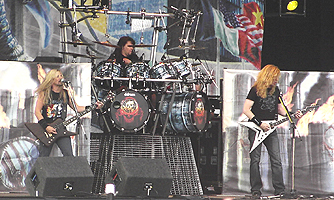 The Dave Mustaine band – well he is the only original member ain't he and owns the name metal up everyone here with the chuggering riffery that his outfit is famous for and what we have here is an ever-tight set of performers. The best number in the set was undoubtedly 'Symphony of Destruction'. "We'll be back", Dave tells us, so I guess we can expect a tour later in the year.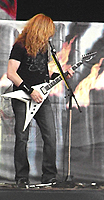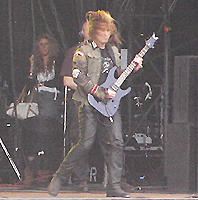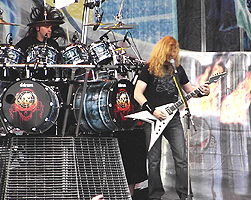 Overall it's a well paced set but rather lacking in all honesty without the likes of 'Peace Sells (but who's buying)' or 'Sweating Bullets' – pity about that but there ya go – you simply can't please everyone with 45 minutes of stage time can you.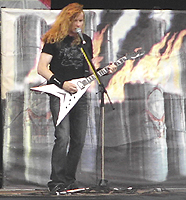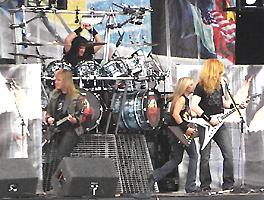 Dragonforce are the only band on the main stage not to allow themselves to be filmed for the live webcast – maybe they want the footage for their own future DVD or something – who can tell. Anyway we are entertained with about an hour of screaming power metal – just like we were last year – Helloween without Helloween songs if you ask me.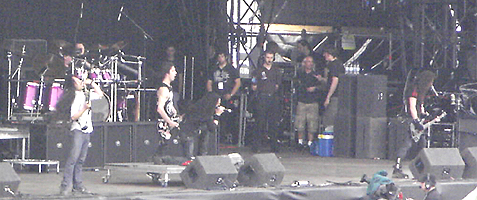 It's good but rather hard to pick out many songs from the set as it's mainly a huge blur of screamy vocals, a sh*tload of guitar solos and crashingly thunderous drumming for most of the songs on offer today – oh and some gargantuan keyboard sounds as well.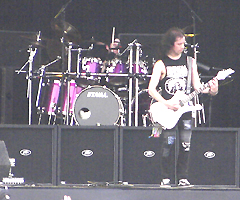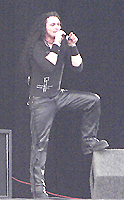 'Get your hands in the air, oh yeah!' their frontman screms. They are Good but not exactly the most essential power metal band around today - just a well known one I guess.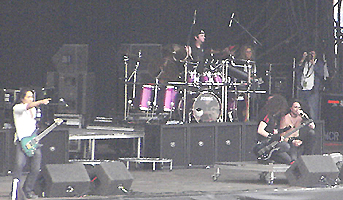 Now this Oz trio I f*ck*n' dig – Wolfmother are a solid grooving it out set of guys who give you the impression that you have gone back in time to the hallucigenic periods of Black Sabbath & Led Zeppelin alike when all and sundry did plenty of drink and drugs and every chick possible. They have a Sabbath like sound to them with Plant like vocals at their wailing best.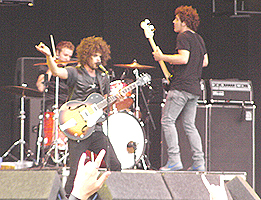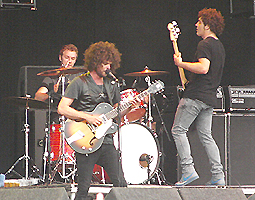 They come across very effective indeedy – stoner metal you could say – but in no shape or form are they at all boring as their musical arrangements are kinda old but at the same time very potent and extremely fresh – am I making any sense – do I ever – don't answer that – lol.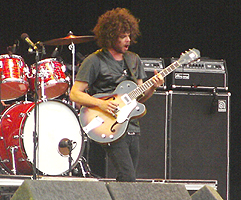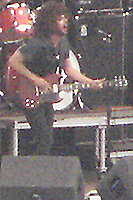 Get yourself into another dimension man – it's like being back in the 70's again, get out that air guitar and plug yourself right in to the goings on of Wolfmother.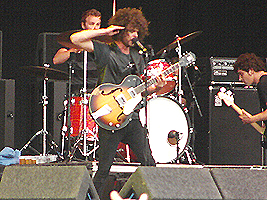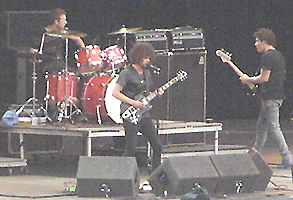 Wow – they are mindblowingly brilliant and you can lose yourself in their material big style. I guess you can safely say I liked these guys. Come back soon.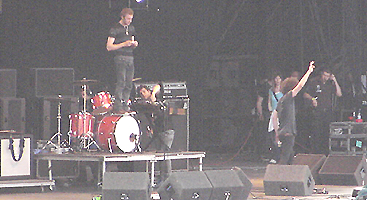 Velvet Revolver are as alive as ever – real rock stars that have got a tale or two between them. At their best in front of this very large audience, playing well and posing off simultaneously – good old Slash – he never loses it does he!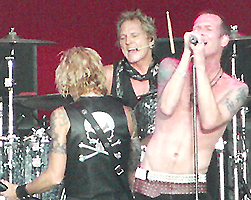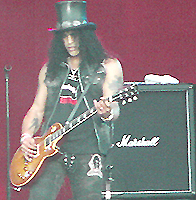 The Velvets deliver plenty to get excited about such as newies from the 'Libertad' album that hasn't been out 5 minutes, their own personal classics from the 1st album like 'Set Me Free'; 'Slither', that famous 'Stone Temple Pilots song'; as well as delving back into Slash, Duff and Matt's past by throwing in 'It's so easy' and 'Mr. Brownstone'. 'Psycho Killer' anyone ? Po Poh Pa Paw !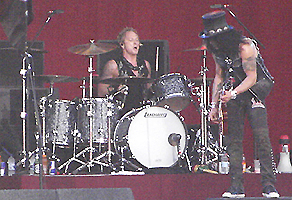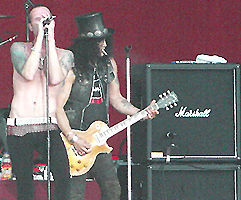 Now it's a hike up to the Tuborg Stage to witness a 4-piece who I ain't had the chance to see in Sheffield yet. I am talking about everyone's favourite redneck band 'Hayseed Dixie' – f*ck me, it's packed – no wonder either – these guys are amazing – not a drum kit in site but a quartet romping it up with a variety of stringed instruments that are played around a campfire or at a barn-dance in the Deep South of North America.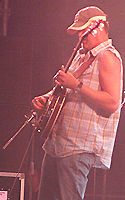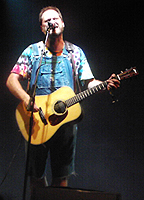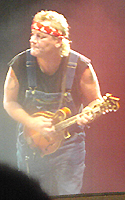 This was an incredible experience – everyone in here going totally mental to redneck acoustic versions of rock club classics such as 'Walk This Way'; 'Back In Black'; & 'Fat Bottom Girls' that are mixed in with numbers of their own such as 'I'm keeping your poop (in a jar)' – all and sundry lapped it up – not the poop – lol – the songs !!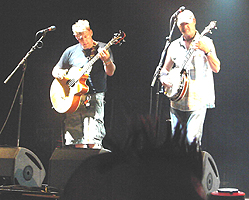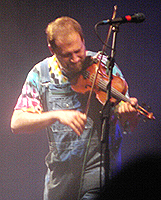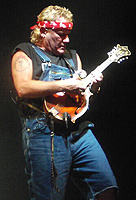 One of the guys was jumping up and down playing his mandolin on his back, while the other southern fried dudes are wailing an' plinkin' away on their chosen strung instrument – banjo anybody?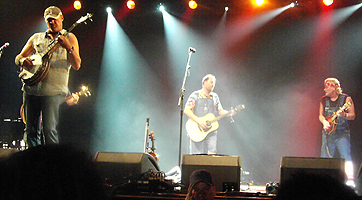 Now this has got to be the best crowd reception I had seen all day – absolutely electric to the most stripped down material of the whole weekend.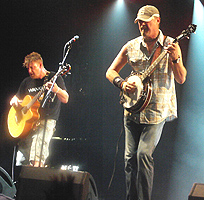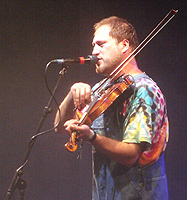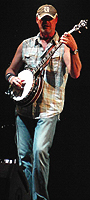 We get the jokes of marrying partners who were thinner when we met them that jeers and humours the crowd no end and they even have enough time to pack in a short rendition of the 'Deliverence' found instrumental entitled 'Duelling Banjos'.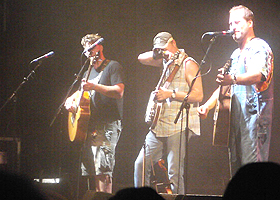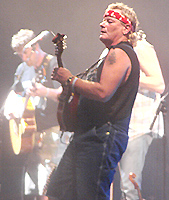 the whole place again goes mental which is followed up by the finisher of their set – a glorious version of AC/DC's 'Highway to Hell' - Ya'll goin' down – just don't forget ya gritz.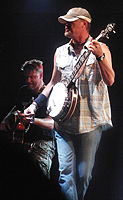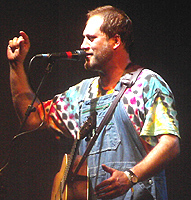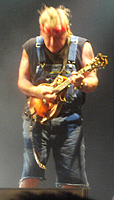 Let's hear for 'Hayseed Dixie' who informed us that they are the only band ever to play both 'Download' and 'The Cambridge Folk Festival' ! It's little wonder why as they cross over perfectly.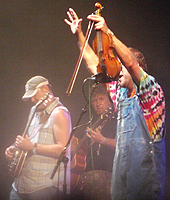 Next it's time for some food where I check out some of the hardcore metal of 'Suicidal Tendencies' – does Mike Muir ever keep still – it seems not – and the encore of Korn's set in the Dimebag Darrell Stage which ended on 'Blind' – turned out Slipknot's Joey Jordison was on drums – no wonder it was packed. Later I heard about some of the iron scaffold callapsing – thank god I weren't in for that !! Hope everyone is OK !!
Saturday 9th June
Firstly I decided to check out a bit of 30 Seconds from Mars who are a fresh kinda metal that the kids seem to love – last time I saw these guys was in Jacksonville, Fl.USA at the Freebird Café (that is owned by Judy Van Zant, widow of the late, great and legendary Ronnie Van Zant, frontman of Lynyrd Skynyrd) – I suppose that seems like many moons ago to these guys.
Anyways, after a bit of that it's humour time with Bowling for Sheep, lol, sorry I mean Bowling for Soup who are a laugh a second with their zany funniness from start to finish what with their giant bloke on guitar, their wacky frontman; the quirks about chicks boobs and boats, not to mention their awesome jokey songs that are plenty.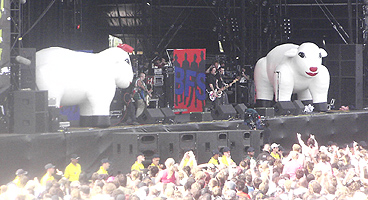 Why can't all bands be as humble and entertaining as these guys are? They are the blokes all the bad girls want !! – hmm, I couldn't resist a play on one of their famous songs there! Would have been cool to see them do their photo shoot scene or let the roadies take over for a song but I guess there's only so much you can fit into a 45+ minute set.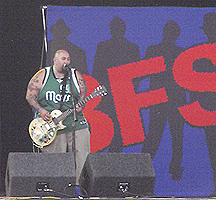 Not too much to report about Machine Head but they come across as a well oiled act where it seems every single song is built on pure aggression. Pity about the bad muffled vocals to though.
I personally can't see what the massive deal is about them at all but the crowd here seem to have a rather alternate opinion so I will beg to differ here. Must say though, that they have an incredible drummer – even though I ain't a big fan of the material that is on offer.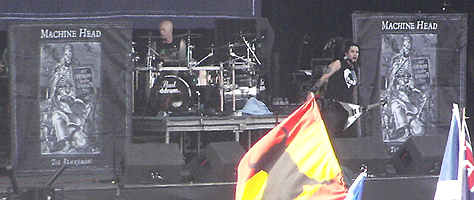 Now Slayer – that's a whole different ballgame entirely – ok, the bawling vocals are there from Tom Araya but they've got like 25 years of material to choose from. I heard that they weren't at all happy (especially Kerry King) to be given a Saturday slot under that nights main stage headliner – beats me as well and many others no doubt. They should have been on the Sunday night not too far behind Iron Maiden – at least we got to see them on the bill.
Anyways, back to the plot, Slayer did what Slayer always do best – completely obliterate the crowd from the opening crash and note of 'Edge of Heaven' right throught to the old school thrash metal classic 'Reign in blood'. It was pretty cool to see a long blonde haired dude dive into the crowd when he heard the opening notes to one of his fave songs.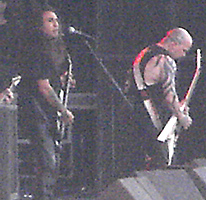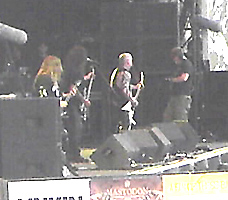 They even gave us a loving ballad about a guy called A – 'Dead Skin Mask' – f*ck*n' yes ! – he loves the dead he does and I ain't talking about Jerry Garcia's band neither.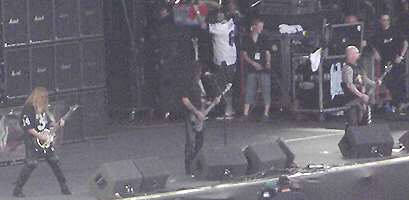 Anyone one up for 'Seasons of The Abyss' – I guess Vivaldi missed that one out !! Slayer didn't though – the classic was firmly implanted in their set – Nice One Lads – hopefully next time they'll get more than an hour to deliver their thrashing goods if they play this here festival again.
Who's up for a bit of Marilyn Manson – hey dude, where's ya stilts this time around – maybe he'd taken too many tumbles and thought the better of using them at Donington – the old 'knock him off his stilts and win a teddy comes to mind !!' Only joking Brian ! He still gets his make-up done by Max Factor or so it seems (thanks for that one Steve!) and he proceeds to give us a nice ….??? Wrong word there dude, I mean sinister dark show of his 666 faves that his fans lap up in sick quantities like a necrophiliac at a graveyard.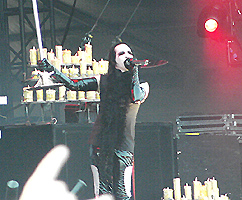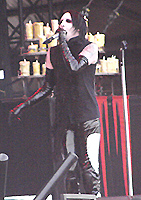 There were some 'Sweet Dreams' for the 'Beautiful People' here tonight and some 'Tainted Love' all around the racetrack, a strapping slab of 'Tourniquet' and loads of other soulless, industrial splatterings that Mr. Manson is famous for – nice mike matey! Now I wonder if he used those 50 black towels he requested on the rider?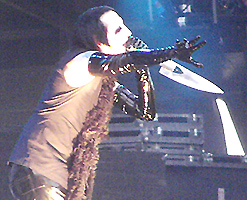 Satellite Party were a real turn up surprise, a new band that are fronted by ex-Janes Addiction/Porno For Pyros man, Perry Farrell with Nuno Bettencourt on lead guitar (I'd recognise that wooded N4 guitar – I last saw that at Sheffield City Hall around May 1991 from top front balcony – he had his hair a lot longer back then – as did Perry).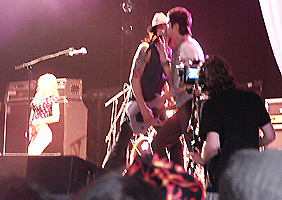 This outfit gave us some great funky rockin stuff and even a splendid version from Perrys back catalog, the theivious 'Been Caught Stealing' – love the blondes in the band too – the one on backing vocals was an amazing dancer – such attributes too!!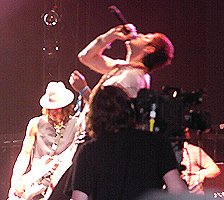 It seemed to be an eternity before Motley Crue took to the stage and I got to admit they well and truly stole the weekend – it was pretty much 2nd best after these guys from thereon.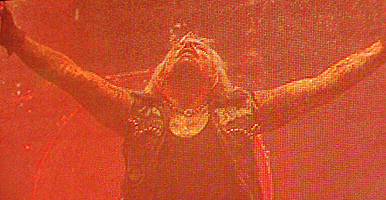 They performed a bunch of hits for everybody to get excited about, opening up with 'Dr. Feelgood' and continued with Sleaze Standards that included 'Wildside', 'Girls, Girls, Girls', 'Live Wire'; 'Primal Scream' and their cover of Anarchy in the UK'.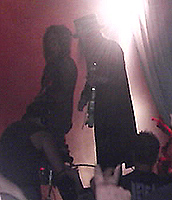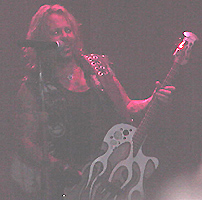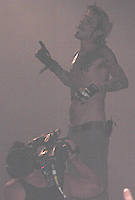 We were even treated to a chick in a blonde wig who Vince had a quick snog with on stage before 'Don't get mad, just go away' and a bottle of Jack Daniels that Tommy Lee had made the crowd pass back through the audience, joking that he needed another one as it had gone down so fast.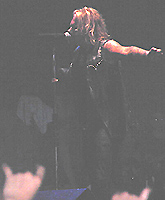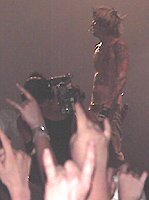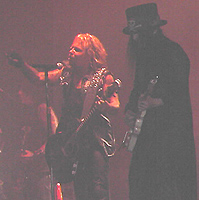 The lighting was rather way too limiting with much of the show in darkness, especially Mick Mars who was very much a dark shadow for much of the show.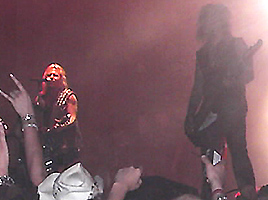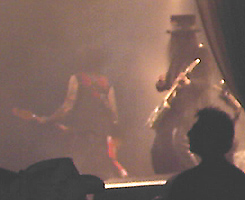 Still it didn't deter from the music – just wish they had been playing on the main stage as opposed to the artists who were given that slot – beats me dude !!
Sunday 10th June
Well it had been a hot Saturday and a busy on so I decided to have a lie in before venturing out in the late afternoon onto the field and in the tent. 1st on the list was Evanescence or should that be 'The Amy Lee Band' since she is the only original member of the group left.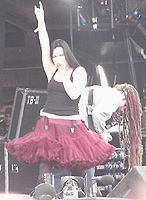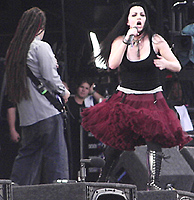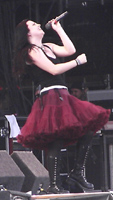 An outfit that appears to be on a hire and fire, left and leaving basis which can only have people guessing why – anyways, this current line-up is completely faultless and there's plenty of epic, gothical ethos to the set.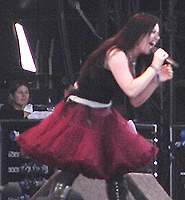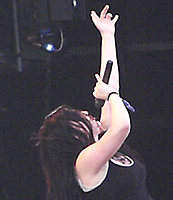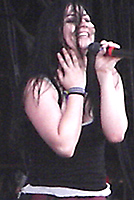 I missed them in 2003 because Metallica were the secret band playing in the Scuzz Tent but I was pleased I saw them this time around, well Amy Lee at least.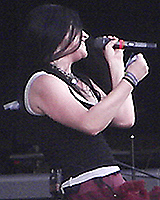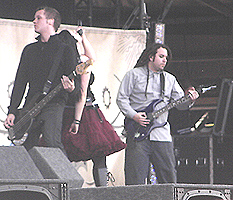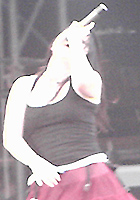 She's here prancing up and down the stage and wailing away her high notes for all its worth like a Metal equivalent of Kate Bush on numbers like 'Going Under' and 'Bring Me To Life' which was a little lost due to the ommitance of all the male lead & backing vocals.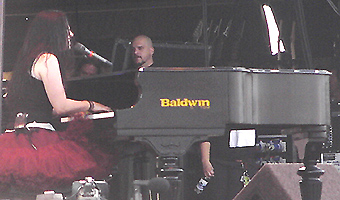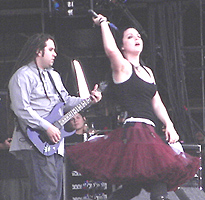 One song saw a baby grand piano pushed out onto the middle of the stage by some of her crew and another saw Amy playing away at the keyboards. 'Just cause it's a quiet song it don't suck' she informed us as well as telling us that she found it intimidating to play in front of a male dominated crowd at Donington crowd but you wouldn't have thought it by her performance up there. Overall, it was a decent enough set but it did seem less atmospheric experiencing her musical style in broad daylight.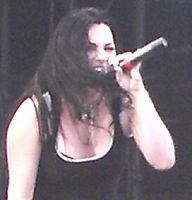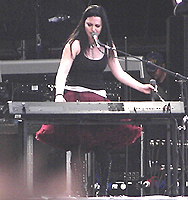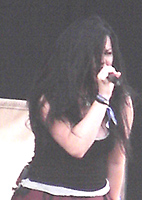 It was then a straddle up the hill to the Tuborg tent to witness the new line-up of Fastway – a band whose main member for those who don't know is ex-Motorhead member 'Fast Eddie Clarke' plus Steve Strange on drums, ex-Little Angels frontman, Toby Jepson (who literally had 2 weeks to learn the entire set after Harvey had quit the band) and John McManus on bass (ex-Mama's Boys). One of the Motorhead Roadies was sorting out the guitars too – either Eagle or Dobbie (I can never remember who is who – lol).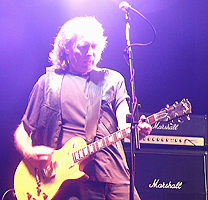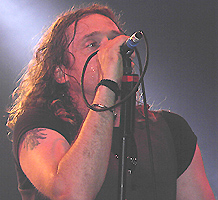 As soon as Toby came on stage he said 'Hi' asked how we were doing – he's such a friendly humble kinda guy and he looks brilliant too. He just ain't aged a bit in all those years either. We get chants of 'Eddie' from the crowd as soon as Mr. Clarke walks onto the stage and plugs in.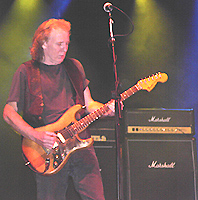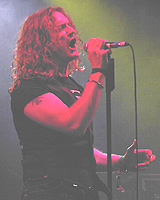 What an absolute joy it is to see him up there ready to crank it up at high volume. Immediately the band gells and they power out some bangin' rockers that are very blues-based. A mad geezer rushed to the front early on and shouted for 'Trick Or Treat' but I aint sure if they played it or not as I aint listened to their material in years. Anyway he jumped up 'n' down and banged his hair around like a man possessed who Eddie notices and he laughs in glee.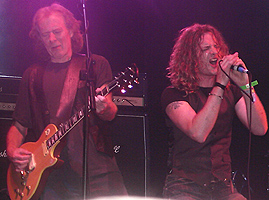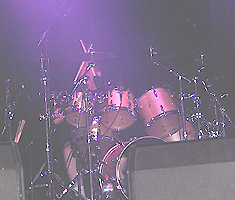 The new version of Fastway get on extremely well on stage with Toby 'n' Eddie having a stage presense made in heaven and appear to be good friends both off and on stage. The two of them blend beautifully with Toby reaching every note perfectly and every word is completely audible. Man this dude has been working hard as it's as though he's been doing it for a good while.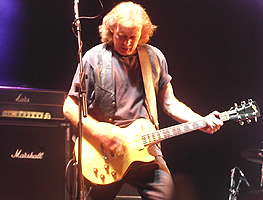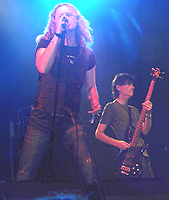 There are plenty of large riffs and heavy solos from Eddie – he ain't lost his touch in all those years. I can't wait to see these guys again – no doubt there will be a handful of UK dates later in the year after some European & USA dates have been completed – then there are Tobes solo shows as well in the picture. For me, Fastway are the highlight of the day.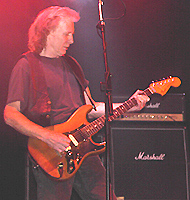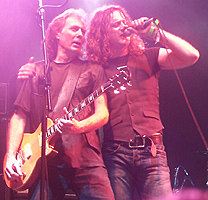 Iron Maiden closed the Sunday – this was the only time I watched the headliner on the main stage – hopefully they will have headliners on this stage of this calibre for each night next year as opposed to others who can hardly be hailed as legendary bands worthy of this slot. When you have seen the UK's biggest Metal Band export a number of times you get to know what to expect from an Iron Maiden show.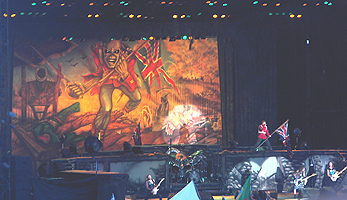 In fact, my buddy Tred said that it was the exact same show that they played on their December Tour as he saw them at Sheffield. We get a good few songs from the new album then a handful of classics, most notably 'The Trooper'; 'Wrathchild'; 'The Evil that men do'; their title-track 'Iron Maiden' and of course 'Hallowed be thy name'.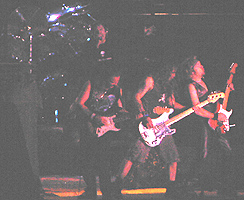 'The Number Of The Beast' was a strange one tonight as Bruce did the spoken intro of the song as opposed to the usual pre-recorded one – Maybe someone had forgot the disk ? who knows but it made a change anyway.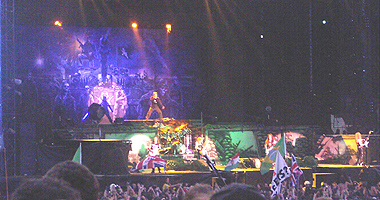 I love the big green tank that came from the back of the stage – had that been sat there all weekend – I guess not – lol! It had obviously been delivered in a giant truck a while before the show.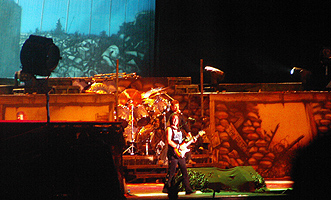 Anyways, Bruce informed us at the end of the show that they were gonna be away from the stage for a while as it take a long time to build a giant pyramid to be stuck in the middle of a field – guess that means a 'Powerslave' celebratory tour somewhere in time in the future. Now that'll be worth waiting for!!
By Glenn Milligan