Friday 9th June
It's a bit late which I apologise for – and my report is shorter than last year as not as many artists took my fancy – in fact the first band I actually took any interest in were The Backyard Babies as I missed them in 2001 when they supported AC/DC on their UK Tour – well impressed I was too – a good ole splattering of sleazy stuff throughout – wish I'd have took the camera for that – it was hot and they went down a storm – plenty of posing and fully enjoyable. I watched Tool for a song or two later as well but it was a bit lost on the crowd in daylight, plus a tad boring as well.
Saturday 10th June
Saturday proved to have a few more things going for it Arch Enemy with their female blonde vocalist were exceptional – how a girl can scream and grunt like that is mindblowing. The new version of Alice in Chains were spot on too – it was gonna take something good to replace Layne Stayley but they did it.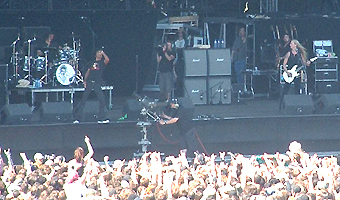 Just a pity that VR's Duff McKagan wasn't on the bass as he was rumoured to be part of the tour. There were all the highs and lows which were also highs of the AIC set and they pulled it off – grungely great and well worth seeing in the blinding hot Donington Sun.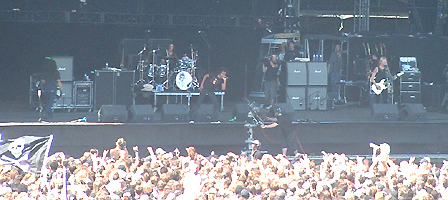 After a chill-out I ventured back to the main stage to witness Metallica – none of us knew what we were gonna receive – was it gonna be a sh*tload of new material or a smattering of old stuff – well – more latter than former actually.
After a few classics they gave us the entire 'Master of Puppets' album since it was the 20th Anniversary of it this year – it came complete with a videoscreen of the album, explosions and most importantly a tribute at the end to Cliff Burton and afterward pulled a few more numbers out like One, Seek and Destroy and Enter Sandman as the closer.
Sunday 11th June
Sunday was by far the best day, since it was the chance to see what a certain new old band were gonna be like. Another bright and hot one was in store for the whole day – Dragonforce kicked it off for me personally with their full-on in your face power metal.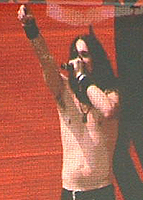 Man, these guys have become so popular over the last year or so and it ain't hard to see why – I personally should have been more bands of this style and standard on the main stage – real metal with the hair, look and musical chops to go with it. The modern day Helloween that proves that that there is still a place for this kind of stuff in the UK.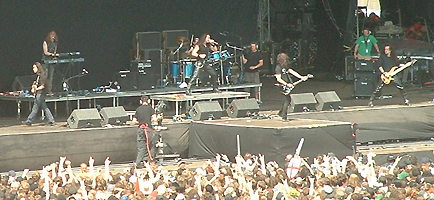 I sadly only catch the last 2 songs from Lauren Harris but at least I got to witness her again as she's well worth checking out with her classy rock songs and full great sounding voice. It was cool to see her dad Steve taking photos from the right hand side of the stage – glad I saw her a couple of weeks previous supporting Alice Cooper with Voodoo Six.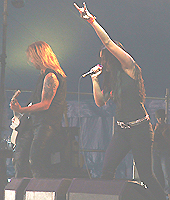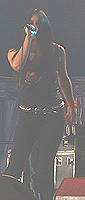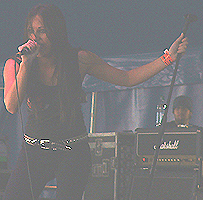 Talking of Voodoo Six, they were up next – setting the stage on fire, well not literally of course with their ballsy 80's styled punchy rock of the Skin, Little Angels, Answer feel – brilliant performers all round and good to see artists like this at a festival dominated by latest fashion nowadays Kerrang filled metal bands which spoils it for older fans of the genre like yours truly.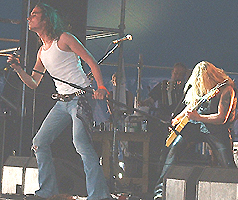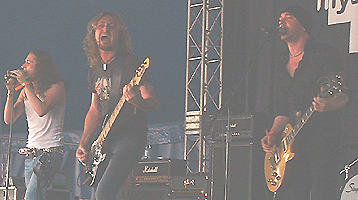 I am expecting both Lauren Harris and Voodoo Six to really cut the cake in the next 6 months or so and showing the young kids what really does rock as opposed to what they are told rocks and believing it wholeheartedly, judging by their expert performances at Donington.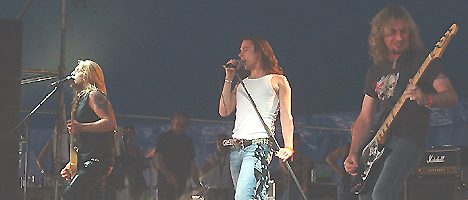 Cradle of Filth on the other hand were quite simply tedious and unlike Dragonforce their corny Vampiric Black Metal was in my opinion lost on the day and I could only put up with them for about 10 mins.

Dani Filth is a good showman and full of humourous banter but that screech-squawking unintelligible ramblings of his is just too much to put up with.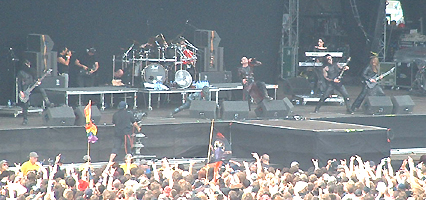 Apart from the headliners on the main stage, the other band that many were dying to see were the now legendary Finnish rock monsters 'Lordi' who won the Eurovision Song Contest a couple of weeks previous. The tent was nearly completely rammed but I still made it to the front to get a few pics for you all – well it's gotta be done ain't it. The atmosphere for these new heroes was unbelievable – young kids intermixed with older rock and metal fans going absolutely wild for Lordi. Man, this quartet are the Dogs B*ll*cks - devil signs in the air both on-stage and in the packed crowd.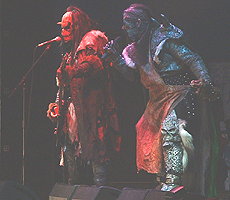 What I was really impressed with was the fact that they aren't just a novelty band in big heavy costumes – these guys can really play well and cool singers too (once you get your head around the Finnish accent) – imagine a kind of European AC/DC crossed with Rob Zombie without all the industrial madness – then that's kind of the Lordi sound.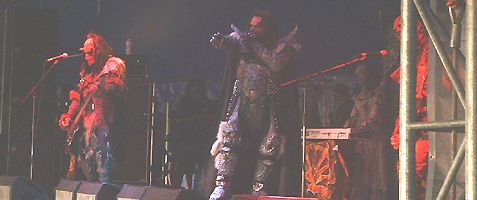 They ask in song if you could really love a monster and finish their 40 minute set off with their winning 'Hard Rock Hallelujah' – the fact that the vocalist wore his costume with the big wings made it even more triumphant as well – to put it bluntly this was f*ck*ng brilliant – should have had a good hour plus and been on the main stage – hopefully that will happen next year.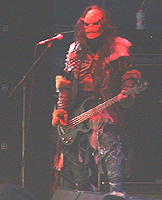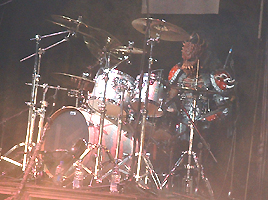 Since I watched all the Lordi set I found that I have missed the first few songs of Guns N Roses because Axl and his new line-up had come on stage on time – f*ck*n' what !?!? I expected at least a delay of a good hour – but I guess due to outdoor licensing restrictions and whatever the band were up to next they had to go out on time.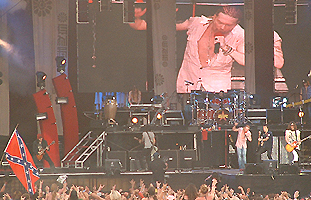 From what I gather the first few numbers were old Appetite faves and I walked down to see them halfway through a rampshackled sounding 'Knocking on Heaven's Door' which disappointed me – Axl did say that they were sound problems and after 'Sweet Child o' Mine' he announced they would be taking a break due to technical difficulties amid a mass of boos in the crowd – I was personally chuffed as I never seen Axl storm off before – I had heard about it though.
It seemed strange to see Axl with shoulder length braided hair and a bit more weight on him – since I saw the band at Wembley 91 and Manchester 92 – and odd not to see Slash, Duff or Matt with him.
At first I was a bit 'f*ck this – it's like a tribute with live session members' but when it got going properly I was won over – especially since the playing was spot on and those new numbers, well old new numbers 'IRS', 'Better' and 'The Blues' are exceptional as well and easily as good as the older well-known material.

Why did some dick have to throw something at the bass player, causing him to throw his bass to the floor and storm off stage? He came back on though, apologised but said they had come to play music for us and would go home if it happened again – after this all went well, especially when Sebastian Bach joined Axl on stage for 'My Michelle'.

It was a surprise to many in the audience but a lot of us found out earlier that day - but it was immense to see Seb Bach back on the big stage as opposed to being in a local rock club where i last saw him perform.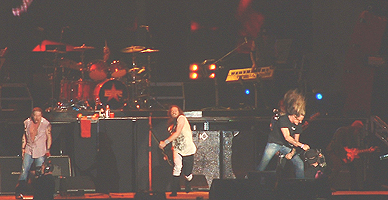 It was brilliant to see that an old friend going by the name of Izzy Stradlin comes onstage – guitar ready for playin' causing the crowd to go apesh*t – will any other ex-members turn up – nope just Izzy – oh well, it's cool to see him and watch him perform with the new band.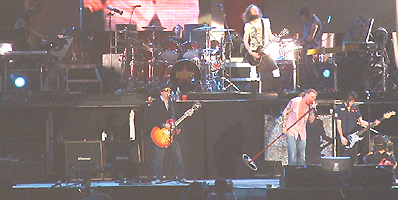 Other highlights include Axl raising plenty of joyous smiles and really enjoyed the gig; the always brilliant 'November Rain'; 'Live and Let Die' and 'Paradise City' that both come with fireworks – especially the closing set/encore latter of the 2.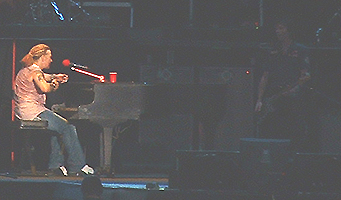 My only real moan is this 'Why so many solos?', I mean it's pretty obvious that members like Robin Finck and Bumblefoot are cream of the crop players or Axl would not have them in the band in the first place – maybe it's to give Axl's voice a break which is stronger than ever when it got fully warmed up.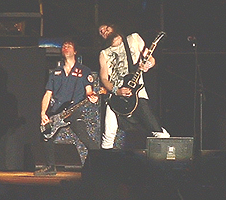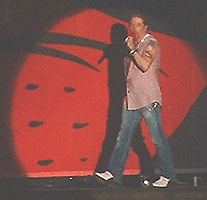 I personally can't wait to get my hands on the 'Chinese Democracy' album – I am hopin' it's gonna be a milestone a bit like what 'Appetite for Destruction' was.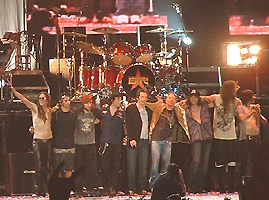 Well there ya go, that's Download wrapped up for another year – looking forward to 2007 - I wonder who the headliners will be – place your bests now.
Overall 7/10
By Glenn Milligan