Download Festival 2010 @ Donington Park, Castle Donington,
Sunday, 13th June 2010
Well 1st off if was the usual Sunday morning and the weather couldn't decide what to do with itself - it was sunny and it rained on and off on the way to Donington. We get there and it's blazing hot.

After picking up the wristbands and car parking pass (when we eventually found the Live nation Hut) and getting the car in place, myself and Mr. Watson headed down to the field to catch the last few minutes of AOR's FM who closed with 'I heard It |Through The Grapevine'. They appeared to go down ok enough - though Ratt would obviously have been better - pity they had to cancel due to Pearcy's throat surgery.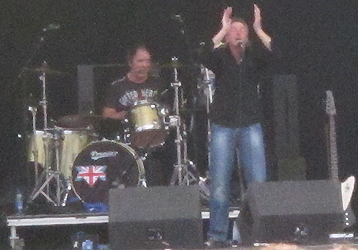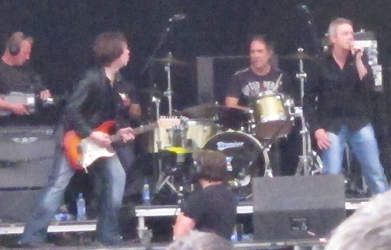 Anyways, the party really got started as soon as Saxon hit the main stage - it's 30 years of Donington and it's the 30 years Anniversary of the 'Wheels Of Steel' album - sop played it in its entirety. In fact some of the songs haven't been played in like 28 years with Biff saying which is why he may forget some of the words.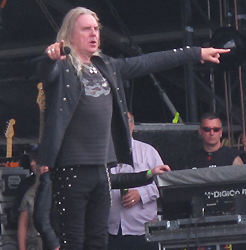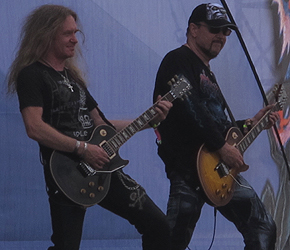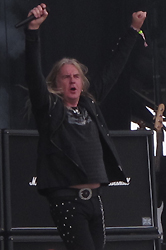 With songs like 'Street Fighting Gang' coupled in with better known numbers like '747 (Strangers In The Night)' which was great last time as a plane flew over at the right moment of the song 'Motorcycle Man' & 'Suzie Hold On' we were onto something good. Fans young and old took it in and no doubt they created new ones too.

They were in fine tight form and I guess they had rehearsed it all pretty well. Biff saved the main number until last purposely and even gave us 'Denim & Leather' as a tribute to his great friend 'Ronnie James Dio'. Biff had fun with the crowd too – dividing them in half and seeing who could shout the loudest – I reckon it was decided that the right hand side won as well.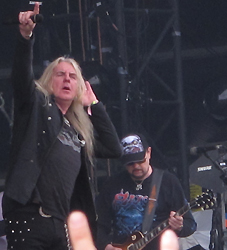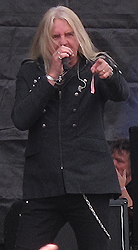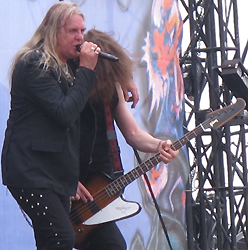 It was awesome for Saxon to perform 'And the bands played on' that was written as a tribute to their 1st ever time at Donington. The band had an absolute ball throughout the set and this was definately one of those rock and metal moments that we'll talk about in years to come.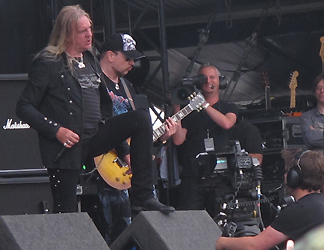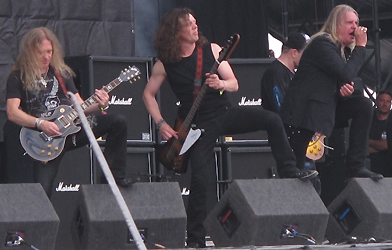 Wonder what album they'll perform in it's entirety next time they command the Donington platform?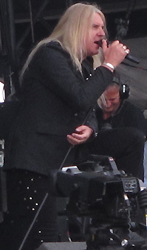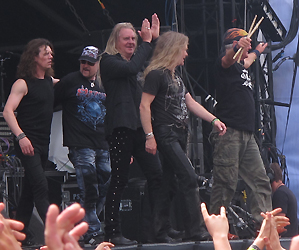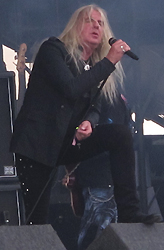 I've been a fan of Cinderella since I saw the 'Gypsy Road' video on something like Top Of The Pops or Power Hour back in the late 80's and have never had the chance to see them live – for me – this really was one of the main reasons I didn't want to miss Sunday. I gotta say I wasn't disappointed either especially when said song was performed and also my ultimate fave 'Coming Home' which like the original record started off acoustic and turned electric – amazing indeed!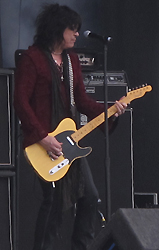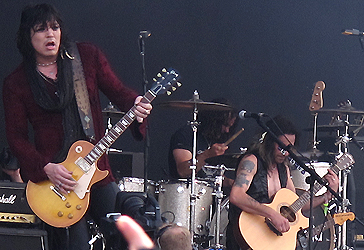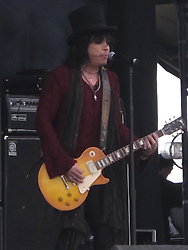 They guys strutted around the stage like it was 1988 all over again with Tom Keifer saving his talking to the crowd until about the 3rd or 4th number, Asking us how we were and if we were having a good time – us old schoolers were and plenty of newer fans too who had picked up on them through their mentions by bands like Steel Panther (more on them in a bit).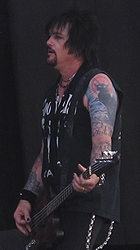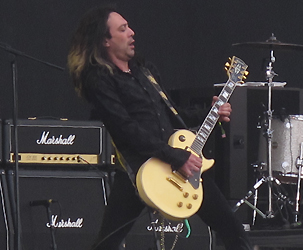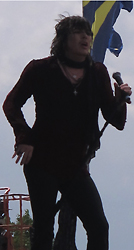 Other highlights included included 'Shake Me'; 'Push Push & 'Shelter Me'. You could tell that Tom was feeling it towards the end of the set and appeared to be struggling on the last couple of numbers – probably due to the immense heat – apart from that – a near-on perfect set.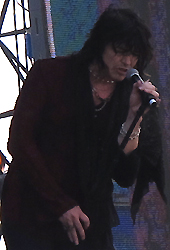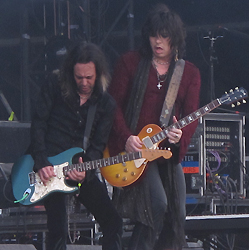 Slash was welcomed to the stage like the guitar god that he is and with a new band that features Alterbridge's Miles Kennedy on lead vocals who powered his way effortlessly through songs old and new from Slash's catalogue with what seemed no trouble to him at all. Slash was as f*ck*n' cool as ever with the ever-present top hat and shades, soloing away, on stage left mostly and wandering into the centre when he felt like it.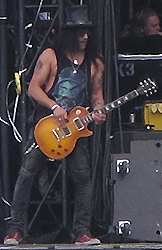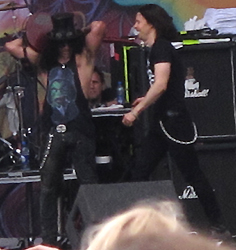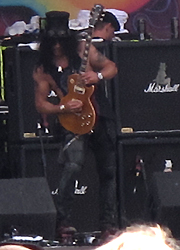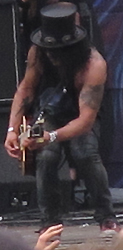 Highlights included Songs Velvet Revolver's 'Slither'; classic Guns N Roses tunes like Night Train, 'It's So Easy' and 'Sweet Child of Mine' as well newer numbers from the Mr. Hudson's self-titled release that included the opening set number 'Ghost'; Starlight' and 'By The Sword' that fitted in neatly with the well known classics.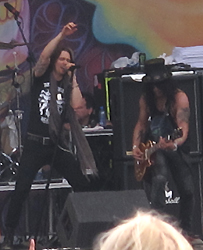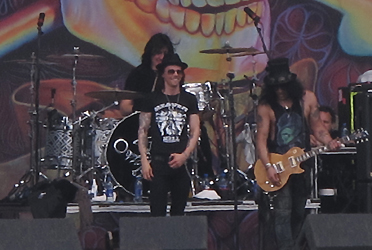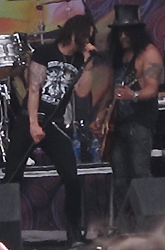 A cool part of the set was when Slash invited a hero and friend of his going by the name of Lemmy Kilmister – which was f*ck*n, who got mass applause 'Good Evenin' he said and they went into 'Dr. Alibi' – pure brilliance for sure! The band wound it up with the way Slash did in the good ole Guns 'N' Roses days with Paradise City. Now that's what I call a perfect ending to a a perfect set !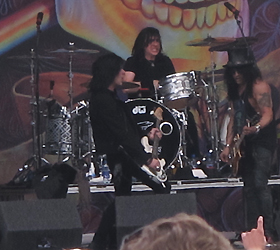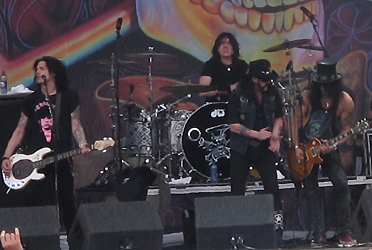 Billy Idol it seems drew the short straw because it completely p*ss*d it down throughout his set – no doubt Slash was blessing himself for getting the earlier slot. Anyways, he got down with the crowd and took it on the chin and everywhere else - shaking many fans hands and making their afternoon.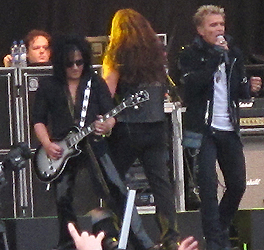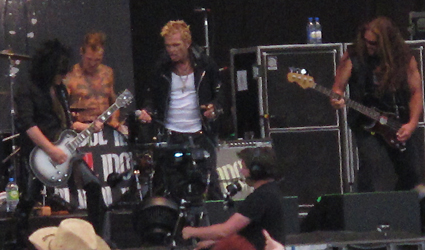 It was a less rocky set to the one I remember in 2005 and had its funkier poppier moments as opposed to raunchy 'Mony Mony' like material – though we did get 'Rebel Yell' and 'White Wedding' that started off acoustic with just him and Steve Stevens. Other well known numbers included 'Flesh Or Fantasy' and 'Eyes without a Face'.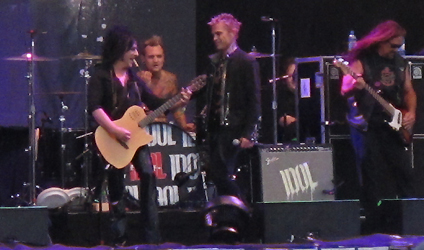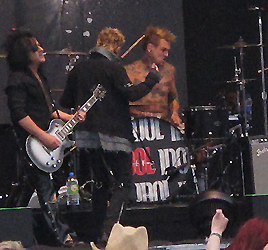 He also still does his paper plate throwing routine where he hurls a good hadful into the crowd that are fully signed by the band much to the delight of all the peeps who are by this time soaking wet on the ground before him. Steve Stevens seems rather reluctant to get out closer and get even wetter than he already is but he chances it towards the end of the set out on the middle platform with Billy. We made the most it depite the rain.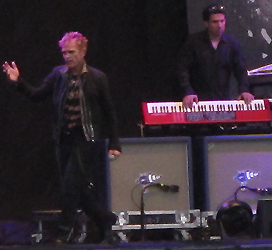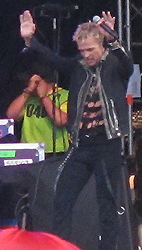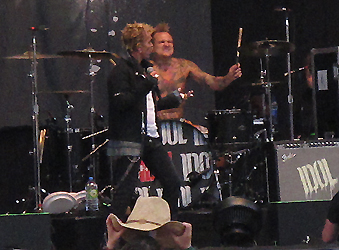 Straight after Mr. Idol and his band had finished it was decided to go back to the car to dry off a bit and get some food – the field was a pure mud slurry so we must have received plenty of water in a short space of time. After getting refreshed somewhat it was back down to the field – it was still f*ck*n' rainin' tho. We could hear Motorhead blasting out numbers like 'Over The Top' and 'Metropolis' and Lemmy sounded craggier and throatier than usual – maybe the heat had grabbed his throat earlier – though with a style like the 'head have it's no big deal and appears to adds a bit of bottom end to the mix.
Sadly we miss seeing Motorhead because the rain messed up the timing and it turns out that Steel Panther are on at the same time – dammit !!!! I wanted to see both.. Oh well the Panther were as spectacular as every playing a good handful of songs from 'Feel The Steel' album that got everyone singing and laughing at.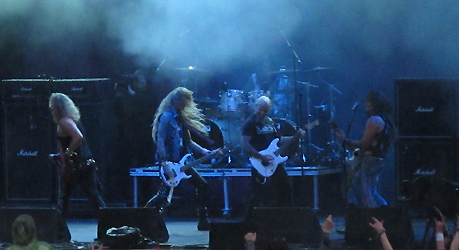 Highlights included 'Turn Out The Lights'; 'Community Property'; 'Girl From Oklahoma' and 'The Shocker' not to mention Anthrax's Scott Ian joining the boys on stage for 'Asian Hooker' who is featured in the album version. We were thanked for coming out in the rain to see the band as well. They even had us rockin' to what Michael Starr said was gonna be their next single – a cover of 'I Like It That Way' by The Backstreet Boys – metalled up of course – hahaha.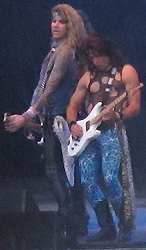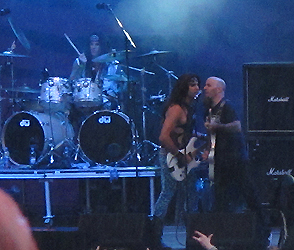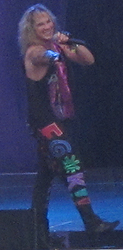 There was plenty of humorous banter with people being referred to as dicks if they didn't like the band and loads of women getting their t*ts out for the video screen – much to the pleasure of the band and all us other males in the crowd and even got 2 chicks on stage to make out a bit – quality!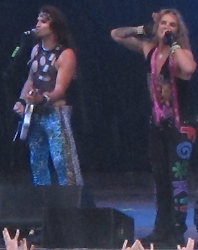 Oh and Lexxxi kept saying how much he wanted to put his face into chicks v*g*n*s and as usual was slagged by the band for his remarks. The set closed with 'Party All Day, F*ck All Night' and I gotta say I would loved to have heard more but we did have another great band up next.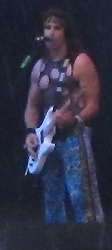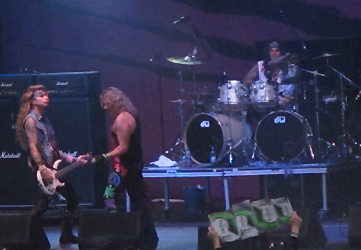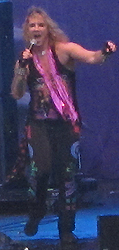 The rain is still spitting a bit but after a hot cuppa tea and a tray of chips we are filled and warmed up a bit for one of Australia's finest exports – no not them, they played on Friday – but the next best thing – the full on Oz Swaggering Airbourne who like Steel Panther thank us for being there for them despite the conditions and make us forget about it for about an hour or so.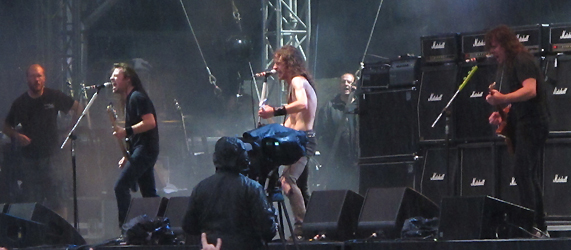 The guys give us a loud rousing cross section of songs from their debut album 'Running Wild' & the recently released 'No Guts No Glory' that are blasted and wailed out in the way that these guys seem to know best. Frontman Joel O'Keeffe performs some death-defying climbing by climbing up the side of the stage with SG Gibson intact and solos away up high and even cranks out the riff on the very top much to everyones amazement and delight. The security and health and safety guys weren't impressed though and pulled the plug on the sound and ordered him to get down – the show must go on though – hahaha.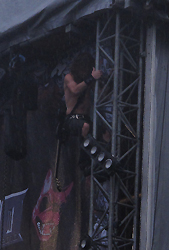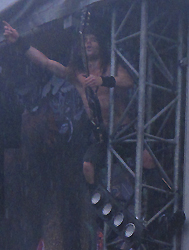 They emerge and he says that that was for rock 'n' roll and swigs down a can of beer and throws the remainder of it to the fans before they proceed into a few more killer rockin' cuts of theirs. Now these guys were definitely worth sticking around to see with highlights including their anthem 'Diamonds In The Rough'; 'Blonde, Bad & Beautiful'; 'No Way ButThe Hard Way' and the closer 'Running Wild'. Now this is how a Rock 'N' Roll Show should be.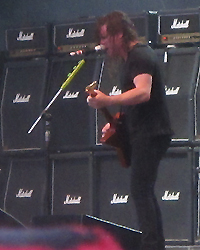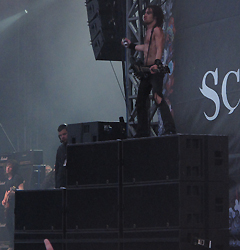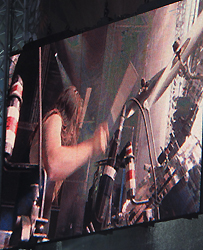 Not too much later, after yet another much needed cuppa tea (it was still cold out here) we go back out to check out those old Boston Veteran's that go by the name of Aerosmith on the main stage. There was some anticipation around since it was the 1st UK show in a good few years and since Steve Tyler had rejoined the band (due to all the… well let's not go into all that), but they are back and give the fans a decent cross section of hits with all the live staples thrown in such as 'Mama Kin'; 'Love In An Elevator'; the classic 'Lord Of The Thighs' and 'Sweet Emotion'.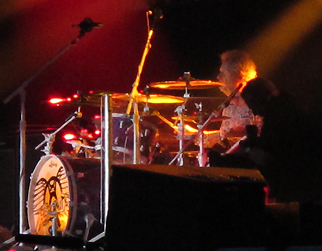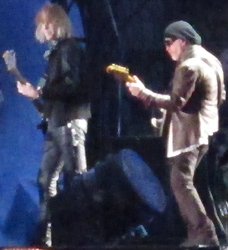 A handful of covers featured in the set such as Fleetwood Mac's 'Stop Messin' Round' with Joe Perry on lead vocals; the Big Joe Williams hit 'Baby Please Don't Go' and of course they played 'Train Kept A Rollin' made famous by The Yardbirds and penned by Tiny Bradshaw that a 'smith set is never complete without. The band were on form and Tyler's teleprompter made sure that he didn't forget or fluff any lines. Soundwise it was excellent – just a pity it did get rather cold towards the end of the set that put a dampener on the evening so we decided to call it quits about ¾ through the set. The band played on though and Aerosmith are well and truly back!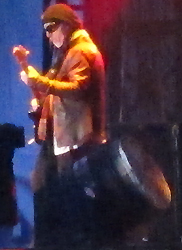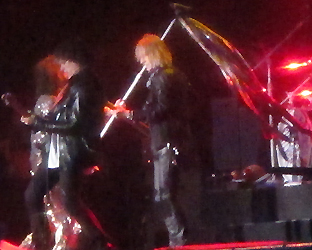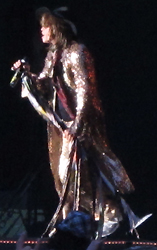 I've never been scorched to lobster level and then frozen and soaked all in the same day – you never know what you are gonna get in the UK – at least the bands were top dollar that we saw. Keep up the good work Mr. Copping and have a word with 'im upstairs about the elements too - lol!
5/10 for the weather
10/10 for the bands
By Glenn Milligan