Rik Emmett -The Iridium, New York City, New York, USA, Thursday, June 2nd 2016
Set List: Hold On/Lay It On The Line/Ordinary Man/Mid Summer's Day/Fight The Good Fight/Somebody's Out There/Red Hot/Rocky Mountain Way/Only Time Will Tell/Galaxy Song/Magic Power/Boys Of Summer/Suitcase Blues.
The 1980s, in music was the decade of MTV, bands in spandex and Aqua Net sprayed hair, Sony Walkman's and of course some of the best music crossing the border from Canada. April Wine, Rush and Triumph, to name a few infiltrated American airwaves and music programs. Rush and Triumph were two Canadian power trios dominating the lead. One was known more for a phenomenal bass player, the other for an exceptional melodic vocalist. That vocalist was none other than Rik Emmett of Triumph.I had the opportunity to speak with Rik Emmett after his Iridium performance. We spoke in depth about his past, present and future music endeavors. Emmet, who is passionate about music education, teaches songwriting and music business workshops at Toronto's Humble College. Now a grandfather, the classically trained guitarist still records and performs.
This evening Rik Emmett took the stage along with guitarist Dave Dunlop, delivering an acoustic set for the Iridium crowd. Gone are the silver spandex, long flowing locks and Jimmy Page style double neck, instead The Canadian Hall of Fame guitarist and former Guitar World columnist enthralled the audience with his still captivating vocals and master guitar playing. Emmett opened with Triumph classic 'Hold On' the first track from the band to received U.S. airplay. Emmett's crystal vocals immediately captivated the masses that were there to hear their favorite songs performed by the original vocalist. Immediately Emmett launched into a second Triumph favorite 'Lay It On The Line' the second number from the 1979 release 'Just A Game' Emmett elaborated that the song reached number one in several U.S. states resulting in a headlining tour with opening band, AC/DC. Rik confided after the show that the British band was far from content with their time slot.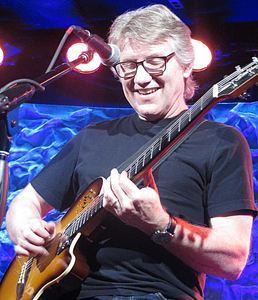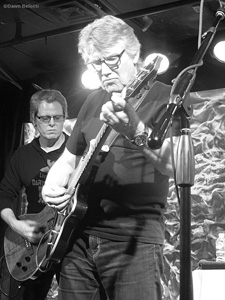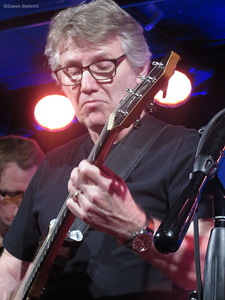 With Triumph accounting for a large percentage of Emmett's history, there was no lack of an acclaimed assortment from the anthology. Continuing with 'Ordinary Man" and demonstrating his acoustic prowess with 'Mid Summer Daydream'. Followed by anthem favorites 'Fight The Good Fight' from the ever popular 'Allied Forces' and 'Somebody's Out There' from 'Just A Game'. Emmett and his acoustic partner Dunlop also premiered several numbers from their recently released 'Troubs'. Beginning with the duet's piece 'Red Hot' it was clear that Emmett was not content with only living in the past. An artist who constantly creates, his current music was received well but the Iridium crowd. 'Only Time Will Tell' chronicled Emmet's life experiences.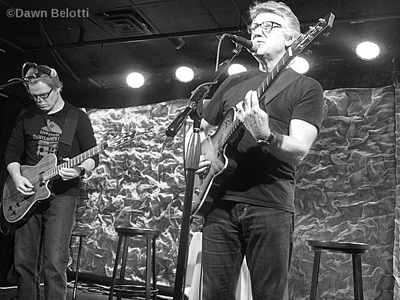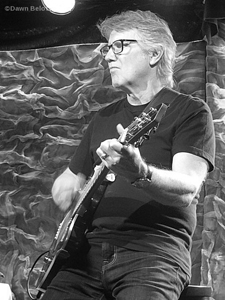 Emmett elaborated further during our conversation that 'Only Time Will Tell' was initially inspired by a comment by legendary guitarist Jeff Beck. Beck stated that he did not consider earlier photos and stories to be who he really was, Emmett's response was, "Yes they are in the same way everything I have done, both good and bad are still a part of me." The evening began its wrap up with a bit a humor. Emmett told the story of a cover song he played with the legendary Les Paul Trio, the last time he visited The Iridium venue. 'Boys Of Summer' initially written and performed by Don Henley, was the chosen song for the Les Paul/Rik Emmett performance collaboration. What Emmett did not anticipate was Les Paul's talented, jazz style, upright bassist was not familiar with playing this genre of music and proceeded to set a 'Country music' pace. Emmett and Dunlop continued to play the song in the 'Country music' style reminiscent of that amusing evening.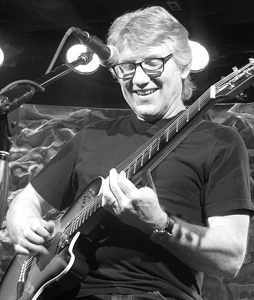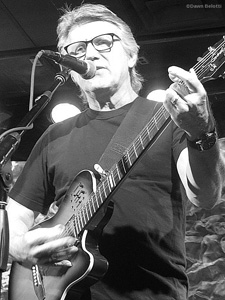 The evening would not be complete with out an encore of Triumph classic 'Magic Power' followed by 'Suitcase Blues' which details life on the road. When Emmett graciously spoke with me after the show, he let the cat out of the bag in regard to some of the guests on his upcoming solo effort. We can expect to hear collaborations with Rush guitarist Alex Lifesson as well reuniting with former Triumph members on one of the tracks. Having an opportunity to experience accomplished musicians in an intimate environment rivals that of watching their performance on a large stage in front of a massive audience. Often stripped down and raw especially in an acoustic setting can leave an artist vulnerable.
Not in this case, instead it not only reinforced what a skilled and polished musician Emmett is, but he is also a hell of a nice guy.
10/10
By Dawn Emmett
Emmure - The Observatory, Santa Ana, California, USA, Friday December 5th, 2014
Set List: Bring A Gun To School/Nemesis/N.I.A. (News In Arizona)/Sunday Bacon/I Though You Met Telly And Turned Me Into Casper/Demons With Ryu/Most Hated/Bars In Astoria/Tales From The Burg (Breakdown Only)/R2Deepthroat/4 Poisons 3 Words/Drug Dealer Friend/Dogs Get Put Down/E/Children Of Cybertron/Solar Flare Homicide/MDMA.
Encore: When Keeping It Real Goes Wrong.
It is so hard to say what my favorite song by Emmure is because their whole catalog has a sound that no one else has.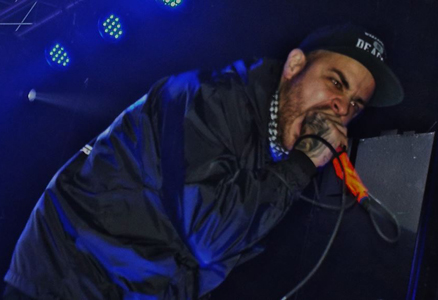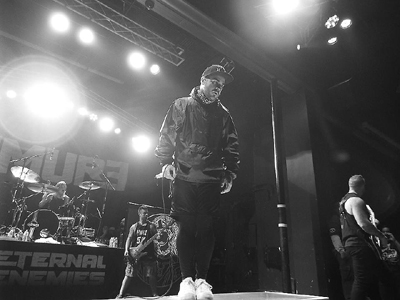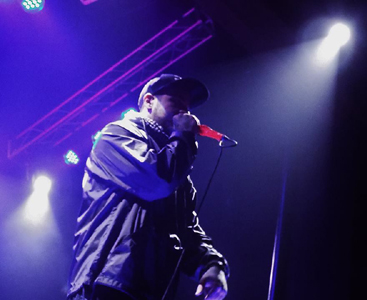 Taking heat for being a fan of MetalCore by this band is something that I am willing to accept. When I think about Frankie and his band Emmure I see that he has screaming adoring female fans. The energy is through the roof. The crowd screams the lyrics in unison, and this is where the connection is made. Frankie has this choreographed style of entertaining the crowd as he jumps around on the stage and moves to the rhythm of the music.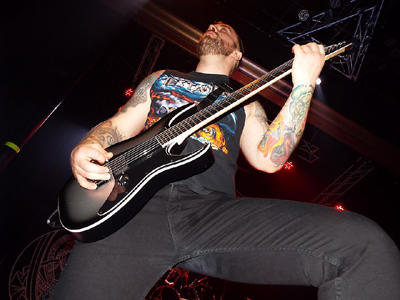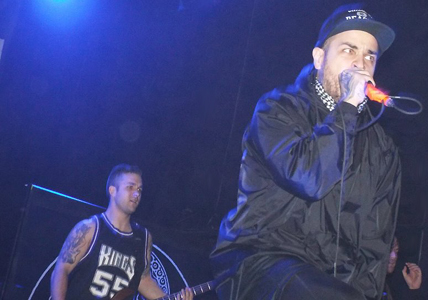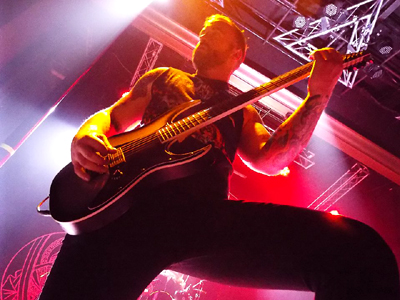 It is classy, and his style when it comes to fashion even keeps him equally separated from the other genre of musicians in the scene today. Frankie is in peak physical condition. It is like an athlete training for the races. He is muscle bound but in top shape. I would love to know what his physical regimen consists of when it comes to diet and exercise. My favorite music is still 'Speaker of the Dead'(2011). The new music on 'Eternal Enemies' is still growing on me.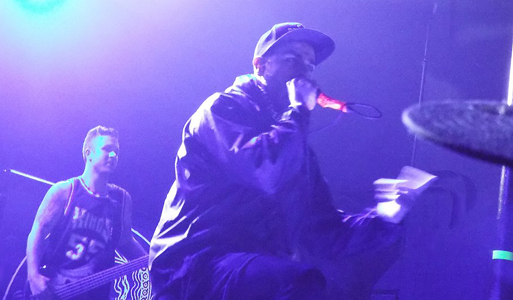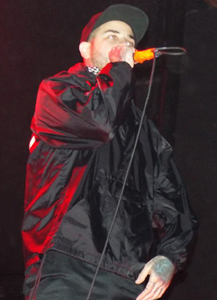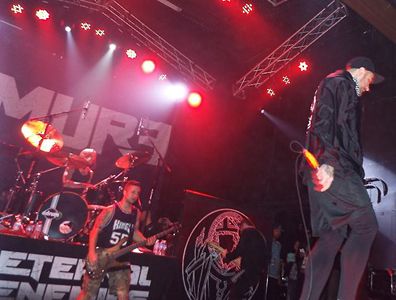 I have included a link to the video 'E' and the latest merch below the review that will get you aware how serious that Emmure is about their fans. Please feel free to check out Emmure and give them a chance as they duplicate live what you hear on their studio tracks. It is all about the fans. Thank You Frankie and Emmure for a spectacular show as always. Frankie and Emmure, come back to the West Coast anytime, and join us again at Toxic Tuesday at Loaded on Hollywood Blvd, in Hollywood, CA. It is always a pleasure to photograph you and your genuine smile.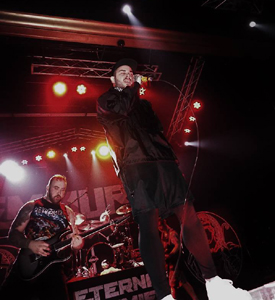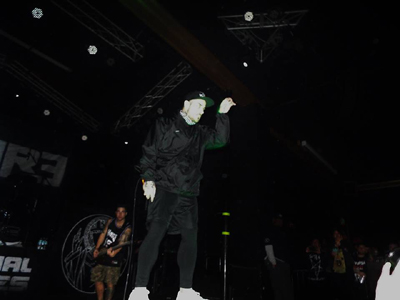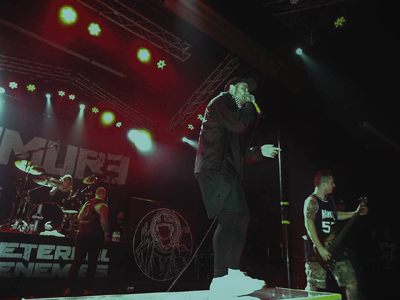 This band is well put together and they are not going any place soon. Please support the Street Fighter franchise as Frankie does. Thank you for your time, and if you hate on Emmure, it is the drive that keeps them superseding the expectation of the fans.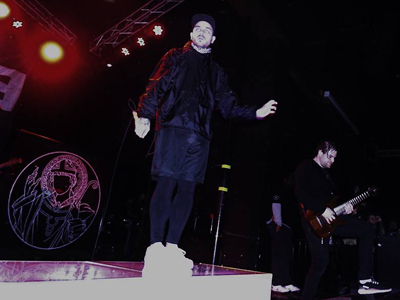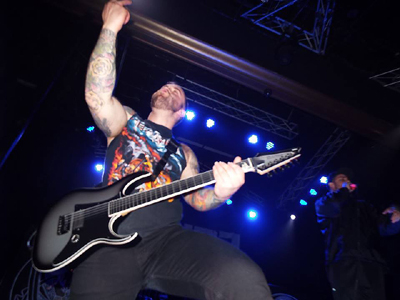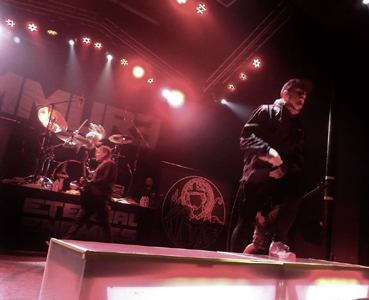 Keeping your own style and maintaining it makes Emmure a contender to be around for a long time.
10/10
By OZZFestAmy
Click here to check out 'Emmure Merch'
Now as bonus photographs to the review, here's Frankie @ Loaded Bar on the Toxic Tuesday night that has been so fondly mentioned in the review plus shots of him at The Annual Golden Gods Awards this year @ Club Nokia being interviewed on the Black Carpet by the Legendary 'Twisted Sister' Frontman, Dee Snider that were also taken by OZZFestAmy!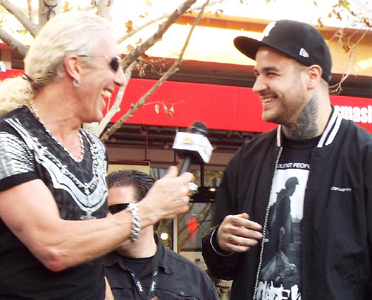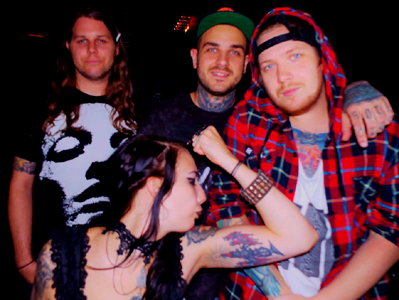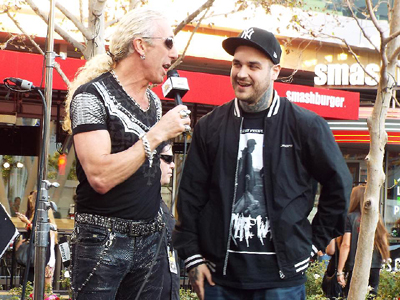 Epica - Corporation, Sheffield, Wednesday, 12th December, 2012
Set List: Monopoly On Truth/Sensorium/Unleashed/Martyr Of The Free World/Serenade Of Self-Destruction/The Obsessive Devotion/Quietus/Cry For The Moon/Drum Solo/The Phantom Agony.
Encore: Santa Terra/Storm The Sorrow/Consign To Oblivion.
Well let's face it, when it's 12/12/12 aka International Soundcheck day then it's a no-brainer that you need to go to a gig. Tonight it's the turn of Epica from the Netherlands who have recently done a tour of the USA.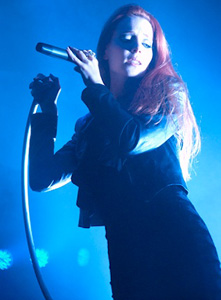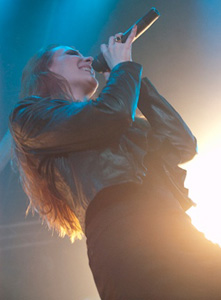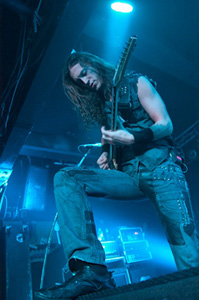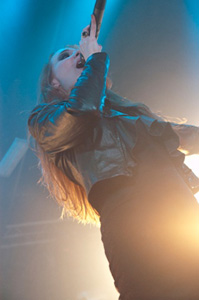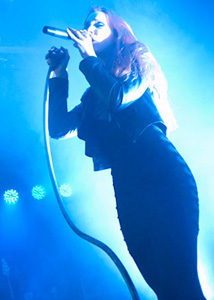 They are one of those female fronted metal bands that from the outset remind me of the likes of Lacuna Coil, Within Temptation & Leaves Eyes etc - you get the jist. The band starts up after a rather long intro - seems like a good 2 mins or so - way too long for my liking to be honest with ya - just get on with the show! The guys in the band hit the stage first with a load of cheering from the hardcore in here tonight with a luscious long ginger haired lady following who goes by the name of Simone Simons. What struck me straight away was the fact that although she looked incredible, you could hardly tell a word she was singing at all - not because of the accent, but it was really intelligible with only the odd word coming out - not to mention some of the phrasing sounding out of tune with a mass of clashing notes to the music.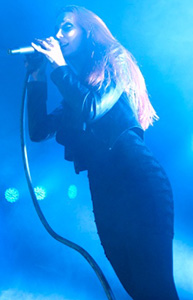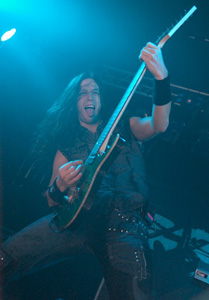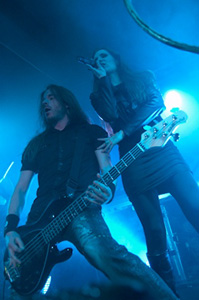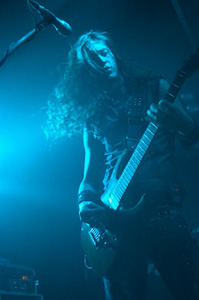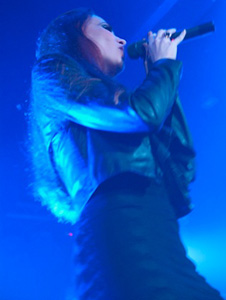 Songwise, this bunch were so hardgoing indeed and I could not see a winning formula to their arrangements at all - it seemed way to abstract to work and didn't fuse together very well either, going from symphonic orchestral sounds to over the top quirky sounding thrash which was further ruined by obliterating and very annoying cookie monster vocals from Mark Jansen that again were just a noise and utterly unclear what this guitarist was ranting on about. If they stuck to placing a decent song together rather than ruining what could be an epic then I wouldn't mind but instead it was a tedious furor of turgid tunes that went on far too long and left you wanting a one way ticket to Switzerland the majority of the time. At one point they did an amazing folky like number but then killed it by going into the cooky monster routine and those same old boring thrash riffs.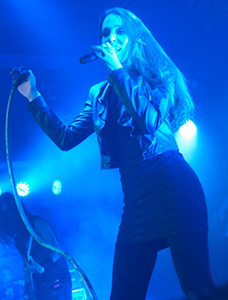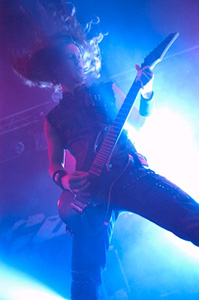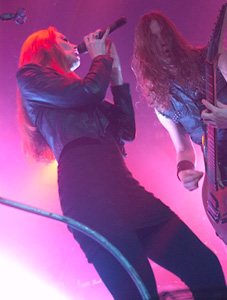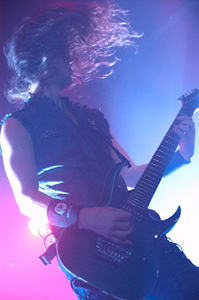 Unlike a cool *ss band for example, Evil Scarecrow who take the p*ss of their spinal-tapness, Epica come across way too serious to the point of it being totally pretentious and a dated joke that was never fun to take in, in the 1st place and even make you laugh out loud at the Neandertholic sterness in the way that Mr. Jansen announces some of the songs. Don't get me wrong, they are excellent musicians but I feel they are selling themselves short. If they dropped the grunting and concentrated more on real singing and less about wailing to dolphins that desperately need autotune at various points in the evening then they'd be one hell of an entertaining band - look at the likes of Amy Lee as an excellent example and that band she fronts that also starts with an E - nuff said - point made I think.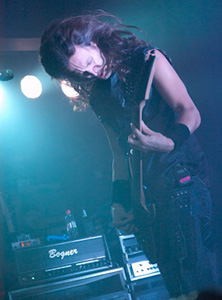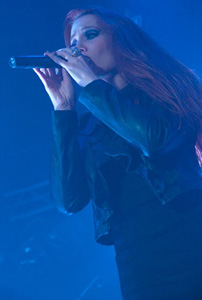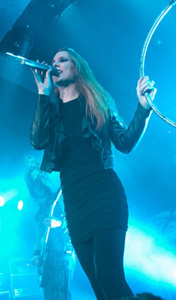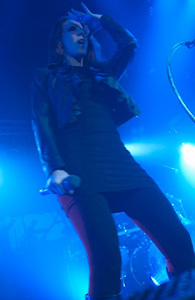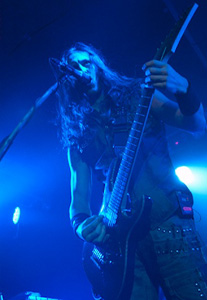 The overall mix of the band is very impressive and the lighting is too and so much work has gone into the colour atmospherics and one of the best I've seen. Just a pity I can't say the same about the band who were getting this treatment. Many of the folks in here seemed to love them and personally I was utterly baffled why? Am I missing something? Are they listening to different music or what? Saying this though I did talk to a small handful of people who said they expected them to be better than this and were very disappointed by what they heard from Epica tonight.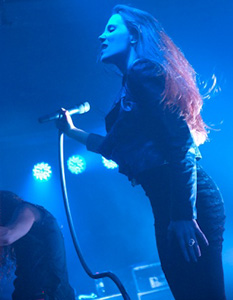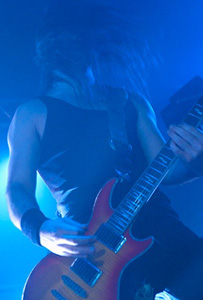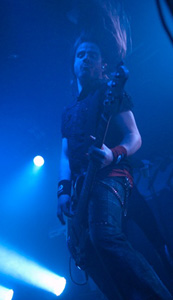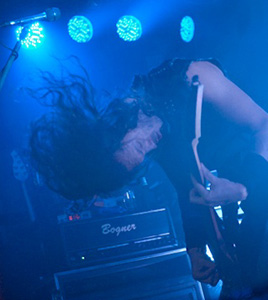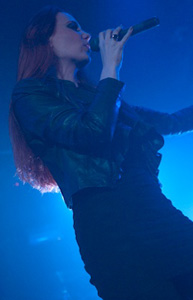 Sadly this was far from epic!
5/10
Review By Glenn Milligan
Pictures by Stephen Oxley of Northern Pics
Evile/Wolf - Corporation, Sheffield, Wednesday October 24th, 2012
Set List: Make Friends With Your Nightmares/Hail Caesar/Full Moon Posession/Voodoo/Steelwinged Savage Reaper/Skull Crusher/Evil Star/The Bite/K-141 Kursk/Genocide/Venom/Speed On.
Now this was great to see that this gig was in the big room - well the headliners had played the venue 4 times over the last few years so had built up the Sheffield following bit by bit. After missing out on openers, Septic Fertility, it was made sure to get to see the Canine Metal Beasts who go by the name of Wolf.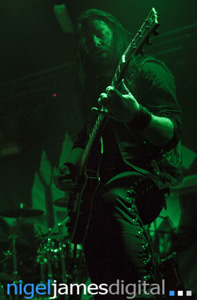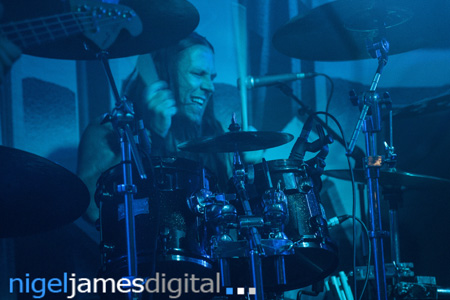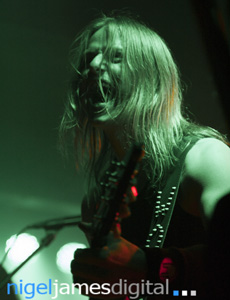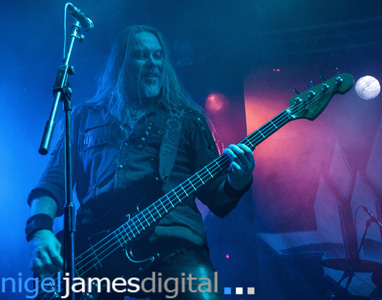 These Swedes wear it on their collar and then some with full-on retro sounds that simply remind you of UK icons like Judas Priest, Saxon and Iron Maiden at times set to serious mode from beginning to end. Very horns in the air and humourous at times to say the least. You just can't take songs serious that have titles like 'Skull Crusher'; 'Full Moon Posession' and 'Voodoo', the latter of which they have us singing to them to see if we are louder than Moscow and Manchester - debatable really - lol.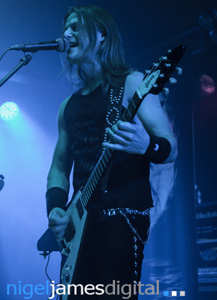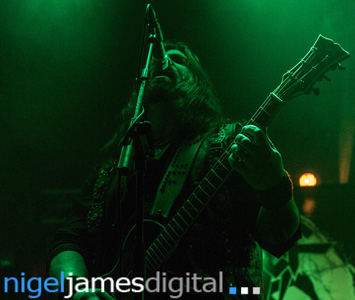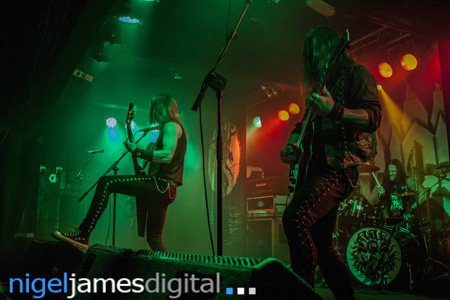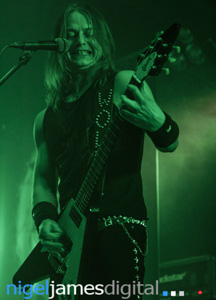 It was hard to work out what was being sung on occasions since their vocalist, Niklas Stalvind was high-ended with an accent and therefore got lost in the mix at times but didn't seem to deter from the enjoyment from the hardcore following in here tonight. It was nothing new - simply old school British metal done by younger guys from another part of Europe but performed well all the same.
Set List: Hundred Wrathful Deities/Enter The Grave/Cult/In Dreams Of Terror/Centurion/Man Against Machine/Metamorphosis/In Memoriam/Thrasher/Eternal Empire/Five Serpent's Teeth/Infected Nation/Schizophrenia.
After a dark atmospheric official entrance, since they set up their own gear too, they gave way to a full on thrash assault without much let up at all. If like me, you've never seen them before, they are Yorkshire's equivalent of Slayer as some numbers are reminiscent of material you'd find on albums like 'Hell Awaits' of 'South Of Heaven'. They hail from Huddersfield and it out Evile have been pumping out this bolstering, blasting gargantuan noise for the last 10 years that the folk in here go mental over.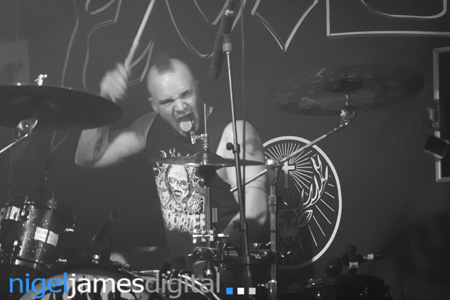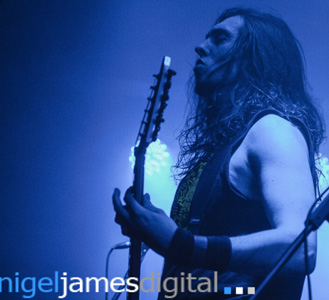 There's fists in the air, moshing up front and a lot of hair and heads being thrown throughout. Although the shouty vocals of Matt Drake (who also plays rhythm guitar) didn't do loads for me after the 1st 20 minutes or so, they are so good at their craft that I gotta credit them even though I personally find them at times very unmusical and more concerned about being harsh, loud and extremely brash in their style that being a joy to the ears. Some superb drumming there from Ben Carter and screaming guitar solos Ol Drake, not to mention the bottomless pit bass work of Joel Graham. In fact they don't seem to wanna leave the stage at curfew time for some club night that's gonna take place after.
7/10
Review By Glenn Milligan
Evil Scarecrow - Corporation, Sheffield, Saturday 13th October, 2012
Main Set: War & Seek/Vampire Trousers/Sixy Six Minutes Past Six/Thundercats/Morbid Lunch/Book Of Doom/Ashes/Blacken The Everything/Robototron.
Encore: The Final Countdown.
After seeing what this group of wackos were called and checking their website and youtube clips they were mostdefinately a band where there was nothing not to like. Theatrics galore ncluding stage props, costumes and face paint made them an irresistable band to behold on a cold October's Saturday night.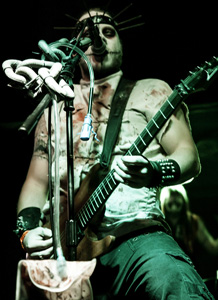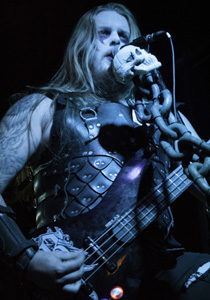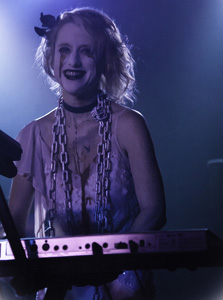 Metal meastro, nutters from Nottingham is a great way to sum up the band that was witnessed in the small room in the Corp which was well rammed to near full capacity. Musically it was like a mix of Thrash, Black and Old School Heavy Metal that they call 'Parody Metal' with plenty of solid musicianship, solo shredding, big gothic organ playing and knockout drumming with high screeching and low deep throaty vocals - oh and some normal styled singing as well just for kicks. Kinda like Cradle Of Filth meets Spinal Tap - you get the picture I hope? Very entertaining to say the least with all five members really getting into the groove and hamming it up like their lives depended on it with the members even shaking hands and high-fiving the crowd.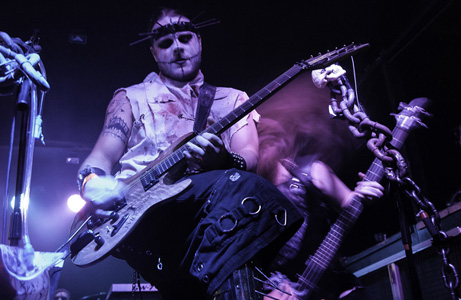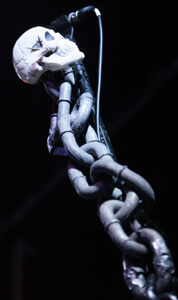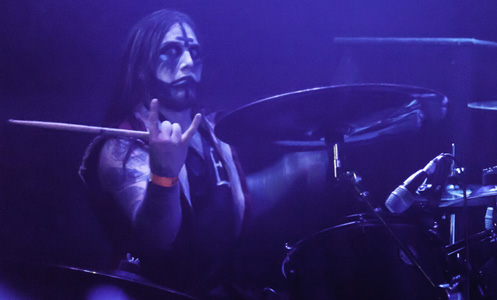 What was really cool was the fact that they got the audience involved a lot especially their frontman, Dr. Rabid Hell, who had us long hairs standing in a line and emoing our hair to one side for the long epic miserable ballad that is 'Blacken The Everything'; getting us to stick our horns in their air for songs like the humourously titled 'Vampire Trousers' and 'Sixty Six Minutes Past Six' as well as having us go wild for 'Thundercats' that's so good you can hear it through your nose.HA-HA - What they like? Is this craziness or pure genious or basically a touch of both? The verdict is out there somewhere in the cacophonic cosmos.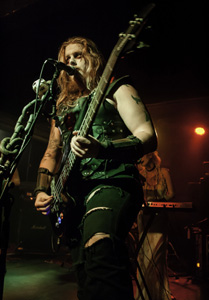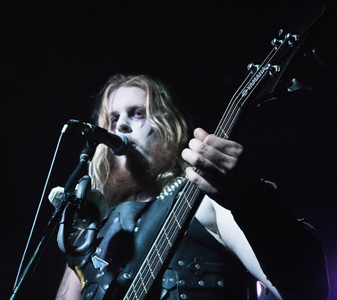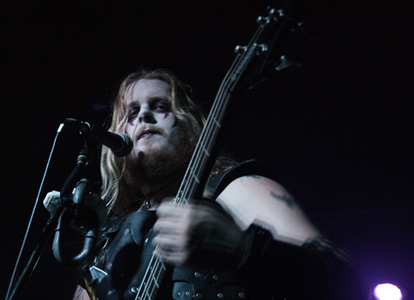 They had some killer moves on stage too with them all dancing in some druid-like looniness and their female keyboardist, Princess Luxury lunging and bopping down after loud blasts from some major key-fingering. And what about the mini solos (and I do mean mini - a few seconds at least) that were brought to us by a set of numbered pieces of cardboard held up by drummer Ringmaster Monty Blitzfist, who banged them over the heads after their short peices had been played.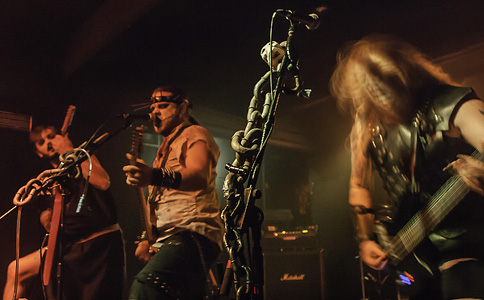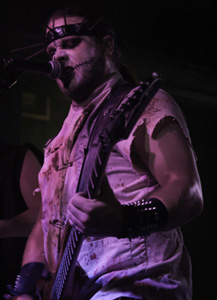 'Book Of Doom' was a brand new number for us, read from the paraphet/alter, thanks to a stagehand, sorry I mean female cloaked druid bringing it on. This had a wacky cockney market false introduction before a reading from 'Book Of Doom' itself from the Brother in a wild screaming growling style - hilarious stuff. I was half expecting that the bag of blood was gonna be used ans spewed all over the front row like what usually takes places at a Gwar gig but thankfully nothing of the sort happened - though it would be Rock 'N' Roll all the same - lol.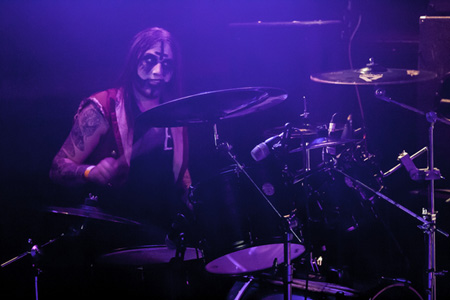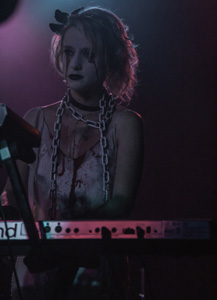 Towards the end of the main set their, Brother Dimitri Pain, dressed like a monk funnily enough decided to leap into the crowd as a leap of faith and surfed towards the back of the room - I even ended up with his legs on my shoulders and moving him on and above as no doubt others did too - all in best possible taste. As was the spastic face (oh you can't say that word anymore - oh well - we break the rules in rock don't we?) pulled by Bassist, Kraven Morrdeth at the mention of folks being in-bred which went down e-special-ly well - think about it!!!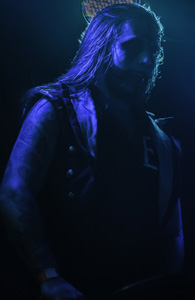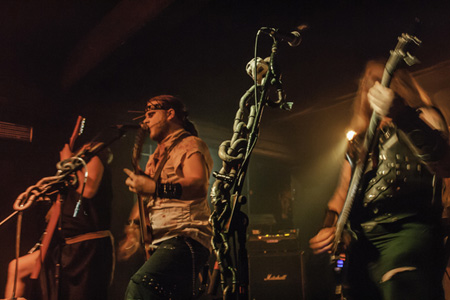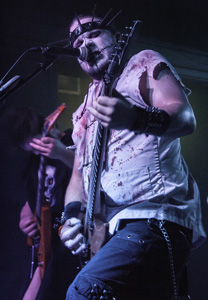 The last number of the main set (that we all booed at the fact of including the frontman himself - "It had gone so quick", Rabid said) was 'Robototron' which involved a ton of audience participation too where we were all invited to robot box moves just like in the video - especially in the chorus of the song. Brilliant - we were the normal ones who were doing these actions - the rest of you were the stupid ones - that's you lot, fringes - lmao. They wanted to play more numbers for us at least 10 but we had to settle for the one encore track. This was where they wanted to put their pyschotic experiment to the test and see if which venue could get the longest can-can going continuing with how they wanted to see who could get to the end of the song. The 'crow wanted to see who could hold the record, not that it meant very much as it was only a record set by them. We were told that hopefully the can-can would be better than the one done in Leeds (who currently held the record) - needless to say a mass of boos sparked up at the very mention of City.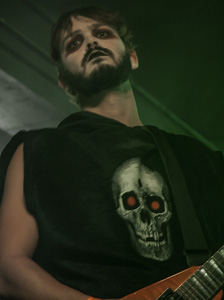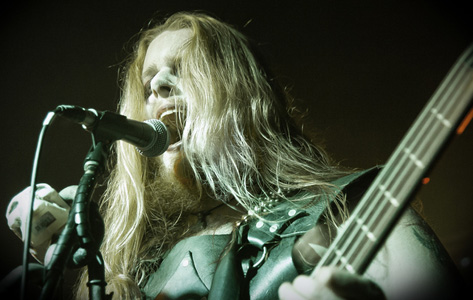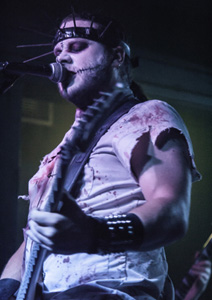 The track in question that was can-canned too was an exceptional and murderous obliteration of 'The Final Countdown' by everyone's favourite Swedes 'Europe' that was claimed they gave to them and took it back or words to that effect. We headed to Venus or in this case, P*n*s with a right whopper of a shlong drawn on the leg of Brother Dimitri Pain's next to his under pants and revealed at the appropriate moment - classic - so wrong it was right - if that makes any sense - hah! Afterwards we were congratulated on our effort and also on what a great audience we were with a magnificient bow at the end of the gig.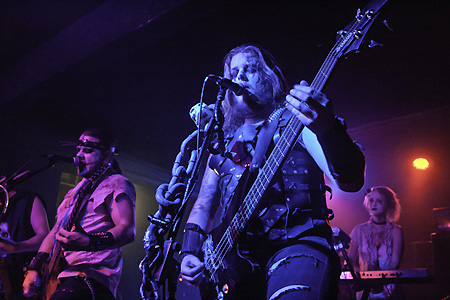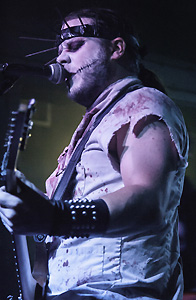 To sum it up simply, this was an hour of fun and frolics from one hell of great gang who are only based about 40 miles down the road.
10/10
Review By Glenn Milligan
Pictures By Nigel James
Electric Boys - O2 Academy 2, Sheffield, Tuesday, 11th October, 2011
Set List: March Of The Spirits Intro/Psychedelic Eyes/Groovus Maximus/Father Popcorn/Zappa/Electrified/Mary In The Mystery World/The House Is Rockin'/Knee Deep In You/Rags To Riches/Angel In An Armoured Suit/Captain Of My Soul/All Lips 'N Hips.
A band who mates of mine used to go on about in the late 80's that I discovered by hearing in rock clubs and on MTV when actually played reputable music - them were the days - unlike now!!! The nearest I ever got to seeing these guys was seeing their Frontman/Guitarist Conny Bloom and Bassist, Andy Christell in the last lineup of Hanoi Rocks in 2008 but now they've reformed with 1 other original member, Slim Martin on Guitar and new drummer Niclas Sigevall completing the line-up.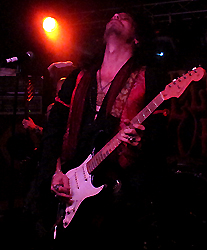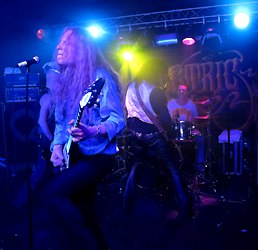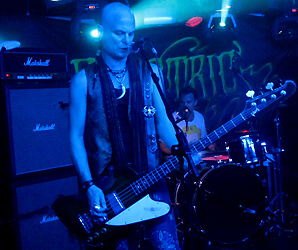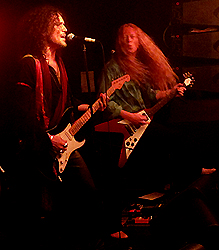 So at last I get to see the real thing along with a small handful of about 40 people who could be bothered to drag themselves out of the house on a Tuesday night. The fired up quartet treat it like it's an arena support slot or festival gig. Starting off with the exceptional funky rockness of 'Psychedelic Eyes' they impress immediately and even kick butt with some Zappa tributing - proving how good these guys still are.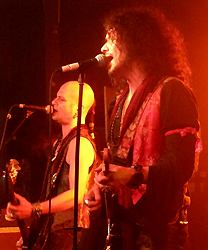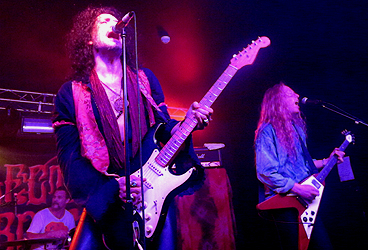 There was plenty of funky bluesy and dare I say it, hair metal from the get go with the delightful small but lively crowd loving the entire set that included monumental tracks from their debut album, "Funkonmetalcarpet Ride' to cuts from their latest release, 'And Them Boys Done Swang'. The stand-out 'Rags To Riches' saw Conny having us singing with him and on our own in killer accapella with peeps being so enthusiastic they carry on without being enticed or asked at all.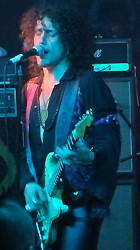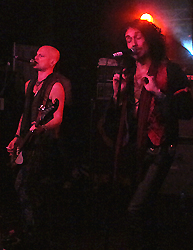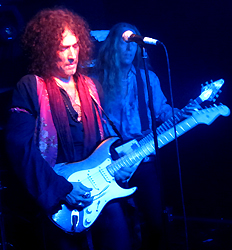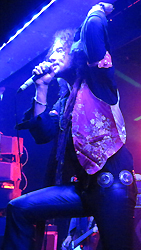 Conny is mighty impressed and says, "I love you guys", to us all and we love the band too. There is indeed such warmth in the room tonight despite the small amount of fans in here who go wild to songs like the funkified classic 'Electrifed' and that obligatory anthem of theirs that is 'All Lips N' Hips' that closes the nights proceedings that gets everyone singing accapella for a mighty fine long time - man this was a joyous occasion.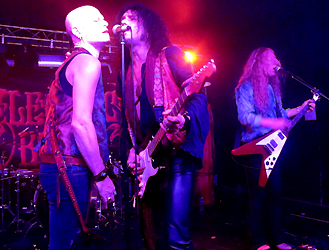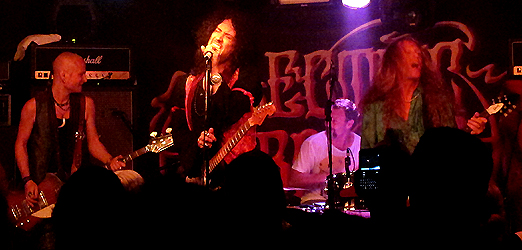 Next time bring your friends as everyone went home fully overjoyed with a smile on their face.
10/10
By Glenn Milligan
Ade Edmondson & The Bad Shepherds -
The Boardwalk, Sheffield, Friday 8th October, 2010
Well this is one of them gigs that I was really looking forward to and excited about - it's not everyday that you see a member of The Young Ones or Bottom at one of your favourite venues is it? Anyways, that's just what happened tonight. Ade's trio play punk songs acoustically in a folk style and at times they are so re-arranged that you don't even recognise what they are unless you really study the lyrics.
When Ade hits the stage it's mass applause when he addresses the sold out 400 capacity crowd and makes a joke about Sheffield being the City that was used as a film for the holocaust - wrong - it was 'Threads' and that was about Nuclear War Pre, Post and Aftermath - oh well -let him off for that. They open up with 'Anarchy In The UK' that is so gently done that even granny wouldn't take offence to - lol and go inot an array of other numbers by the likes of The Clash ('Heroes' & 'London Calling'); 'Up The Junction' (Squeeze); 'Once In A Lifetime' (Talking Heads) & 'The Model' (Kraftwerk).
After 3 or 4 songs though, the novelty wears off and it just appears that it's simply a going through the motions, no emotion, soulless cash-in gig as there's not of that great humour at all from the man who laughed us to tears with Vivian B*st*rd & Eddie which was extremely dissapointing to say the least. I heard their previous Sheffield visit was an absolute party and had people in hysterics with the banter in between the numbers - pity I wasn't at that one.
Ade ain't got the greatest voice and appears to talk through some of the songs just about whereas the other two guys are the true musicians of the band who give us some utterly incredible cittern, pipe, whistle (Troy Donockley) and fiddle playing (Andy Dinan), while Ade strums away on a mandolin and has a completely uninterested bland expression through the majority of the gig. In fact, some people are so disappointed with the show that they leave before it's finished - in their eyes it was. If he had given people their £15 or £18 worth then it would been a different story but it sadly wasn't to be.
That aside, they nearly saved the show with excellent arrangements of 'I Wanna Sniff Some Glue/Blitzkrieg Bop' by The Ramones and some amazing traditional reel jig stuff that they piped out in the encore. Some people loved it but I think it was due to to the fact that they were seeing Ade up there and simply ignored the fact that he wasn't giving them much back in return - he could have sang nursery rhymes and they'd still have cheered for more.
The show needed to have more personality and a big helping of humour as I have had a better night watching cover bands in a local pub. Bring something like Vivian and Eddie to the stage as a cricket bat or saucepan flying over the stage would have been great (ok - maybe I am going a bit ott there - lol) because this was really an unfortunate anti-climax of a show. I really wanted to be blown away by the gig but would have rather blown it up to be honest and I really hate to have to say that as well.
Quite simply, put the humour back into the show or better still ressurrect the brilliant 'Bad News' and bring them to the Boardwalk.
5/10
Review By Glenn Milligan
Pix By Bernard Froggatt

Elliot Minor/Hitomi/Volume Zero - Corporation, Sheffield 14th July 2010
It was a packed crowd in the small room for the 4 band members of Volume Zero who came on at quarter to eight. As they played their first song I knew it wasn't going to be great since the frontgirls microphone was screeching when she sang which put me off a lot. The drumming was louder than everything else, the guitars were too quiet and the vocals were not to be heard, which put a downer on the band. They played songs from old e.p's and forthcoming numbers as well.
They tried getting the crowd moving ready for Hitomi and Elliot Minor but failed, except for these three guys from Birmingham that wouldn't shut up whistling and cheering all the way through Volume Zero, that at the end I really wasn't sure what I had just heard from the stage. During the set list I'm sure the singer just looked lost as she just pasted up and down the stage while the guitarist and bassist stood still jamming. The audio was terrible that made it difficult to tell whether I enjoyed them or not.
Tonight, I was mostly looking forward to seeing Hitomi, as I saw them last whilst supporting Glamour Of The Kill. I didn't have to wait long for them, who yet again put on an excellent performance. They played songs which were recognised from they're last performance at Corporation, but what was a hit that night was cover of Lady Gaga's 'Just Dance', which had everyone and I mean everyone going, not to mention moving and singing. The audio was much better and loud, which was my kind of liking. The crowd seemed to have got into them and more excited about Hitomi who seemed to know how to get the crowd going, which was great as everyone was having a good time. They ended up playing for forty minutes and to be honest it was just pure amazing as they were enthusiastic and getting into it so much and looking back on it was the best band performance of the night
Elliot Minor came on at ten past nine where everyone screamed so loud with a bigger crowed. They put on an ok performance, managed to get the crowd going mental, like there was no tomorrow. Personally, I was getting quite bored though as they sounded the same all through the show. The audio was ok the drums were loud but everything else was good, after a while we'd just had enough leaving before the end of the set – although other people seemed to enjoy it.
6/10
By Kayleigh Watson

David 'Honeyboy' Edwards – The Boardwalk, Wednesday 30th September, 2009
It's not often you come head to head with an absolute legend of legends but tonight just happened to be one of those occasions. The 95 year old bluesman who has played with and hung out with many that include Robert Johnson, Pinetop Perkins, Muddy Waters, Sonnyboy Williamson and Keith Richards amongst many others played one of my favourite venues in Sheffield for the 2nd time running.
Alongside two guys who accompanied him on harmonica (Michael Frank, president of Earwig Music) and guitar (if only I could remember his name) for well over an hour and twenty minutes totally mesmerising the near on ¾ full house. The appreciation for his performances and his presence were so warm as well from the ecstatic audience who got a variety of his songs.
The set list included the classic 'Sweet Home Chicago' early on in the set – yes he wrote it!! Other highlights include a song dedicated to his old late buddy, Magic Slim and a number that reminded me of 'Little Red Rooster' with Honeyboy's name in it.
Polishing the gig off with an old rock 'n' roll number, the peeps tonight were overjoyed by what they had seen and heard and even got the chance to meet him, have a photo and an autograph and buy a cd or 2. Hope he manages to get over to the UK again in the not too distant future.
A night that I'll remember for years to come – what a great guy. Long Live David 'Honeyboy' Edwards - one of the last true great masters of the blues.
10/10
Review By Glenn Milligan
Photos by Bernard Froggatt
Electric Six - O2 Academy Sheffield, Monday, 9th March, 2009
Remember Electric Six? The stars of "Gay Bar", "High Voltage" and other such great hits??? Well, it turns out they're promoting a new album 'Flashy, which actually quite good. Calling the tour "Hittin' The Walls and Workin' The Middle", with support on all dates from Tragedy, a Bee Gees metal tribute band. Yes, you read that right. Sounds like a good night out to me, NOT! If you are familiar with Electric Six, you know exactly what you are going to get, and I don't mean any of that Gay sh*t on stage.
Electric Six played in a small back room of the O2 Academy with around 300 people; well shall I say school and college kids, who dressed up in fluorescent gear that was more dazzling than the band themselves.
It was obvious that the kids there were only there for 'Gay Bar' and 'High Voltage', these kids didn't know anything else. Although the band played reasonably well, they became very boring to watch, I think this may have been down to the lack of movement on the stage (if you could call it a stage), which I believe restricted the whole bands performance.
The new tracks and old tracks came across well but did lack enthusiasm and passion.
A bigger stage may produce a better show?
5/10
By Tony Watson

Electric Six/Tragedy – O2 Academy, Sheffield, 9th March, 2009
It's the 2nd time out this week for me at this venue, as was previously here last night for Hot Leg. The room is as packed as that was as well – spilling out over the sticky dance floor area on to sticky carpet on the outside of it. It's rather a different audience tonight though – mainly male aged about 18-25 with a handful of girls as well – hardly a Rocker or Metal-Head in sight – much to our dismay and seemed more like a young students get-together than a concert.
Up first were some local act from Doncaster that I didn't catch the nam of who played really annoying droning emo-ish indie stuff with irritating keyboard sounds that was like Rick Wakeman on bad acid or something– some liked 'em. They seemed to have one main fan who appeared to be one of their mates anyway.
I was completely baffled why the headliners were touring with a tribute as their main support but it turned out that they were label mates of Electric Six. Tragedy are a Heavy Metal Bee Gees Tribute who play the main disco songs from the band and warm up the audience into a crazy frenzy.
This is as camp as it gets and in no way shape or form could be taken one bit serious – not that it's meant to be of course. They performed numbers like 'Dancing'; 'Night Fever'; 'Midnight in Broadway' that featured Quiot Riot's 'Bang Your Head' much to my personal delight.
All the band handled vocal duties – well you need to – as the Bee Gees had so much going on. Excellent playing as well but I'd like to see what these guys and girls could do with regard original material – until then, thrash out to the Gibbs of Metal! Very cringey for the Metal lovers but it worked for the audience in here tonight who thrashed around like maniacs – like to see how long they'd last in a Slayer mosh-pit!
After checking out the new album 'Flashy' I kind of had an idea of what to expect from 'Electric Six' – a sorta debauched indie-pop-rock-electro phenomenon – if that makes any sense to you – hopefully it might. Since their incarnation, only frontman, Dicky Valentine remains not that it bothers him one bit who comes onstage with Red Capey outfit with the title of the new album on it – good promo man!
They received an immense reception from their fans when they came on stage and they were entertained in the wacky musical way that only the 'Six know how to do. Dick had a few jackets on that he took off bit by bit – man, he must have been roasted. The set included old faves such as 'Lenny Kravitz' and of course 'Danger Danger High Voltage' that set the place on fire – sadly no woman on stage with flashing boobs or lighting up codpieces and hamsters – lol.
Best song of all in the set was 'Gay Bar' that myself and Tony got the impression was the one that most came to hear that closely followed by the sequel from the new album, simply entitled 'Gay Bar Part 2' – the former number getting the most reception from the fans here tonight.
Dick claimed that their drummer came from Sheffield and it was a homecoming for him who went by the name of Michael Alonso, if me old noggin serves me correctly and him take over the show at times with a drum solo or two.
Dick also informed us he wanted to set up his own college here because it was his fave town in the UK – it's a City mate !! As well as mentioning Sheffield numerous times to get big cheers from the crowd, saying that he loved Def Leppard, Pulp, ABC and Hogg Boy but he wasn't fussed about Artic Monkeys – well I can't stand them either funnily enough – haha – so Dick got my vote on that.
Ok, so musically they weren't exactly my cuppa tea but they definitely appeared to be for the crazy kids in here tonight. I reckon that the fans would have given them a good 8 but we give them around 6/10 tops as we've seen a lot better performances in general with regard to song quality and interest attention span.
So on this rare occasion it's very much a split vote between us and their fans.
By Glenn Milligan

EXODUS/Evile/Gamma Bomb –
Corporation, Sheffield, Saturday 12th April, 2008
To say that I was heartbroken when I had to sacrifice Exodus's headlining slot at the Bonded By Metal fest here four and half years back in order to catch the last bus is a mere understatement. So my reaction to seeing adverts for this miracle reappearance by the Bay area legends pinned up round my favourite rock n' roll nightclub could be left to the imagination.
Bringing two promising new British acts on tour hasn't exactly transpired that bad an idea itself even if Evile and Gamma Bomb look at some stages during their sets like winning more attention than their American chums. Northern Ireland's Gamma Bomb have a name that will get a certain German power metal act I might mention coming over for a 'vord vith ze boys' but that said, don't sound far removed from Kai Hansen et al's twin guitar assault, and of the punters making noise only a mere fraction are actually their family and friends.
Evile are, bless 'em from t'county o'Yorkshire and hell do they go down a storm. Their debut album has been whipped up like the proverbial bakery product cooked at very high temperature, and for once we have a support band whose songs I already know the words to. Sadly only allowing for five numbers, 'First Blood', 'Thrasher', the pulverising epic 'We Who Are About To Die' and 'Bathe in Blood' all fall amongst the favourites.
Closer 'Enter The Grave' goes down a treat in particular as do the performances by some lad aged about fourteen who guests on rhythm guitar, allowing frontman Mat to detatch his mike from its stand and indulge in some good ol' eighties thrash vocalist stage poses for a few minutes. A decent Tom Araya-esque range emanating from this geezer's pipes pushes this band's future potential even further up the slope and given the ferocity and by-the-book bludgeon this well touted young act deal in, we'll be hearing a second album pretty soon.
Time for the 'E'-men themselves to stake centre stage, the speculation as to who is in the line-up - for those with access to the internet - is duly revealed although most are aware that they have a new singer on board. Looking like an overweight Ripper Owens or some bloke who just got kicked out of Crowbar, their current vocalist obviously has had a ball so far with these boys but that says less than it does for the three hundred with the confines of the Corp this evening.
With a new album –yes, they're still banging them out – to promote, these lads are still no idiots in registering the preferred choice of catalogue to dominate their live set list, hence nearly three quarters of 'Bonded By Blood' being included. Moshpits are still a hardy machine, that said, so later tunes like 'Death Amphetamine' and newie 'Shovel Headed Killing Machine' and a good two or three classics off 'Fabulous Disaster' still seem akin to that ordered by the doctor.
I couldn't think of a better way to warm people up for the vintage onslaught of 'Lesson In Violence', 'Piranha', 'Metal Command', 'And Then There Were one', and 'Strike Of the Beast'. The new chap's throat is as far removed from messrs Balloff (RIP) and Souza as it gets but our admiration of the latter's likeness to a young James Hetfield is recognised by a brief cover of 'Motorbreath' (remember someone ELSE who was once in the Exodus ranks, folks?) . Sandwiching said classic come the other two that no Exodus set list can ever (almost legally speaking) be played without but this time of night, a room full of sweat-drenched metalheads, be their age 19 or 36, only see the title track from the their classic debut as a generous appetite wetter for the inevitable finale.
The immortal anthem of many a metal club dancefloor worldwide, 'Toxic Waltz''s opening chords are attack and anyone who'd rather watch a gig standing still with arms folded and beer in hand is provided with a strong incentive to retire swiftly to the back of the room for the following five minutes. Quite why they don't have the chorus again at the end of the song is still something I've never got around but it's just as well - we are all a little bit cream-cracked after the preceding hour-and-half.
A show worth waiting nearly another half-decade for, Exodus obviously were aware someone had missed out last time they'd visited Blighty but those to didn't show up this time missed out six-fold with the blinding support sets that Evile and Gamma Bomb treated us to (hope to see you guys back as headliners before long) .
A beautiful night for metal.
9.5/10
By Dave Attrill
Curtis Eller -
The Washington, Sheffield, Wednesday April 5th, 2006
A small pub for a small guy and his lonesome bango but what a packed audience it was here tonight - like it was last October - the 20th, to be exact.
Curtis Eller is an essential piece of Vaudevillian, original & authentic entertainment who is around in this painfully negative world today. He has the old fashioned elements of the silent movies in both looks and style (even having a song dedicated to one of his heroes 'Buster Keaton'). The humour is kinda unique as well - imagine quirky Woody Allen silliness with words and songs vibed up in a musical mesh that has elements of Ronnie Lane, John D. Loudermilk, Bob Dylan, Pete Seeger and Loudon Wainwright III.
I have never seen anyone command a crowd quite like Curtis - he enlightens all present in the pub with his dearful & tearful ditties such as 'Sugar in my coffin'; the 12-bar Cajun/Lane like 'Hide that Scar' and other songs about such subjects as Abraham Lincoln, Cocaine, Charlie the Chimp, Coney Island (which as he explained is fast dissappearing - so see it while you can - before they put a shopping mall on it), Pigeon Racing (complete with coo's that he invites us to do), Serpents & Performing Elephants.
He plays and sings away throughout his set not to mention, performing high kicks without missing a note or beat, jumping around on his stool, wandering around the audience and asking us if he want a sad song or a happy song or if we wants him to swear during his songs - now not many would do that would they? He has built a decent cult fanbase in the UK over the last half a decade or so and comes back to see us at least twice a year.
Curtis is such a friendly guy with an honest approach and I urge you to go see him wherever he happens to be playing, buy his cd's and one of his homemade pressed t-shirts too. He's a living legend, a New York City hero who is loved wherever he plugs in that bango and gives us a good old tune and a few yodels too - he will even get you singing along with him to that old standard 'The Red, Red Robin' and not many would manage that in this day and age.
Curtis Eller is quite simply brilliant.
10/10
By Glenn Milligan
ENUFF Z'NUFF + Crash Kelly + Drugdealer Cheerleader + Deadline -
Sheffield Corporation, Saturday November 22nd
Not the first time I've seen Enuff Z'nuff twice in the same year though this time the two occasions are six months separated rather than six days. And as at the LA Guns show in April, Donnie Vie is again absent - has he actually left the band or what? - leaving lead guitarist Monaco as their new frontman.
Having three support acts does its bit to compensate for the brevity of their set but even then Rotherham AOR sensations Deadline should have qualified for more than 20 minutes of set space. With singer Steve also now wielding a guitar on one of the numbers and the new material aired tonight impressing like the older material, from the off, the only let-down tonight is the non-inclusion of 'Love's a Battle' and that their talent seems wasted on the 10-15 so far inside the building at this time.
Following Deadline onstage is another British act. Londoners, Drugdealer Cheerleader certainly make an impression for a band no one has heard of before and their formulaic but likeable sleaze metal makes them some friends tonight, their Keith Chegwin look-a-like frontman inviting an interesting bit of crowd participation along the way.
Canadians Crash Kelly were only here two months earlier with the Quireboys and I can't help but wonder if their return is a tad demand-related. Though a four-man act tonight - the missing one of their three guitarists plays in Honeymoon Suite singer Johnny Dee's solo backing band, so that's a possible reason - they pull off a short but sweet set of cock n' roll proportions. If you still think you recognised that bassist of theirs but couldn't quite put a finger on whence from he came, he's the guitarist from fellow Canuck newcomers Robin Black & The Intergalactic Rockstars, who also came over in a with Zodiac Mindwarp (review on that gig soon). A busy time for all things Canadian and glammy.
Finally after two an a half hours, Enuff Z-Nuff arrive and simply pick up [their instruments and get on with it, delivering a set of classics culled from their whole catalogue, including new, and all of the ninety-odd crammed inside the matchbox-sized Room 1 lap it up with glee, singing along all the way. Owning only two of their albums myself doesn't help matters too much but I still manage to enjoy those less familiar selections, if not only to fit in. After fifty-five minutes, the Chicago boys are gone, an encore is yearned but never happens and everyone leaves, disappointed but at least they still played. One of Americas' best rock n'roll bands, Enuff Z'Nuff have made a lot of friends in the UK in their eighteen year existence but with sets lasting only this long I'm wondering how long they'll keep all of them.
8/10
By Dave Attrill
ENTOMBED & CATHEDRAL
- BRADFORD RIO'S, September 2001
As we arrived in Bradford Rio's car park at 6pm, we were greeted with one tour bus and a sound check that was blasting out of the side entrance, then a little man by the name of Bobo shook our hands and said 'I'll see you in a minute' to return and lead us onto the tour bus of Entombed. As we entered the bus we were kindly greeted by the members of Entombed as Bobo sorted out our passes for the gig, we sat talking to Jorgen and Peter who made us very welcomed.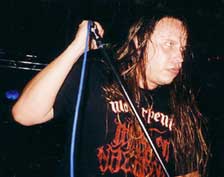 Entombed had arrived in Bradford the night before the gig as they had their previous gig cancelled due to a flooding. Peter was telling us that they spent the night in the night club where they all got wasted, they were all hung over tiered and slightly bored, the toll of touring was starting to get to them.
As we entered the dark dingy realms of the Rio's club, we stood back to watch an unknown band who played to about 50 people, I thought then either the people in Bradford aren't interested in watching backing bands or it's going to be a very quiet gig. As they left and Cathedral came on, there were still a lack of supporters - this was strange, it's Saturday night and where is everybody? The loyal supporters of Cathedral were shacking their heads and playing their air guitars in the middle of the hall to the slow hard hitting beat of this legendary band who churned out their favorite tracks to these select few supporters. The members of Entombed were also at the back of the hall watching, as Peter had told us earlier, 'I love watching Cathedral, they are one of my favourite bands'. Cathedral played for about 45 minutes and played really well as they tried so hard to get through to the brick wall, the problem was the crowed; they may as well have been manikins.
Then came on the infamous Entombed, with seeing them earlier and talking to them, I wondered if I had wasted my time, the energy in the tour bus wasn't their, but hold on what was this, Entombed exploded into action waking the dead with 'Chief Rebel Angel'. Had someone pumped them up with a bit of whiz, was these the same guys who hadn't got an ounce of energy between them? It sure was.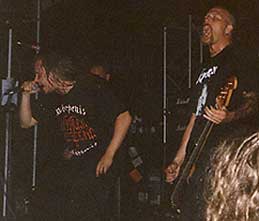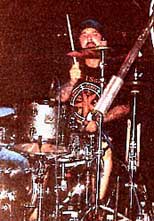 They ripped through tracks as if they were going out of fashion, with a selection of old classics and new material that got the avid fans kicking the sh*t out of each other. What started off being a slow boring start to a show, finished off with one of the best thrash metal acts showing Bradford why they are still going strong.
If it wasn't for such a small sh*t crowd who don't know how to enjoy themselves and an even poorer venue with the sound quality of a tin can this would have been an excellent gig.
Entombed and Cathedral both put on a good show for what seemed to be a hand full of people, what a shame.
7/10
By Tony Watson