Fuel/Wild Fire/The Collective –
Dixie Roadhouse, Cape Coral, Florida, US, Wednesday, 21st September, 2016
What better to do on a random Wednesday night than go to your local music venue? The opening band, The Collective, was the first taste of music for the crowd and with their diverse music, warmed the patrons nicely.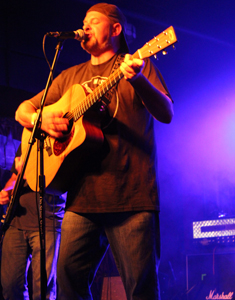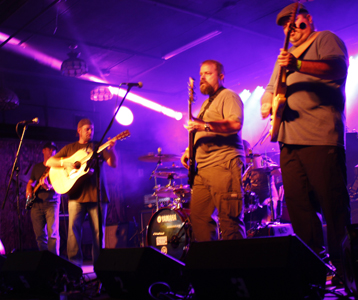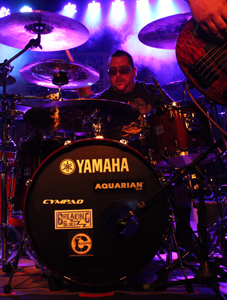 Original music created by everyone in the band...a 'collective effort' so to speak...encompassed with everything from Southern Rock to Blusey Singer/Songwriter, ah hell, just throw in some Grunge to the mix and there is something for everyone. A truly entertaining musical mix… their musical talent makes it seem easy.
6.5/10
Wild Fire was up next. These guys rock to their own beat and surprised some people with their heaviness. They put on a good show and kept the night rockin' and rolling forward until it was time to FUEL up...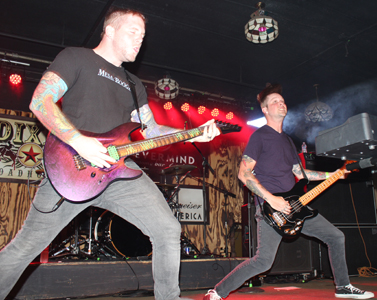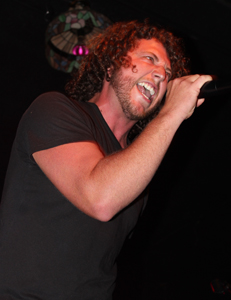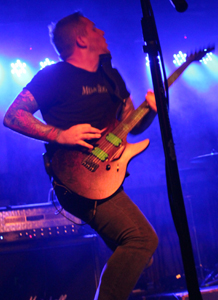 6.5/10
Fuel is a band that is in it for the music and have continued to rock on over the years just because they like to. The atmosphere was so awesome since it felt as though this totally rockin' band was just hanging out at a party and playing the music that they love, just for their friend's enjoyment.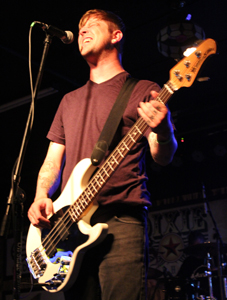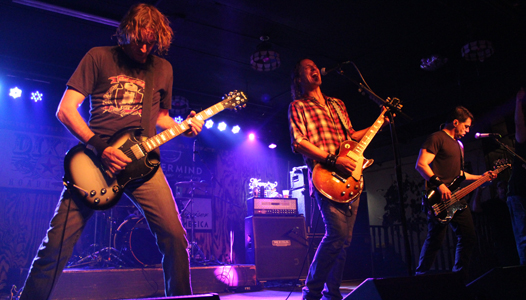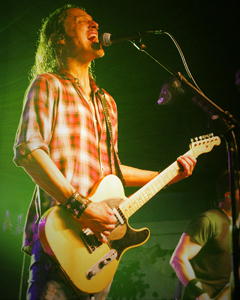 The music flowed easily from the talents of these guys. Frontman, Brett Scallions, the only original member left in the band, pours his heart and soul into every performance. With all time favorites such as 'Bad Day', 'Shimmer' not to mention ending the show with 'Hemorrhage (In My Hands)' it's little wonder that fans keep so loyal to Fuel.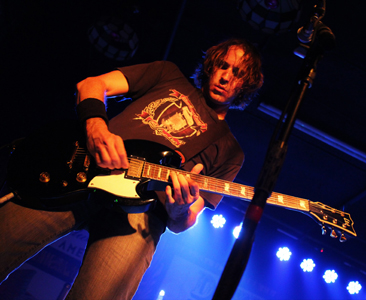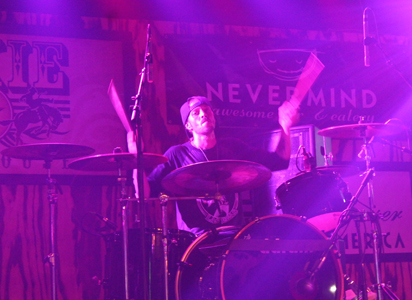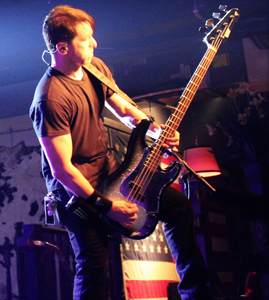 Truly entertaining and I was quite happy to go, hang out and listen to some awesome music on a random Wednesday night... Big thanks to Dixie Roadhouse and Nevermind Awesome Bar and Eatery for bringing the cool music to downtown Cape Coral, FL.
7/10
By Juliana Kenyon-Anderson
Ace Frehley – House Of Blues, Chicago, Illinois, USA, Friday 26th August 2016
Set List: Rip It Out/Toys/RocketRide/Parasite/LoveGun/Snowblind/Sister/Emerald/Bring It On Home/Rock Soldiers/Bass Solo/Strange Ways/New York Groove/2 Young 2 Die/Shock Me/Ace Frehley Guitar Solo/Cold Gin.
Encore: Detroit Rock City/Deuce.
The windy city of Chicago hosted the Ace Frehley band at its prominent House of Blues. On this August evening the venue filled up quickly with fans travelling from near and far to watch this larger than life guitarist and his band of exceptional musicians.
Frehley's current band has been his mainstay since Frehley's resurgence following his successful release, 'Space Invaders'. With long time guitarist and master showman, Richie Scarlet at his side, bassist, Chris Wyse and drummer, Scot Coogan holding down the rhythm section; his current line up has impressed both long time Frehley fans and those who attending a show out of curiosity. While the band rarely deviates from the current set list, they do gradually add something new, something old or something borrowed. By borrowed I am referring to Frehley's most recent accomplishment,'Origins Vol. 1'. This collection of eclectic, formerly recorded songs, which inspired Frehley, has proven to be a highly successful project.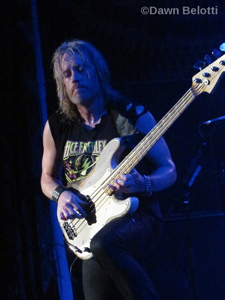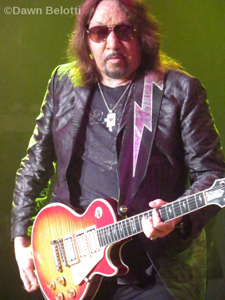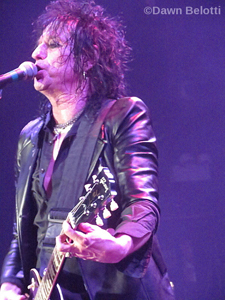 Opening with 'Rip It Out' which is the first track from Frehley's self titled 1978 solo album, Frehley set the tone for what proved to be another high energy evening. From here they launched into "Toys" the only current number in the set from Frehley's Space Invaders; song that has been a relatively long mainstay of they band's selection. While Frehley has an abundance of solid solo material; he understands his long time fans' desire for the songs that put him on the map. Historic numbers such as 'Rocket Ride, 'Cold Gin' and 'Shock Me' are among the most anticipated choices. While his existing band was not present during the KISS explosion, they certainly execute each performance with expertise.
Frehley recently introduced two solid numbers from his 'Origins Vol. 1' into the set. The first is Thin Lizzy's 'Emerald', which some consider a lesser known hidden gem by the legendary Irish band. Frehley's vocals are perfect for the song's register and his ensemble delivered a magnificent performance. Any fan who may not have heard the original, they will remember it now. The second recruit was Led Zeppelin's version of 'Bring it On Home' Drummer; Scot Coogan handled lead vocals channeling his best Robert Plant. Guitarists Richie Scarlet and Frehley's noteworthy work was very well received. Both being accomplished and versatile guitarists, the duo was more than equipped to tackle such a larger than life band.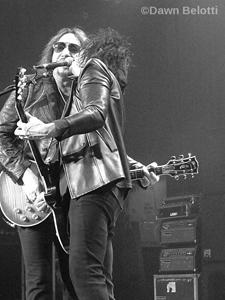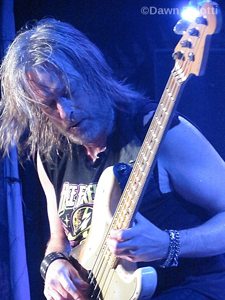 As usual, Frehley believes in emphasizing a band being a whole consisting of the sum of its parts. Each musician not only contributes to what makes this band stand out but is also solid musicians that can equally stand on their own. Each constituent are given the chance to showcase their individual abilities. Coogan lends his vocal prowess to several classics previously by powerhouse vocalist, Paul Stanley. Bassist, Chris Wyse, who has an impressive repertoire, can easily improvise a spectacular bass solo each night. An exceedingly, multifaceted bass player, he moves with finesse through rich bass tones, eerie effects and some familiar song excerpts. Most notably are pieces of several songs from his band OWL, which have their own unique sound. Wyse follows his solo by launching into a dark, haunting version of 'Strange Way', previously made famous by KISS drummer, Peter Criss.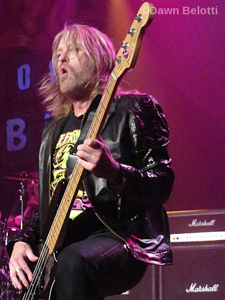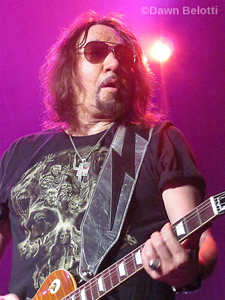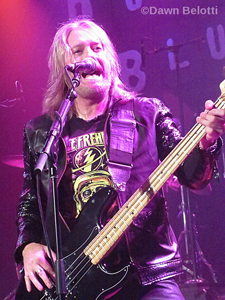 Guitarist Richie Scarlet, who is a local favorite on the New York music scene, also brings his strong musical personality to light. Scarlet performs a song he co-wrote with Frehley, '2 Young 2 Die'. Sharing Frehley's witty sense of humor, Scarlet dedicates the number to gangster, Al Capone, which is not lost on the Chicagoans. Scarlet absolutely shines while performing this number and this was the case again. Commanding the stage and showering the crowd with attention, it is no wonder why he was giving the nickname of The Emperor of Rock and Roll.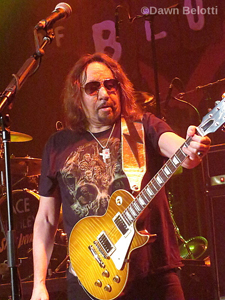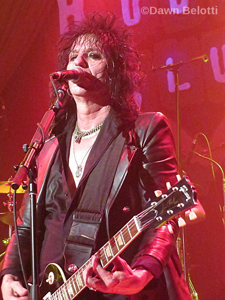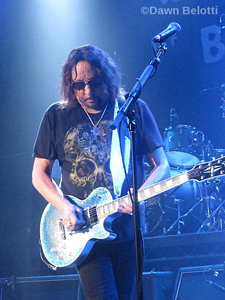 Frehley again took center stage with his famous smoking guitar that has become his trademark. His lead in with his Song: 'Shock Me' and the resulting guitar solo remind us why this man is the legend his is and why an abundance of devout fans flock to his shows. Frehley rounds off the evening with his notorious anthems, 'New York Groove' and 'Rock Soldiers', placed between his bandmates solo endeavors.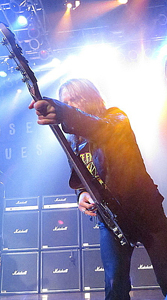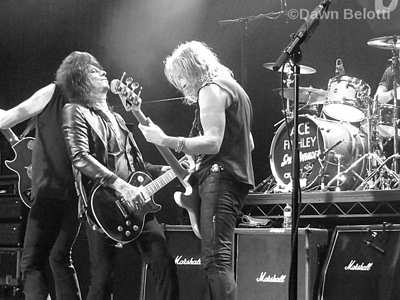 After a brief pause, the band returned to the stage for their encore numbers, both being historic KISS classics, it was a perfect way to impress his nostalgic fans as well as his new recruits. Asking the crowd if they "know a city that starts with a 'D' and I don't mean f*ck*ng Dallas" could only mean one thing - 'Detroit Rock City'. The band followed with 'Deuce' a song formerly handled by KISS bassist Gene Simmons but obviously a song that is perfect for Frehley's vocals.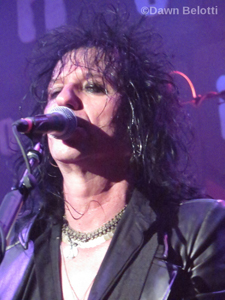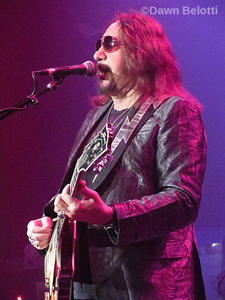 Growing up a KISS Army kid, I find my thoughts toggling from images of the Spaceman in his elaborate costume and moon boots to the mature, focused Frehley of today. His vocals are still strong, his guitar sound, forever impressive and his stage presence monumental. Frehley still smolders with sharp edged tongue and a Bronx wit. Being a fellow Bronxite, my family used to say, "we weren't born in a bakery so we don't sugar coat here." Frehley certainly doesn't sugar coat but he is still smoking, he is still The Spaceman and he is still cherished by his followers.
10/10
By Dawn Belloti
FM/No Hot Ashes - Corporation, Sheffield, Friday 29th January 2016
Set List: I'm Back/Glow/Boulders/Summer Rain/Satisfied/Come Alive/Little Johnny Redhead.
Having dealt in some serious live gems over the last five years Sheffield's No.1 rock venue finally manages to bring yet another this way, and this time it's an act from our own side of the Atlantic. Brit legends FM obviously impressed with their guest slot on the foreigner/Europe fling a couple of years ago otherwise they might not have been considered for the Corp's 'big room' this blustery January evening.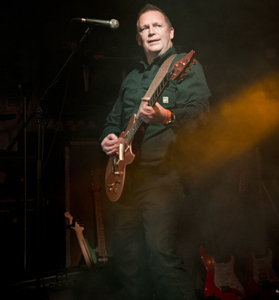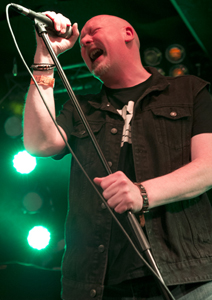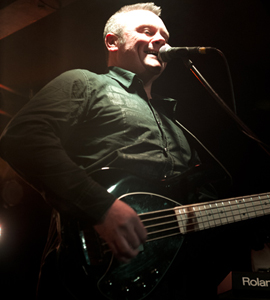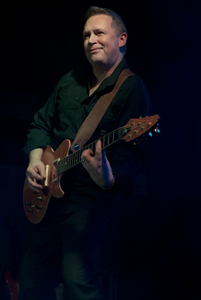 The inclusion of Ulster veterans, No Hot Ashes on the bill might also add to the welcome situation. The recently reformed five-piece deliver an impressive set, especially to those like me who are new to their material tonight.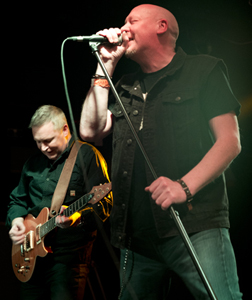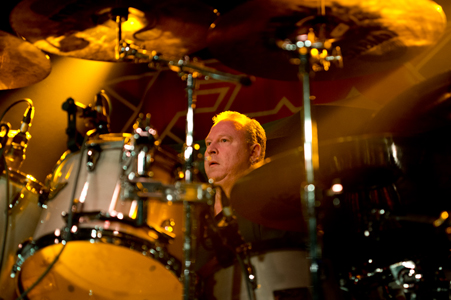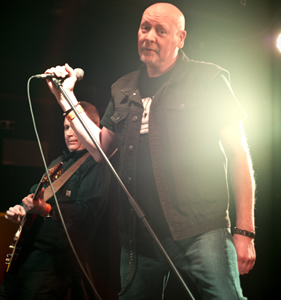 Their charismatic Survivor-meets Journey mixture, with a sprinkling of Brit also-rans AirRace on top pleases for all of its 45 minutes, sending a likely few in the direction of the cd stall after.
Set List: Digging Up The Dirt/I Belong To The Night/Don't Stop/Closer To Heaven/All Or Nothing/Let Love Be The Leader/Life Is A Highway/Frozen heart/Tough Love/Wildside/Someday (You'll Keep Me Running)/Burning My Heart Down/Tough It Out/That Girl/Bad Luck.
Encore: Story Of My Life/Other Side Of Midnight.
Enter Steve and the lads following a half-hour switchover that seems to soar by insurmountably quickly. Although having promised a set packed with classics, FM adhere to the usual tradition of opening with a number from the latest effort. 'Digging Up The Dirt' the driving lead-off from hugely-received newbie 'Heroes And Villains' rouses the noise right away. Steve Overland enjoys a strut around the stage, until he straps his guitar on ready and waiting for the next. Diving 30 years down the line right away, 'I Belong to The Night' blends in, end-to-end with the latest before 'Don't Stop' storms in right after. A double barrel assault from Aphrodisiac is an unexpected treat, 'Closer to Heaven' and the mesmerising 'All or Nothing'.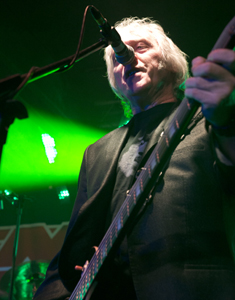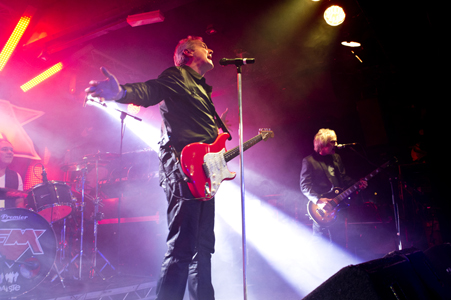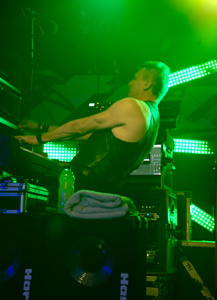 We are also treated to an amazing quantity - in fact almost half - of 'Tough it Out', which current day members Jem Davis and Jim Kirkpatrick have evidently become big fans of as much as have surviving originals, Pete Jupp and Merv Goldsworthy. One such song Steve is evidently not been a fan of these last twenty five years is 'Someday You'll Come Running' as he makes clear on reintroducing due to apparent peer pressure. ('If I don't make the rest of the set, it's down to you lot, alright?')...maybe Marcie Free's version has stolen the glory. Obviously he has, on the other dates of this tour as far, and he does again with more than just style, driving out door-removing versions of 'Let Love Be The Leader', 'Frozen Heart' and 'Wild Side', interspersed with post-comeback cruncher 'Tough Love'.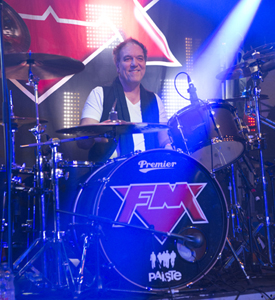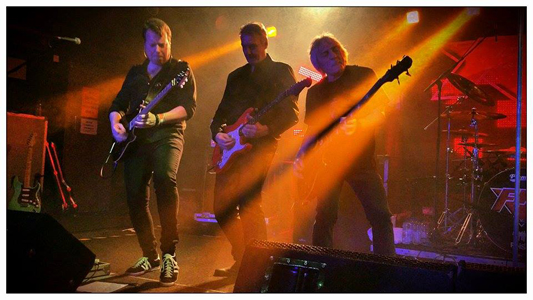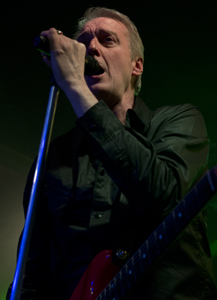 'Wildside', an unusually heavy, stamping beat number, has been a new direction for the the band although the way that it builds to the usual big chorus displays its worth in the FM portfolio. Ovy shows his true versatility by playing lead on some of the numbers, whilst on a surprisingly large few still performs guitarless, including the so-slightly Van Halen like 'Life Is A Highway'. Mr Kirkpatrick looks suitably revved up by the time they rip into the final four tracks that make up the main set. Do take it from me by the way, that when I say that playing 'Burning My Heart Down' 'That Girl', 'Tough it Out' and 'Bad Luck' back to back is bound to whack the average FM crowd for seven, I for one am certainly not pork pie-ing.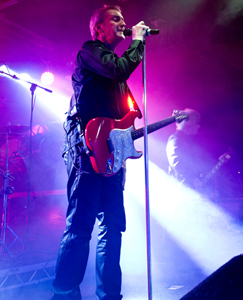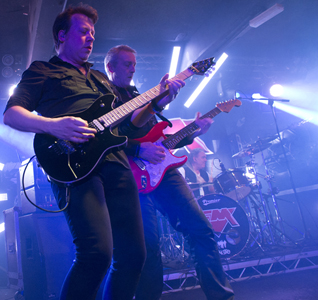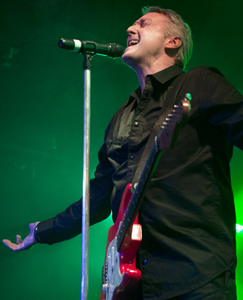 'That Girl's, the anthem that started it all for them thirty years ago fires up probably the biggest mass sing-along possible in a crowd of 200 while my personal all time fave 'Bad Luck' is beefed up in tempo as a big cluster of air guitar-wielding dancers down the front dive into the party. Encores inevitable, Messrs Overland and Davis return alone for an unexpected,and utmostly stunning keyboard/vocal take on 'Story Of My Life' which sets Steven's already astronomical vocal standards up a whole sudden new level.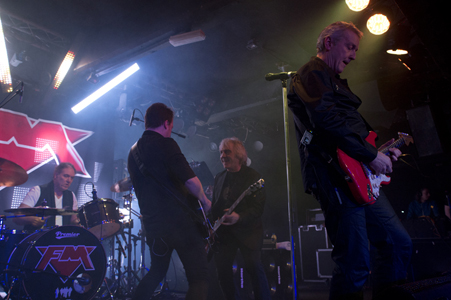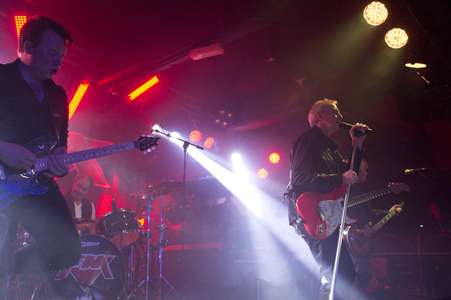 As the rest of the gang return, Jem switches keyboard for keytar, crowding the stage for closer 'Other Side of Midnight'. A band who love their songs as much as their audience, Steve and Jem are scarcely once seen without a smile on their face, the frontman also thanking the fans for the fact that he indeed survived the rest of the set onwards from 'Someday'.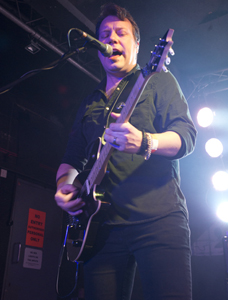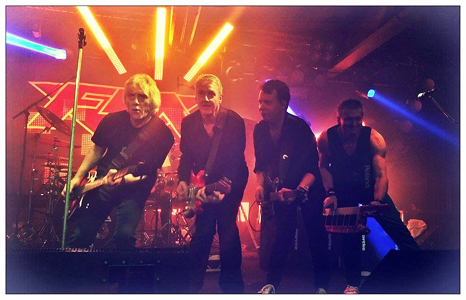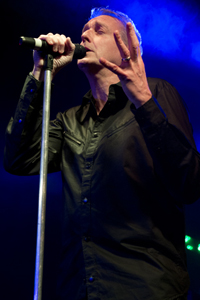 AOR is packed with many gentleman players and Steve Overland is certainly among the very top, trading the arrogance of their American counterparts for a civilised English chinwag with their autograph hungry fans afterwards. Scarcely having made it to a gig across the entire of 2015, I start off the new year with one seriously set to fill up the void.
10/10
By Dave Attrill
No Hot Ashes Photographs by Michael Riley
FM Photographs by Michael Riley and Steve Baronovich (in white borders)
Fear Factory -
The Whisky A Go-Go, West Hollywood, California, USA, Thursday January 22nd, 2015
Set list: Shock/Edgecrusher/What Will Become?/Damaged/Linchpin/Powershifter/Acres Of Skin/The Industrialist/Martyr/Scapegoat/Archetype/Demanufucture/Self Bias Resistor/Zero Signal/Replica.
It's heated, it's dark and there's nothing but raw excitement here in the Whisky tonight for a local band who made it big the moment they hit on the scene in '95 Worldwide thanks to the 'double O' himself, Ozzy Osbourne.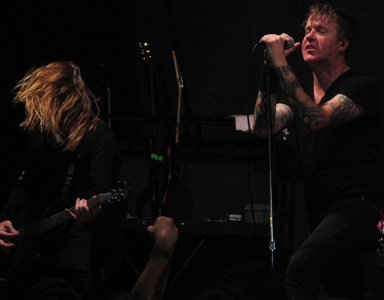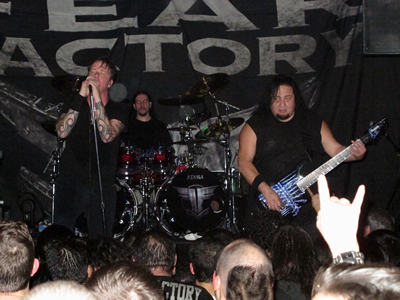 I've not seen these guys since 2002 at Rock City, Nottingham and my ears never recovered, though I did get some killer shots from the show and it's no exception 13 years on. Before the band hit the stage the audience was going wild for them. They've created their own industrial sub-genre, so little wonder that Al Jourgenson, frontman of Ministry is in the audience tonight.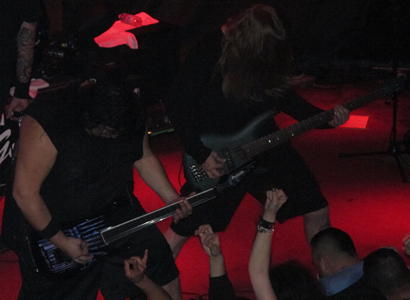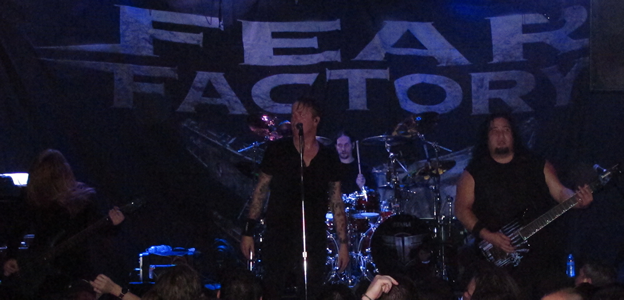 They are as tight as can be tonight, which happens to be their last show of the tour, cutting the price of their merchandise to an everything must go level much to the joy of the fans in here tonight - you can go wrong at $10 for a t-shirt can you? Set-wise this was an excellent cross section of material over the years that spanned their entire career with favourites like 'Replica'; 'Self-Bias Resistor'; 'Demanufacture'; Archetype' and even a teasing snippet 'Cars' thrown in there but only musically.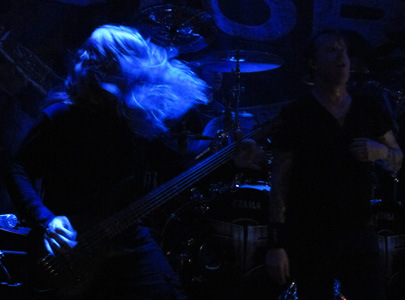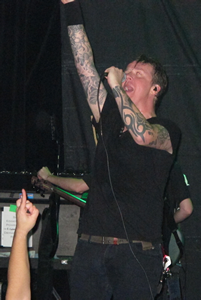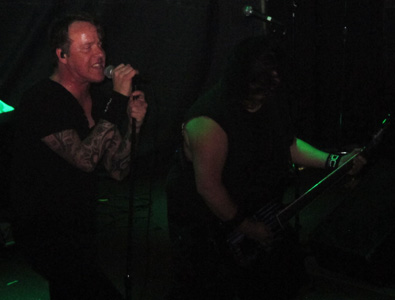 Fear Factory showed all that they had the utmost love and respect for their fans with Dino Cazares and Burton C. Bell complimenting the crowd telling us it's a nearly a year to the date since they last played the venue - it was Jan. 18 to be exact. What really made the night special was the fact the Burton announced that they'd just signed a deal with Nuclear Blast and would have a new album ready for the next time they played there.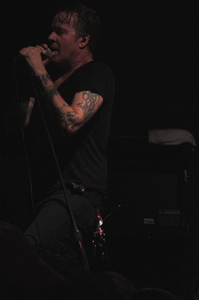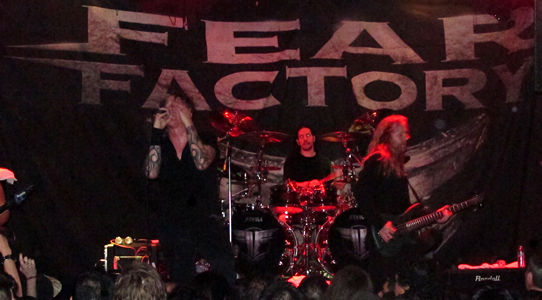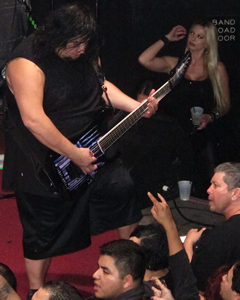 It was kinda strange that Burton had cut his hair since you get so used to seeing those flowing blonde curtains but I guess everyone likes a change in style now and again. His voice is as booming and powerful as ever adding firing out those ferocious vocal blasts on a regular basis without it weakening one bit throughout the night.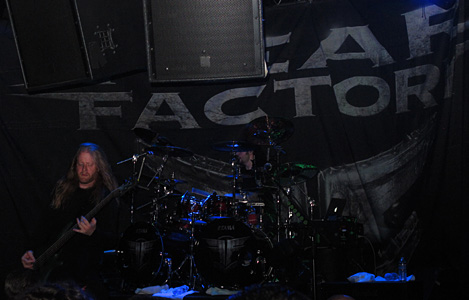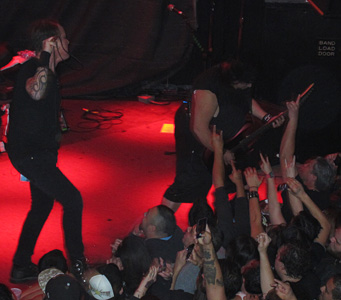 Dino's gutsy raw but spacial sounding guitar work sounded incredible in here and filled the room so well in every single area. I moved around the entire venue to take a variety of photographs for the review and not matter where I went the sound quality was perfect with every band member cutting through in the live mix.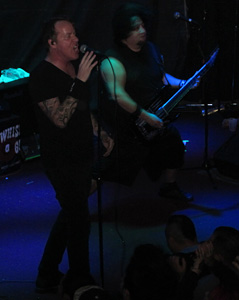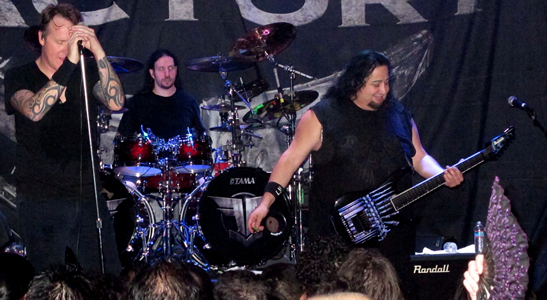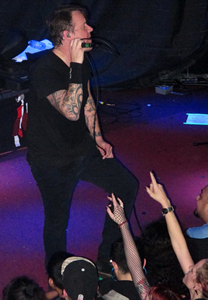 When Burton told the crowd to get crazy, they went for it and at one point during a mosh it got so manic that a fight even broke out but soon dissolved since the music is way more important than a manly fisticuffs.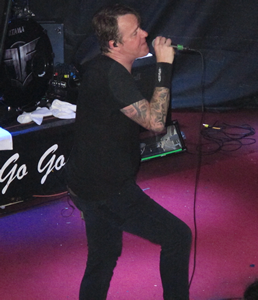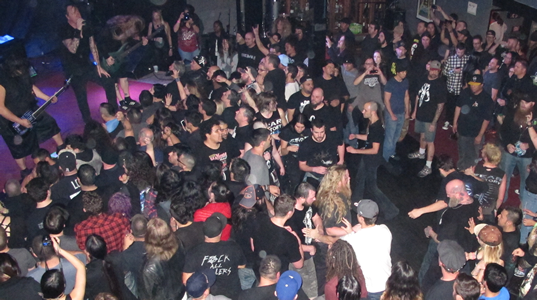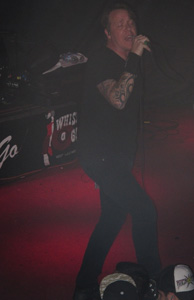 Fear Factory were so into the show that they didn't bother with an encore and played straight through regardless, showering the crowd with plenty of plectrums - making it a rightly batch of rewards for such an appreciative fan-base on the home turf.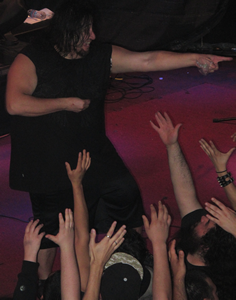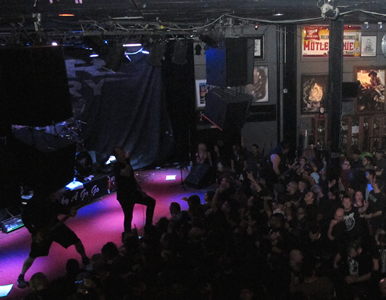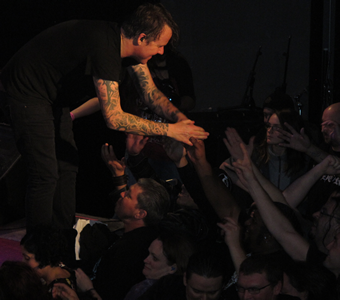 Fear Factory were f*ck*ng fantastic and I can't wait to hear the new album.
10/10
By Glenn Milligan
Marc Ford/Elijah Ford – Corporation, Sheffield, Tuesday, 27th May, 2014
Now this was one of those shows that I have been looking forward too as soon as I found out it was confirmed a few months ago. He's the man who came from a band featuring two famous brothers and now is in a band that features Father and Son in Marc & Elijah.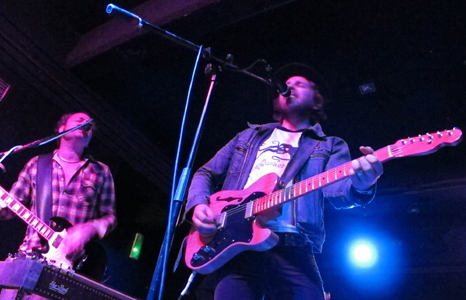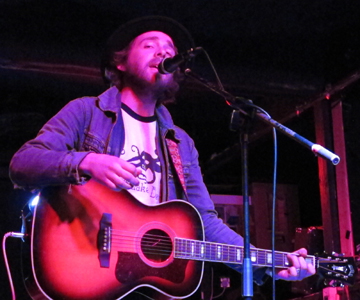 Elijah is up first on acoustic guitar, greeting us all and saying he's a bit stinky after so many days of being on the road but we'll let him off for that - hahaha. The material was well crafted and even though it had no doubt never been heard before by the people in here they warmly received it.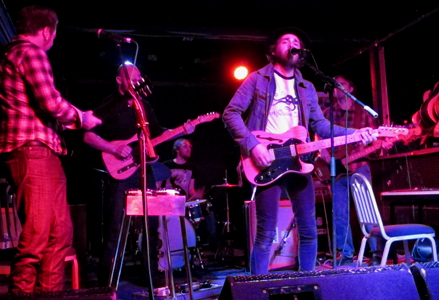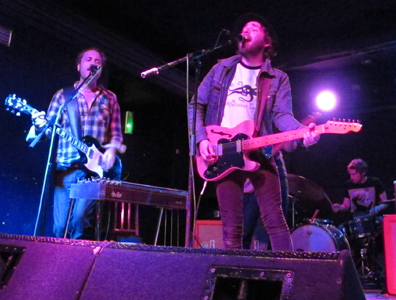 Some steel guitar was added to the set too which was fantastic – not to mention a couple of songs with the full band to close the set with that well and truly grabbed the audience with material from his newly released E.P. 'Ashes' and cuts from his 2011 album 'Upon Waking' with highlights including the song 'Lions' & 'Blessed'.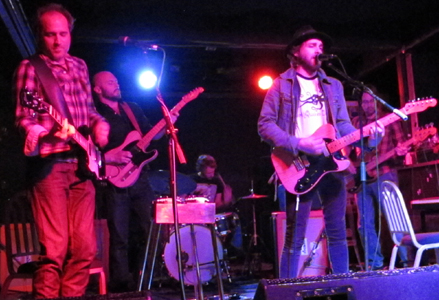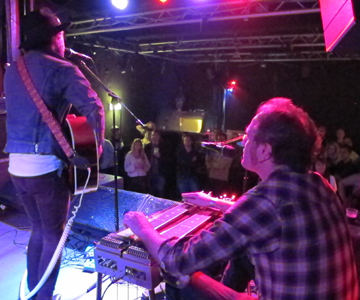 Looking forward to hearing and seeing more on this up and coming guy in the next year or two.
Set List: Just A Girl/Badge Of Descension/In You/You Know What I Mean/Dancing Shoes/Dream #26/Blue Sky/Turquoise Blue/Sometimes/Call Me Faithful/I'm Free/California/Cool Heads/My Love/Smoke Signals.
I last saw Marc on stage in the early 90's with The Black Crowes at a big venue up the road and now at least 20 years on he is here playing Corporation with his own band that even features his son, Elijah – a six-piece line up at that who play a mixture of excellent American styles.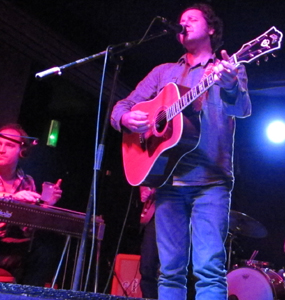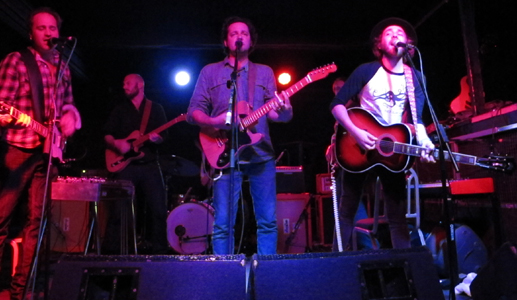 It starts off quietish with Marc on acoustic guitar for the fist few songs with cuts such as the tranquil and relaxing 'Dancing Shoes' before it kicks in bit by bit and the electricity in the room whips up into a different dimension altogether with plenty of songs coming from his brand new album 'Holy Ghost'. There's the country-fun packed 'I'm Free' with exquisite jamming of a very fine form especially on along epic instrumental that is like the West Coast and the South meets Pink Floyd with fantastic soloing.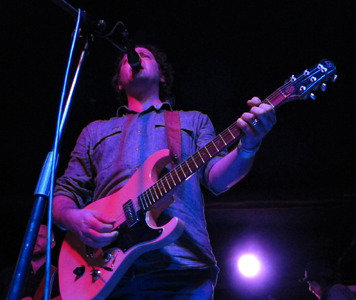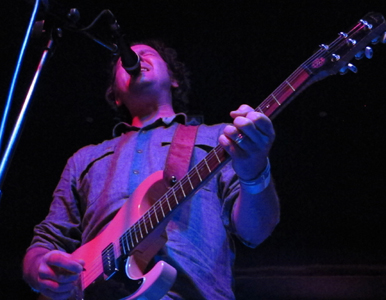 Then there's the Rhodes brilliance and twanging riffed 'Sometimes' that made me think of The Black Crowes straight away in their Amorica period. Other great numbers tonight were 'Cool Heads' & 'California' that put me in mind of one of my favourite US States straight away.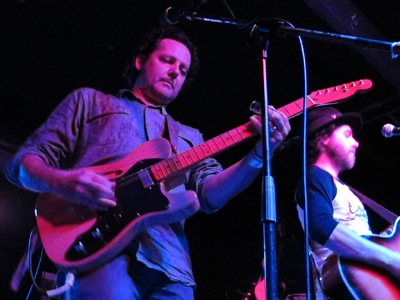 In fact, imagine that just mentioned band with elements of The Band, The Allman Brothers, The Steve Miller Band, Crosby Stills and Nash and the Drive By Truckers as well as and a whole mesh of other cool stuff with even a bit of Grateful Dead style thrown in now and again and you are somewhere close to the musical vibe of this solid Tuesday night. We were thanked for coming to the show by Marc & Elijah and there was some light hearted comedy too on stage with the son remarking how beautiful his father was, with Marc stroking his hair in a vain like pose or the humour about the cool hat that Elijah was wearing as well.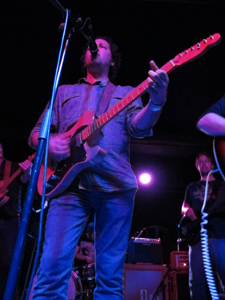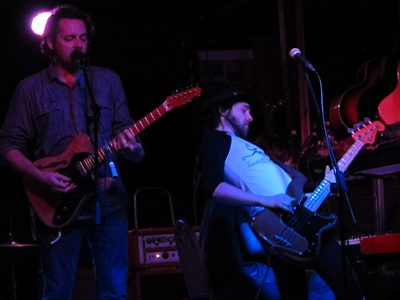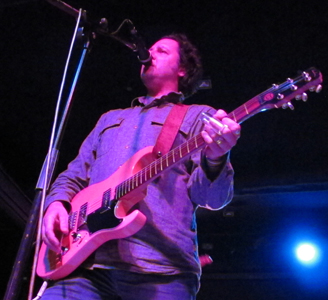 Oh and what about the moment with the women at the front having a private joke to themselves with Marc himself asking what was funny and could they fill him in? They didn't though much to our reget although it was more than likely much ado about nothing and it was distracting and rather rude in my opinion – as were the local Sheffield band, 'Roaming Sons'and their female entourage who were completely disrespectful and shouted loud at each other next to the bar.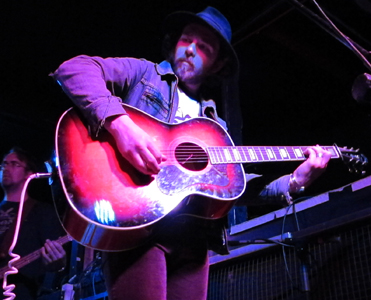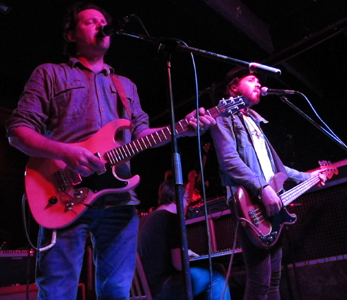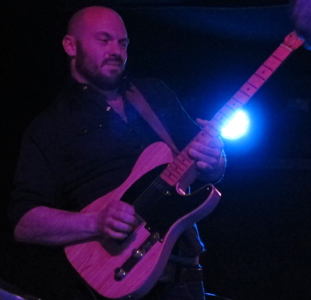 Back to the show though, I've gotta say that sometimes you actually forgot you were in a small room at a venue in Sheffield and it felt more like you had been transported into a bar in the South of the USA as it is simply so organically earthy and authentic. It's a show that sticks in the mind and is as intimate as you can get – which is really what makes gigs in this room so special and especially when you have pedigrees like Marc Ford and this band in the house.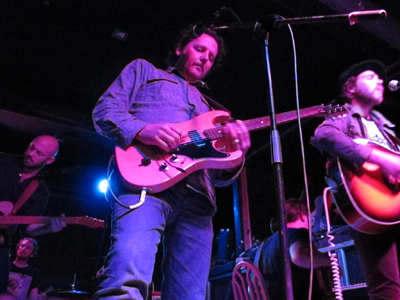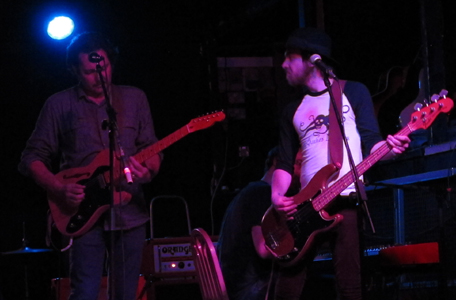 Elijah was bopping out really cool while on the piano – rocking away like he was lost in his own world on that stage, not to mention the grooving moments with his dad where they played side by side on guitar and bass respectively, giving each other joyous facial expressions while cranking out some immense music at the same time and reminds of UK legends Chas 'n' Dave at various points of the gig.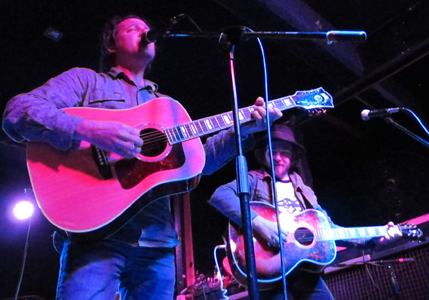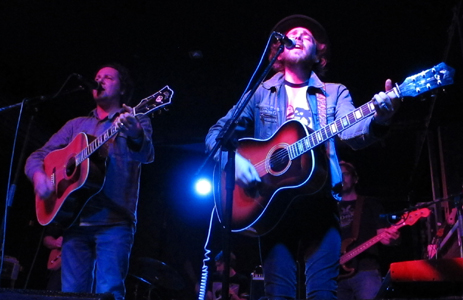 Sounds of the South meets the West Coast with a healthy helping of Country Music melted is what we got from these boys tonight and everyone both on and off stage loved it. Afterwards they came out to meet us, have photos and sign autographs too. I gotta say that this is definitely in the Top 10 of one of the finest shows I've personally had the pleasure of reviewing this year.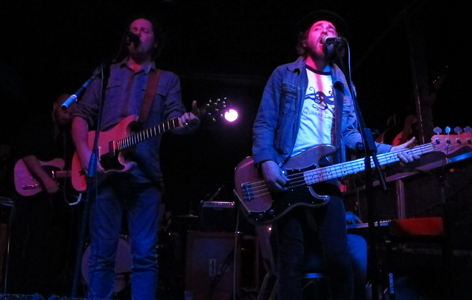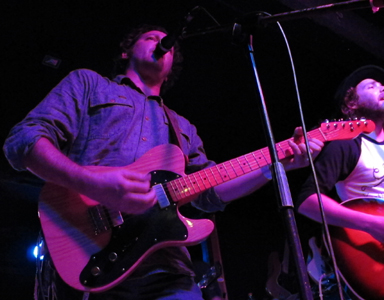 Outstanding in every way!
10/10
By Glenn Milligan

FOREIGNER/EUROPE/FM - City Hall, Sheffield, Tuesday 8th April 2014
Scaled Arthur's Seat. Tried a deep fried mars bar, taken piccies of Big Ben at nightfall...a nicely ticked bucket list as far...another one to add is seeing Foreigner live at last...and in Sheffield at that. Taking a hidden bonus on board as well it means we get to see two other AOR establishments, namely Europe and FM into the bargain. British band first and believe me when I say the last thirty years have stayed kind to FM here in 2014 as they did in their prime.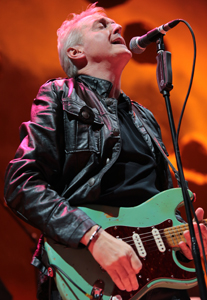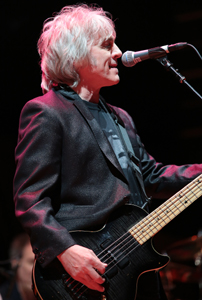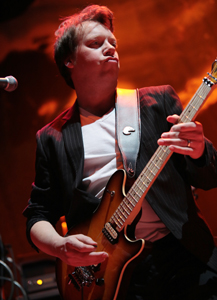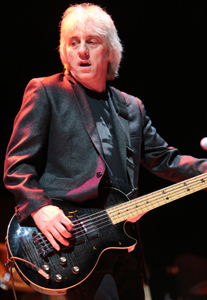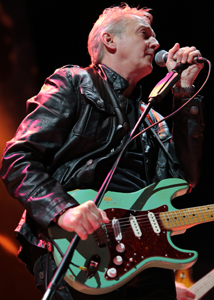 The curse of a 30 minute set means only a few favourites get played, which requires being somewhat eclectic but the performances Steve Overland puts in on 'That Girl' and 'Burning My Heart Down' are worth every minute we've been waiting. Guitarwise, they still play note perfect with panache, solos also handled by the hyper-talented frontman himself. Headlining shows so likely worth a wager in the near future, FM were and are still worth tuning into, any night.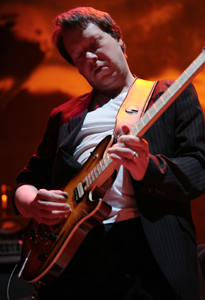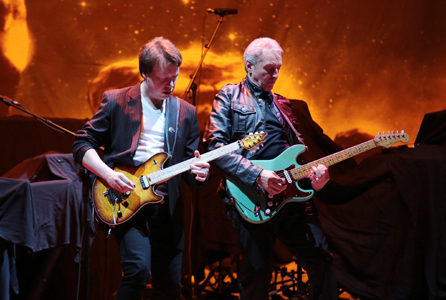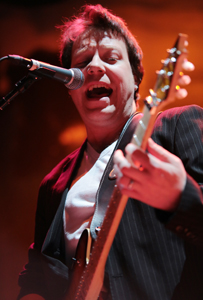 Europe would have once been headlining a UK venue this size themselves, maybe up to twice a year had they played their cards right. Joey Tempest looks pleased as a pig in poop all throughout their hour long slot tonight though and deserves to be too. With a voice that shows maturity since the mullet-ular days he still lifts the roof off with classics and current day crowd pleasers alike. There are a notable number of newies for such a short set, though 'Last Look at Eden', now actually five years young is fast turning a cornerstone - you only have to hear the applause volume.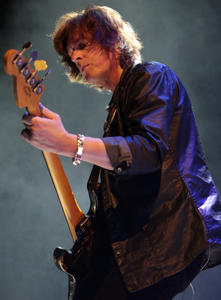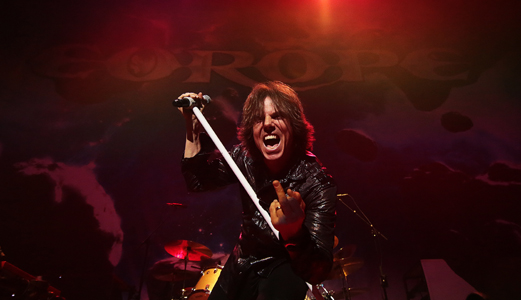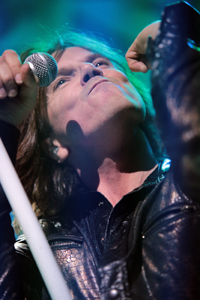 'Cherokee' gets brought out of the woodwork tonight, Joey informing the crowd they deserved a treat...and hell they got one. Knowing which city they play in, they cap off a corking 'Rock The Night' with a minute of Leppard's 'Hysteria'. Guitarist, John Norum appears to be enjoying it as much as the rest despite not moving round a terrific deal, also swapping his guitars almost every number.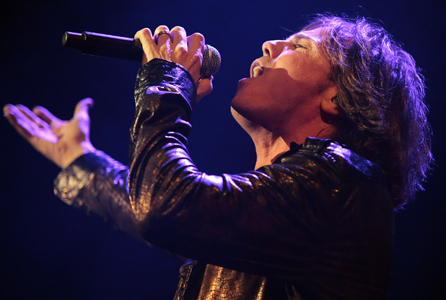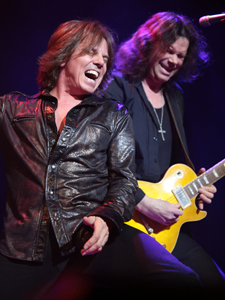 The white flying V stays strapped on for that untimely classic 'The Final Countdown' at which point the entire City Hall floor turns into a 700-capacity trampoline. Not impressed to hear two mates of mine in the stalls were still forced to stay seated by over zealous staff (apparently on loan from Sheffield Arena), any other low point fell outweighed by all the upsides to Europe's return tonight. Tremendous - UK headlining possibilities for Sweden's finest shine brightly once again.
The years have been kind to FOREIGNER's latter-day incarnation even if the fickle-minded purists haven't. That probably doesn't apply to most of the 2300 who roar ecstatically the second they rip into Double Vision'. Instantly not one person appears to be taking their frustration at the loss of Lou Gram out on the band standing on the stage opposite them.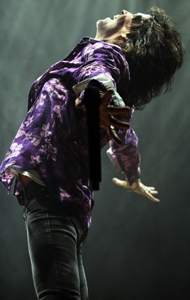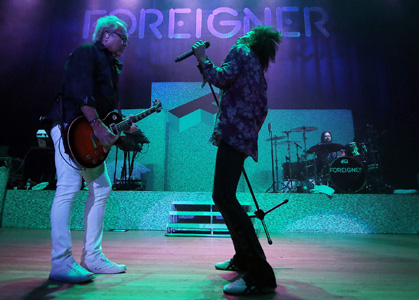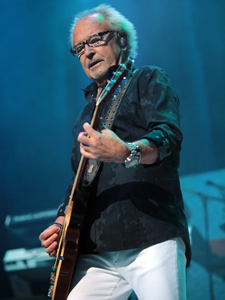 Mick Jones, the sole mainstay surviving would be hardly one to complain himself - if I now had Hurricane man Kelly Hansen to one side of me plus Dokken legend Jeff Pilson on the other, I'd have indeed looked forward to a rosy musical future. Rubbing in the oldies, early on, a couple of newbies shoot by before 'Head Games and 'Cold as Ice' advance in an awesome double brace. Not only a singer made for Lou's job but also a larger than life showman, Kelly invades stalls crowd to indulge them in the classic chorus line, very much alike Metallica's 'Seek and Destroy' sing-a-long in the 90s.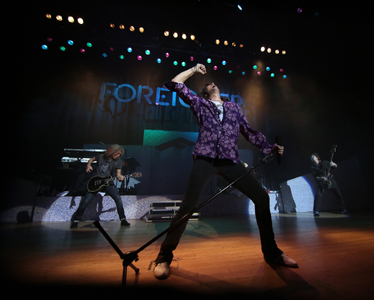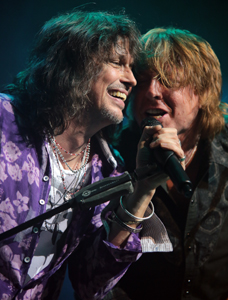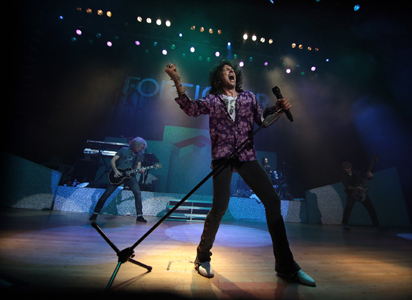 Shovelling in the crowd participation already, 'Waiting For A Girl Like You' requires all and sundry to hug the person he/she cares about most in the audience (Sod it, I always forget I'm single at times like this). He even picks out his favourite three couples, the first being a father and daughter, another including a woman expecting - her child apparently conceived to Foreigner music - and two wildly excitable females on the dress circle.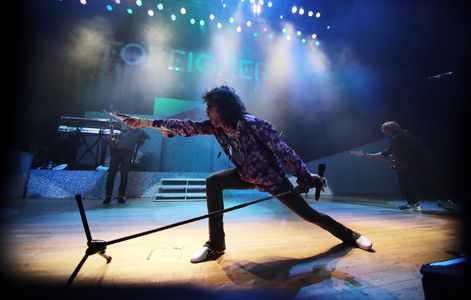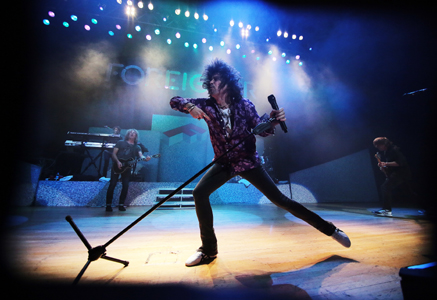 'Feels Like The First Time' probably sums it up for them, pumping up the crowd before they have chance to pass off further air. 'Dirty White Boy' is followed by Mick dishing his heartfelt happiness at hitting UK shores again, and being the only Brit left in the band, it feels somewhat understandably poignant. A couple more classics celebrate the occasion before the solo stints finally descend.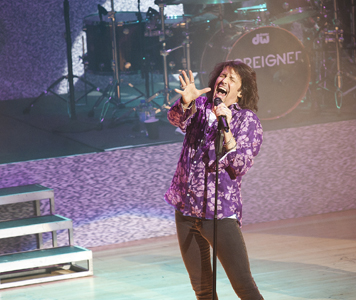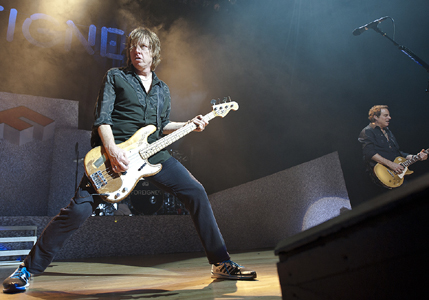 The keyboard and drum sessions seem thankfully to fly by faster than expected and entertainment ensues when a drumstick get accidentally tossed skyward, not to be caught on return. Not long before we find out why the spots were kept short - 'Jukebox Hero' ends up extended to 10 minutes though including a stellar performance from both Hansen and Jones and a sensational stage moonwalk by Pilson.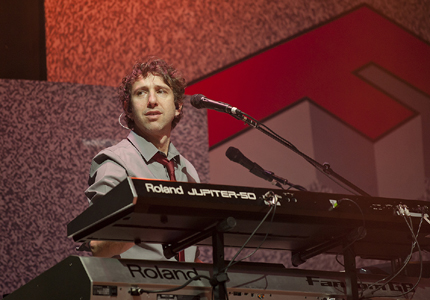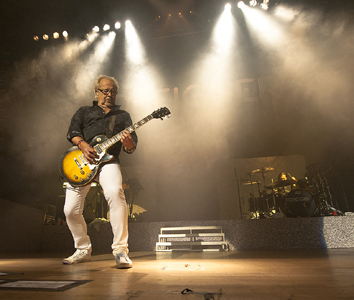 Suddenly the encores are already on us as they surge back on for 'Long Long Way From Home' and an almighty atmosphere again builds up amongst the stalls. Oh, what was that other song of theirs...'I Want To...erm...'. Massive and emotional uplift greets the greatest living AOR ballad of all time, with Hansen demanding the partner-hugging stuff amongst everyone again before agreeing to start - even I get an arm over my shoulder from the female half of the couple sat adjacent.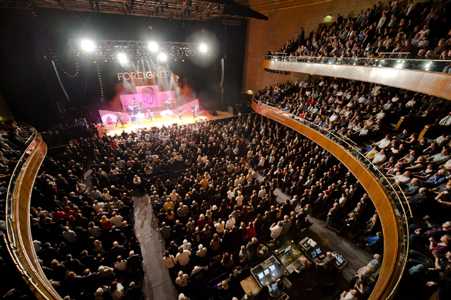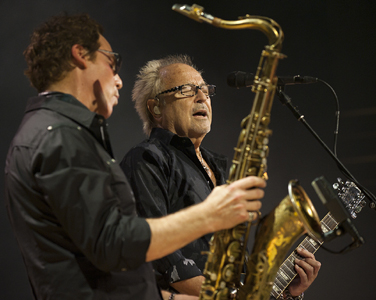 Tearing into show-ender 'Hot Blooded' with huge testosterone, everyone defies the City Hall's anti-standing policy and so they should. Doubt them all you want but Foreigner frightened everyone on a positive note this evening. Given Mick's reluctance to stand centre stage at most times of the 95 minute duration, I can see how it is sometimes difficult to see the the same band who started out four decades ago up there, but as long as he's around, every right to fly the Foreigner flag...or a giant juke box behind him remains rightly his.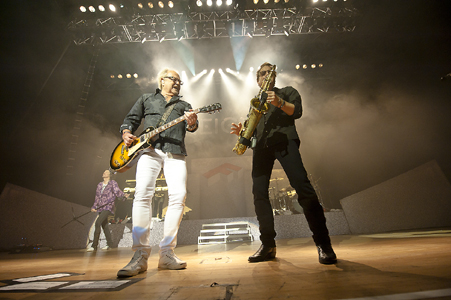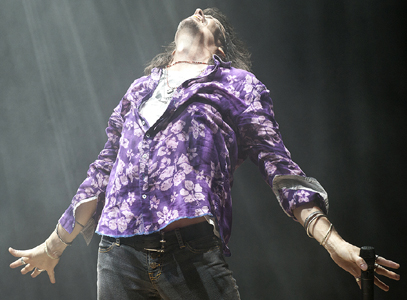 Still strong and able to send the goods here in 2014, Foreigner are finding a full new fan generation taught well by the many who worshipped before.
9.5/10
Review By Dave Attrill
FM, Europe & 1st 3 Rows of Foreigner Photographs By Glenn Ashley
Photographs on Rows 4 to 8 are Courtesy of Damian Twigg/Foreigner

Faster Pussycat/Jetboy –
The Whisky A Go-Go, West Hollywood, California, USA, 25th January, 2014
Boy this is a total blast from the Sunset Strips past – one of those those bands that should have made it big with the likes of Poison, Skid Row & Guns 'N' Roses but sadly got pipped to the post and have more of a cult status instead among these parts and with the hardcore hair fans out there in the world.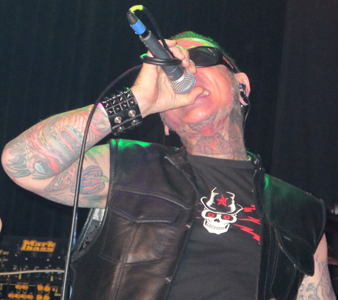 It's a first for me and they are a good ole set of glammers with some members that don't look old enough to have been treading the boards in the mid to late 80's – though some folk age better than others right? What a perfect way to get the Whisky revellers going as this it was a full-on party assault with plenty of bucketlist clichés and retro hair-rock to reminis with.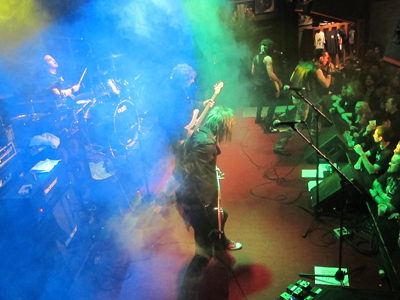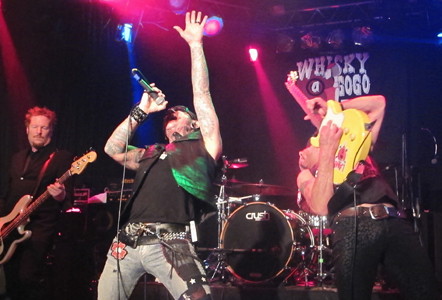 This is hard and dirty like a Hollywood AC/DC with elements of Circus of Power & Junkyard – you get the general picture I hope. Gone is frontman, Mickey Finn's giant Mohawk that has been replaced with a slick back look that resembles more of a Volbeat look since he fronts Cold Blue Rebels as well these days.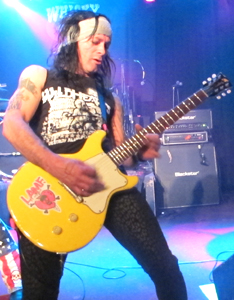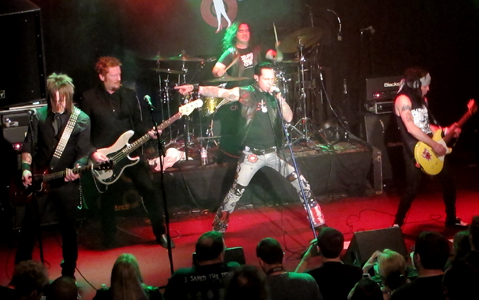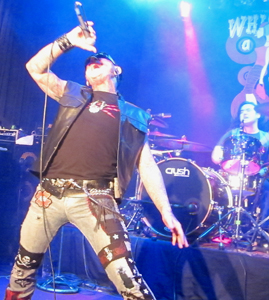 Highlights include old school classics like 'Feel The Shake'; 'Snakebite' & 'Bad Disease' and I am sure you heard your own fave tucked into that slick set they blasted at us up there tonight.
Set List: Jack The Bastard/Cathouse/Slip Of The Tongue/Number 1 With A Bullet/Sex, Drugs & Rock 'N' Roll/House Of Pain/Nonstop To Nowhere/You're So Vain/Don't Change That Song/Poison Ivy/Pretty F*ck*d Up/Bathroom Wall/Shut Up & F*ck/Babylon.
It's not really surprising when this is what seems to be a sold out show because Taime Down could be classed as a Father of the Hollywood Sleaze Scene – he's been there, he's done it and there isn't much left to tell really but still offers up those classic songs that all males and females alike with their tight-jeans tucked their cowboy boots know and love hearing again and again.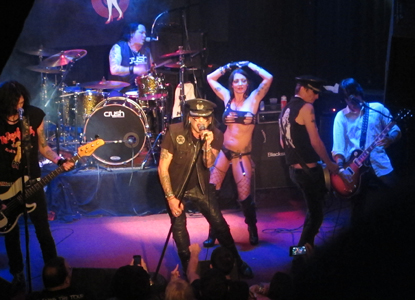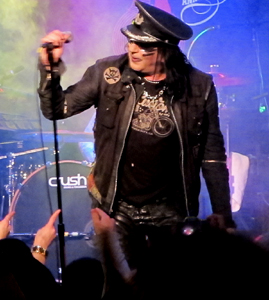 It's a very similar set that I saw Faster Pussycat do a couple of years ago at a venue a few miles away from here but songs like 'Cathouse'; 'Slip Of The Tongue'; 'Don't Change That Song' always put a smile on your face and take you back to when you first heard the band – be it a rock club in your local town, MTV or on your own precious vinyl.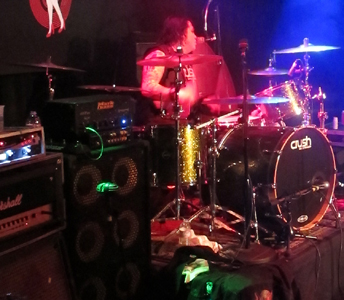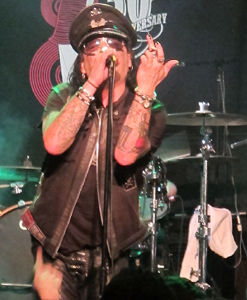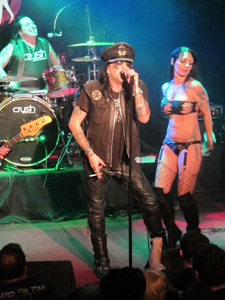 We get a cool surprise when it comes to the Carly Simon cover 'You're So Vain' as original FP guitarist, Gregg Steele joins the guys on stage for the song much to the delight of the hardcore and even the Go-Go girls get in on the action too, dancing around the band members.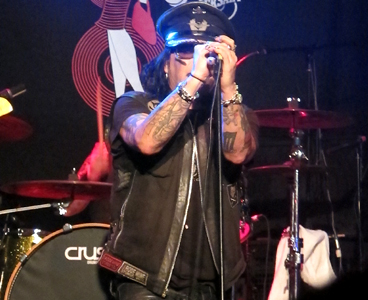 The folks in here, many of which date back to the era fill the place with a healthy helping of young peeps as well proving that the style is still as relevant today as it was then. The songs are sung along to in the audience with a tremendous amount of passion with the ballad 'House Of Pain' being a perfect example.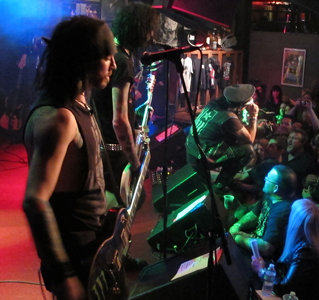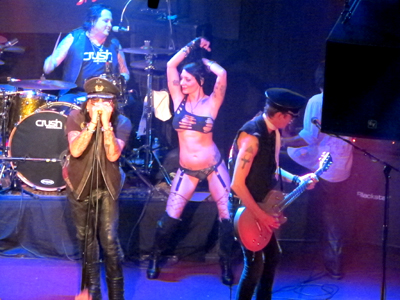 Taime and the band are a damn tight unit and the vibe up there is good up and it's a riotous rabbling retro night of cracking cock rock and then some… with other highlights of the gig including 'Poison Ivy'; 'Shut Up & F*ck' and of course songs that no Pussycat performance would be incomplete without – yes we are talking 'Babylon' & 'Bathroom Wall'.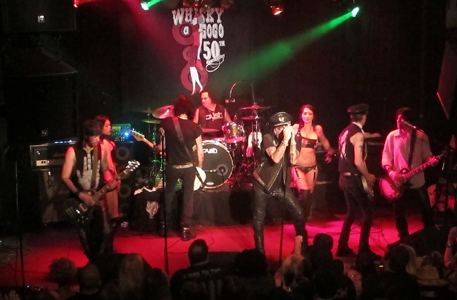 Cool gig overall and it went down an absolute ball – looking forward to hearing a brand new studio album some time.
8/10
By Glenn Milligan

Lita Ford - Prince Band Room, Melbourne, Australia, Thursday, 24th May 2013
Setlist: Intro (Your Wake Up call)/The Bitch Is Back (Elton John Cover)/Hungry/Relentless/Living Like A Runaway/Gotta Let Go/Devil In My Head/Gotta Let Go/Mother/Under The Gun/Can't Catch Me/Out For Blood/Cherry Bomb/Black Leather/Close My Eyes Forever/Kiss Me Deadly.
In high school all the head banger boys had 'Lita Ford' written on their folders. Back in the 80's there were very few female rockers. Suzie Quatro was a bit old and Joan Jett was leaning more towards the punk side so 'Lita Ford' was the obvious choice for any banger boy to fantasize over. I was always a bit jealous of her she was beautiful, wore cool clothes and boy could she play the guitar.
When I heard Lita was coming to Melbourne I was excited to finally get to see the legend live. I really admire her for her determination to remain true to heavy metal music; a trait which has been obvious throughout her career. She has on a number of occasions chosen loyalty to metal over commercial success and she deserves full respect for this.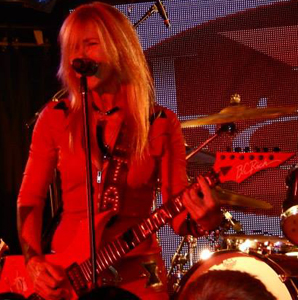 The Prince Bandroom was packed with a predominately male audience when I arrived. The stage was set up with a massive 'Lita Ford' back drop. The tickets had said doors were open at 7.30 and it was well and truly after this. It was obvious that Lita was tied up with her meet and greet but no one really minded. After a while word was out that "Lita's coming" and everyone began taking their position at the front of the stage. It was still some time before Lita finally arrived but we weren't complaining; she was worth the wait.Eventually Lita took to the stage with a grin beaming across her face.
She was dressed in a skin tight leather jump suit and boots. She looked incredible, with the figure of a 20 year old, she appeared untouched by time. She started the show belting out her own rendition of Elton John's 'The Bitch is Back' followed by 'Hungry'. She played songs from her latest album early on with the title track 'Living Like a Runaway', 'Relentless' and the ballet 'Mother' all covered by around the half way mark.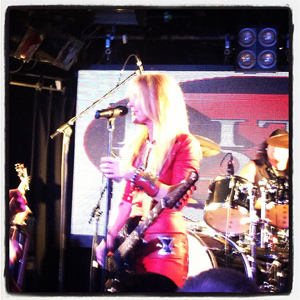 Lita played relentlessly, moving from one song to the next without a break. Her band were total professionals and low key enough to let her shine. It was obvious that they had spent a lot of time playing together as they were all very in sync. Lita had great rapport with the members and there was allot of eye contact and smiles between them. She described them as 'Hollywood's finest' and there was defiantly a shared mutual respect between her and the members of the band.
Throughout the gig the crowd was transfixed and many of the audience were happy to just stand back and watch the show rather than getting into the action at the front of the stage. Anyone expecting theatrics and drama from the show would have been disappointed. Lita is an artist and is all about the music. I found her to be a little low on energy this night but this was excusable after what would have been an exhausting meet and greet before the show. What she lacked in energy was made up for in talent and watching her play is hypnotizing. She is such a natural that her guitars almost become an extension of herself.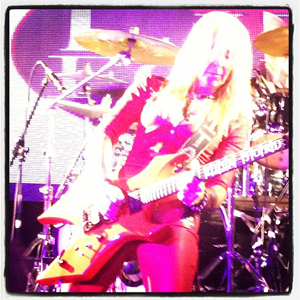 Nearing the end of the show Lita announced that she was going to treat us with a one off Runaways song. She then launched into 'Cherry Bomb' much to the crowds delight. No one had expected a Runaways song but it went down a treat. Lita saved her most famous songs till last, ending the show with 'Close my eyes forever' and 'Kiss me Deadly'. There was no need for an encore, everyone was satisfied. Although everyone left the band room elated I couldn't help feeling as if something was missing. After much consideration, I put it down to the venue; I don't believe that the Prince Band Room was a worthy venue for an act of her quality and I don't think the acoustics of the room did her justice. I had expected a louder more full on sound and it just wasn't there.
There is no doubt that Lita Ford is one of the greatest guitarists around and she fully deserves her title of 'Queen of Metal'. She really loves what she does and obviously lives and breathes her music. Despite the average sound quality it was still an awesome show and Lita Ford went to all lengths to ake sure her fans were satisfied. It was a powerful performance from an amazing woman and I hope to get the opportunity to see her again.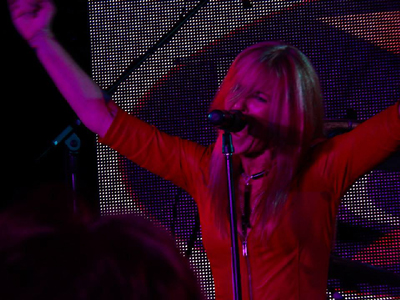 A big thank you to my friend and festival neighbor Bryn Collins who provided the photographs after my camera failed me.
9/10
By Liza-Lee Campbell
Firewind - Corporation, Sheffield, Tuesday 19th September 2012
Main Set List: Wall Of Sound/Head Up High/Destination Forever/Few Against Many/Insanity/World On Fire/Fire & Fury/Losing My Mind/Mercenary Man/Angels Forgive Me/GloriousTill The End Of Time/I Am The Anger/Tyranny.
Encore: Into The Fire/Breaking The Silence/Falling To Pieces.
Wahoo, back to the big room in the Corp - been a good while since I was last in here for a gig and tonights turn (as they used to put it in good ole Working Men's Club Days) are a gang of Greek Metallers with a lead guitarist who goes by the name of Gus G - sound vaguely familiar to you? Well he ought to since he is also the current Axeman for Ozzy Osbourne.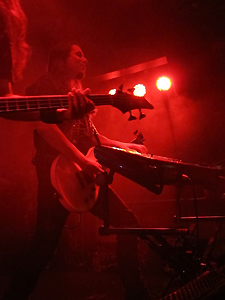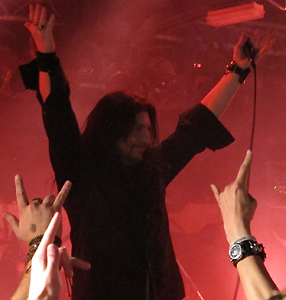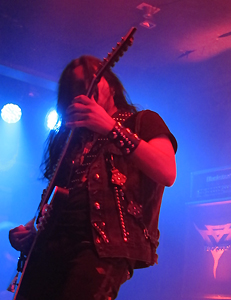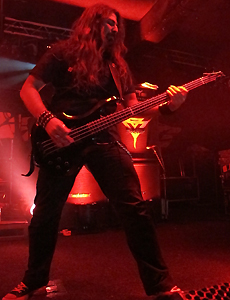 With a new album in tow going by the name of 'Few Against Many', they waste no time in unleashing some of the fresh material like the latest single 'Wall Of Sound' starting the show off. Worth noting is the title track itself and even a ballad that sounds suspiciously like AC/DC's 'Hell's Bells'. This is a mainly male crowd who look like they may have this CD already as they look very hardcore to me in fan factor.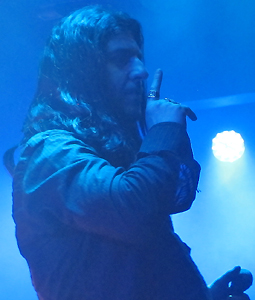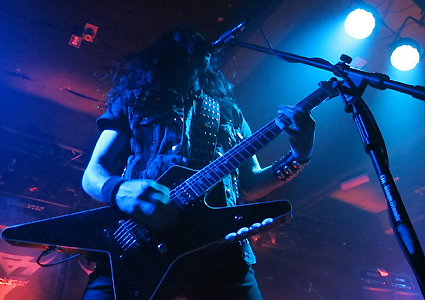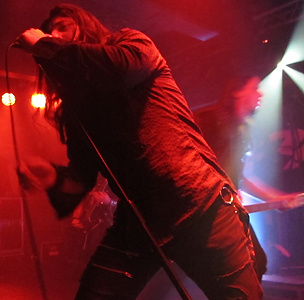 These greeks know how to show off and have some fun at the same time too playing a solo each apart from the drummer sadly with some wacky tunes thrown in for party value - Gus G's of which is extremely spectacular that preceeds the immense instrumental 'The Fire & The Fury' . I really like the fact that you can see exactly what keyboard player is doing since he has the keys tilted towards the audiece - astounding stuff right there.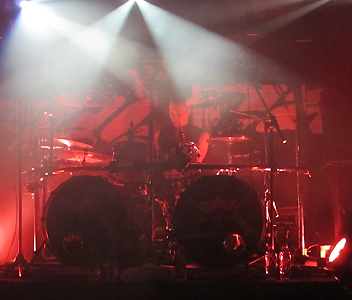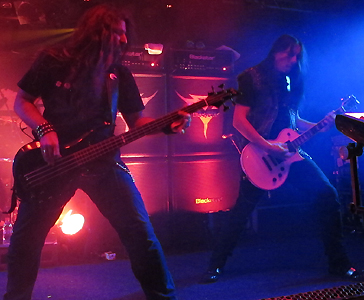 Frontman, Apollo Papathanasio has everyone doing some vocal gymnatics in good ole Freddie Mercury Dayo style (who actually sounds rather dry and burnt out himself without the rest of the band backing him) and divides the room in half and taunting for vocal wails with all getting involved.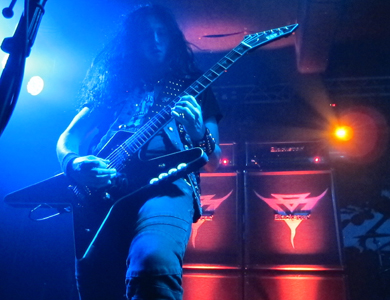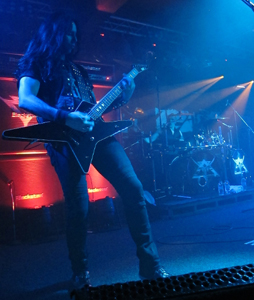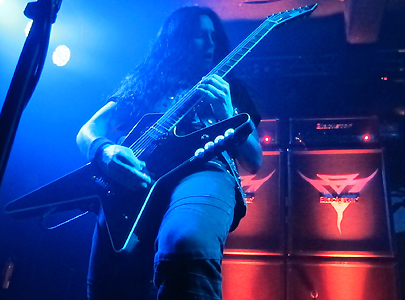 There are a ton of songs in the set that all work well together but the thing that spoils the gig has nothing to do with the performance or the music but is in fact they crazy 'n' manic over the top use of way too many strobes that blinded and dazzled you on numerous occasions during everything song just about. F*ck me, I wished I'd have packed my shades for the show as found myself wondering to different parts of the room to get a minimum amount of overpowering white light!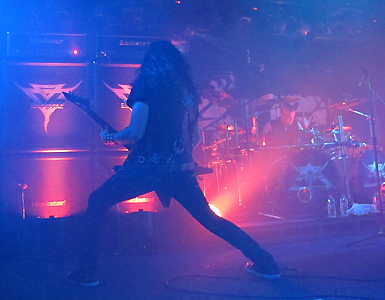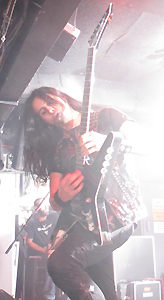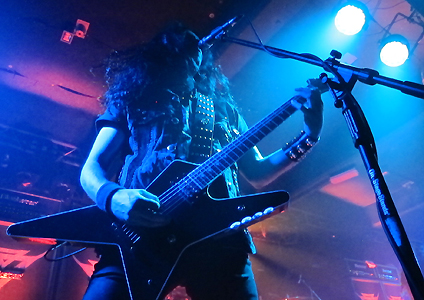 Many highlights from the 'wind included the Priest/Maiden like 'World On Fire' from 'Days Of Defiance' (2010); the epic and well war worded 'Mercenary Man' from 'The Premonition' (2008); 'Head Up High' and encore closer 'Falling To Pieces' from 'Allegiance' (2007). In the encore, the guys also brought on Liv Kristine, frontwoman of Leaves Eyes (who are the tour support) which saw her duet with Apollo for the early Firewind song 'Breaking The Silence' that hadn't been performed for several years. Now that was a major highlight of the show.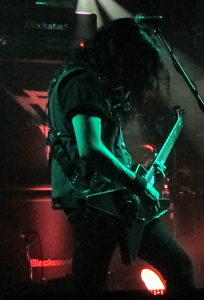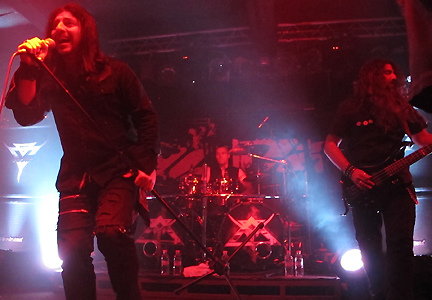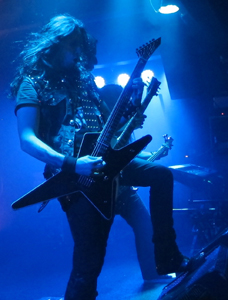 This is 90 minutes of majestic metal madness that projects musical passion from all that are in this room tonight.
8/10
By Glenn Milligan
Faster Pussycat/Silent Rage/Ronny North -
The Brixton, Redondo Beach, Saturday, 28th April, 2012
Well after a great day being driven around the beach areas by my buddy Kathy it was a splendid idea to finish off the night with a good ole rock 'n' roll gig - it was a Saturday night after all. Yet another new venue for me on my travels - the Brixton is kinda like a giant Viper room with a stage that is about the same size as well - quite a squeeze for a band to say the least. So let's see some green guitar maestroness start up the proceedings.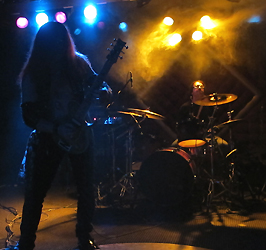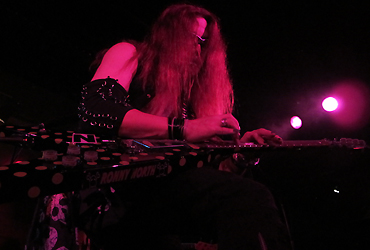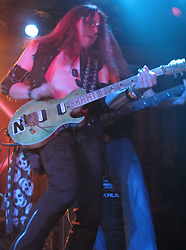 Thus was a three piece who were up 1st in the form of our local Orange County buddy, Ronny North and his accompanying bassist and drummer for the event. Oh before I go any further I must say that the headliner was gonna be ex-Poison star, Ritchie Kotzen, but had to pull out due to injury - oh well we got some spacey guitar playing in the form of this Red haired Wizard.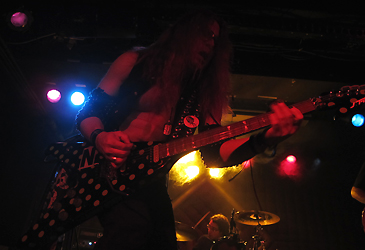 Ronny entertained the folks with a good 30+ mins of material that reminded me of a cross between Joe Satriani, Dweezil Zappa and Steve Vai - controlled but at the same time zany, off the wall while being melodic and agressive in a neat little package of 6 string impressario. He also told us he was gonna be playing Germany and that we rocked several times during the set many of which came from his 'Light' album that he signed copies of in his meet and greet after being on stage.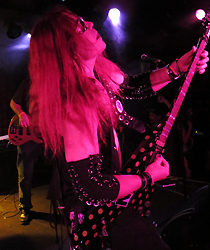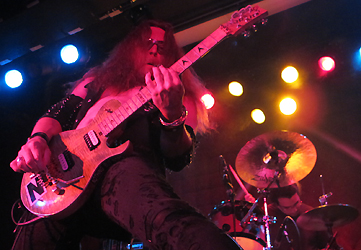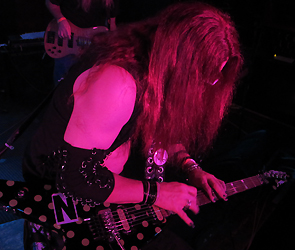 This was full-on guitarists, guitar music without a vocal in sight. The man posed throughout his playing and didn't keep still for very long at all. Ronny Rocks but could really do with a singer in my humble opinion to give his material way more depth and broader appeal.
7/10
The next notable band I have been wanting see for 10 years after they first sent me their reunion album, 'Still Alive' that is still one of my favourite CD's to this day. Silent Rage were one of those great hair bands that didn't quite hit into the inner circle and get worldwide status like many others did - a crying shame if ever there was one. The fact of the matter did not seem to bother them though and these guys were so totally on fire both musically and vocally.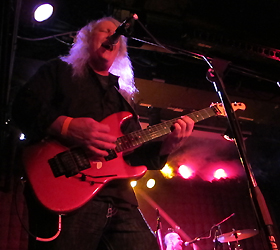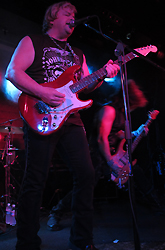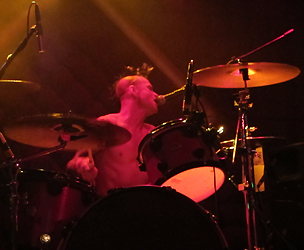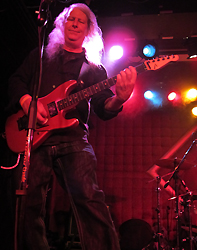 Highlights of their set included 'Don't Touch Me There'; 'Whiskey Woman'; 'I Wanna Feel It' and 'Rebel Without A Cause' - well it was all a massive highlight from beginning to end as the band were do on form with own style of Hard Rock that's most melodic and powerful with both laid back on full on moments and then some... well let's just say they have a well blended sound of their own which is what many bands still strive to get. Everyone remembered the songs and the whole band really enjoyed being up their with cool stances, smiles and the odd pose for good measures too.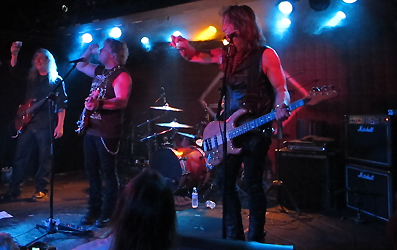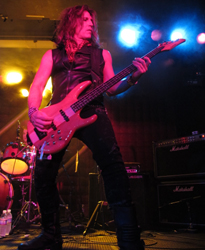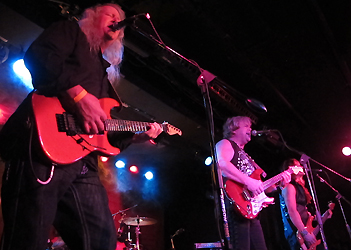 What more can I say apart from the fact that it sure was worth the wait to see this fine quartet at last!
10/10
I don't know what was going on at Pussycat HQ but it well way over an hours wait before the Taime Down fronted band took the stage - maybe they got lost on the way to the stage in true Spinal Tap manner or were taking out all the brown M&M's that had been left in the bag - lol. The musical part of the band came out the door first, rocking it up before their leader showed amongst a decent round of screams and applause with smeared make-up and general military blackery that he's been wearing since the Newlydead times.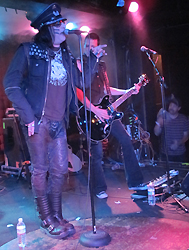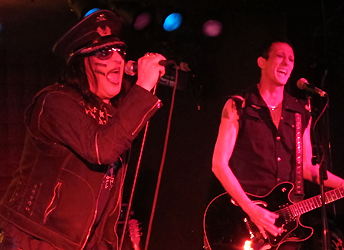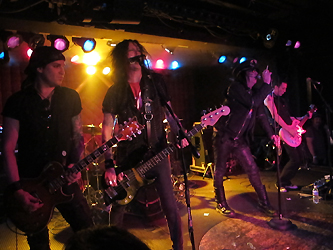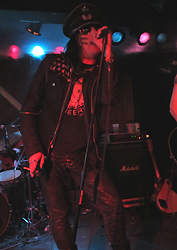 Songwise it was a mix of the said band and old Pussycat songs that were drenched in dirt and darkness with Taime chainsmoking through virtually the entire set like he was chilling out at home or down the pub - well it was a big bar type building when all was said and done. Highlights of their non-diclosed set list included 'Cathouse'; 'House of Pain'; 'Porn Star'; Don't Change That Song' and 'Poison Ivy' with Taime chilled out and sat down on the stage.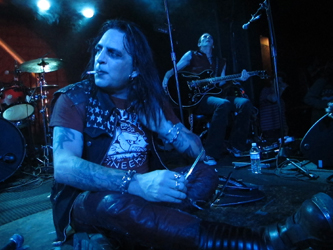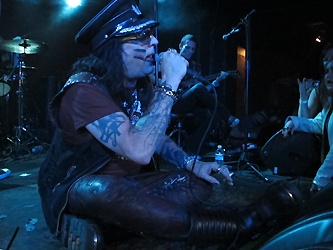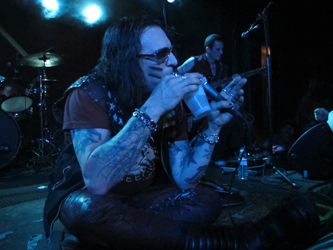 In one part of the show there was a slight embarassing break where the drummer had to get the next pre-recorded backing track ready for the next song since it would have taken way too much to get some of these sounds live - though it would have been way more professional to have someone do this out the way of the view of the audience - oh what the hell, at least they weren't trying to fool us that all the sounds were coming from the stage.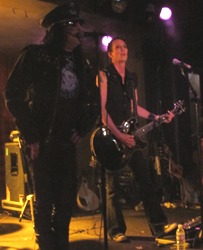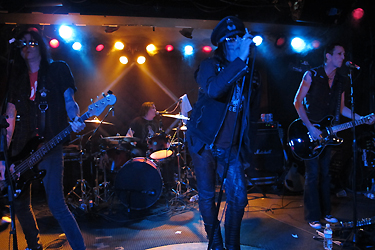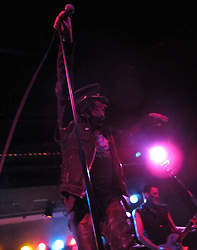 Anyway back to the songs - 'Babylon' was of course in there and a cool number that the big haired guitarist Danny performed virutally all on his own called 'Pretty F*ck*d Up' by The Supersuckers in the middle of 'Bathroom Wall' with Taime joining him at the end of the number.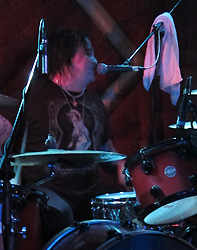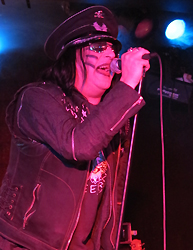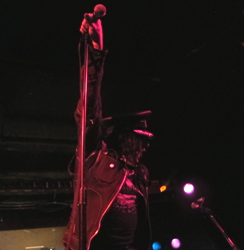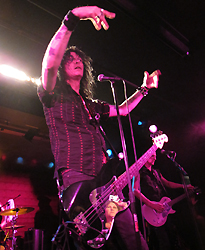 It was a decent gig from Faster Pussycat that ended with a cover of 'Prime Mover' by Zodiac Mindwarp & The Love Reaction' that went down f*ck*n' A in their. Just a pity that so many people had already left - their loss since it's not like it was a weekday.
8/10
By Glenn Milligan
Fun Lovin' Criminals - Corporation, Sheffield, Saturday, 4th June, 2011
Set List: We, The 3/Korean Bodega/Loco/Too Hot/Passive-Aggressive/The Grave & The Constant/Bump/Southside/Classic Fantastic/Scooby Snacks/Blues For Suckers/10th St./King Of New York/Got Our Love/Love Unlimited/Big Nite Out.
Encore: Come Find Yourself/All The Time In The World/Fun Lovin' Criminal.
Not been to see a band in the big room for a good wee while so it was great to get back in there again. I remember these guys from the early 90's with their classic song from the film about that famous cartoon character and have to say didnt realise they were still going - but glad to see that they are and have a nice healthy strong fanbase - judging by the amount of people that came to see their show in Sheffield tonight. They have such a full sound for a three piece although some of it is obviously pre-taped as you can't play bass and trumpet at the same time can you - unless you got 4 arms and 2 brains - lol - not to mention the sound fx and extras too.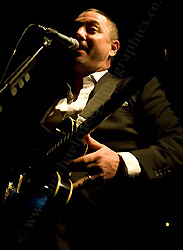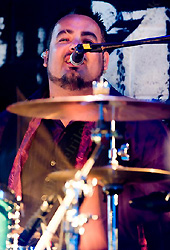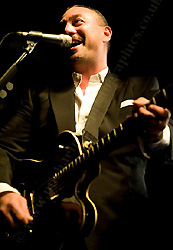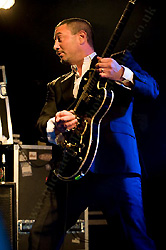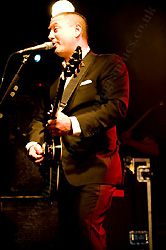 Man are these guyz very slick and tight or what? - absolute perfection in pristine grey shiny suits and and an amazing sound as well - nice one on getting the new speakers Mutley - they sound killer! Mainman, Pass grabs the audinece in the palm of his hands straight away and his name is chanted numerously throughtout the night and he loves every second of it. Musicwise they have a mellowed Funky 'n' Rappy style but can also rock, blues and metal it up in the right song at the appropriate time. In fact, Pass is a great guitar player and 'Korean Bodega' sees him sound very Angus Young like before turning into Carlos Santana.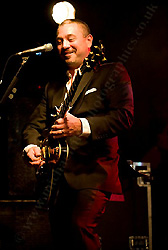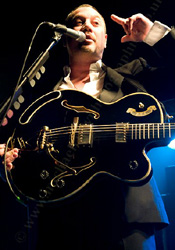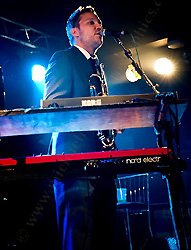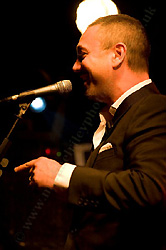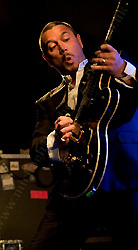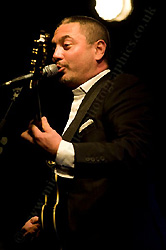 There were many funky numbers throughout the set with one where Pass was singing aboput 'Getting it on' - funky numbe or 'South Side' with its screaming guitar. Scooby Snacks came around halfway through the set and I was surprised as I thought it wouold have been the last song or part of the encore - the crowd sang away to it and went mental with loadsa jumping around and hands in the air - especially on that well known Scooby Doo film chorus that's made the boys so famous in the 1st place. What was a real turn-up for the books in the set was the 50's rockabilly a la Stray Cats in 'Blues For Suckers' that fit so well next to that just mentioned famous number and everyone loved it - they are such a wide ranged band who can throw various musical surprises in, leaving you wandering what could be coming next. The Fun' guys were so happy with the reception they recived that they did a shot and toasted to us all - in fact Pass lost his high voice a bit too as a result of the dryness of the drink - unless he did that purposely - hahaha.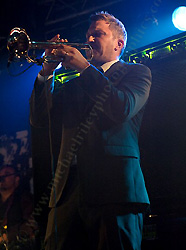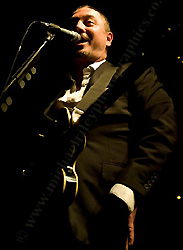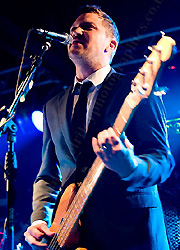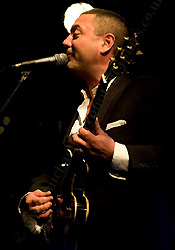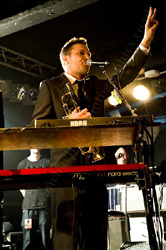 "You start this you stoned f*ck", Frankie the drummer says and laughs. Pass looks round and then says to us, "When you're right, your right' and goes into the kickin' and funky '10th Street' and then tells us he is 'The King Of New York' - with a presensw like this I ain't doubt thie fact either. There's loads of screaming feedback for an opening of a love song with the drummer saying he though he was in Kasabian for a minute with Pass joking that he only said that because he was from Leicester goes on with a banter about Leicester mustard. Next song is about Barry White - was that 'Love Unlimited'? and was recorded in Aerosmith's studio that Pass says was a bit big for them and they only needed the kind of space they had like the stage here at the Coporation. He got everyone chanting the big late black soul singers name at mass volume - never thought I'd hear that in this club happening but there ya go.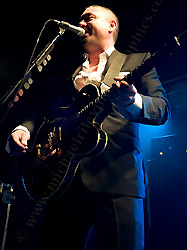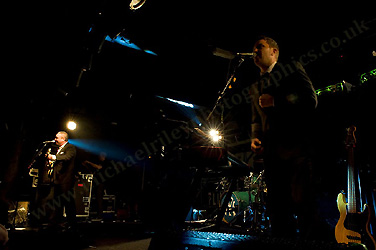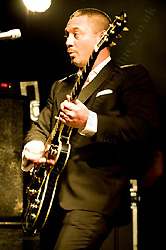 There's this song that conscerns a 'Supermodel on my D' and is one hell of a funny, but no doubt an honest and autobiographic number I am guessing that has a parody of 'Can't you see' by The Marshall Tucker Band in there 'Can't you see, Can't you see', I got a Supermodel on my D' - hilarious stuff there - you just had to be there for that one alone! The 'Criminals encore with a number from 1st album that goes by the name of ''Come Find Yourself' that's a real rocker of a number and take it right down and way back a few decades 'All the time in the world' by Louis Armstrong that's utterly stunning when it comes to vibe and brassity. Of course there's only one way to finish a concert from this trio and that's with 'Fun Lovin' Criminal' that opens with some killer harp and trumpet playing and gets everyone bopping for the last time of the night. They thank us afterrwards and leave peeps gagging for more - that's when you know you've seen a damn find band.
10/10
Review By Glenn Milligan
Pictures By Michael Riley
Foghat/Back In Black/Push -
Cocofest,Sunsplash Entertainment Centre, Cape Coral,Fl., Saturday, 13th November, 2010
Is it really a year on since I was last here watching Molly Hatchet - it must be, but it's gone so quick and this time I get to see the opening band as well who go by the name of Push whose frontman JJ used to front The Mixx up until recently - but that's another story indeed. The new band featuruing an ex-member of The Bullet Boys & The Diane Russell Band, called Tommy on Bass, Paul Chang on Lead Guitar and a drummer whose name escapes me right now, play a great set of covers with many of them borrowed from JJ's previous band that included 'Summer of 69'; Black Sabbath's 'War Pigs'; a Gun N Roses classic or two and Led Zeppelin's 'Whole Lotta Love'.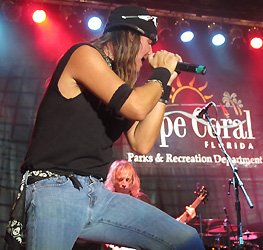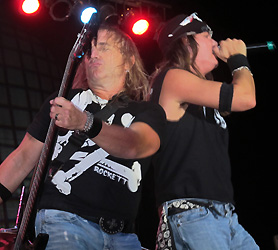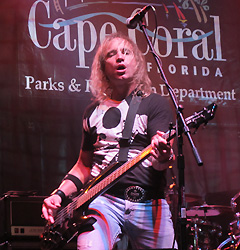 Best by far in the set was when they played famous songs that they had been involved with in their past such as 'Smooth Up In Ya' by The Bullet Boys and Head East's main big hit who JJ fronted for a while. Push got it out there and were full of rock godliness, commanding the stage and leering in the Capers with all their monstrous confidence not to mention a hell of a lot of cool posing and running around on the stage from JJ like he was Axl Rose or Vince Neil in their heyday. Looking forward to hearing some original material from these guys soon.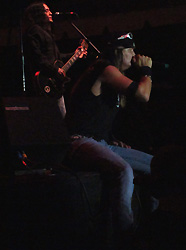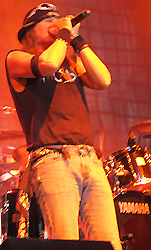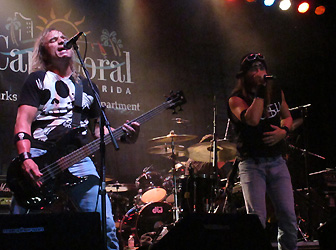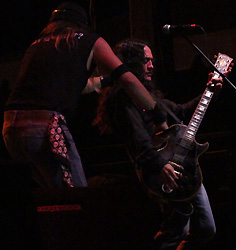 Last year it was a Guns N Roses tribute, this time the tribute are called 'Back In Black', which leaves no questions of who they are impersonating - yep those Australian/UK Legends, AC/DC who had a frontman who could do both Bon Scott & Brian Johnson spot on. They performed a cross section of material that included many classics such as 'The Jack'; 'Dirty Deeds Done Dirt Cheap'; 'Hells Bells'; 'Highway To Hell'; 'Thunderstruck'; 'TNT' and concluded with the excellent 'For Those About To Rock (We Salute You) that came complete with cannon sounds in many sections of the number.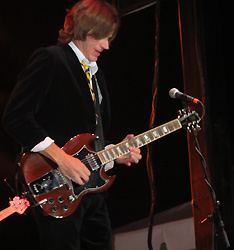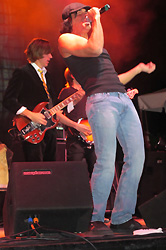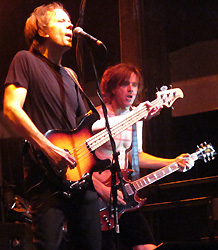 The moves of the guys was purely riveting and they really got down to it with some serious high-power rock 'n' roll of the highest pure meat and potatoe order. The dude playing Angus did the classic strip routine, showing his A*** to us that was hiding behind his sporting AC/DC underpants - hahaha - funny as!! He had the ability to get all the riffs perfectly intact with all the headbanging and spinning on the floor routine going on - quite an incredible spectacle - especially when he had the immensely large stage to work his musical mojo on.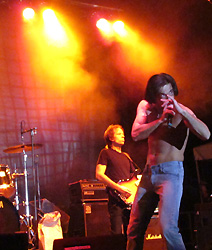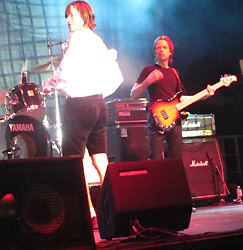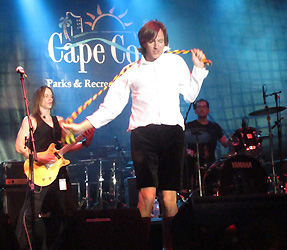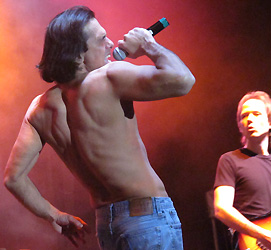 Rhythm-wise they were faultess too with a tight interlock between every member of the band. Plenty of authentic banter took place from their Bon/Brian frontman kept us well riveted and excitable between the songs and their wasn't a let up throughout their entire set.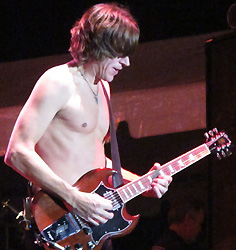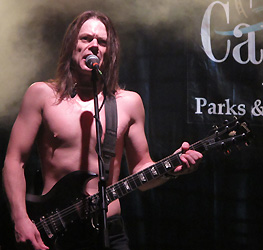 Foghat Main Set-list: Road Fever/My Babe/Driving Wheel/Needle & Spoon/Stone Blue/Rollin' & Tumblin'/Fool For The City/I Just Want To Make Love To You (Long).
Encore: Slowride.
Now as soon as I found out that Foghat were playing this years Cocofest, I was really chuffed to say the least - the real reason I attended to be honest - anything else was a complete bonus but must say I was totally impressed with those who came on before. The Fireworks preceded Foghat and then it was rock boogie blues heaven for the next 75 minutes.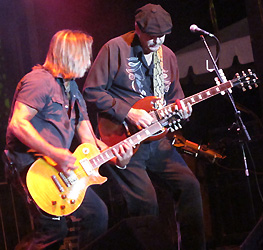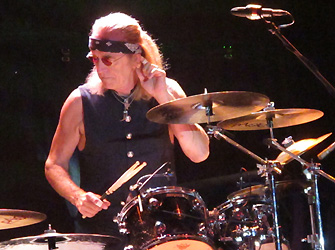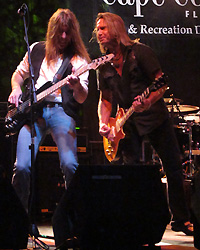 There was slide guitarwork from Bryan Bassett in huge mighty slades of bottleneckin' like brilliance and even though the band have only got one original member these days in drummer Roger Earl, it simply made no difference at all as all the songs were totally intact and played just as well as in the Lonesome Dave Peveritt days. Jeff Howell, who played with Foghat at one time and also Savoy Brown and the Outlaws was back on bass as well due to Craig MacGregor being out of action for a few months due to an injury. Jeff did Craig proud, let me tell you!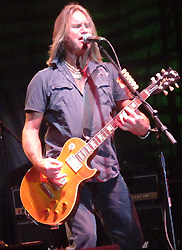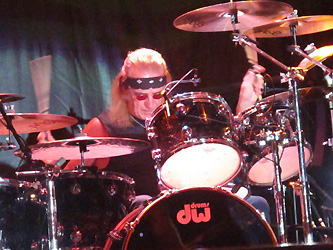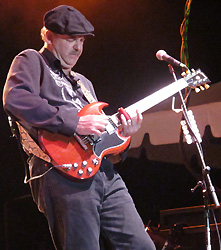 OK the 'Hat hammered out a couple of covers but they did back in those times too and one of thier biggest hits was 'I Just Want To Make Love To You' that many an artist have banged out over the years in their own way and the immensely cool blues standard 'Rollin' & Tumblin' as well that were both jammed out and improvised around to epical proportions like there was no tomorrow.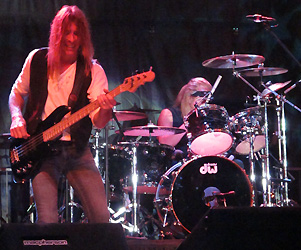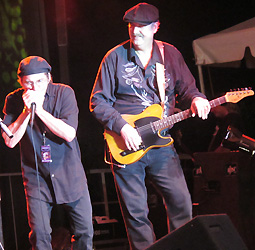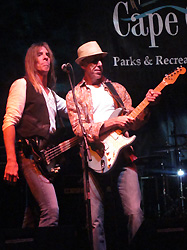 For me personally it was the rockier numbers that really did it for me such as the rockin' 'My Babe'; the pedal to the metal 'Driving Wheel' and the pacey, strong in all ways possible 'Fool For The City'. Toward the end of the main set they brought on a couple of their buddies - one on harmonica and the other on guitar to add to the bluesed-out excitement going on in this part of the Cape - kick *ss baby!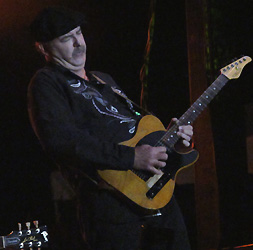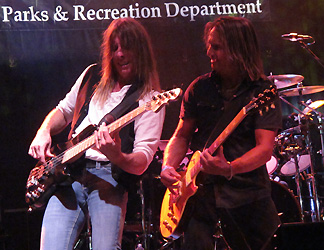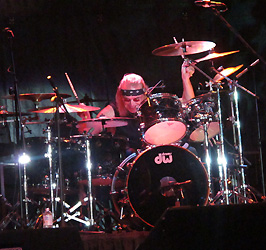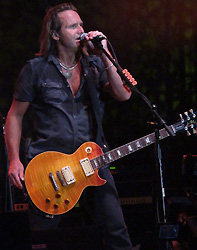 Roger got to do a very impressive drum solo that even frontman, Charlie Huhn commented on - well it's one way of giving the other guys a good break ain't it - but not for poor old Mr. Earl - hey less of the old I hear him say - hahaha. I gotta say it was rather funny when the band left the stage after the main set leaving some rather non-plussed since a certian song had not been performed yet.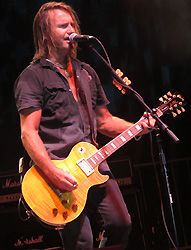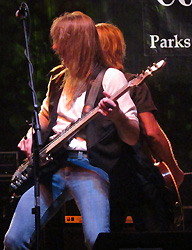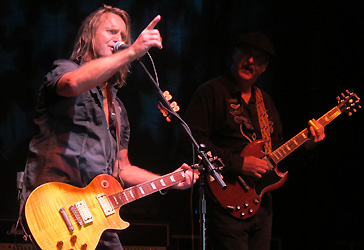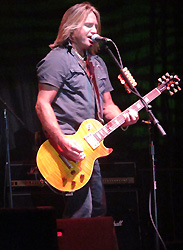 Come on people, you should realise that it would appear as their swansong of the night and indeed it did. Slow what dears? A song that was easy to guess the name ofas soon as you heard that legendary riff - no wonder they used it for the closing of the film 'Dazed & Confused' - f*ck*n' loved it everyone did who were there on this here night. 'Slow Ride' is up there with one of the coolest rock songs ever penned and recorded and we couldn't get enough of it and no doubt many wanted it to just keep on going.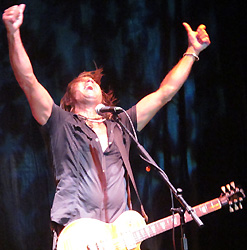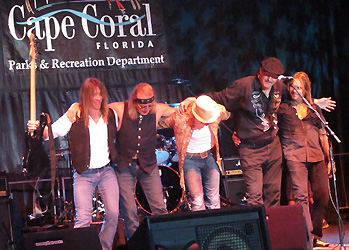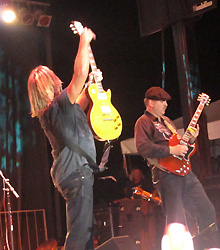 After a bow to us all the band came out and met us all at the merchandise tent, had photos with us, chatted and signed whatever we placed in front of them. One hell of a cool set of guys they are too. See ya'll at Cocofest 2011 for sure - the Rock Night of course. Til next year!
9.5/10
By Glenn Milligan
Fear Factory/Beholder – Corporation, Sheffield, 4th August, 2010
It's been a long time since I last saw Fear Factory; I think it was April 2006 at Nottingham Rock City with Godflesh supporting and what a gig that was. So my expectations were high as these guys from Los Angeles were blessing us with their presence once more.
Beholder from Birmingham enter the stage to promote their new CD 'The Awakening' with a heavy bombardment of good solid metal music. It's the first time I've seen Beholder and was surprised by the solid sound they produced as they ponded their way through 'Snake Eyes', 'Razorline', 'Born Into Pain', 'The Heretic', 'March Of The Damned' and 'The Awakening' to finish with a classic 'Holy Diver (Dio cover)'. I haven't got anything against anyone doing a tribute but sometimes the track can be a bit worn down and flat. Apart from that Beholder put up a good show in such a tight spot.

Fear Factory then entered with a tremendous uproar from a dedicated and passionate crowd as 'Mechanize' hit our ears with such force. Burton C Bell bellowed, growled and screamed with all his heart as he Fear Factory sped their way through 'Shock', 'Edgecrusher'.
'Smasher/Devourer', 'Acres of Skin', 'Linchpin', 'Powershifter', 'Fear Campaign', 'Martyr', 'Scapegoat', 'Demanufacture', 'Self Bias Resistor', 'Zero Signal', 'H-K (Hunter-Killer)'to finish with 'Replica'. It was also nice to hear the crowds rendition of you fat bastard which was aimed at Dino, who took it in nice faith and replied with I'm not the only fat bastard on stage.
Fear Factory did what they had to do and at the same time gave the crowd a bloody good time doing it. Fear Factory are back with a soul of a new machine.
9/10
By Tony Watson
Lita Ford – Ricochet Nightclub, Fort Myers, Florida, Saturday May 23rd, 2009
Set List –
Larger Than Life/Black Widow/Can't Catch Me/Gotta Let Go/Back To The Cave/Hungry/Fallin' In And Out Of Love/Hellbound Train/Drum Solo/Band Intro/Keyboard Solo/The Ripper/One Way 2 Rock.
Encore –
Close My Eyes Forever/Kiss Me Deadly.
It's not every Saturday night that a Major 80's Rock Star hits town but on this occasion, Fort Myers was given a complete exclusive – the one & only club show of Lita Ford & her brand new band. Introduced by 2 DJ's from Classic Rock 94.5 who also threw us a few free t-shirts to get us in the mood.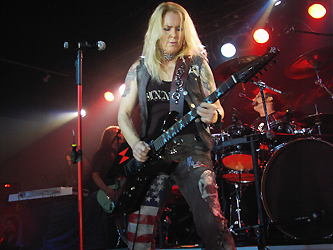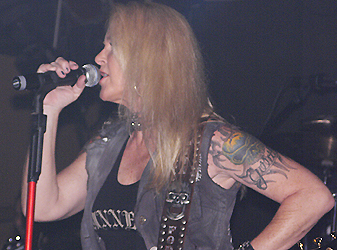 Lita Ford's new line-up features 2 local legends - the World-Class Heavy Metal Drummer, Stet Howland (ex-WASP/Blackfoot/Run 21) alongside his former Run 21 buddy, JC on Bass, not to mention, the reformed Hardline Keyboard Player, Michael T. Ross & Guitarist, Greg Hampton (who has produced Alice Cooper and worked alongside the likes of Bootsy Collins & members of Guns 'n' Roses in the band 'Science Fiction').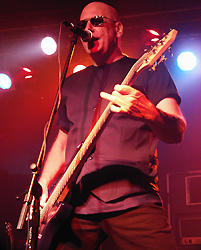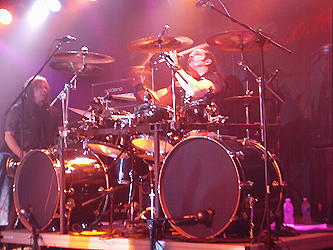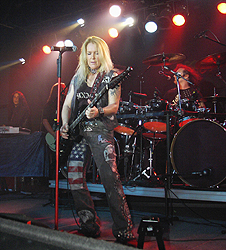 After screams of 'Lita, Lita, Lita' from the frenzidly full-on Fort Myers fanbase, our favourite blonde guitar goddess hits the stage in fine vocal form and proves she's not lost any of her sexy, strong stage presense that she held in her heyday – you bet she is still 'Larger than Life' with an opening song of the same name to prove it. This lady can do wrong with an exceptional band who hold musical prowess and sing dynamite backing vocals.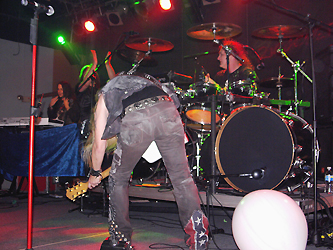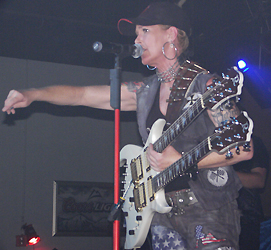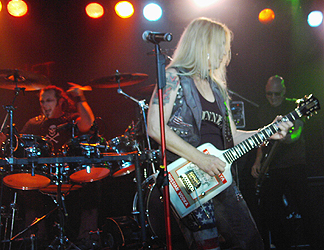 Early on in the show a guy gets her attention by giving her the finger – but it seems he simply wants to come up to show off his new tattoos – and is invited to do so – that's rock 'n' roll for ya and anything goes they say – with tonight being no exception. Playing those exquisite customised colorful shaped guitars, Lita is something of a showgirl on all things axe related, not to mention taunting all and sundry with her sultry stage moves, well toned frame and even sporting a sleazy police hat that drives the men in here tonight thoroughly wild with awe – and quite righly so too!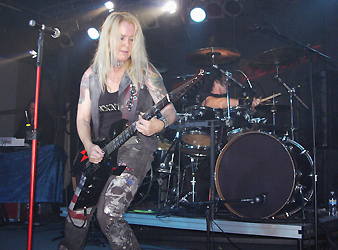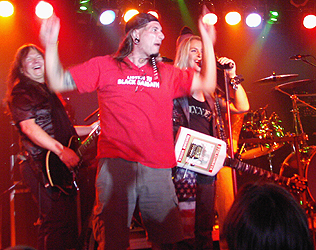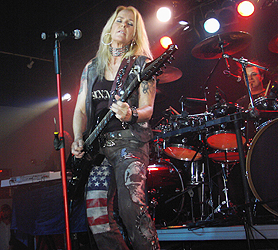 It's a concert of retro sounds with highlights being well known numbers such as 'Close My Eyes Forever' that we are invited to sing on because Ozzy Osbourne isn't here tonight; a killer cover of Sammy Hagar's, 'One Way 2 Rock' & the lovely power ballad 'Falling In And Out Of Love'. It's a loud and proud concert with some awesome stage-lighting with Lita 'Hungry' to give us as much music and great songs as possible.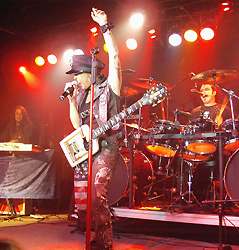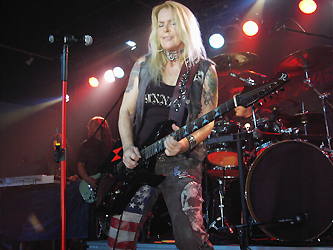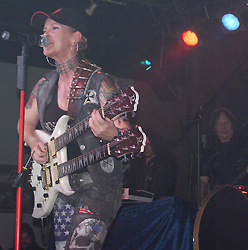 Stet & Michael get to shine in their own right with drum and keyboard solos and what a joy it is to behold. Mr. Howland shows us how to really play a double bass kit with acrobatics a plenty, some top quality stick pointing & pointing and playing the tops and cymbals with just his hands - this was 80's flambouyance all over again – brilliant. Mr. Watts blew us away with some top notch 'Mr. Crowley' rifferey on the ebony and ivories, which was that's followed up with a roaring rendition of firm Ford fave, 'The Ripper'. I was also in awe on how impressive JC was and would rank him among the best I've ever seen.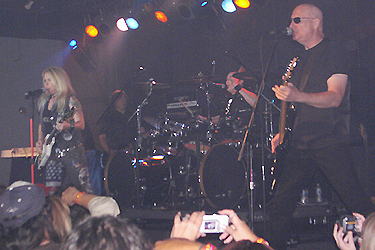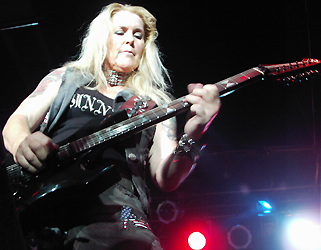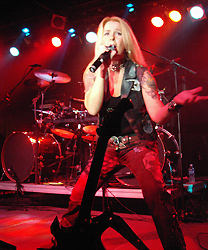 A lovely difference that totally sets Lita's show apart from many others is that fact that she gets her two young sons involved with the fun-filled, partyville. They get up on stage and throw giant balloons to the crowd, who lap it up in good sport and wholehearted love. Everyone had the time of their lives with the lovers of Lita being more than overjoyed with the concert and let her know so as well. It's often said that the best is saved to last which in this case can only mean one thing – Lita closes the show with her 1988 Mega-Hit 'Kiss Me Deadly' that we all join her on – especially during the chrous. An incredible end to an incredible concert.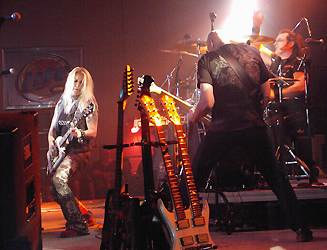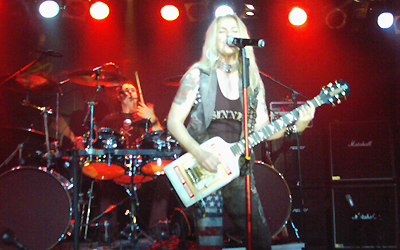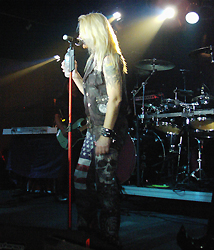 Support was from West Palm based Metal Band, Dharmata who didn't have much in common musically with Lita but managed to win over a few new fans with their kinda nu-metal, sometimes screamo alternative sounds.
9/10
By Glenn Milligan
Faster Pussycat/Bang Tango/Torn Asunder –
Corporation, Sheffield, Thursday 22nd January, 2008
It's into the small room at the good ole Corporation for tonight's show. The openers are a female fronted hard rock act from Essex going by the name of Torn Asunder who were actually quite good. Instead of sticking to one they had a pretty diverse combo of styles that included general hard rock, old school metal and slight bit of grunge here and there to well and truly flavour it up quite a bit.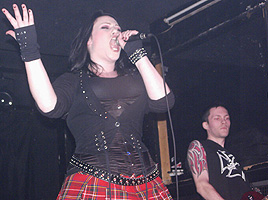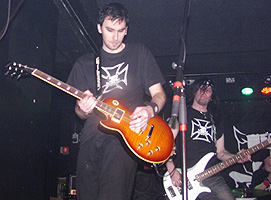 They even threw in a couple of good ole bluesy like tunes as part of their all-round the genres set which was spot on. If we were to compare them to any other band we would have to say that they are a bit like a two-guitar version of McQueen really. Their songs got better towards the end – in fact the last two songs they did were the best ones but to be honest whole set was ok with no stinkers at all. Highlights were 'Going Down' and 'Find Direction' – a band well worth checking out.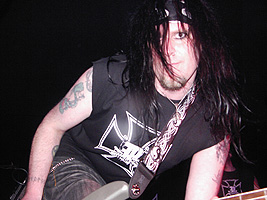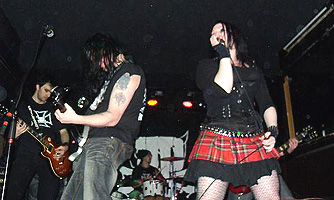 It turned out that Beautiful Creatures had pulled out of the tour – well actually Joe Leste fronts both Bang Tango and Beautiful Creatures, so they made a band from both outfits. Joe Leste was really good with the crowd having a good rapprt with them all the way through, trying to put on an English accent – something those yanks can never seem to master properly and ends up sounding like p*ss*d up Hugh Grant gone Australian. He asked if Sheffield was a drinking town –hmm – guess the only answer to this would be a definite yes.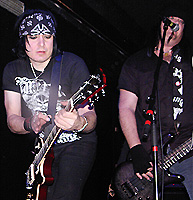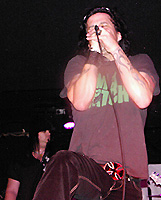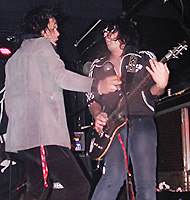 Set-wise this was like a retro travel back to the late 80's as the sound of Bang Tango is a cross of Glam, Sleaze, Hard Rock and funk as well. Highlights of the set was a Beatiful Creatures number that leaned towards Black Label Society, the classic 'On & On' number and if my memory serves me right, 'Wrap My Wings' as well. There was a humourous section when he was introducing the band as he must have introduced their bassist about 3 times – lol. Good set and went down pretty well.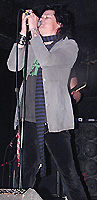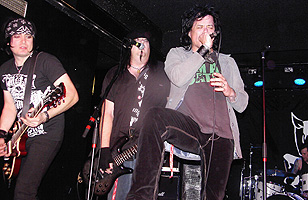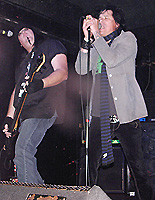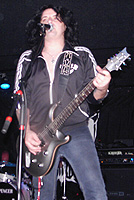 Now the last time we saw Faster Pussycat was at Rock City, Nottingham about 7 years ago in the large live room – a pity that they ain't in the large room tonight – where's all the fans these days? Anyway that aside, Sheffield was the place to be to catch the cat.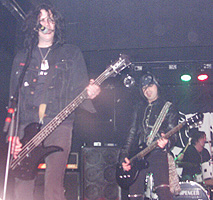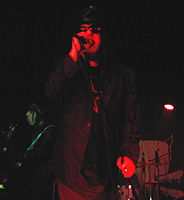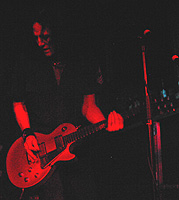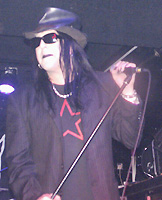 Taime appears to have put a few pounds on since we last saw him and looks like a gothic Boy George crossed with Marilyn Manson – what's that black skirt and long stripey socks number all about – looks rather different to what he did in the heyday of legendary days of the LA 80's scene.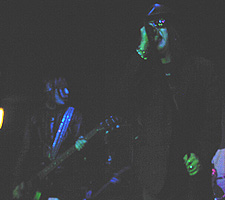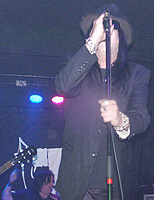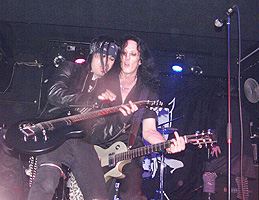 Setwise it was a jumping to the past and then a cruise to the more recent material of theirs. I was actually pleased that they had gone for the original arrangements of the classic debut album tunes and not turned them into gothic, industrial numbers.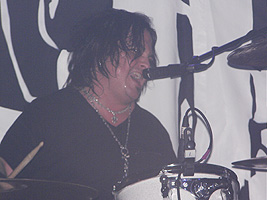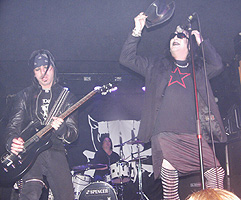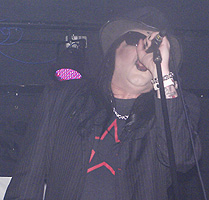 Awesome to hear 'Cathouse' as the second song of the set as well as I thought we'd get that as the encore – well you've gotta grab the crowd early I guess and it worked.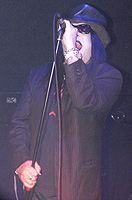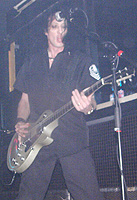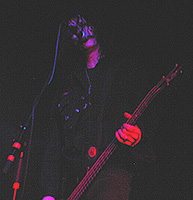 Another cool song of the set was 'Porn Stars' that had this riff in it that reminded me of the theme tune for 'My Name Is Earl' but it did come out a few years before that show. 'Sex, Drugs & Rock 'n' Roll' was a blaster of a song and this other number as well that had the word 'f*ck' in it a lot.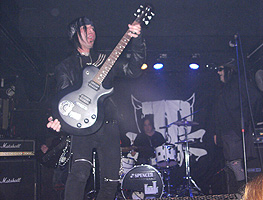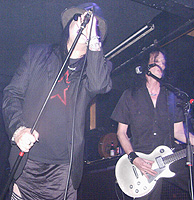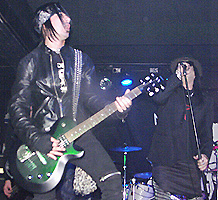 The proceedings seemed to go extremely quick and towards the end Taime said all he wanted to do was smoke a cigarette before they hurled into their other rock club anthem of theirs that's held dear to many peoples hearts that goes by the name of 'Babylon' and then left the stage without an encore which would have been nice.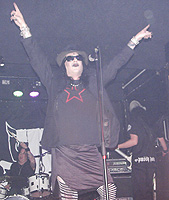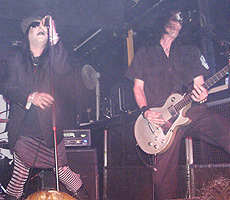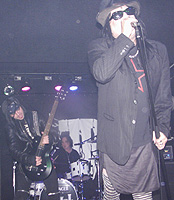 An Intimate loud night was had by all.
8/10
By Glenn Milligan & Dave Attrill

FLATLINE + Anna Haigh + Machines -

Corporation, Sheffield, 26th July, 2008

One of those great four-band bills the no.1 rock venue in steel city delights in putting on, descends once again, although it unfortunately ends up being a three-band one in my case (yes, I've got the bus time-tables wrong once more.... you know the rest)

First up are The Machines, a four –strong alternative act, who initially sound so at first but a progressive feel is there not too far in. The bulk of their material gels, including the aggressive instrumental at the end. A brave idea on 30 minute set.

Anna Haigh, a personal friend of Flatline doesn't disappoint either. An acoustic guitarist/singer is often used to standing by herself onstage, she performs tonight with a full electric line-up behind her, including a member of the Line himself on bass. This gifted young lady's catchy pop rock has a strong meaningful lyrical style which she has evidently injected a lot of thought and anguish into and makes her tunes hit home hard. Another member from the headliners guests on guitar for the final number.

Time finally for a band I just don't get to see as much as I'd like to. Flatline are a lesson to anyone who still believe that musical diversity and experimentation is a crime, to think otherwise, as these guys have been carried along by such initiative themselves to their continued reputation. Just cocking an ear, or both to the opening trio 'Money Or Your Life', 'Whilst do You Expect and 'Stick With It' and absorbing their elements dispels any suspicions of having a one-trick pony in your midst. Airing a large amount of new product as expected, they have come forward a air bit with the acquisition of their new guitarist but alongside mainstay John, we are assured of the unmistakable Flatline sound that drew my attention to them the first time.

Amongst further belters, old and new, they take another step into the unexpected with a cover of Tom Jones's 'Delilhah' and instead of being shocked at hearing this on a hard rock live set, everyone here on the front five rows at least are waving hands- and ciggie lighters along like the Welsh legend is there himself. 'I don't Know', 'Into The Ground' and 'Fictional Hero' are all amongst the best compositions I've heard from these guys and live cornerstone 'Degradation' inevitably is the one everyone's been waiting for all night long – everyone sings along by now as if there's a gun aimed at them from on the stage.

Only one tune could bring more noise and that is of course regular encore of Lizzy's 'Whiskey In the Jar' and the muscle they put into this timeless rock n' roll institution generates a big whack from their daddy'-o for anyone who dares to ignore. Again, its all over after only an hour and sadly one or two other favourites missed the list this evening but at least they were replaced by numbers of equal calibre.

The guys are great and energetic as usual in both material and handling of live, but a bill with only them and one support act may be advisable in future as, without disrespect to all the other promising young acts of Sheffield, we would appreciate the chance of a longer set and I'm sure they would too. That murmur aside, a fantastic atmosphere all around.

More again soon, F.L. boys.

9/10

By Dave Attrill
Ace Frehley –
Tuborg Stage, Download Festival, Donington Saturday, 14th June 2008
Set List – Parasite/Rocket Ride/Love Gun/Snowblind/I Want You/New York Groove/Shout It Out Loud/Shock Me/Cold Gin.
Well since I missed Ace Frehley in April at Corporation, Sheffield as I was over in Florida at the time there was no way he was escaping my eyes and ears this time around. It was a surprise to see that he wasn't in a tent either which made a great change since last year it was way too small for Motley Crue.
Anyways, you get the rumbling blasts of the rocket and on come his 3 band members – then time for the man himself, the real Spaceman – Mr. Ace Frehley without any face-paint in site and instead sports a designer goatee beard and cool black shades. Cries of 'Ace, Ace, Ace' are heard from a large crowd that appear to have gathered in seconds and up comes the 1st of a handful of Kiss classics, everyones least fave lady 'Parasite' that gets rapturous applause.
It's good to see Ace still playing his famous Sunburst Gibson's. I'm sure that Bassist, Anthony Eposito (ex-Lynch Mob), has made himself up as Nikki Sixx purposely for a laugh by spiking up his hair the same way and puttin' on white warpaint strips below each eye. Drummer, Scott Coogan (of 'Brides Of Destruction') reminded me of a young Stet Howland (but he didnt have a double bass kit like he does) and Second Guitarist, Derrek Hawkins was a short haired ginger dude who could easily match Ace note for note.
Baby got something she wanted fast next - she wants a rocket ride, she wants a rocket ride – oh yeah - a number that originally featured on the studio side of Kiss Alive 2 and got a quick singy bit in 'Kiss Meets The Phantom Of The Park' from the man himself. It was magical to get to witness this one that of course got all and sundry wailing on the chorus.
Drummer, Scott sang 'Love Gun' next, giving Ace's voice a quick break but he was back up to the mike for an old lesser heard song that he said he wrote back in the 70's about snowfall called 'Snowblind' (not to be confused with the Sabbath song of the same name) that sequed into a short snippet of the Kiss fave 'I Want You' – again sung by Mr. Coogan.
'Get those hands in the air' he orders us to do next as it's 'New York Groove' time – a song that he did well with on his 1978 solo album (that was originally penned for the band 'Hello' in the early 70's). 'This one's about my hometown and I want you all to help me out' ! So we all joined in for the late, legendary Bo Diddley like number – giving us a chance to shine in our own right was well – oh yeah! Bang On, Brother, Bang On! All the band sang the falsetto 'Oos' which was real cool.
Up comes 'Shout it Out Loud' thats undeniably a Kiss song at its best – a firm crowd fave funnily enough and then 'A song I wrote when I got electricuted on-satage and I ain't been the same since – I bet you can tell' and tore into the our fave number about a hot chick putting on black leather and making us feel better – the one and only 'Shock Me' – totally f*ck*ng awesome! It saw him change guitars for this one too as he performed his classic solo where he sets his guitar on fire from the top pick-up – it smoked like f*ck and gradually went out of tune when it was finally put out of its misery when a dude rushed on-stage with a fire extinguisher. 'Still Smokin', he jokes to us! Now that's what I call hot!!
Last song of the set was the song that we are all used to hearing Gene do – that being 'Cold Gin' that Ace pulled off really well (he did write it!) – a ditty that had a real long ending like it does on the record, instead of wrappin' it up really quick – excellent stuff. He tells us we've been a great audience, "See you next time, Rock 'N' Roll' before the band bow and leave the stage leaving us all wanting more. So were you one of the lucky ones who caught one of his pleccys or a drumstick?
Come back in your spaceship soon Ace and bring the band with you.
9/10
By Glenn Milligan
Fish – The Boardwalk, Sheffield, Saturday 6th October, 2007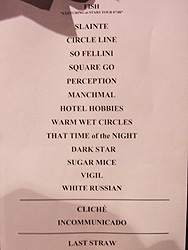 Now here's a big guy I have never seen before in concert - a rate tall Scottish bloke who goes by the name of Fish, who was the original frontman of Marillion. Last time I saw him was on that film with guys from 'Auf Wiedersein Pet' where he played an old rock star - the film being the classic 'Still Crazy'. Well none of the guys from the building site were on stage tonight - although a duet with Jimmy Nail would have been cool - only kiddin' mate.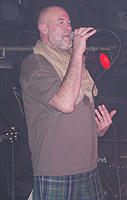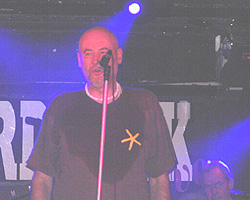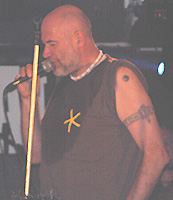 On stage with his own band, albeit a bit late which Fish apologised for (so tonight he was in competition with Rush were playing at the Arena up the road, who ironically enough Marillion had supported when he was fronting the band). Yes he had to postpone it from 16th September due to him catching a nasty bug - but at least we got to see him on a Saturday night.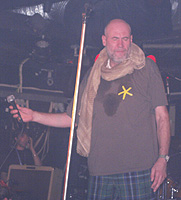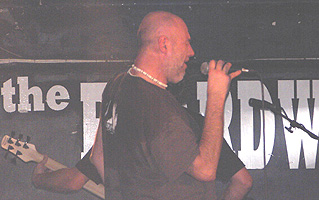 The big man has a new album just out called 'The 13th Star' of which quite a few numbers are aired tonight, like my mate Drew's favourite that goes by the name of 'Sqaure Go' that features a nice rant about the state of the world or summat like that - very political I must add where grabs you by the balls with his statements - well not literally - lol. OK, so I must admit I don't own the new album yet - but I am going to after hearing the material tonight from it.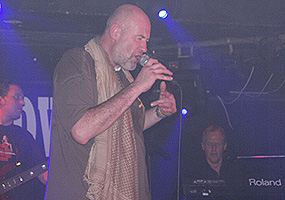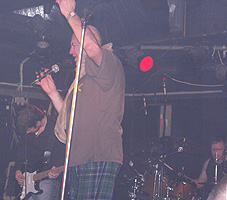 Fish isn't just a brilliant vocalist, songwriter and actor, he is also one hell of a fandabidozi (yep he said that word and said Jimmy used to scare him when he/she was younger) comedian as well. He told us some crackin' stuff that has happened to him personally such as meeting Dwarves - beware of the ginger ones (which we had a laugh about later because as you all know, I am ginger!! and also part scottish I hasten to add!!); being stuck on a day off in Milwaukee (a sh*t part of the USA he tells us); the hatred between Glasgow and Edinburgh that an unfortunate Tour Manager of the Foo Fighters found out about as he got pelted by the crowd by saying his favourite Scottish venue was Glasgow Barrowlands -lol.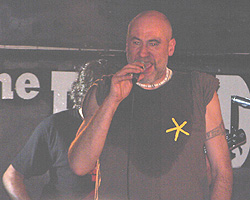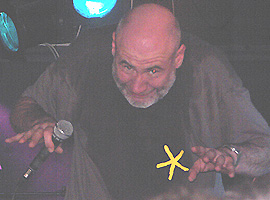 Then there was the fact that he refers to his crew as wine waiters to mislead the VAT man; the state of current football;mineral water (you had to be there to appreciate that one) and Achtung Spitfire (that was as funny as f*ck) before he launching into the song 'Manchmal' which means sometimes, not to mention joking about broken relationships with a member of the crowd who says he's had about 25 much to everyones amusement.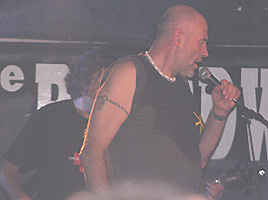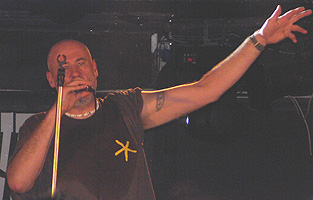 Someone shouted 'Gillette' where Fish laughed and said he used those razors which is why he looks like an alcoholic tramp thats crawled out of a skip - yes he really did say that - and not many would make fun of themselves when they are the well-established main act. Yeah, that's a great thing about tonights gig - it's a one-to-one with members of the audience which doesn't always happen.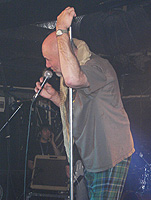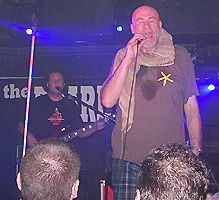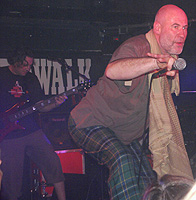 At one point Fish came out into the audience in the middle of a song where the words matched his actions where my mate Drew came out with a classic un-PC line much to the amusement of everybody - there aint many artists that do that - the last time I saw that was Josh Todd from Buckcherry at the Corporation in June this year. Other great parts of the show were when the audience clapped perfectly in time to the songs - even without Fish asking them - the best of this was a really sycopated number which was real impressive.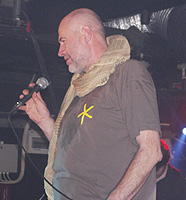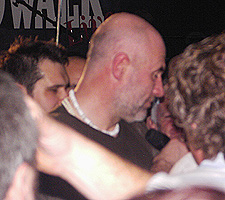 So many highlights overall, with songs perfromed that leave a lasting impression on you and every person who witnessed this 6f 5" legend and his band in concert. The band were exceptional and judging by Fish's website, they had not done much in the way of rehearsing for the shows but you could never tell at all - it was precision perfection in every song - and these arrangements are pretty complicated at times.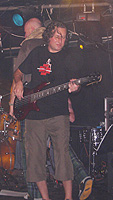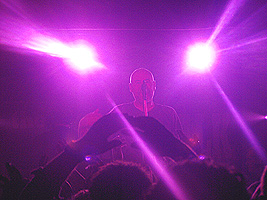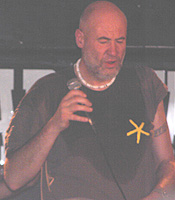 The word 'Brilliance' comes to mind. Noce to hear some of the old Marillion classics, especially the much loved 'Incommunicado' with plenty of singalong, especially during the chorus. Quite fittingly, the last song for the encore was 'Last Straw' - a cool and dare I say ironic way to finish off the set.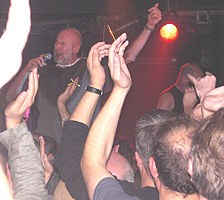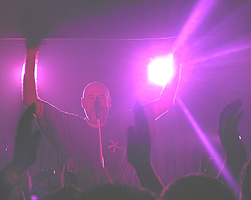 And if you weren't there.... well I guess you must have gone to see Rush !- pity as you missed an exceptional gig - in fact someone shouted for Fish to play 'Spirit of Radio' and he joked,"My voice has been as high as that, well nearly". Anyways crackin' concert - looking forward to many more gigs as good as this one - Fish, you are a star !!
10/10
By Glenn Milligan
FLATLINE + Existenz + Foe + 10ft Dolls –
Corporation, Sheffield Saturday 10th February 2007


Continually a Godsend for giving us the best of the latest local gems on the rock n' roll roster, the Corporation's increasing more frequent four-band bills also provide a chance to catch one of the Crème de la crème of the upcoming crop. Flatline duly oblige but tonight, they headline an all-Steel City bill, believe it or not.

Ten Foot Dolls are the girl-fronted hard rock foursome I caught nearly a year ago at West Street Live and although my memory of what they sounded like is a bit rusty, I do recall seeing a distinctively better set eleven months back. Not slating them that much, they just happen to lack one or two of the better numbers I remember them playing on that previous occasion and their vocal PA brings back some of the horrid memories of the venue's Bank Street Days.

Foe are the day's discovery, no dispute. Their brand of driving alternative rock has a very Jam-meets-Big Country feel to it at times and there are literally no tedious three-chord pop-punk ploddings to dread. Plenty of work put into the guitar here people, the singer who coincidentally sports a not-unlike Weller looking hairdo having clearly sat down to think about what he is writing and resultantly not a bad song amongst these six. 'Make You Mine', 'When I Needed You', 'Lesser Man' and 'Still Waiting' are four particularly strong tunes of which this band have little-to-no shortage. Play again sometime soon lads, please.

Existenz are a familiar name to some as having been support for Brit metal legends Saxon a couple of weeks back, and though they are a little less instant than Foe, their Metallica-meets-Anthrax noise does gel in due course, and boy do they know do to solo. Catchy again for most of their allocated half-hour, I am going to need to cross paths with them again, but as first time round has it, they certainly ain't bad.

Flatline aren't exactly either. They only have one tune from their three-track EP on the set tonight, 'Degradation' having practically become their 'anthem' by this time but their accompanying selections, including 'I Don't Know', 'Knocked Down' and the still unexplained-ly titled '5 Wookie Shuffle' plus a well received cover of Ugly Kid Joe's 'Everything About You' make up the absences of those numbers more familiar to me by now.

Their style still beckons for some explanation, swinging between, GNR, Chili Peppers, Wildhearts, Def Leppard and f*** knows what else but as often is the case, the less categorisable means the less predictable, and F.L.'s produce is one serious musical box of chocolates - you definitely have no hope of knowing what you're going to get with these guys. Well just put it this way, none of them taste bad and their intense cover of Lizzy cornerstone 'Whisky In The Jar' tops off a set that at fifty minutes isn't enough when this level of testosterone ridden rock 'n' roll hits the stacks.

With a new demo apparently on the way later this year I'd rather it was sooner, as I could benefit from learning a few more of their faves before I see them again, although that still didn't deter the sizeable throng who turned out for tonight's proceedings (I counted at least fifty-five of you.) Local bands are like your local butcher - they depend on your support - and Flatline couldn't deserve it more, producing some serious meat in their performance every time we see them and this was no exception.

9/10

By Dave Attrill

FLAMING LIPS - BIRMINGHAM ACADEMY, 24th April 2006
Race For The Prize; Free Radicals; Yoshimi Battles The Pink Robots Pt 1; Yoshimi Battles The Pink Robots Pt 2; The Gash; Vein Of Stars; The Yeah Yeah Song; In The Morning Of The Magicians; Feeling Yourself Disintegrate; The WAND; Cow/Duck Jam; The Spark That Bled; She Don't Use Jelly; Do You Realise; War Pigs (Encore).
After a shoddy opening set from latest trade pets the Go Team, The Flaming Lips conquered Birmingham, Mystics, Pink Robots, Rabbits, Aliens and sinister Santa Clauses with their drug wracked brand of deranged fun on Monday night.

The show was featured on Radio One, and this inspired Wayne Coyne to even greater heights of lunacy than usual.
Opening with a wonderful 'Race For The Prize', the band took us delicately through highlights from their last three albums, showering the audience with confetti and balloons at strategic moments. Visual treats included a giant video screen and a camera on Coyne's mike stand, so that we were able to enjoy his moving duet with a nun glove puppet (for the coda of Yoshimi) to the full.

All music should be this fun.
By Roy Evans

FLYZ - Classic Rock Bar, Sheffield Tuesday 21st September, 2004
These lads deliberately spell their name the way you read it above. So-o-o-o one wonders, how does their music read? Erm, may I come back to you on that one. Apart from bl**din' good stuff that is, by the way. Fusing together pop, punk, grunge, indie, metal, AOR, funk and traditional rock n' roll, these three chaps turn out to be already one album into their career, all eleven numbers of which are included on tonight's list amongst a couple of 'new' ones -they are all are to me actually - and a few classic covers.
There are immediate anthems in formation here, hooks held high by their bizarrely multi-styled onslaught and why only twelve people are in this room tonight - and about half of these are friends and pub staff - beggars belief, but at least I'm one of this dozen with the decency to support this exciting new band tonight.
9/10
By Dave Attrill
Flyz - Classic Rock Bar, Sheffield, 21st September, 2004
Ok, there weren't loads of people in attendance but did this stop the Flyz flying out a heap of energy and emotion - no siree!! Coming all the way from Leeds, this trio filled the place with piping hot music that kind of mashed in indie, rock and punk together that had an AC/DC power and vibe.
Great harmonies in the vocal department not to mention the freshness of the songs on offer like the ballad come hardcoreness of 'You've got somebody else' that Nick 'Toastie' Plant dug big style, smiling intensely in between downing the Newkie Broon!! as well as other crackingly explosive tunes from the debut album 'Aphrodisia' like 'In a hole'; 'Susan'; 'Red Light' and 'Deadmans legs' as well as pleasing furtherly with a extensive cover of Slade's 'Mama we're all craze now' that was as buzzin' to f*ck - well it is the Flyz - so what else could it be as well as a magnificient 'I go wild' by The Rolling Stones, finishing off with Paranoid by Ozzy's old lot.
Ady, Jono & Simon meant rock 'n' roll business and they delivered the goods beautifully. Be sure to be there when Flyz return to the CRB on Dec. 3rd.
9/10
By Glenn Milligan
FIREHOUSE + Danny Vaughn + Deadline + Pride -
Corporation, Sheffield, Tues 9th March, 2004
The last time we heard from Sheffield on the live side of things was in 1992 and guess who missed them that time round. All can be forgotten though as eleven years later, three other bands have staged one hell of act of a welcome back party for these guys.
Brighton's Pride played the previous year's GODS fest and are always welcome on a bill like this. A shadow of the line-up from nine months earlier, they are down from six men to four with vocalist Matt Mitchell taking over vacated rhythm guitar position, whilst Balance Of Power keyster Ivan Gunn has returned to that other act of his, as yet unreplaced. They would have still deserved a longer slot than to allow for only five songs especially when tonight's miniscule set only makes time for one number from their stunning recent 'Signs Of Purity' album, that thankfully being the catchy 'Say You're Not Lonely'.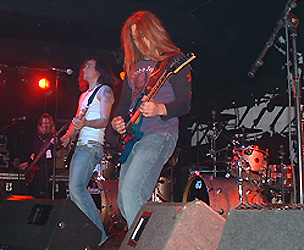 Renowned Rotherham outfit Deadline, whom we seem to be seeing more than our fair share of, lately, come on and totally slay their countrymen with a nine-song set that includes all their three best numbers, 'Love's A Battle', 'Just One Night' and 'Losing Myself'. Regulars at the nearby Classic Rock Bar venue Steve and the boys, who have just inked a deal with TB records, look to have the scene at their feet at the moment.

Oh Danny boy, you there? It's time for that man again. His fourth visit to Steel City is probably Danny Vaughn's finest hour-and-a-quarter to date and his first tour with a twin guitar line-up. The all-Brit star-studded line up ably aiding DV tonight consists of Ten's Steve McKenna and Gregg Morgan on bass and drums, while the strings are attacked by the chap out of Brave new World and also Contagious's Tony Marshall, best remembered for his escapade with Jeff Scott Soto's mike at Penningtons a year back. The set is made to melt in the mouth from the off, covering the best of everything he's done with both bands, including 'Strength In Numbers', 'Wings', 'Is That All There Is', 'Was There A Time', 'Inherit The Wind', 'Lay Your Body Down', and that other one... erm.. you know, always being played in about every hard rock night club you walk into. 'Forev... something or other'. With the announcement of the Tyketto reunion, to include a show in this very same room later this year, a set of this strength couldn't land at a better time to whet those appetites.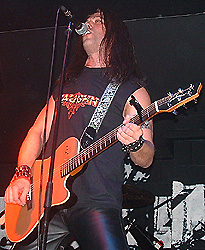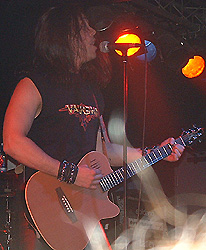 That leaves only the headliners for tonight and they have a gruelling task ahead of them. The opening dual assault of 'Rock On Radio' and 'All She Wrote' indicate that it's the audience's choice that counts tonight and the foursome duly oblige with their selections. 'Reach For The Sky', 'Lovers Lane', 'Overnight Sensation', 'When I Look Into Your Eyes'and predicted encore 'Don't Treat Me Bad' are tunes that the years have been kind to, not to mention the performance of CJ Snare and guitar maestro Bill Leverty, still keepin' those grooves in check today.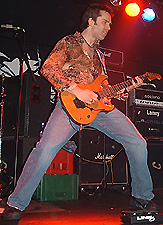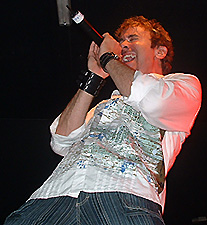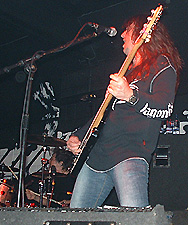 CJ has still yet to be seen with a guitar round him but proves himself to be a highly competent keyboardsman on quite a few of the tunes including the newies that he asks us to be 'guinea pigs to test them on' tonight. Any day, mate. A jolly fine evening - put it mildly, why don't you - for the city's melodic rock fan contingent, these four bands today all worked their arses off to deliver the sort of show that testifies that the scene remains infallible to this day.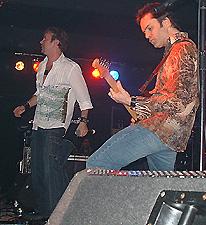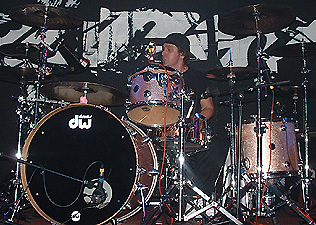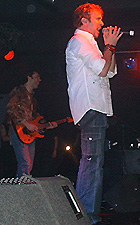 With a bill like this, one wonders if Sheffield may play host to the GODS one day. Again soon, please boys.
9/10
By Dave Attrill
Four Star Mary (support from Audiofine) - Sheffield Barfly (CIub Zero) 28th October, 2002
So l thought the gig was at the site of 'The (defunct) National Centre for Popular Music'? - wrong - the venue had been changed to some club near Belins (a Sharon and Tracey nightmare) called 'Club Zero' l was told by a couple of rock fans. It's a good job l knew Sheffield well as I soon found it.
Club Zero's an averagely large-enough room usually housing dance nights and is a great venue for bands - no wonder it was chosen. As soon as I get in I greet the Four Star Mary lads and disappear onto the tour bus with Zu and Tad to conduct an interview (on the site soon !!!) missing the majority of the local support band but saw the whole set of Audiofine - who play a bunch of rah-rah pop punk type ditties that sound like a whole batch of rah rah pop punk type ditties that every other band are playing at the moment to try to be the next Blink 182 or something - boring - but they do crank out a brilliant take of 'Walking on Sunshine' by Katrina and The Waves'.
So what about the deadliness, Four Star Mary - well they are as tight as f*ck and beatin' out new numbers from the 'Welcome Home' CD - their second release - which is well worth investing in.
'Bleed On' played electric (it's acoustic on the album) should be a single for sure as well as 'As I Rise' (which is in fact the opener on the album. The kids treated them like the crown jewels, not that you could see them. Tad exclaimed that they'd left their Lighting Engineer in Newcastle - so thank god their two friends used small flash lights to brighten up the somewhat other dark stage. A small stage at that and vocalist, Tad dripping in sweat within the first few minutes - the emotion pouring from his face in ecstasy. Of course they played the best of the debut album 'Thrown to the Wolves' with the major standout being Dilate that created a mass singalong from all present in the crowd.
A large white poster was held up, 'Play Rio Please' it read which caused Tad to exclaim, you're gonna do that at every gig aren't you Cherry'?' (he obviously knew her), but of course they please her and all by finishing on a storming version of 'Rio' by Duran Duran which l have to say was better than the original version - another singalong was granted for sure. Man, Zu can't half play his guitar on this classic - well let's be honest - they were all exceptional - just that the soloing stood out quite a lot.
After a 'Goodnight Sheffield' from Tad it was all over but everyone left happy knowing that they'd be back next year for another round - some may even have gone to some of the other shows on the tour, like Cherry perhaps complete with her 'Play Rio' sign.
A killer show from a killer band and that's without stage lights.
9/10
By Glenn Milligan, BA Hons CS
Faster Pussycat - Rock City, Nottingham 09/02/02
It's years since Taime Down's band have been this side of the pond - about 13 years to be exact. Times, looks and line-ups have changed but musically it's pure pussy power. Alongside Taime in the reformed 'cat line-up is original guitarist, Brent Muscat - who ain't aged a bit plus Newlydead members Danny and Chad on bass and drums respectively as well as Pretty Boy Floyd's 'Kristy 'Crash' Majors also on guitar.
Coming on stage to the theme from the Exorcist is pretty damn weird but I guess this must a joke of Taime's - mass applause engages the band before the stage lights have even lit them up, let alone sang or played a note. Around 30 seconds later, it's eruption time - the lights go up and they blast into a heavy, dark, slower, gothic rendition of 'Bathroom Wall' - God knows what the hardcore Faster' fans must have thought to it - it must've f*cked their heads up no end - still they appeared to like it all the same judging by their reception to it (I actually knew what to expect having witnessed it at soundcheck and was later told by Mark Owen of 'RPM Records' that they open with it and play the original version at the end of the show).
So as not to veer the crowds attention Faster Pussycat soon whipped into some old favourites that every well respected Rock DJ has firmly stapled in his set list - like the 12-bar zaniness of 'Cathouse' , 'Don't change that song' and 'Whipped Up' which pleased all the audience no end.
Now the congregation was firmly in the band's hands so Taime asked, 'you don't mind if we play another Newlydeads number do you - well let's face it - why should they - and who's to argue if they did - there's more to these guys than 1987 and the like - so why live in the past. Those samples and loops and samples are highly entertaining anyway.
From what I could see, the Newlydeads material didn't seem to go over as well as the well-established material. I personally think that many of those present could have been more positively receptive to this 'dead songs - because as Taime told me earlier - "it's not about nostalgia sh*t" - but it seems that this is what man of the followers wanted to hear all the same (it's happened to many bands who've toured the states - so
it's no great surprise !!!).
The P-P-P-P-P-P Pussycat trademark 'Babylon' with altered lines sorted out the core fans out though which graciously encouraged plenty of sing-a-long action - as did the 'Wake me up when it's over' track, 'Slip of the Tongue' and the heart rendering, tear jerking ballad 'House of Pain'. Even bassist, Danny got to sing one of his 'Motorchrist' songs which he appeared reluctant to do until he was urged on by Taime.
It was also proved that you could have a chat in-between songs without losing too much momentum. In fact there was quite a bit of this going down - maybe they were deciding what songs to do next or they were missing a set list or two - who knows ?!?!
Later in the set a tribute was paid to the lead vocalist of 'Betty Blowtorch' in a cover of the straight in the face, 'Shut up and f*ck' - of which Taime announced he'd always do it from now on. It went down real swell as did cover versions of Zodiac Mindwarp's 'Prime Mover' and Motorhead's 'Killed By Death' - which was a real surprise in the set.
Finishing off, of course with the original version of 'Bathroom Wall' featuring the lead vocalist of support band, Neon Bomb- Faster Pussycat delivered exactly what the crowd wanted - Nice !!!!
Then there were the rather delicious girlies dancing on then wooden boxes at the back of hall who looked like they'd they been pulled straight out of an 80's promo video -especially the one wearing the thong - these girls should've been on the stage!!!
An all round 8/10.
By Glenn Milligan, BA Hons CS
FEAR FACTORY, GODFLESH & JANIS STARK -
NOTTINGHAM ROCK CITY, November 5th 2001
As we entered the Rock City through the back under the supervision of a security guard, we were taken down the stairs to where Burton, Dino and Justin were finishing off their evening meal, a quick smile and hello were given out to the members of Fear Factory as we were lead towards Justin of Godflesh. An interview with Justin had been kindly set up by Music for Nations (see interview section for outcome), as we sat talking to Justin for a considerable time we missed Janis Stark do their set, but never mind.
We were then lead out to the packed crowed who were waiting eagerly for the appearance of Justin and Godflesh. As Godflesh hit the stage a not so enormous applause came from the crowd. I realized then that this crowd had not heard of this wonderful band that hit the underground scene in the middle eighties.

I spent the whole, listening to the deep slow pounding ambience that came from Godflesh and the odd cheer from an avid fan. This crowd were only here for one thing and that was Fear Factory. Justin and the crew worked hard to get the recognition they deserved with a set that contained material from the new album as well as the better-known tracks off the earlier albums.
As I watched Justin walk off I sensed he was disappointed with the reaction from the packed crowd, he had told us earlier that with changing labels and touring with Fear Factory it was like he was given a second chance. I hope it pays off for them.
Then you guessed it, the lights dimmed the interlude music stopped as Fear Factory hit the stage with an enormous welcoming and the gleam on Burton's face as he peered into the crowed was like he was home. As Fear Factory went through their set faster than a vindaloo after a night out with the lads, playing the favorites like 'Self Bias Resistor', 'Linchpin', 'Shock', 'Resurrection', 'Edge Crusher' and 'Martyr' they got the floor of the Rock City shaking - you could not describe the electrical aura that surrounded everyone unless you were there.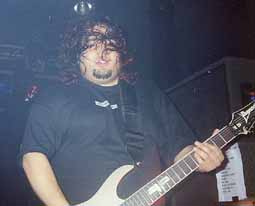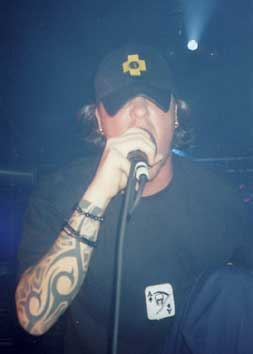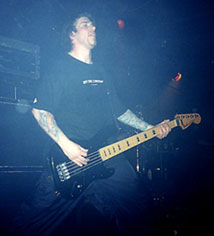 Fear Factory played for just over one hour with no encore, the crowed was still buzzing and was wanting more, but to no avail, it was short and sharp and when they play like that who gives a damn if they came back on or not.
It was probable one of the best Fear Factory gigs I have ever seen; they were hard and fast with a couple of seconds for a breather. Ecstatic.

10/10

By Tony Watson
Firebird - NMB, Sheffield 19/11/01
When Bill Steer's Firebird took the stage they didn't have a very good audience turn-out at all - hopefully there'll be a lot more next time.
Bill's current output doesn't bear any resemblance to Death or Grindcore - it now has more in common with Retro early 70's Blues Prog Rock. Take the set opener 'Dirt Trap' (which incidentally is the first track on the 'birds new and 2nd album 'Deluxe') which saw the trio possess characteristics that put me in mind of 'The Jimi Hendrix Experience' and 'Cream' - the number is a Blues-Rock ecstasy that many can only dream of reproducing or take '???She's there'??? with it's dirty wailing guitar solo.
I know what you are asking - can Bill sing? - well actually - and pretty well at that - with his moderately high-pitched tenor vocals which soar with delight (when they can be heard above the guitar, drums and bass !!! as sometimes the voice was often lost in the mix - which spoils many a good gig these days).
Firebird overall have a musical presence that's a real excitable melting pot of Hendrix, Humble Pie and Rory Gallagher in large doses. Bursting out with colourful sounds from Steer's Six String, John's Bass and Tolles drums Firebird are definitely one of the forerunners of excitable Electric blues.
Easily one of the sets highlights was the closer 'Slow Blues' featuring the damning best harp playing ever to grace my ears - Bill is up there with Sonny Boy Williamson and The Black Crowes 'Chris Robinson' - completely awesome. There was no guitar in this track at all - Bill actually sang through the harmonica which produced an authentic distant monaural quality - so that's how it was done in the studio for the 'Deluxe' album!!!
8/10
By Glenn Milligan, BA Hons CS
Four Star Mary - Rock City, Nottingham November, 2001
California's Four Star Mary really know how to put an energetic live show. You probably heard them earlier last year on the hit U.S. series 'Buffy the Vampire Slayer' where some of their songs were featured. Due to this, the kids in the U.K. have built up a large interest in them - even more than in the U.S. - hence their U.K. Tour in November 2001.
The debut album, 'Thrown to the Wolves' cooks well live and the newly found fans can't seem to get enough of it. The 30 minute + set in the small room goes down incredibly well -in fact it was packed in there. As you can see from the pictures, there ain't much space on the tiny stage but that didn't stop FSM - they appeared to revel in it. Bursting with enthusiasm they ripped through songs like 'Dilate', 'She knows', and 'Thrown to the wolves'. Shortly the set, the band signed autographs as well as posing for piccies with fans as well. Steve Carter's crew had won the crowd over well and truly - I can't see it being too long before they are back on British soil.
I reckon that 2002 could be the year that brakes 'em big-time if this was anything to go by - hopefully they'll be supporting someone pretty big next time (in fact, they'd love to support 'The Who'). A festival somewhere in the U.K. would be a pretty cool affair.
8/10
By Glenn Milligan, BA Hons CS
FUSE - Earl Of Arundel &Surrey, Sheffield, 20th November, 2001
Another young Sheffield band getting some deserved respect in the live arena are this female-fronted nu-metal act. They actually play some noticeably older styled material as I find out this winter evening in Heeley. The four-piece are barely out of their teens by the looks of things but handle their own material very well, plus the covers they choose to include which are mixed in amongst their original cuts. Eurythmics classic, 'Sweet Dreams' - played Marilyn Manson style, obviously and Metallica's 'The Cure' go down well with the er... 20-odd people gathered round the bar and surrounding seats, and the lad on guitar, appropriately enough plays a scaled down version of James Hetfield's legendary black Gibson Explorer.
Also noticed is that for once, a local band playing here have brought their own PA in rather than having relied on the renting of Earl regulars Tikaboo Peak's blasters, princely sum that they may actually charge for such privilege.
All in all, quite a pleasant Tuesday evening for metal fans (and for Jerome's wallet).
8/10
By Dave Attrill
Fydolla Ho - NMB, Sheffield 26/11/01
A totally new band to me and for the majority of the UK are Fydolla Ho - an aggressive Emo metal 4-piece who turn the usual Nu-metal sound upside down and inside out. It's real in-your-face wacky madness from a musical point of view - a sort of Dead Kennedy's meets Hole and L7 on acid is a fair way of describing them.
The 'Ho are fronted by the gorgeous actress, Shawnee Smith, who's been in the X-Files and also been a Maxim Centrefold - and by all accounts - a member of Baywatch who softly sings and screams manically throughout the performance - not to mention the highly charged sexual poses, girations and hand positions.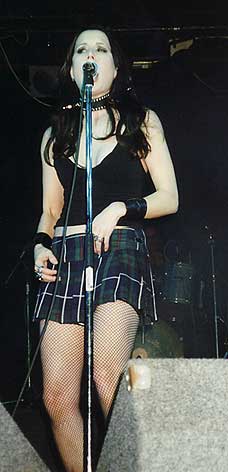 Performing material from their seven track demo - 'Red Headed Woman' which included the somersaulting screaming opener 'Maja' and even a 100% perfect cover of Black Sabbath's 'Fairies Wear Boots', Fydolla Ho proved that they could match the Brummie's rankings with ease - Completely mind-blowing, especially the drumming of Carl (who looked like Sting as 'The Ace Face' from the film 'Quadrophenia', dressed in a blue boiler suit) - it's a wonder his kit was in one piece after that.
Fydolla Ho are an incredibly different band that should have been signed up months ago - I wish them nothing but the best.
7.5/10
By Glenn Milligan, BA Hons CS