Fort Rock 2015 –
Jet Blue Park, Fort Myers, Florida, USA, April 25th, 2015
If you were one of "those people" that were heard saying..."I'm not going to Fort Rock this year because the line-up isn't that great"...you were sadly mistaken...to quote words from Maria Brink of In This Moment..."But let me tell you something baby...You love me for everything you hate me for"...YOU my friend missed out.
Set List: Heart Of Stone/Sweet Escape/Hypocrisy/Do You See It Now/Save Me.
From the very minute that the music started, with SOLICE taking the north stage, you knew that you were at Fort Rock 2015. Solice is a hard rock/metal band from Arlington, TX and Orange County, CA. They are very well known in their local scene of Dallas. I'm certain that they now have fans from SW Florida after the performance they gave. This ass kicking band knows what it takes to bring you to your feet.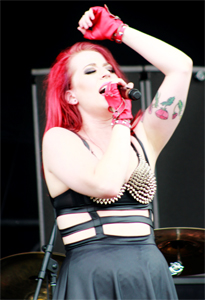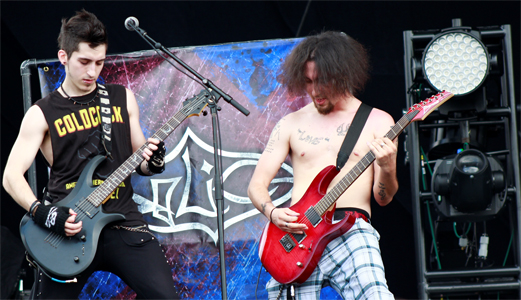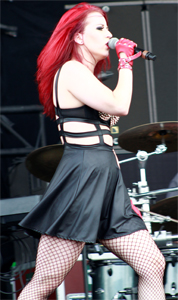 Lead singer, Xtina Lee (Christina McKinstry) is a beautiful bombshell with an amazing voice. This band is tight! Solice came and kicked off a magnificent day filled with some AMAZING artists throughout. Once Solice broke the silence (ha-ha) and brought their hard rock metal sound to the speakers, the crowd NEVER STOPPED ROCKING...and this was just the beginning...
6/10
Set List: Till Death do us Part/Sorrow and Sin/Part Of Me/Self Medicated/Looking Glass/Borracho/ Why.
LOLA BLACK, a punk band with a metal edge from Colorado, brought it fast and furious, getting the early rockers up and running. Lola herself noted Joan Jett as a major contributor to her love of music and drive for the scene.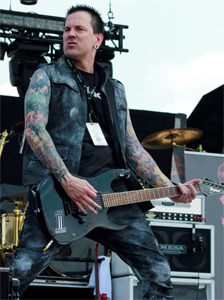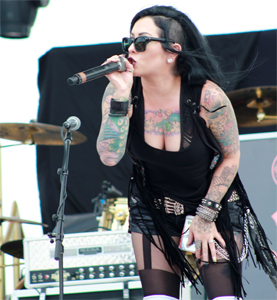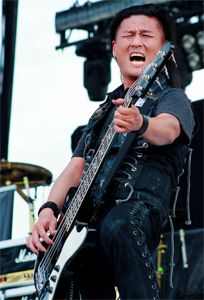 Combining punk, and metal, with a female front, Lola Black brings a sound that is taking music today to a whole new level. The rockin' set that they threw down was just the beginning of what was yet to come...seriously, check them out...you will NOT be disappointed!.
7.5/10
Quite impressive was the duo '68. Featuring guitarist and vocalist Josh Scogin, formerly of the metalcore band, The Chariot, and drummer Michael McClellan. These boys know how to make it sound good with just the two of them on the stage, yes...I said TWO of them!!!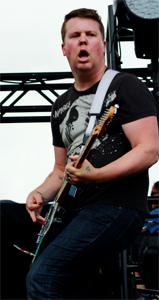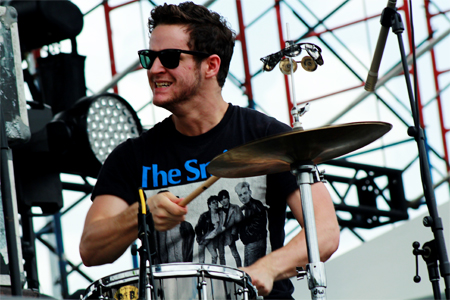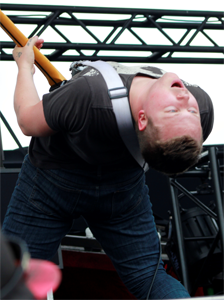 Their first release was appropriately named "Three is a Crowd". If you have never heard them before, I strongly suggest you look into them. You will be blown away by their talent.
6/10
Next up was BUTCHER BABIES...need I say more? These babies know how to rock it, and rock it hard...from the beautiful voice of Heidi Shepherd and the deep throaty growls of Carla Harvey whoever wasn't paying attention at this point, suddenly turned around and took notice.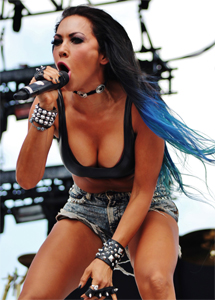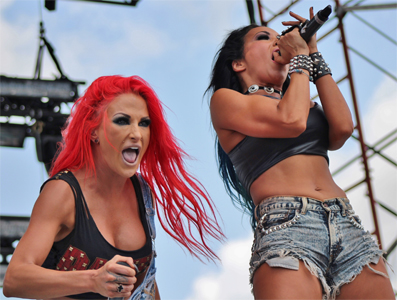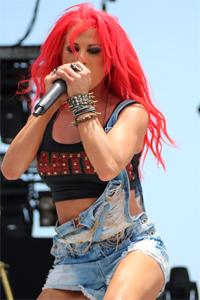 The energy that these two bring to the stage made the temperature rise to well over 100, of course we were in Florida, and the actual temperature was hovering around 90 something. Irregardless, if you weren't ready for a beer before they started, you most definitely wanted one by the time they finished ripping peoples faces off...
8/10
Set List: I Want Out/Rising Up/Stitches/Towers (On My Way)/Daylight/Elements/Bones.
YOUNG GUNS came "across the pond" as they put it (they are an English rock band from Buckinghamshire and London) to ROCK the states. As they took over the north stage, the younger girls in the crowd went ballistic. These guys know how to get your blood flowing and range from what some may call "melodic rock" to the ever pleasing "hard rock".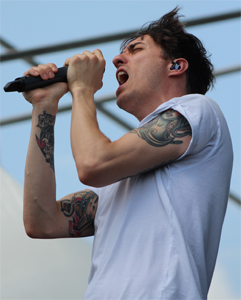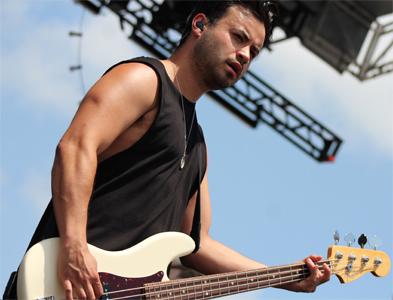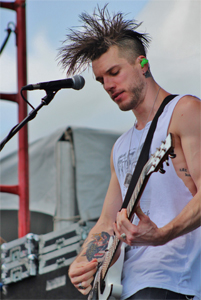 Whichever you prefer, Young Guns, without a doubt, had what you were looking for and seized their opportunity to rock Southwest Florida. Look for their 3rd album, "Ones and Zeros" being released in June of 2015...
6.5/10
Set List: Denial/Easier To Leave/Dancing On Nails/Someday/Dirty Little Thing/One More Night.
Bringing an 80's rock and roll vibe to the stage was WE ARE HARLOT. Frontman, Danny Worsnop, formerly of Asking Alexandria, brought out the REAL rock and roll for the Fort Rock 2015 festival goers.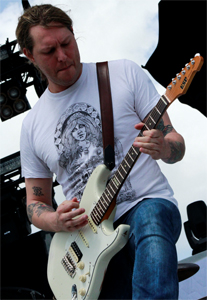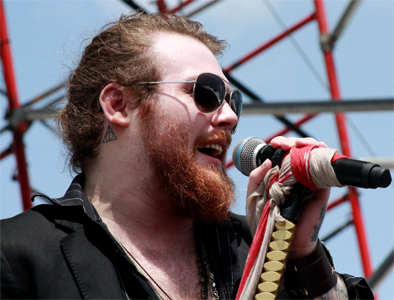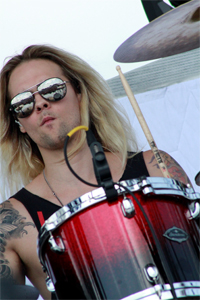 The upbeat music and "sexy" lyrics most definitely brought the "happy" back to those who were feeling a little run down from the midday sun...
6/10
Set List: First Light/Rise And Fall/Carnivore/Halo Play/Let It Die/My Demons.
For a band who released their debut album less than a year ago ("Transmissions", in July 2014) STARSET have found their own niche in the music industry. Starset hit the stage like an asteroid and made people pay attention to their music with their "Out of this world" sound. Dustin Bates of Downplay fame heads the band, and his link to the "other world of space" is most definitely an influence. Named perfectly, Starset rockets you to another universe with their spacey, technological sound. Not to mention their stage presence in the live performance. Definitely a band to watch "take off" to new horizons...
6/10
Set List: Unstoppable/Reincarnate/Generation/Contemptress/America/Break The Cycle/Devil's Night.
MOTIONLESS IN WHITE seized the south stage and rocked the show with an amazing performance. The resemblance to Marilyn Manson was apparent with the synthesizers and overall gothic look of the band, but after the initial impression it became apparent that they were an entity all in their own.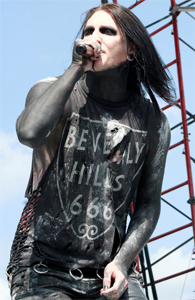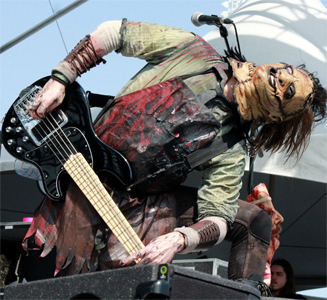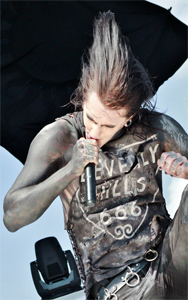 With the screaming vocals of Chris "Motionless" Cerulli, combined with the dark and hypnotizing keyboard work of Josh Balz, Motionless In White set the tone for the afternoon, bringing the masses up out of the ground and into the sunlight...which was blazing like the fires of hell...
7.5/10
Set List: Evil/Lips/Revolution/World's End/Bloodsuckers/Sex, Blood, Rock 'N' Roll.
VAMPS were next on the bill. They are a Japanese rock band that kept the crowd rocking during the hottest part of the day. They paid no mind to the heat, and took the stage over as if they were the headliners. The quickly filling venue was entertained by this very energetic group with a hard rocking edge. Security had to spray down the crowd to keep people from dropping in the heat.
6/10
Set List: Sick Like Me/Black Widow/Adrenalize/Sex Metal Barbie/Into The Light/Big Bad Wolf/Whore/Blood.
And then came... IN THIS MOMENT...Maria Brink is a vision unto herself. She started out with 'Beautiful' and kept everyone screaming throughout the entire set.The mixes had some issues at first, but soon brought it up a notch just in time for the entertaining 'Whore' that everyone knows and loves.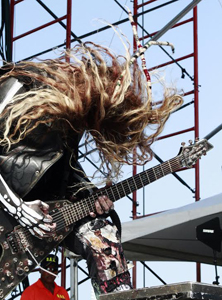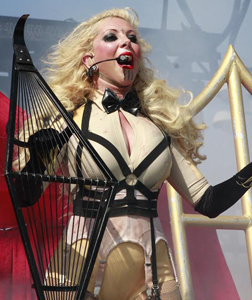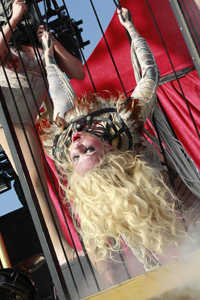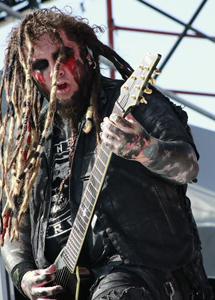 The costume changes were a little long, but the band rocked the crowd with their musical talents whilst Maria changed into some amazing outfits. I commend her for her performance in the sweltering heat!
7/10
Set List: Follow Me Down/Since You're Gone/Miss Nothing/Sweet Things/House On A Hill/Heaven Knows/Make Me Wanna Die/Going To Hell/F*cked Up World.
Taylor Momsen and THE PRETTY RECKLESS took over the north stage, coming out strong with (the almost overplayed on the radio) 'Follow Me Down'.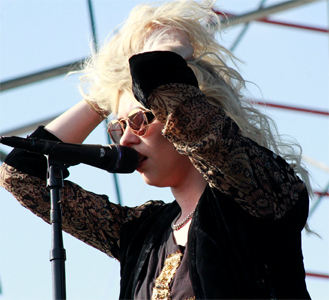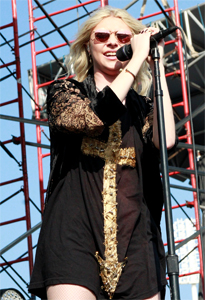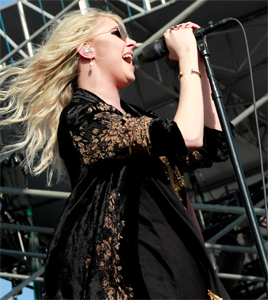 Everyone was singing and jamming right along with them to 'Heaven Knows' and continued rocking till the end of the set.I do have to say that Taylor has come a looonnng way from Little Cindy Lou Who...
7/10
Set List: So Cold/Sooner Or Later/Blow Me Away/Failure/Breath/Breakdown/Give Me A Sign/Polyamorous/Evil Angel/I Will Not Bow/Until The End/The Diary Of Jane.
BREAKING BENJAMIN is NOT broken!!! These guys know how to get the crowd involved in their music and keep them engaged throughout their entire time on the stage.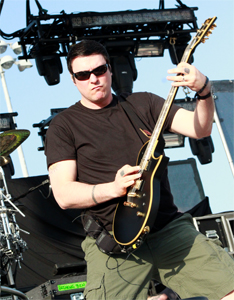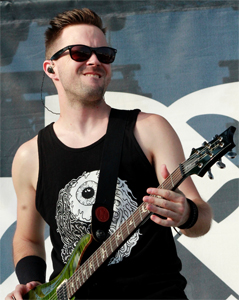 This group of very artistically talented individuals combines hard rocking alternative rock with the sensitive side of men that makes all the women in the crowd swoon, reaching in and touching their hearts right through the ears of all who come in contact with the melodic sounds of them all singing together.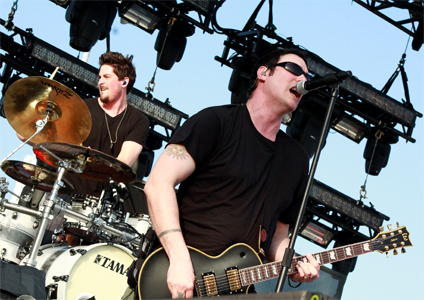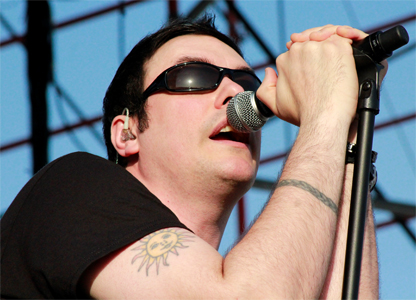 Frontman and founder, Benjamin Burnley knows how to gather a group together that brings the whole picture into focus. All the puzzle pieces are fitting perfectly! Look for their release of 'Dark Before Dawn' to hit the stores in June of 2015.
9/10
Set List: Face everything And Rise/Getting Away With Murder/Binge/Where Did The Angels Go?/Blood Brothers/Scars/Hollywood Whore/Kick In The Teeth/Broken As Me/Forever/Last Resort/…To Be Loved.
Just as the sun was starting to set, PAPA ROACH took the north stage and rocked every Fort Rock concert-goer like there was no tomorrow! Lead man Jacoby Shaddix was nothing less than a ball of fire, heating the crowd right back up into a frenzy. This band brings an energy to the stage that is unsurpassed.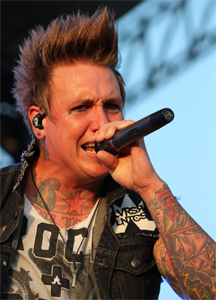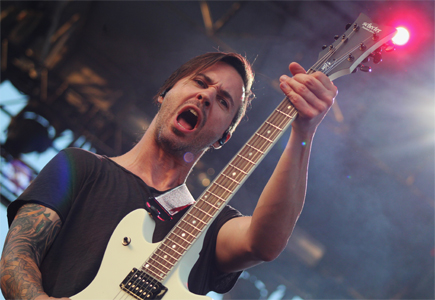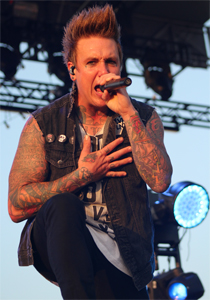 The combination of punk rock, metal, hardcore and yes, even pop, puts Papa Roach almost in a genre all of their own. They are one of the die hard bands that will be around forever. They have figured out how to... Face Everything and Rise...check out their latest release named exactly that...F.E.A.R., now available in stores near you!
9/10
Set List: Generation Day/1000hp/What's Next/Cryin' Like A Bitch/Straight Out Of Line/Awake/Something Different/Keep Away/Voodoo Play/Batalla De Los Tambores/Whatever/I Stand Alone.
As Sully Erna put it, GODSMACK was going "old school", and that they did. As well as belting out 1000 Horsepower, the title song of their newest released album, and a few others from the same, they brought out the "old school" songs that long time Godsmack fans love. 'Whatever' is one of my fav's off the the band's nu metal debut album 'Godsmack' that was released back in 1998.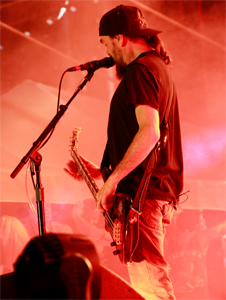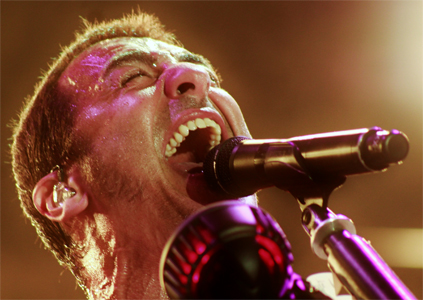 They also smacked the crowd with 'Awake' and 'Voo Doo'...It's not that easy to throw a full cup of beer through the air to concertgoers in the crowd, but Sully pulled it off without a hitch, saying..."have a beer on Godsmack". The crowd was well in tune with the entire band and Shannon Larkin (drummer) banged it out like no other on the stage.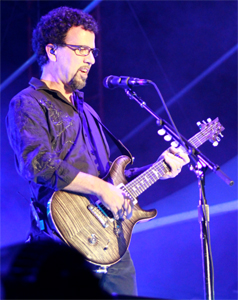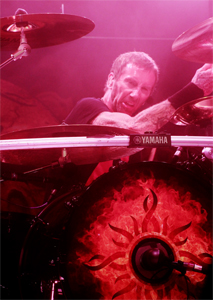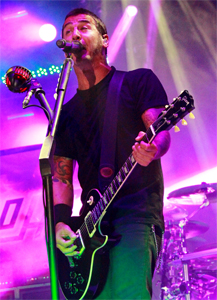 Tony Rombola's fingers were flying on the guitar and Robbie Merrill smoked the bass. It was definitely a sight to see the demons being released.
9/10
Set List: Intro: XIX/Sarcastrophe/The Heretic Anthem/Pychosocial/The Devil In I/AOV (Live Premier)/Get This (Tour Debut)/Vermilion/Before I Forget/Duality/The Negative One/Sit It Out/Custer.
Encore: Intro: 742617000027/(sic)/Surfacing.
Speaking of demons...the headliners SLIPKNOT possessed the stage and all hell broke loose. People were jumping the gates and giving the security a run for their money. Mr. Corey Taylor, #8, is a sight to see in and of himself.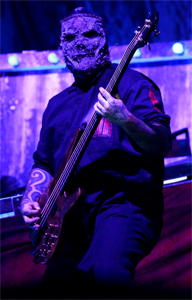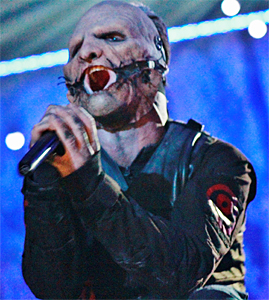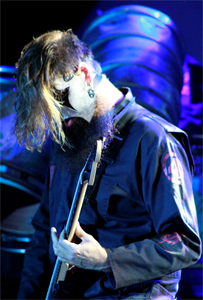 He certainly knows how to bring chaos to the masses. The theatrical performance of the band entertained like no other. The demons were summoned through the fingerwork of #5, Pin-Head, Spike-Head, The Silent One, Mr. Craig Jones, on keyboards and synthesizer, as well as the oldest and only remaining founding member of Slipknot, M. Shawn Crahan, also known as Clown, Kong or #6, one of the "custom percussionists" that brings the heartbeat of the chaos known as Slipknot.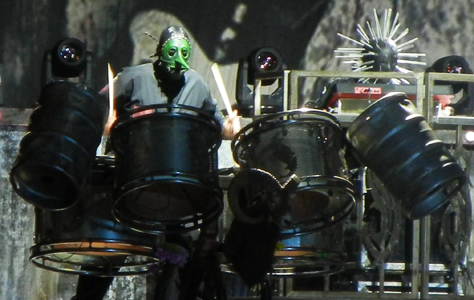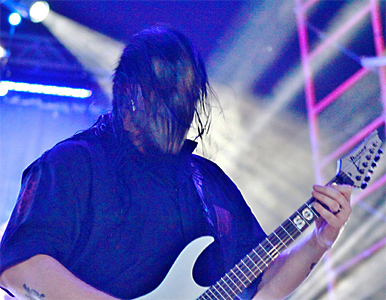 The spinning drums sets and the high energy of each band member kept the crowd rocking. From the massive pyrotechnics to the demon-like sound of Corey's growls, Slipknot took us all straight to hell and back.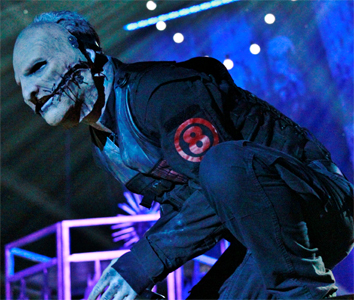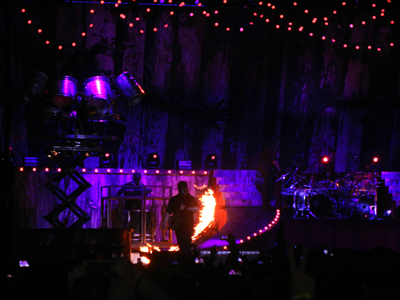 What an amazing journey! Sooo...if you didn't attend Fort Rock 2015, you totally missed out on a once in a lifetime experience that without a doubt will be remembered for quite some time to come.
9/10
Keep your fists in the air and your heads banging... 'til next year...Rock Horns UP!!!
By Juliana Kenyon-Anderson
Drumming and Stage Shot of Slipknot by Mike Grossi