Hollywood Vampires – The Roxy Theatre, West Hollywood, California, USA, September 16 & 17th, 2015
Set List: Intro: The Last Vampire/Raise The Dead/My Generation/I Got A Line On You/Cold Turkey/Five To One/Break On Through/Manic Depression/One/Jump Into The Fire/Seven And Seven Is/Whole Lotta Love/Jeepster/I'm A Boy/School's Out/Another Brick In The Wall (Part 2)/My Dead Drunk Friends/Billion Dollar Babies/Train Kept A-Rollin'/I'm Eighteen/Brown Sugar/Honky Tonk Women.
"Really… the Golden years, sobriety and rock 'n' roll just occurred!" Hollywood Vampires' second of two nights at the Roxy Theatre in West Hollywood on Thursday. There was something undeniably rock 'n' roll about watching Alice Cooper, now 67, his snaky black hair still shoulder length, still wearing tight leather pants and gloves, screaming out, "Hope I die before I get old!", while flanked by 65-year-old Aerosmith Guitarist, Joe Perry and 51-year-old former Guns N' Roses Bassist, Duff McKagan. "We're here to salute our dead, drunk friends," Cooper announced as the lead-in to 'My Dead Drunk Friends', the closing track from the just-released 'Hollywood Vampires' album on which main members Cooper, Perry and Johnny Depp have enlisted a host of eminent rock star pals for a session of big-name rock-star cover band.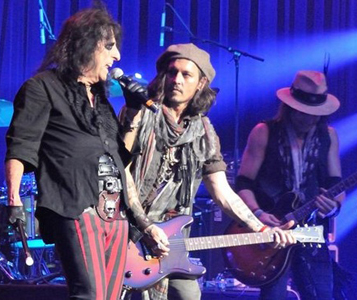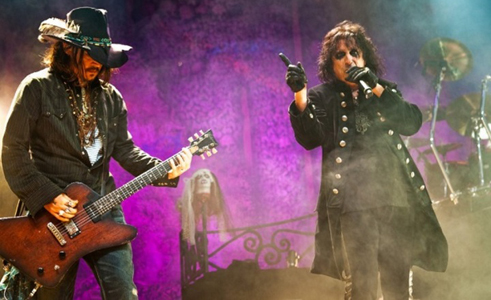 The new-generation band as cobbled together for the Roxy shows - from which proceeds (as with those from the album) are being donated to the Recording Academy's MusiCares organization that helps musicians in need of medical… just like I did in 2010. The line-up featured Cooper, Depp, Perry, McKagan and another former G 'N' R Drummer Matt Sorum, plus Depp's bandmate Bruce Witkin and Cooper's current Guitarist, Tommy Henriksen.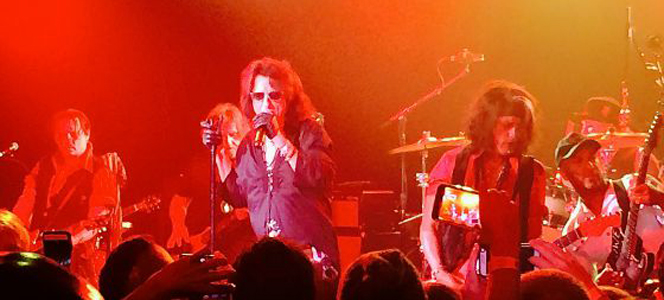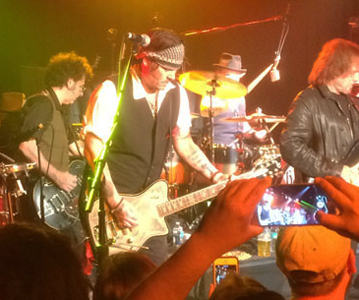 Movie-star status aside, Depp strummed at his electric guitar like a kid at the candy store and left all the vocals to others, smiling and nodding to acknowledge the delighted screams of the women in the house, who were outnumbered by men about three-to-one at this hard-rock blowout event.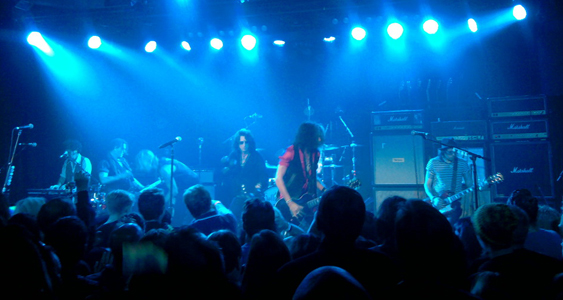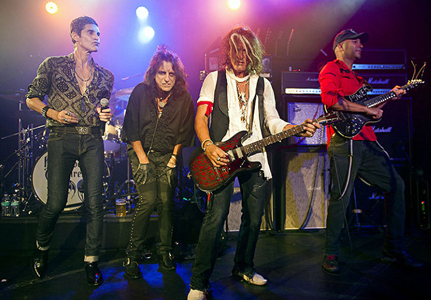 The guests were largely the same both nights: Rage Against the Machine/The Nightwatchman Guitarist. Tom Morello, Jane's Addiction Frontman, Perry Farrell, pop star Kiesha, with Marilyn Manson joining on Thursday after being introduced by Cooper as "My evil little sister." Lol! It was all in good fun, the music fittingly thunderous, the riffs monstrous, the solos suitably over the top.Morello couldn't have looked more delighted appearing to make his guitar scream during Jimi Hendrix's 'Manic Depression'. Farrell trade verses with Cooper during Harry Nilsson's 'Jump Into the Fire', and Kesha joined with her macho rocker chops singing Led Zeppelin's 'Whole Lotta Love'.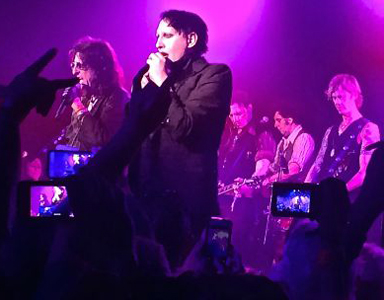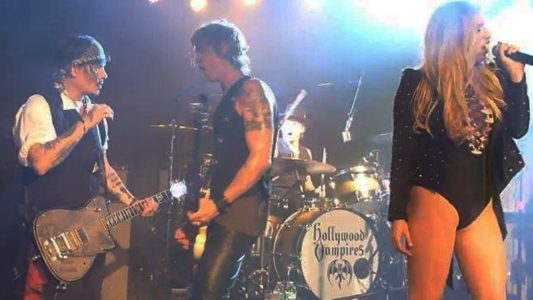 With no sax player in sight, Perry was only too happy to step up for the grand finale solo in the closing number, the Rolling Stones' 'Brown Sugar'. Shortly before that, though, they played out one of Cooper's signature hits that doesn't appear on the album, as if to demonstrate again the timeless and ageless appeal of cranking music to 11.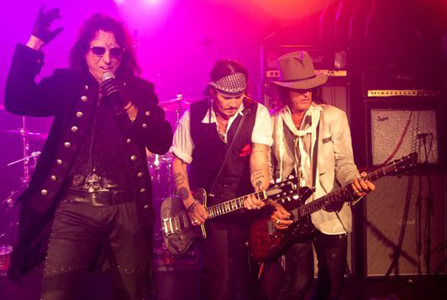 This fun bunch of rockers long past their adolescence banded together, happily finish out with 'Eighteen'. I've never seen this much action at the Sunset Strip since the 80's.
9/10
Review By Claudio Pesavento
Many Photographs By Romy Dineiro
(Disclaimer: All images have supplied by Claudio Pesavento)
Halestorm – O2 Academy, Sheffield, Thursday 3rd April 2014
Some bands come along once in a while and blow me away and Halestorm are one of those bands. The band have been releasing music since back in 2006 and have developed an amazing following. This was proved tonight as the Academy was packed. We arrived near the end of one of the support acts who didn't gain my attention as we were all too excited to see Halestorm!
The lights went down, the crowd cheered and the band fronted by the very talented Lzzy Hale kick into the awesome 'I Miss The Misery'. It's a huge wall of sound and the room is hooked. 'Love Bites (And So Do I)' and 'It's Not You' follow. I was so blown away by not only the bands sound and energy but the crowd and it's obvious from the reaction that they are loved. They launch into 'Freak Like Me' before Lzzy announces a new album is on the way and that this is only their second headline tour they have done. If that's the case they have moved effortlessly from support to a big thing with ease.
Now fans of the late great Ronnie James Dio will know that there is a tribute album to the great man that has just been released called 'This is Your Life'. It is a great album and Halestorm have done the track 'Straight Through The Heart"' which they play for us next, again it's a brilliant choice of song and we are all bouncing along. The show still gains pace as the band play the brilliant titled, 'You Call Me A Bitch Like It's A Bad Thing', then comes 'Innocence' and 'Don't Know How To Stop' which is exactly how I feel about this show! Lzzy smiles from ear to ear and asks us all "Have we got a party or what?", Oh yes we have and it's a great party. The band are still in high gear as we are welcomed to the 'Rock Show'.
But this band isn't all about full on rock n roll, next up we get a cover of the fantastic Fleetwood Mac classic 'Gold Dust Woman' with Lzzy sounding like Stevie Nicks. It's such a contrast from the bands own stuff but they still hold the audience in their palm. Another ballad follows with 'Break In' which is such a heartfelt performance from this great singer oh and piano player! Keeping it laid back for 'Familiar Taste of Poison' the band really show how great they are. Halestorm are a family affair and Lzzy introduces us to her little brother Arejay, (Yep both the Hales have odd spelt names)on the drums. So here is comes the loved or hated Drum solo. But I was really impressed with his energy, oh and the fact he brought out 2 huge drumsticks!
It's back in with another cover, 'Dissident Aggressor' by Judas Priest. Now I do like bands throwing in the odd cover but Halestorm's back catalogue is brilliant and I would have liked more of their own songs instead. The rock show carries on with 'Ms Hyde', 'Daughters Of Darkness' and 'I Get Off' and with a blink of an eye it's over, but the crowd have other ideas and we cheer, whistle, shout and scream for the band to return and they do with (what I think is a new song) 'Mayhem'.
Did I mention that Lzzy also plays a really mean guitar as well? Then the band launch into the biggest hit of last summer 'Get Lucky' by Daft Punk - yes you read that right. WOW what a great cover even though it was on repeat on nearly every radio station for months. But the band have really rocked it up and given it a new lease of life. But it is that time of night and they leave us with the huge anthem 'Here's to Us' which is really a lighters in the air moment.I thought this band were amazing before tonight, but now I'm really in love with them. We are really blessed in this city with live music and tonight the people of Sheffield came out and supported it. It's a simple mix of great friends, good beer and a band that kicks ass.
Here's to Us!
10/10
By Johnny Trowbridge

Hereticide – The Whisky A Go-Go, West Hollywood, California, Tuesday 28th January, 2014
Set list: Ballistic/Black Sage/Dies Infernus.
Encore: Drop The Hammer.
Well after a great day out in El Segundo, Ozzfest Amy and myself make it back to West Hollywood by the skin of our teeth in order to get in on time to see the set by these Heavy H'ers from Los Angeles, California who formed in 2012.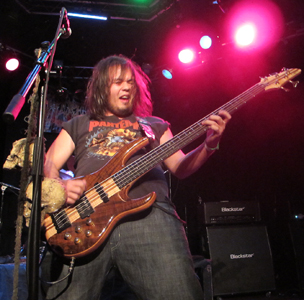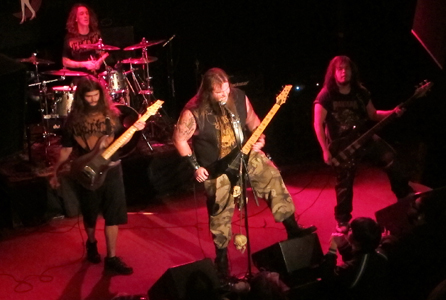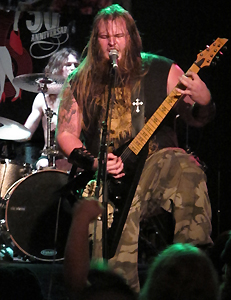 They were on a bill as part of a battle of bands kind of thing in order to get a slot on 'The Summer Slaughter Tour 2014'. The last band to play as well and boy did they kick up a serious thrashing shit-storm of blistering hell up on that stage. Plenty of hair was thrown, spun and tangled in their 20 minute or so set that pulverised the ear-drums to pure mush – but in a good way I add.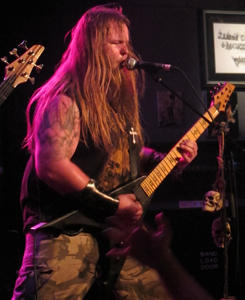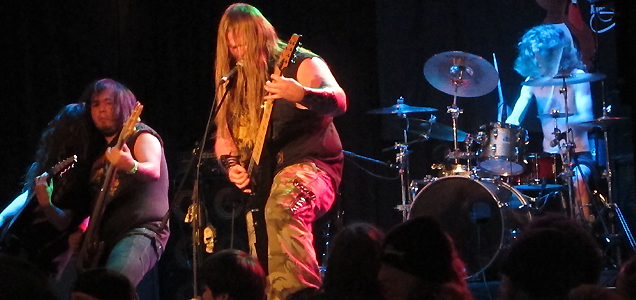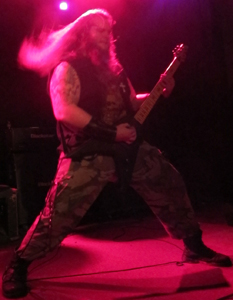 Thramming and thunderous drums come from Dylan Walker that mesh perfectly with the squealing, wailing and crunching guitar rhythms and riffery courtesy of Nick Ertel and Jared Keefer respectively plus the deep nasty bass booming from Greg Kate. It was very apparent that likes of Slayer, Pantera, Death & even Cannibal Corpse all rolled into one.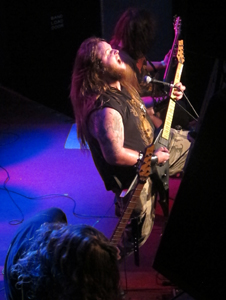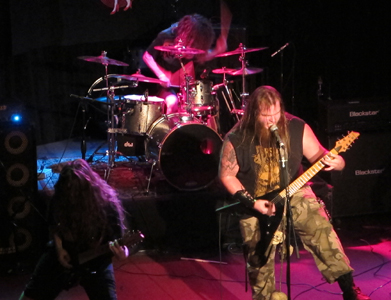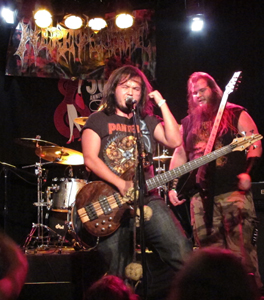 Vocally from Mr. Keefer it was ferocious, shouty and purely vicious leaving no power in those lungs and larynx left to bring out – it was almost grizzly and Neanderthal in fact which suited the rather hairy crowd perfectly. Greg got in on the action too performing a great ditty that he had written too and backing vocals also were added to the already well-loaded mix thanks to Nick.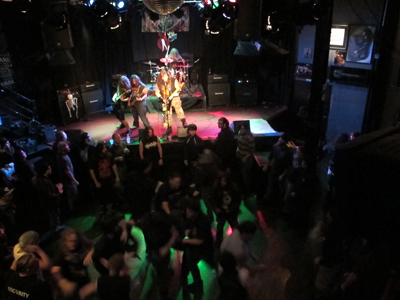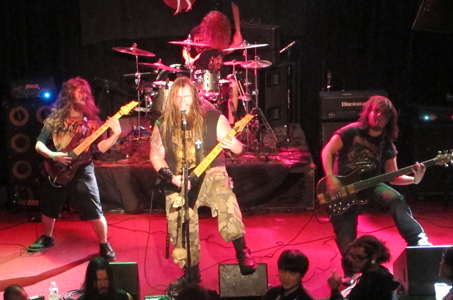 The quartet were liked so much by the Metal-heads in here tonight that they need no encouraging to form a raging 'n' rabid mosh pit that I personally dived away from straight away to save my old bones and the camera more importantly as there some serious big f*ck*rs in that brawl indeed that would have lattened me into the ground in seconds – those who took part in this were crashing into each other like psychotic balls in a bingo machine but with manic limbs and crazy brains to match – needless to say they had a smashing time.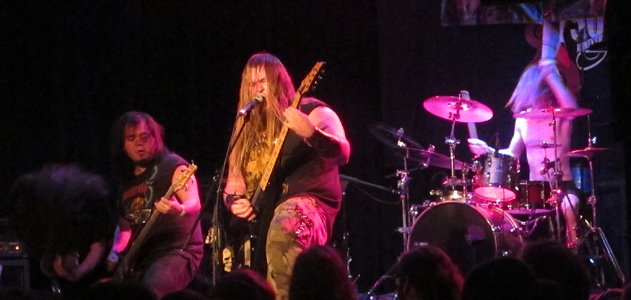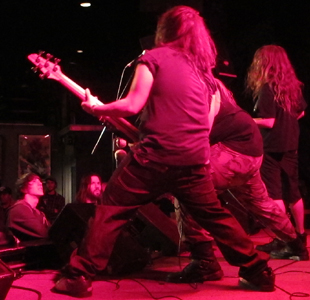 Hereticide made such an impact that they got shouted back for an encore with the adrenaline utterly dripping from their brows not to mention being overjoyed at the response they had received. They were blown away by the attention that was rewarded to them and they gave it back as a thank you too in the only way that fit – a another nice slab of old school thrash that ensued another barrage of battle bodies on the floor much to the bands pleasure.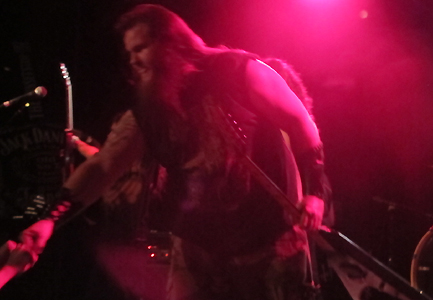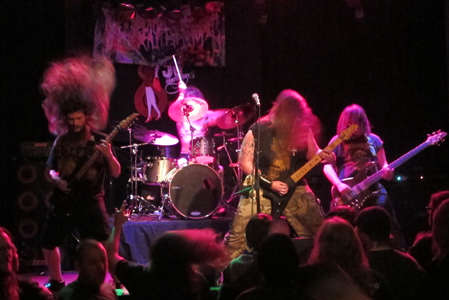 This band should go a long way as I expect they would make a massive impact if given the chance especially at big festivals like Wacken, Download and Bloodstock. You heard about them here first.
10/10
By Glenn Milligan
Hookers & Blow - The Whisky A Go Go, West Hollywood, CA. Tuesday, 7th May, 2013
Hookers & What? Yes you read that right they are really called that but there not an ounce of coke in sight on stage - well maybe the odd can of cola and certainly no girls to gall at up there either- naked or otherwise - lol.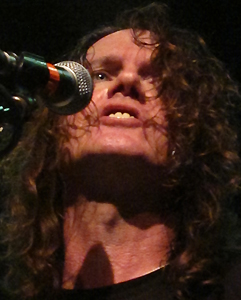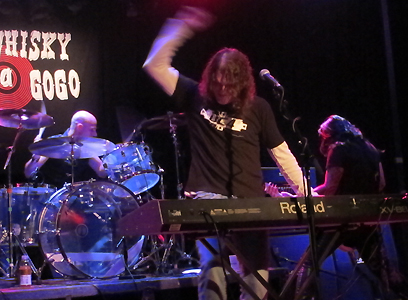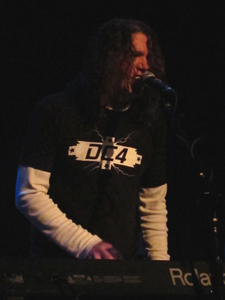 What you do get are a mighty fine four piece band that is made up of precision persons that consist of long-stay founder band member, Dizzy Reed (the keyboard player of Guns 'N' Roses) in centre stage, taking care of lead vocals, Quiet Riot & Hotel Diablo Guitarist, Alex Grossi, the drummer of Ace Frehley's band & Burning Rain, Matt Starr (no relation to Ringo - hahaha) and a wackydoodle dude on Bass going by the name of Nacho (from the band Nawgahyde) who is funkily dressed up as a mexican - but believe me, somehow the concept seems to work - lol.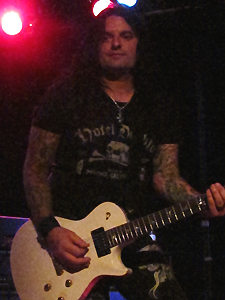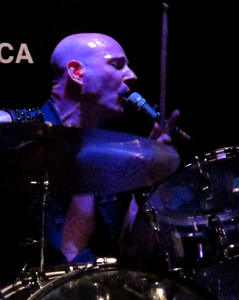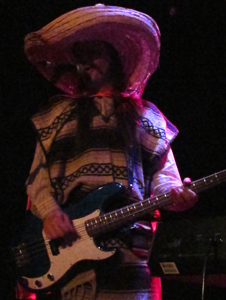 What struck me immediately about the unit is the fact that even though the likes of Dizzy Reed are way high up in the royalty order of musicians, each one of the band are up there setting up their own equipment as opposed to just leaving it to stagehands and roadies which happens most of the time with famous guys of this pedigree musical status.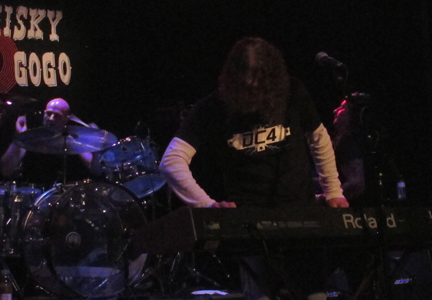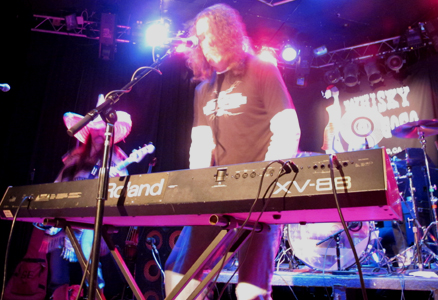 We get a nice welcome from main man, Mr. Reed and he thanks us for coming down to the Whisky to check out the band on their first night which has been comically christened 'Toxic Tuesday' that fits right in with the posters that are promoting that third day in the month of May. Setwise this is like the home-run of a ball game because you can't go at all wrong with a set that is crammed to the seams with songs by Guns 'N' Roses that Dizzy performs backing vocals for during his day job with Axl - so it's great to hear what he can do as a fronter - my that guy can certainly sing a bit.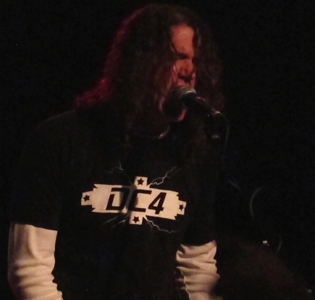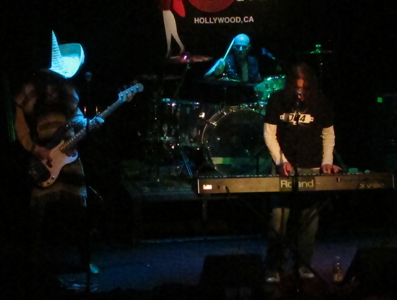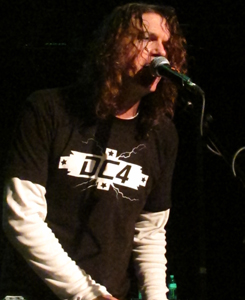 Stand-outs of the set included momentous monstrous numbers such as the epic 'November Rain' that worked well in this quartet because much of the song is of course built around the piano and an outstanding take of 'Don't Cry' that featured a special guest in the Bassist of The Cult, Chris Wyse, formerly of 'Owl' who had an upright one as well which was visually killer and sounded amazing too - adding a deep but bright ambience to the Illusion classic.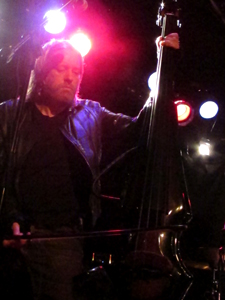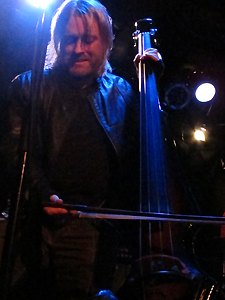 It was immense to hear one one of my favourite Gunners songs that is 'Dust & Bones'' and it took me back to Wembley '91 when this rang through the Whisky. Going back further still in time with a thramming 2 minutes or so cover of a cover, if that makes sense of Rose Tattoo's 'Nice Boys' that was recorded way before Diz' was even a member of G'N'R.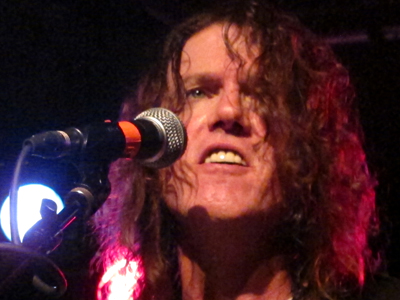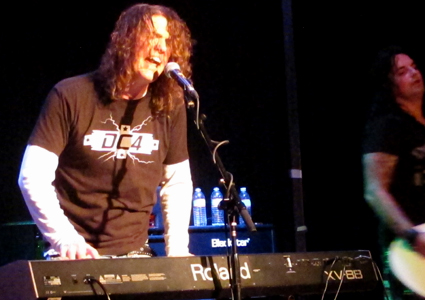 We even get a fabulous redition of 'Sympathy For The Devil', not to mention an excellent take of David Bowie's 'Ziggy Stardust'. If memory serves me right there was also an uplifting drum solo from Matt Starr as well as some great vocals at times from him too. Alex Grossi totally proves he can swing those licks and riffs around to be second to no other guitarists too and does a perfect job on every song thrown his way.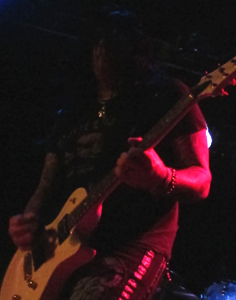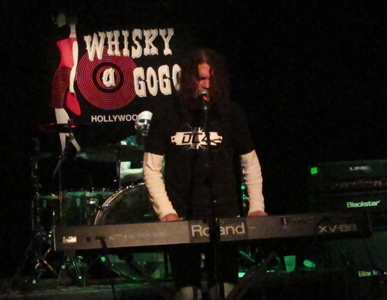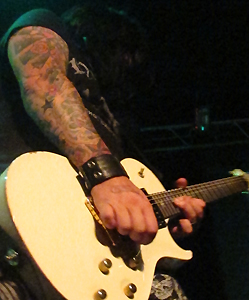 It was a great way to spend a Tuesday night and am real pleased to have attended an intimate enjoyable night of epic songs that touched my life and many more.
10/10
By Glenn Milligan
Heaven's Basement - The Viper Room, West Hollywood, Ca, USA, Friday 4th May 2013
Set List: Welcome Home/ Can't Let Go/ Fire, Fire/ I Am Electric/ Heartbreaking Son of a Bitch/ Nothing Left to Lose/ The Long Goodbye/ Executioner's Day.
Hey these are some of our local boys and hail from Manchester, UK that is just up the road from me.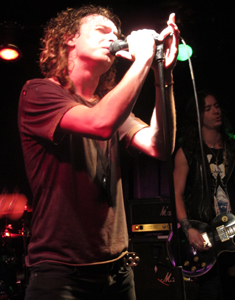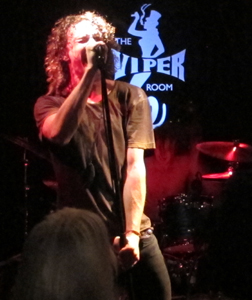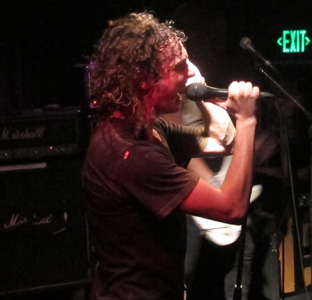 It really was a total coincidence that we were all in West Hollywood at the exact same time - cool as hell!! It had been a while since I had seen them too - in fact last time was nearly two years ago at Download 2011 whereby it rained like hell for their acoustic set - thank god that this was a dryer affair. After a good old chat with the guys outside the venue in their van, they got down to business as the headliners for the Revolver Golden Gods Aftermath show which really went with one hell of a bang as soon as they hit the stage. Heaven's Basement are simply on fire in here tonight with Liam having a pile of curly golden locks that have grown a wee bit since I last saw them live. Their overall deliverence in here is supercharged and it's as tight as hell.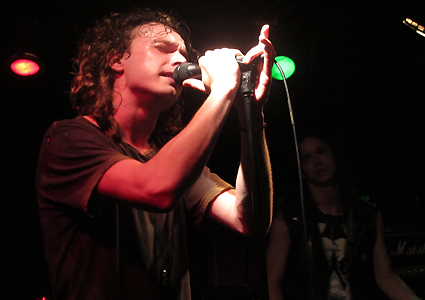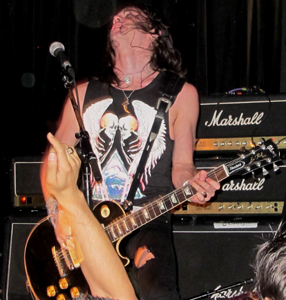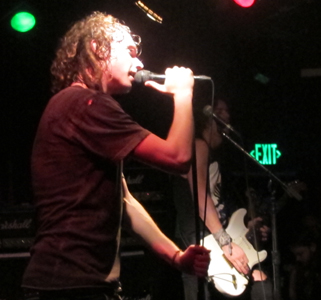 For me it was extremely impressive to see how the Hollywood crowd have taken such an amazing liking to the 'Basement after playing many a support spot to artists as high calibre as Papa Roach in the past few years - the locals here really latch on to the sheer energy of these guys since Rock N Roll flows through their veins 24/7. Sid Glover poses and rocks like f*ck as ever on that axe with Chris Rivers pounding like his life depends on it on that kit while Bassist Rob lobs out them deep heavenly notes that sure compliment the numbers on this 30 minute or so set.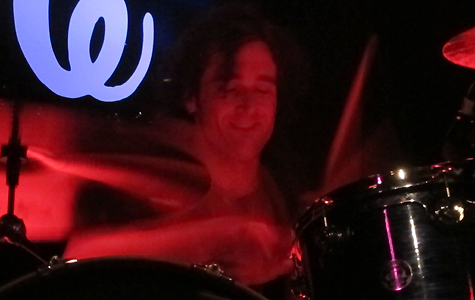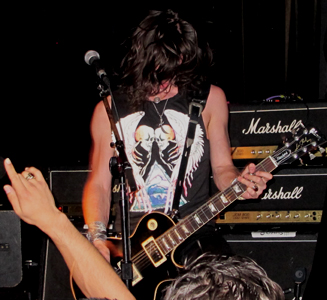 Love the new material from their debut album 'Filthy Empire' - you can't go wrong with the hard-hitting 'Nothing Left To Lose' as well as 'Fire Fire' and I was chuffed to see that 'Reign On My Parade' and 'Judgement Day' are still their as highlights at the end of the set. These guys have come on leaps and bounds over the years and Liam has become real confident talking to the audience in between songs asking who was at the Golden Gods the previous night and saying how good Metallica were.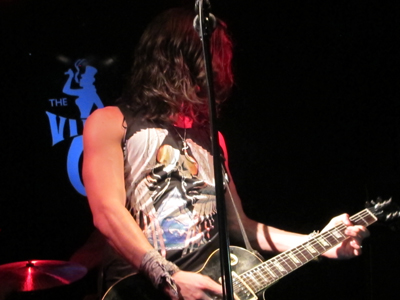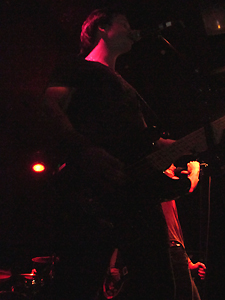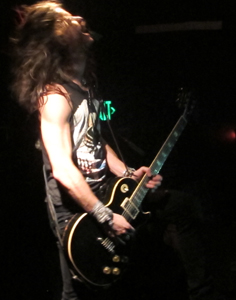 What a voice Liam has as well for numbers that are fast and extremely demanding.Sebastian Bach was present throughout the performance and rocked out to them too especially towards the end, telling me after the set that he thought they are a great band and a real fun band to watch, saying he likes to check out the baby bands from time to time as they still have that fun factor to them.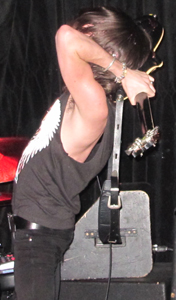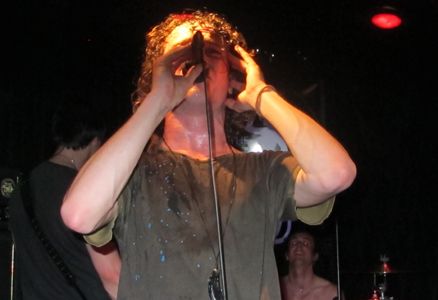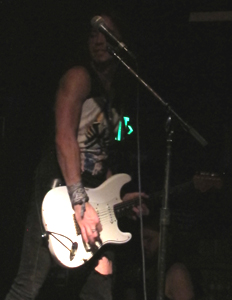 If the man behind the mike of '18 & Life' was really impressed, then you will be too.
10/10
By Glenn Milligan
Hawklords - The Diamond, Sutton In Ashfield, Friday 21st October, 2011
Set List: Aerospace Inferno/Digital Age/You Shouldn't Do That/Addicted to You/Only The Dreams Of A Cold War Kid/Shot Down In The Night/Robot/Children Of The Sun/Spirit Of the Age/Flying Doctor/Steppenwolf/Psi Power/Dreamworker/Quark, Strangeness & Charm/25 Years/Brainstorm.
I suppose the name gives it away of what you are gonna get from band with that particular bird in its title - and yes you'd be correct to expect an enormous smattering of psychedelic space rock from them as these feature ex-members of Hawkwind, the original line-up of Hawklords and a member of Nik Turners band on drums as well - so let's get high with them - well with the music at the very least - otherwise it's illegal - lol.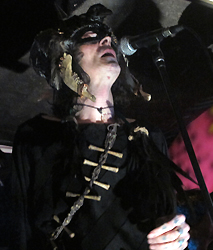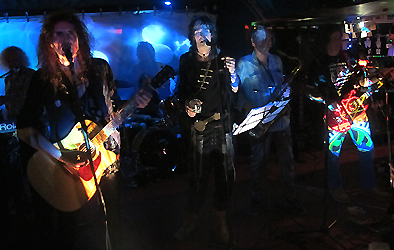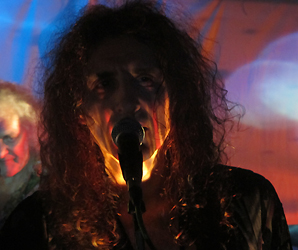 There was a healthy helping of people in to enjoy the people - around 150 or so I am estimating at and some colourful characters too - some of which were doing some damn fine freaky hippy dancing like the old guy with the beard that I seem to see at every single related band of the Hawkwind variety - without fail that dude is there. Hawklords consist of Nik Turner (Sax/Vocals), Jerry Richards (Acoustic & Electric Guitar), Adrian Shaw and Alan Davey (both on bass, taking it in turns for various points of the evening).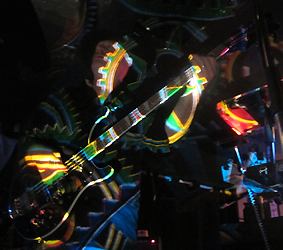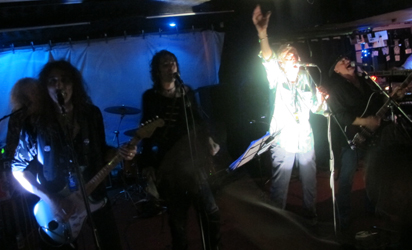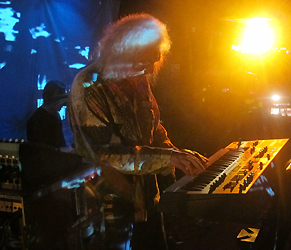 Then there's Steve Swindells and Harvey Bainbridge (on synths, keyboards, wave generators and organs) to create that famous original sound, Ron Tree on most of the lead vocals and on drums, Meurig Griffiths. In pure honesty these guys are better than the band that goes under the name Hawkwind and there are more notable members of the said here that you'll find in the Brock band too. So there are no dancers but who cares - it's the music that counts when all's said and done.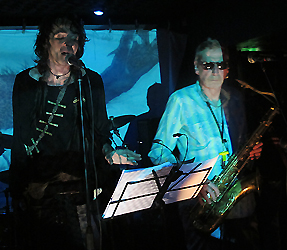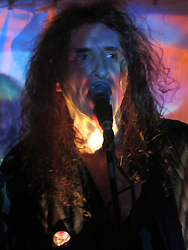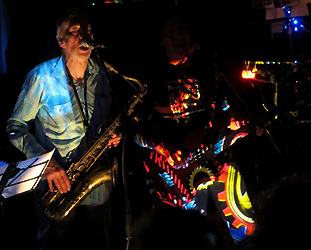 After a few minor feedback problems from the Ron Tree's microhone it is all plain sailing soundwise from about the 4th song or so onwards in a set that sees the 'Lords visit an excellent cross section of their 30+ year output give and take a track or two. It's trippy and dark in here with some cool colours on the backdrop and other images without much in the way or usual stage lighting and always works with a band of this nature - though does make it tough from a photo point of view - it makes us work harder though as you can imagine.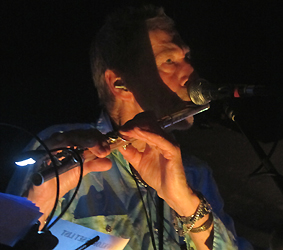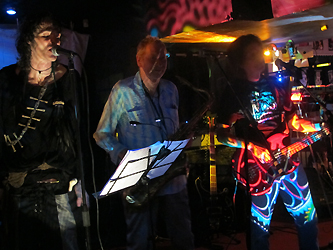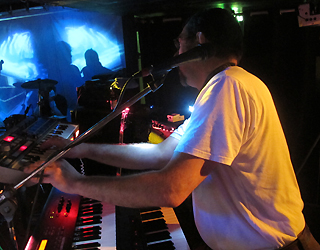 Highlights of the set included the original quirky album arrangement of 'Quark, Strangeness & Charm'; new song 'Digital Age' and late 70's classics such as 'Only The Dreams Of The Cold War Kid'; 'Psi Power' and Steppenwolf from the Rob Calvert era of the 'wind, not to mention the excellent inclusion of the Hawklords original number '25 Years' that has a riff of a certain famous song in there, not to mention other old faves like the chantings of 'You Shouldn't Do That'; 'Spirit Of The Age ' and 'Brainstorm'.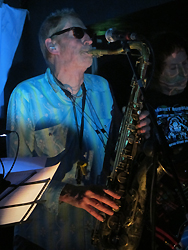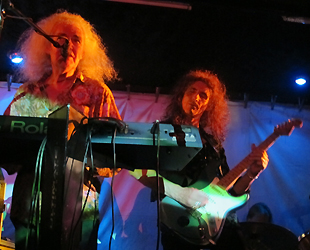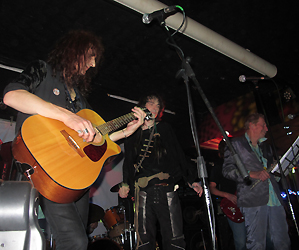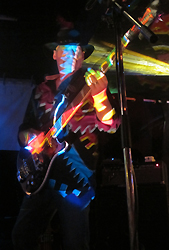 It was really refreshing to have two different bassists with Alan Davey covering the heavier side of the material and Adrian covering the more far out 70's stuff as well as plenty of strong vocals from all the band members to harmonise it all - even Harvey got to take lead on a song to his credit - which was mostly the job of Ron Tree and Nik Turner whose voices blend perfect throughout the set.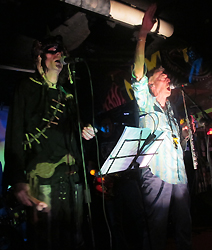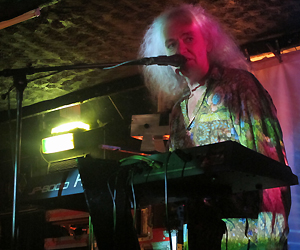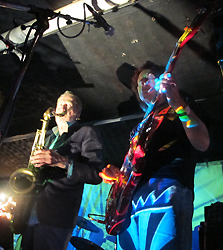 The duration of the gig was about 2 hours but you got so into it that it seemed like about 40 minutes - then again, I love this band and bopping out to all the epic repetitive riffs that these guys are world famous for. Everyone here got so into and we lost our minds - brainstormed I should say, haha and got them back after the gig was done - if we had one in the 1st place that is - lol. What a performance, what an experience!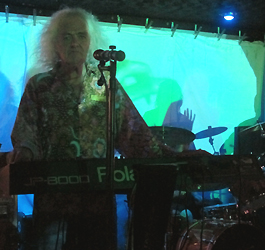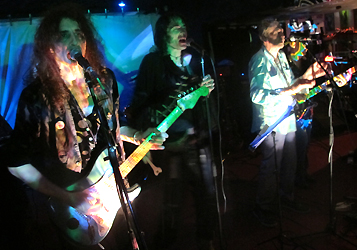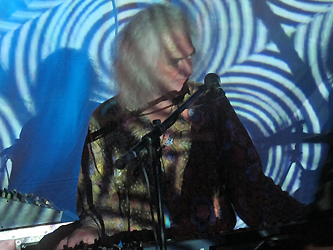 Straight after the show the band came out to meet all the fans which was such a delight for all the space cadets in the room on this cold october night but it's red hot in the Diamond with a vibrant atmosphere of all things completely cosmic.
9/10
By Glenn Milligan
Heaven's Basement -
Jaegermeister Stage, Download Festival, Donington Park, Donington, Sunday 10th June, 2011
Set List: Tear Your Heart Out /Can't Let Go/Misunderstood/Reign On My Parade/Executioner's Day (with Breath by Pink Floyd half way through)
Jesus, I've never known so much f*ck*ng rain at a festival weekend before - but what the hell! An almighty hardcore HB fanbase huddle around the front of the Jaegermeiter stage enduring the cold and the wet - well most of us are pretty soaked anyway, so more water won't make a lot of difference will it? - lol. The guys are delayed a bit due to the horrid outside conditions and look nearly as soaked as us watching to be honest. They soundcheck their instruments and then it's time to rock - acoustically that is.
These songs prove they are strong as they stand up as well as original electric versions with the lads really getting into the groove of the unplugged moment and rocking out as though they are piped up to full power. Sid don't wanna keep still and new boy Aaron jokes around on his stool posing away and having a laugh before jumping up and going for his full-on wildness that we saw in Sheffield - no doubt Chris is taking it all in at the back on the drum kit and digging every second of the spectacle and Rob laying down the low notes nice and cool-like - and I bet he was as well when it comes to temperature.
Ok, the set is a brief one - about about 25 mins tops but it's an excellent performance all the same mixing older classics (Reign On My Parade) and newer material (Misunderstood) together and even surprising us with a 'Dark Side Of The Moon' rarely covered track as well (Breath) that's perfectly mixed into 'Executioner's Day'. Aaron gets us punching the air and giving them devil signs and even leaps into the crowd towards the end of it all - now there's a first for ya - a stage dive and crowd surf in an acoustic set - now that episode will be stuck in the memory for a very long time.
With a standard as good as this, they could release an e.p. or even an album of unplugged gems as it's a well percieved, well structured set indeed.
10/10
By Glenn Milligan
Heaven's Basement/Jettblack/Liberty Lies -
Corporation,Sheffield, Friday 13th May, 2011
Now it's the 1st time in absolutely ages that I have been to a gig in this room - last time I reckon it was Pretty Boy Floyd Dec. 2009 but I'm here again to witness 3 UK Rocker bands. The openers, who hail from the West Midlands that I have never witnessed before go by the name of 'Liberty Lies' and impress with a melodic, hard-hitting rock format.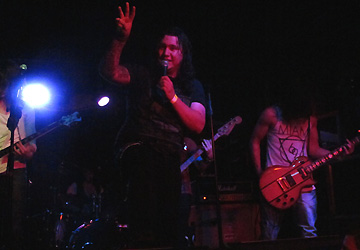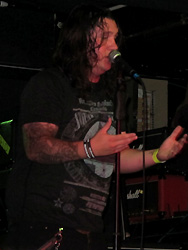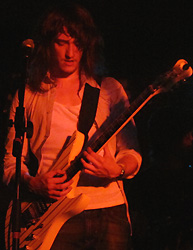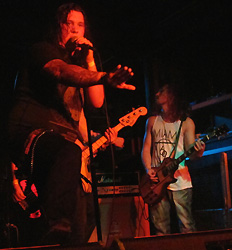 Their slighly chunky fronter has one hell of a set of vocal pipes in and has a sound that is like a cross of the late, great Ronnie James Dio (especially in the opener), Jeff Scott Soto and Danny Vaughan and can scream dam well too. It's hot, it's loud and it's packed in here so it was a make or break in the rammed out room for the 'Lies but these guys got the dripping punters on their side immediately. They play us songs from their current CD 'New Addiction' that include 'The Wire' & 'Crow Road' and deliver a real promising set for all to enjoy and see.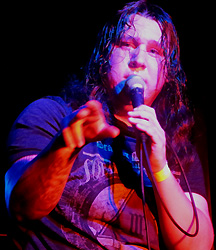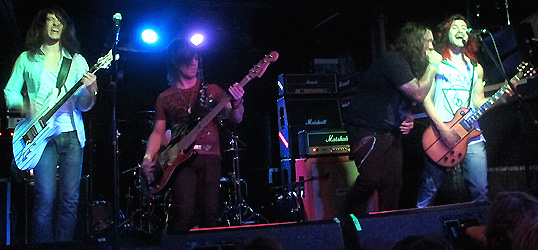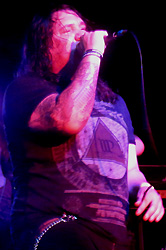 It's '86 all over again with Jettback (prev. known as Skirtbox who I remember seeing in 2008 supporting Airbourne). They grip everyone with opening epic '2 Hot Girls' - that's totally sex driving and has everyone begging for them - there's a few more than that in here tonight too. To say they are tight musically would be very much an understatement which they equally match with harmonious Maidenesque meets sleaze sqawkin vocals.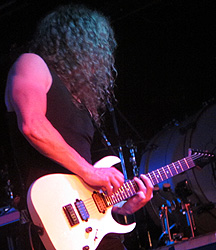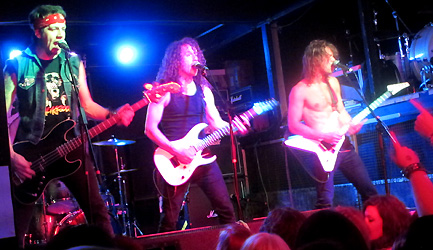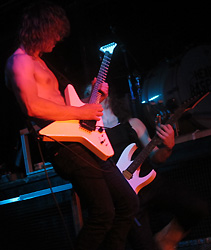 They must be faves here in Sheffield cos they drive the droves mental right here within seconds of them hitting the stage. They've got some tough nut songs in them that ooze hard driven rock 'n' roll such as 'When It Comes To Lovin' (I got no friends) - hahaha. It also turns out it's one of the band members birthdays today so it was joked that he gets an extra apple and they've even been nice enough to place some nice gay porn pix on the speaker and stick his face on them - good job they like him or I dread to think what he'd have to contend with - pmsl.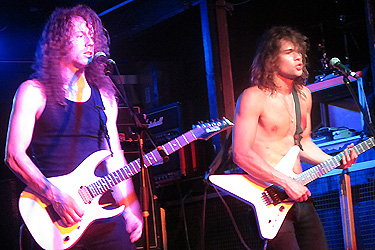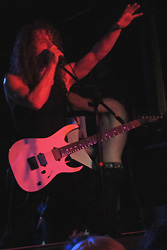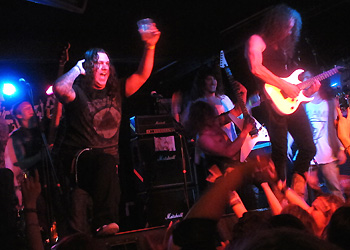 Did I mention a date from the mid 80's earlier - well this is further emphasized with a nail-it spot-on perfect rendition of 'Danger Zone' from the film 'Top Gun' - man I remember that coming out - sh*t I'm giving my age away now - haha. Anyways, Jettblack are outstanding and even invite the lads from Liberty lies up to join them for a sing-a-long on for a number as well in mid set.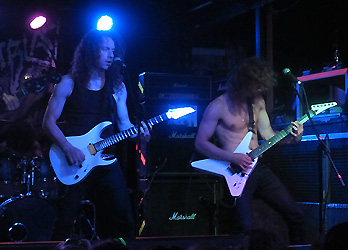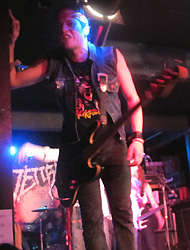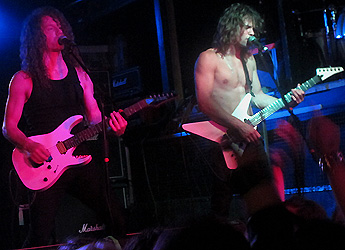 I am looking forward to seeing these guys play in Sheffield again one of these days as they are so damn good that they deserve to be a a headline act. Keep tabs on these guys as they deserve to be huge.
Set: Unbreakable/Can't Let Go/The Long Goodbye/Close Encounters/Tear Your Heart Out/Misunderstood/Paranoia/Let Me Out Of Here/Reign On My Parade/Leeches/Executioners Day.
Well there's a bit of change since any of us in Sheffield last saw Heaven's Basement. They've got a brand new singer called Aaron Buchannan since Richie Heavanz left after doing the Papa Roach support tour - a hard role to fit but Aaron managed it. The fans of the band had to give him a chance and it appeared that they warmed to up him straight away. Good call as Sheffield can be a tough audience to please. Real confident is Aaron too and full of 'Unbreakable' limitless energy as well that takes the pressure off the band who no doubt didn't know how the new line-up would go down. Oh and they got a new bassist too called Rob Ellershaw who makes the grade too.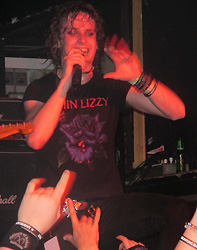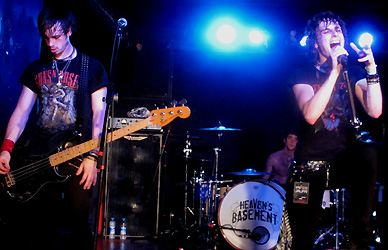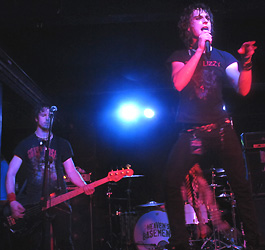 They are also one guitarist down since Johnny Rocker left the band as well - giving Sid Glover, twice as much work on his hands but managing to pull it off. 'Can't Let Go' sees Aaron lying on the stage - the fans love him - he certainly can roar as well. Then not too long after he literally and on purposely falls into crowd - they catch him and back onstage he goes for 'Tear Your Heart Out'. It does seem weird to hear someone else sing ''Reign On My Parade' but it still works and no one appears to complain from what I can see with. Hey, it's always damn good to see Chris Rivers slamming away that killer familiar beat in of my fave 'Basement epics too.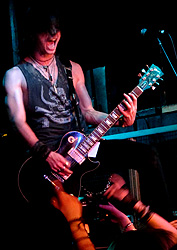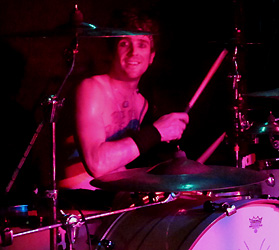 Oh back to Mr. Buchannan again - this new mike holding dude turns into a total nutcase again as he falls into the crowd again, roly polys onto floor and then ambles back to the stage after rockin with the hot 'n' rabid steel city crazies. Oh and they've even got some new songs out that appear on the new 7 track EP entitled 'Unbreakable' that is available at the merch stand such as the heavy as sh*t song called 'Leeches' you can get over there.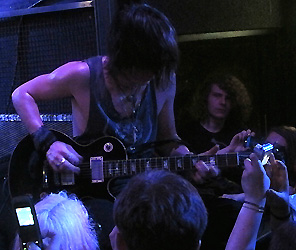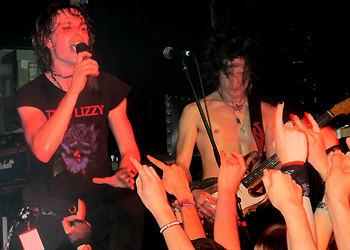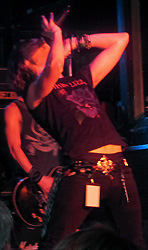 Now the frontman decides to walk to the back of room on top of people and back but fails tonight to make the full journey – "You Lose", shouts Sid who finds Aarons shortcoming rather amusing tonight – it was f*ck*n' funny tho. After all this madness they close on 'Executioners Day' that brings the house down as always, go to the dressing room for a quick clean up but are soon back to hang out and greet the fans who are all over them loving every second of it. The feeling is mutual.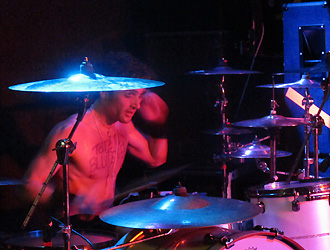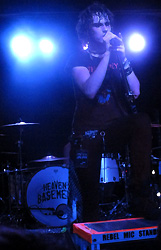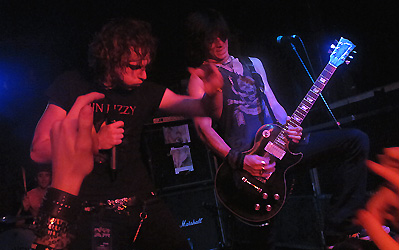 Welcome back boys! Now go and get back in the studio and deliver us that full length studio album that we've waited so long for!!
9/10 Overall
By Glenn Milligan

Hail The Villain - Nervous Nellies, Fort Myers Beach, Florida, USA, 31st October, 2010
Well over here in the USA they really go to town for Halloween with this year being no exception. On this night at Nervous Nellies all the way for our viewing and listening pleasure is a band who have come down from Ontario, Canada (the place that brought you the legendary 'Anvil'.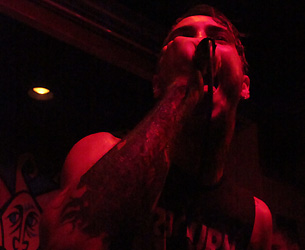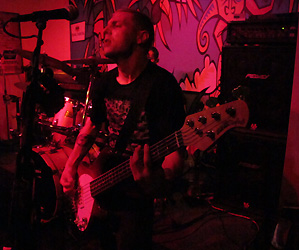 Before the band kicked into their songs, we knew it was gonna be crazily loud as instruments were checked, with Joe Monroe of The Cherry Papas commenting that he didn't realise that their PA could reach such high levels and it literally blew our minds.A cool dude bearded dude with a classic mullet hairstyle introduced the 'Villain.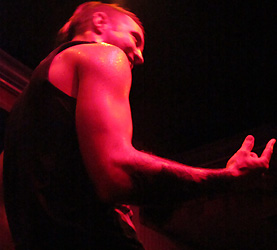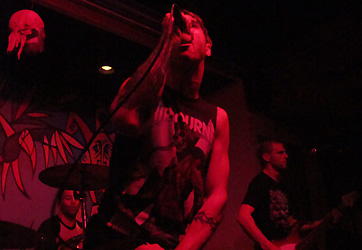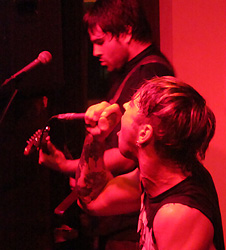 As soon as they hit the stage they were a complete unit of monstrous gang of madness with their vocalist, Bryan Crouch having a voice that was rasping, scathing and sounded like it came from the bowls of hell via a quick trip to the local chainsaw supplier - imagine Metallica's James Hetfield meets Chad from Nickelback but rather more acidic and the posing of Fear Factory's Burton C. Bell.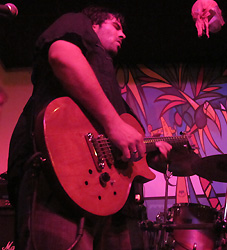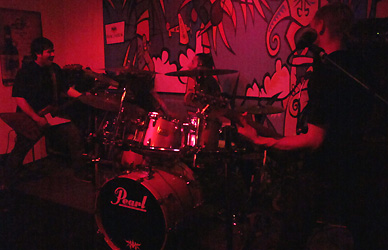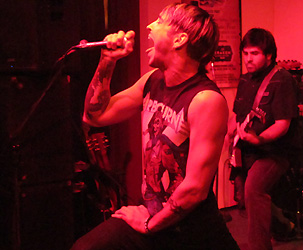 The packed excitable crowd loved them and even 99X was their who had obviously been promoting it on the station. Musically this was full-on, death-clenching, ear-splitting, abrasive chaos in a style that be describe of a kinda new nu-metal with elements of energy from bands like Five Finger Death Punch, Avenged Sevenfold and Killswitch Engage as well as older combinations from Fear Factory or Korn.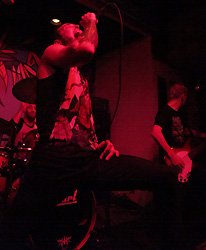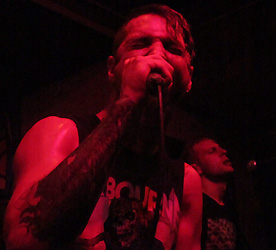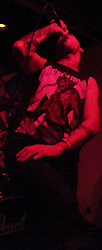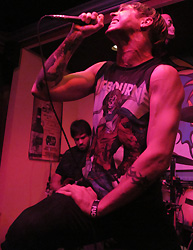 The Fort Myers fans totally digging their brashness of their presence and got really revved up and more so after the rousing remarks and screams of the 'Villains Voiceman. Their were killer moved from their bassist Chad Taylor, at times reminding me of RHCP's, Flea and well-packed, heavy as hell guitarwork on the Gibson SG from Joseph Stamp and thunderous drumming, coutesy of Flavio Cirillo.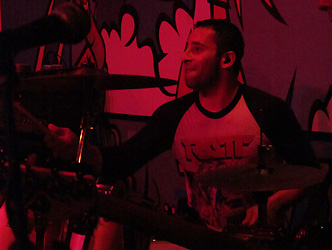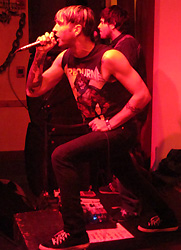 All the classic expletive swearing was there from the word ''go'' and nobody could get enough of the numbers that came from their CD, 'Population: Declining'. Highlights from the said album included their hit, 'Take Back the Fear' that Bryan joked that they "should play about 15 times" as it went down so well tonight, as well as 'Runaway'; 'My Reward'; 'Try Hating The World' and much much more.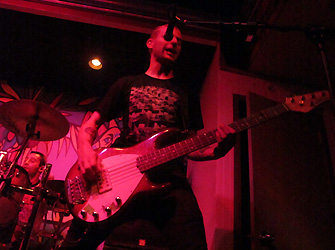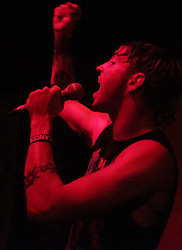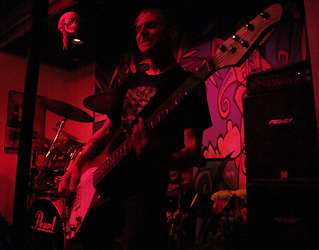 Big respect to the guy who shouted for another song he liked - "You must be a real fan, as you know more than 1 song". Nobody wanted their set to end and I can honestly say that these guys are one of the best bands that I have seen of this genre and I see them being a big loud noise all over the world if they aren't already.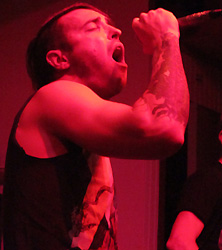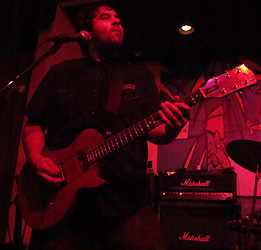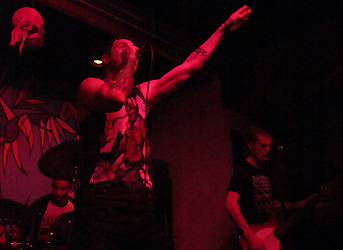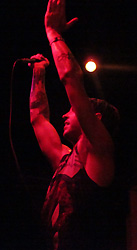 The boys did you proud and you did them proud and made their night big style.
9/10
By Glenn Milligan
Chesney Hawkes - The Boardwalk, Sheffield, Wednesday, 27th October, 2010
The last time I saw Chesney was way back on the film with Roger Daltrey called 'Buddy's Song' and funnily enough he came on stage and started up on acoustic with a snippet of 'The one and only' from that said movie. "That's all I got - Goodnight", he jokes which has us laughing no end - which we actually joked about before the show took place.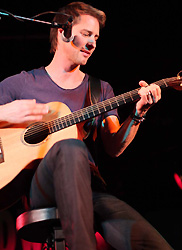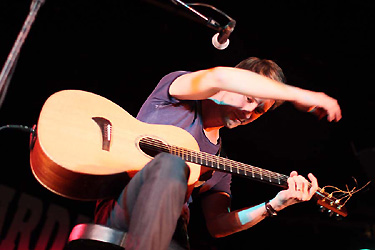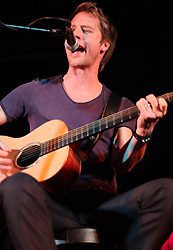 Next up was 'Another Fine Mess' where he told us a few bough it and then offered around a packet of chocolate hobnobs that some of his hardcore female fans had bought him who were sat down at the front and informed us he loads of copies of the single cloggin up the bathroom - classic - gotta love his humour. The rather excellent 'Bring Me Down' follows much to the girls delight.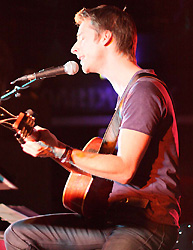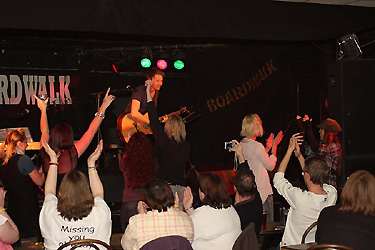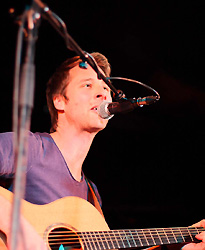 "I invite stagediving, moshpits and crowd-surfing. I might even do a bit myself", he jokes and gives us a great rendition of 'A man not a boy' that was also featured in that famous film he starred in. As many of us know, Chesney is the son of one of the members of 'The Tremeloes' so he goes as far as playing 'Here Comes My Baby' and aplogises for some of the naffness of the song as well - hahaha, saying you can blame his dad, Chip Hawkes wrote it. 'Stay Away Baby Jane' his 3rd single goes down good and tells us he had 7 singles altogether - I didn't realise that myself!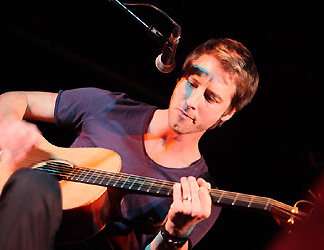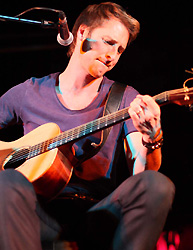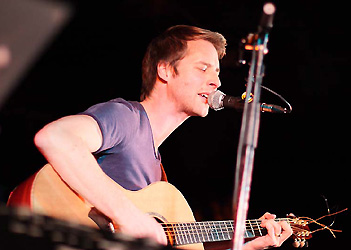 Nice to see he is a man of many talents and goes over to the keyboard, asking us, "What you think so far?", with screams from front - I guess they like it and there he goes into a Nik Kershaw song about being away from loved one when on tour that no doubt all musos will identify with and other peeps who spend a long time away from hom as well. Hey Chesney is that a Mika song you are playing now? It's one that the support likes as well so it's dedicated to him much to Chesney's amusement and no doubt the geezer who was on before him as well - lol.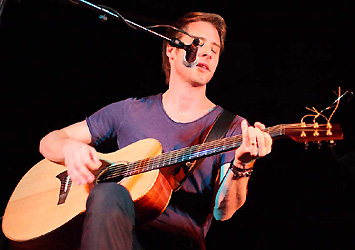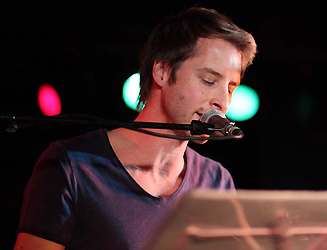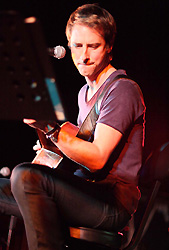 Now I been a fan of this old chestnut for a while and recognised 'Come And Get It' straight away - the old Beatle/Badfinger classic and Chesney totally nails it with his sweet high voice. He then decides he needs a chill out and rests his fingers a while and tells us he is going to do something most peeps dread - a song to a backing cd which is a number that features his sister on backing track that'll be released soon with all proceeds going to the charity Amnesty International. Not much rest for the wicked though as it's back to acoustic again.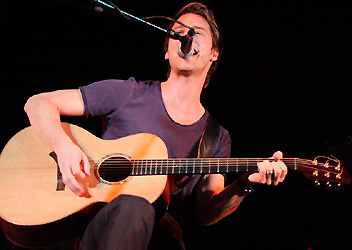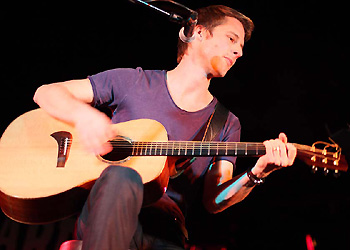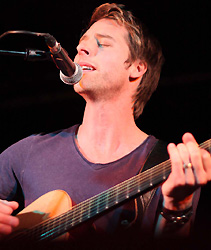 "Here comes the moshpit moment, come on make my dreams come true", he asks - it doesn't happen but at least the crowd singlaong. "Come on girls", he shouts and a few get up. "Yeah you set meon fire" he sings to us while the girls sing 'Chesney's on fire'. And while he has their coals well and truly burning he says, "A little 20 year old song" and we are back where we started but this time with the full rendition of 'The One And Only'. There's no place we'd rather be - well apart from Florida where I was travelling to the next day - hahaha - evil grin on face! We all sang along and it was irresistable and then he left the stage amid deafening screaming women - hahaha - oh it's a tough life ain't it Chesney?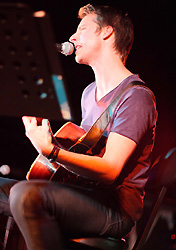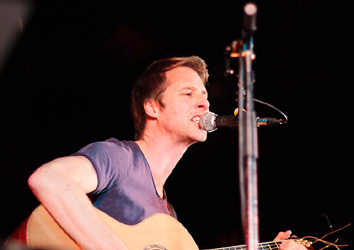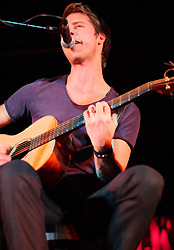 He was soon back on stage though for an encore on the keyboards called 'john lennon lived here' about the 1st time he went to New York' - again co-written with Nik Kershaw'. It was a real heart-touching closer since I remember the day that John died vividly. Afterwards he told us he would be out to meet us all in 5 mins. "Mine is a cold beer", he quips and I am sure they got him several.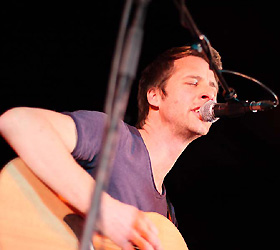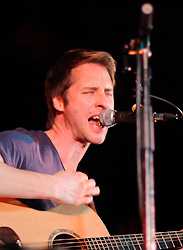 Such a great personality on stage and he comes across very humble and real throughout the night - credit to him - another great night at the Boarwalk indeed.
10/10
Review By Glenn Milligan
Photographs By Bernard Froggatt
Hammerfall - Manchester Academy, Saturday May 1st 2010
Seemingly after 16 years of band formation Hammerfall felt it time to tour the full UK! This being their first show outside London. The venue was full of heaving metal heads (long hair hasn't died out after all) waiting for the Swedish quartet. Once support act Dream Evil had exhausted songs with "Metal "in the title the wait was over!! I can't imagine Sweden's other famous export Abba creating such a frenzy as Hammerfall do when they rush the stage to chunky riffs and pounding drums. Vocalist Joacim Cans: long dark hair and beard very Viking-esque ripped into songs new and old, from the blistering onslaught of openers Punish and Enslave then Crimson Thunder they ripped up the crowd.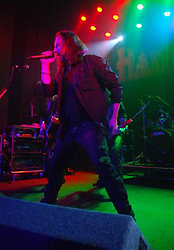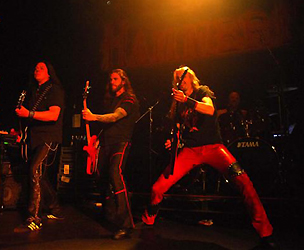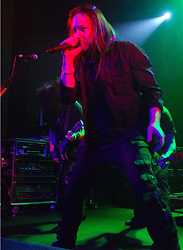 Twin guitar attacks from Oscar Dronjak and Pontus Norgren (a dead ringer for Testament's' Chuck Billy) galloped along the power metal classics of 'Last Man Standing'; 'Blood Bound'; and 'Riders of The Storm'. Chants of Hammer-fall Hammer-fall! Seemed to genuinely surprise Singer Cans, as he repeatedly through out the gig told Manchester how he "f*ck*n' loved them" apologizing for waiting 16 years to go there! Sure some songs were cheesy clichés about castles and dragons (Dragon Lies Bleeding) but they still pounded through the speakers riding on drum beat to kick your head off courtesy of Anders Johansen!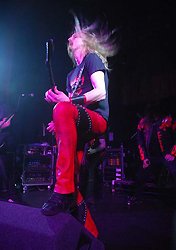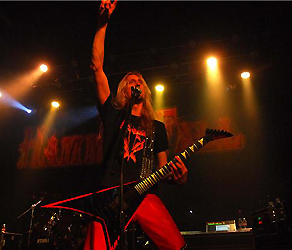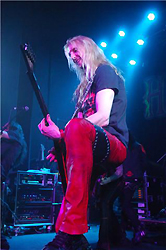 The crowd headbanged, sang along and lapped It up. I was unfamiliar with most of the set having been a recent convert to Hammerfall but the songs didn't disappoint at all. 'Let The Hammer Fall' and 'Any Means Necessary' were heavy and angry, just what Manchester needs on a Saturday night.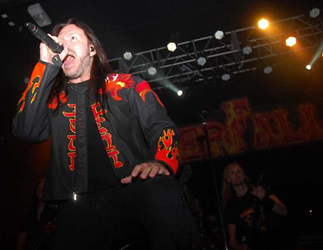 For me, I would have liked to hear 'Glory To The Brave' and 'Always Will Be' but maybe a ballad would have stifled things, with the encore leaving the City With Hearts On Fire Vikings Hammerfall pillaged Manchester with their power metal and with some high profile festivals booked this Summer hopefully will raise their profile and they come back soon.
9/10
Review By Mark Bedford
Photos by John Mather

HOUSE OF LORDS + Kaned + Black Stars -
Corporation, Sheffield, Friday 6th November, 2009
House Of Lords are clearly seeing the activity they did in their late 80s heyday to have not only new albums out two years running but UK tours as well, both including our fair old steel city itself. And two great new UK bands to open proceedings.
The first one of which being local hotshots Black Stars who only stood this stage about seven weeks previously heralding LA Guns. They impressed then and they do again tonight both in performance as well in stage presence - their guitarist taking to the club floor during a solo - and also knowing some of their tunes this time ensures that I enjoy them. Familiar or not though 'All Fall Down', 'Backstabber' and 'Read My Lips' are major selling staples for these lads and hearing on the grapevine shortly after that they've landed the support slot opening for another big hair metal name due on UK stages this side of Christmas shows that they are growing in reputation. A collection of "Ooo" s amongst the cheers and claps from the punters justifies such anticipations.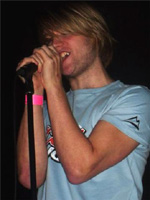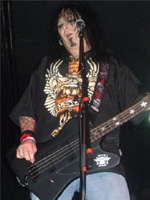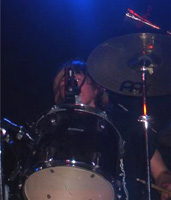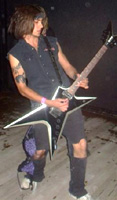 I can clearly understand anyone feeling a sense of dread when Kane'd first arrive centre stage, as if one is about to endure the horrific sight of a girl band supporting House of Lords. However once the Swansea septet strike their first chords, the alarm stands well and truly false. Fronted by the three sisters who give their name (minus the ''d' portion) to the band, with an all-male twin guitar line-up behind them, this unbelievable outfit dominate us from start to finish with some of the best pop rock tunes heard on these shores for a very long time.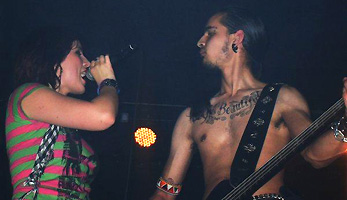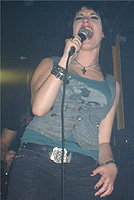 At casual observation a Jonah Jett meets Evanesence hybrid, their material bites chews and snarls throughout with a healthy dose of seventies punk bombast. 'Outta My Mind', 'Playing With The Devil', 'Rock Against The DJ', 'Falling Down' and a brutal cover of 'Rebel Yell' are treats of the set which actually overruns its allotted stage time, yet gives us an unexpectedly strong introduction to one of the most innovative British young British acts we've seen in many years. Being booked on not only the entire UK but also the European part of the tour means they are going to be a fair few thousand fans stronger into the new year not including me for I've become an instant one tonight already.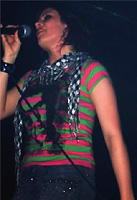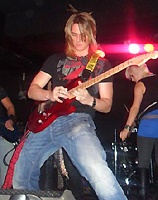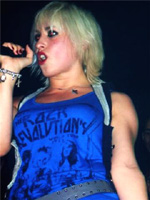 The headliner's turn next, House Of Lords almost have quite a bit to live up to, to exceed the interest the previous two bands garnered. Having only 75 people to entertain this evening is no skin off the LA veterans noses, as Christian and co get down with a punch rendition of 'Sahara', complete with intro on backing tape. Rumours of a return by keyboard legend Greg Giuffria sadly turn out to be a non-event but the more guitar-oriented build of their post-reformation material, including the impressive new Cartesian Dreams' album keeps it substantial through the amplifiers.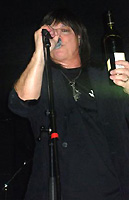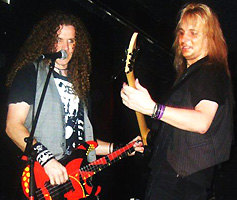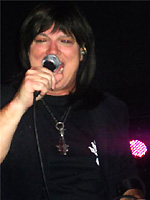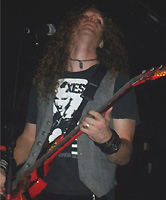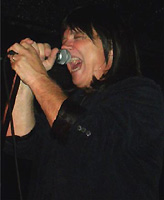 Having ex-Danger Danger man Rob Marcello in the band pays part of the dividend - the Lords latest recruit turns more heads than JC himself on his appearance and then that's before he give the solos his all. Listen to 'SOS', 'I Don't Wanna Wait' and 'I'm Free' and then first album cornerstones 'Love Don't Lie', 'I Wanna Be Loved' and 'Pleasure Palace' straight behind them and you'll see how tight this band remain in 2009. Buoyed to slight extent by a tape accounting for the keyboards and some of the backing vocals they may be but when Mr Christian's mouth opens, there is strictly no miming to be seen.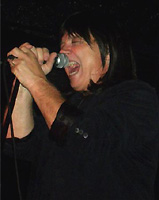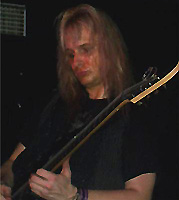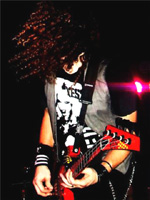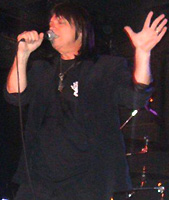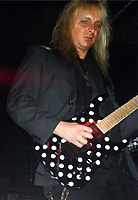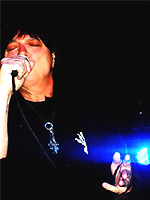 The crowds personal endearment with this geezer seems to be set in stone as they even hand him a bottle of wine to enjoy onstage at one point and personal banter with one or two faces in the crowd, including one certain Mr Mick Bailey who even comes up to get crowd volume to the max for the encore.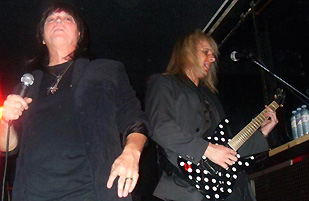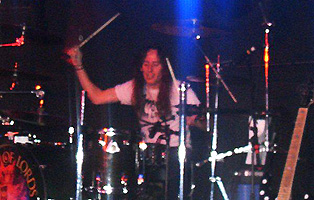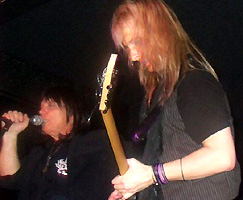 Ending abruptly after only one final tune, we would have preferred another classic, decent a song as 'These Are The Times' happens to be in its own right but the overall feelgood factor of the night is upheld by an equally pleasant set to the one performed sixteen months earlier.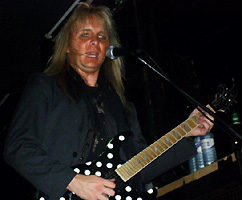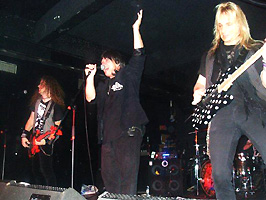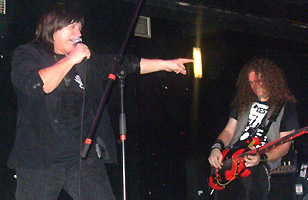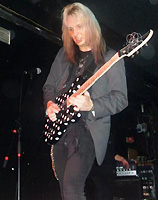 No matter how big- or little- an gathering James Christian has around him, he still plays for those who have cared to come - further shaming those who never or no longer give them a chance. Messrs Cordola, Giuffria Wright, and Mary may be long gone from the ranks but they'll be looking on and back in pride now as they know that the machine they incarnated still roars strong two decades down the line.
9/10
By Dave Attrill

Heaven's Basement/Silverjet/Maeven – Corporation, Sheffield, Tuesday, April 28th, 2009
Well I'd been looking forward to this gig as soon as I saw it announced on the venues website. Unfortunately though, the first support act, all-girl band Maeven hadn't improved much since I last saw them support Silverjet a good couple of years ago. Their material was very much rah-rah monotony with crap melodies that all sound the same making the entire set become a complete blur of noise.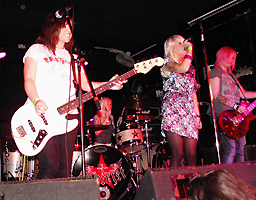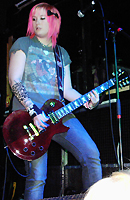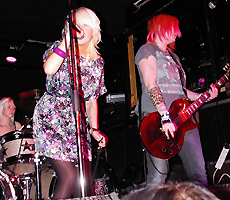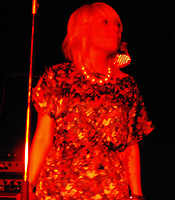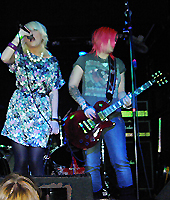 Their singer, well can't to be frank and the bass guitar is way too loud as well. It sounds bad to say but the standout was the end to their set. They were purely awful but they look ok though - so that's something at the very least. They have a new album out and I remember them saying 'Forget Me Not' was on there (if my memory serves me right) and some song and about fear.
2/10
Those local rockers, Silverjet start with up with 'Mardi Gras', 'Let's hear ya Sheffield, havin' some fun or what?" – of course we are Mr. Kerr. New man, Pais is on bass who drives the 'jet exceedingly well and it's the 1st time I have witnessed him as was ill last time they played here.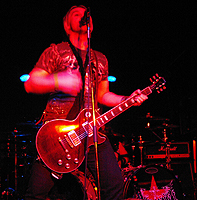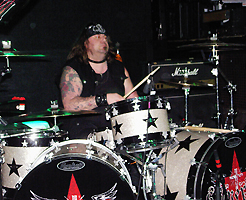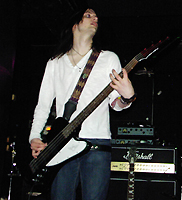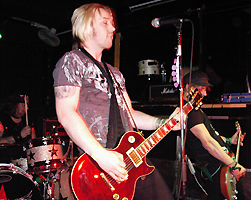 They are really bang on form and we even find out that "Silverjet shirts are on sale tonight - buy and wear next week - this is hell yeah" before kickin' into this firm favourite. "Can I get a hell yeah" - Of course you can Dave.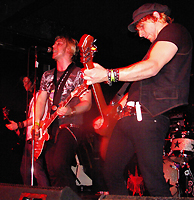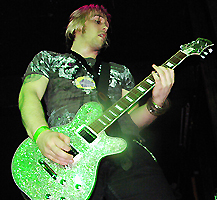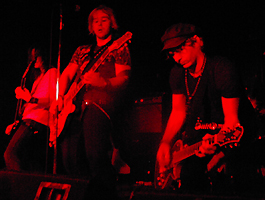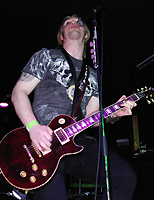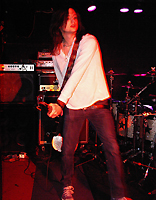 Without rambling on too much, tonight is a great a set as ever – in fact I'd go on to say it's the best I've seen them do so far – must be something to do with the fact that they blend so well with their new recruit who gives the mighty impression he's been there since the start.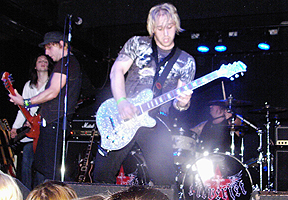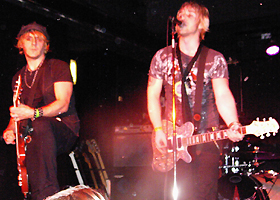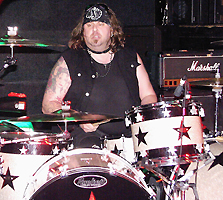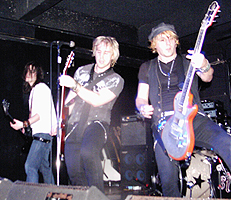 A nice array of material from their 2 albums is played tonight and we can't ask for better than that – I'm sure they aired a new one as well that'll be forthcoming on a yet to be recorded 3rd album. Good One Lads.
10/10
Well what can you sat to this reception - Heaven's Basement receive a standing ovation by just walking onto the stage before they have even played or sung a note. They have a crystal clear killer sound which disapproves the fact that it's a room with bad acoustics – you can tell that they've spent quite a while doing a sound-check or their Engineer is at the top of his tree.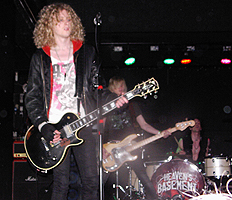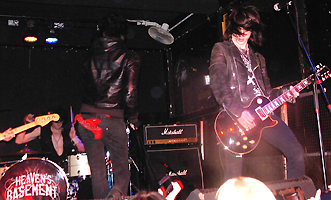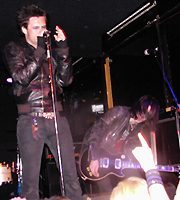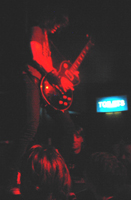 They are as tight as ever and thoroughly confident in every way. Richie commands sheer gratitude and respect and gets it – having brilliant exuberance and energy throughout every single song. The 'Basement play off each other well and with audience – it's almost like an automated panto' between band and fans but this is a totally natural connection of love and music between everyone here in the room.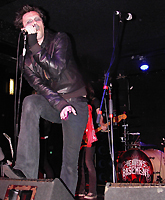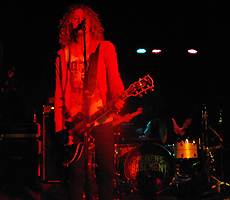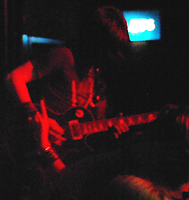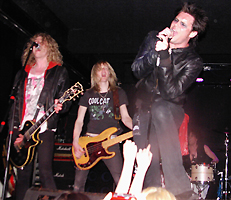 We are treated to a new single 'Can't let go' that goes down really well. These guys have seriously got all you need in a rock band- zest, all round appeal and strong songs. Man, they make it look so easy. Richie even gets down on his knees and sings to crowd in a confession of sorts – a number entitled 'Dead Man'. He has an Awesome lead vocal - Wow!- An amazing singer!. This number is sort of cock-rock ballad in an Alice In Chains kinda style at times.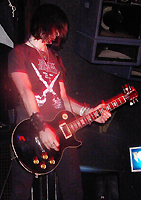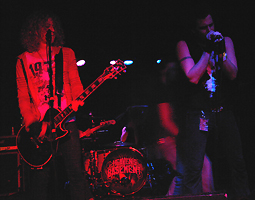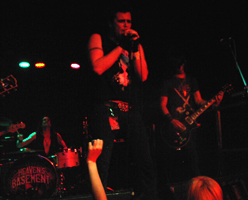 One of my favourite songs of theirs, 'Rain on your parade' is kept towards the end of the set – which many of us just can't help sing along to. Richie tells us that on their last UK tour that they did before Christmas, this was best gig they did and that tonight was the best gig on this tour too. No mean feat – credit to you Sheffield!!! The last number of the night is 'Such Is Life' and the gargantuan voiced vocalist asks us to, "all help me out as I've not done it for ages". We give our all on the chorus and the appreciation from the whole band is undeniable throughout and after. "Thank-You very much Sheffield, Goodnight" and with that the hot, sweat-drenched band leave the stage who are just about drained of any energy left in the.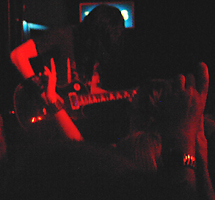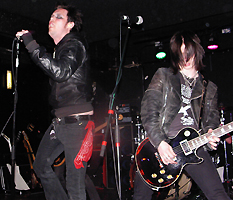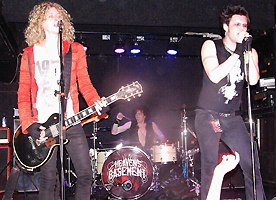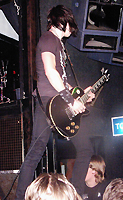 These guys truly give it their all - what a show. One of the countries finest without a doubt.
10/10
By Glenn Milligan

H.E.A.T. – Corporation, Sheffield, Friday 20th March, 2009
A band that seem to have come out of nowhere and become massive on the AOR scene here in the UK too – even though they are from Sweden and previously played at Firefest 2008 minus their frontman, Kenny Leckremo who had to pull out due to illness at the time.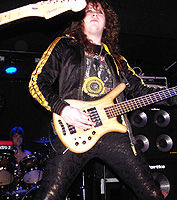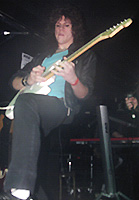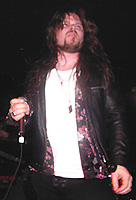 I suppose that is one of the reasons why so many 40+ year old people (mainly blokes) have crammed the small room at the Corporation, so as to witness the presence of said frontman and the bands own material which is very much in the vein of those final countdowners Europe and the legendary Journey.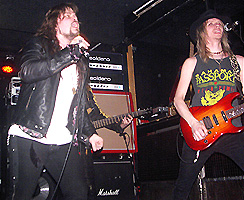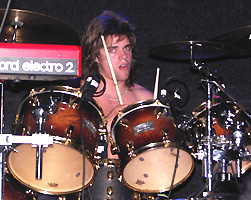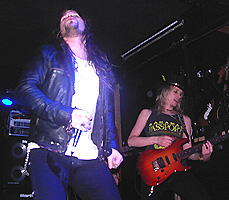 They play for an hour that includes 2 songs left for the encore – all from their self-titled debut album. Visually they looked great and as though they had just been transported from 1986 and planted onto this very stage in a matter of seconds.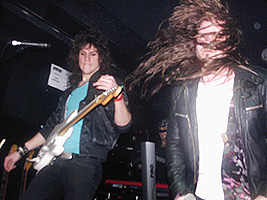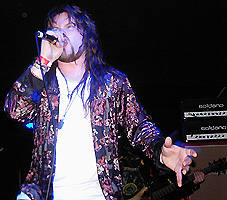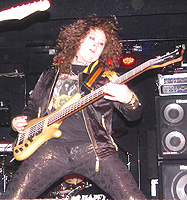 Highlights included 'Keep On Dreaming' that all the crowd sang accapella to numerous times for the band; the totally cheesey but top-notch rock ott-ness of 'Fill Your Head With Rock' and the umpteen posing-off and members of the band set the standard that many can adhere to learn from – ok – rather a bit too much at times. Surprise, surprise after 3 audience screams it was decided that the peeps from Sheffield were louder that the punters from Leeds.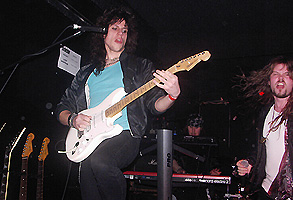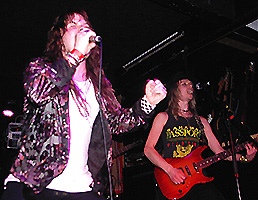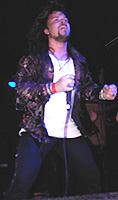 The sound balance for some of us leaves something to be desired though as the vocals are way too high in the mix and seem to be like 3 times louder than anything from the rest of the band. – well apart from the blasts from the keyboards of Jona Tee, that also overshadow anything that comes from the Guitarwork of Eric Rivers and Dave Dalone, the Bass-playing of Jimmy Jay or Drumming of Crash. It's as though only the vocals and keyboards are important most of the time which is rather sad as the guitarist appears to be damn good in his own right.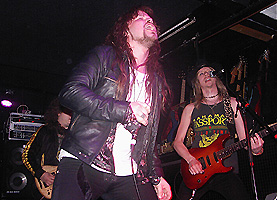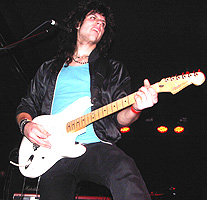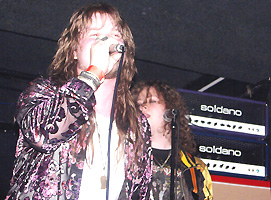 Highly entertaining for hardcore lovers of AOR in here tonight but not-so-much if it ain't your thing.
10/10 from the fans. 7/10 from us.
By Glenn Milligan
Hot Leg - O2 Academy, Sunday 8th March, 2009
Set List –
Ashamed/I've Met Jesus/Trojan Guitar/Gay In The 80's/Heroes/You Can't Hurt Me Anymore/Chickens/Kissing In The Wind/Come Into My Arms/Dust In The Wind/All I Gotta Do/Prima Donna/Whichever Way You Wanna Give It/Cocktails.
Encore –
Theme From Hot Leg/Cupboard Love/Do It In The Dark.

After only hearing 'Red Light Fever' the previous day, the new material from Justin 'Dave' Hawkin's post-The Darkness band 'Hot Leg' was well and truly fresh in my memory. 1st time I've witnessed this dude live in a few years, as I previously saw him in '03 up another Sheffield venue with his former band.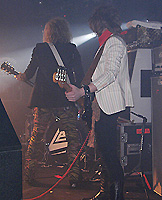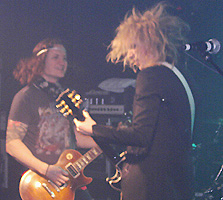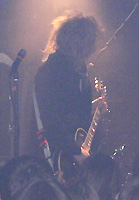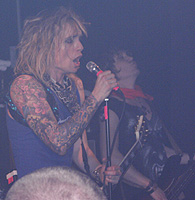 Hot Leg are well and truly built around Justin's musical style and vocal approach - pure flambouyant 80's stadium rock with large vocals and supreme musicianship all round. The other members nearly giving Mr. Hawkin's a run for his money in the fashion dept - although no-one can beat those awesome tiger-skin coloured tight jeans - or the nice array of tattoos come to think of it.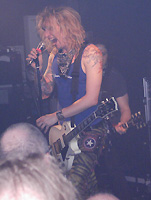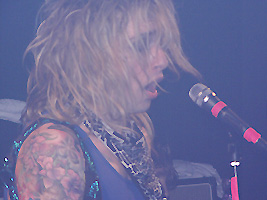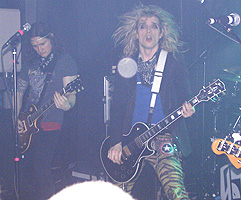 It's a packed house in the small room of the Academy upstairs and I can personally see the 'Leg filling the big room in time if this turn-out is anything to go by. The entire album was played tonight, much to the love from all of the fans. It seems they've took the new songs to their hearts already some were wailing along with the Rock God. Main highlights included the amazingly riffed 'I've Met Jesus'; the out of this world Sparksy rocking 'Chickens' with those powerful trademark falsetto vocals in full pelt & the Status Quo like 'Prima Donna'.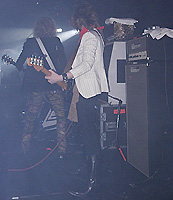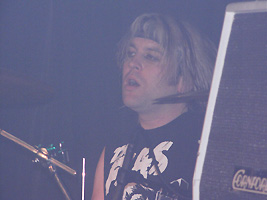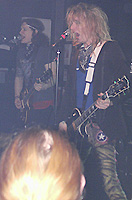 Rockers as well as ballads (like 'Kissing in the Wind') were delivered with plenty of applause from all and sundry. Asking if anyone was in love, Justin joked 'that it don't last' - lol! If it was your birthday tonight you were guaranteed to be serenaded to by the band - as Alexis was and some other chick who they didn't know the name of - wonder if they were trying it on? - haha.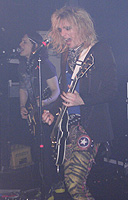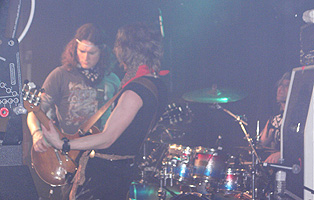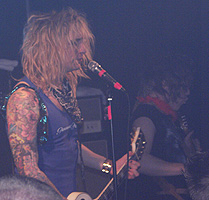 The sound really was excellent - probably due to the low room and state of the art gear that was being used for tonight's gig. The crowd were teased with the intro for 'I believe in a thing called love' with was greeted with a heer but they soon lulled out when that was all they got - haha - sick but funny joke.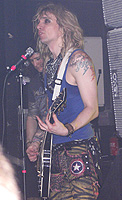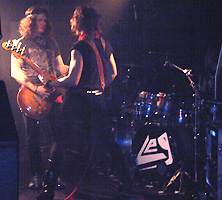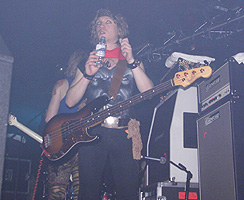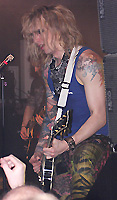 We did get to hear songs that may be on the new 'Hotleg' album though which were as awesome as those numbers too with good examples being 'Come Into My Arms' & 'Heroes'. It was funny when Justin said he'd just f*rt*d because he'd been at his parents for Sunday dinner - well even Rock Stars need to pass wind - lol!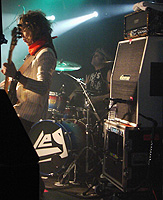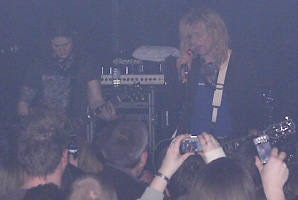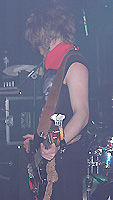 'So what do you want, more ballads or more rockers'. All wanted rockers but Justin said on the account that everyone danced - as if they wouldn't. He wasn't impressed that they had some sort of gig on in the big room as said "to turn the f*ck*r down" and I can't blame him to be honest as it weren't half booming through.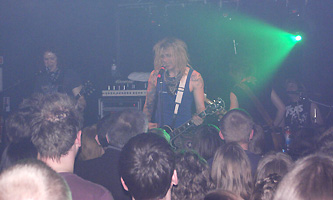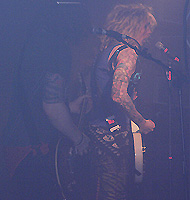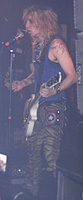 On one occasion towards the end of the gig he did the old Angus & Bon routine by coming out into the audience playing guitar on the guitar techs shoulders - which everyone loved in the room - with one girl placing her hand up the back of his t-shirt - damn groupies! lol. It's all in the name of Rock 'n' Roll Baby !!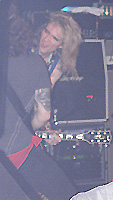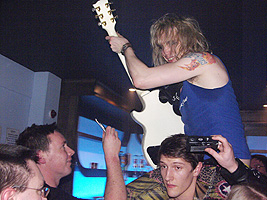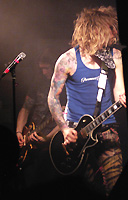 This was purely a brilliant show from a new brilliant band - can't wait to see 'em again - get them to the Download Festival!!
10/10
By Glenn Milligan

Heaven's Basement/Wired Desire/In the Name of -
Corporation, Sheffield, Sunday, 14th December, 2008
In The Name Of
The late arrival of (anonymous) Metalliville colleagues leaves me dumped with the responsibility of writing up on the second set, in the last two and a half weeks, by Sheffield's beloved In The Name Of (we were interviewing Heaven's Basement Dave - Glenn).
Not that i am going to get an identical copy of their fine enough half hour at the Dove and Rainbow, pleasant surprises beckon this time. 'Win Win Situation' and 'Learn To Fly' are amongst the vital mainstays of their list but whereas 'Point Of View' has to sit tonight's game out , the welcomely reinstated 'Devil's Pact', apparently brought back at my request makes it worth turning up having initially been for the sole purpose of seeing these lads again.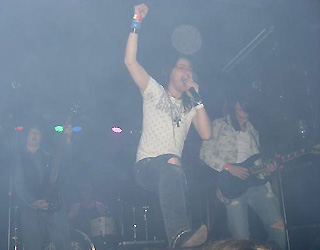 Then the highlight of their night comes with belting newie 'Paint The Town' equipped with Steve's greatest chorus hook ever and one I find myself humming to myself a lot on the way to work the morning after.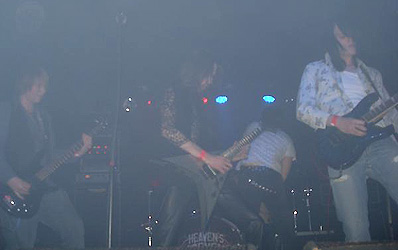 Graced with a decent turnout already in the Corp's little room by this time - a good 50 at least, both the song and the set itself doesn't exactly miss out on its applause and they are guaranteed a few new fans this evening.
Wired Desire
Wired Desire, I predicted before their arrival would be either a so-so version of I.T.N.O. or the greatest thing since Motley Crue, and when these young men take to the boards, the tick goes straight into the latter square. From the first minute to the 30th, there isn't a dull one anywhere for this young Glaswegian foursome. They don't even need to play two songs, let alone seven to tell us they've got something big to promise as they demonstrate how to weld everything wonderful about the 80's glam metal scene together for the benefit of those who still believe it, as well as a vital piece of education to young to remember - or too fashion –enslaved to care.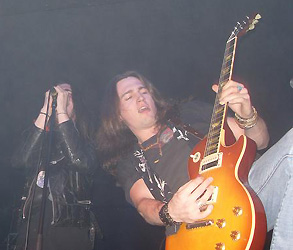 Awesome sleaze rock voice-ery from Dale that drills through the other end of the room, plus strong energy channels in rhythms from their at-the-moment sole guitarist (they are currently down to a four-piece) keep everyone who's listening at the start away from the bar and I know the feeling more than them. Stage presence and sassy hooklines all in check, this lot do not need telling how to put on a true rock n' roll show and their uncannily authentic sound makes me close my eyes , letting myself believe that all of those luminaries of a criminally bygone generation are standing in the room opposite me now Worded simply, they out–Pretty Boy Floyd Pretty Boy Floyd, leave Britney Fox sounding like Britney Spears and make Faster Pussycat look like Plodding Old Puppy Dog.
I can quite truthfully state for the record that rarely, in my countless years in the rock journalism industry, have I seen a hereinto unheard of British act drop out of the blue to land on us as hard as this. W.D. are one band destined not to stay unknown for much longer. Make sure to see them when they're next in.
Heaven's Basement
Set List - Tear Your Heart Out/Saint Routine/Graduation/I'll Never Write A Love Song/Mirrors/King For A Day/No Pity/Reign On Your Parade/Such Is Life/Executioners Day.
Well this is f*ck*n' awesome if you ask me, it's only a few weeks ago since we saw this fine quartet entertian us as the main support act for Thunder at the City Hall just up the road. They definately made an impact with the Sheffield crowd as the small room is packed. The enthusiasm right from the start, well before Heaven's Basement even sing or play a note is incredible. It's like they've become overnight heros in these here parts - well some of the members have been around in previous guises (but I aint going into all that right now). Kickin' off with 'Tear Your Heart Out' the lads built up everyone into further frenzy which didn't let go throughout the rest of their set. Ritch just had all and sundry right in the palm of his hands - he later told me he liked how they felt - nice line bro!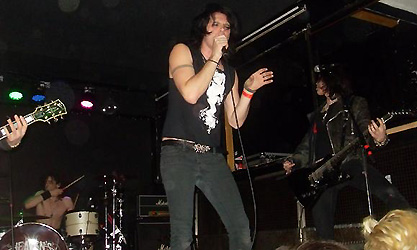 The set is a mix of songs that appear on the self-titled ep, on their myspace alongside some other new gems as well that don't feature anywhere at all. Highlights in the set - (well all of it really but that's lazy journalism ain't it) were most definately the immense 'Reign On Your Parade'; the incredible 'Such Is Life' that they heard somewhere and just had to steal it; the Sabbathy come other bits as well'ness of 'Executioner's Day' and 'Saint Routine' with the 'wow wow wow wow' type singalong bit - well you know what I mean.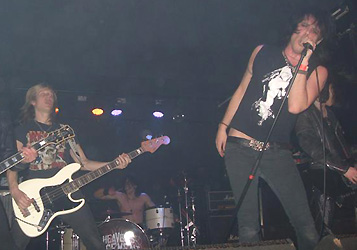 They got us to give those we hate a big 'F*ck You' and rocked us some more. There wasn't much room on that tiny stage but they made the best of what was available with plenty of posing on monitors, climbing on speakers a bit and a full-on joyous vibe all the way in the hour that they had up there. Everything about this band is exceptional with their full, warm, rock blasts of pure energy that remind me of great bands of yesteryear like Little Angels, Skin and even Gun at times. They've truly got something and this band is gonna go so, so far and let me tell you they thoroughly deserve it.
I am really looking forward to catching them again in our parts.
10/10
By Dave Attrill & Glenn Milligan


HOUSE OF LORDS/Silverjet -
Corporation, Sheffield, Saturday May 17th 2008
The return of hair rock goliaths House Of Lords is doubly celebrated alongside the re-appearance to the live stage itself for one of our greatest Steel City exports themselves after months in the wilderness, busy constructing their second long-player. That being Silverjet of course who also have the luxury of being signed, to also smile about, this evening.
Their forty minutes tonight is mostly spent plugging the newbies some of which are already familiar to many of their loyal followers from sets over the last two years but to reward their standing loyalty, there has to be an number or two from the debut EP plus the first disc served up on the menu too. With noise being made in balancing doses from people present for the headliners as well as the Jet personnel's family and colleagues themselves, their reputation over their five years to date as a functioning unit never ceases to be evident.
The Lords lads made their entry onto the narrow but welcomely high Room 3 stage and the 80-strong throng all pay instant attention. Sporting the line up that has been working with him since 2006's excellent 'World Upside Down' album, James Christian has a commendable resemblance to Don Dokken nowadays but still with his full pipes in use, but that said he has to work hard to drown out the volume of this small but very loud gathering. A volume that is made even harder to defeat when you belt cornerstones like 'Chains Of Love', 'Laydown Staydown', 'I Just Wanna Be Loved', 'Love Don't Lie' and 'Sahara' at them.
The band that originally rose from the ashes of 80's legends Giuffria may no longer feature the talents of the man himself but his writing is still felt in the performances of the current HOL incarnation and while all audible keyboards tonight are of the programmed variety, current and excellent six-string maestro Jimi Bell adapts his lines very masterfully to double in for them. Material from the 'World.....' disc still also enjoys some generous use itself tonight with 'SOS' and 'I'm Free' going down as well as the hugely-sing-a-long-able title tune from current newie 'Come To my Kingdom'.
Made to fit a full hundred minutes by way of a three-song encore, we get both quality and quantity thrown our way by James and the boys tonight, which they obviously owe us as it is with their first visit to these parts in about 20 years. We've seen a lot of unlikely names arrive on the Sheffield live music scene's listings of late, and the name House Of Lords, it is prayed, appears on the Corporation gig info flyers again before too long.
Thanks to both bands for a brilliant night of hard rock and hopefully next time, it'll sell enough tickets to be held in room 1 instead.
9/10
By Dave Attrill

Hawkwind/Glyder –
The Plug, Sheffield, Sunday, March 30th 2008
Not seen Brock's Boys for a while but up first supporting were the lads from Ireland called Glyder who I personally was surprised at seeing before the psychedelic warlords. Glyder did their bit though and flew their material up and forwards towards the crowd proving that their 40 odd minutes worth of Thin Lizzy like Pop 'n' Rock was worth its salt to those waiting for the headliner. Nice usage of twin guitars here guys on the selection of songs culled from your 2 albums.
When Hawkwind hit the stage I noticed immediately that one of their members was missing – this being the brilliant Alan Davey who comes across like Brock's little bro on bass – in his place though is the big biker looking geezer in glasses who plays the part well – but it's just not the same without little Al'.
The only 2 members I actually recognised from a previous gig I saw was long-standing drummer Richard Chadwick and the supersonic spaceman himself, Dave Brock on guitar and vocals – the man who is Hawkwind when all is said and done. The light show on offer tonight is well – damn fine to say the least with all sorts of crazy space stuff and spinning sh*t projected onto the backdrop and to be honest, anything in its path.
The sound quality tonight in this venue was brilliant and extremely authentic – a very warm ambience was achieved without going way overboard in loudness that a lot of bands are guilty of – something that I have never known Hawkwind to do in all the times I have seen them. Each song is as tight as tight and you would think each song was being mimed to. Theses dudes are old pros at it though memerising all in here with classics like 'Time we Left'; 'Masters Of The Universe'; 'Sonic Attack'; 'Alien'; '25 Years'; 'Hurry On Sundown' along with newer numbers like 'Lighthouse' that Tim wrote as Dave Brock pointed out.
A funny party of the show was when Dave Brock's amp actually blew up and had to be replaced – he actually found it rather amusing as well. Unlike the last time they played Sheffield, this time they had 2 dancers who defied balance and gravity at times – being held on each others shoulders wearing cracking costumes.
How lucky were we for the band to encore with 'Silver Machine' which saw Richard Chadwick taking care of vocals.
Come back soon!
8.5/10
By Glenn Milligan

2 Gig Reviews of Hanoi Rocks !!!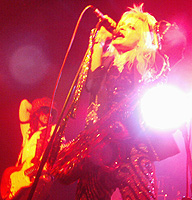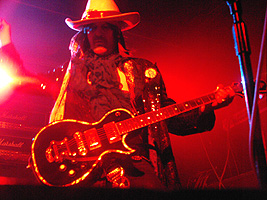 Set List –
Intro/Fumblefoot & Busy Bee/Hypermobile/Malibu Beach/Street Poetry/Highwired/Day Later Dollar Short/Bad News/Power Of Persuasion/Teenage Revolution/High School/Fashion/Transcendental Groove/Back To Mystery City/This One's For Rock 'N' Roll/People Like Me/Don't You Ever Leave Me/Tragedy/Boulevard Of Broken Dreams/Oriental Beat
Encore –
Powertrip/Obscured/Motorvatin/Up Around The Bend
The Plug, Sheffield, Monday 25th February, 2008
Now these guys ain't been and played in Sheffield since September 2003 so it's a welcome return after nearly 4 ½ years let me tell ya. Back with a brilliant new album going by the name of 'Street Poetry' which is sensational with a smattering of songs from it included tonight.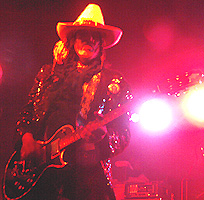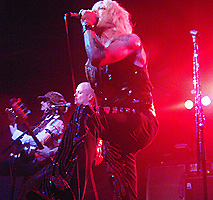 Hanoi are absolutely bang on form as well – just where does Michael Monroe get his energy from – he is as fit as a butchers dog and then some and wearing some of the most sparkling clothes I have ever seen on a Sheffield Stage.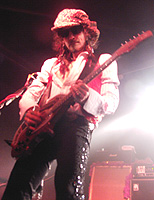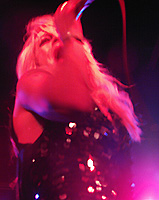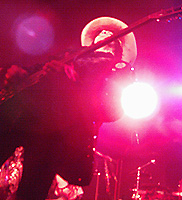 Everything is just so tight and in place in this band and you'd be forgiven for thinking that Mr. Monroe's stage moves are fully choreographed. I ain't seen anyone twirl and throw microphone stands around like this since David Coverdale or Rod Stewart in their heyday – but this dude does it here and now – the old finnish dog has still got it for sure.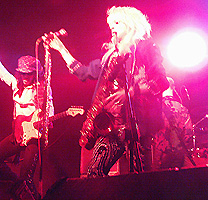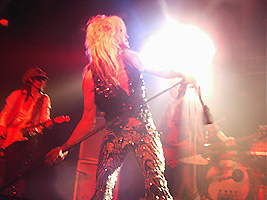 Bandwise Hanoi' consists of the two mainstays who've been there since the late 70's – these being Michael Monroe (Vocals/Harmonica/Sax/Whistle); Andy McCoy (Guitars/BV's); Conny Bloom (Guitars/BV's) – who many may remember from fronting the Electric Boys ('All Lips 'n' Hips' recollections anyone); Andy "A.C." Christell (Bass/BV's) and for the rest of the Tour, Lacu on drums who will vacating the stool shortly.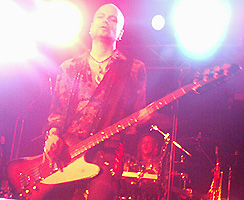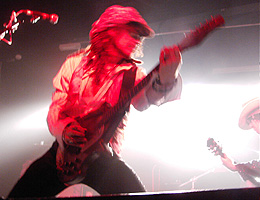 Was great to see all the new songs go down real well with highlights of them being the title track itself 'Street Poetry'; 'Fashion' and 'Transcendental Groove' and I only just played the album that night as well so it was a quick learning curve for yours truly.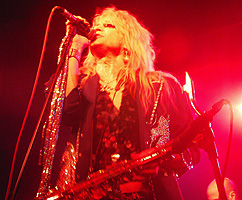 There were many highlights to the set that included 'Malibu Beach'; 'Tragedy'; 'Back To Mystery City' & 'People Like Me' that everyone went wild to – including the band themselves.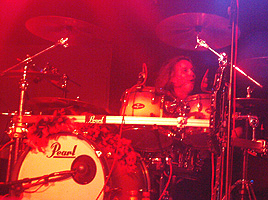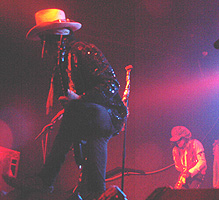 All of the fruits on offer were fully seeded and impregnated to us with gallons of solid sleaze right the way through.
10/10
By Glenn Milligan

Rio Leeds, 1st March, 2008
Here's a first for me coming to this venue (well it used to be known as The Venue funnily enough) and a first time for Hanoi Rocks as well. Like the city that is about 45 miles away, this was a very busy attendance – but be nice if it was a bit bigger as it was a bit teeny weeny for the guys on that stage as Michael couldn't really move around a lot at all.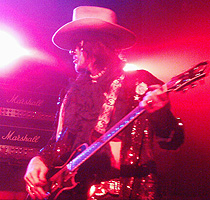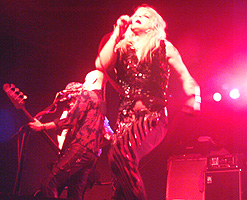 Set wise it was the same as the show I witnessed at Sheffield but no-one wants to miss out on a supreme set like this do they. The Leeds lads and lasses were wild for it as well right from the start of 'Fumblefoot & Busy Bee' right through to the encore of 'Up & Around The Bend' (the old CCR classic).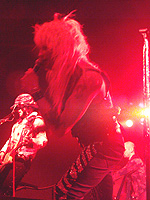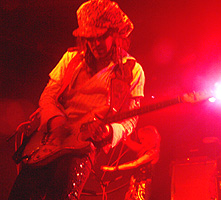 There were many highlights tonight that everyone wanted to hear including classics like 'High School'; 'A Day Late & A Dollar Short' & Oriental Beat that were mixed in with newer songs from the 'Street Poetry' album such as 'This One's For Rock 'n' Roll (an ode to The Rolling Stones, Chuck Berry, The Ramones & Little Richard); 'Highwired' & 'Power Of Persuasion' – good to hear 'em – in fact I have been playing the new album since I got it!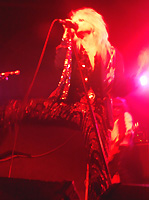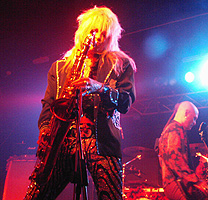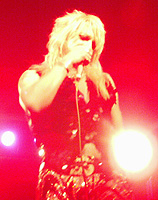 Nice costume changes dude – but Michael, don't you fall off that speaker stack as it is a bit high – just hope your insured man, haha! Hey was that a snippet of Taxi Driver I heard in the encore (but a bit faster) – wish they would have had the time to play it – damn fine gig all the same.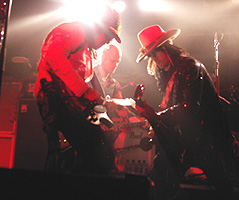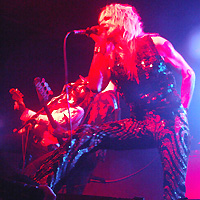 Here's to the next UK Tour!
8/10
By Glenn Milligan

Heaven & Hell/Lamb of God/Iced Earth -
Birmingham NEC 13/11/07
With almost a third of the NEC curtained off and very few people in the bar half-an-hour before kick-off, initial expectations of a lively night were not high. Clearly the absence of the 'Black Sabbath' brand had a detrimental effect on ticket sales, but the few of us who braved a cold November night were treated to three fine sets that constituted a masterclass in metal.
Iced Earth (7:00-7:30)
The crowd started to increase as Iced Earth began their superb 30 minute slot with 'Motivation of Man'. Sadly the sound sucked for the first few songs, but this didn't prevent 'Ripper' Owens from once again demonstrating his superiority over that fat old gay bloke out of Priest with a stunning display of vocal pyrotechnics. I hope this lot come back for a full tour soon, they are great.
The all-too-short set concluded with '10000 Strong' – sadly something of an overestimate tonight.
7/10
Lamb of God (7:45-8:30)
Another year, another Lamb of God support slot, and as was the case on last year's In Flames/Slayer tour, the band treated us to a brutal demonstration of how to play metalcore.
Highlights included 'Walk With Me', 'More Time To Kill', and 'Now You've Got Something To Die For', with singer Randy Blythe his usual shy wallflower self as he whipped the crowd up into a moshing frenzy.
Did you know that Mr Blythe has a Children of Bodom tattoo? Buy that man a beer.
Their performance culminated with astonishing versions of 'Redneck' and 'Black Label'. The only pity was that the majority of the 50 year old Sabbath fans in attendance were left visibly unmoved by the stark beauty of a Lamb of God circle pit.
The band are now going home to Richmond for a long kip, having been on the road for nearly two years promoting 'Sacrament'. Come back soon, mother###s.
8/10

Heaven and Hell (9:00-10:30)
Dead on nine o'clock the Sabs-by-any-other-name bounded on to a sinister churchyard set and launched into 'Mob Rules'. A breath-taking version of 'Children of The Sea' quickly followed – 'This is going to be good', I thought, as they threw some mighty fine playing our way for 'I'.
'Sign of the Southern Cross' gave us some of the most 'Sabbath-like' riffing of the night – the standard of playing was universally exceptional, with drummer Vinnie Appice particularly strong and Geezer Butler apparently having the time of his life.
Ronnie James Dio is now technically a pensioner, but the enthusiasm and vocal strength he brought to the show both belied his years and put the other part-time singer these guys sometimes work with to some shame (You know him, his ugly missus is always on the telly).
Iommi was playing his ubiquitous Cherry Gibson SG, and found some particularly inventive noises during 'Falling off the Edge of the World', a classic that I confess I had completely forgotten.
The Guardian's review of the London show suggested that the closing 'Heaven & Hell' was too long, but for me at 13 minutes it was only just getting going.
The band encored with 'Neon Knights', and the fact that the performance had featured no Black Sabbath material recorded between 1969 and 1978 just didn't matter.
Although I would berate anyone who didn't put all of the first five Black Sabbath albums in their top 100 of all time, the music we heard tonight was just that little more engaging.
10/10
By Roy Evans

Heaven & Hell/Lamb Of God/Iced Earth –
Hallam FM Arena, Sheffield 7th November 2007
You'd got the album, or the DVD, or perhaps both of the poxers, but now it's finally time to experience this surprise Sabbath/Dio incarnation in the flesh. Power metal kings Iced Earth warm proceedings up to a blazing reception and themselves feature man who for a while fronted another legendary Brummie metal act.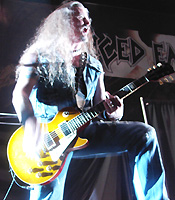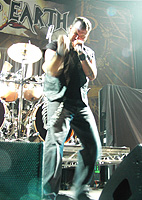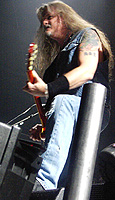 Rumours were that Tim 'Ripper' Owens had moved on again from this US act but thankfully this turns out not to be the case. Put simply, any Priest or Helloween fan not prepared to give this impressive quintet the time of day needs some serious head examination - they are amongst the finest examples of their genre today, and why they were placed at the bottom of the bill , i.e. in the 30 minute slot, baffles me greatly.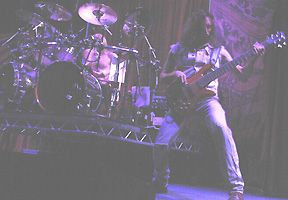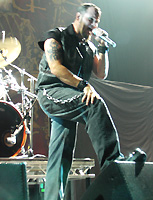 Highlights in the set include songs from 'The Glorious Burden' such as 'Declaration Day' (2nd number of the set) and a brand newly aired forthcoming song from the next album – looking forward to that when it's released.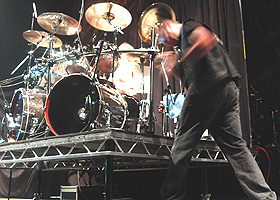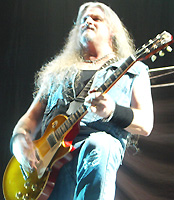 Next time they are in the UK, we hope they have a headline tour in their own right as they have so much in the way of intense dynamic and can show all the younger generation what Metal is all about. Don't make it too long before you return guys - we're waitin' for ya!
10/10 by Dave Attrill & Glenn Milligan
Lamb Of God turn out not to be as bad as I thought although they do take their time to gel with the ageing majority of tonight's throng.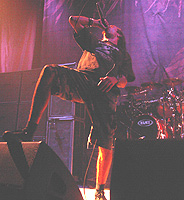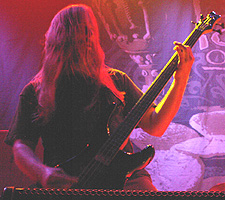 Lashing upon lashing of luvverly old Bad Area bruising is ruined only by the scream-growl-scream lead vocals that all but do their best to turn this lot into a conference division Trivium.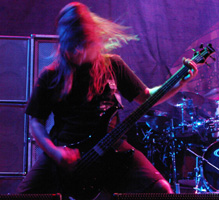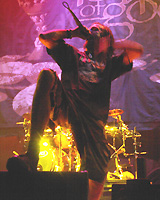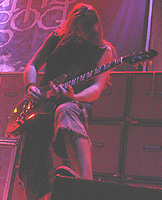 Their inclusion on the programme tonight may possibly relate with how only 1800 tickets ended up getting sold, but still I liked this lot more than Glenn. And speaking of whom.....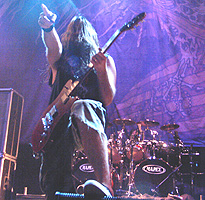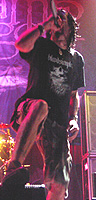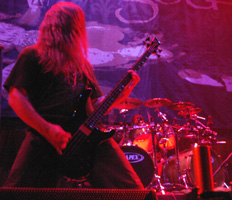 Yeah, thanks Dave, I couldn't be doing with 'Lamb Of God' at all – in fact I got the impression that the older members of the crowd (myself included on that one) got sick of them very early on in the set.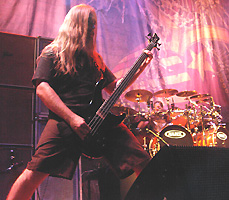 OK, it's tight stuff but how much rawping and shouts of 'motherf*ck*r(s)' is really needed in a set – more swearing than good songs to me.
5/10 by Dave Attrill & Glenn Milligan

So let's thank both the Devil & God as Heaven & Hell are up next – of course it's Black Sabbath with the Dio/Appice/Iommi/Butler line-up with a different but fitting name, so as not to confuse with the Osbourne/Ward/Butler/Iommi line-up.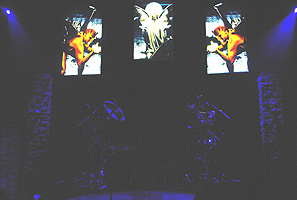 Now you must have been living in a cave for the last year or so and if you didn't realize they'd have reformed for a World Tour. They ain't played together since the early 90's, so I am rather surprised that it ain't fully sold out when only half the arena has been used for the event.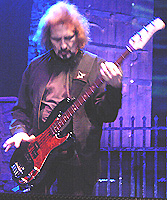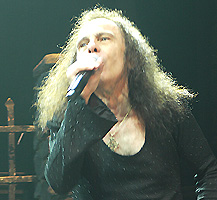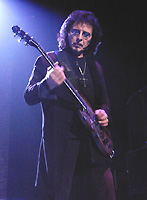 What's wrong with you people of Sheffield and beyond – these guys invented Heavy Metal in the first place as the Lamb of God vocalist commented during their set. The stage backdrop and surroundings depict an old church or castle with railings either side with what looks like real bricks and mortar making a kind of arch- wall – rather medieval – well this is Black Sabbath so we expect no other.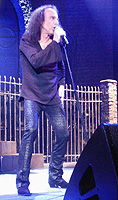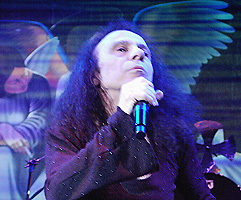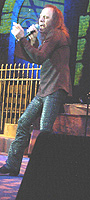 Starting off with the deep 'n' dark instrumental E5150 and straight into 'The Mob Rules' when Ronnie James Dio takes the stage (amid mass applause) and you know they mean business. The sound is just like being at home in front of the live DVD and CD – but a lot louder funnily enough. They are all in fine form and are an outfit that make up age of around 320 years – on this stage are absolute Iconic Legendary Gods – there's no mistaking that one bit.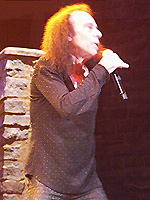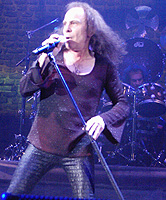 Every single part of every single song is purely musically and vocally perfect in every way possible. This is how all artists should be – these guys are used to being good live – you had to be when they fist started or you didn't even manage a gig – unlike these days – when any young upstart sh*t gets signed up and thrown in front of a large audience.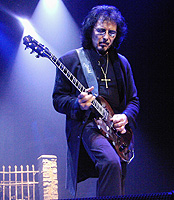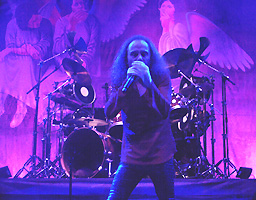 It really is incredible that Ronnie James Dio's vocals are just as good as they were when he was originally recording and performing the numbers that go back to as far as 1980 – yes I am talking material from the 'Heaven & Hell' album – the one with the smoking angels on the front and of course 'Mob Rule's with its brick wall and shrouded blokes on the front.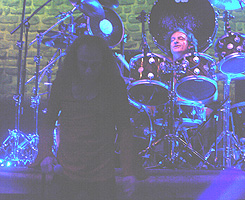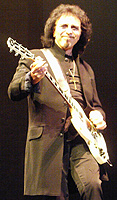 They even play 'Computer God' and 'I' from 'Dehumanizer' as well (a not quite well received album when it came out to be honest). Tonight these songs can do no wrong though when performed I am extremely pleased to say.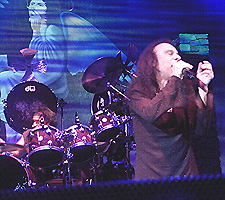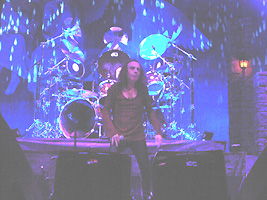 Tons of highlights are in the set from the already said albums that of course include 'The Sign Of The Southern Cross'; 'Children Of The Sea'; 'The Mob Rules'; 'Falling Off The Edge Of The World; 'Die Young'; Voodoo' and if I ain't mistaken the pulverizing 'Turn Up The Night' – now how can you not be impressed with songs of this standard played.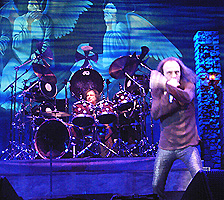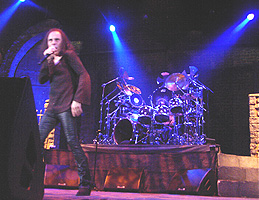 The band are extremely proud of their songs and the legendary legacy that they have left for us, especially Ronnie (who wrote the lyrics to them) – you could see it in his face – none more so when it came to the band titled song itself and 'Heaven & Hell' which he got us to sing along with him on – like on the riff of the song 'WOAH, WOAH, WOAH, WOAH' – you know the rest don't ya! And of course on the breathtaking 'Neon Knights' – with its thunderous gallaping riffery and unmistakable opening.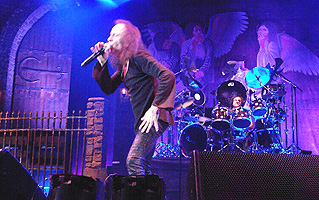 Watching Geezer Butler's fingers race through them notes on the Bass Guitar is unbelievable – there ain't no wonder why he is so highly respected as one of the World's best players of this 4-stringed instrument – he's unstoppable on it. He don't move a lot on stage just back and back occasionally but when he's got so much on with those complicated riffs it's hardly surprising.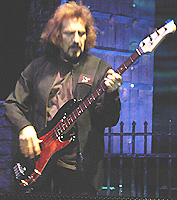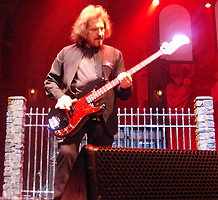 Tony Iommi, well what can you say – he is just a Guitar hero for just about any person who loves their Metal and decides to plug into an amp with their own 6-string. 'We're not worthy dude' – funnily enough, that's what Ronnie said to us in between songs after a rapturous applause during one point of the show.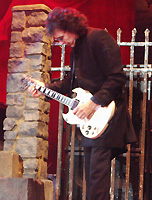 Great to see Vinny Appice up there taking hold of the sticks and manning the drum seat – a top ten drummer he is too (especially on his solo – where he uses every bit of the kit such as his custom made Gong and cymbal moving rack system, just like his bro, Carmine – he bashes away up there with the energy of a young kid but has an extra 30+ years experience on top of a teenage cymbal smasher 'n' tubthumper.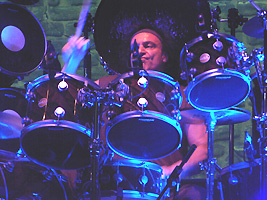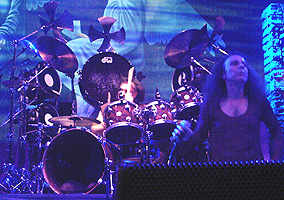 Full use is made of the lighting – especially in the dark sinister sections where in blackness, Ronnie' face is lit up in brilliant orange. Those fire effects at the front of he stage are really spectacular too – guess because of fire regulations they unfortunately can't use real pyro anymore – pity as that would been something to see real flames gust up from the depths of hell. A brand new song was played in the encore from the 'Anthology' album that's been released entitled 'Shadows of the Wind' and in true Iommi style it was deep, heavy and extremely moving and atmospheric.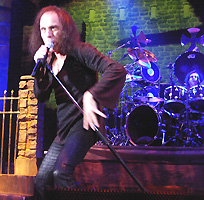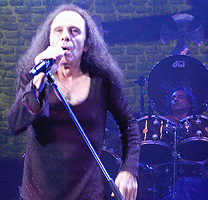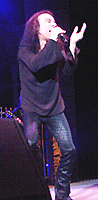 Hey, That was one hell of a highlight during 'Neon Knights' when the lighting rig was lowered down to create a triangle over the band with it's was both orange and blue colours that really set the song and all of us into another orbit. Just a pity we have to come down again as this the last song of the night – but what a night it has been where everyone goes home happy, knowing that they have seen something very special in this large Sheffield Venue.Hope they do another tour some time in the future, until then re-listen to your albums and relive it all again and again.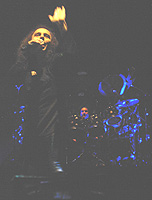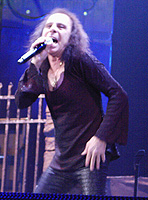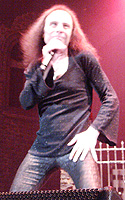 This was one of those gigs that you tell your children or even grandchildren about.
10/10
By Glenn Milligan

Roger Hodgson -
Birmingham Symphony Hall, 11th October, 2007
Set 1 ~ 2005-2105
Take the Long Way Home/Give A Little Bit/Lovers in the Wind/Hide In Your Shell/
Oh Brother/Easy Does It/Sister Moonshine/Puppet Dance/Along Came Mary/Logical Song.
Set 2 ~ 2120-2220
The Meaning/Rosie Had Everything Planned/Breakfast In America/Child of Vision/Lord Is It Mine/ Even In the Quietest Moments/Don't Leave Me Now/ Dreamer/It's Raining Again/ School/Give a Little Bit.
Symphony Hall on Thursday night saw the return of Roger Hodgson to Birmingham, 25 years (!) after his last show (and 32 years since I saw Supertramp, for a quid, with Chris De Burgh supporting!).
Ably assisted by superb Canadian sax player Aaron MacDonald, Hodgson played a terrific set to close his six date UK tour. MacDonald was a real virtuoso, playing soprano, alto and tenor Saxes, as well as tin whistle and melodica on some numbers. As usual the sound in the Symphony Hall was astonishing – it really has to be the best venue in the country.
In the first half of the show, the enthusiastic crowd (a virtual sellout) was treated to a smooth combination of Supertramp classics and some of the best tunes from his three solo albums. Early highlights included the back-to-back salvo of 'Lovers in the Wind' and 'Hide in your Shell', the latter bringing on a giant wave of nostalgia.
After a short break, Hodgson strolled back on stage playing the introduction to 'The Meaning', a nice surprise song which I don't think has been played much on this tour.
We again got a cool combination of choice album tracks and hits – 'Child of Vision' was particularly good, but the whole show was outstanding really. Time to dig out that old vinyl!
By Roy Evans
HANOI ROCKS + Anti-Product -
Sheffield Corporation, Thursday September 25th 2003
One of the most sensational comebacks of the millennium happens to be one of those bands with whom I am only one song familiar. Finnish glam legends have laid low for eighteen years following the untimely passing of drummer Razzle in a car accident in 1984. All's not lost though, the fivesome let rip with no relent for eighty minutes as do the several hundred my side of the barrier, old and new fans, many of which a generation apart, all getting in on the act.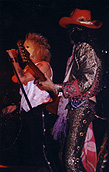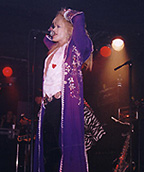 Could I be looking at the first ever glam metal moshpit here? Looking almost identical this two-decade-earlier self, Michael Monroe throws himself all over the stage as would be expected, someone there who's ever-so-slightly overjoyed at having his band back together once again. As said I may not be too acquainted with an astounding portion of this band's catalogue, I still find myself going with the flow and by the time they finish with 'Taxi Driver', it's time for pure dancefloor anarchy, Scandinavian style for the ensuing three-and-a-half minutes.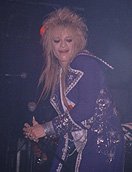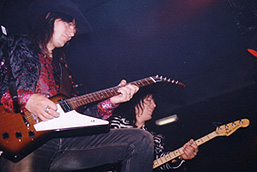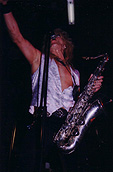 They're back, they're bad and they've got another new album out, 'Twelve Shots on the Rocks' into the bargain - the Godfathers of Glam are well, truly and unarguably back Let's hope we don't lose Hanoi Rocks for another eighteen years, again.
Brit/US weirdoes Antiproduct make a welcome return, having first been seen here, with Blaze Bayley, over three years back and frontman Alex still sporting the clown make-up, and their latest material still sounds like they're continuing to build up their cred.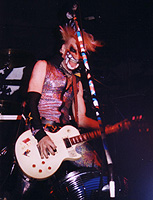 The 'Product bounced around the stage and entertained with soon-to-be classics like 'Better than this' and 'If I was Orson Welles' and other blasters from their 2 album releases 'Made in the USA' and 'Consume and Die...' - Ya can't get better than this - apart from a headline slot.
This was corking evening for fans of both bands - wanna have a lot more nights like this.
8.5/10
By Dave Attrill
Glenn Hughes - Bradford Rio, Friday, October 17th, 2003
A man who hasn't been to the UK on a regular occurrence but wishes he had has now graced us with a few dates - this being one of them - a packed house at Bradford - a rarity in itself.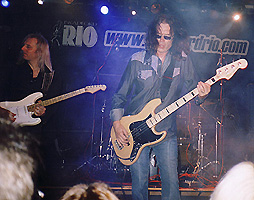 The mans immense voice was ever present - he claims that he's got six octaves (if that is humanly possibly) not to mention his second to none backing band that includes the supreme guitarist JJ Marsh. The gig saw him completely delight all that were present with old and new material galore from both solo and band outings.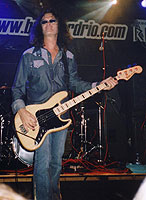 Best cuts - well let's be honest - it was all the best included the Deep Purple classic 'Burn'; new number 'Standing on a rock'; ? with it's 'Rolling Stone' quoting line; 'Feel' and countless more. Glenn is one of those performers that comes into life even more so live and sounds even better than on record due to him vibing off the audience constantly and wailing like there's no tomorrow.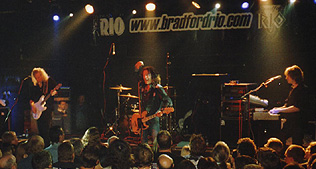 No-one could argue with this awesome performance and he even took a long time out after to sign autographs and pose for photos - an altogether all-round nice guy - hope he comes over a lot more.
10/10
By Glenn Milligan, BA Hons CS