Hard Rock Hell 7 - Hafan Y Mor, Pwllheli, Gwynnd, North Wales, 13th-16th November, 2014
Nestled on the west coast of Wales is a holiday park that during the summer months is alive with families enjoying the British weather for a few weeks. But then it all changes in November when Hafan Y Mor plays host to 'Hard Rock Hell'. Over the years this weekend has grown so much that last year it moved from it's old home in Prestatyn to Pwllheli and it moved up yet another gear turning it into a huge indoor festival. Now in its seventh year HRH has pulled out all the stops to make it the best ever.
With over 50 bands lined up over the 3 days there is a lot to choose from with a wide range of bands and styles from thrash to blues to glam to hard rock, there really is something for everyone. This year the event is headlined by Black Star Riders, Skindred and Airbourne. Supported by bands old and new we really are in for a treat. So with spreadsheet in hand we start a weekend full of beer, fun and rocking.
Massive Wagons kick the Thursday night line up off with a bang. I have seen these guys once before and they don't disappoint. A really rocking set gets the crowd warmed up, with great tracks that included 'The Truth', 'Death From Above' and the fantastic 'Fight the System'.
Then we welcome the amazing Uli Jon Roth. If the name rings a bell, Uli played with German rockers Scorpions. He treats the crowd to a guitar master class including classic Scorps tracks, 'Sun in My Hand', 'The Sails of Charon' and 'We'll Burn the Sky' he also throws in some Dylan and Hendrix for good measure.
Now I have to admit that by this point in the evening things started getting a little hazy as large amounts of beer start to kick in. Bernie Torme is next up again tearing up the stage with some great blues rock. The 50 minute set flys by as we dance about to 'Bullet in the Brain', 'Turn Out the Lights', 'You Can't Beat Rock n Roll' and many more.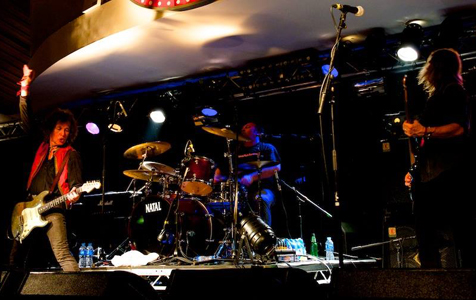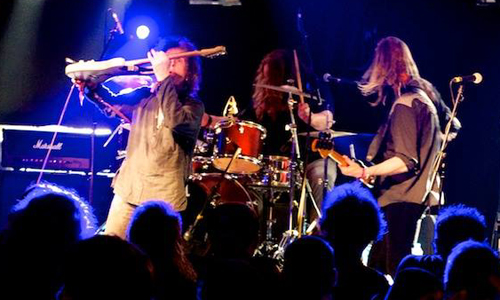 So hands up who remembers any other tracks by Arthur Brown apart from 'Fire'? you can? Well 10 points to you!! Yes next up is 60s "one hit wonder" The Crazy World of Arthur Brown. But I am blown away with this guy. It does look like he has fallen asleep in a kids face painting set but it all adds to the charm. Mr Brown is defiantly 'Crazy' as we get flamenco dancers and all sorts of on-stage treats. We also get some great songs including 'I Put a Spell on You', 'Green Manalishi' and the classic 'Fire'.
It was about this time in the evening I passed out, but hey that's rock n roll. So I missed out on Scottish Metal heads, Attica Rage and a band I really wanted to see, Fireroad, but I'm sure that I will catch up with them one day!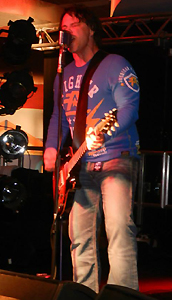 Friday arrives with a hangover and a lot of bacon! But there is no time to for headaches there are bands to be seen and from now on it's like a military operation to fit in as many bands as we can! It's 12pm and the second smaller arena is packed for the first band of the day, Wildside Riot. Fronted by Rocky Shades, who once sang for 80's glam rockers Wrathchild! (what happened to them?). They rock through a great set and there's some awesome backing vocals from Helen Parry too. To be honest I only really knew there one hit 'Na na na na Nuclear Rocket' (sing along).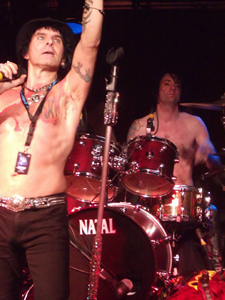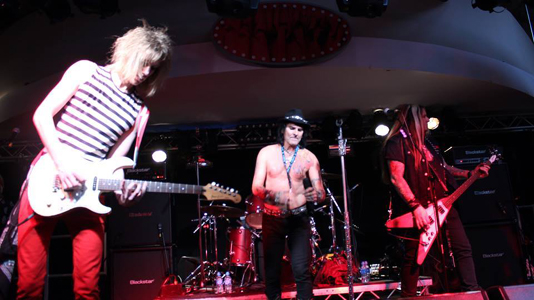 Then it's off to the Unplugged stage to watch the tiny Mia Klose. I have never seen the Swedish Bombshell before and I wasn't disappointed. I don't think anyone had told Miss Klose that this was an acoustic show as she used the whole of the stage and never stopped moving. She has a great voice and the set really showed this off. Even when the power failed it didn't stop her, the crowd fell silent as we all listened to this tiny woman with the huge voice. A massive roar from the audience came after this track and still without a lack of power Mia treated us to Skid Row classic 'I Remember You'.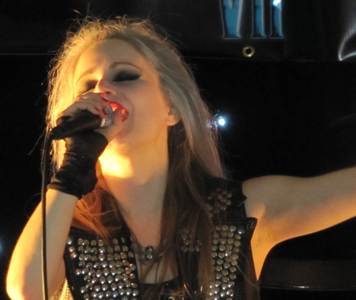 But there was no time to stop we were off to the main arena to watch "Highway to Hell" winners, Screaming Eagles. Every year HRH holds its own battle of the bands to give up and coming acts their chance to play at the festival. The "Eagles" are a great band with a southern feel. Great front man with a brilliant voice. A really great choice to open the main arena.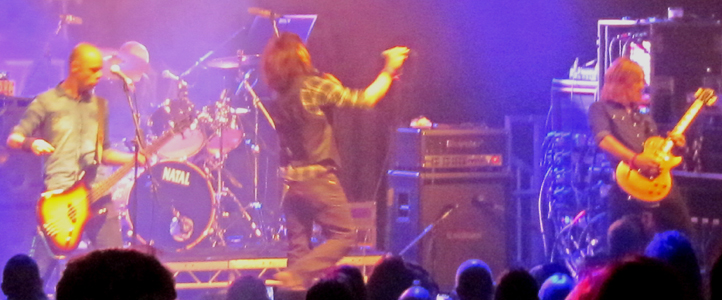 Rock legends are here in numbers this weekend and Tygers of Pan Tang are no exception. With a new album out they rocked through some great classic track including 'Suzie Smiled', 'Raised on Rock' and 'Hellbound' with not a love potion in sight! Scottish band Logan are next up. The thing with festivals is you get to see bands that you may never go and see at any other time and sometimes that's a good thing but with Logan it was the opposite. With an awkward front man who mumbled in between songs and lacked charisma to the Alter Bridge sound-a-like songs but without any of the power or style. But you can't like everything.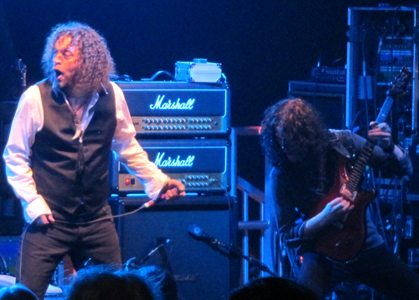 It was about this time we went to eat and soak up all the booze from the day. When we return it's time for Glam legends Enuff Z Nuff. Rocking through 'One Step Closer to You', 'There Goes My Heart', 'Fly High Michelle', 'New Thing' and a medley of tracks kicking off with 'Baby Loves You' and then such classics as 'Summer of 69', '500 miles' 'Don't Stop Believin', 'Surrender, 'Wreaking Ball'(yes), 'Call Me Maybe' and loads more.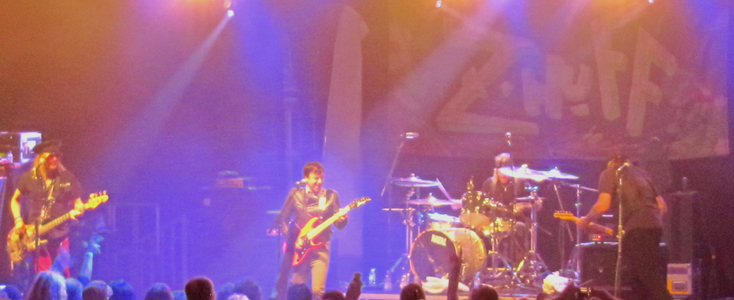 Sometimes at a festival the word gets round that there is a band tearing it up in the other arena and this year whispers were going round about Swedish Metallers, Sister, so we had to go and see what all the fuss was about. In the audience people were giving each other knowing looks as Sister blew the roof off arena 2. I don't have a clue on song titles but who cares when a band you have never heard off blow you away, remember what I said about getting to see bands you would never see, this was that moment! Go get the album and see what I mean!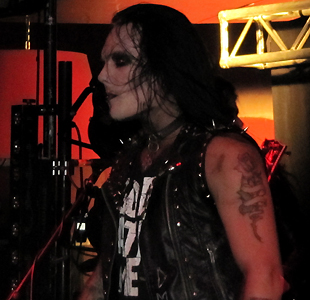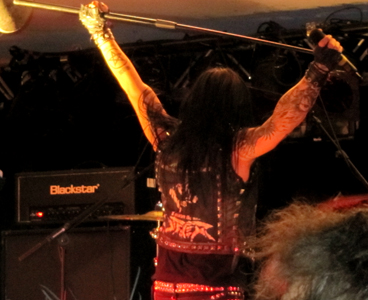 Then it was back to the main arena for Friday Headliners, Black Star Riders - Never heard of them? Well before the name change they were "Thin Lizzy" so I was expecting the set to be a mix of new BSR tracks and classic Lizzy numbers and they did just that!! And opening with 'All Hell Breaks Loose' from their debut album.
Then we are off into Lizzy bliss, 'Are You Ready?', 'Bad Reputation', 'Jailbreak' are thrown in with the bands original tracks and Frontman, Ricky Warwick takes it all in his stride. BSR originals 'Hey Judas', 'Kingdom of the Lost' and the Single 'Bound For Glory' are the highlights. They finish with 'Cowboy Song' and 'The Boys are Back in Town' to a rousing crowd! The encore gets even better we get 'Whiskey in the Jar' followed by 'Rosalie' where the band are joined by Motorhead legend, Phil Campbell!! It was a great end to an awesome day. It was a shame we missed Skindred but you can't see them all and beer had something to do with it!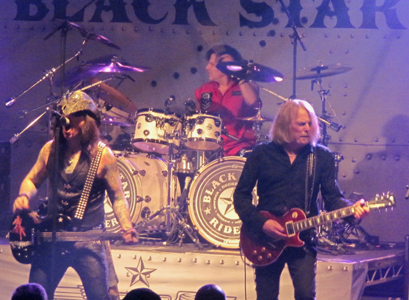 So we head into the final day and we have a lot to fit in! 13 bands to see so strap yourself in and here we go. The day opened up with "The Jokers" To be honest we only heard them from Starbucks but they really rocked.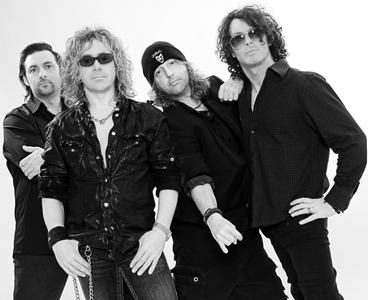 Then off to arena 1 for The Treatment. I have seen this band 3 times before and they really know how to play to the crowd. But somewhere along the way a stylist has got their hands on them and turned them into leather bound fluffy hair clones! But the music is still there. Tracks like 'Drink F**K Fight', 'The Doctor' and 'Shake the Mountain' still rock along with new song 'Alley of the Dogs'.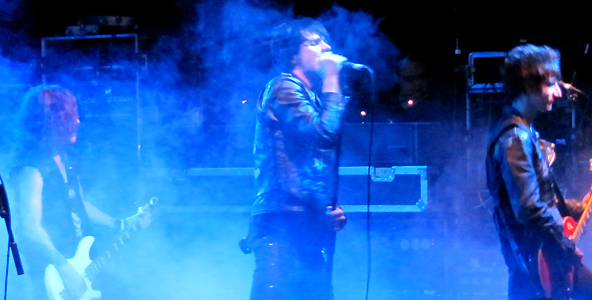 Then we are treated to an hour with one of my guitar heroes Pat McManus, the former guitarist with Irish band, Mamas Boys. Pat is a real delight to watch. He tells us, "I'm not here to swear and shout at you, I'm here to have a good time" and he really does. Tracks like 'S before X' and 'Ready to Rock' get the set off to a great start. With some Mama's Boys covers thrown in as well as a captivating instrumental track that sends a hush over the arena, this is a really special set. Pat then dedicates the song 'Belfast Boy' to other Irish Guitar legend Gary Moore. He finishes the set with 'Needle in the Groove'.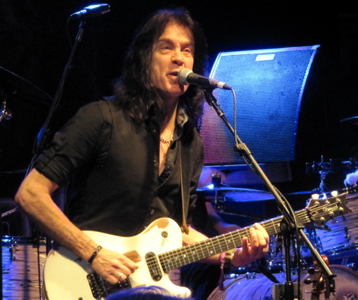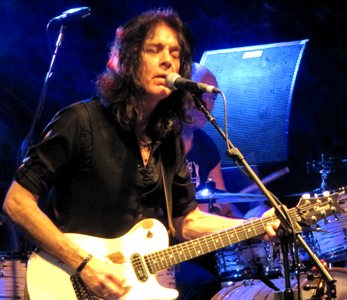 'KISS Tried to Kill Me' opens up this kick *ss set from The Black Spiders! I really only know this one song by the band but that doesn't stop me rocking out with them. During the set the arena is invited to hold up a middle finger and shout "F*ck you Black Spiders" EVERYONE joins in!! Stand out songs included 'What good's a rock without a roll?', 'Trouble', 'Balls' and 'Stick It To the Man' - a great live band!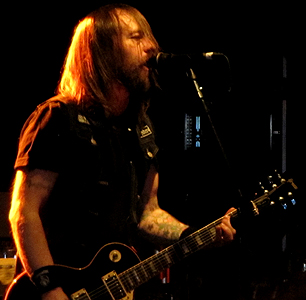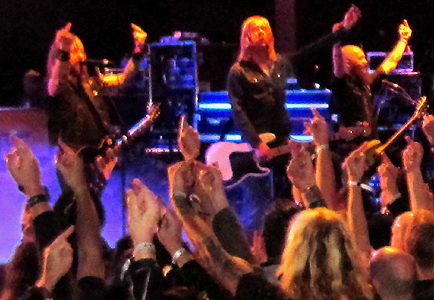 Snakecharmer are up next, made up of Micky Moody & Neil Murry (Whitesnake), Harry James (Thunder/Magnum) Chris Ousey (Heartland) amoung others it really is a super group. Playing originals and Whitesnake songs they sound great but there is something missing in Chris Ousey's performance, he is a great singer but not a great frontman and seems to just go through the motions!

Blaze Bailey and Paul Di'anno are next singing Iron Maiden tracks. Now I'm not the biggest Maiden fan and Blaze's time in the band passed me by but he really works the crowd and sings his heart out. Paul Di'anno can be classed as a NWOBHM legend but tonight he was an out of breath limping mess. The man in front of me commented that he was passed it and I had to agree. After Blaze's great set Di'anno was a poor reflection. Probably best to remember him how he was!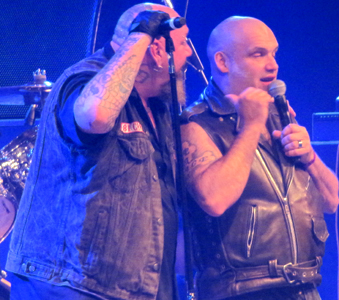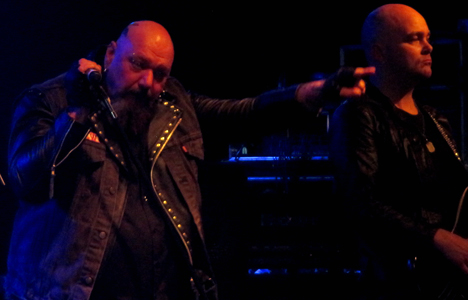 Hanoi Rocks frontman Michael Monroe is next and he leaps and jumps from speakers and barriers all the way through the set and that's a great achievement in tight trousers and heels!! A great mix of tracks from his latest album 'Horns & Halos' as well as Hanoi Rocks tracks and other solo songs. Finishing with the great 'Dead, Jail or Rock n Roll' .
So it's time for headline band Airbourne! Forget all the AC/DC clone stuff. This band would have given DC a run for their money 30 years ago! To use the word explosive is an understatement from the first note to the last they are full on. I have read another review of this show saying that they were a joke band, I don't know what they were seeing but we were watching a full on rock n roll show! 'Ready to Rock', 'Too much, Too young, Too Fast', 'Girls in Black', 'Back in the Game', 'Stand Up For Rock n Roll' were just a few of the highlights as well as Joel O'Keefe being carried through the packed arena on shoulders shredding his guitar! At one point he charged past us back to the stage! We had a "Can Off" (that old Australian custom) with Ozzy from the Black Spiders. And then it was back to the rocking! Climbing on the speakers for 'Live it Up' and 'Raise the Flag' before closing the show with 'Runnin Wild'. I'm worn out but there are still 3 bands left!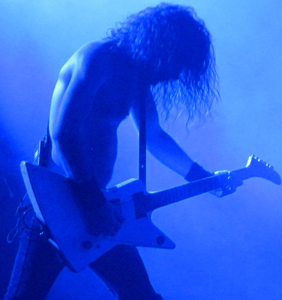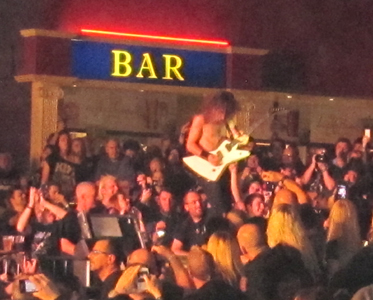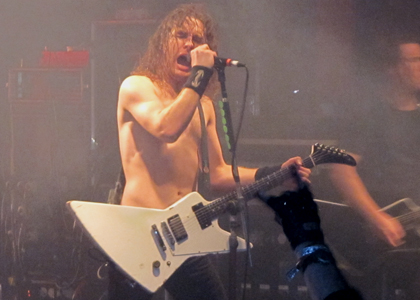 We saw The Answer last month in Sheffield and they were brilliant but tonight in a half empty arena they lacked a little of the power they had before. But frontman, Cormac Neeson throws his mop of hair round like a madman! A little different from last time I saw him when we shared a few beers and a handbag!

But the night wasn't over, we had to leave The Answer and head off to the other arena to watch one of my favourite bands Tracer. This Aussie trio have been building up a great following in the UK for the last few years and have become great friends. So at 1am we got down the front and rocked out with Mike, Andre and Jett. Even though it was late the smaller arena was full to see them rock through 'Hangman', 'Too Much', 'El Pistolero' and loads more.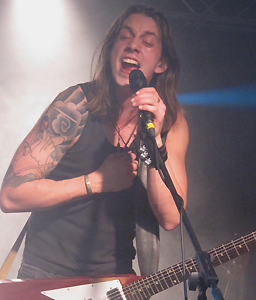 Mike gets a whistle or two from the girls when he takes his shirt off! But the biggest cheer is when they tell us that they will be back in March. So how do you finish off a weekend of rocking, drinking and dancing? With a conga of course, brought to us by east midlands thrash godfathers, Lawnmower Deth.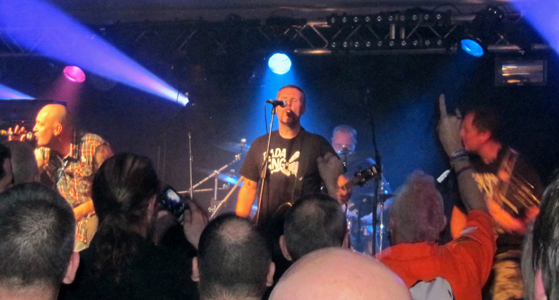 Yes you read that right we ended HRH 7 with moshing, barn dancing and the fastest conga I have ever seen! If you want to have a great mud free festival with an amazing atmosphere with great bands then I will see you down the front at next year's Hard Rock Hell.
Review by Johnny Trowbridge
Photographs by Angela Trowbridge (apart from Bernie Torme, Wildside Riot & The Jokers)
Fireroad Photographs by Nikki Davenport